Jae Cho
Space Between Memories: PAUSE
MDes. Interior Architecture

Adaptive Reuse
Image

ABSTRACT
The early 20th century was an important time for economic development and modernization around the world. However, the Republic of Korea spent decades suffering under Japanese colonial rule. For that reason, preservation or demolition of buildings built during the Japanese colonial period remains a polarizing topic. Many of these structures have been demolished or neglected, unrecognized for their historical and architectural value. Although Koreans learn about the colonial era in school, if those physical places experienced in their daily life gradually disappear, they will forget this difficult history. These structures should be a space where people can feel historical lessons as a living part of their daily life. 
The Old Seoul Station was the conduit of Japanese imperialistic exploitation of Korea, but was mostly known to millions as an active station until the New Seoul Station was established in 2004. Since the completion of the new station, the old has had no identity and been neglected from the surrounding context. 
This thesis suggests that reuse should be achieved according to the programs lacking in the region to which the structure belongs. In this case, considering that the new and historic stations are focused on movement and business commuters, what local people lack is pause and this thesis reimagines how to insert a moment of rest and reflection within the station. Physical and mental relaxation is determined as the main program, and a design strategy is established based on three architectural challenges between the two stations. Disconnection and complex flow are addressed by simplifying wayfinding from the New Seoul Station into the Old Seoul Station, by coring a single passage through the historic space. The unused forecourt is reemphasized through transparency and reflection of glass to acknowledge the layered complexity of the site. Visitors explore the forecourt and Old Seoul Station according to a planned sequence with moments of restoration and reflection. Visitors will not only replenish themselves, but also realize the lessons of the past as they encounter historical evidence. Each of these moments is woven together through the spatial experience of light and darkness. 
Through this form of reuse, modern structures with historical importance but alongside negative association will acquire new value and adapt into modern society.
INTRODUCTION VIDEO
>> CLICK THE SCREEN <<
WHAT PEOPLE LACK IN THE MOVEMENT
Image

The station is a place where people from all over the country gather and scatter, so the focus is on movement. In such a busy daily movement, what people lack is a place of stopping. There is a need for a place where people can take a break between offices and a busy city and look back on themselves and realize the importance of everyday life. And it would be even more meaningful if the place is the Old Seoul Station, an inconvenient heritage.
ONE OF THE BUISIEST AREA IN KOREA
Image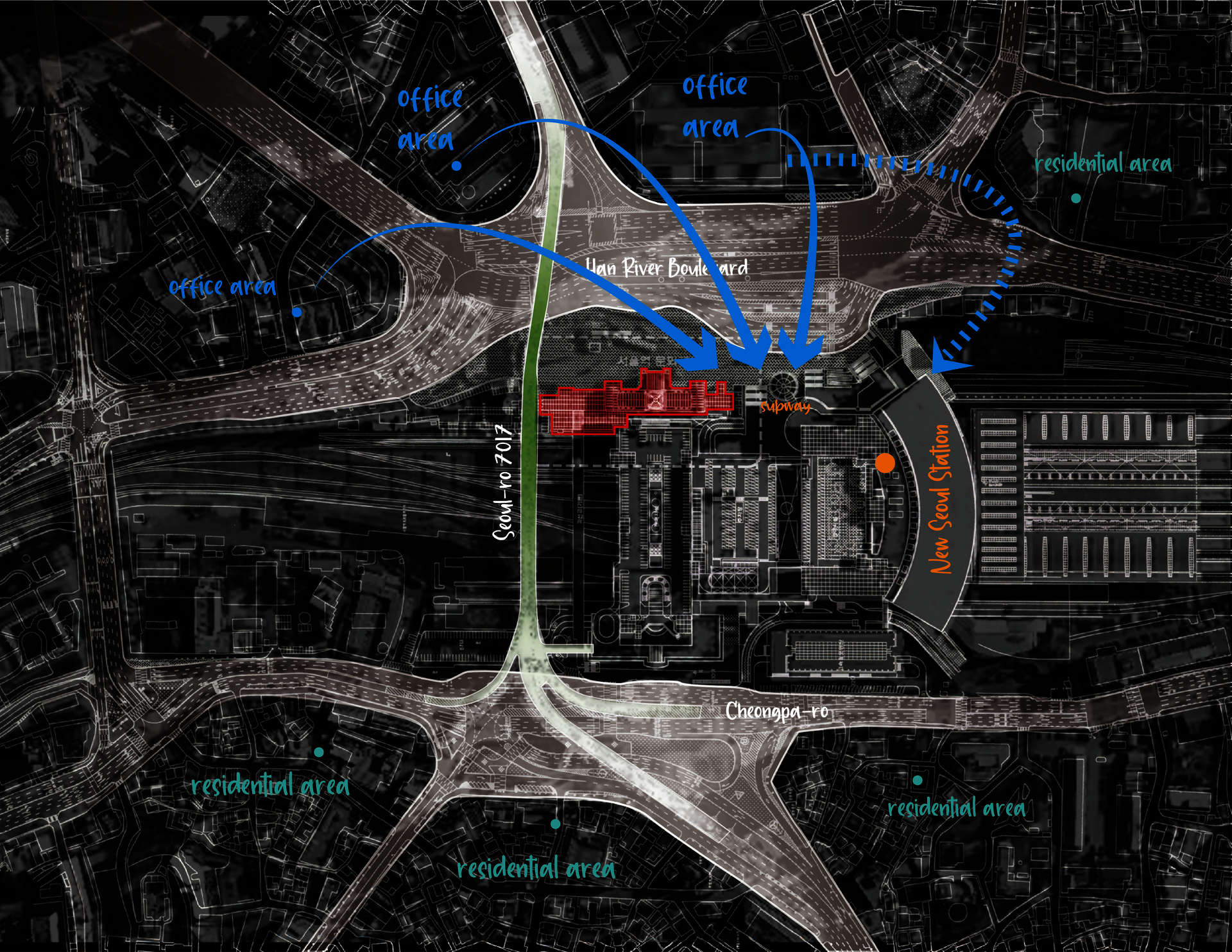 Image

MEDITATION
Image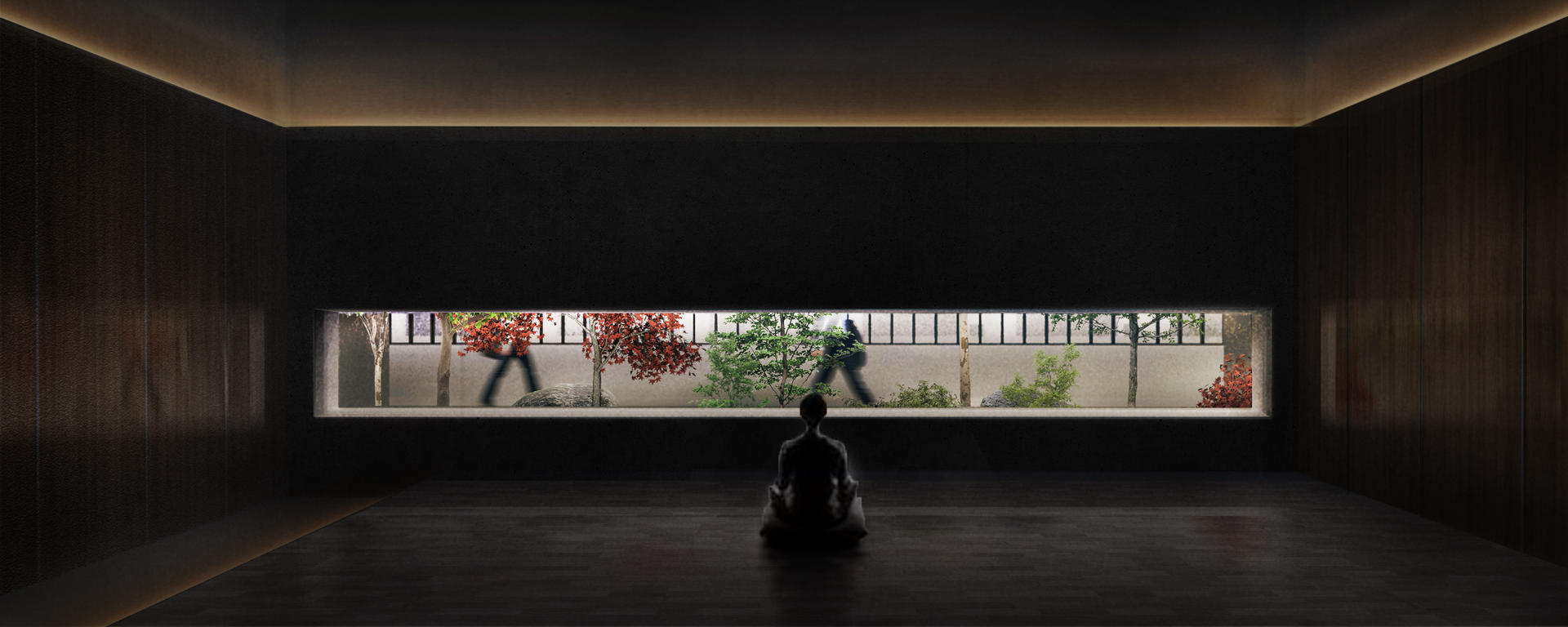 ARCHITECTURAL CHALLENGES
1. THE LAKC OF CONNECTION > CONNECTION
As the New Seoul Station was built next to it in 2004, it was disconnected physically, resulting in a break in memory between generations. Currently, a district of Seoul Station is an urban collage of old station, Lotte Mart, department stores, new station, and Seoullo 7017. Recently although it has been designated as a national historic site(284) and preserved as a cultural complex, among them, it has still been neglected without its fixed identity from the surroundings.
2. COMPLICATED CIRCULATION > FREE CIRCULATION
For now, the entire structure is not used and there are many vacant spaces. It is believed that this is because several walls obstruct free circulation. It is necessary to decide how to move people, what programs to put in which spaces, and how to connect the potential of these spaces.
3. UNUSED EXTERIOR FORECOURT > NEW DESIGN
The Old Seoul Station forecourt has no set program and is used only by homeless people and a few passers-by. 
Image
Image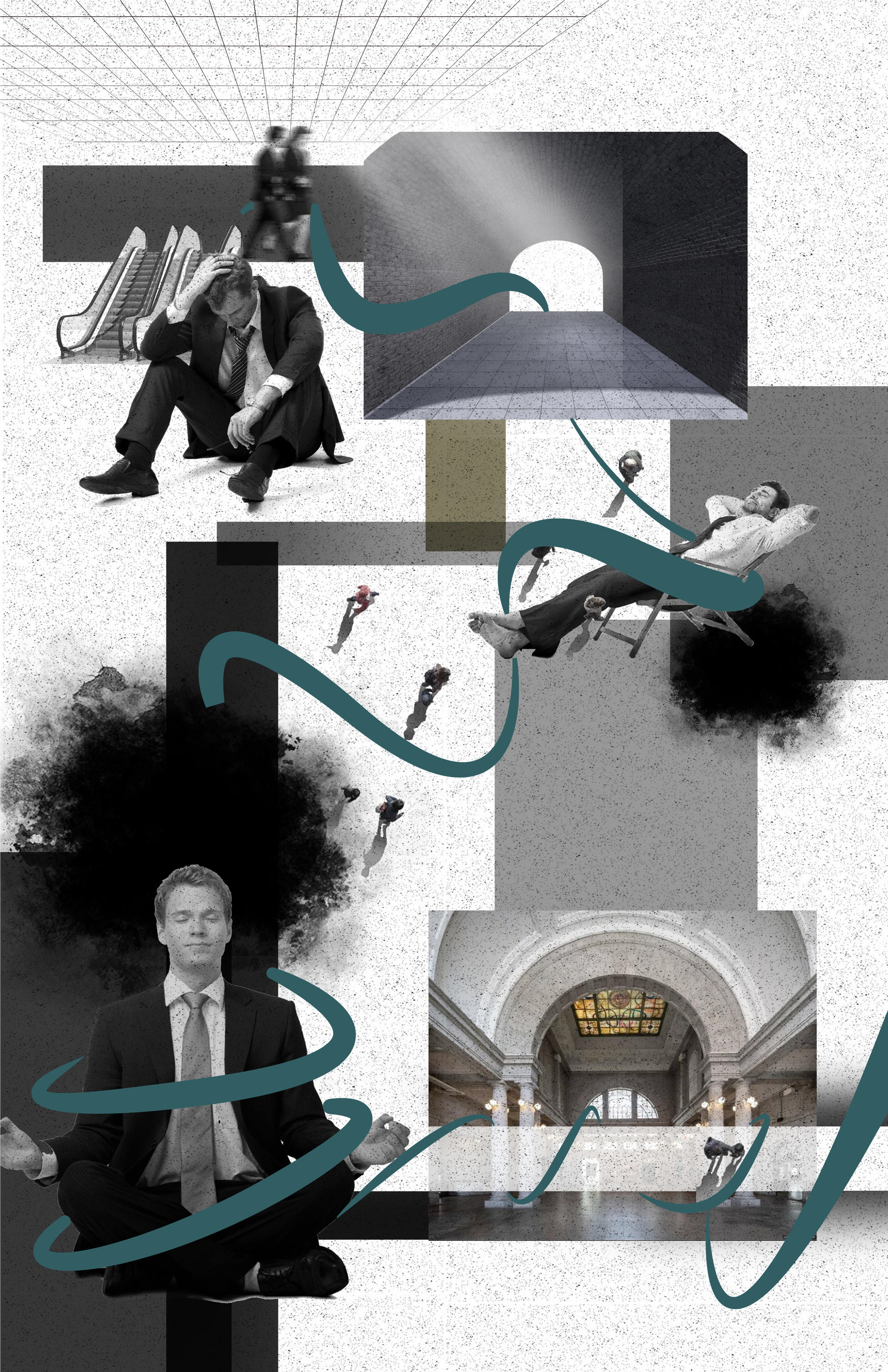 WEAVE THROUGH THE WHOLE SPACE
Weaving is the core concept and has three meanings in this project. This has three meanings to describe  Firstly, this is one of the examples of adaptive reuse, and secondly, it means solving three architectural issues with the design tools of the passage and the concept of light and darkness. Lastly, the experience of light and darkness seamlessly stitches the entire building into a single aggregate.
Image

PLANS / CONTEXT
Image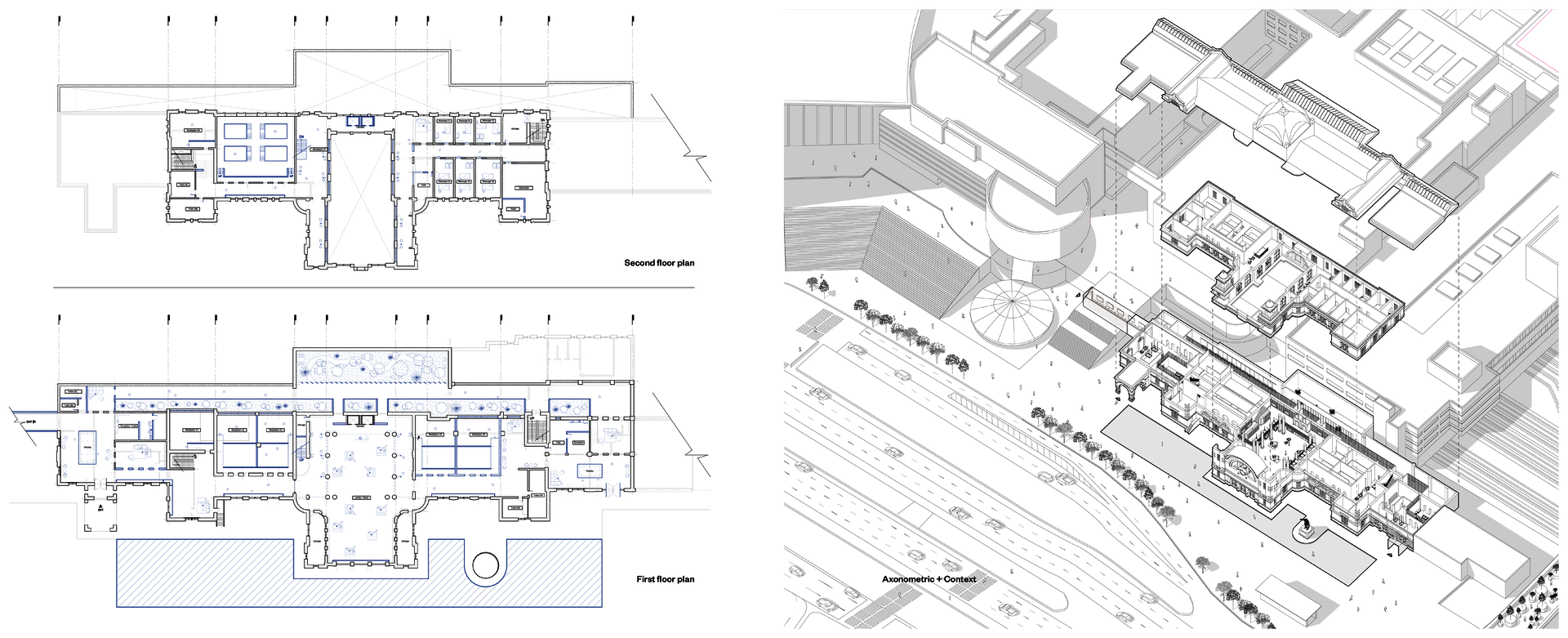 Image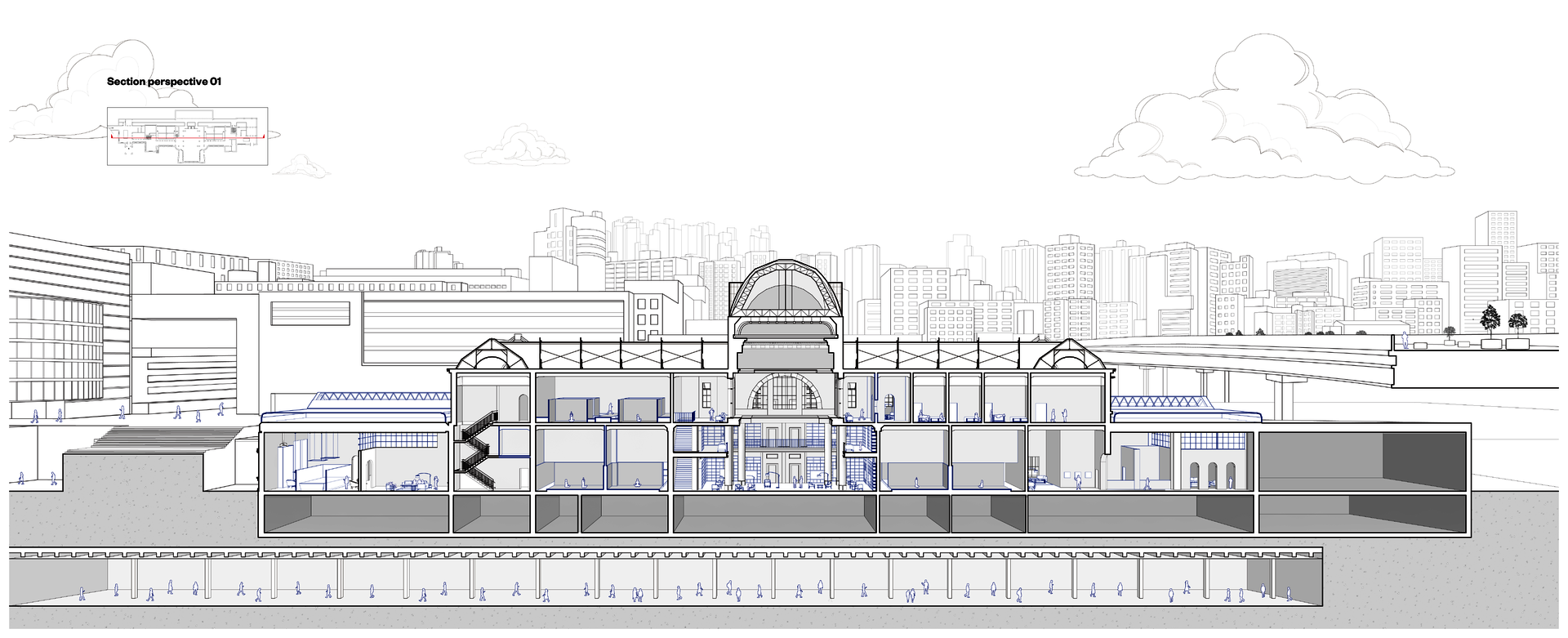 Image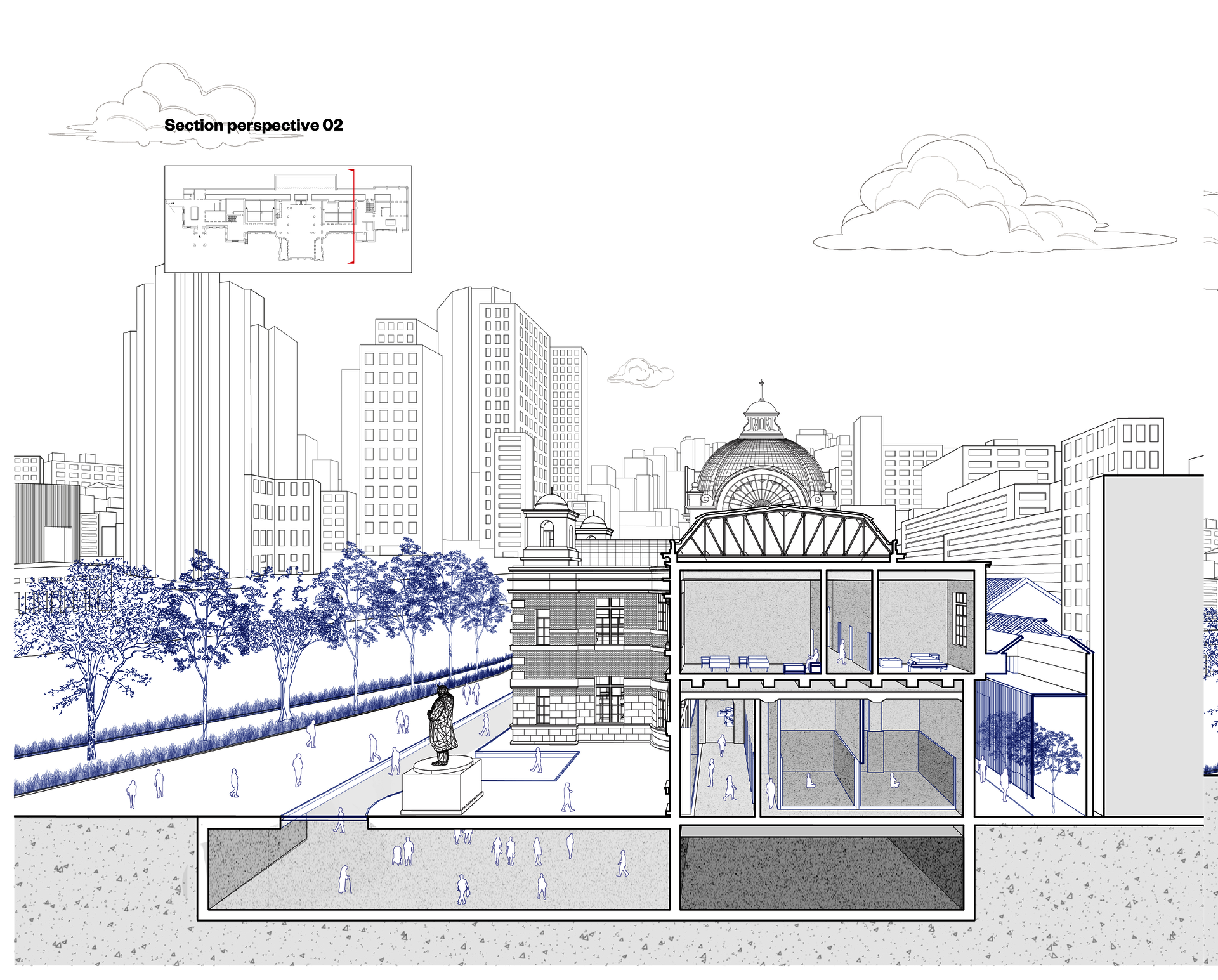 Image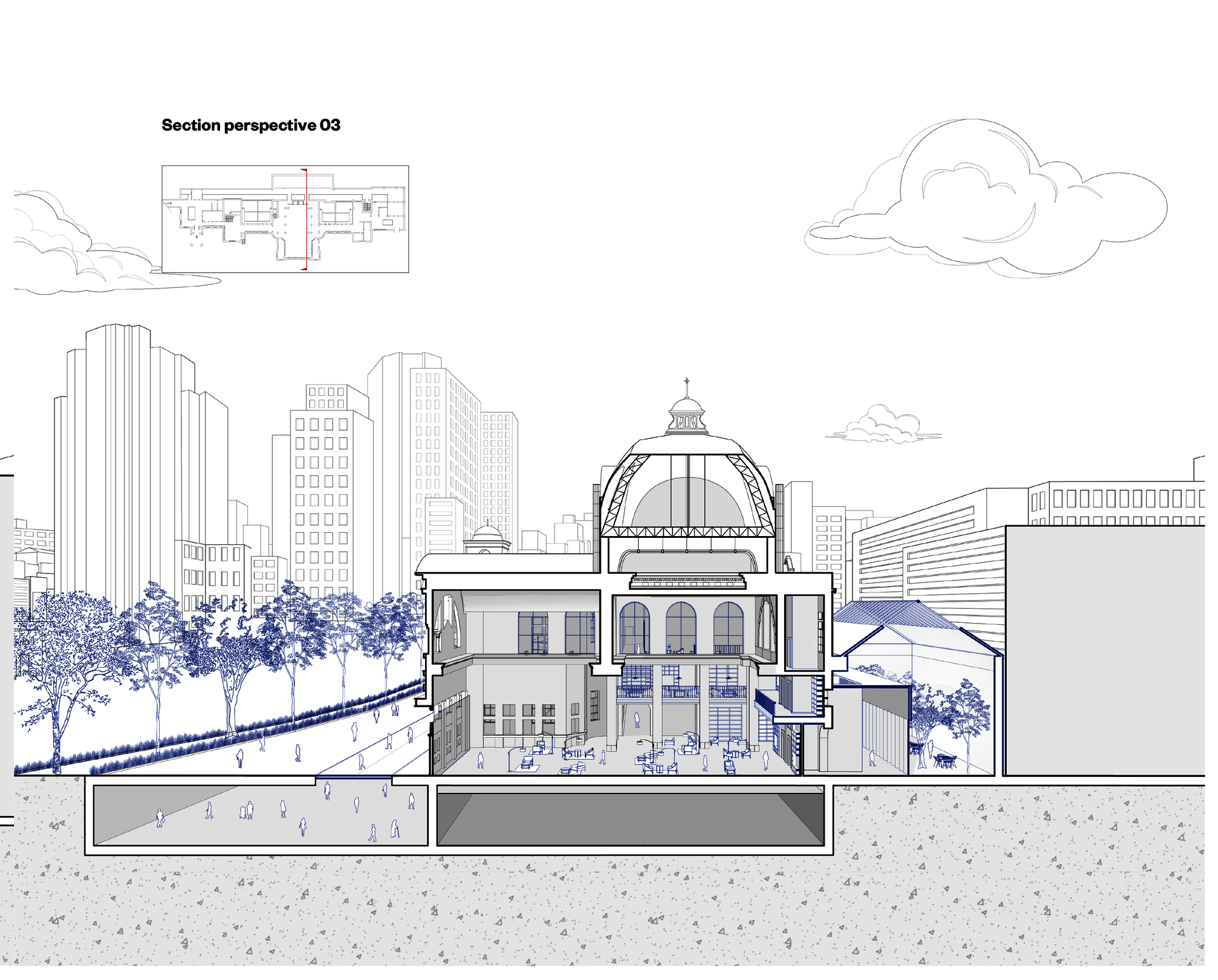 Image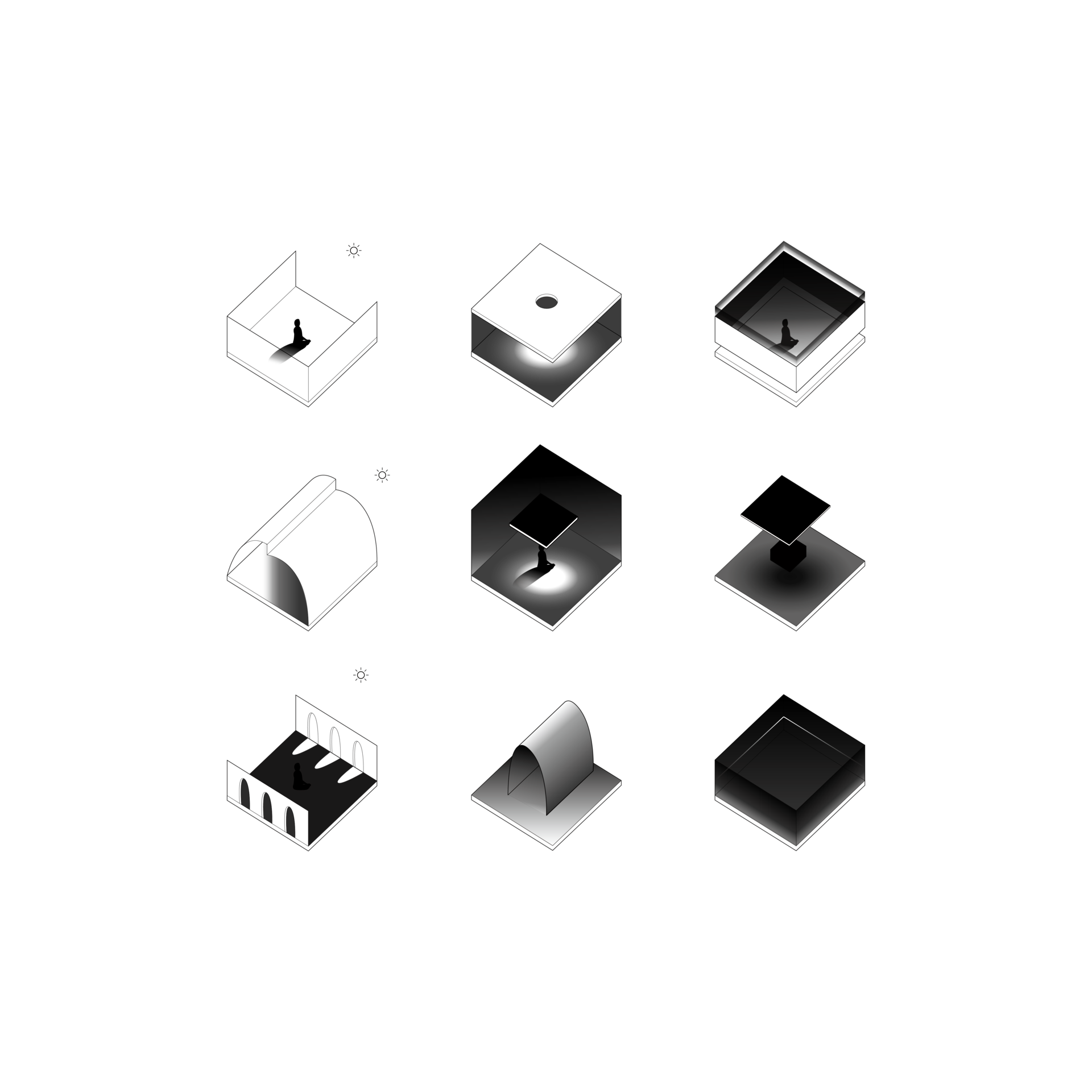 INTERIOR ARCHITECTURE
Adaptive reuse
Jae cho