breslin bell 
Sapping, Smudging, Staining: A Feminized Body 
abstract
'Sapping, Smudging, Staining' muses on the effects of liquidity and leakiness of a feminized body. By bringing echo narrative, illegibility, de-telling, and that which is continuously wet to the viewer's body and space, this multimedia installation, with accompanying webpage and book, provides a lens to consider reproductive rights, body autonomy, and gender-based aggression and violence. Work of matter and color investigates interiority, both bodily and spatial, as it relates to surface, access, and space-making.
glitch bruise
porous ichor
sticky stain
fluid rupture
leaky lesion
split contusion
messy mar
pixel blemish
Image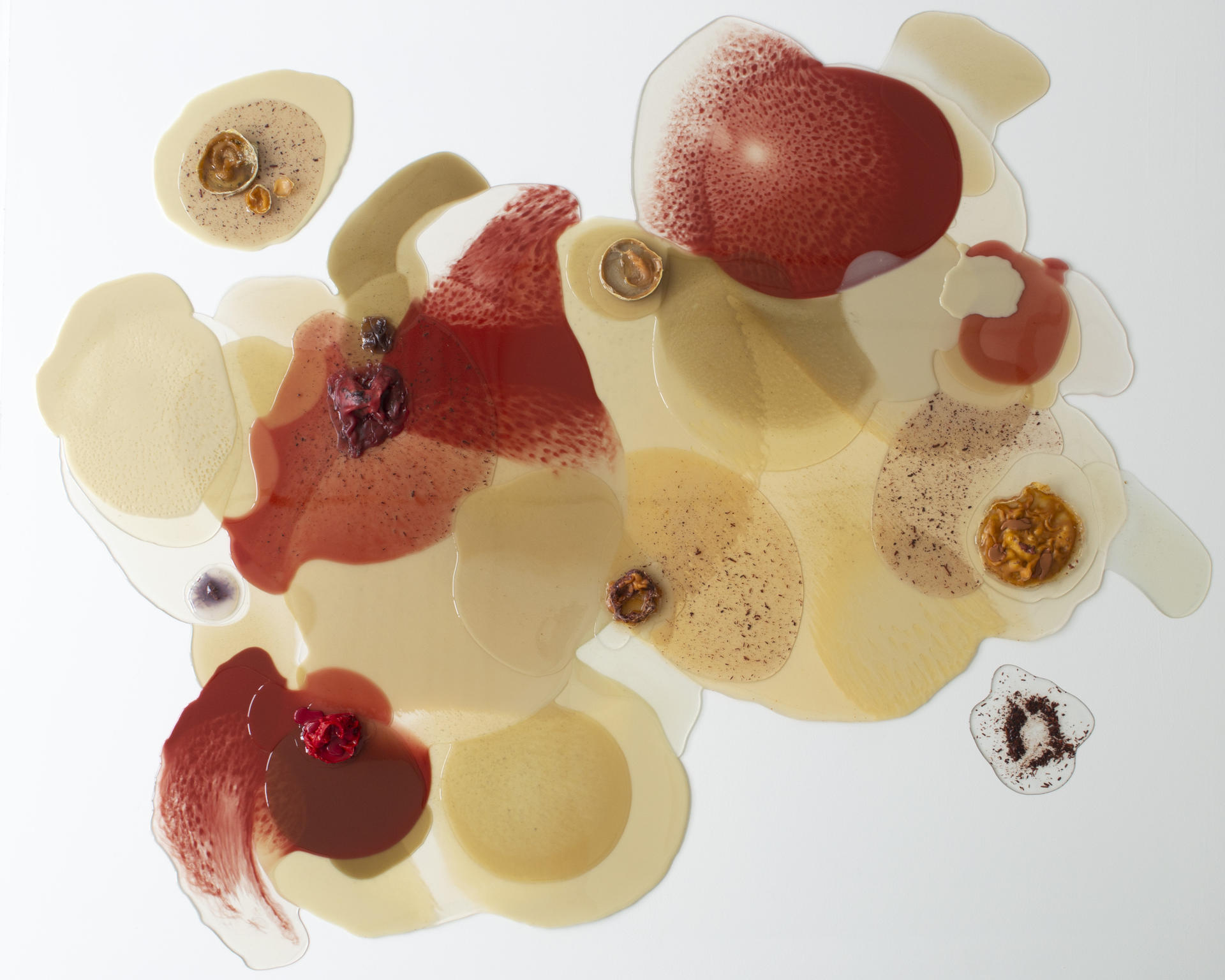 sapped
epoxy resin, liquid latex, wax, glue, natural pigment, madder, wine
4' x 5' 
2021 
'sapped' reasserts its matriarch 'sap.' Sapping, saps, sap, sapped—a continuously wet and malleable flow from one spill to the next. These sculptures operate as an accumulation of natural and bodily fluids that consume space. Gravity is felt by this spill. The accumulation points outward. How does matter move as a liquid and rest as a solid? The palette of 'sapped' is based on nature and body fluids—so scientific. Color and matter evoke taste and activate a viewer's sensory glands. The sickening sweetness one expects.
Image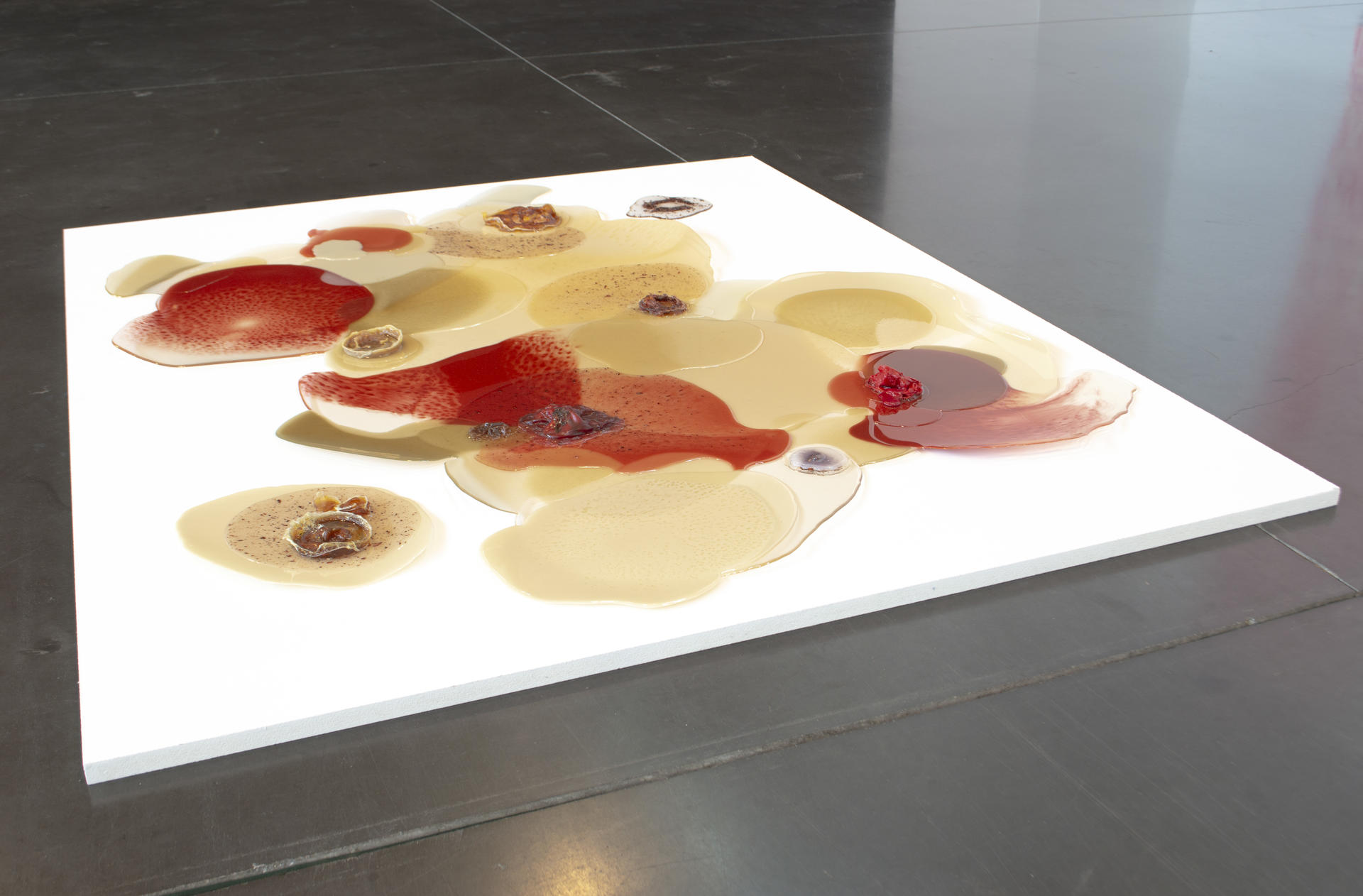 Images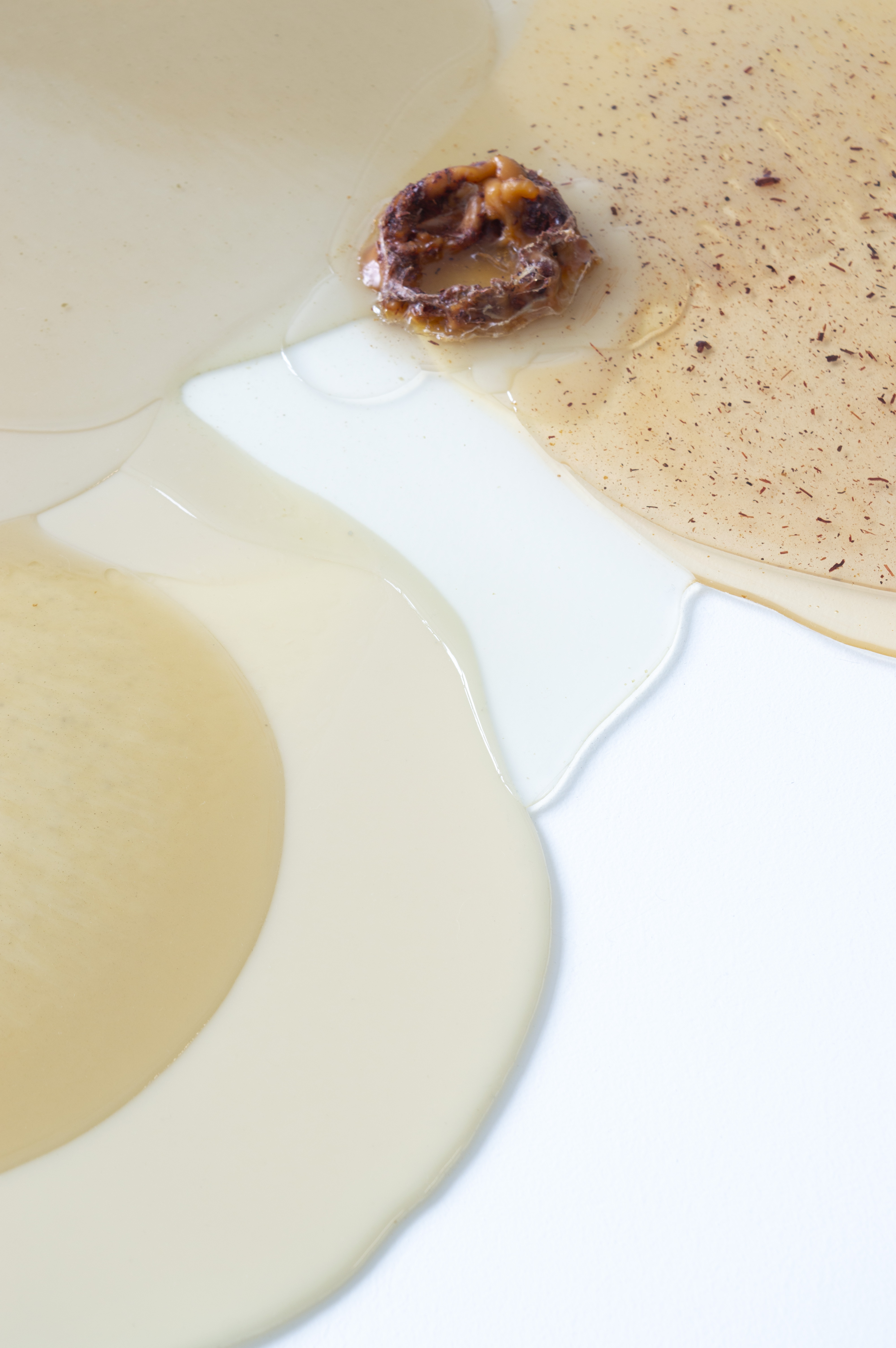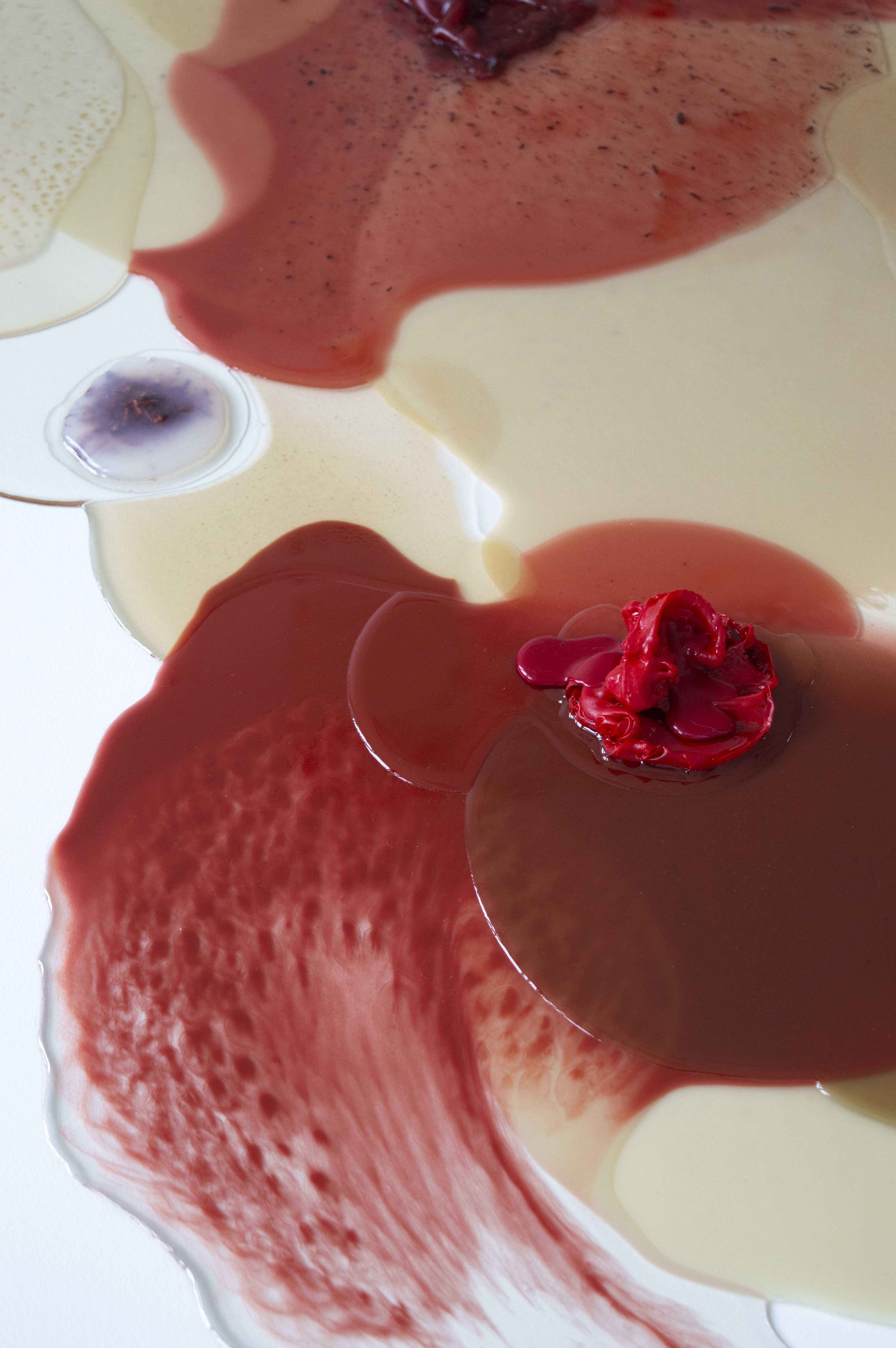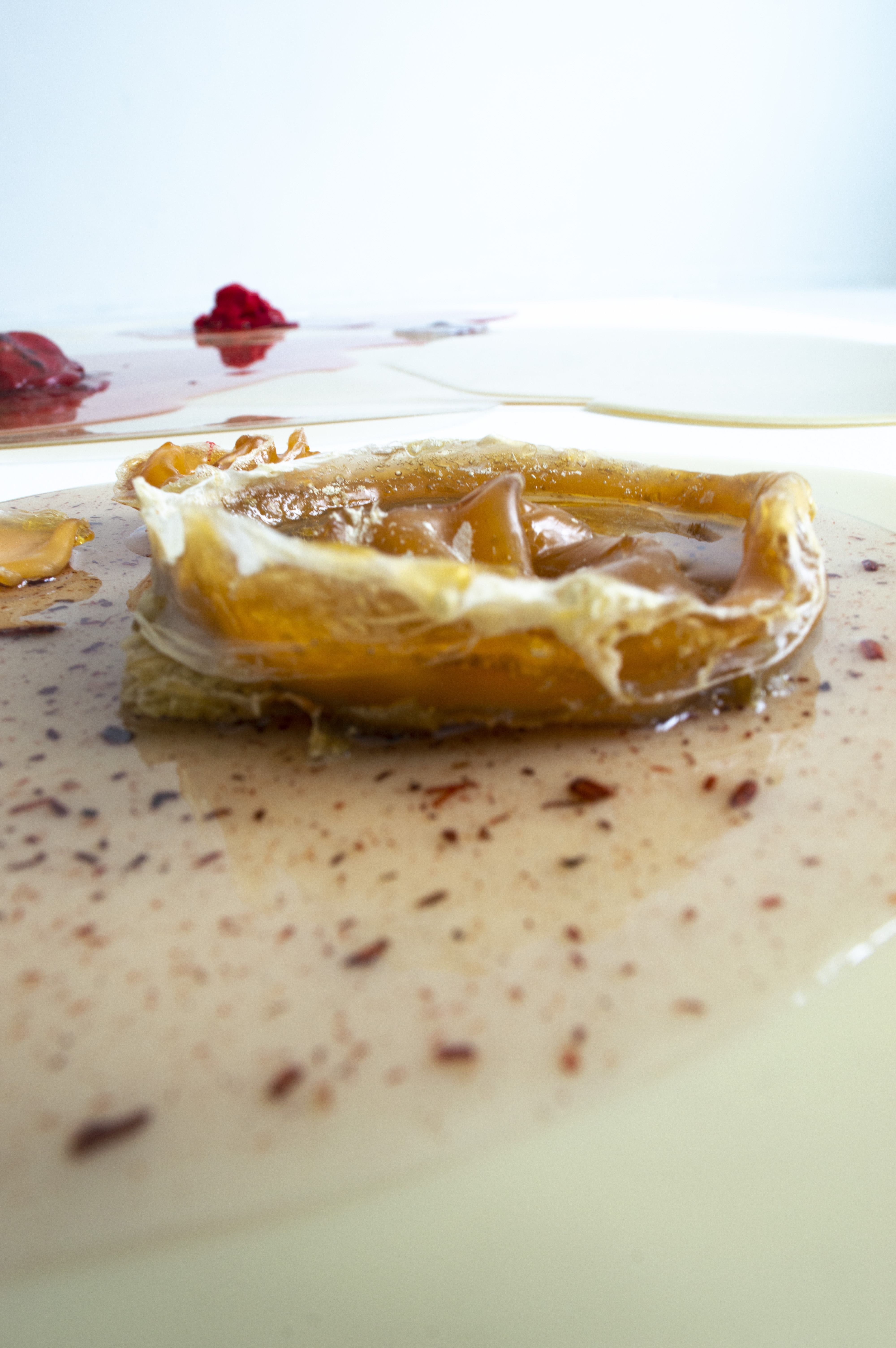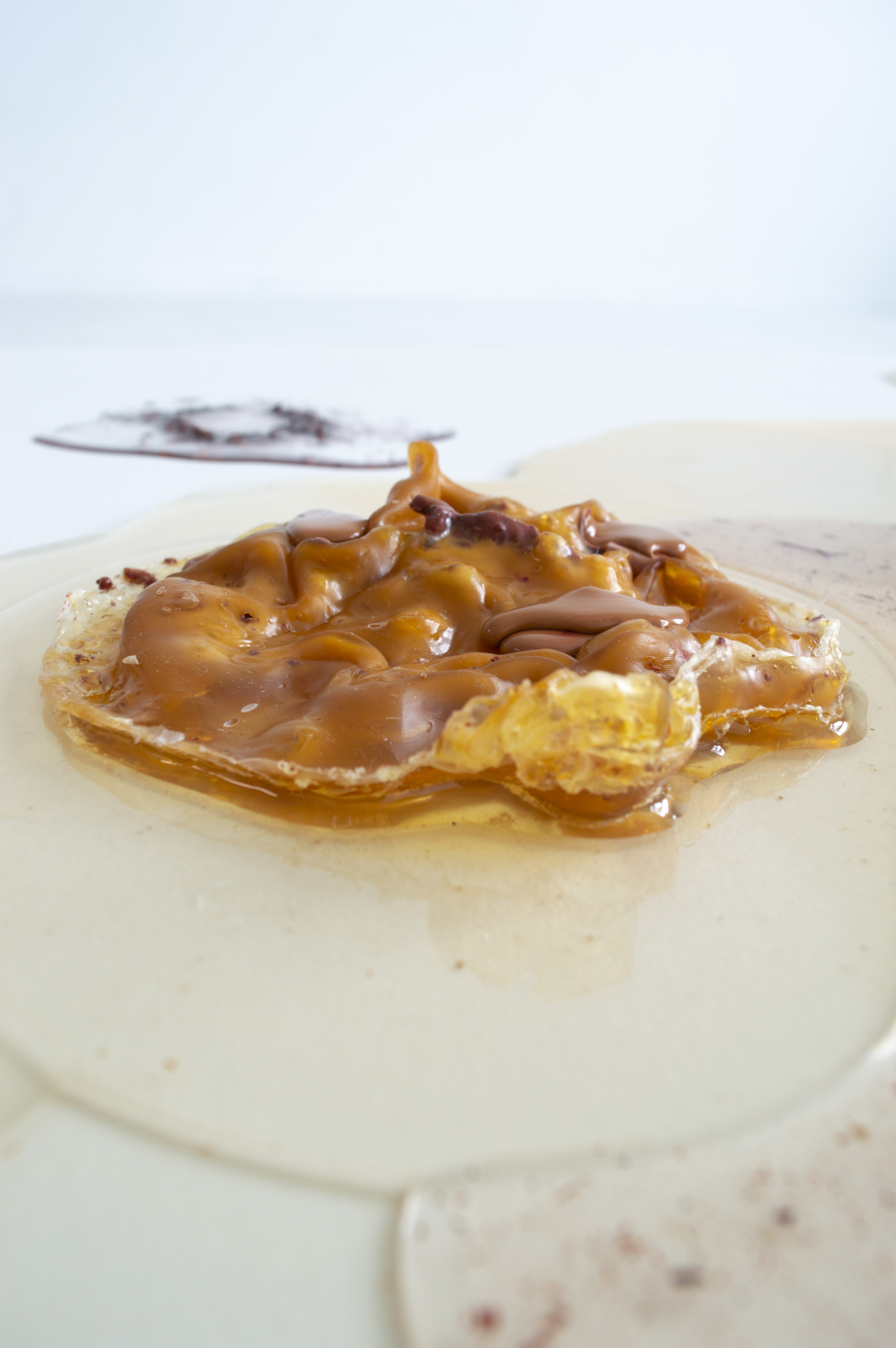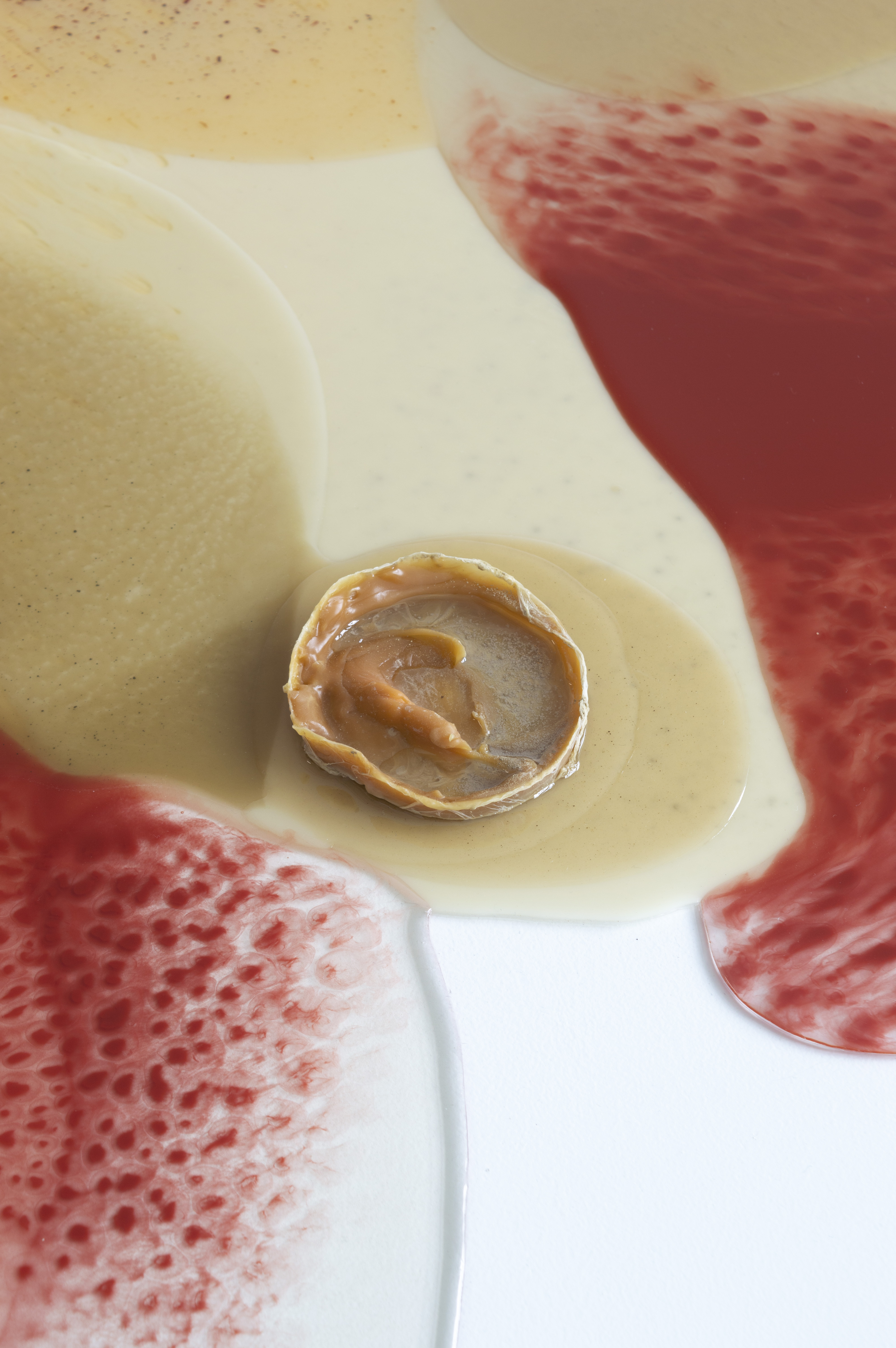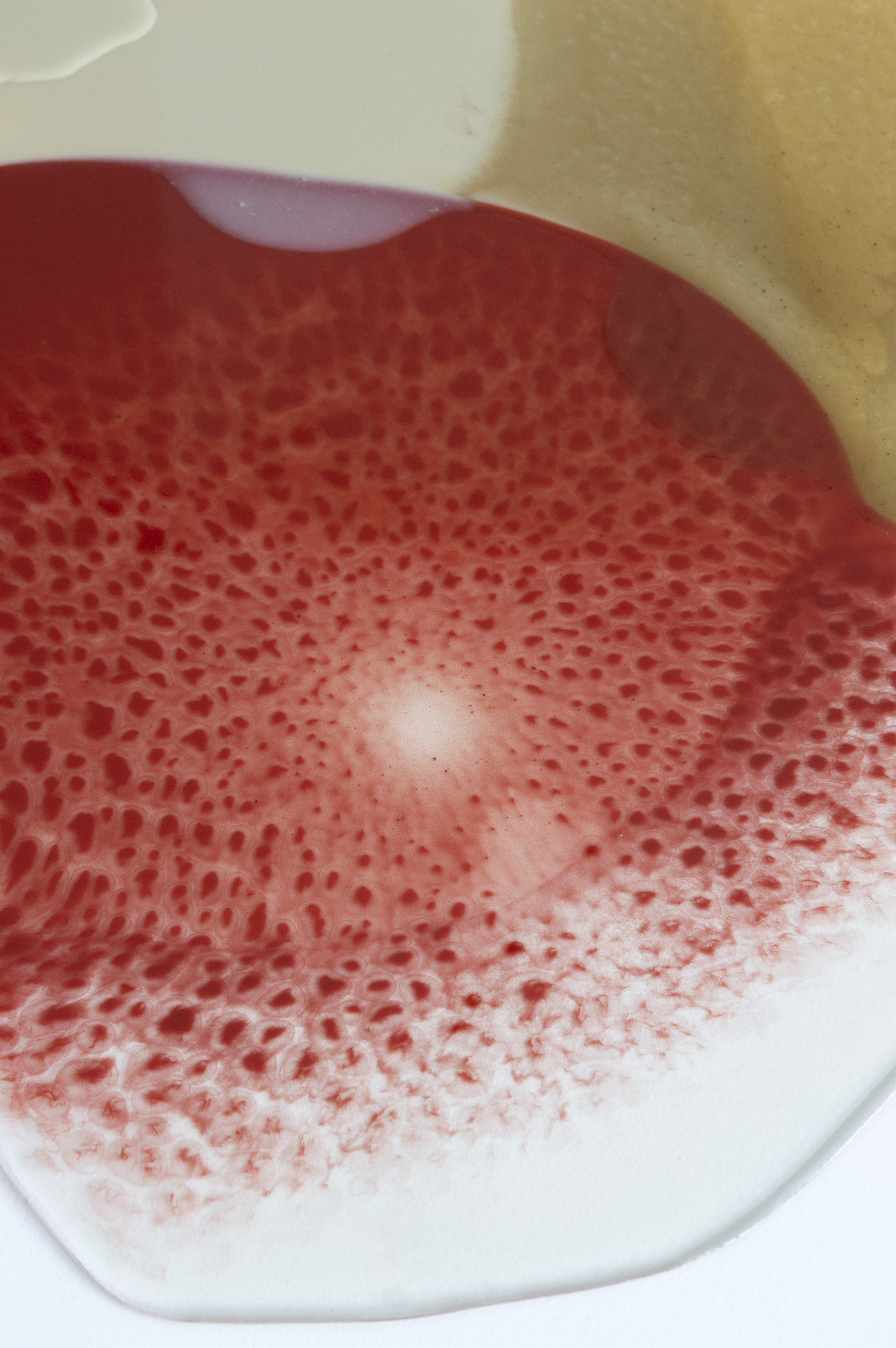 Image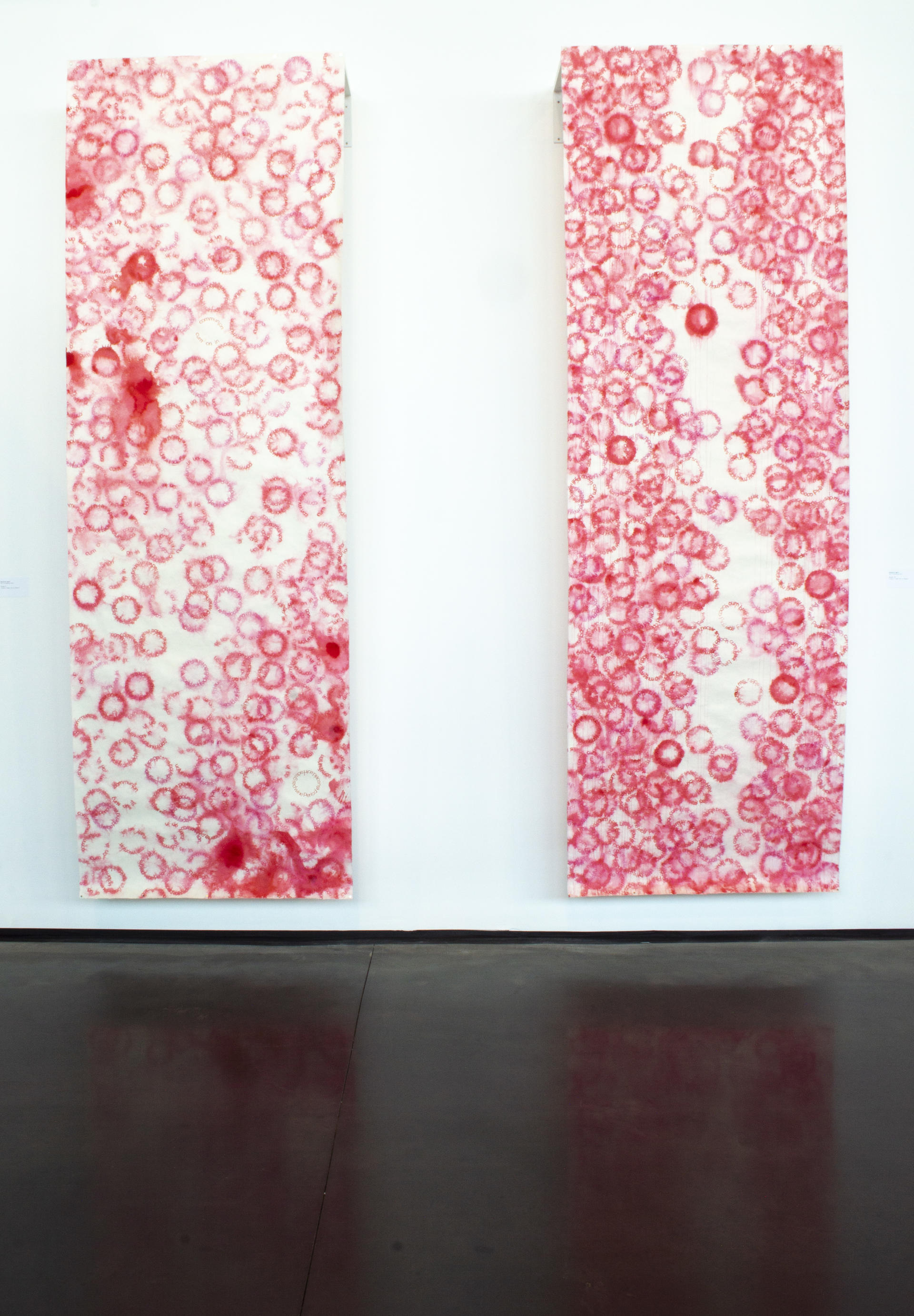 bled I & II
linocut, stamp ink on okawara 
3.25' x 10' [each]
2021 
bled I and II plumbs the double, even triple, meanings of 'bleed's' four rings of lowercase type. These populated prints pair a dispersal of ink downward as a drip with a diffusion of ink outward as a stain. 'bled I' bonds "communion cum on in" + "grape juice placenta red wine period." All that is hallow and hollow. 'bled II' bonds "flow fluid cooch cum bust bleed" + "nipple nectar snatch sap muff milk." All that is juicy and jammy.
Image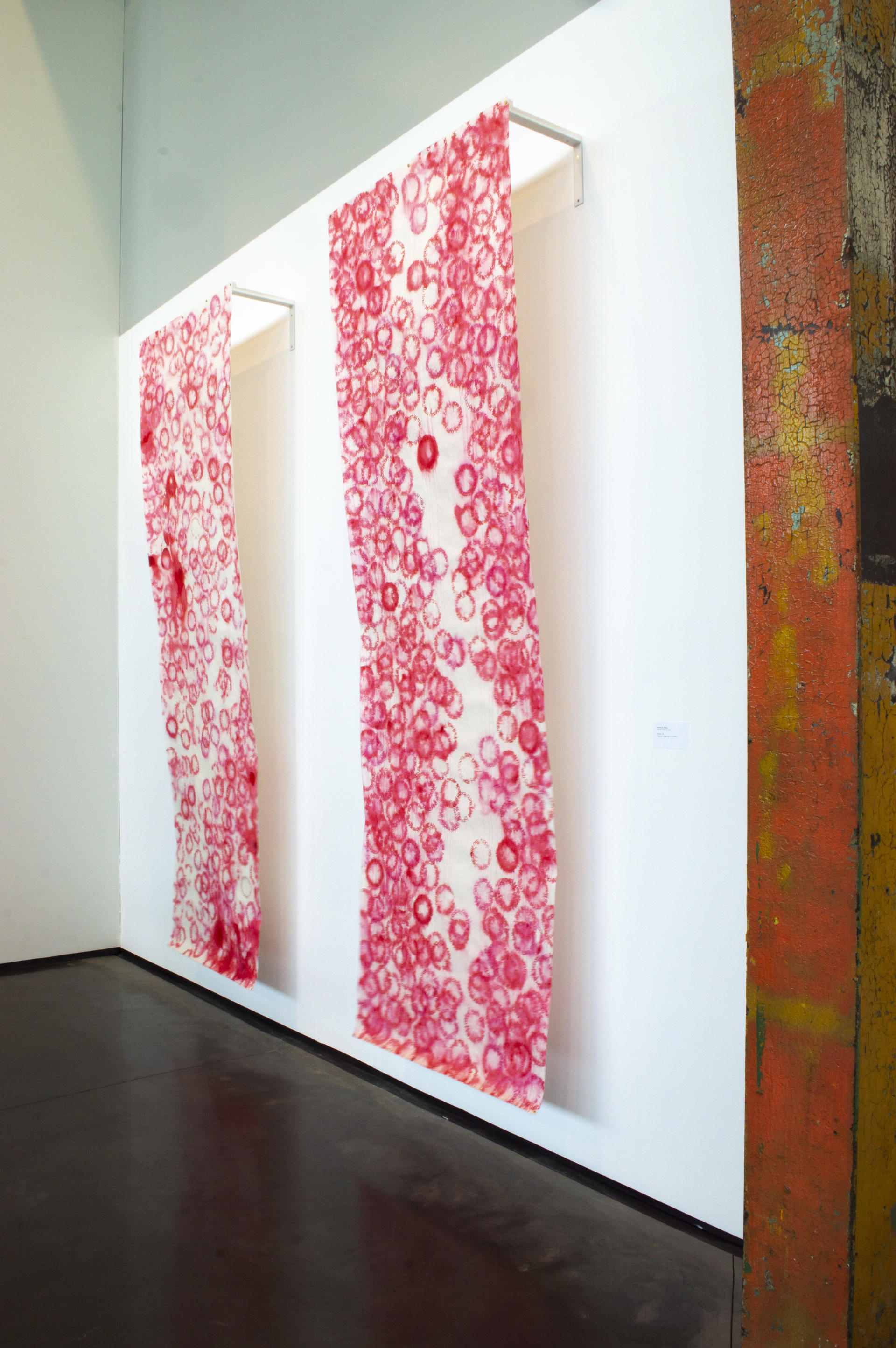 Image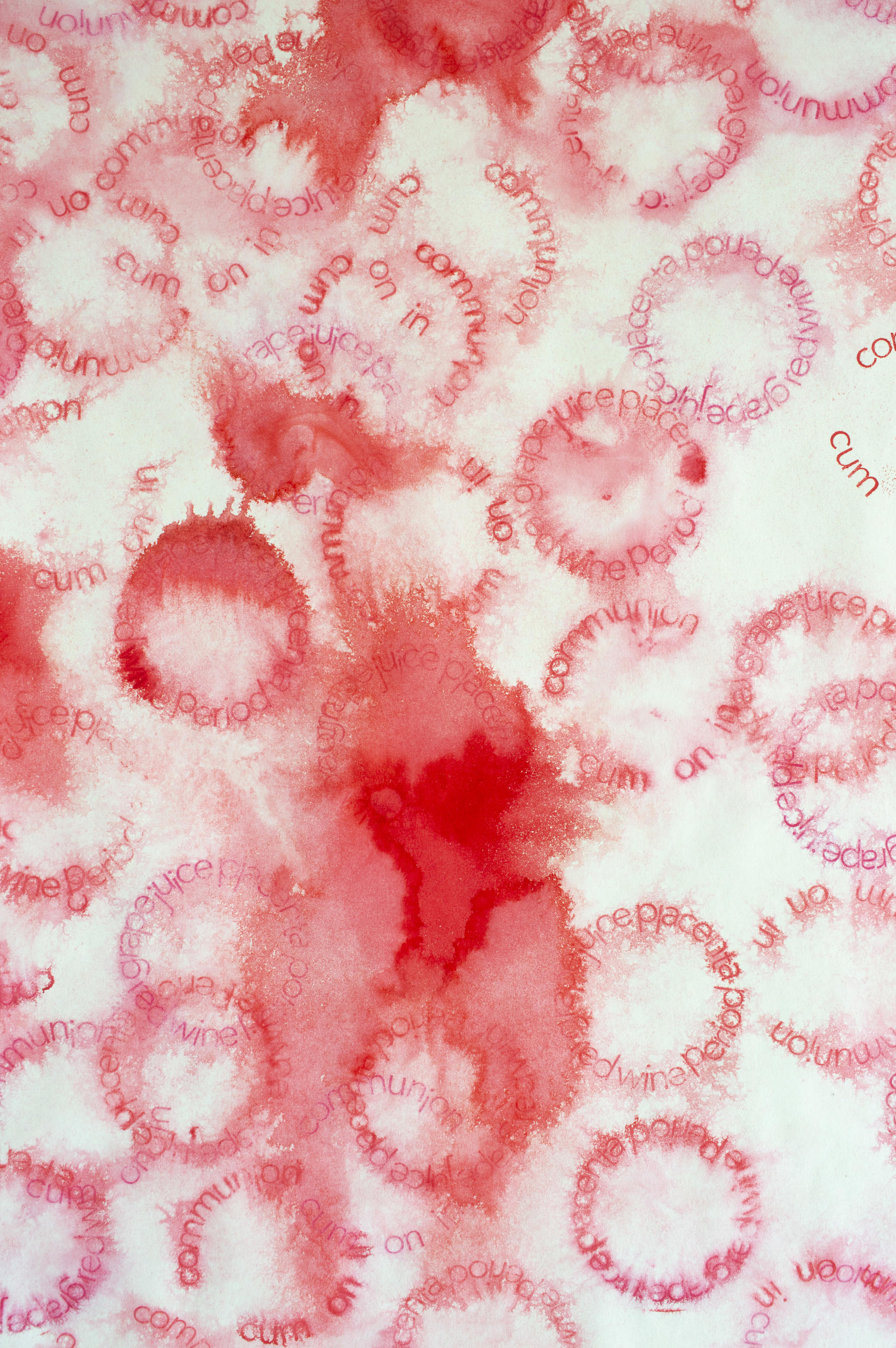 Images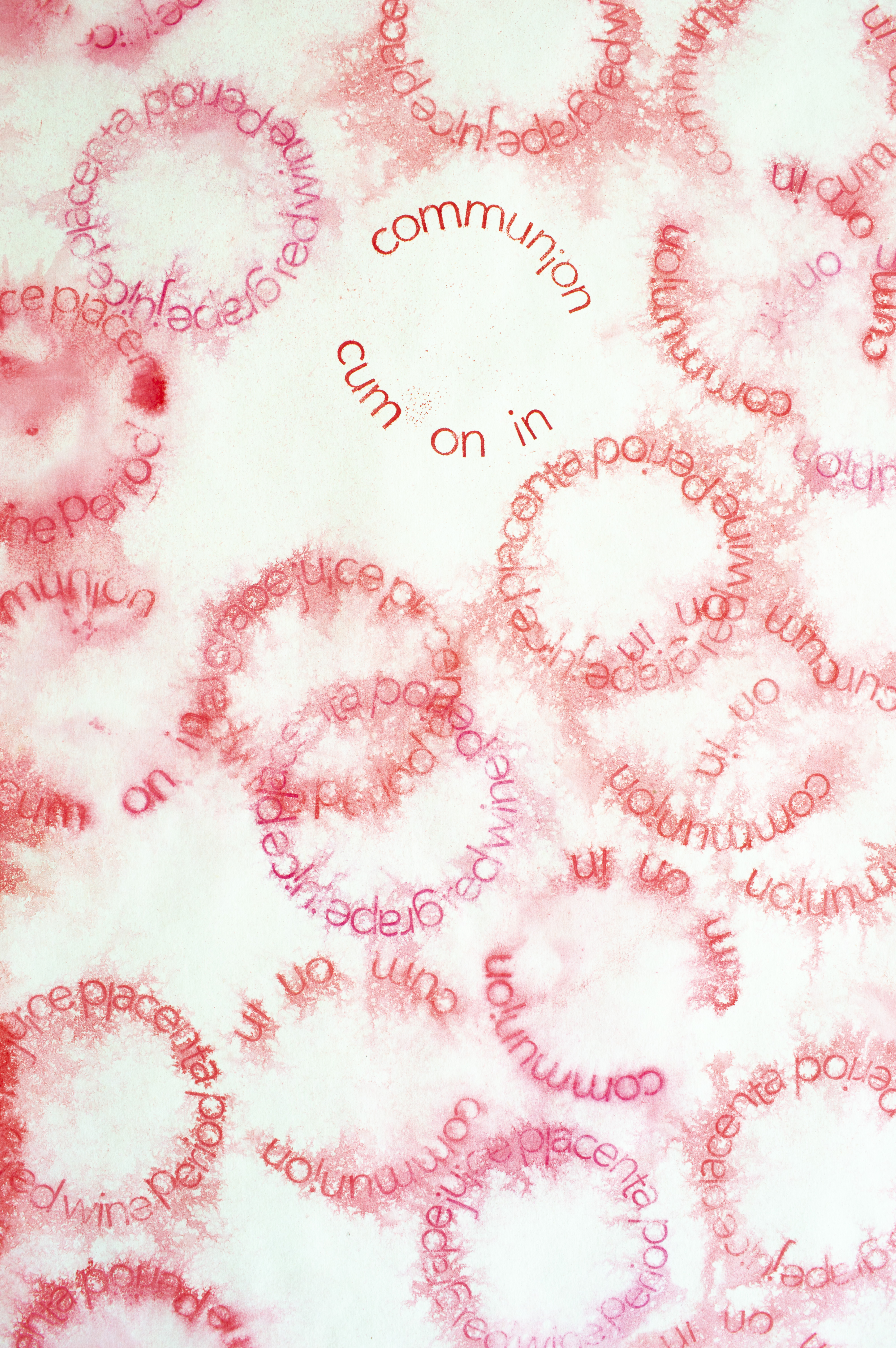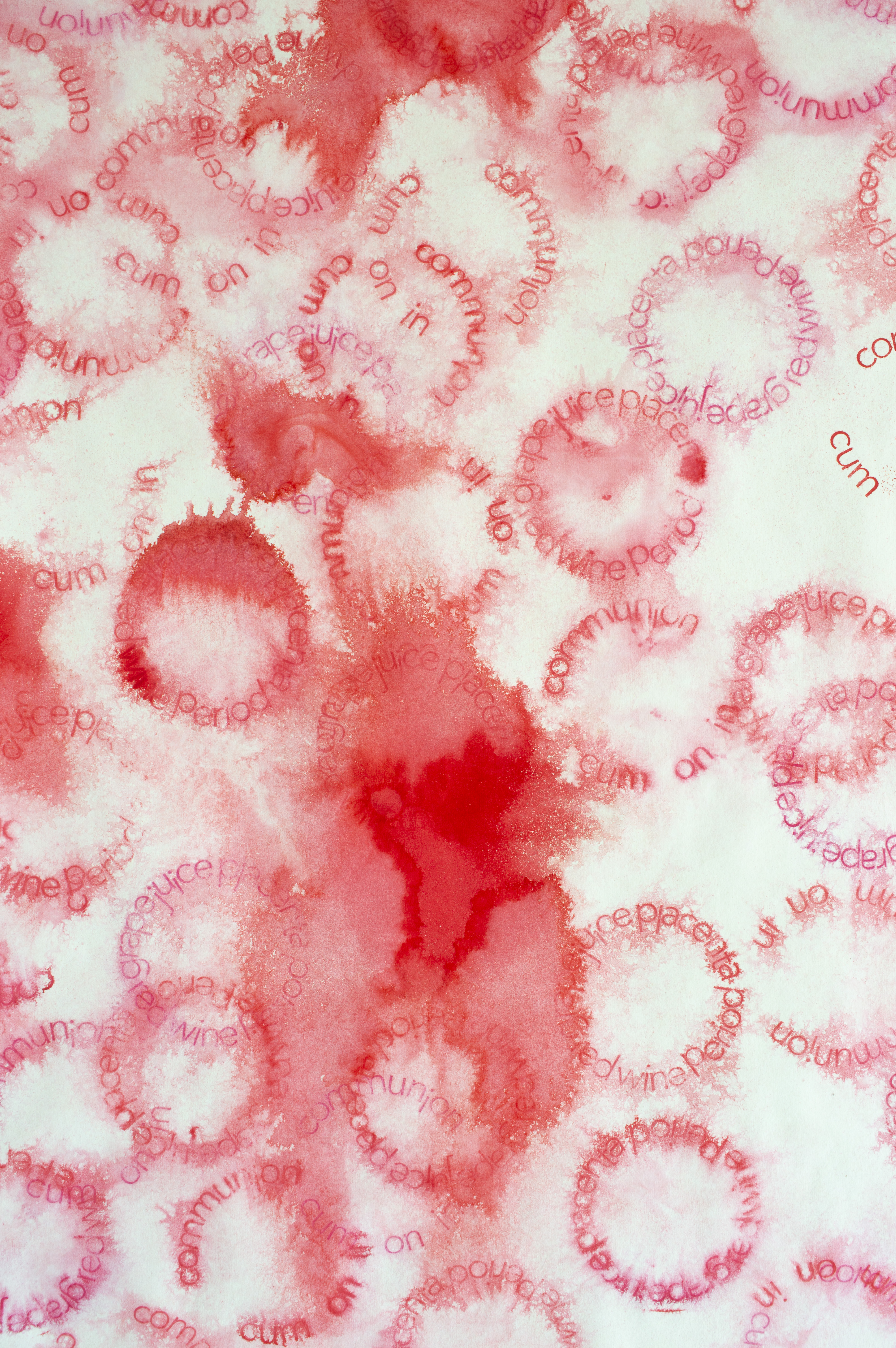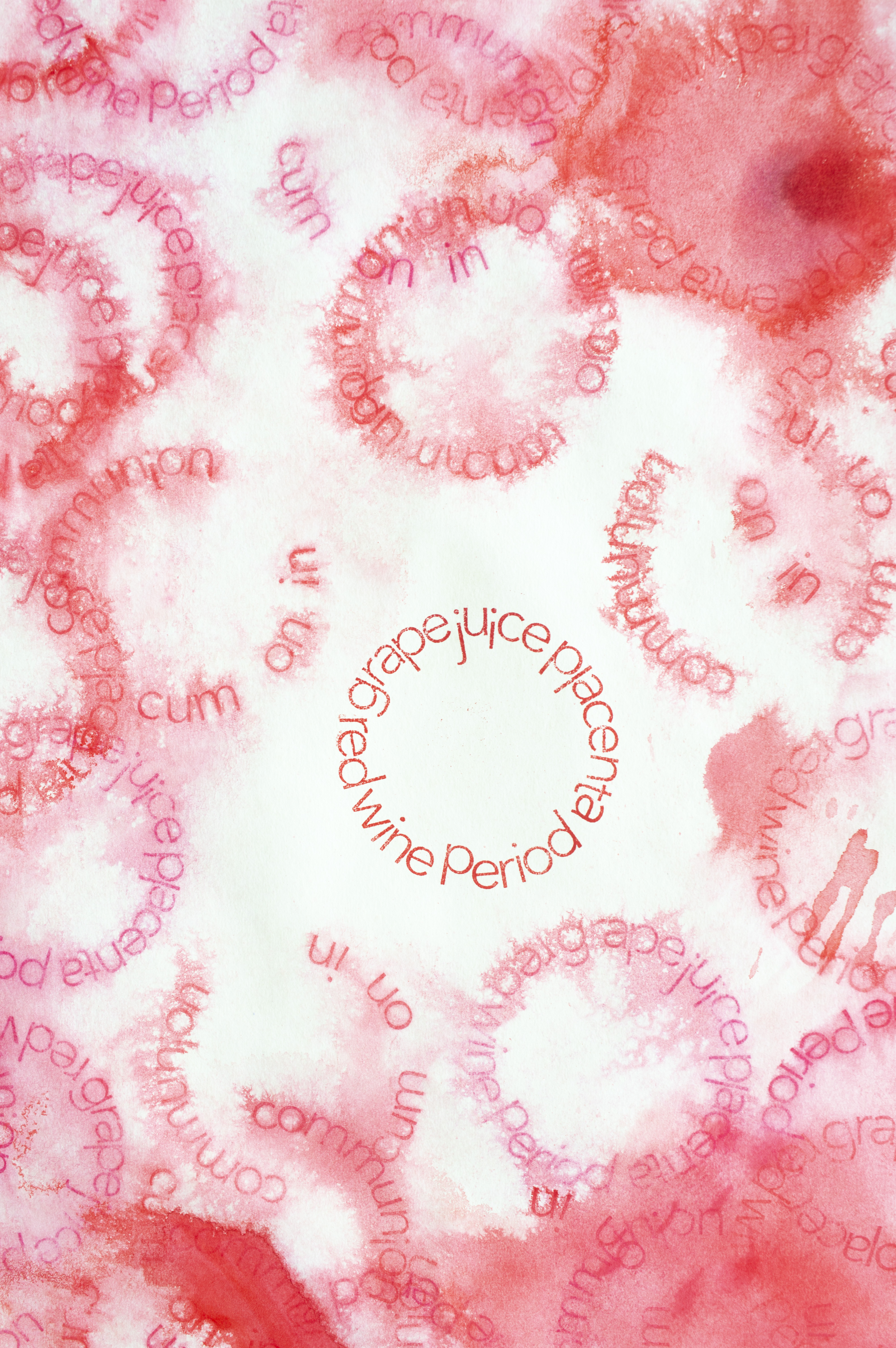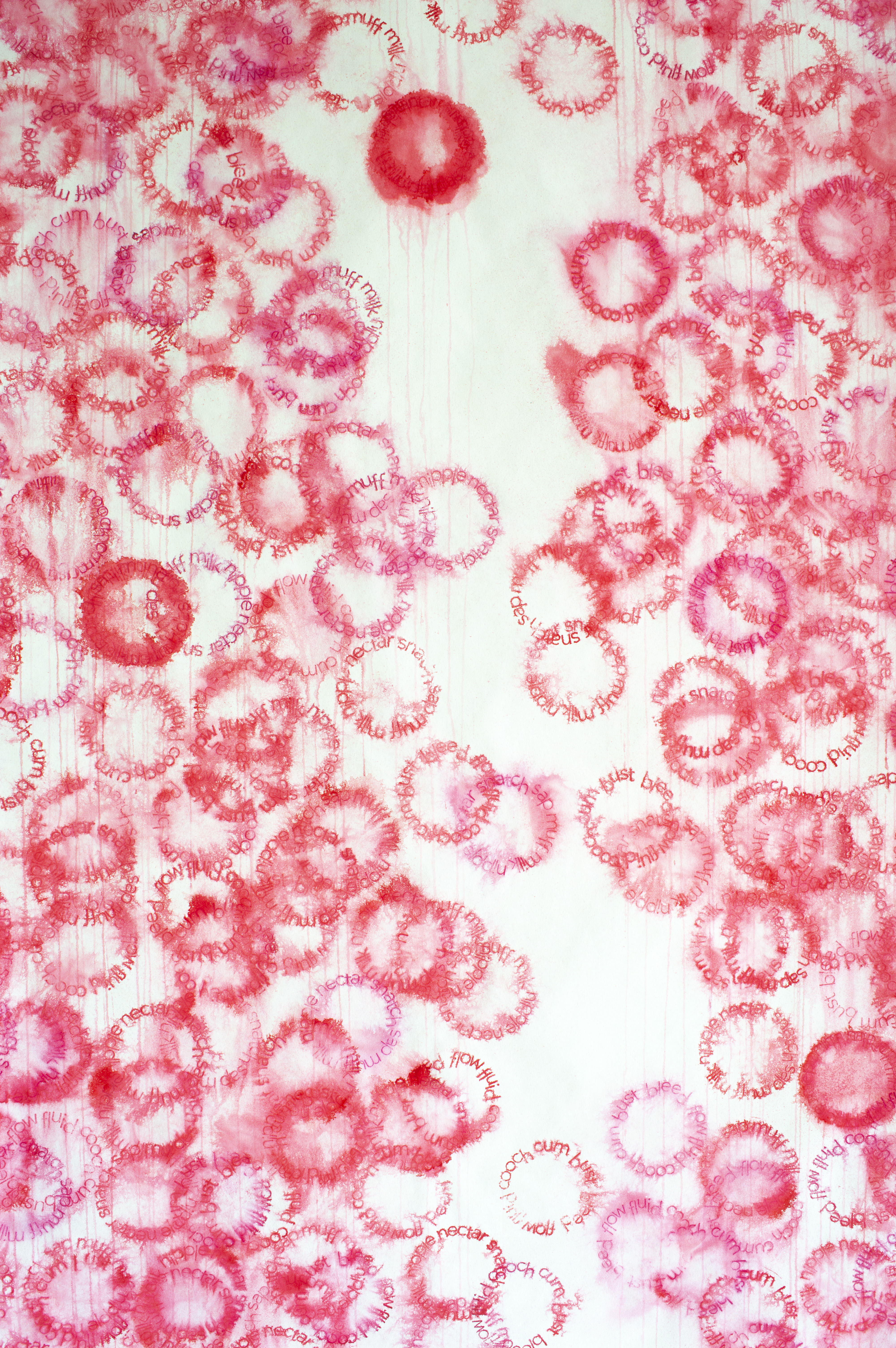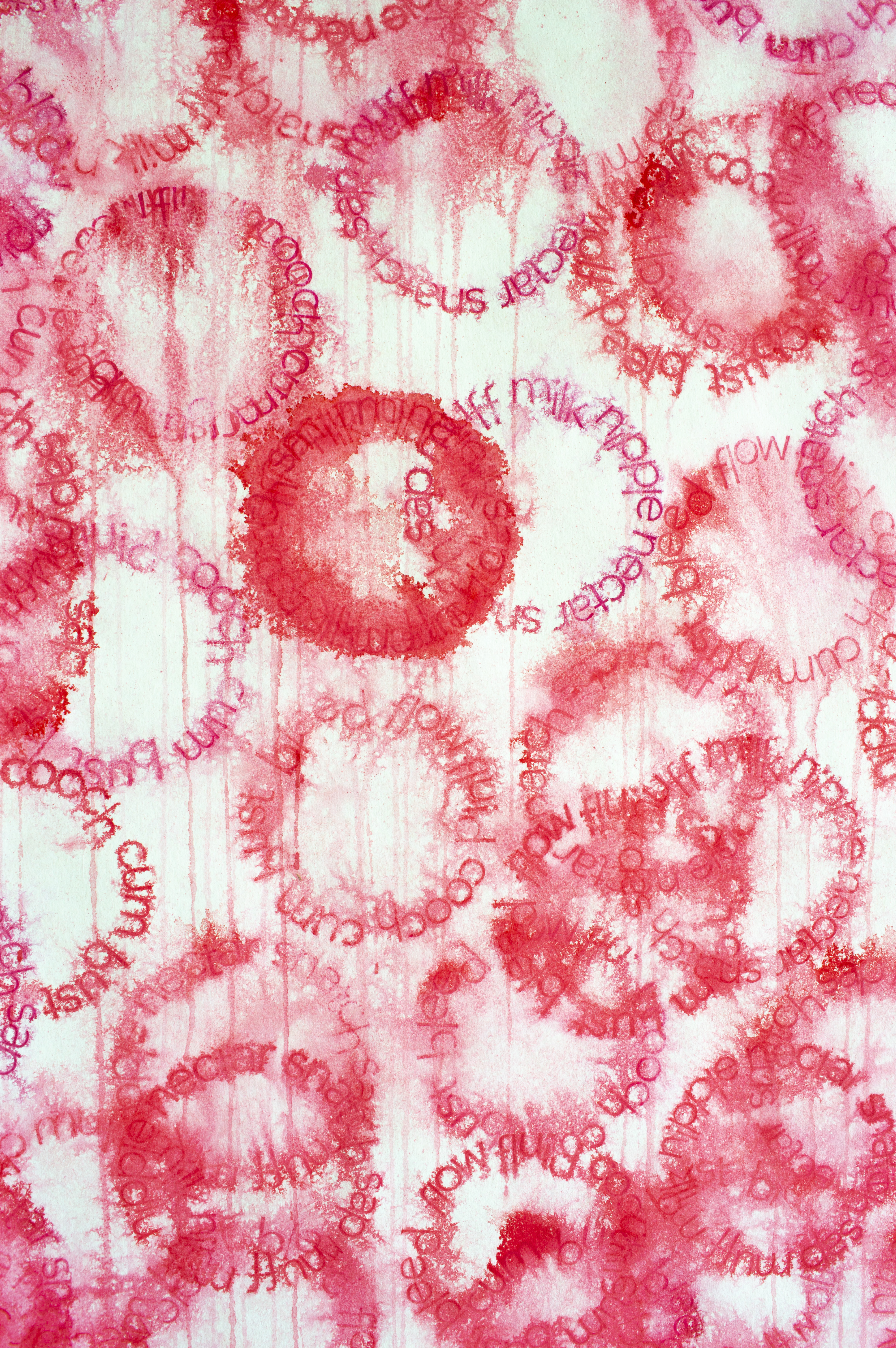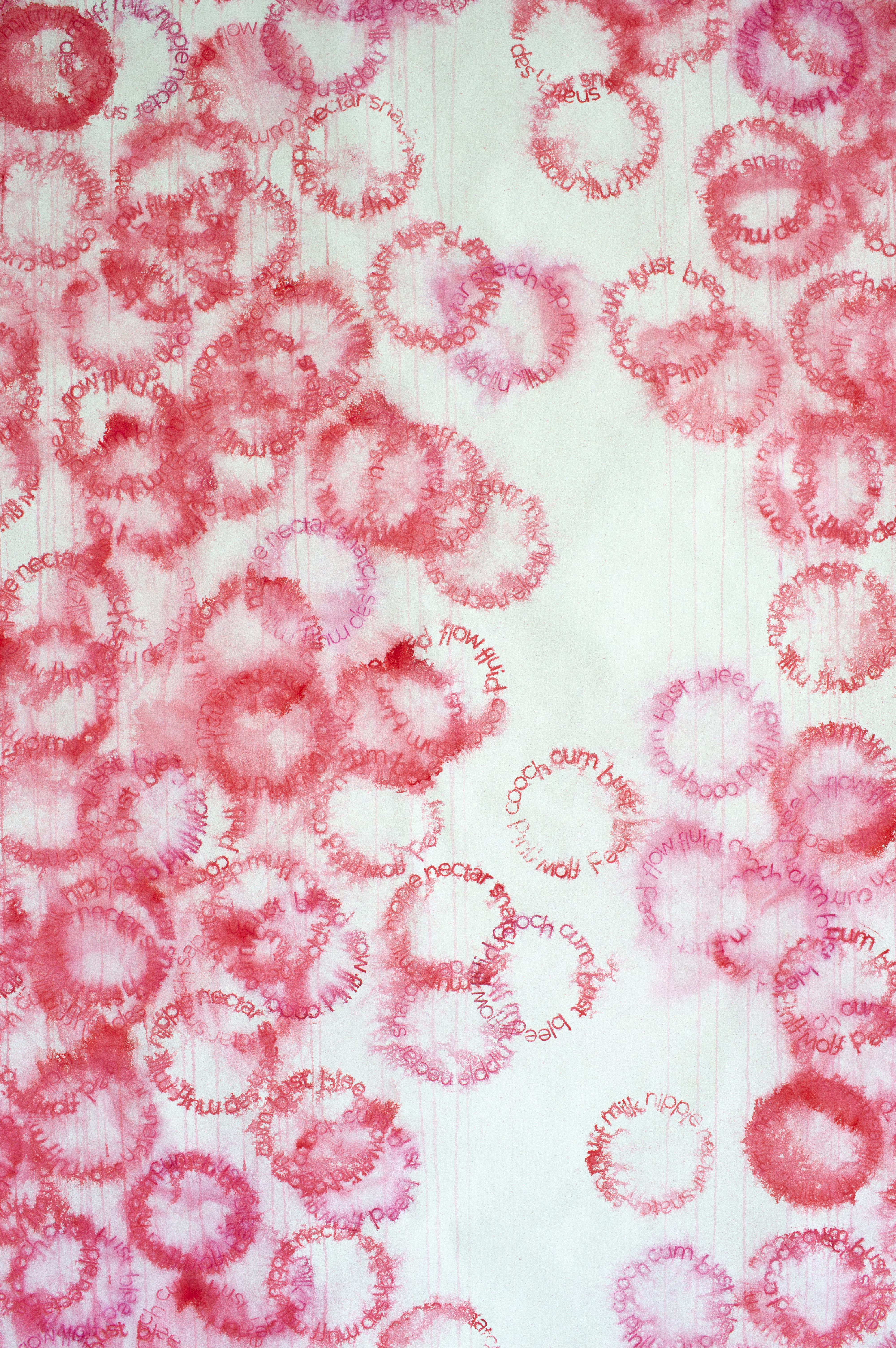 Being an artist inhabiting a feminized body implies residing within a space of political, social, or economic marginality. Feminized differs from female and is not restricted to 'women.' Here I remain dedicated to "feminized," as a category, being ever shifting and malleable. My practice operates across intersections, those fractured and those mended, of feminism. My work is bodily—its format often body-sized, wall-sized, portrait-oriented, or vertically-inclined. The palette I engage with is prompted by bodily and natural fluids—liquid, leaky, and continuously wet. I aim at de-telling by way of drip, sap, mar, bleed, drain, smudge, and obscure. De-telling emphasizes a confrontation with an original [cis male] narrative. Acting as a concurrent response, de-telling first dredges a narrative, only to delink from it, to then accumulate anew. With a commitment to conceptual and material transgression, my process acts as an echo narrative searching for legibility. A task is repeated, patterned, and laborious. In making, I favor color and matter over line and form. Color being sensorial and matter being evocative—both imagined "feminine" by scholars in favor of the 'masculine' and 'controlled' line and form. This engaged making is rooted by enriching my practice with text, word, poetics, prose, and language. Textual work addresses unmarked and marked terms related to feminisms—"unmarked" defining a position of power and privilege while "marked" designates the objectified in all 'othering' relationships—between misogynist and feminist, straight and queer, cisgender and transgender, man and woman. My making considers reproductive rights, body autonomy, and gender-based aggression and violence. My work often explores environmental issues, womxn's rights, and the intersections between. My practice investigates interiority, both bodily and spatial, as it relates to surface, access, and space-making.
Image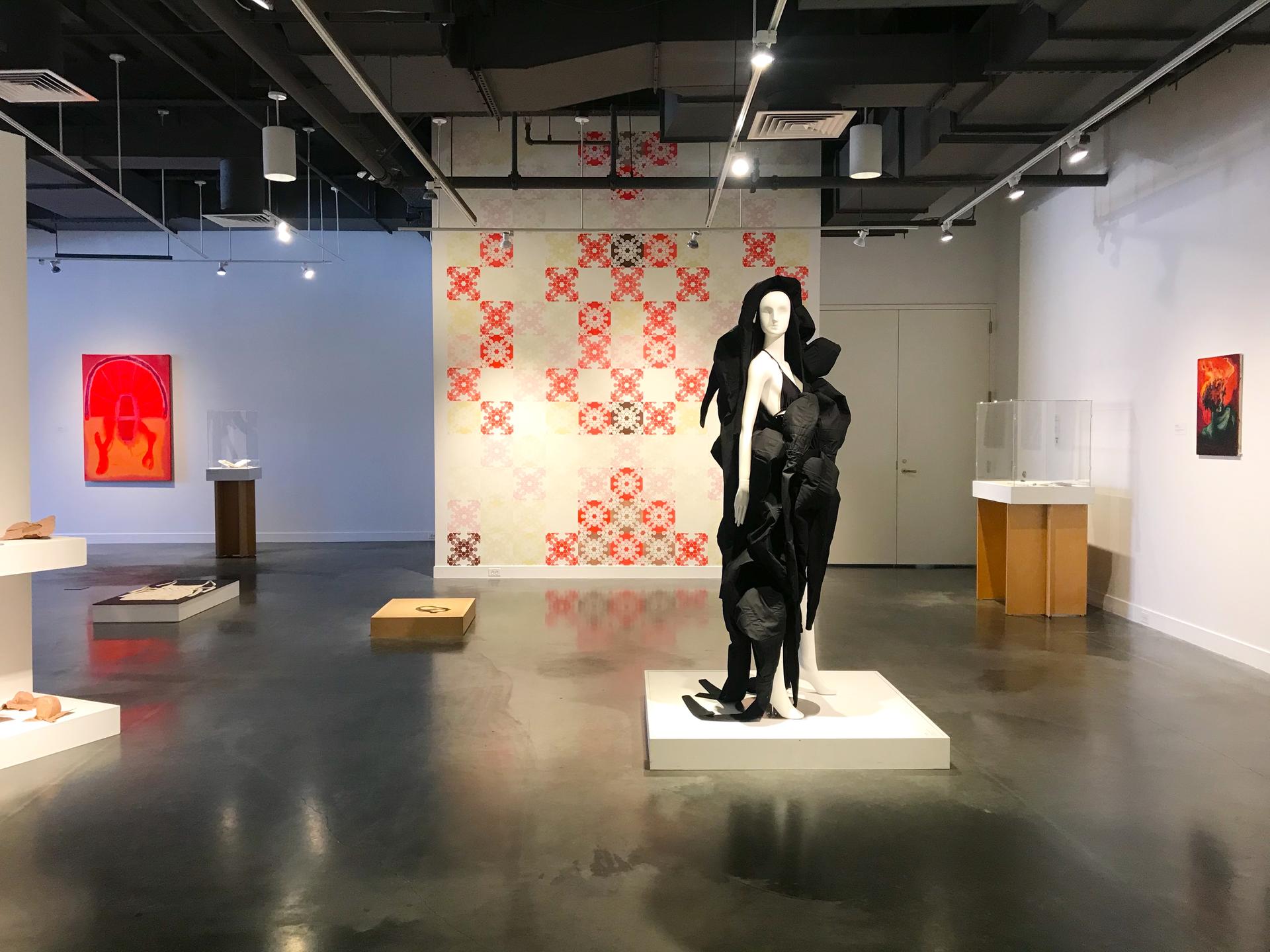 Image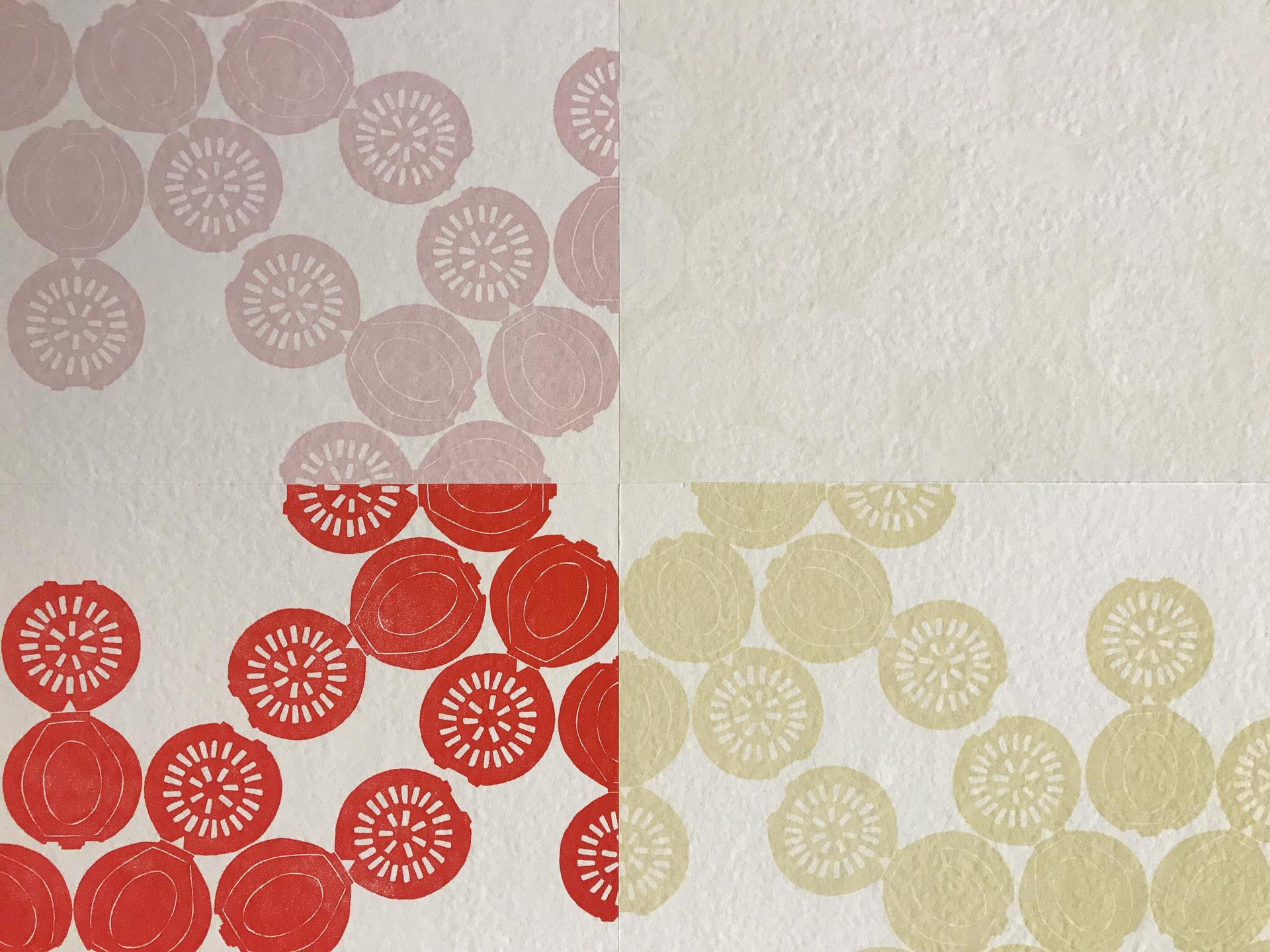 the pills
letterpress, wheat paste 
11' x 13' 
2021 
'the pills' parade proliferated birth control within a maximalist wallpaper by which notions of interiority, both bodily and spatial, are explored. By plucking pill packs out of the medicine cabinet, bathroom, bedside table, or underwear drawer and pasting pill packs on the wall, this work makes visible the fraught feminized + pill relationship across intersections. This quilt is a gesture of resurrection. These tiles mimic a body-fluid palette of liquid leaky bodies: saliva, mucus, tears, bile, lymph, vaginal lubrication, breast milk, phlegm, pus, earwax, intestinal juice, belly button discharge, and blood— external, menstrual, or as a bruise. Often fluids of gender-based aggression and violence.
Installation for group exhibition 'Feminized' 
Co-curated by Breslin Bell and Mariana Ramos Ortiz 
Gelman Gallery, RISD Museum, Providence, RI 
March 13 - April 3, 2021 
Image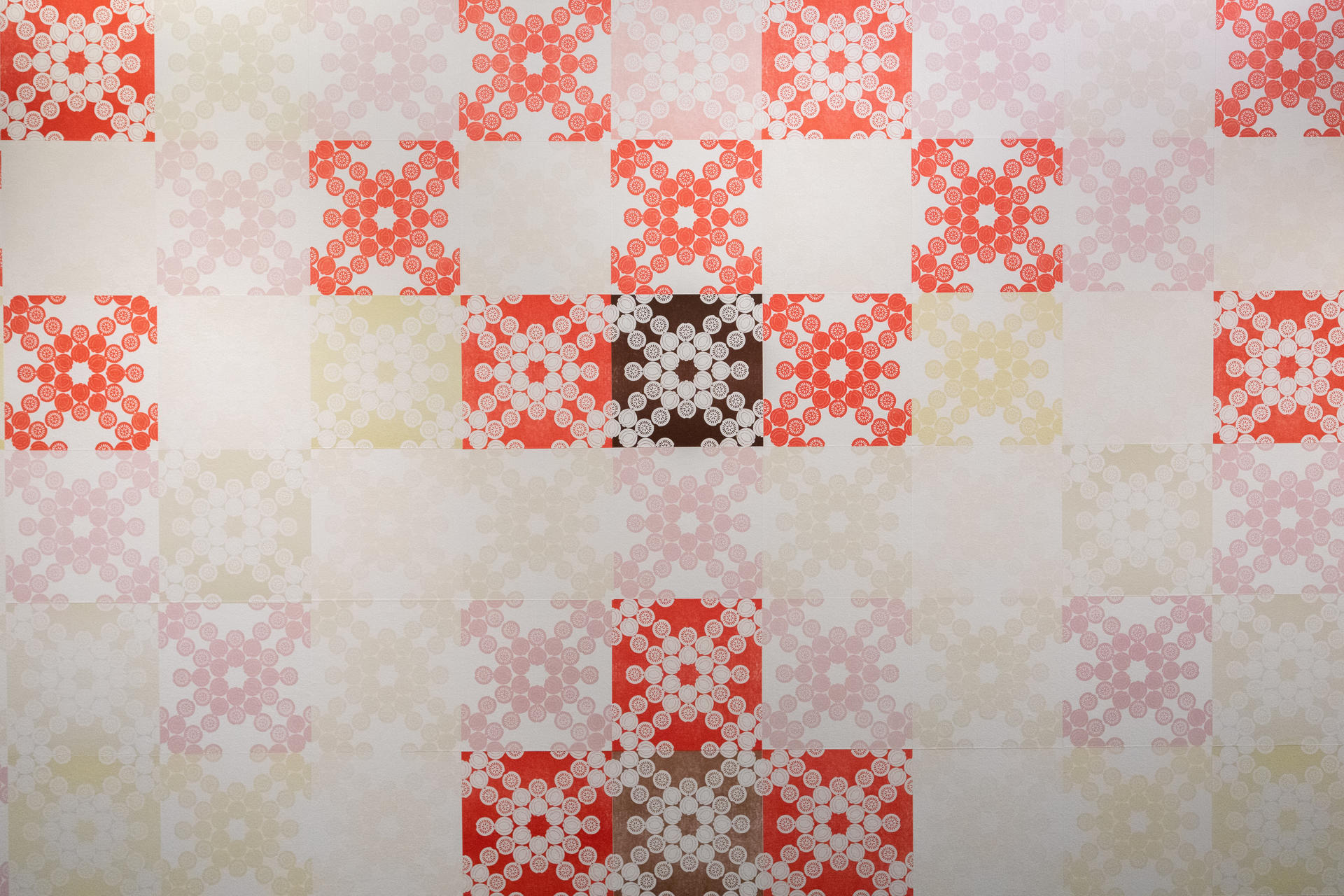 Images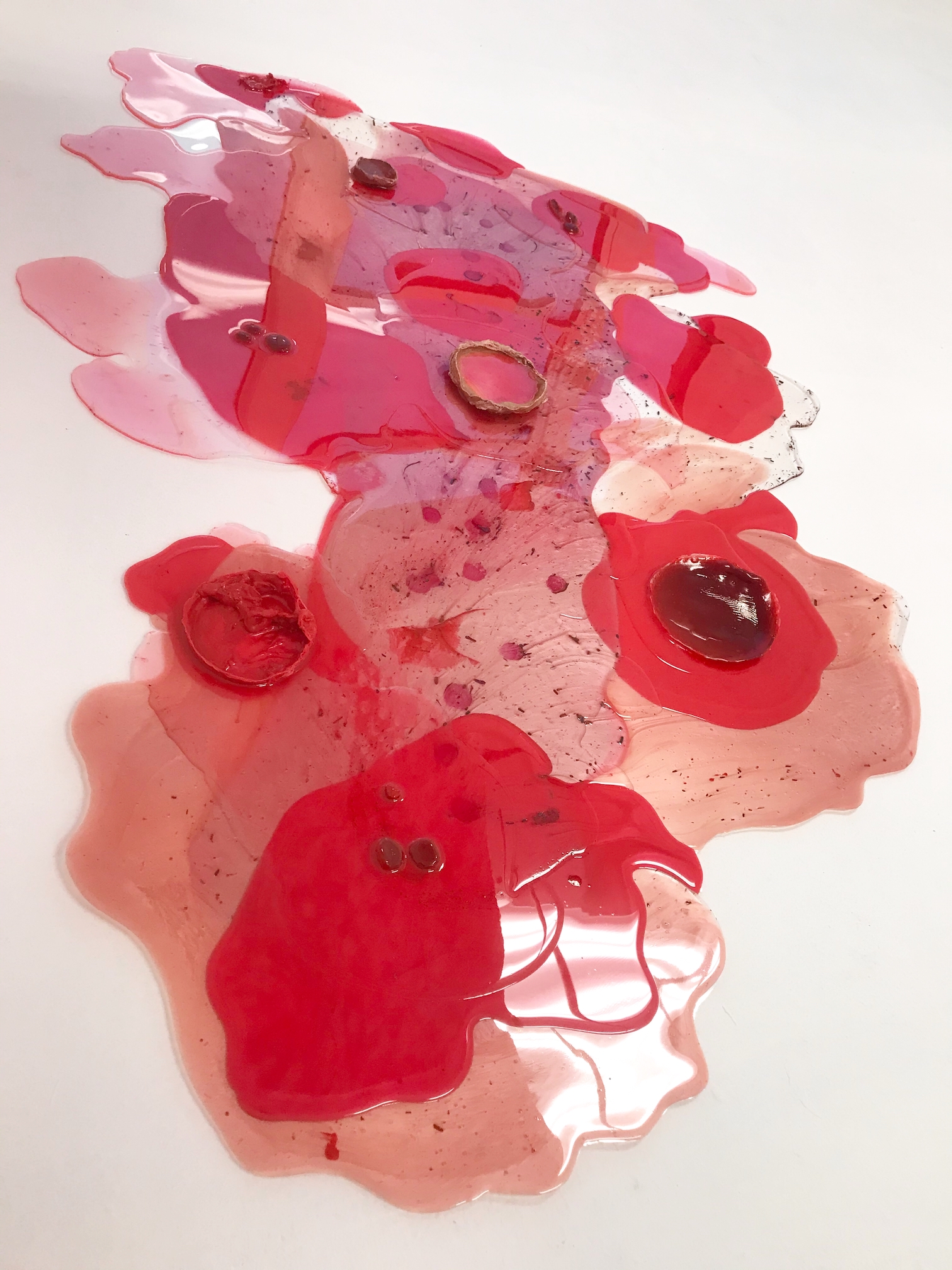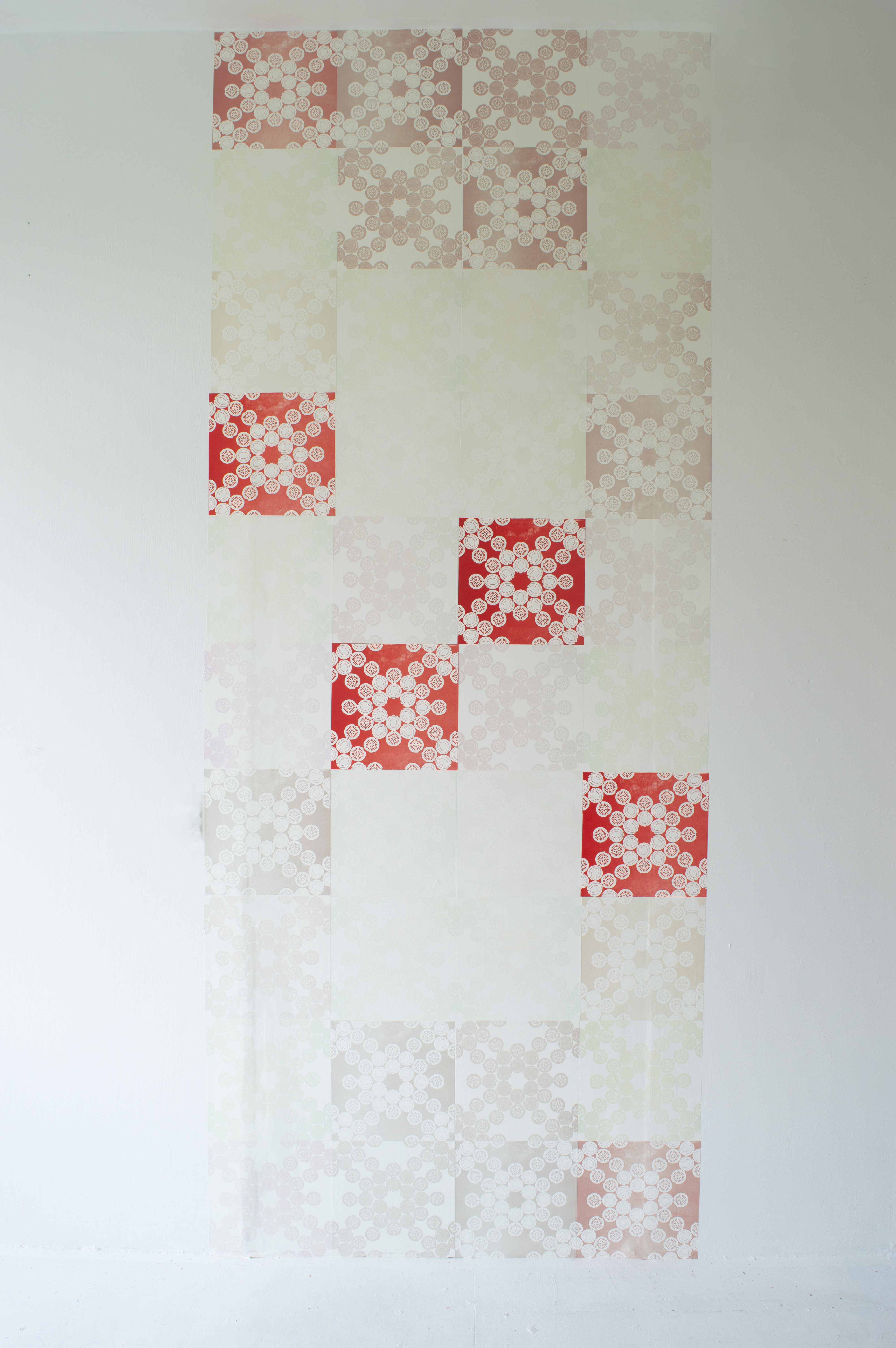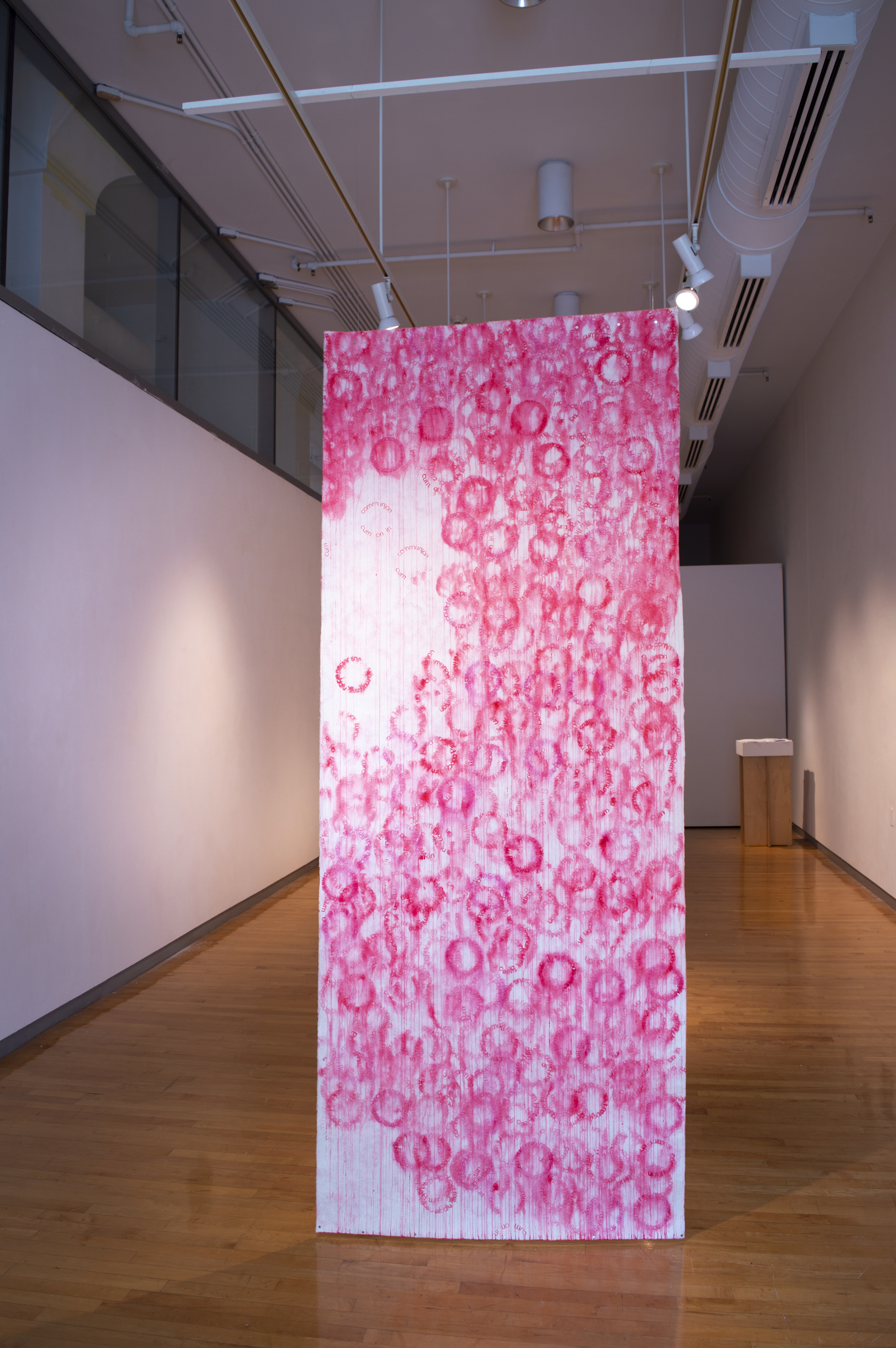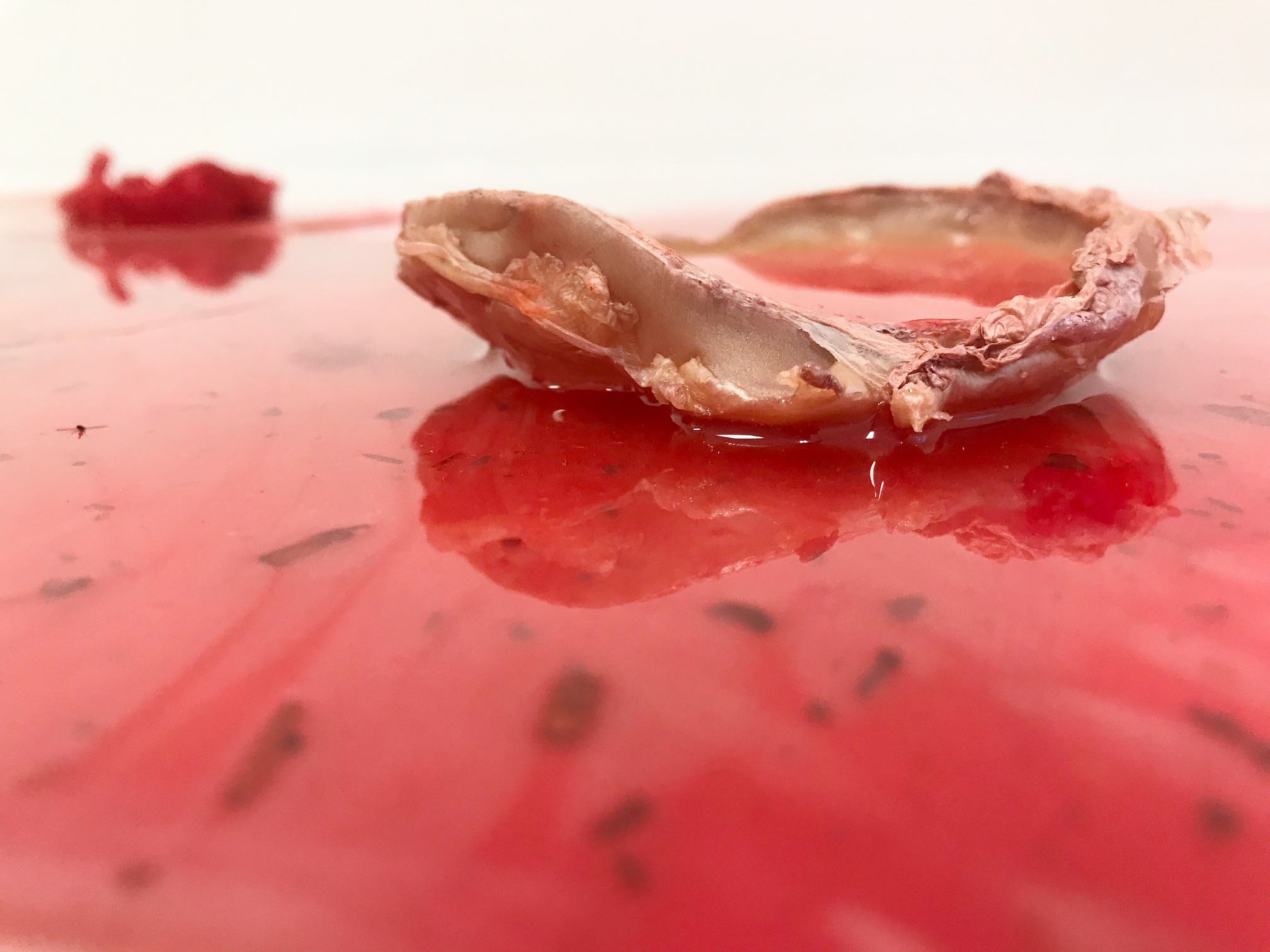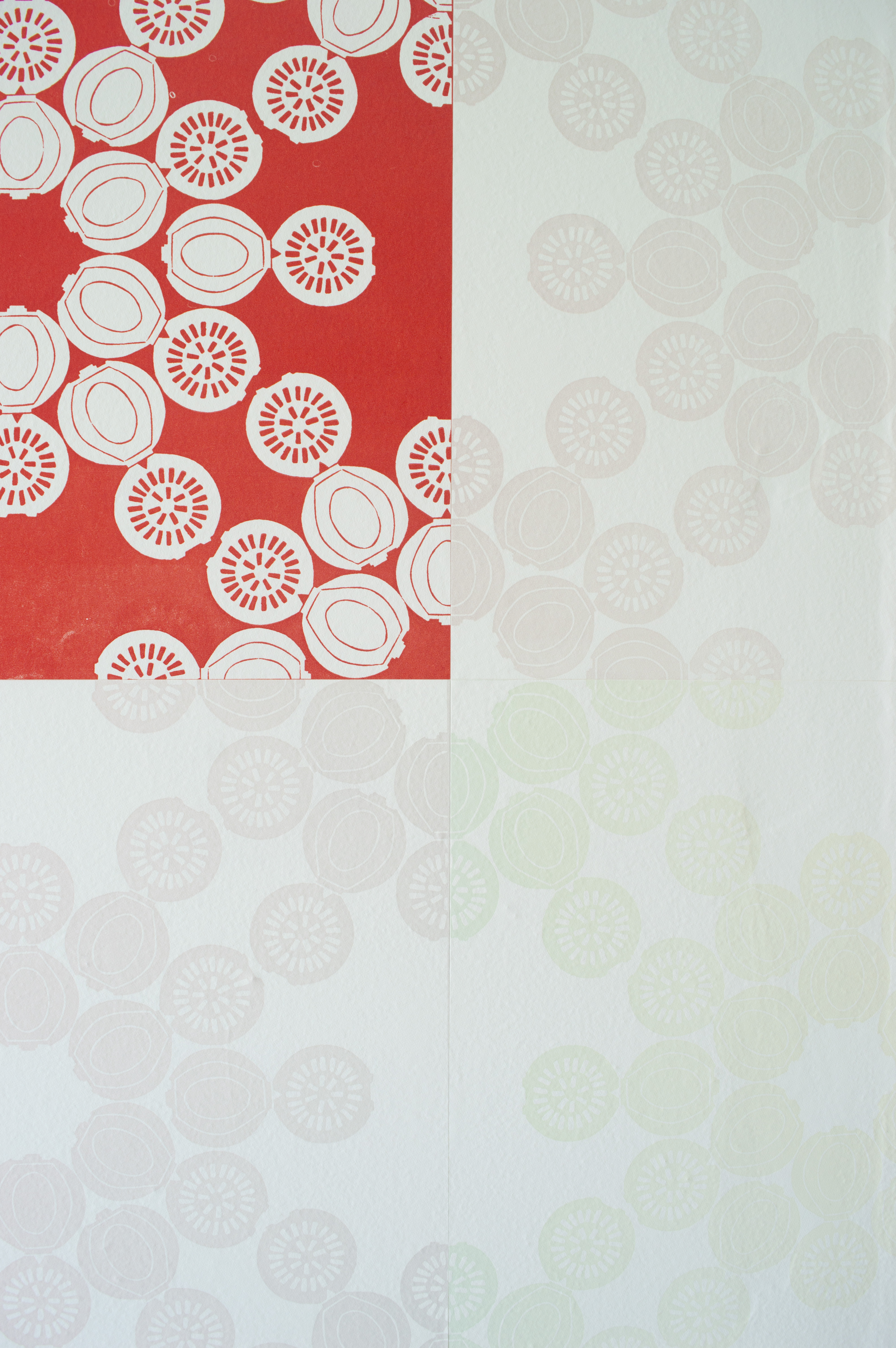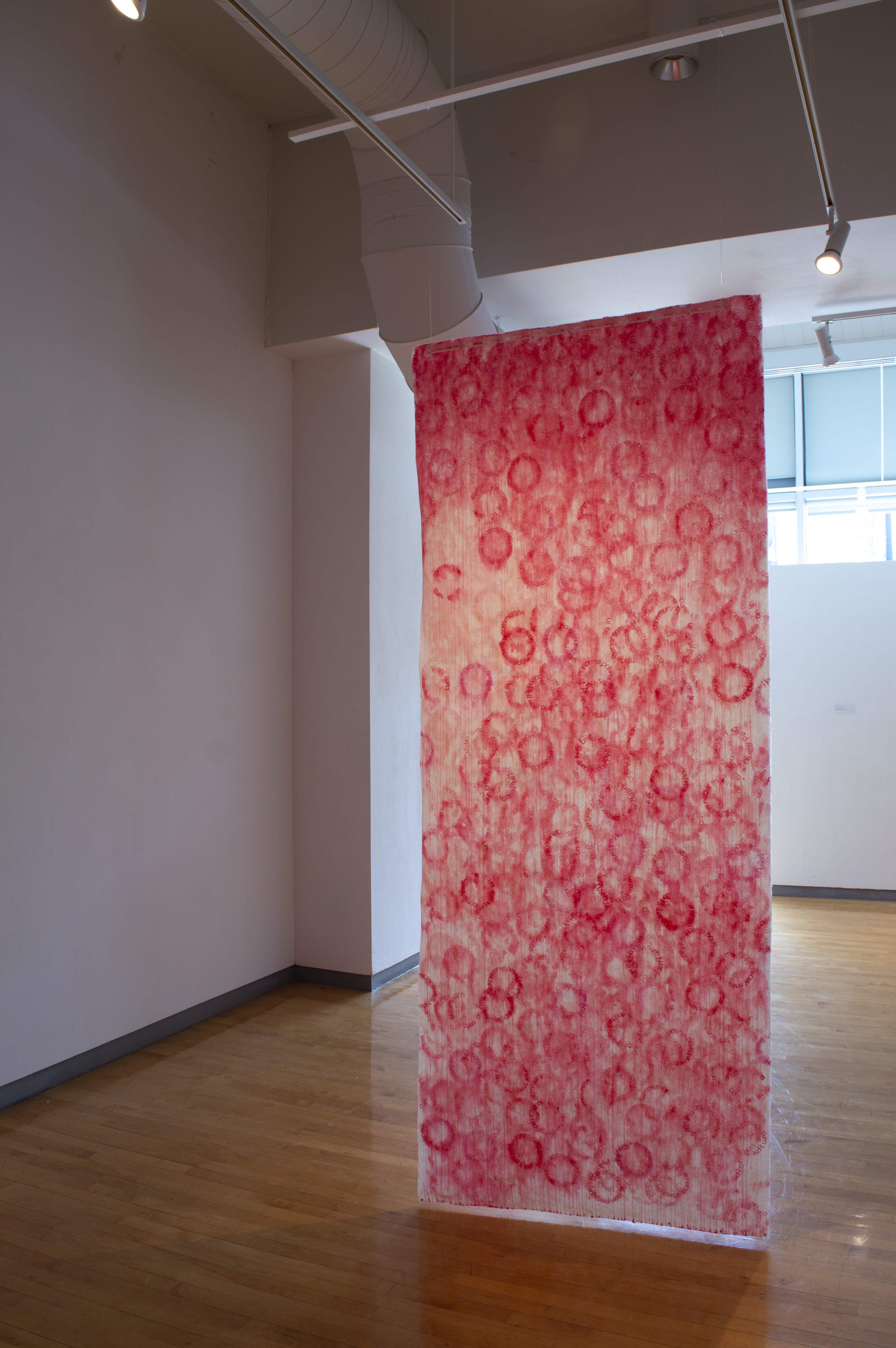 sap
epoxy resin, liquid latex 
3' x 4' 
2020
the pills 
letterpress, wheat paste 
4' x 10' 
2020 
bleed 
linocut, stamp ink on okawara 
3.25' x 8.25' 
2020