Shelby Shaw
The Philosopher's Stow
The Philosopher's Stow uses the art book fair table as a medium to display roughly a dozen books and printed matter I've designed and written (or drawn) which reflect my research from the past two years in the Digital + Media program. This research as a whole — across each of the books, zines, and prints — has been an investigation into legacy and objecthood, and a skepticism towards images and perception. All items are available for purchase, plus one DIY take-away for free (only a few of the books are listed on this page). Additionally, I will be writing free improvised poems for anyone who wants one. The poems will each be stamped as an edition of 1, signed and dated before visitors take them home, and are a reprisal of the live poetry reflexes I wrote at the NY Art Book Fair in 2016, at MoMA PS1. Documentation of all of the improvised poems that I write over the course of the show will be uploaded in real-time to this public Are.na channel: https://www.are.na/shelby-shaw/the-philosophers-stow
 
As a multidisciplinary artist who has always identified first as a writer, I've been liberated by finally utilizing the book form as a vessel for my thoughts: I'm giving objecthood to what I could otherwise talk about with you, the sounds and images that are in my head but can't be transmitted or projected without some sort of gesture on my part. The book is a body, a corpus, and what is contained within are the words that, for me, make the art happen: the impetus for thoughts, the catalysts to generate activity in your own mind, you the reader. Reading someone's words is, in some ways, entirely a relational activity. As you read this web page, you are having your own thoughts while reading my own, but you cannot behold either; if you print out this page, then you have it in objecthood. The Philosopher's Stow is a celebration of selections from my multi-pronged research practice over the past 2 years, in the form of printed objects, handwritten objects, and live exchanges with me. 
Image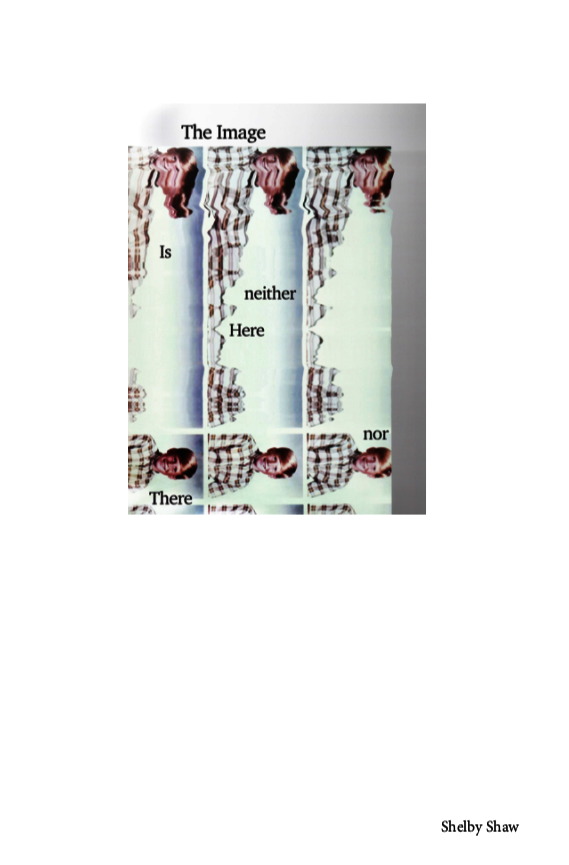 The Image Is neither Here nor There
Hardcover perfect-bound book, color pages throughout
220 pages, edition of 25, 6" x 9"
Text: 2018-2021 | First printing: May 2022
My thesis book, printed in a first run of 25 copies, exploring the question of whether an image requires any objecthood in order to exist. 
Image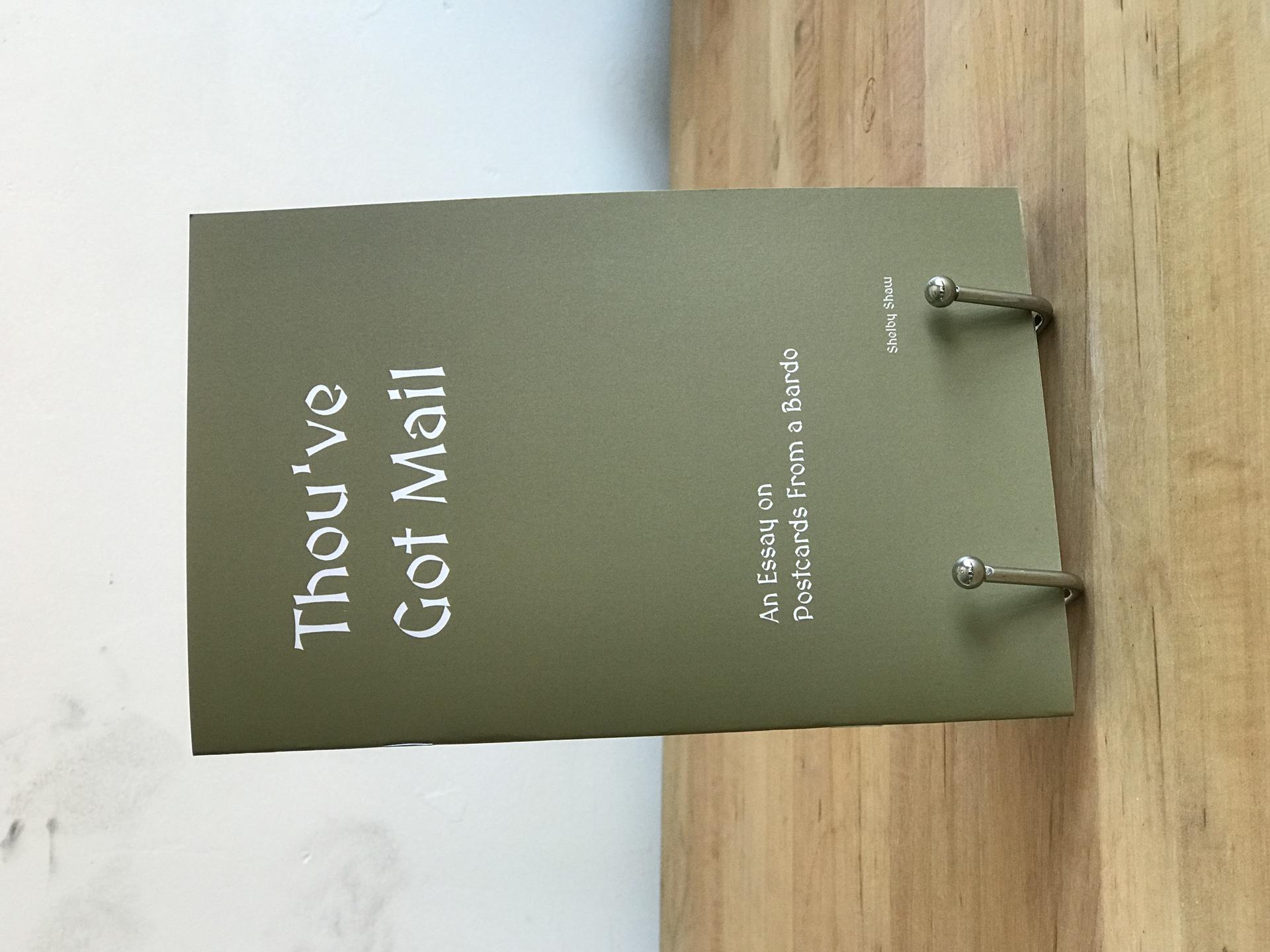 Thou've Got Mail: An Essay on Postcards From a Bardo
Staple-bound book, color pages throughout
12 pages, edition of 100, 5.5" x 8.5"
Text: January 2022 | First printing: March 2022
An appendix to the installation 'Postcards From a Bardo' (2021), Thou've Got Mail uses the traditional fairy tale as a starting point to employ a Medieval vocabulary, Greek mythology, Buddhism, and Heideggerian philosophy to question presence, metaphor, and communication. Between dense, archaic syntax and out-of-focus text inserts, Thou've Got Mail forces readers to acknowledge when they are following the path of the essay and when they have lost their way.
Image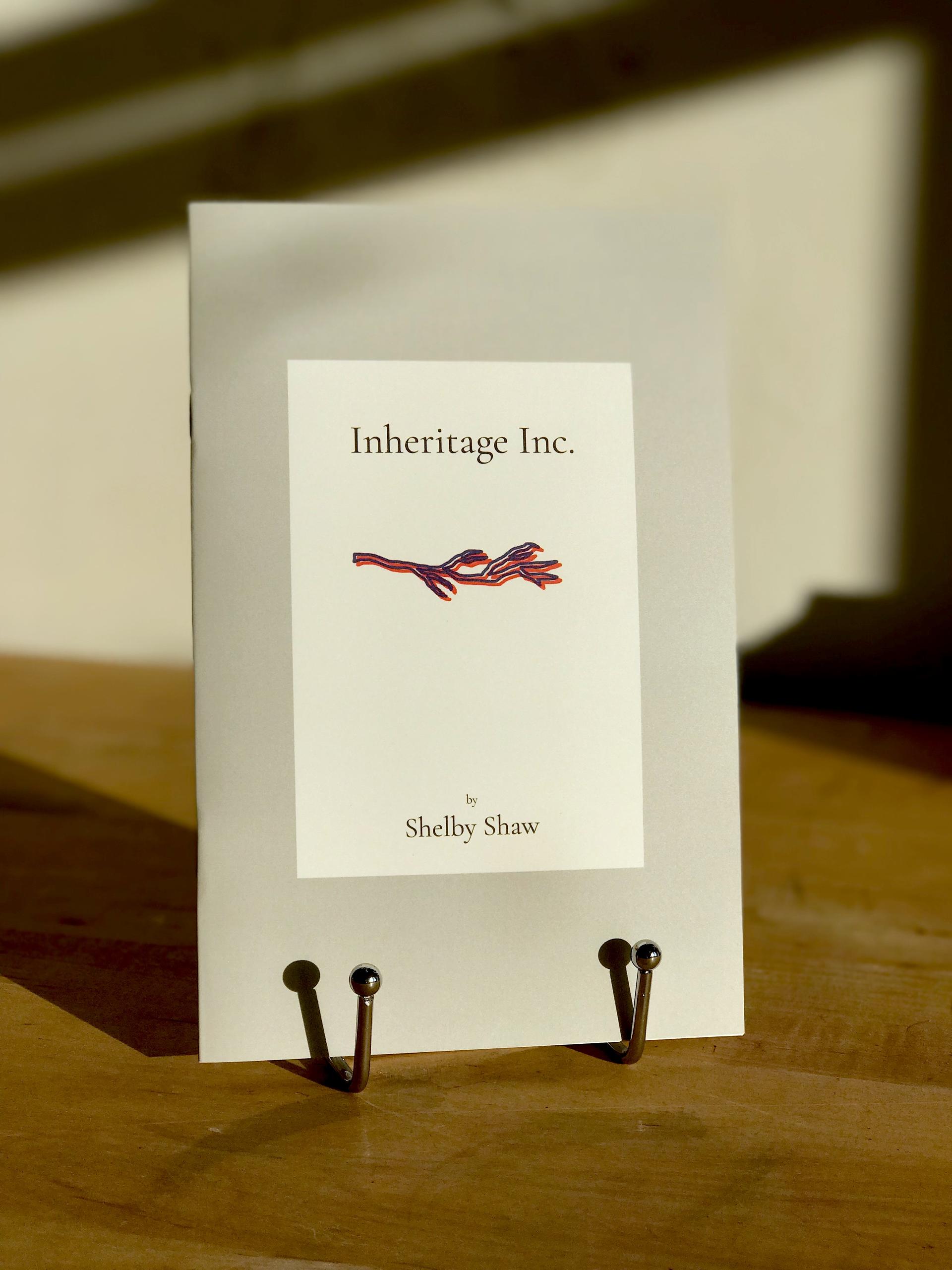 Inheritage Inc.
Staple-bound book, color illustration inside, black text on white pages
16 pages, edition of 100, 5.5" x 8.5"
Text & illustration: April 2021 | First printing: March 2022
A short fiction story involving pharmaceutical giants, seductive consumerism, techno-utopian fertility options, selfish parenting, and the fine print that most of us ignore when taking a risk on our health. Gender-ambiguous in an unnamed city during a time reminiscent of the not-so-distant past, this story grew out of research I had been doing with training AI chatbots, creating holographic memories of the deceased, and seeking ontological proof: what does it mean to be alive, to be sentient, to be?
Image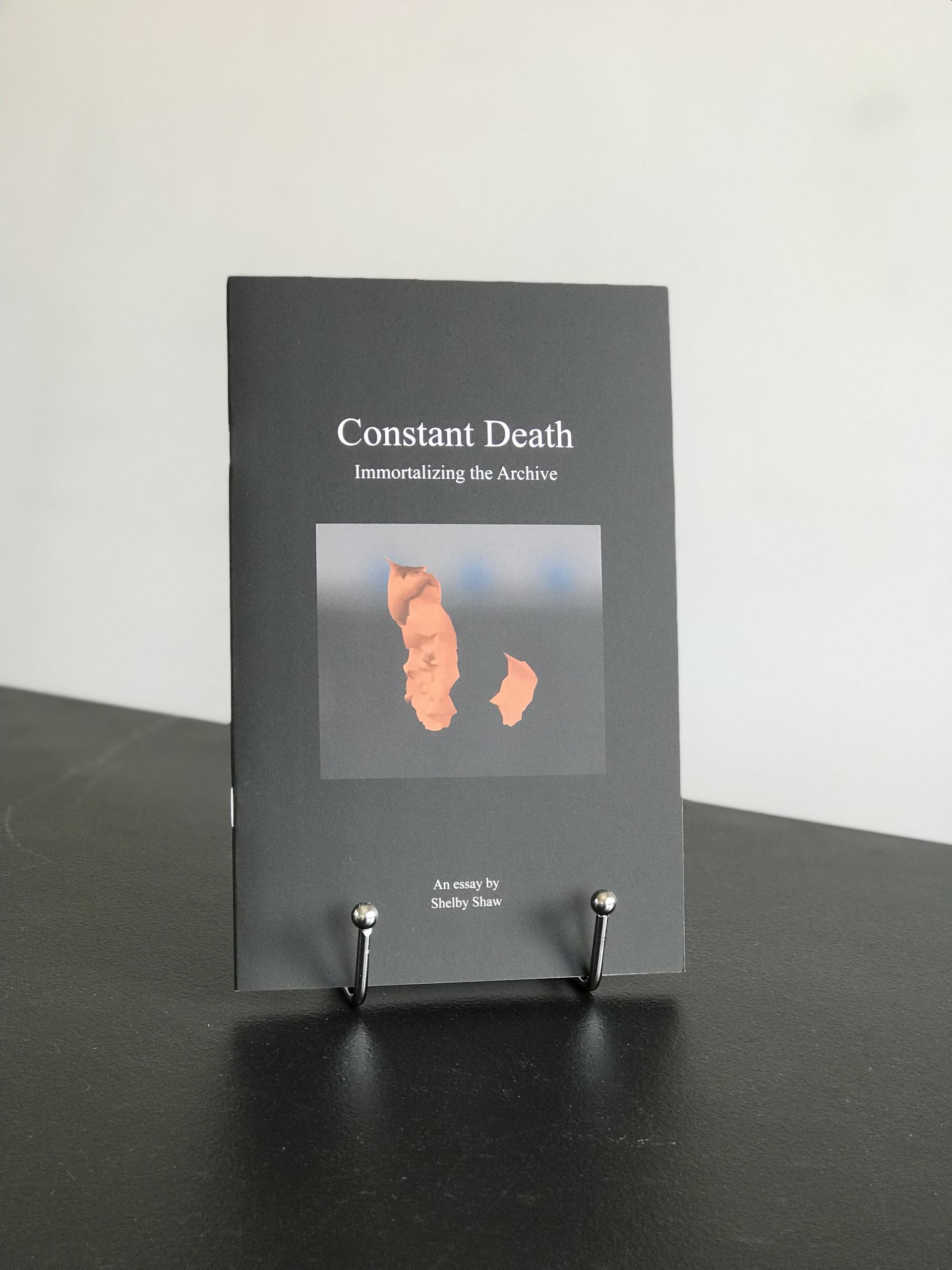 Constant Death: Immortalizing the Archive
Staple-bound book, color pages throughout
16 pages, edition of 100, 5.5" x 8.5"
Text & images: 2019-2020 | First printing: May 2022
Weaving between the history of discovering, naming, and demoting the planet Pluto; the scientific decision to standardize the kilogram as a constant number; and examining how the death of a person annihilates their entire performance catalogue known as "life," Constant Death asks what is or can be proven as true when change is ultimately the only constant: in history, in science, in life. To illustrate this, I use my late father's archive of photographs and videos, which I've digitized in an attempt at reincarnating his image, only to be thwarted by the limits of digital representation. This essay originally appeared online via Volume 1 in Fall 2020, and then in V1's print issue in Spring 2021.
Image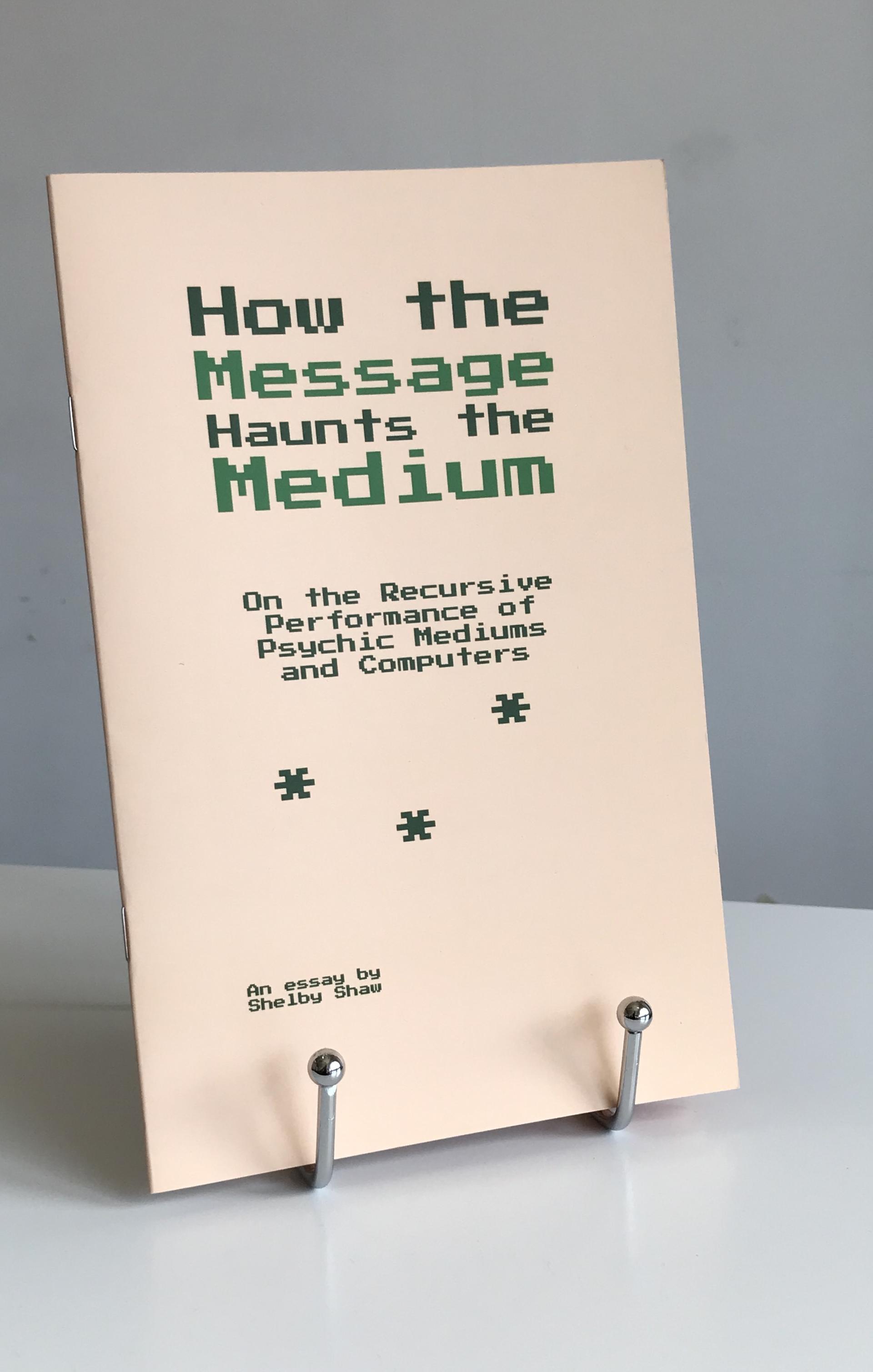 How the Message Haunts the Medium: On the Recursive Performance of Psychic Mediums and Computers
Staple-bound book, color pages throughout
16 pages, edition of 100, 5.5" x 8.5"
Text: 2020 | First printing: May 2022
An essay in four parts that looks at the similarities and metaphorical parallels between being a sitter for a psychic medium, and being a computer user sitting at a terminal. Both situations entail performances of interaction and immersion. Both situations require expectations of the anticipated outcome of the experience, which is either fulfilled, unfulfilled, or altered. Both situations require a level of conscious presence, participation, performance, and belief in what is being done — by sitter, by psychic, by computer, by the unseen information (as deceased speaker or as bytes of data).
Image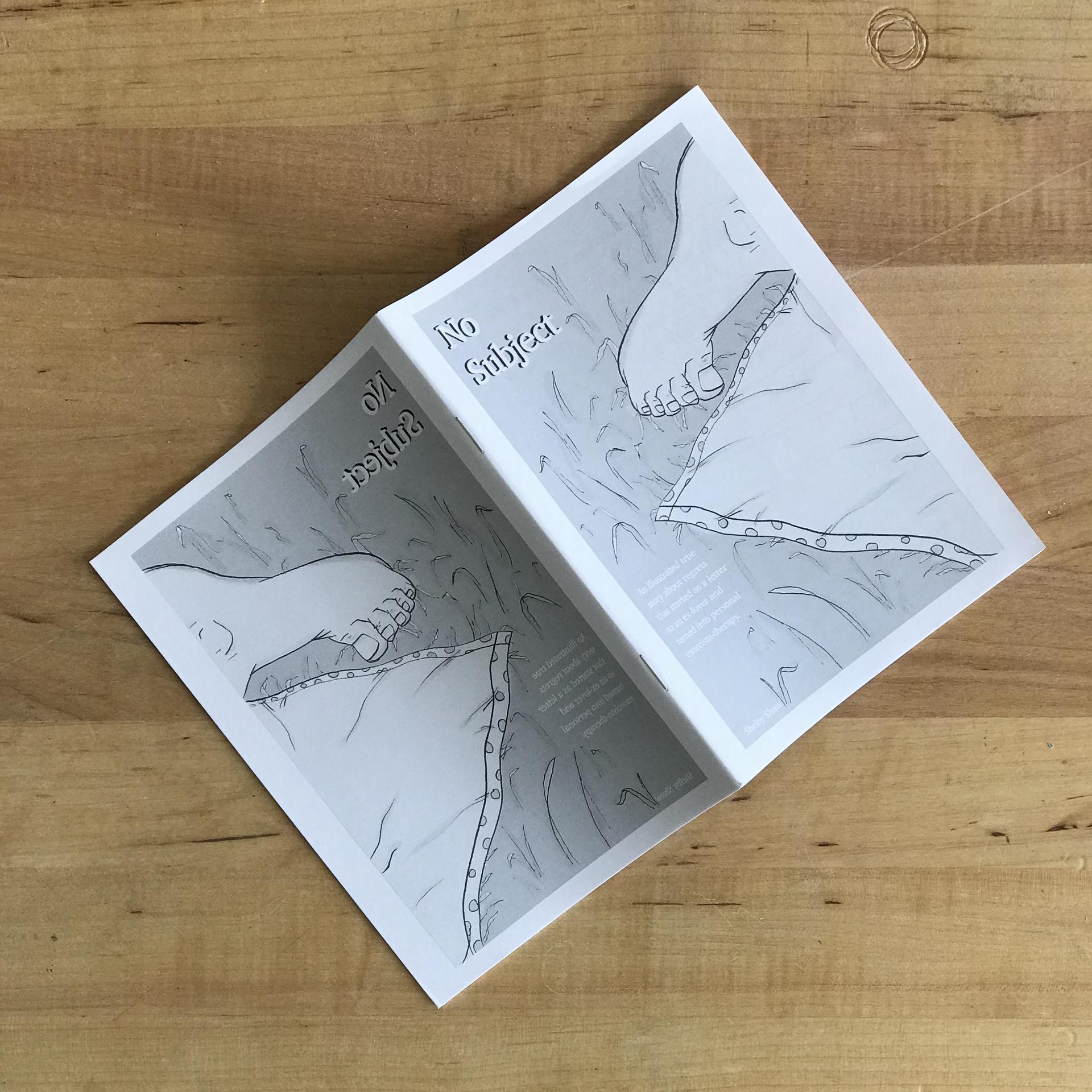 No Subject
Staple-bound book, black and white pages throughout
40 pages, edition of 50, 5" x 7"
Text & illustrations: January - March 2022 | First printing: March 2022
A graphic memoir drawn and written by hand, with 25 illustrated pages.
---
---