Megan (Tzu-Hsien) Chao
Memories UNBOXED: connecting people with stories of our possesssions
As a global society, we are entering a period of mass accumulation of products. Today people constantly fall into a consumption cycle of acquiring, retaining, and relinquishing items, whether they need them or not. Even though we are influenced by popular media to declutter more as we acquire new things, this will still be a problem if we continue to neglect the reasons why we hold onto things and why we collect things that change in value. Why is it less stressful to make a list of possessions we enjoy having than to make a list of things we need to throw away? This thesis hopes to relieve people from making tough decisions like when to relinquish things that are difficult to give up, and understand that it's more efficient to control the urge of acquiring things when we know what to value.
To accomplish these goals, I designed a series of light-hearted, non-judgemental conversations to explore the ways that stories develop through objects and so that people could reacquaint themselves with their belongings. To facilitate these conversations, I invited people to take part in a series of workshops where participants reflected on their own values from the perspectives of their belongings. In the first workshop, I had participants bring one object they use daily, and another that they keep hidden away. In the second workshop, I asked people to take pictures of a bird in their homes in order to reevaluate the agency of space and recognize what lives within it. In the third activity, I had participants show and tell using the analogy of employee/employer to talk about the jobs their objects perform. Outside of these sessions, I supplemented this information with a non-sequential graphic novel around these themes. Several characters are designed to accompany the readers to learn about some common scenarios that we would encounter, encouraging them to reflect on the open-ended questions at the end of each story.
While being involved in the constant innovation of physical products, we industrial designers are also, inevitably, keeping the consumption cycle spinning. Hence, we must take action to remind people the importance of pausing and reflecting on our ever-changing relationships towards the things we possess.
Image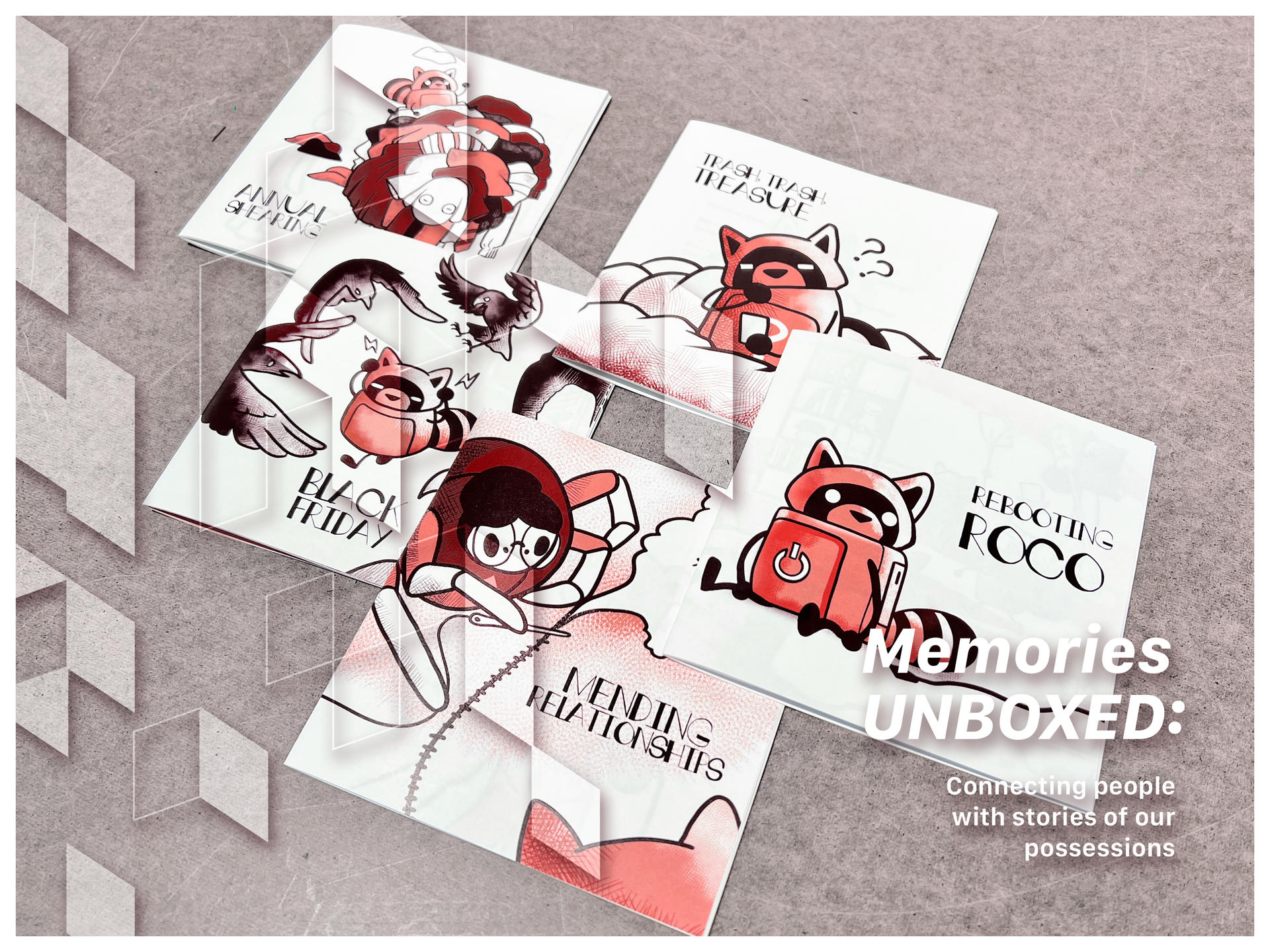 "Memories are so closely associated with the personal possessions that we keep, preserve, and store that they seem to be actual objects unto themselves.   Thus, it is not surprising that people surround themselves with cherished objects and images-- fragments of the material world that act as intricate devices for holding and renewing memories."
"...I help them through that process and it's just talking and listening. that's what it is..."
"...I'm in people's homes, I hear their stories. I hear and cry with them during some of the stories like they share things and they don't tell their family members about it."
-Hope Turenne, Founder, Affordable Organization LLC
When we think of unboxing an item, we would envision ourselves unwrapping a cardboard box that contains something that you have longed for: a present that someone gave you, a product that you bought online and got shipped to your house, or a box of goods that you're ready to unpack after moving into a new place...
If we consider rooms or houses as "boxes filled with memories", how often do we physically revisit the memories that were within the space we live in?
When was the last time you had a conversation about your collection of possessions?
How much stuff do you really have in mind?
Take a moment to picture the things you have kept in your house.
According to the National Association of Professional Organizers (NAPO), 80% of the items we keep are never used.
We people constantly fall into this consumption cycle of acquiring, retaining, and relinquishing items. We are promoted by the media that we should keep less stuff with us while being persuaded to buy more things than we would ever need. Even though we are prone to push ourselves to declutter more as we acquire new things, it will still be a problem if we don't spend time reviewing the reasons why we keep things and what we value at the moment.
Image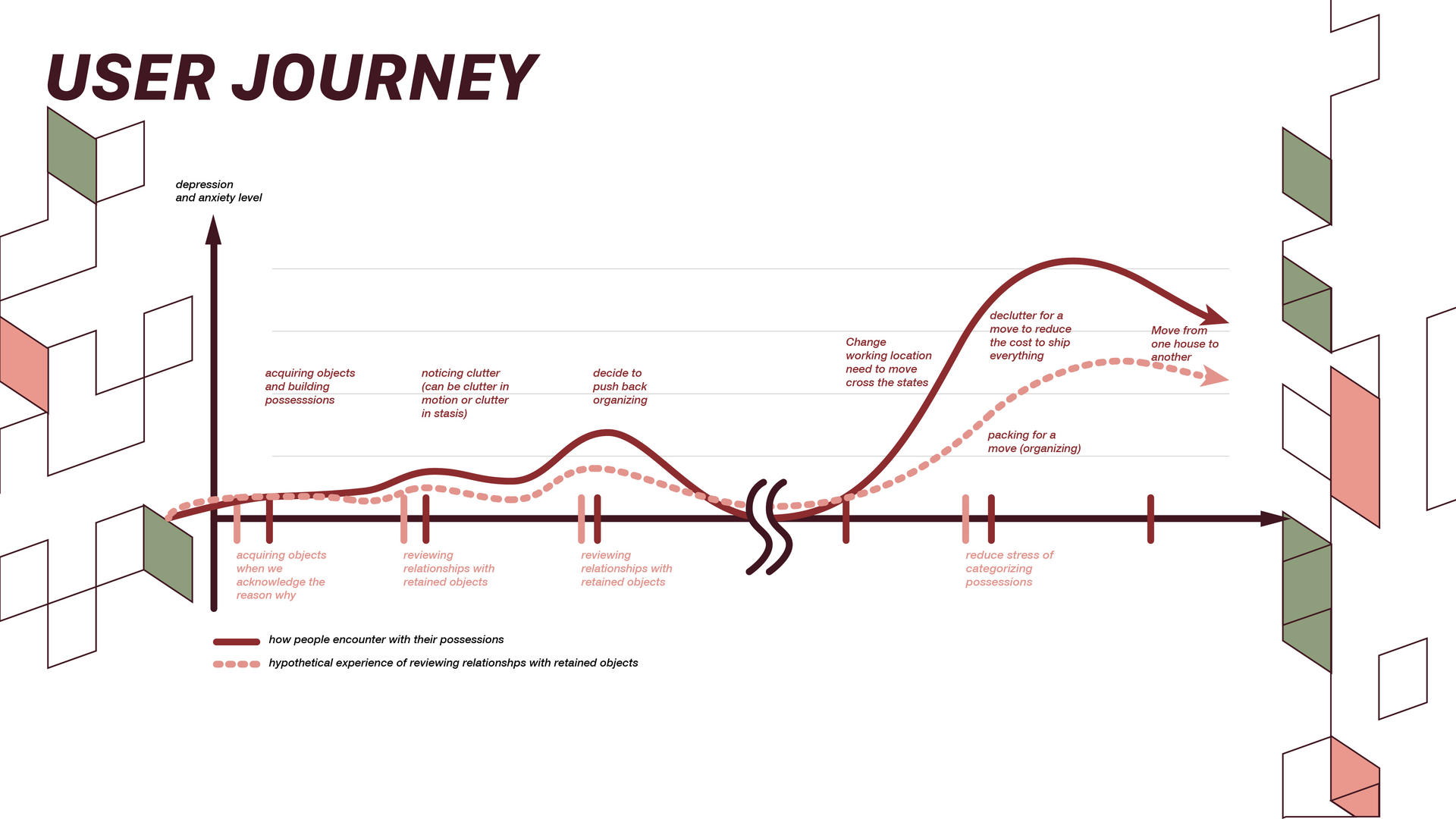 This user journey map indicates the anxiety level people go through when they are experiencing the cycle. The stress level inclines as they notice clutter happening in the house until they decide to push back time to organize. But people build up stress as they run into certain scenarios. Once they are faced with significant life changes such as a giant moving session, they often get overwhelmed by anxiety. All of that comes from the huge fear of making wrong decisions within the limited time to review the stuff they have possessed. So my claim is that if we could review our possessions more often, we would have a better clue about our values and feel less stressed if we need to make quick decisions about our belongings.
"Everyone has an object with a story. It's not about its aesthetic or monetary value;
it's chiefly about the narrative wrapped up in the object."
-Sandy Suffield,
London-based photographer, writer of Things & People
Starting as an urge to know what choices people made to determine what to display and what to keep in enclosed spaces, I observed the spaces lived by three different families.
They all have various collections of things that they enjoy showing to people up front and talking about, while some would take some time for themselves to recall the stories.
ObjectLIVES: An Interview of Objects
Having the stories of the objects in mind, I asked myself: Would anthropomorphizing people's belongings help nudging people into reviewing their items more often? What if these objects were able to speak for themselves? Would they tell a different story? Would it be more convincing if the objects were the ones asking for their owners to revisit them? Would they suggest being somewhere else than the place they have lived for years?  
Adapting different stories from multiple objects, ObjectLIVES is about the mundane lives of objects, but this time it's the objects which live to tell the stories behind the scenes.
Standup! Object workshop:
What would be a better chance to create a stage just dedicated for our objects to speak for themselves?
Inspired by the podcast: Everything is Alive and the interview I had done with its host Ian Chillag, I decided to create props that would make the experience of staging and interviewing more immersive. Dozens of 2-4 inch tall miniature microphones were printed and brought near things we have during the workshop--our headphones, pencil cases...etc.
Depending on how often we are being seen using an item, people would assume how badly we rely on it, how eager they were to stay with us and not to leave, or to notice the difference in between those daily objects and the ones unused for a while.
Couch-Surfing bird:
While settling this bird statue in people's homes, participants are asked to introduce the space and take pictures. Using the bird as a guide, they need to put more effort into identifying items they choose to surround the bird with.
MONO-LOG:
An exercise done between two people who share the same living space to overlook their items as they assume they know each other well enough to understand what they cherish.
The first part of the activity is to have both parties name one item for each of these six categories. They cannot discuss the answers before this and will only be allowed to talk once they have filled out each section.
The second half would be to ask participants to pick one from the previous six items and write a resume about it in a pre-designed template. The following page is the template they are asked to fill out.
Image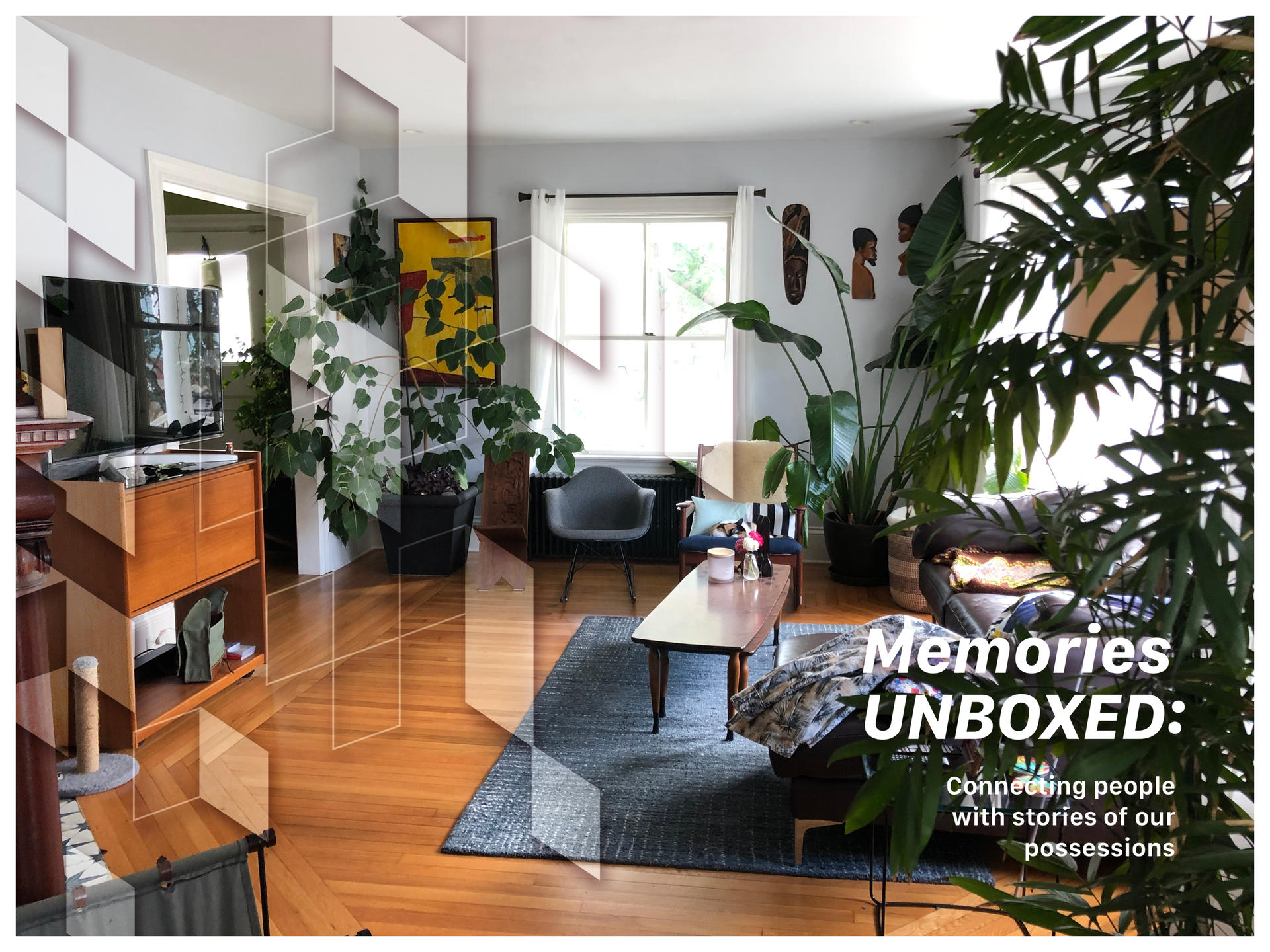 T and her partner moved into this triple-decker house roughly less than a year ago, along with their three children, four cats, and a dog. Before that, they lived in separate houses, and this is the first time they lived under the same roof. They both came from different cultural backgrounds and have moved from their home countries to the states since they were little.   Blending in elements from both African and Japanese cultures, the contribution she and her partner made in decorating adds an earthy, spiritual taste to the space.
In order to bring up the topic of reviewing our items, I decided to make a series of graphic novels based on the characters I designed.
Image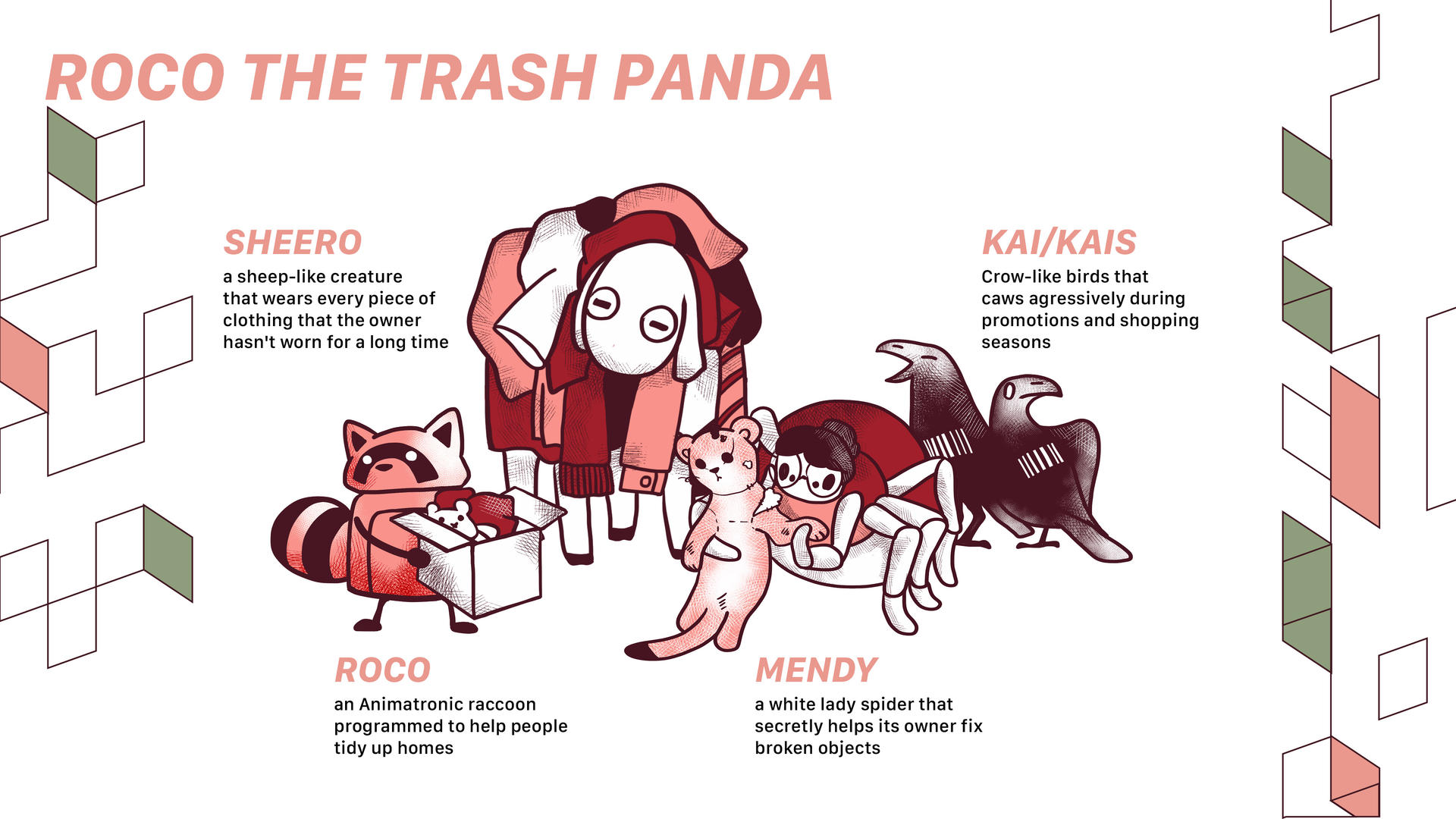 ---
---