Image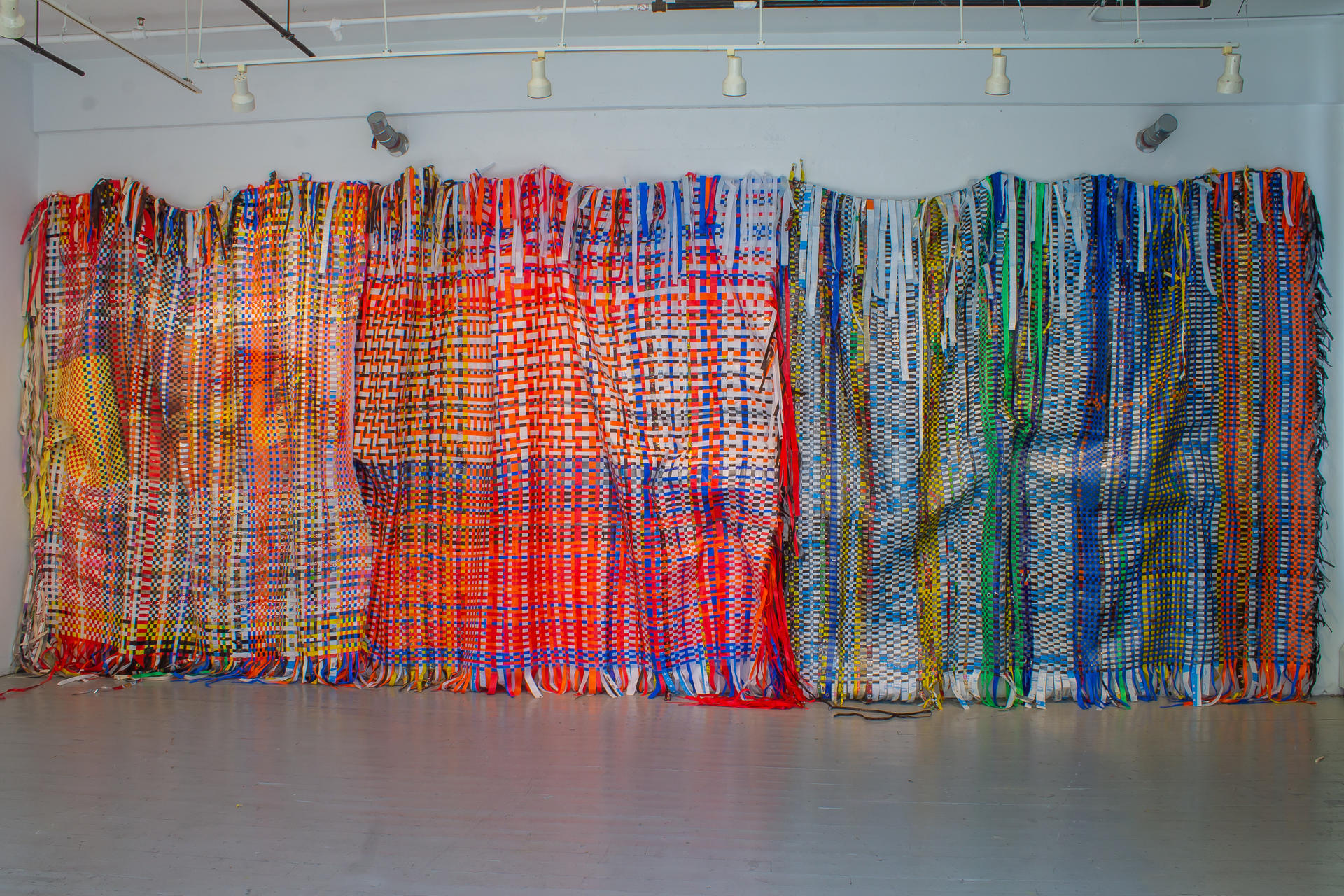 In the Tagalog language, matingkad is used when describing colors or light. Its English translation, flamboyant, usually describes a character of a person - a queer, performer, drag?
People have called me flamboyant due to the way I dress, my gestures, and how I approach my work. Because of this, I have experience discrimination and abuse towards my race and gender, as well as my citizenship status. Therefore I have learned to begin employing flamboyance to be opaque (matingkad na kulay).
With this experience, I had to adjust the opacity of my body as a way of survival by learning how to camouflage and shapeshift. These strategies are seen in my paintings, installations, weavings, and performance. My work became matingkad. They became generative as if they are growing, in scale, textures, physical structures, and patterns. The scale, textures, physical structures, and patterns are used as a framing device to make it difficult for spectators to figure out my identity, identification, movements, and intentions when performing or displaying a work.
My paintings became a haven for exploration. It gave me freedom to experiment, fail, learn, and play with various colors. My weaving grounded my Filipino roots. It became a portal to home, ancestors, and spirituality. My installation is a protective device that attempts to disrupt viewers' access to my stories, histories, and community. All of these approaches to artmaking are influenced by lived experiences, family histories, and current events. 
Image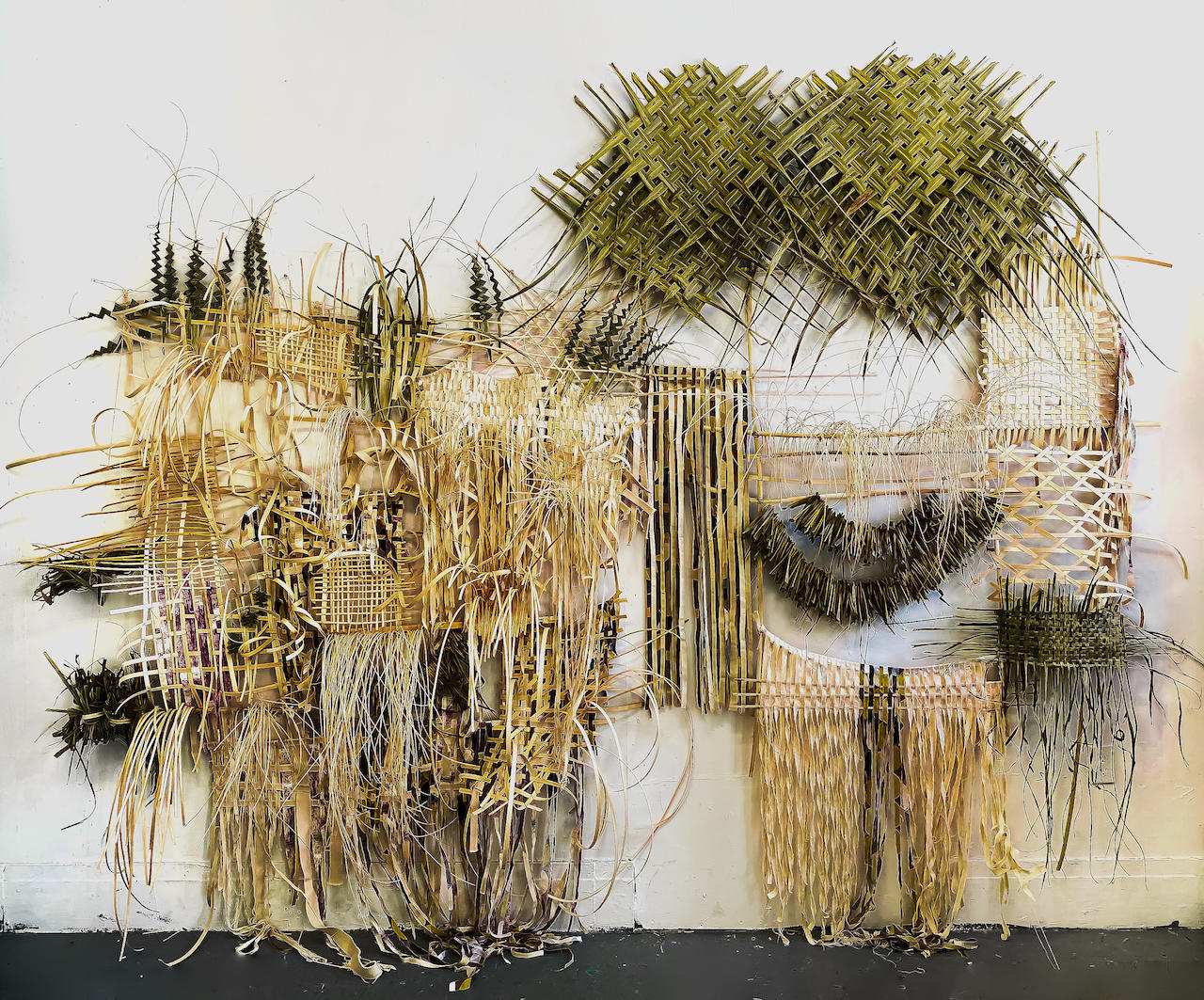 Behind the Blue Shed
Rattan, Canvas, Fabrics, Coconut Leaves
156 x 108 x 24 inches
2020
Finding ways to demonstrate other forms of "banig" (traditional Filipino woven mats) In the language of paintings, I let each of the tendrils loose and not secured in the matrix of the weaving to represent paint drips.
Image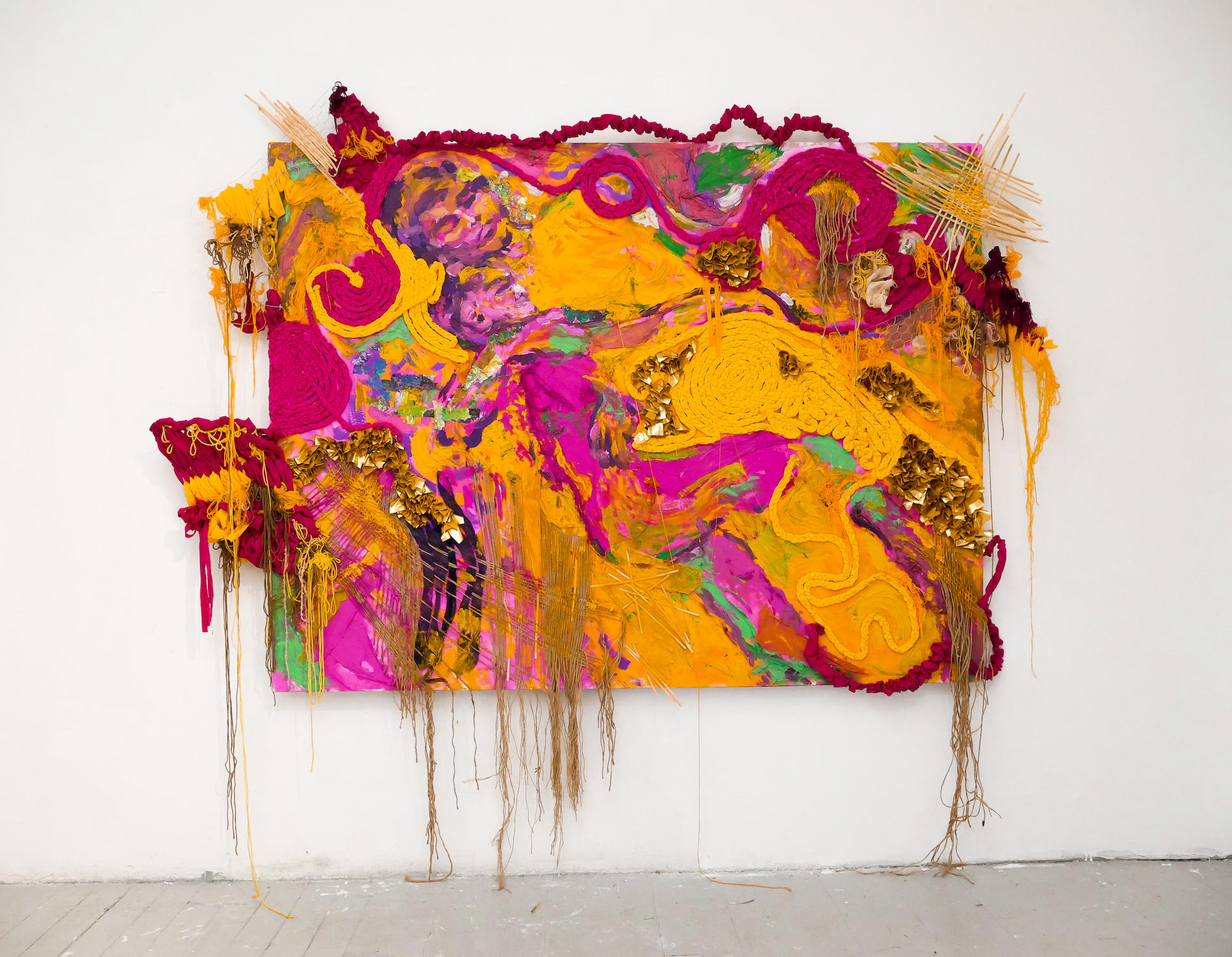 When You Said I Was Liberated
Oil on Canvas, Fabrics, Barbed Wire, Twine, Twine, Rattan, Strings, Chicken Wire on Canvas
100 x 103 Inches
2021
Image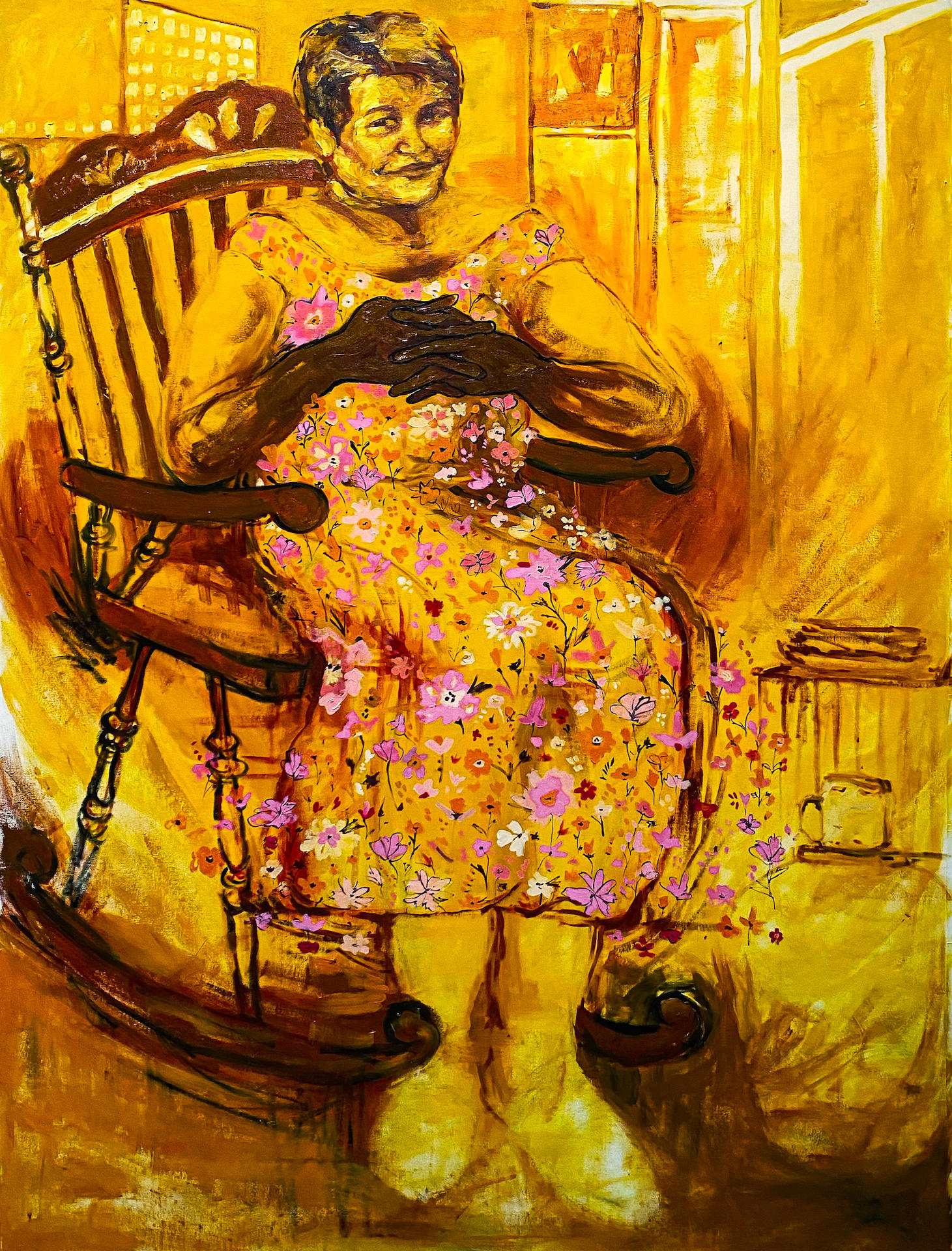 Rara
Oil on Canvas
64 x 85 inches
2021
Capturing my grandmother's hand was crucial in this painting. She raised and gave me education by selling vegetables in the streets. She leaves the house at 2:00 in the morning and comes back at 8:00 o'clock at night. No days off, no holidays.
Image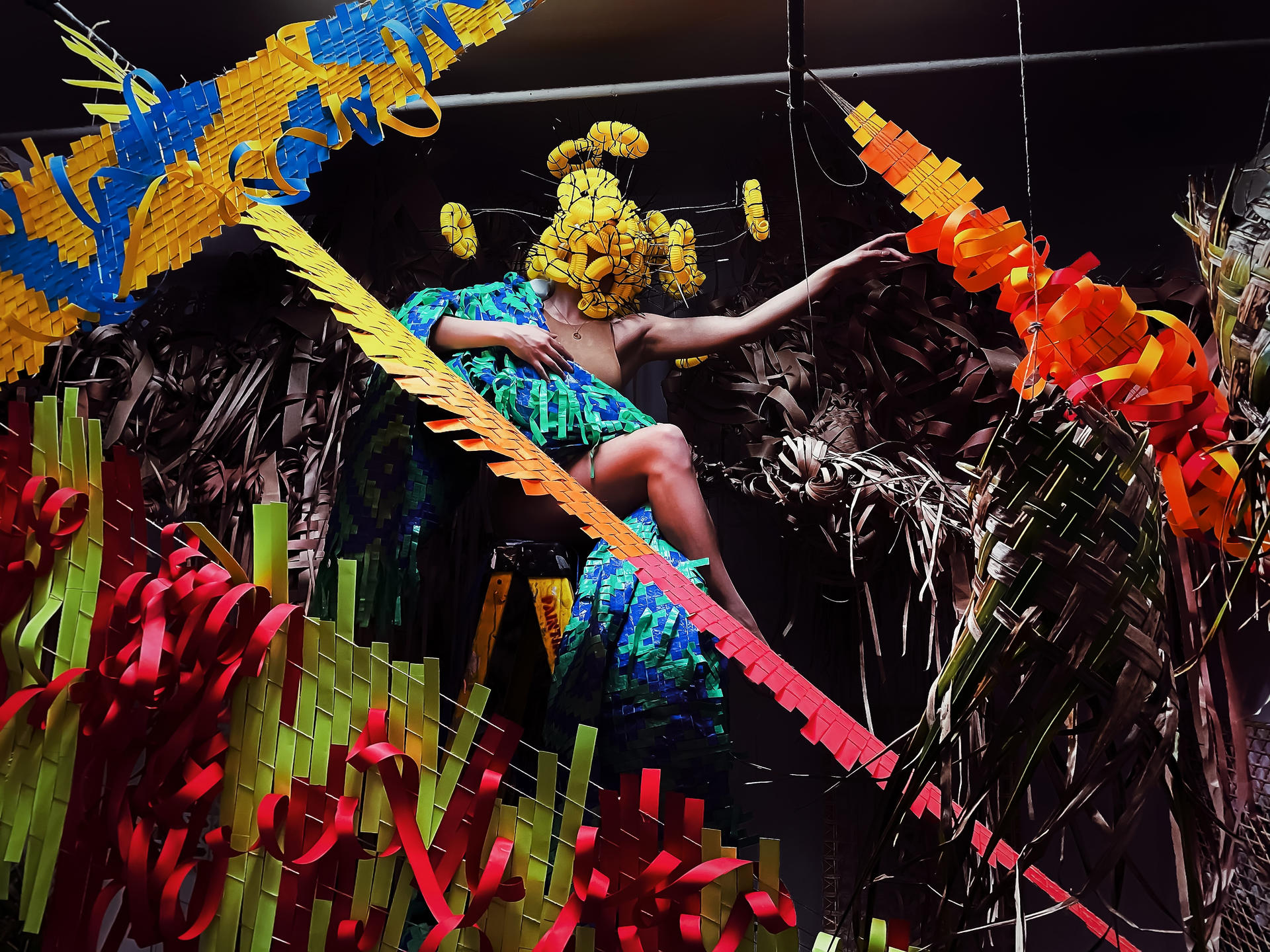 Bathalang Maylalang
Photograph of an installation
2021
Filipino culture is filled with superstitious beliefs. I created this installation/performance to examine the culture's belief system, religion, ritual, symbolism, and identity in the diaspora.
Image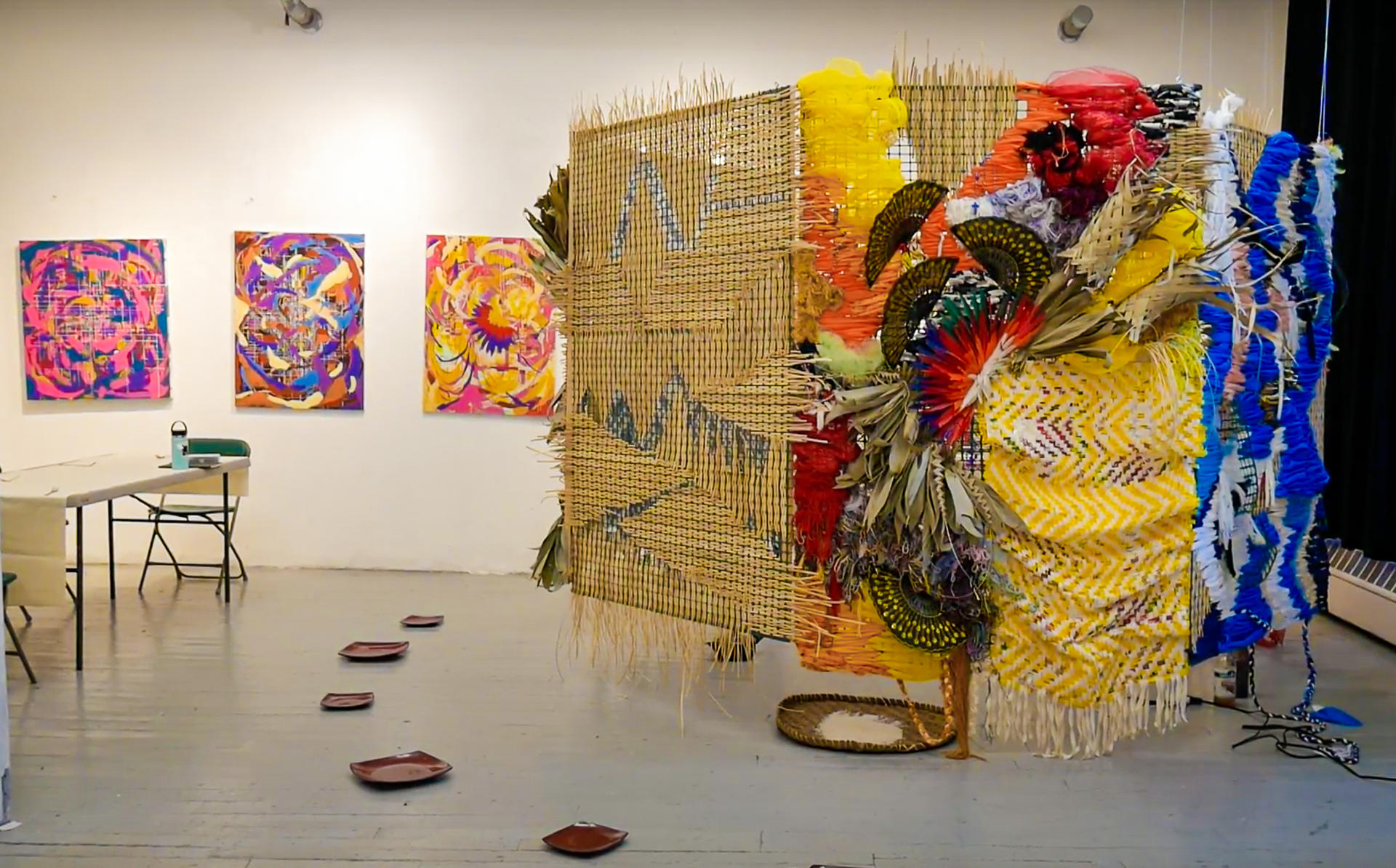 Kain?
Still of a performance space
2022
Complicating viewership and participation while implicating the audience with performance with food, chanting, costuming, and weaving.
---
---