Image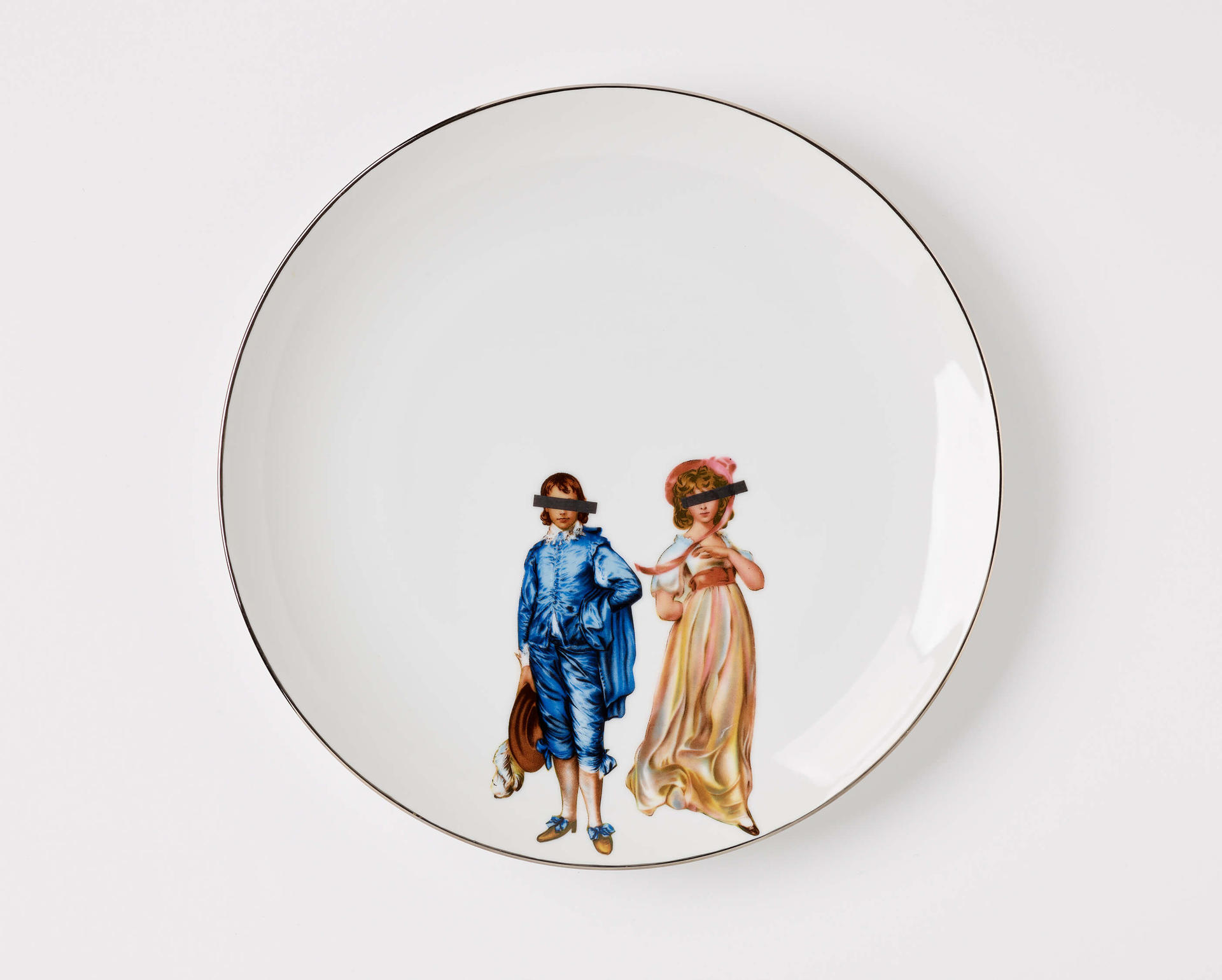 On the Surface
Contemporary Ceramics
Dip, brush, pour, scratch, paint—there are countless ways to adorn ceramics. Some techniques are studied and passed down for generations, while others are proprietary. Many formulas for glazes are hard-won secrets: measured, mixed, and tested over and over again to achieve a desired color or effect. From the mid-1900s to today, artists working in ceramics have continued to revise old methods and experiment with new ones, drawing inspiration from the world around them and pushing the boundaries of their medium. These cases present seven different techniques for decorating ceramics—slip, sgraffito, unadorned, decals, texture, glaze, and painting—and the variety of approaches that artists have taken to each.
Emily Banas
Assistant Curator, Decorative Arts & Design
Case 1
Click an object for more information
Utilized for centuries by artists across the globe, slip is made by thinning clay with water to achieve a thick yet pourable liquid. After the mixture is sieved to remove any lumps, it can be dipped or brushed on the ceramic surface. Slip can be used in conjunction with a glaze or entirely on its own, creating a matte finish, as seen in Vivika and Otto Heino's Bowl (2002.60).
Slip can also be used to create raised decoration on top of the clay body. In this method, called slip trailing, slip is poured into a pastry bag, syringe, or other tool used to draw designs on the surface of the clay. Historically, slip was used to create highly intricate and painterly designs, but many artists today employ contrasting colored slips to achieve bold, abstract effects. Note the depth of the slip on Randy Johnson's Plate (2015.47.6), from the thick red base coat to the white and black on top, poured across the plate using a ladle.
Image
Image
Image
Images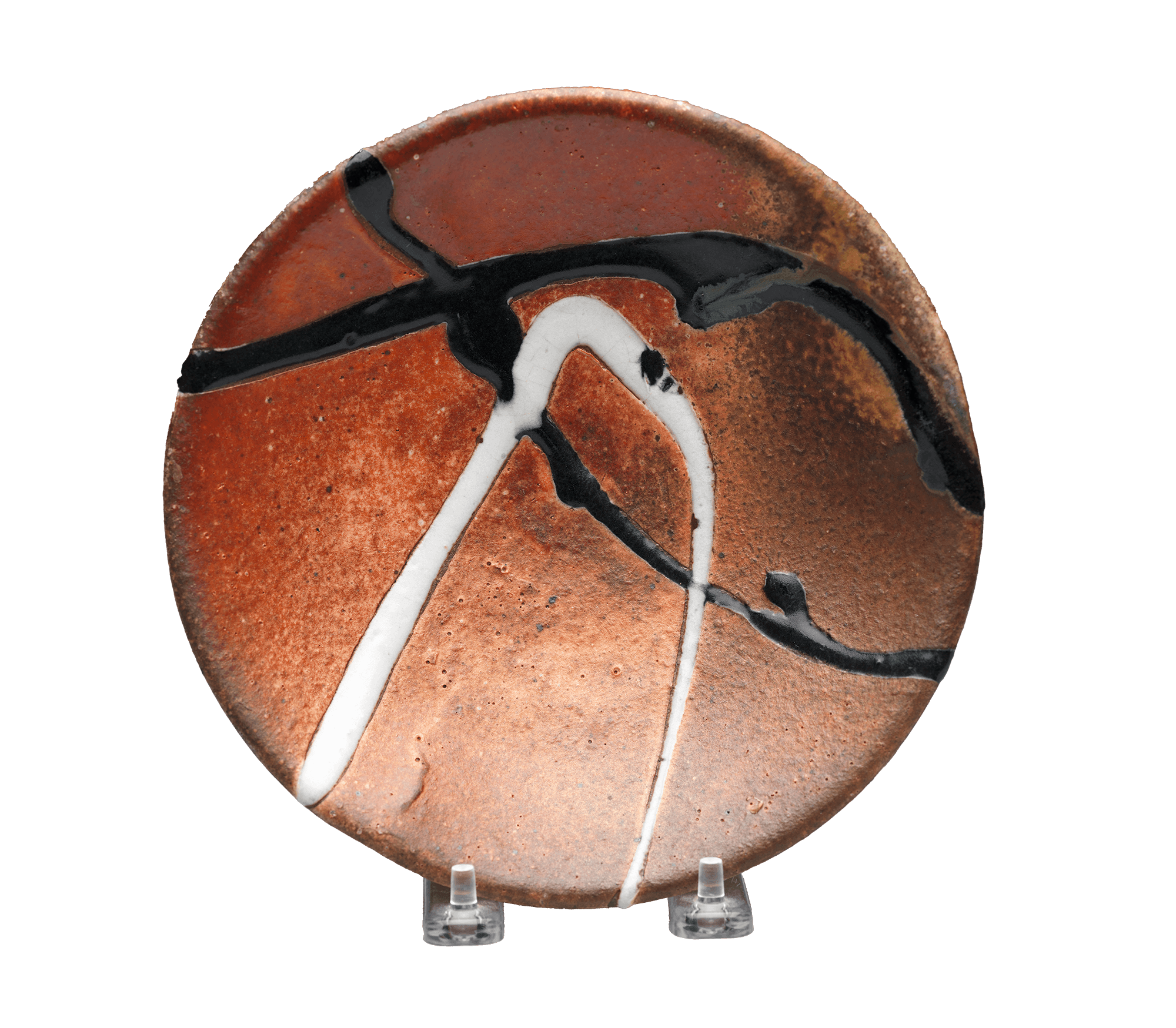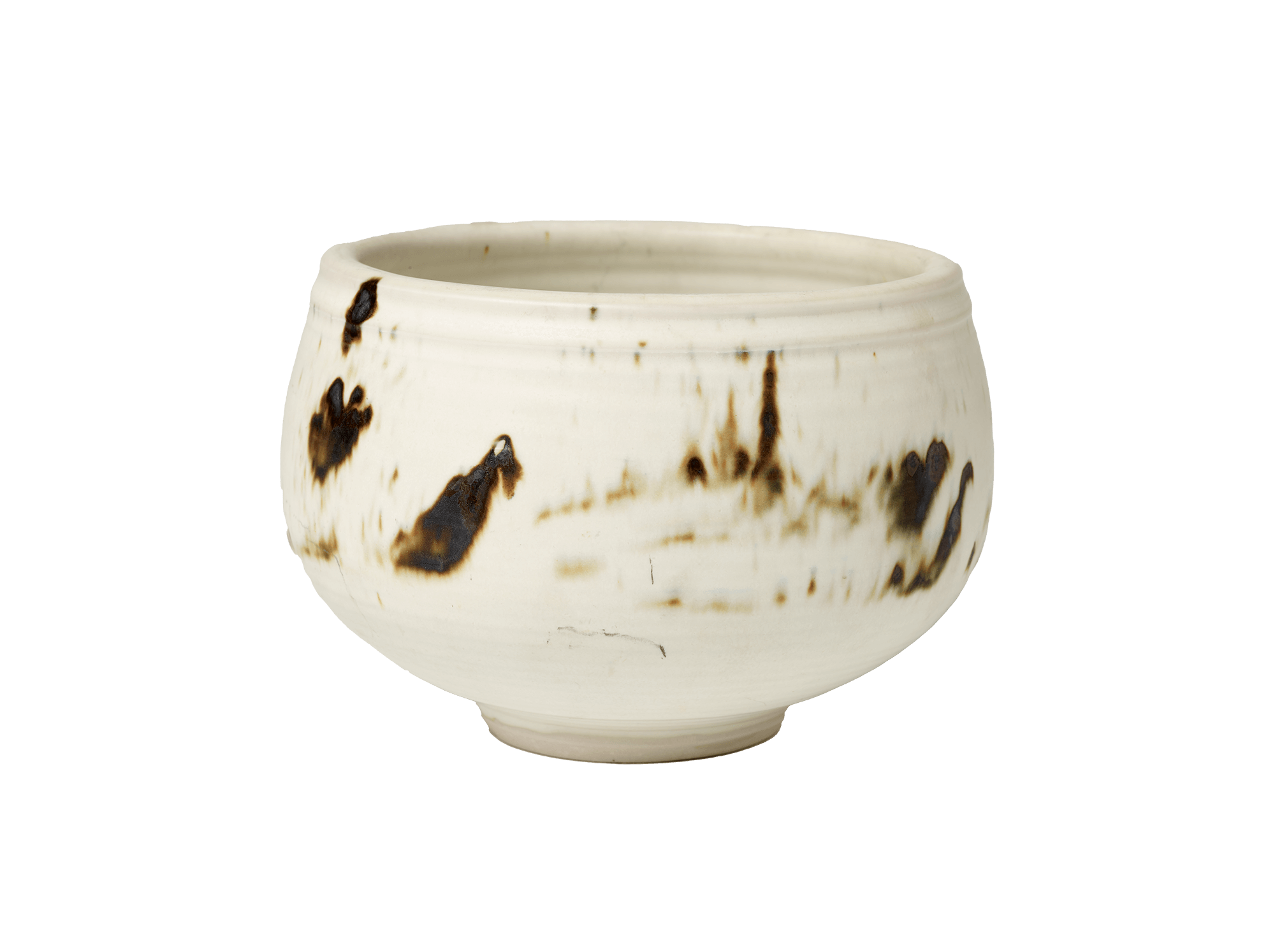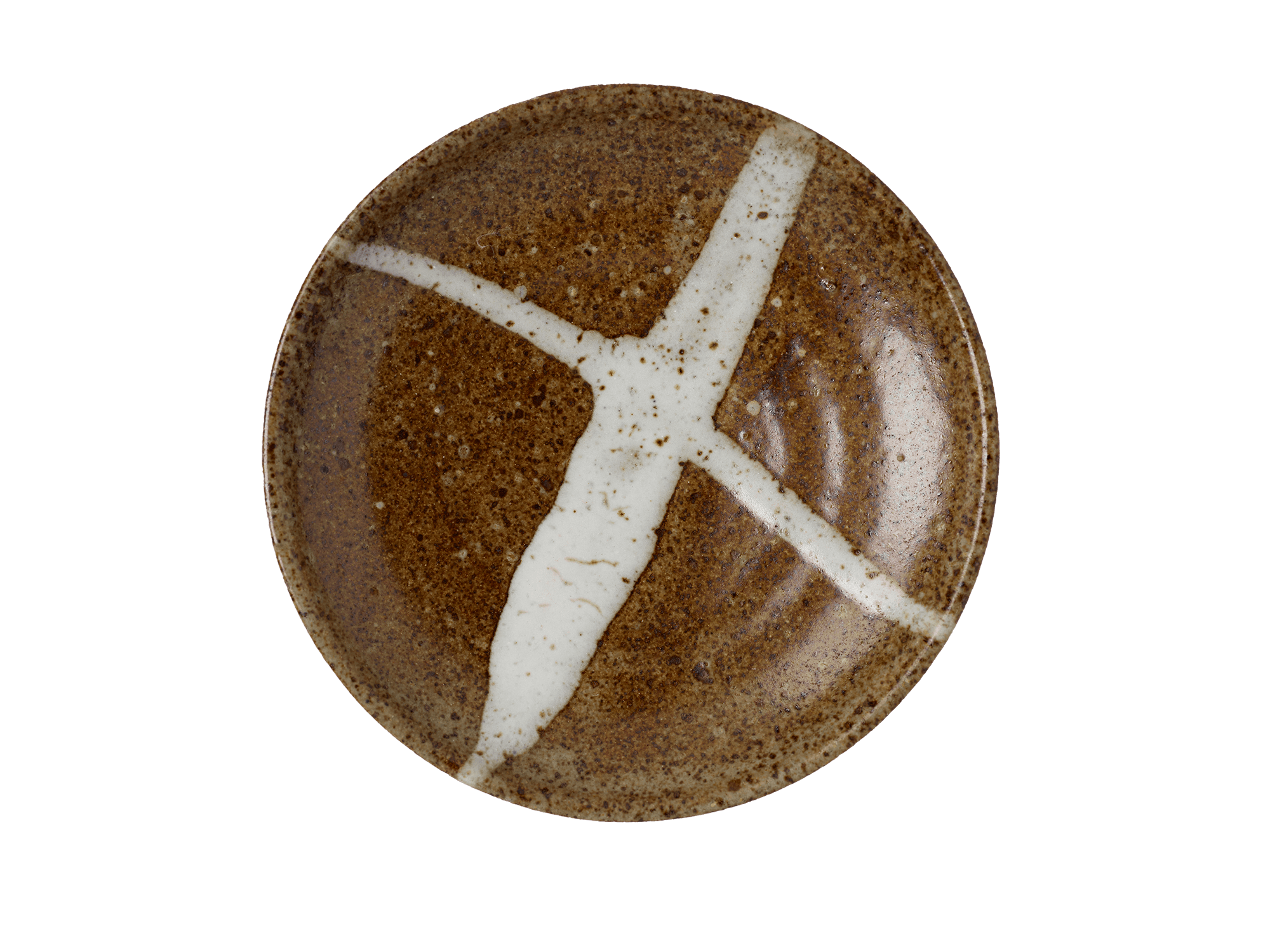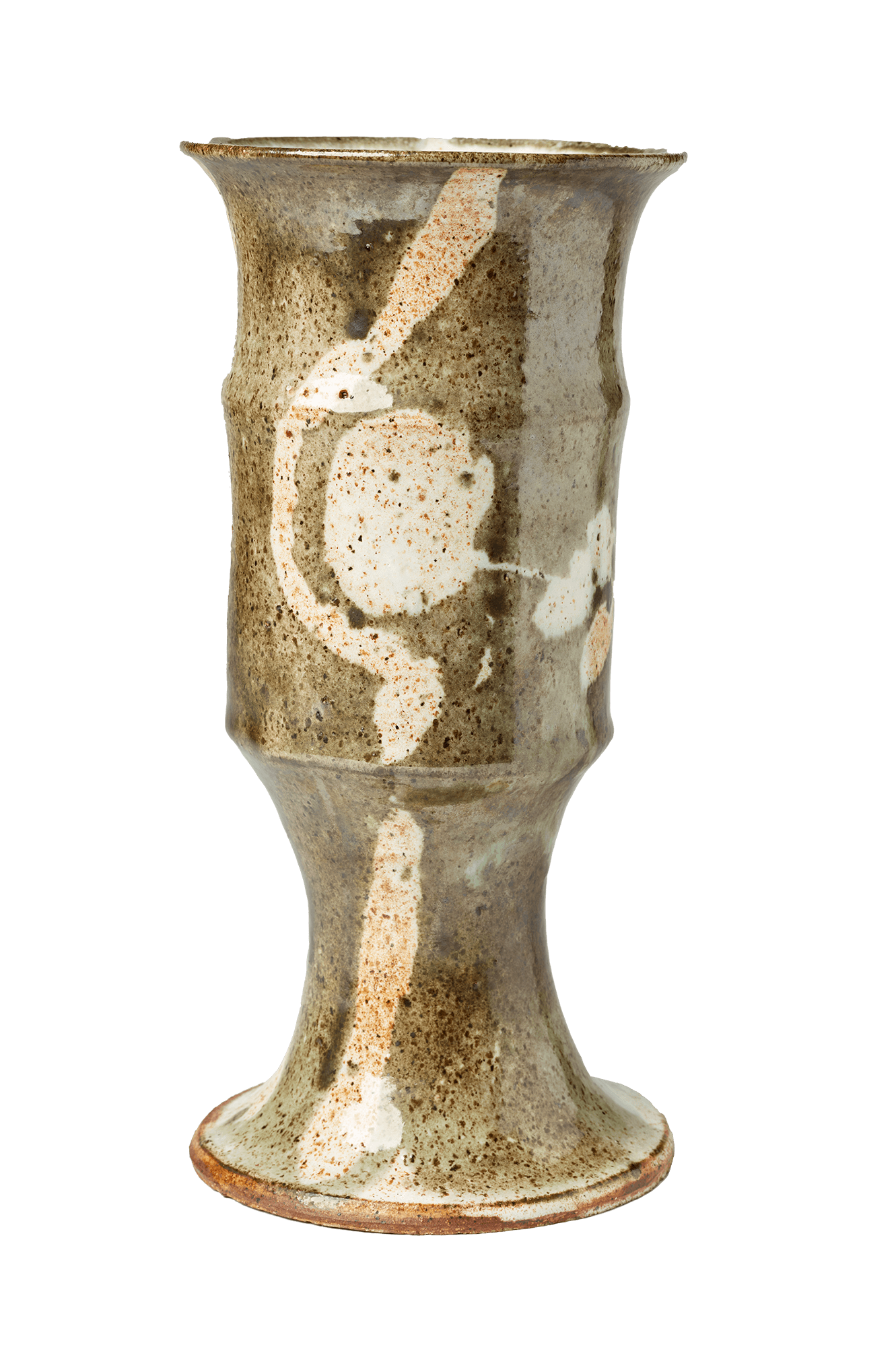 Printmaking and ceramics share a long history, from sponge-printed ancient vessels to woodblock-printed 16th-century tiles and 19th-century engravings transfer-printed on earthenware. These two mediums continue to embrace one another in contemporary ceramics. Today, decals are a relatively simple way to transfer images onto ceramics. They can be designed and printed onto special decal paper or purchased already made, then fired to adhere the ink to the surface.
Howard Kottler used premade decals on factory-produced blank ceramics, often cutting up and distorting the images to satirize American popular culture. Kottler, who identified as gay, simultaneously addressed and dodged his sexuality in his work, using coded references to queer culture. He made several design variations in a series based on Sir Thomas Gainsborough's painting The Blue Boy (1770) and Thomas Lawrence's Pinkie (1794), two figures who were often paired together in historical reproductions as a couple. In Twins (2020.56.2), Kottler replaces Blue Boy's head with Pinkie's, playing on the performativity of gender and turning the heterosexual couple into a queer couple. In Incognito (2020.56.1), Blue Boy's and Pinkie's eyes are covered by black bars, a basic form of text, photography, and video censorship intended to make identity harder to recognize. The title, Incognito, refers to concealing one's true identity, historically an all too common theme in the queer community.
Léopold L. Foulem similarly uses cast ceramic forms as a canvas for imagery associated with camp and queerness. For God Save the Queens (2020.55), Foulem pairs a factory-made decal of Jesus with a phrase that nods to the national anthem of the United Kingdom. Here, however, Foulem deliberately uses the plural queens, a term used to describe flamboyant or effeminate gay men as well as drag queens, juxtaposing Jesus with a textual reference to homosexuality. In this departure from traditional Christian iconography a queer Jesus emerges, creating new queer spaces and narratives about salvation.
Image
Image
Image
Images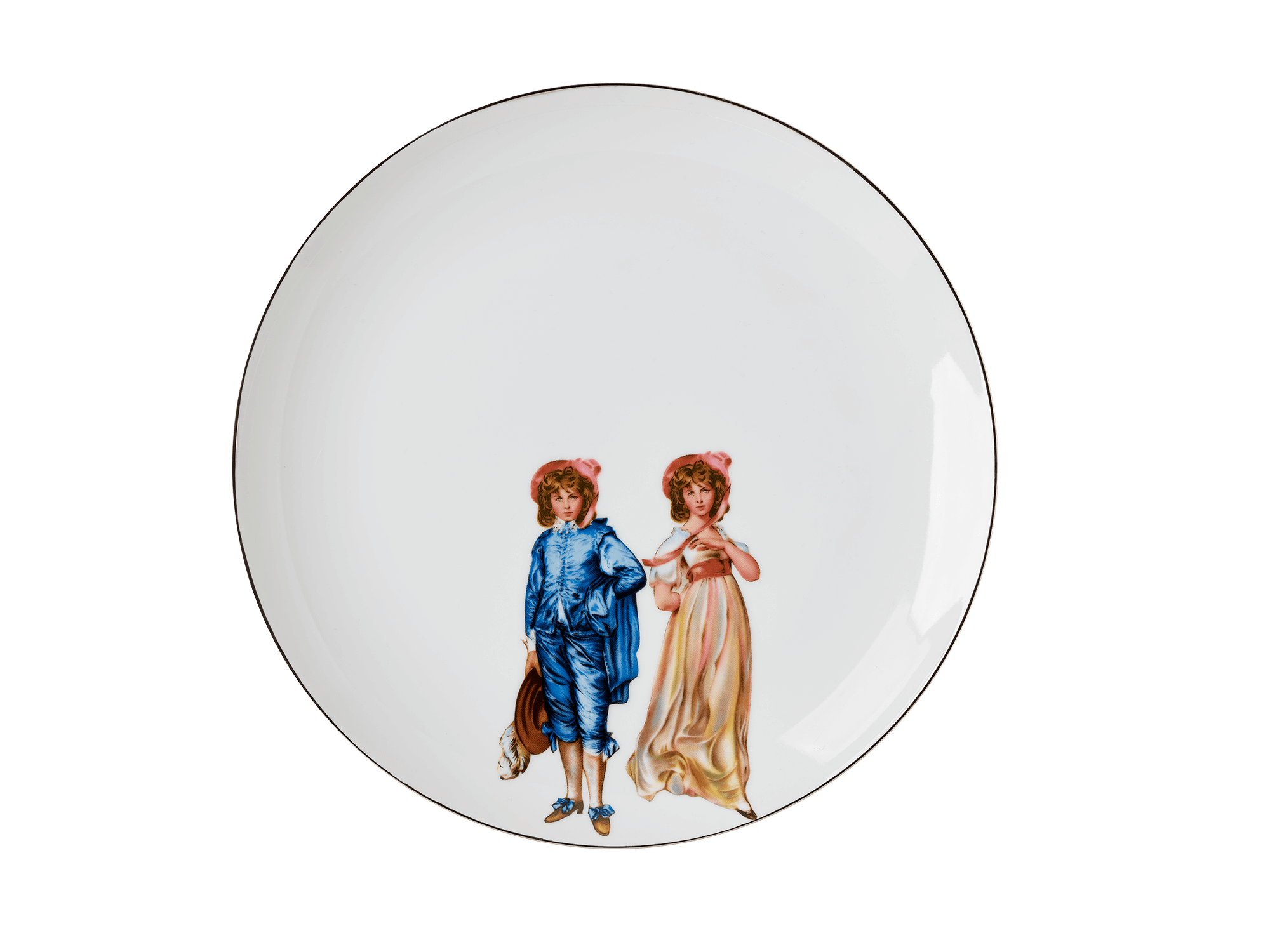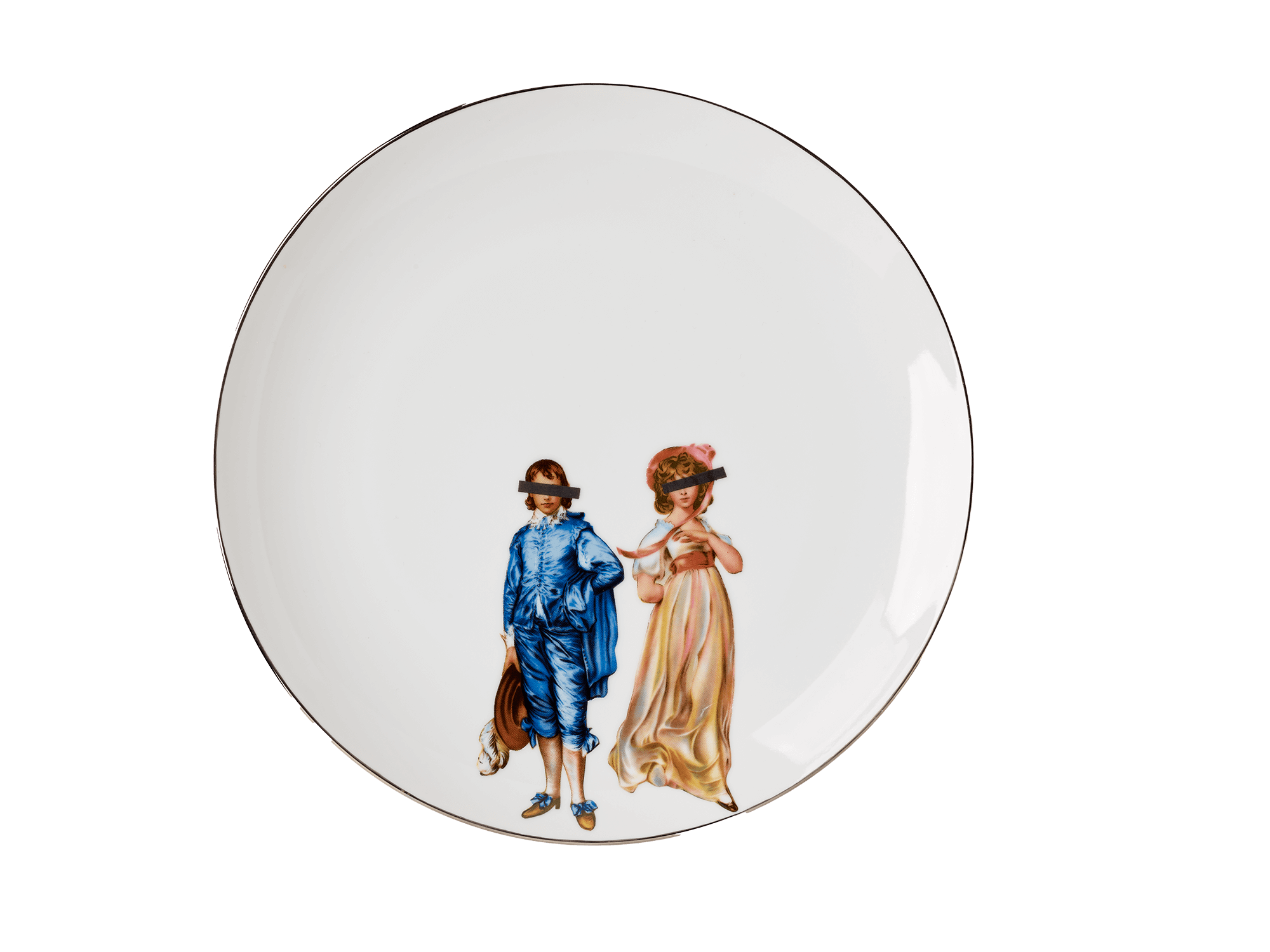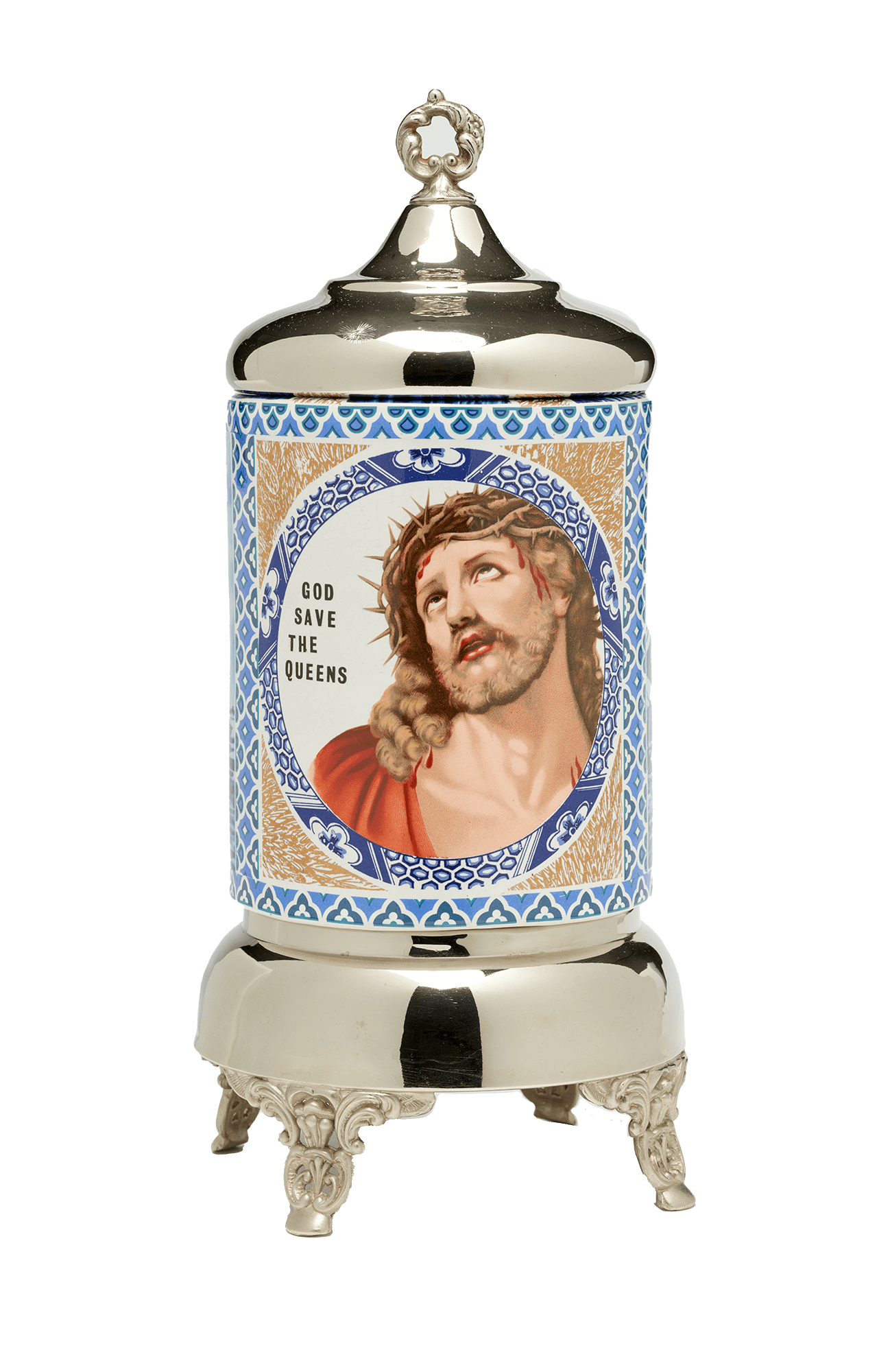 The uses for slip evolved to include sgraffito, a technique that involves cutting through one or more layers of slip, often in different colors, to expose the clay body underneath. What appears to be a simple process requires a great deal of knowledge and dexterity. If the slip is too dry, it will flake off; if it is too wet, the incision will be smudged. Of course, the right tools make all the difference. Wayne L. Bates (2002.82.1) developed his own tools specifically for sgraffito decoration using parts from a pocket watch, which he found remained sharper than commercial tools.
The word sgraffito derives from the Italian graffio, which means "scratch." Whether employed to make illustrations or patterns, sgraffito turns clay into a canvas for drawing. Spanish artist Pablo Picasso spent the last few decades of his life experimenting with ceramics, and he used sgraffito to draw into the clay in his Bowl (1998.11). Matthew Metz's Bowl (1999.43) draws on nature and folk art with leaves and geometric patterns. Inspiration for Edwin and Mary Scheier's ceramics ranged from ancient designs to modern abstracted forms like those on Bowl (84.243).
Image
Image
Image
Image
Images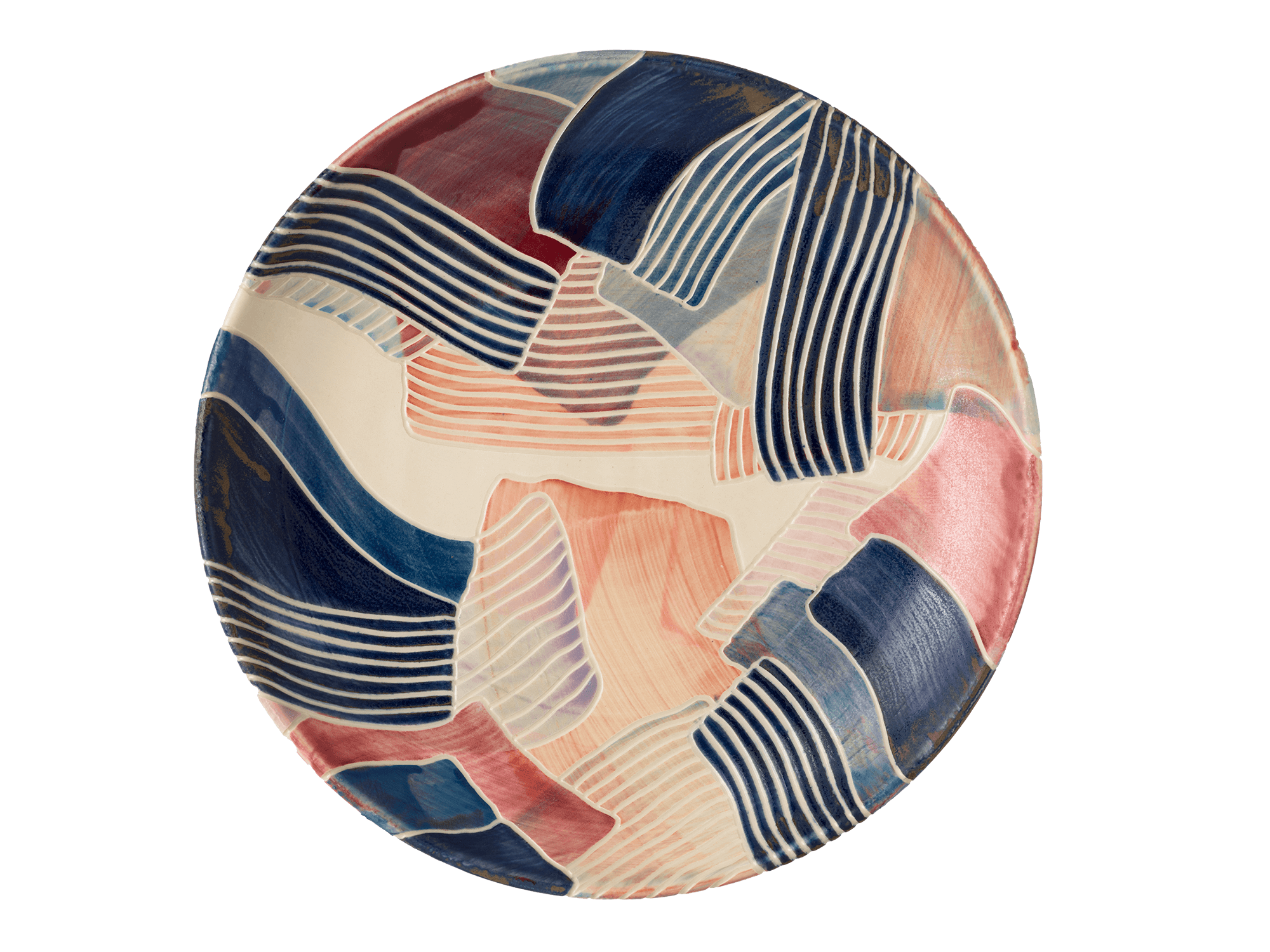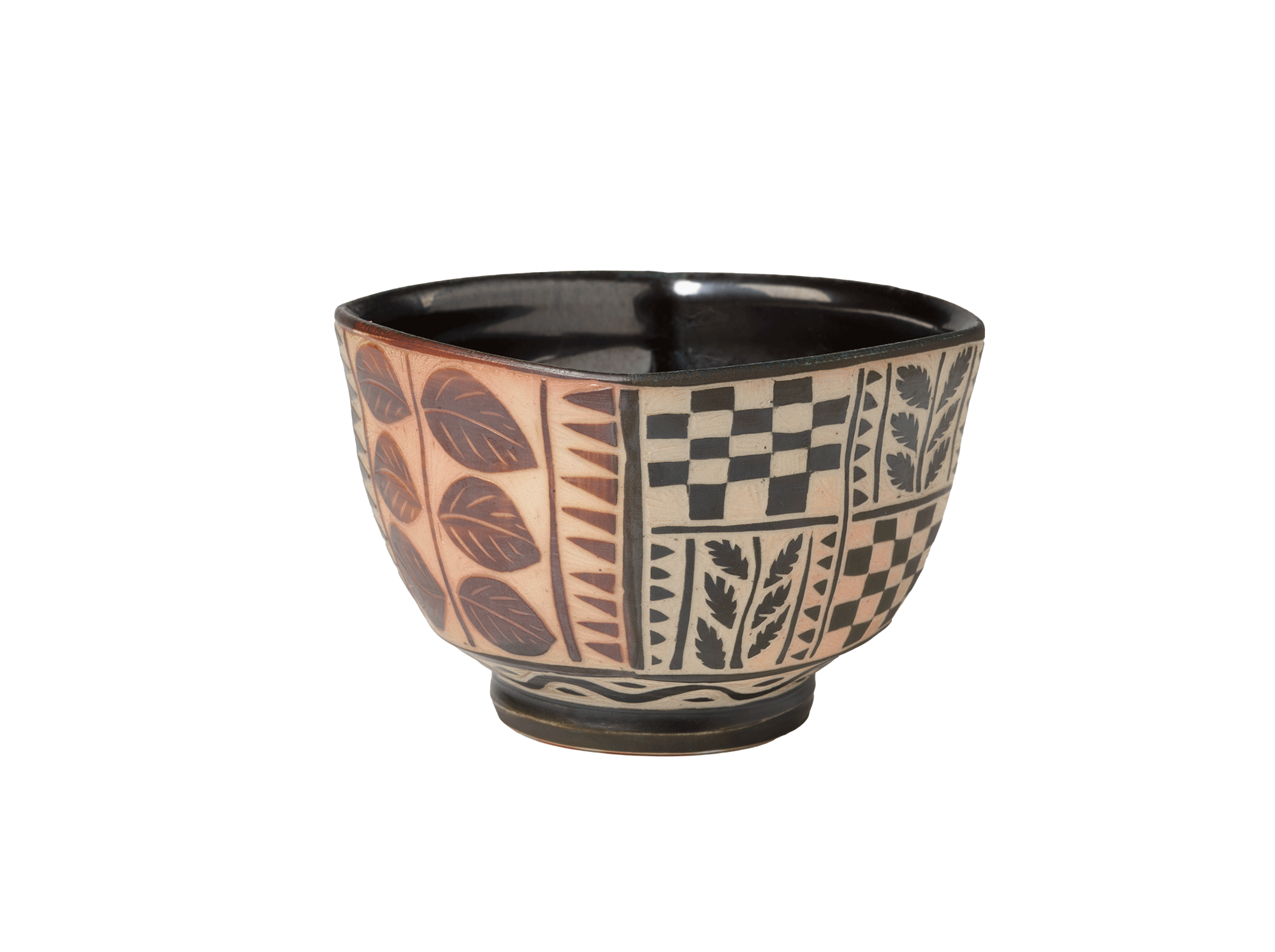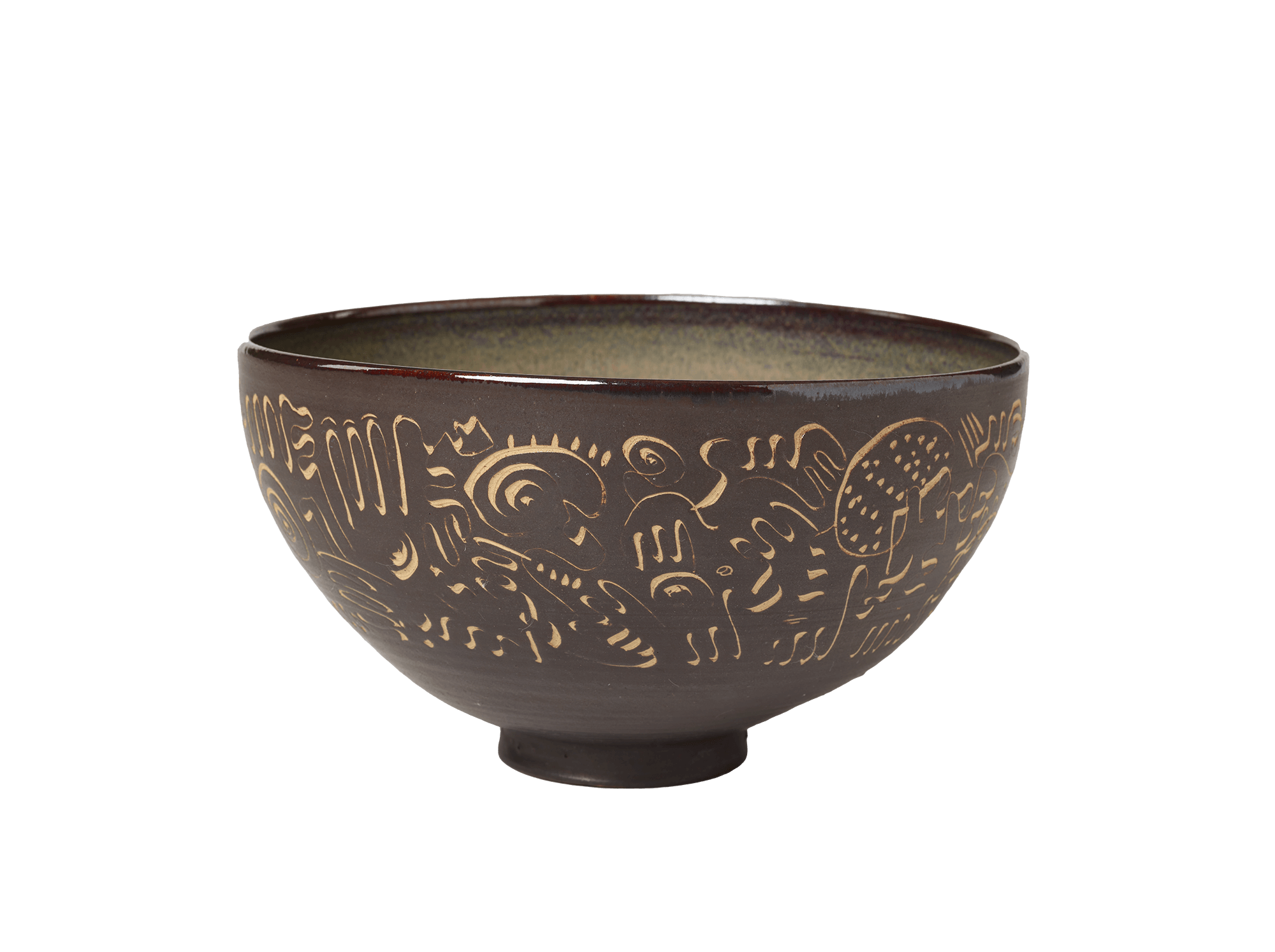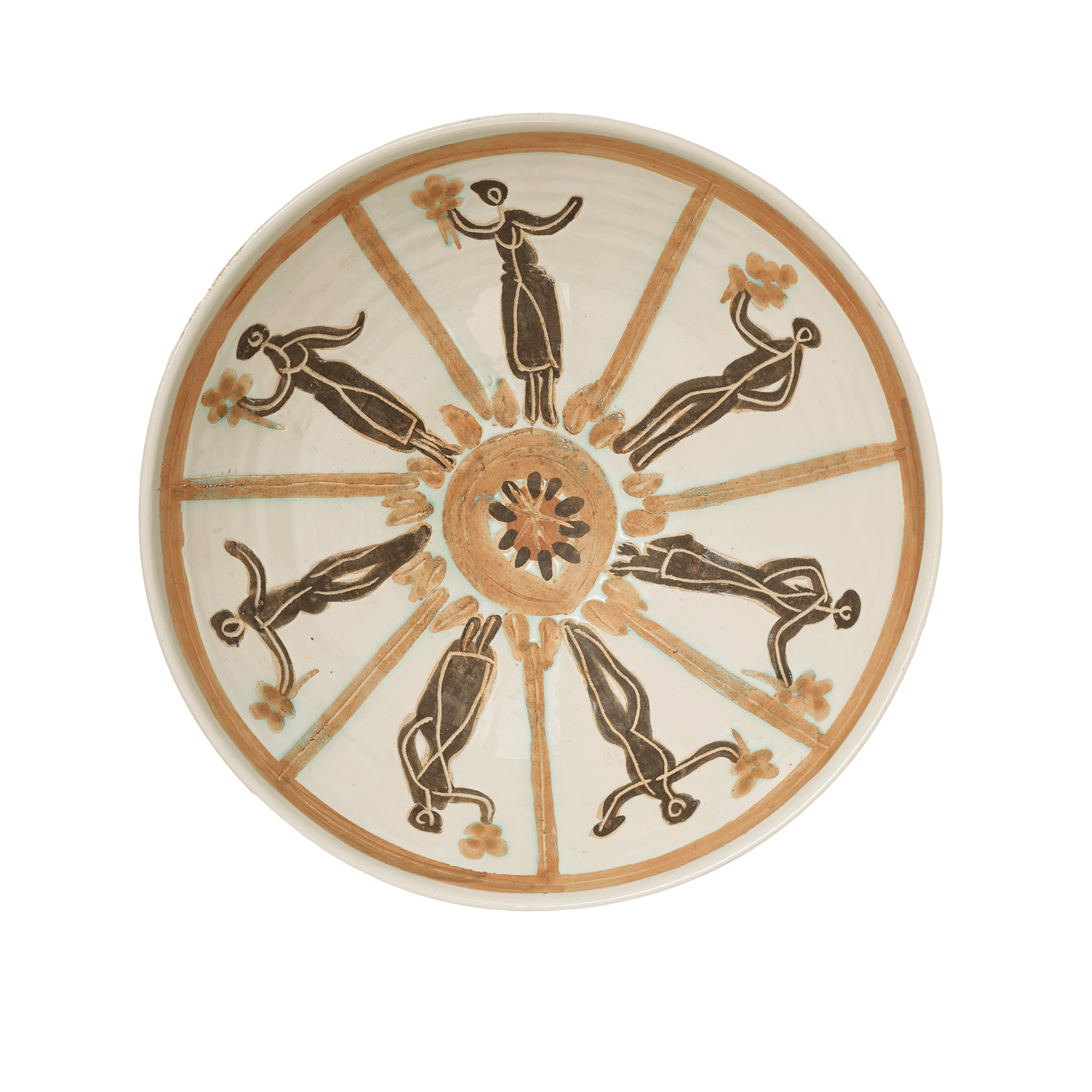 The clay body provides color and texture that is, in essence, its own form of decoration. Xu Daming's Anticipation Teapot (1993.005) is made of yixing clay, also known as zisha, meaning "purple sand." High in iron oxide and also containing quartz and mica, this clay fires to a richly colored, naturally patterned surface that shines without glaze.
Rudolf Staffel used unglazed porcelain as both form and decoration, pinching and applying pieces of clay to the surface to create texture and design (2002.82.16). To add color without using glaze, Staffel mixed powdered cobalt oxides into the porcelain, creating a striking blue to contrast with the naturally white ground (2002.82.21). Staffel intentionally made his vessels open, without lids, to take advantage of the natural translucency of the porcelain and allow in as much light as possible. For this reason, all of his open vessels are titled Light Gatherer.
Ruth Duckworth's Untitled (Cup and Blade) (1993.127) also takes advantage of porcelain's translucence. The blade—a thin slice of porcelain—rests on the lip and extends down into the cup, revealing varying levels of opacity.
Partial coverage in glaze or slip can be used to highlight the raw surface texture of the clay, such as in Jody Folwell's Pot (2001.80.35) and James Matkin's Dinner Plate and Compote (81.06.1, .4).
Image
Image
Image
Image
Image
Image
Images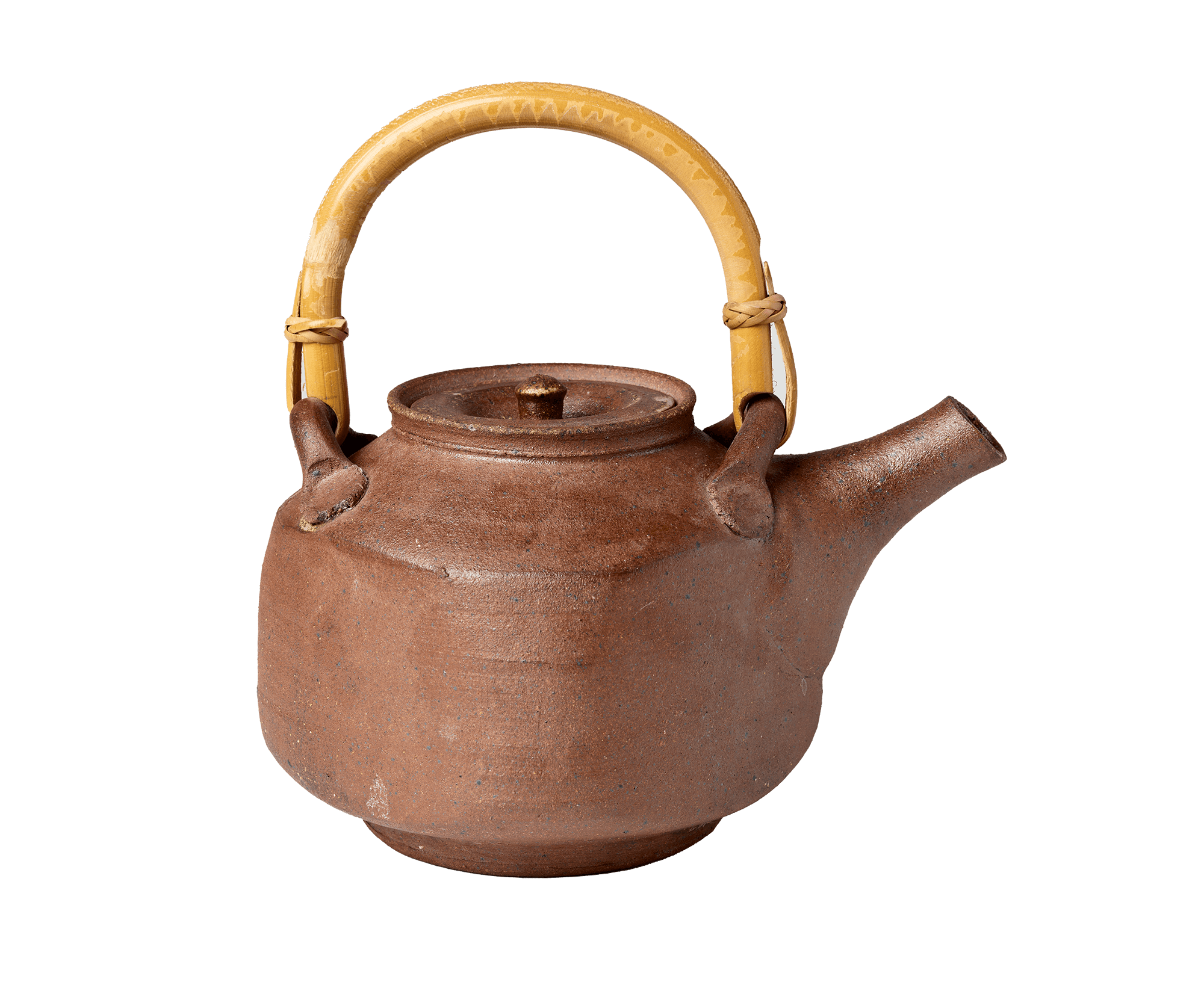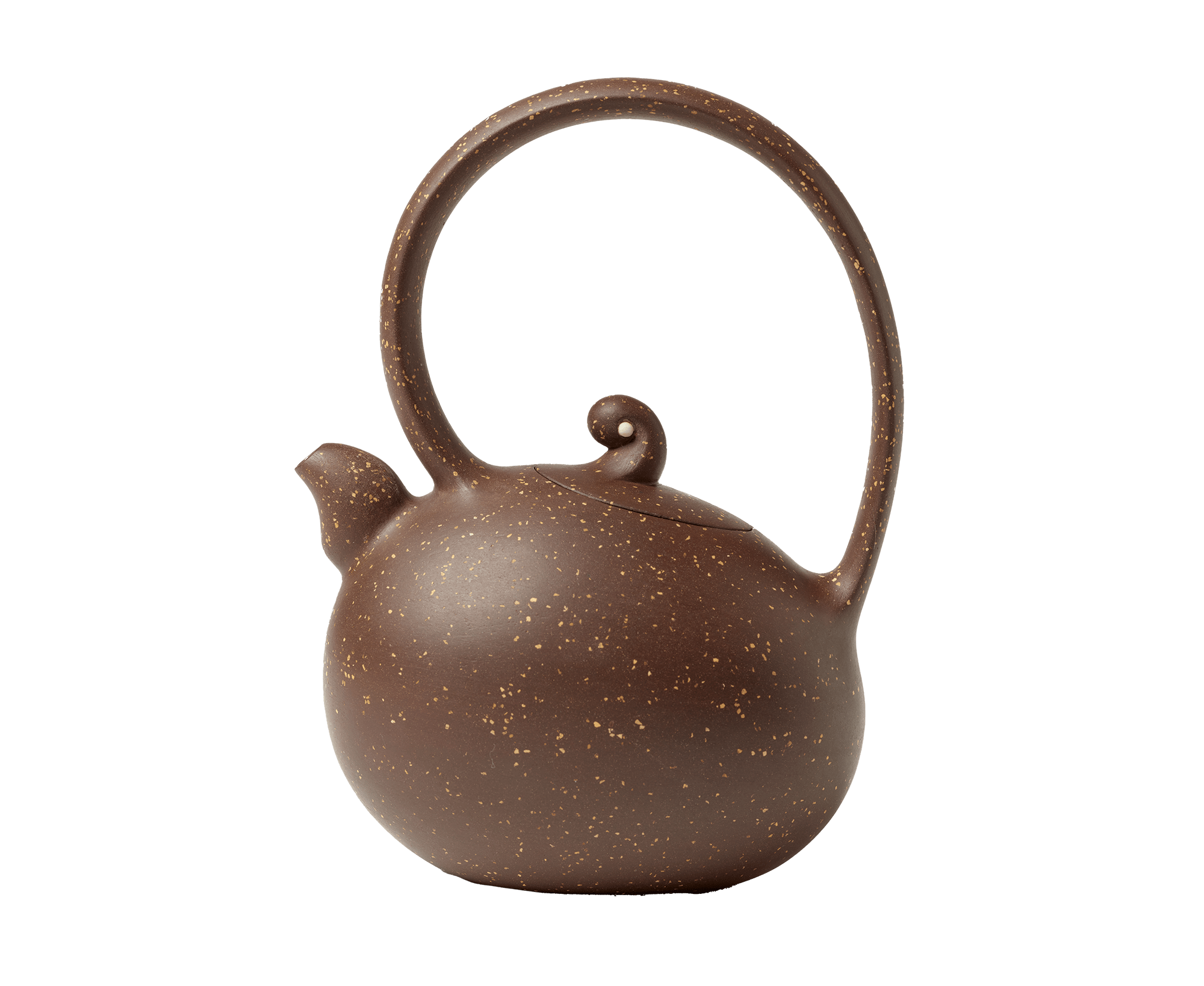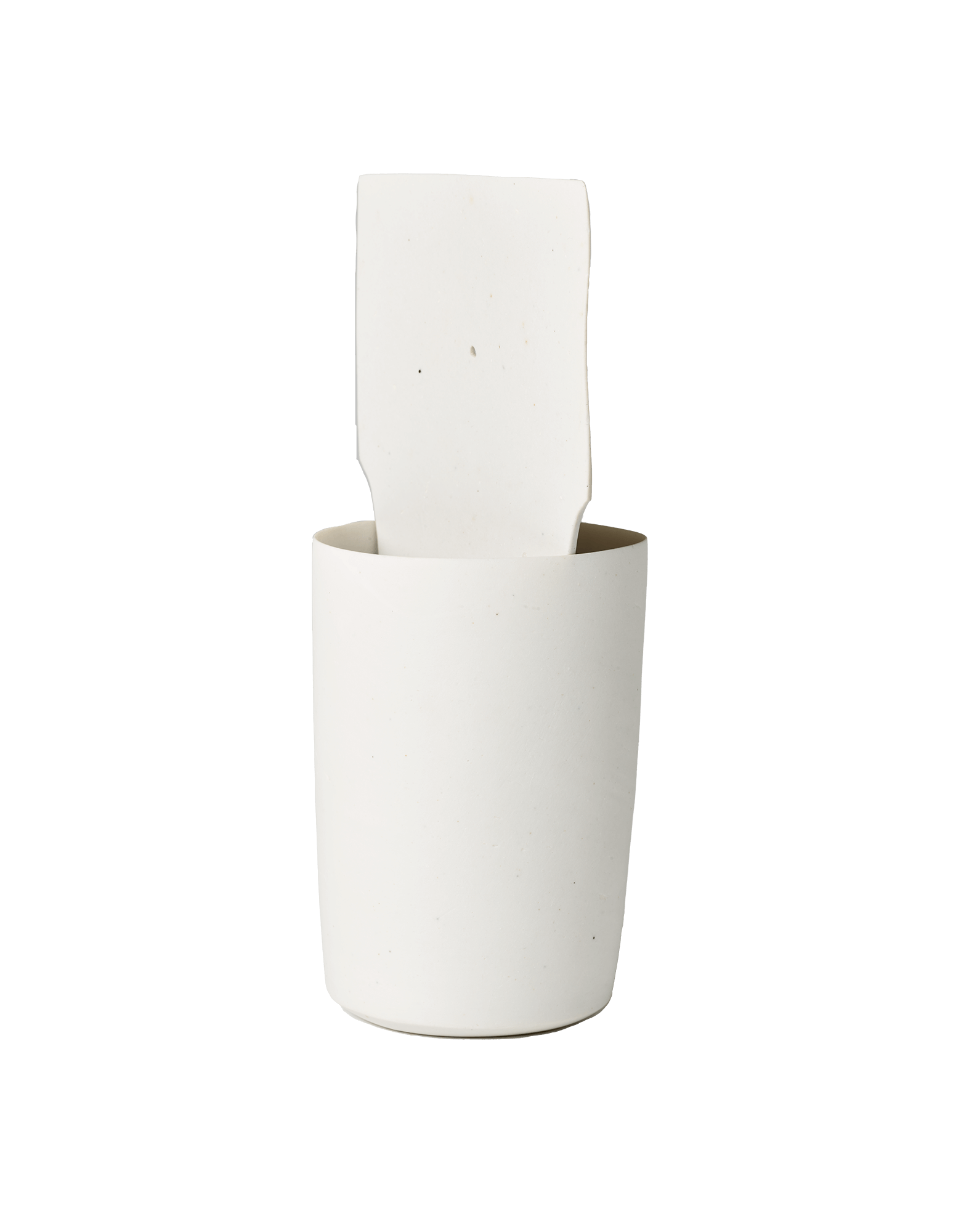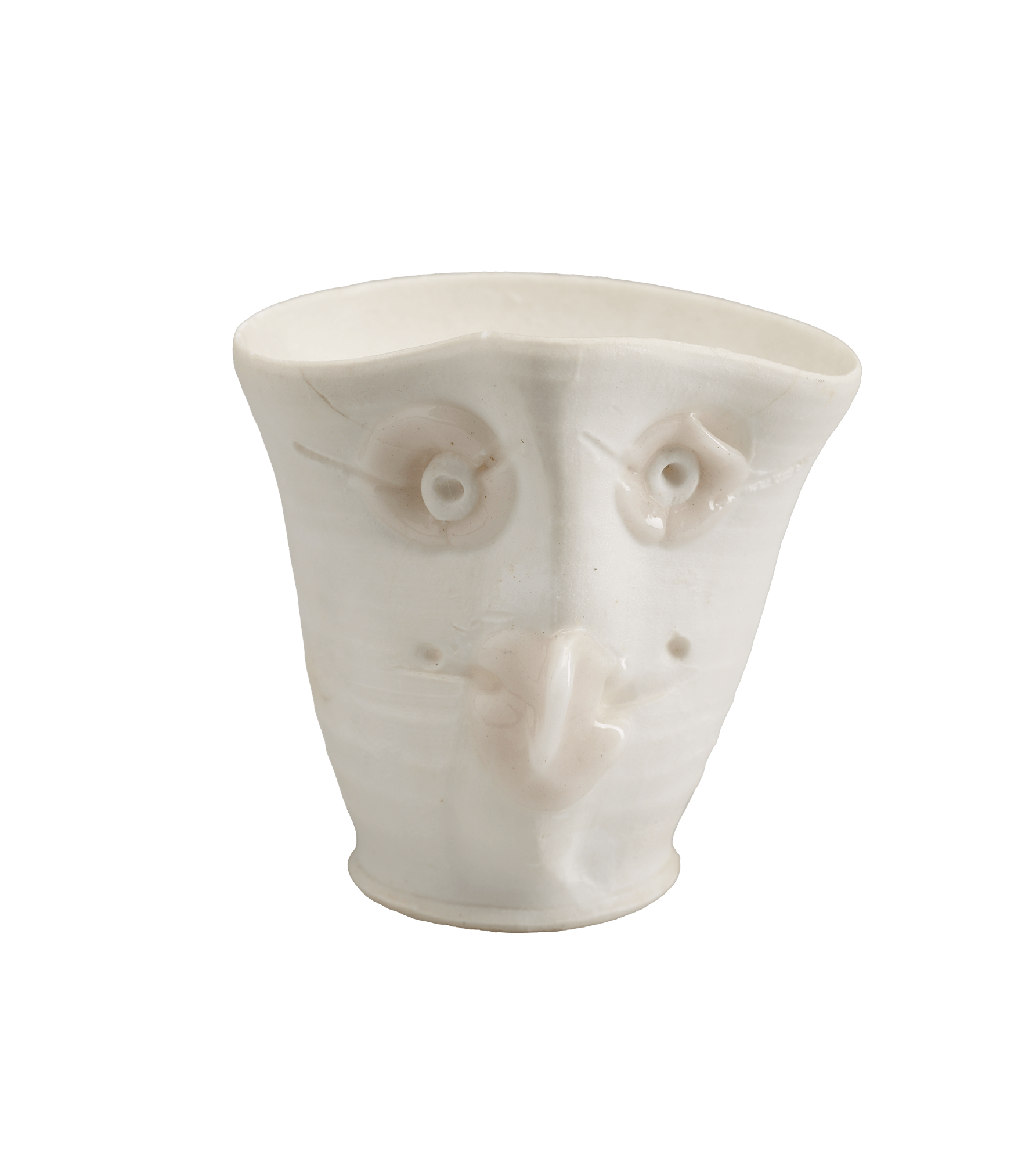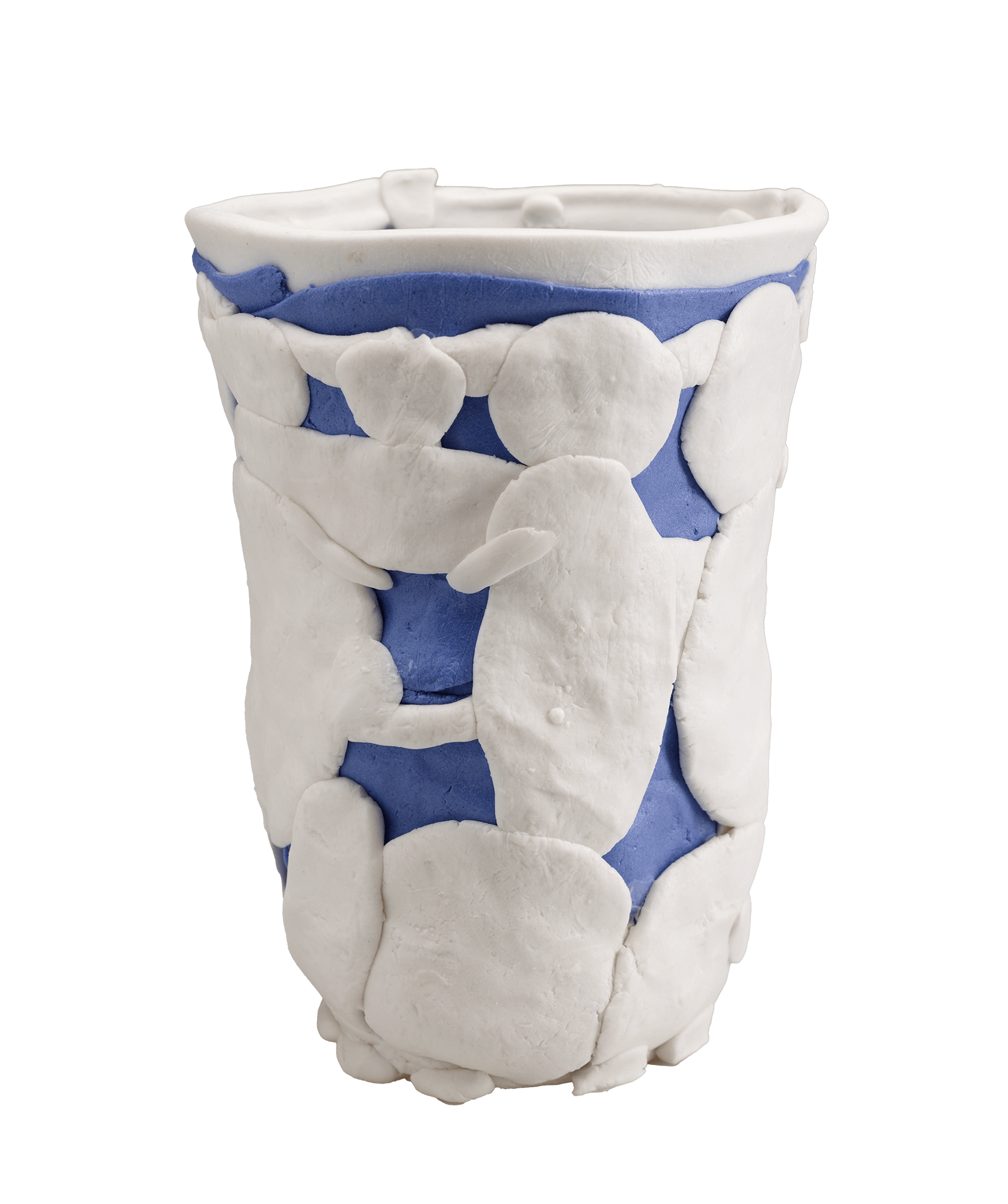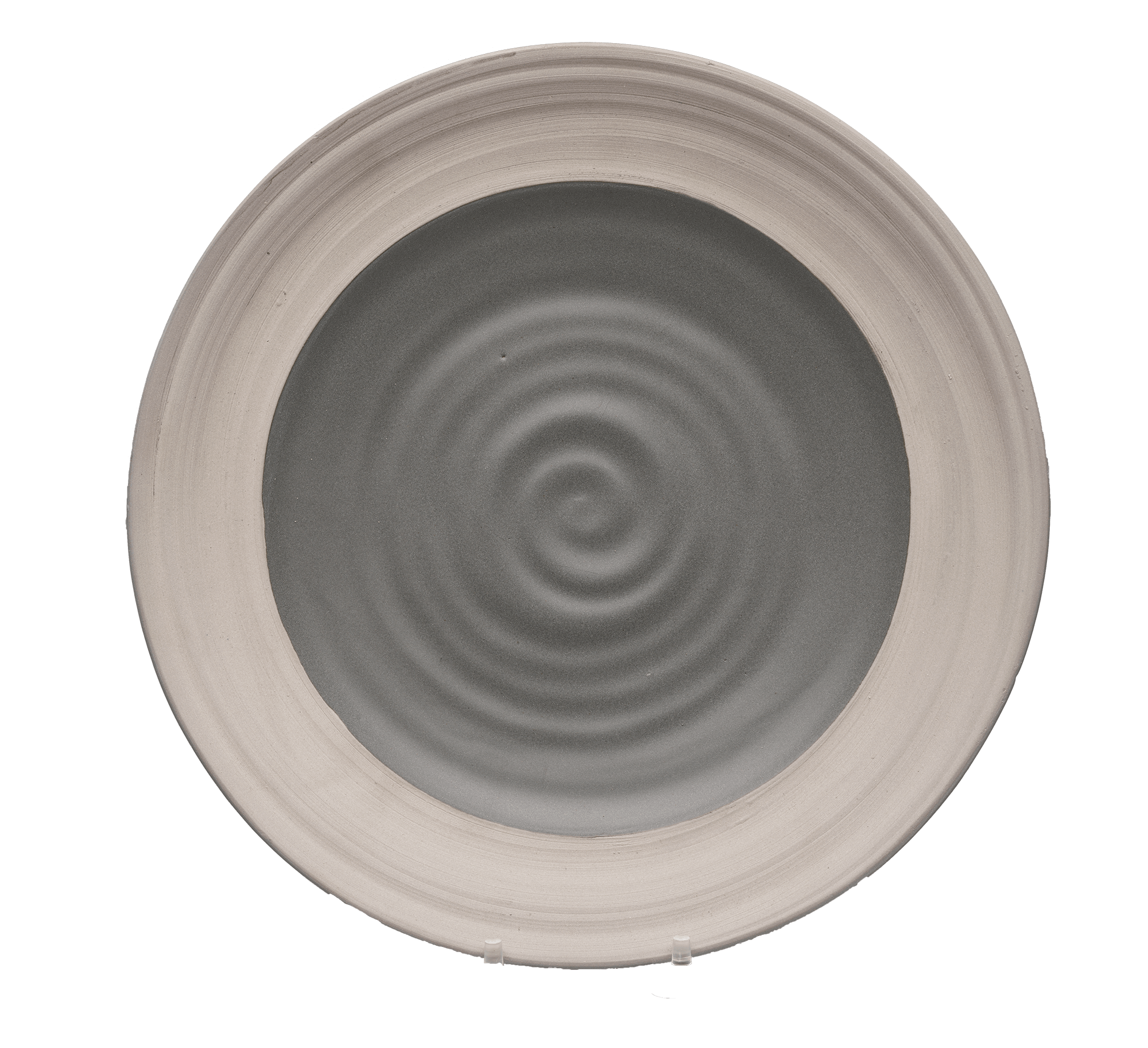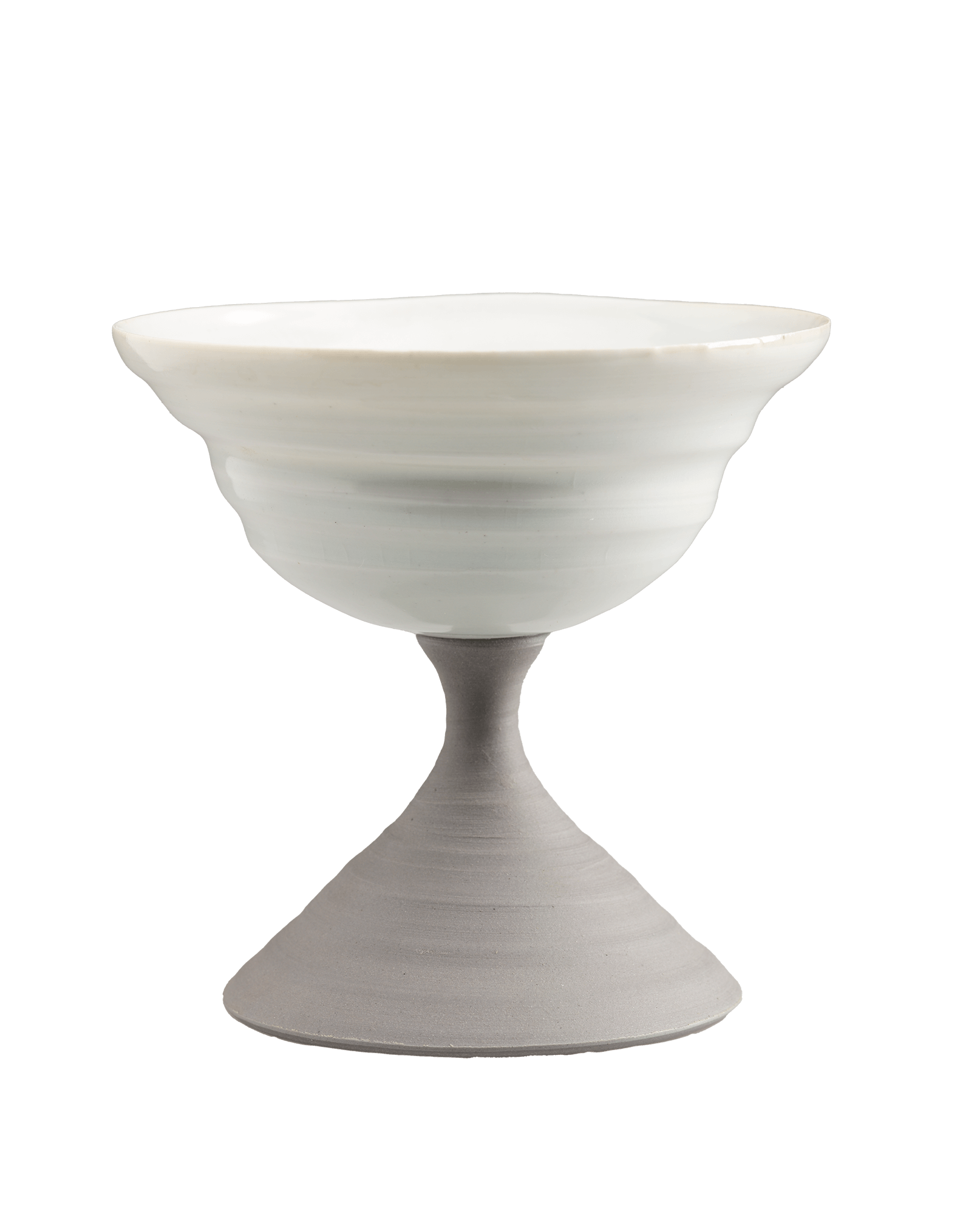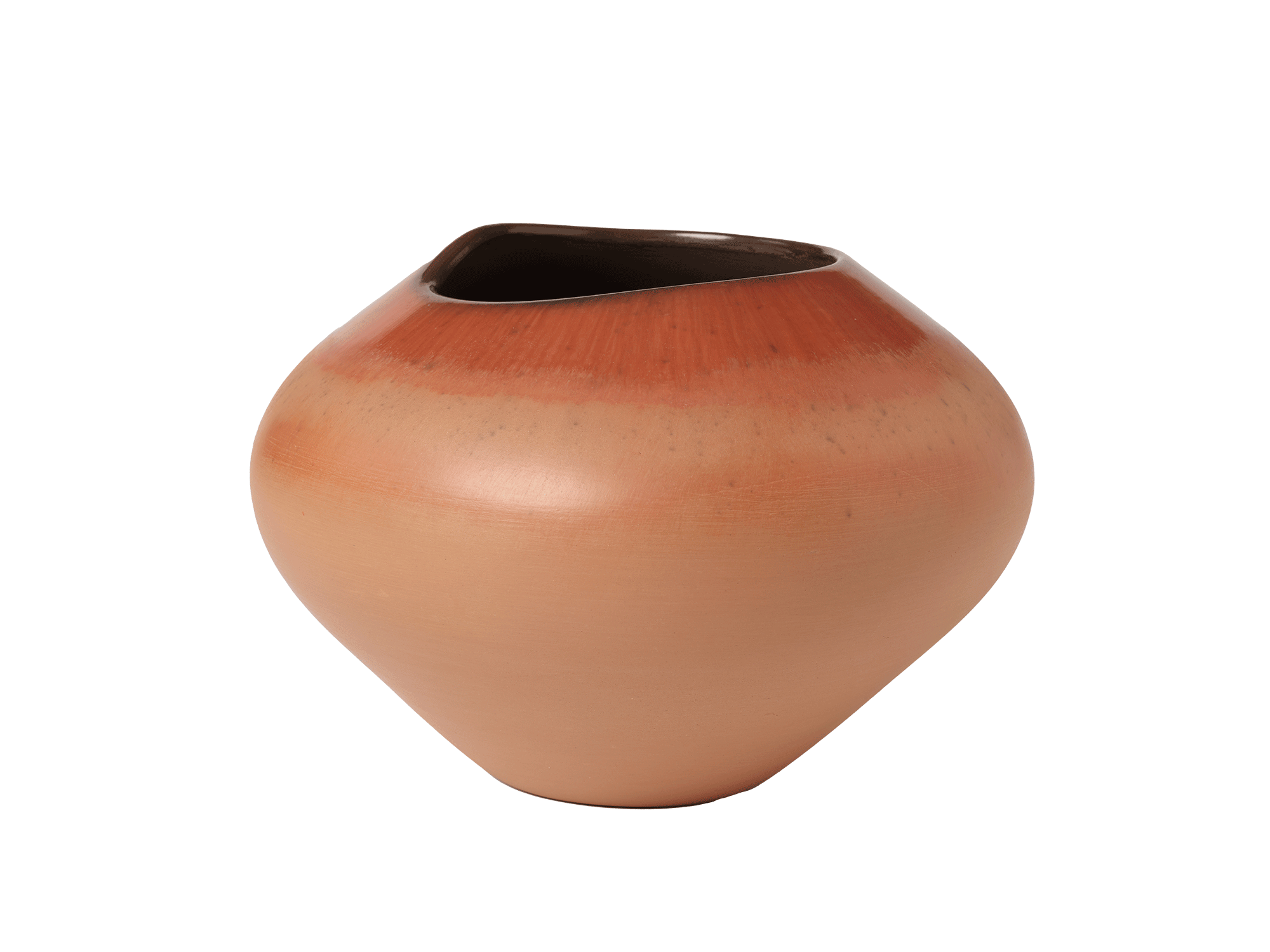 Textured ceramic surfaces invite tactile and visual exploration. One can detect subtle nuances as the glaze or slip interacts with the clay form, note the spontaneous effects of the kiln, and appreciate the presence of the artist's hand.
Makoto Yabe's Vase (2004.17.2) and Tea Bowl (2004.17.1) were made using a Japanese technique called mentori, a process of faceting by cutting or carving and paddling the clay. The surface is enhanced by Yabe's signature wood-ash glaze and white slip, which highlight the peaks and valleys of the form. Both works reflect the Japanese wabi-sabi aesthetic, which celebrates imperfection.
Another Japanese process that wholly embraces the wabi-sabi mentality and the spontaneity of firing is raku. In this method the hot clay is transferred, mid-firing, to a bin with combustible materials that can darken, crack, and transform the surface in unexpected ways. In keeping with raku traditions, Diane Mayo hand-builds her vessels (1991.172), while her use of bright glazes brings this process into a new era. Texture is a central component of Steven Branfman's raku-fired Vessel (2000.69), onto which he poured several different glazes before firing.
Within the Natzler's design partnership, Gertrud threw the clay forms, some of which have a subtle textured surface like their Bottle (1999.71.3). Otto Natzler was in charge of glazes and kept meticulous records of his experiments. Fascinated by crater-like textures, he actively developed glazes that took on pitted surfaces during firing, as in this Vase (1999.71.1). Alternatively, other materials can interact with a glaze during firing to produce surprising effects, like in Randy Johnson's Plate (2015.47.4). Three shells were placed on the surface to separate the plate from other works stacked on it in the kiln. During firing, the calcium shells burned into the glaze, leaving their impression.
Image
Image
Image
Image
Image
Image
Image
Images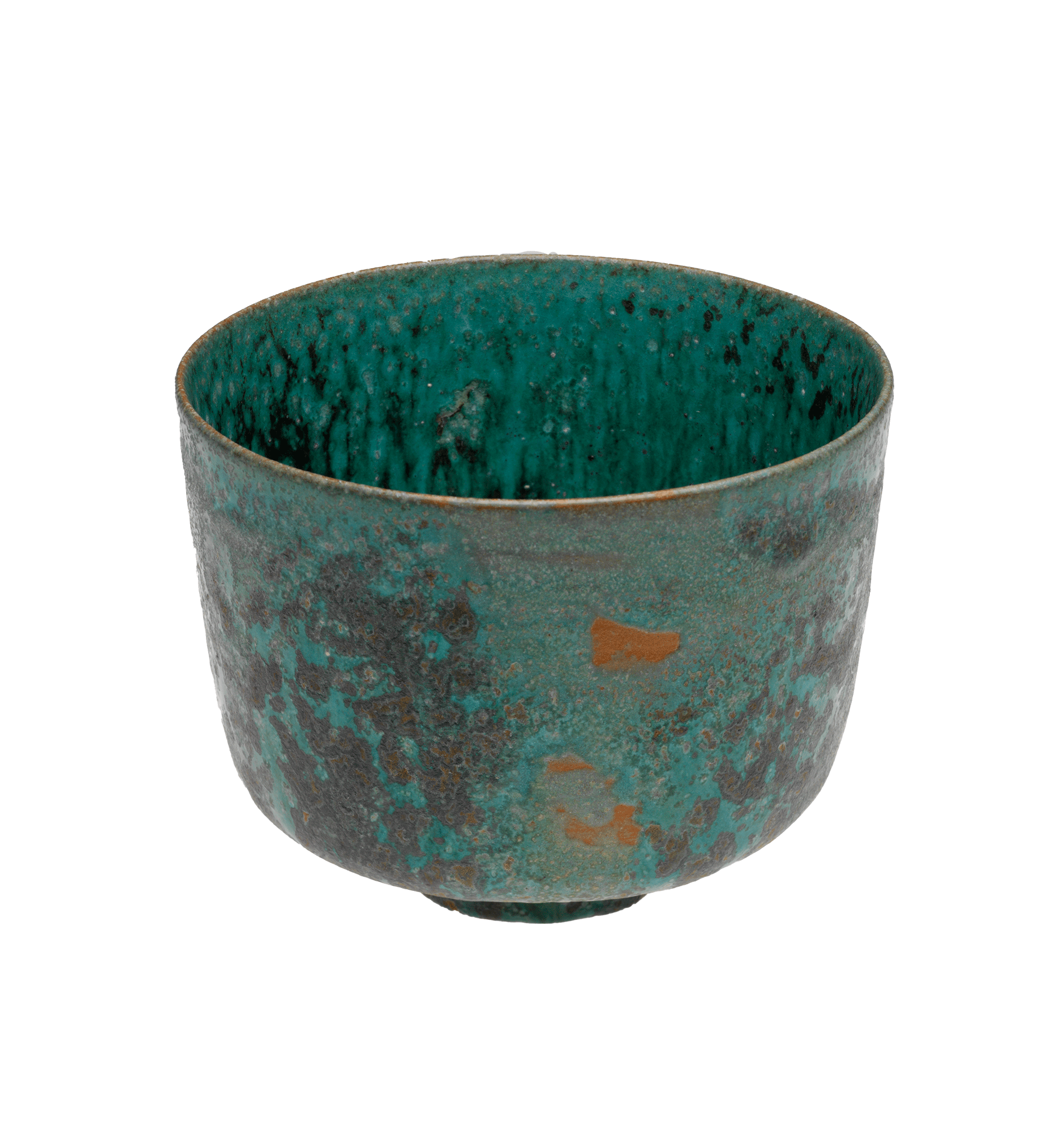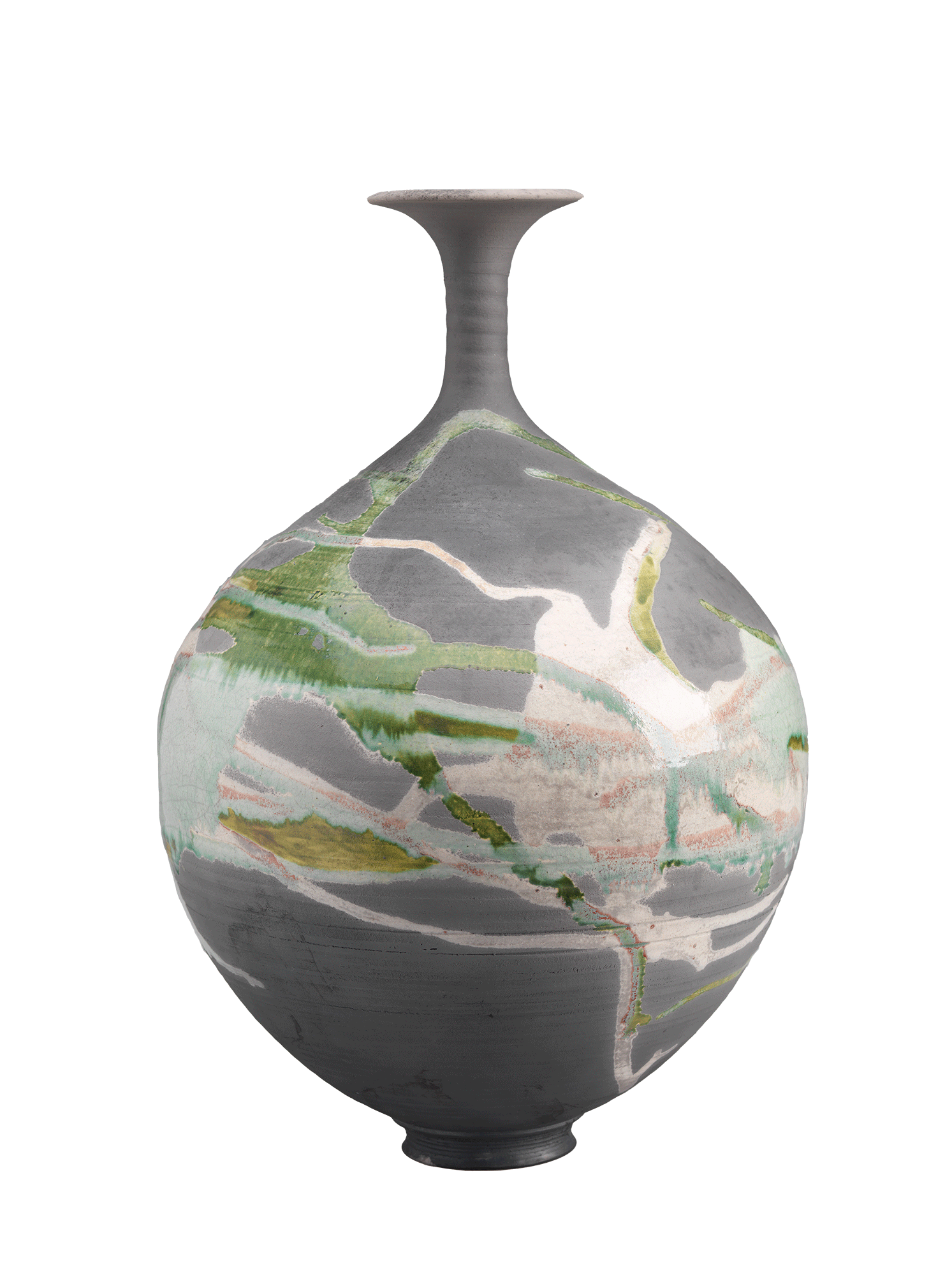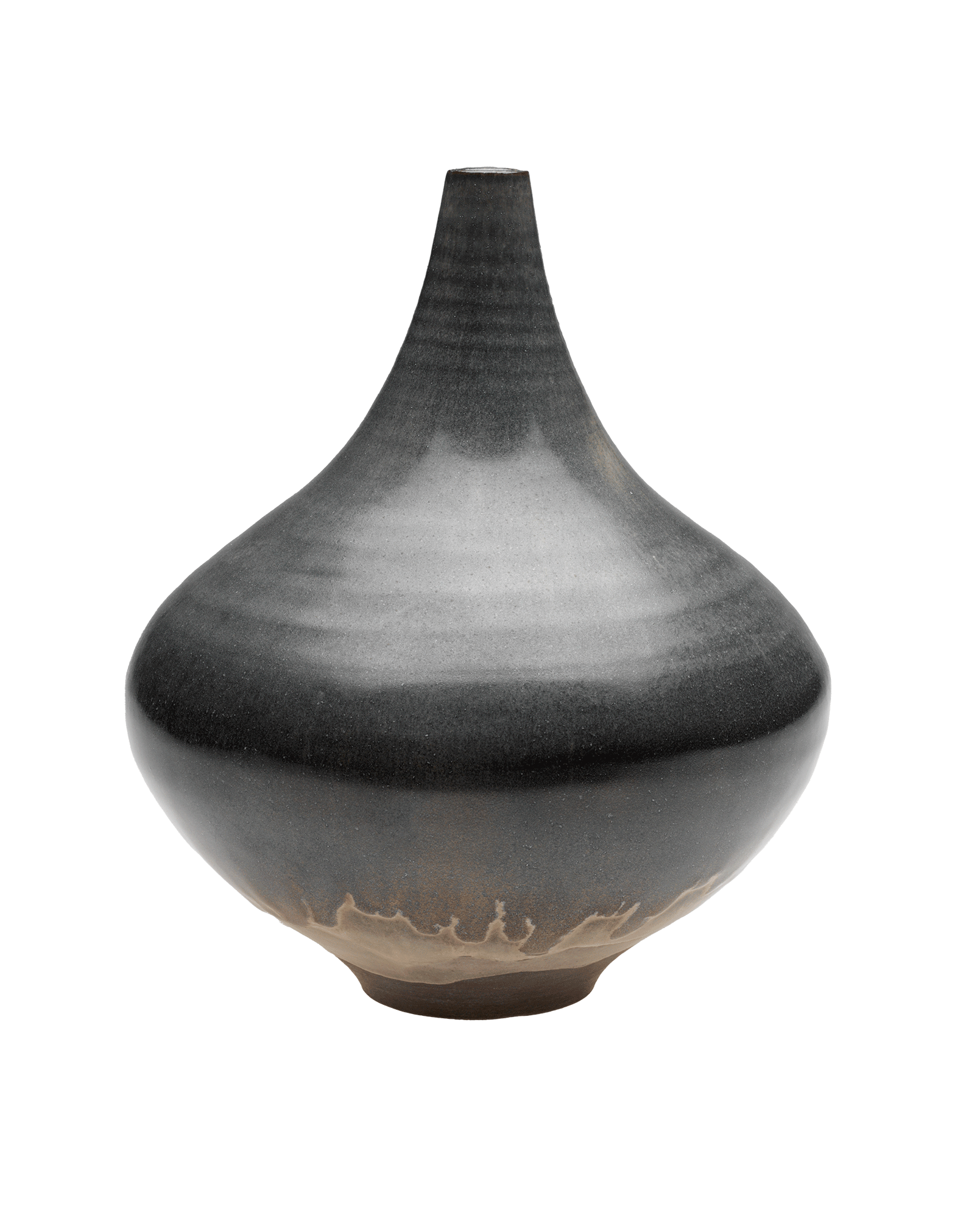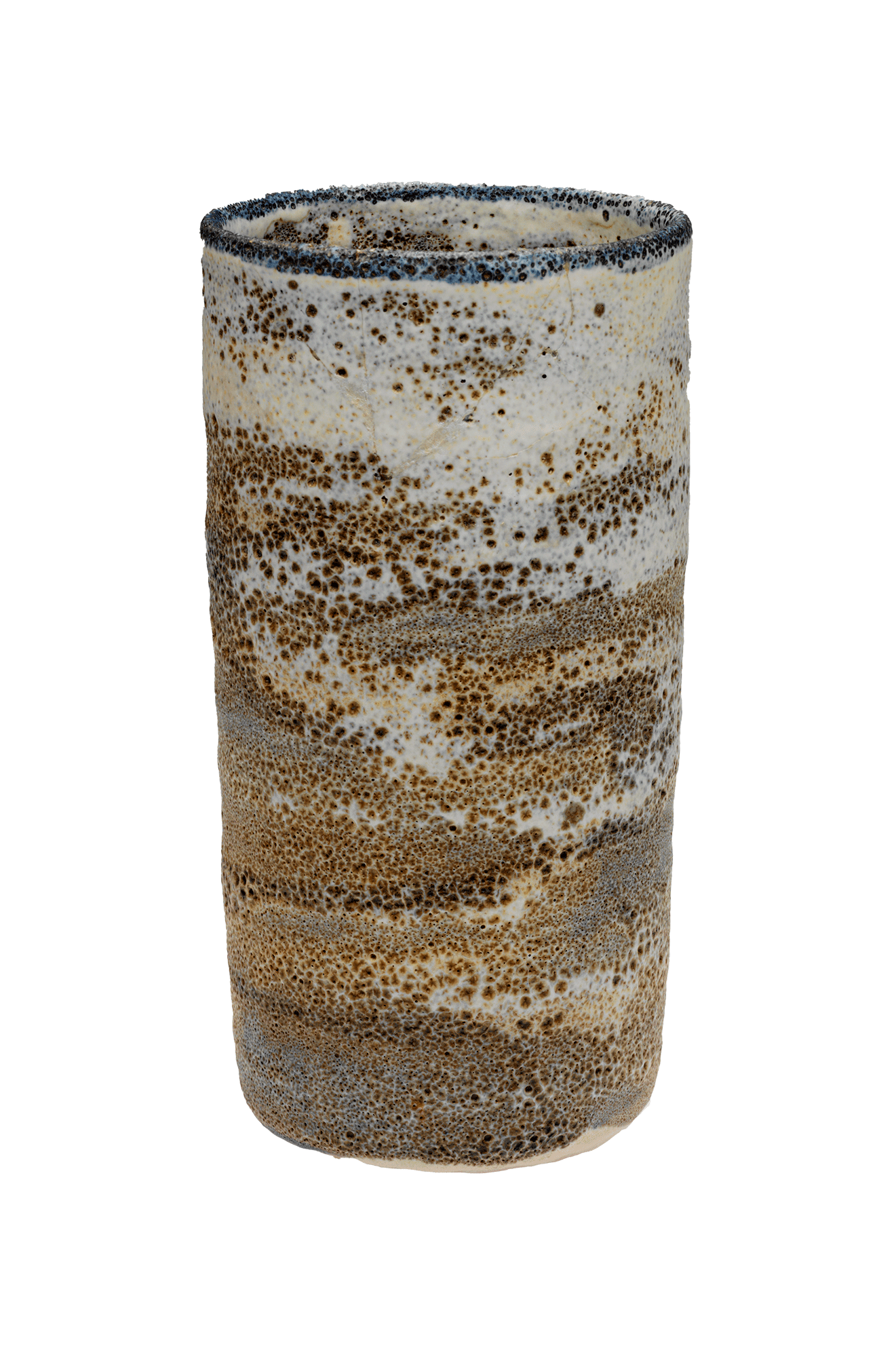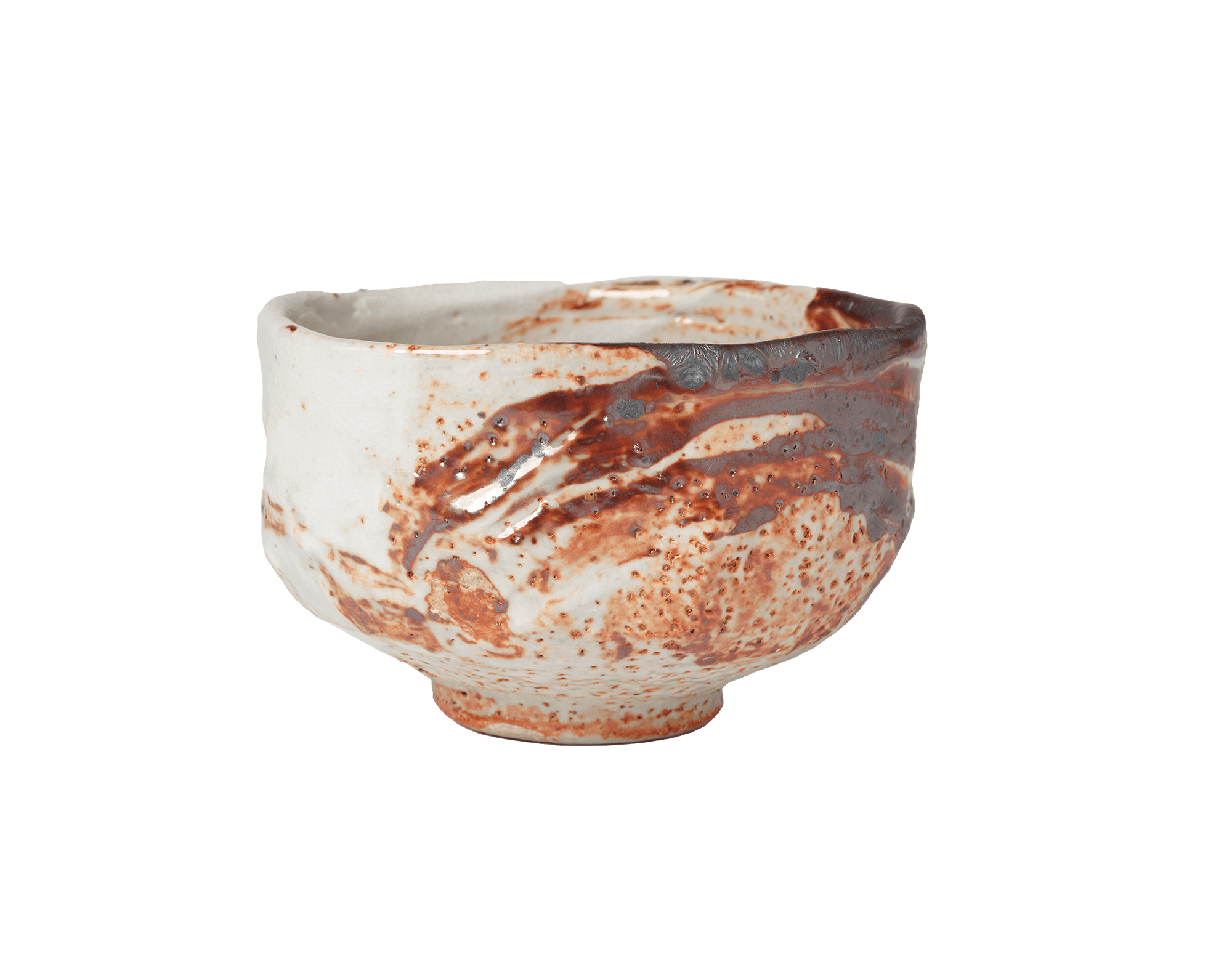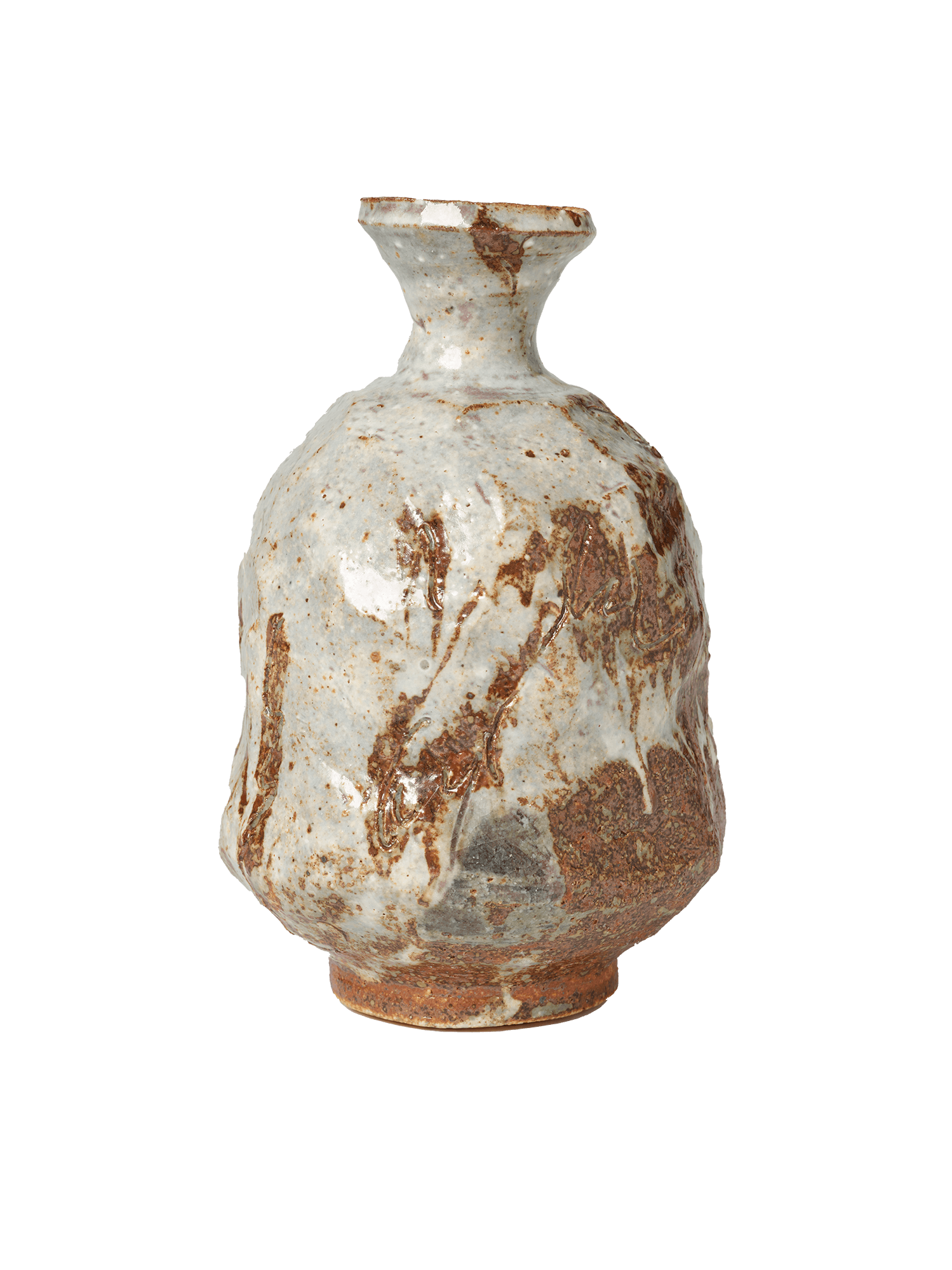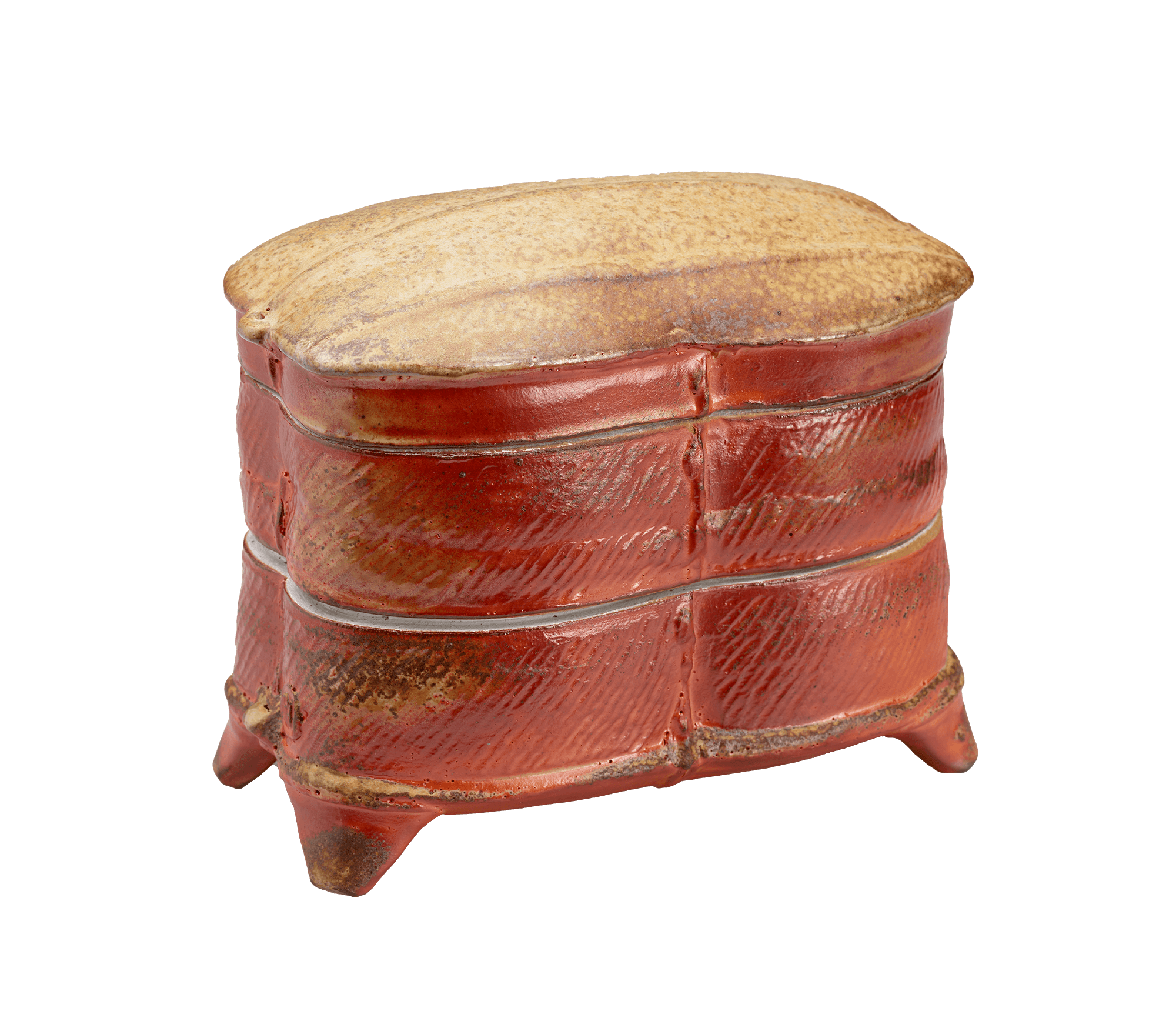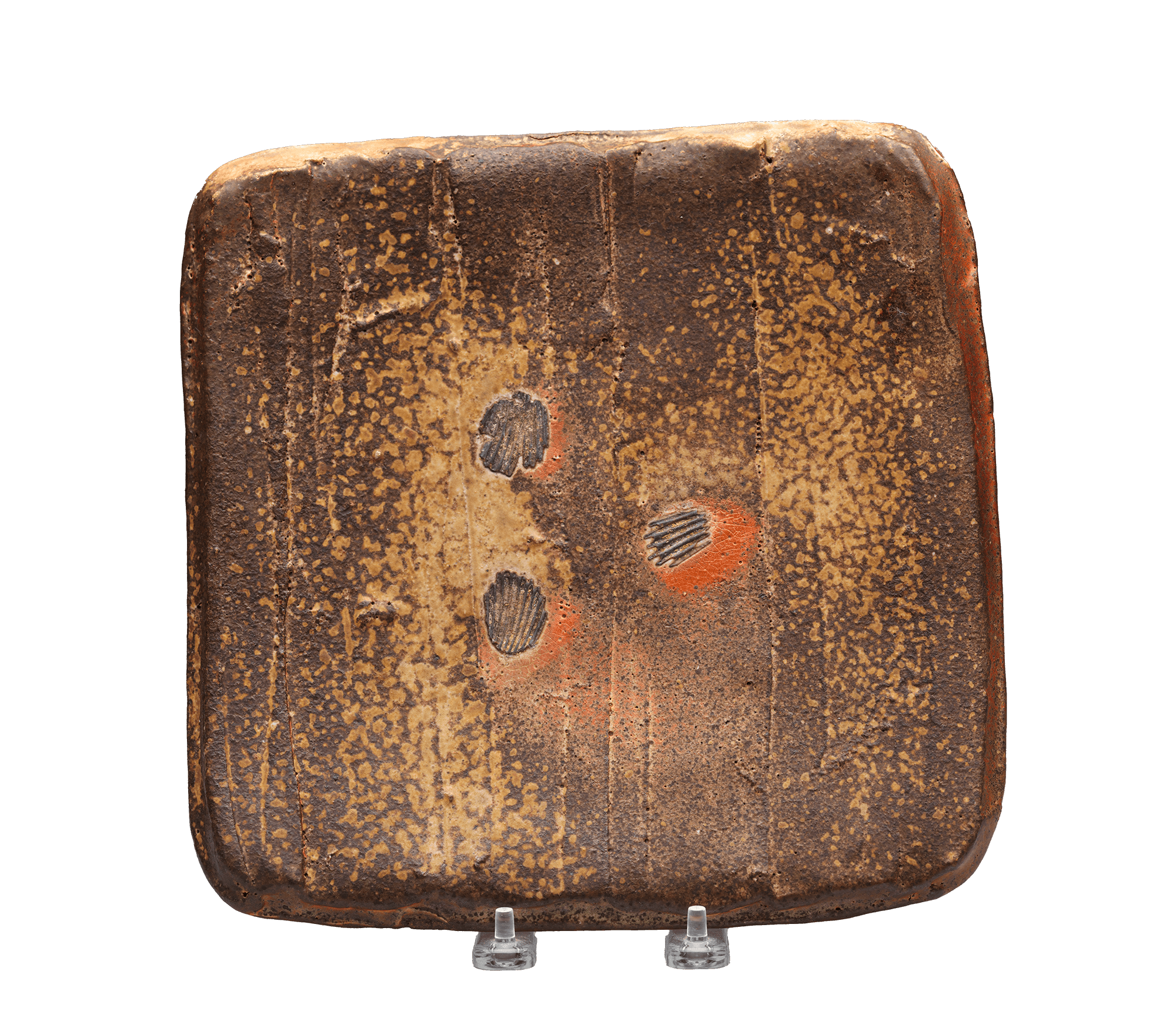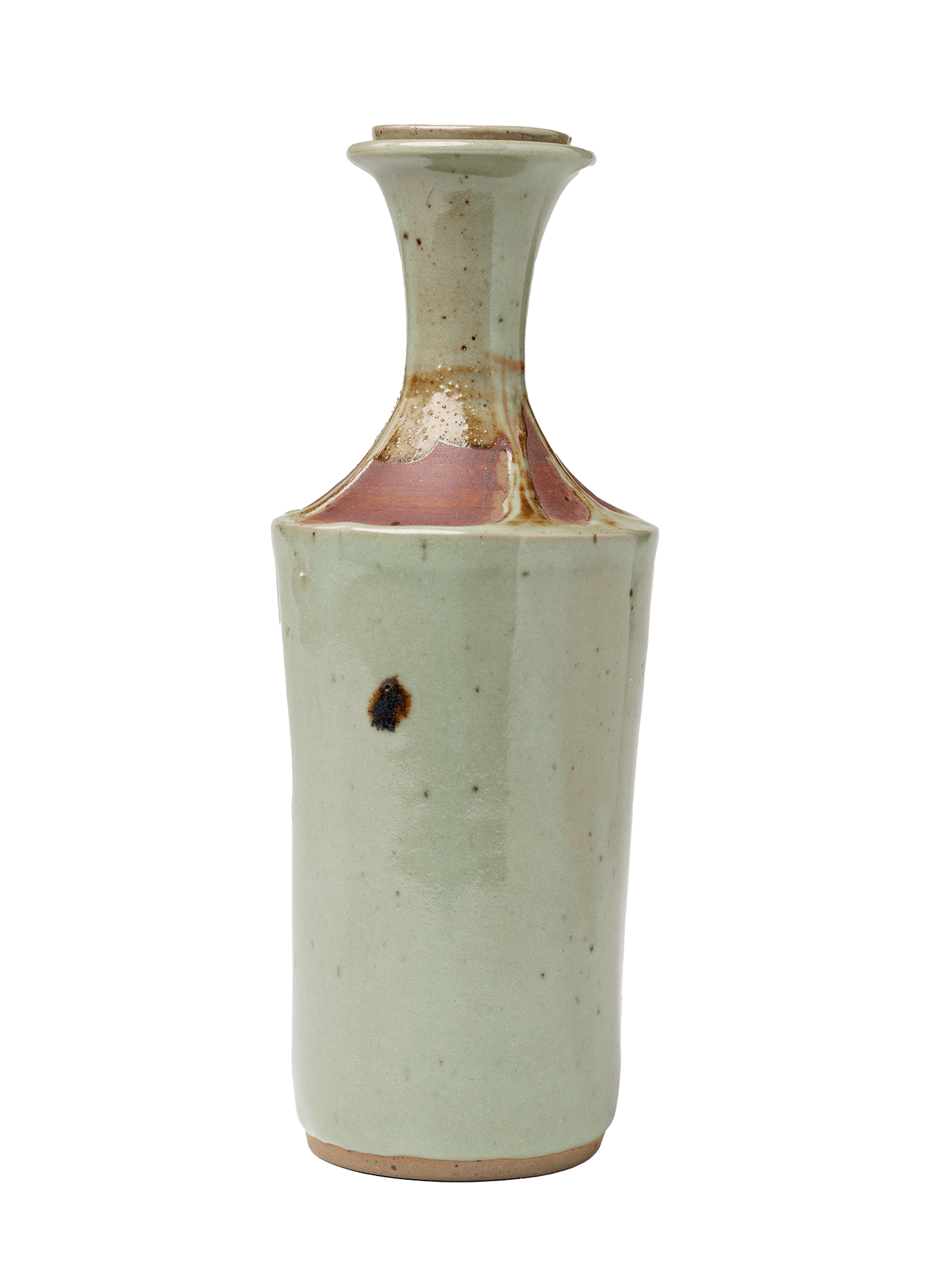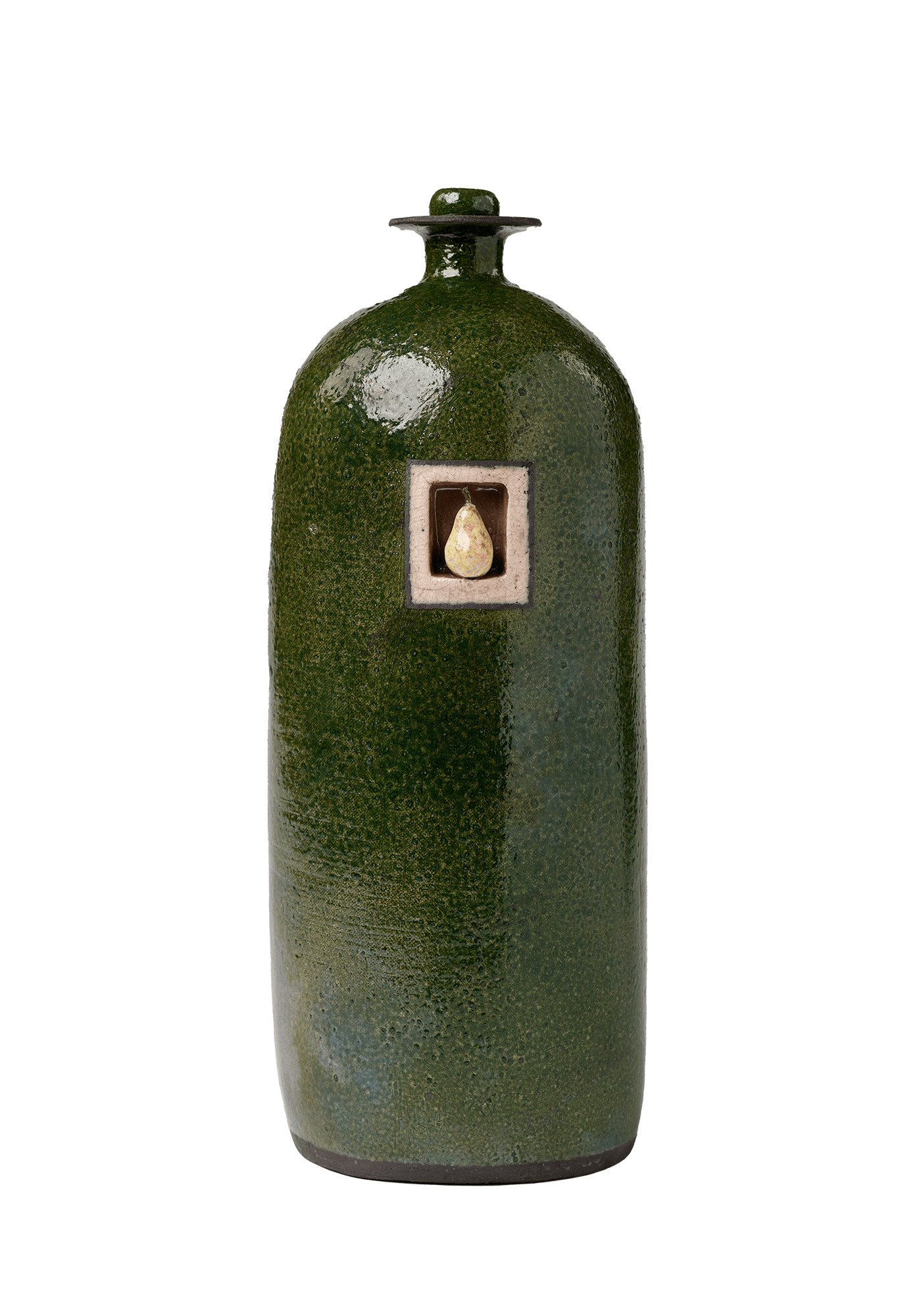 Case 2
Click an object for more information
Glazes are mixtures of silica—the primary component in glass—and various minerals, oxides, and additives for color and stability, ensuring the formula adheres to the clay during firing. They can be applied in numerous ways, including dipping, spraying, and brushing. Glazes have long served a practical purpose: they make porous clay impermeable to water so that vessels can be utilized to their fullest. Glazes are also a highly developed art. Many contemporary ceramic artists have created signature glazes and specific techniques for applying them. There always remains, however, a level of unpredictability that must be embraced.
Crystalline glazes are some of the most unpredictable, but they are highly prized for their jewel-like appearance. Holding a steady temperature for several hours before slowly cooling the kiln allows crystals to form in the glaze, as seen in the Green Three-Lobe Poison Bottle by Rain Harris (2003.42).
The dramatic colors of Brother Thomas Bezanson's glazes, which suggest patterns found in nature, were in fact created through his use of natural materials such as wood ashes, copper, and iron (2004.121.6, 2004.121.4). Although Betty Woodman's approach to pattern and color looks spontaneous in her Mussel Server (81.063), it intentionally recreates the mottled look of Whieldon ware, an English style from the 1700s.
The glaze on Kate Blacklock's Vessel Form L (2016.15) is both aesthetic and structural. This work is contructed of four parts that were 3D-printed separately and fused together by the glaze.
Image
Image
Image
Image
Image
Images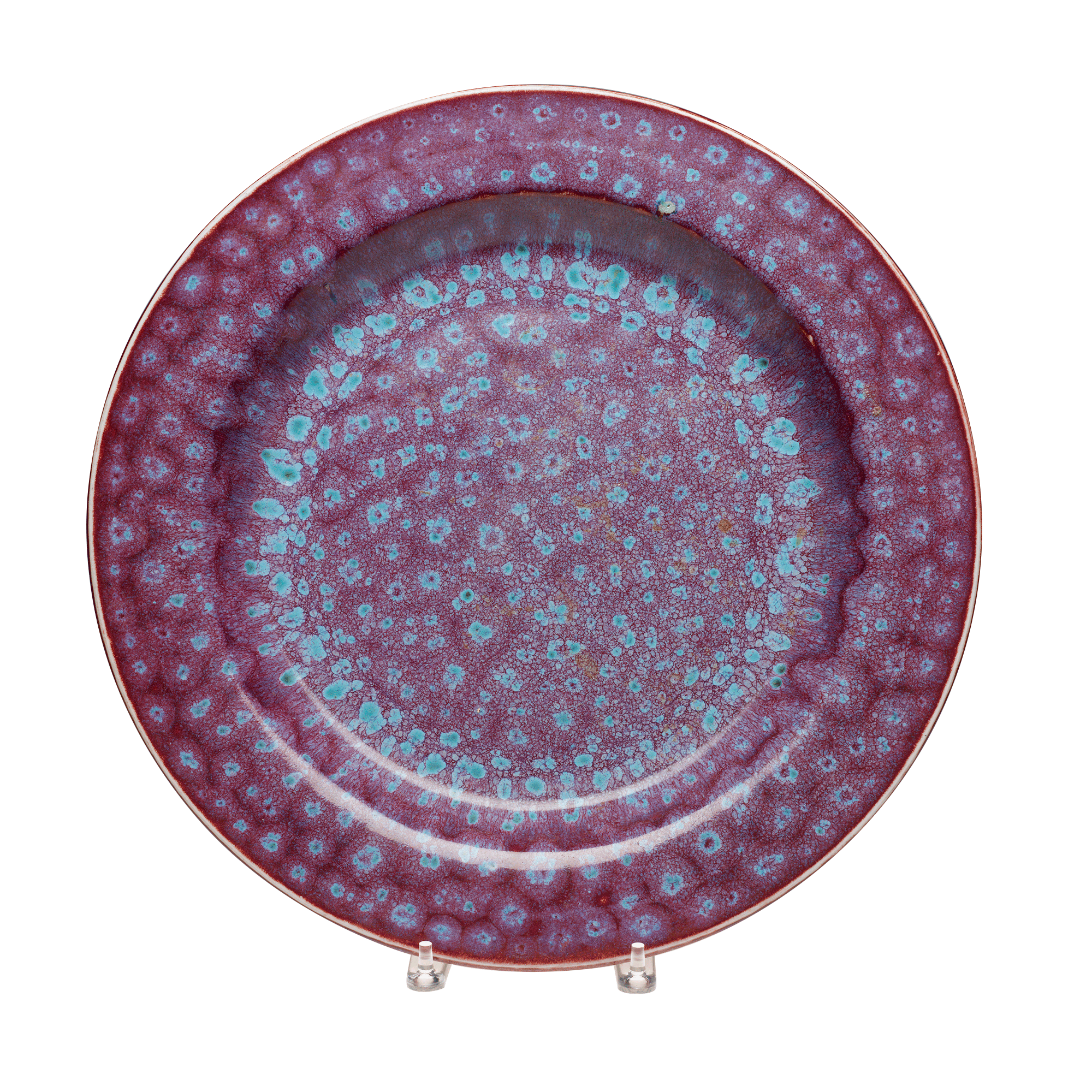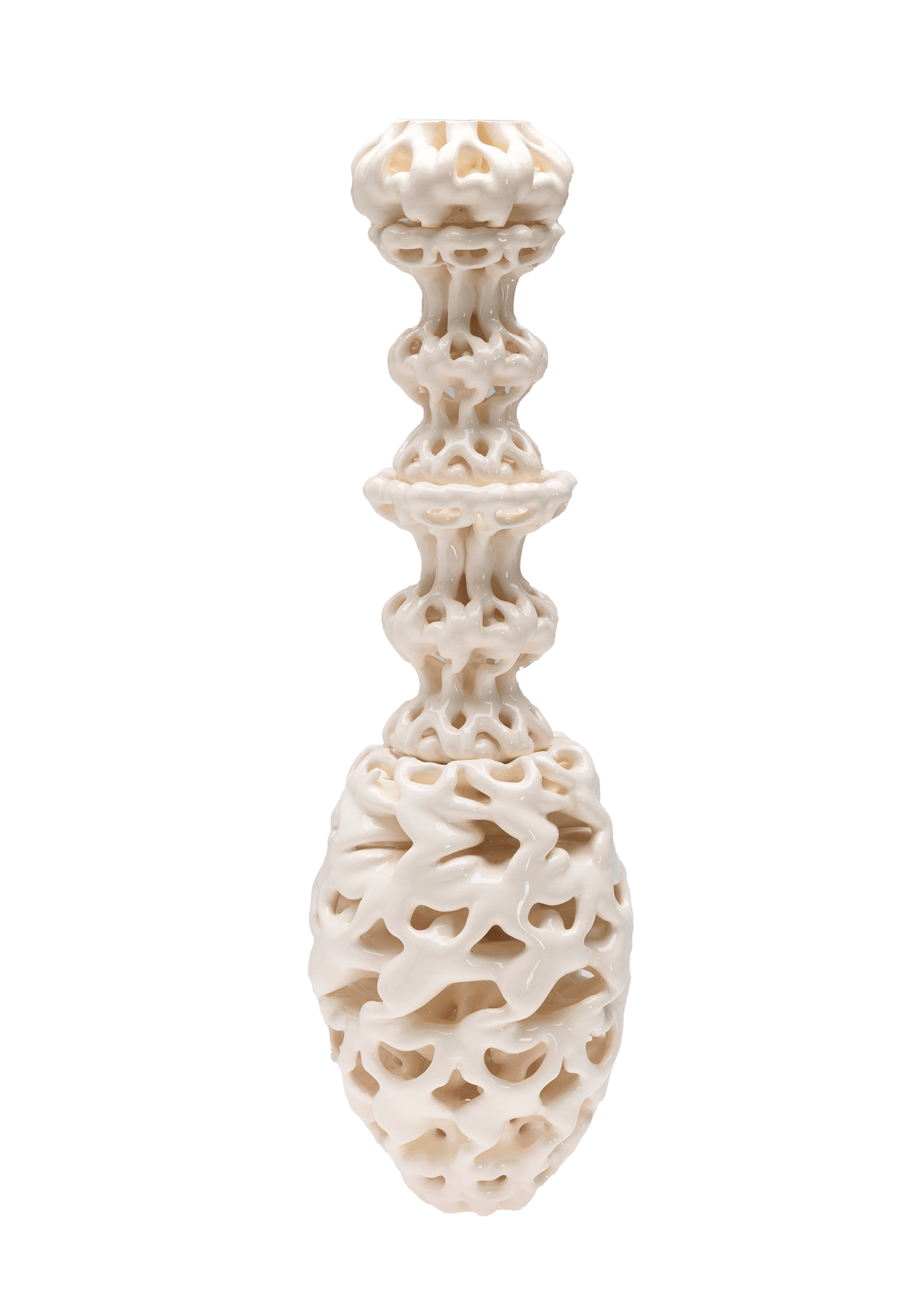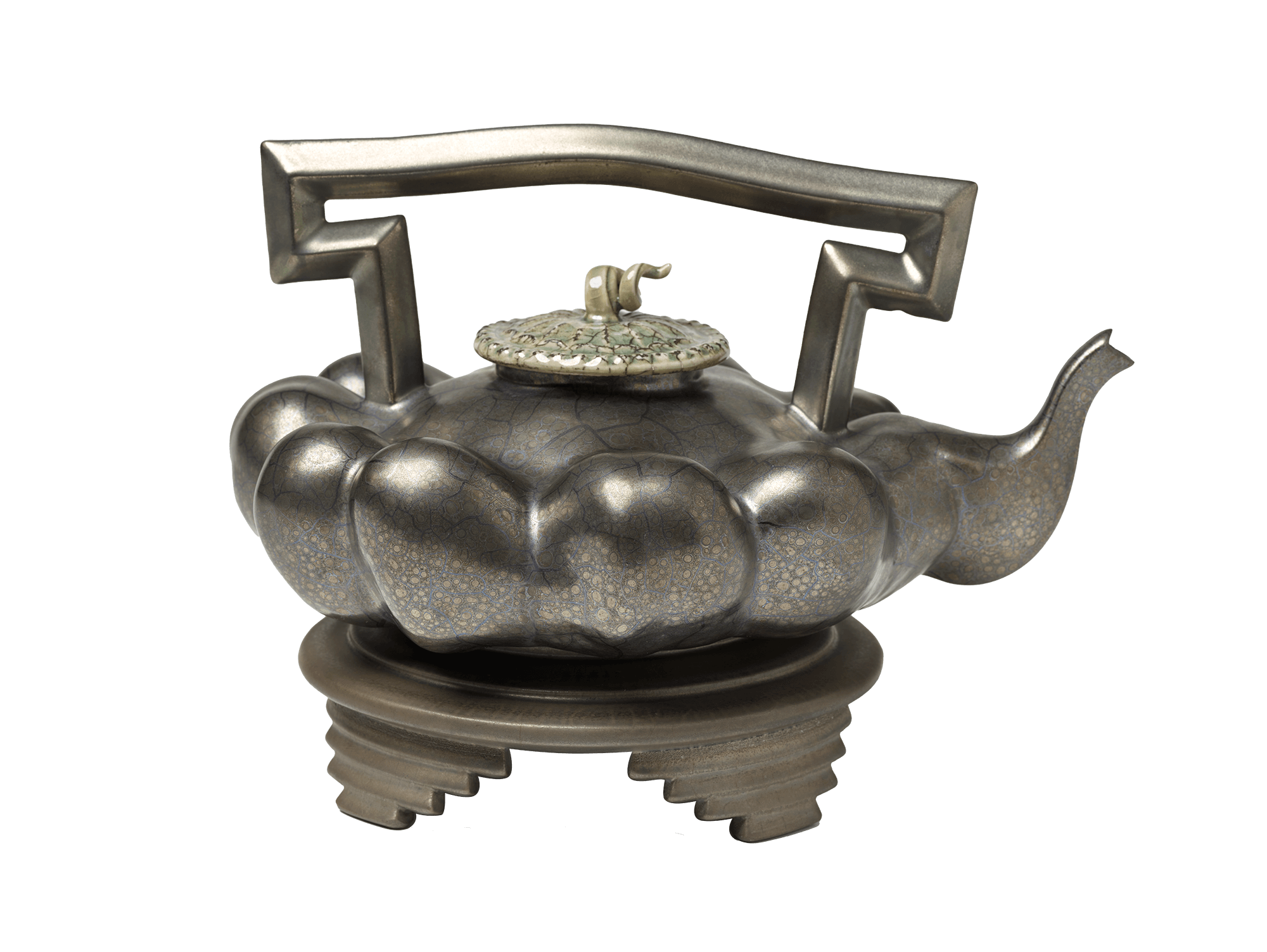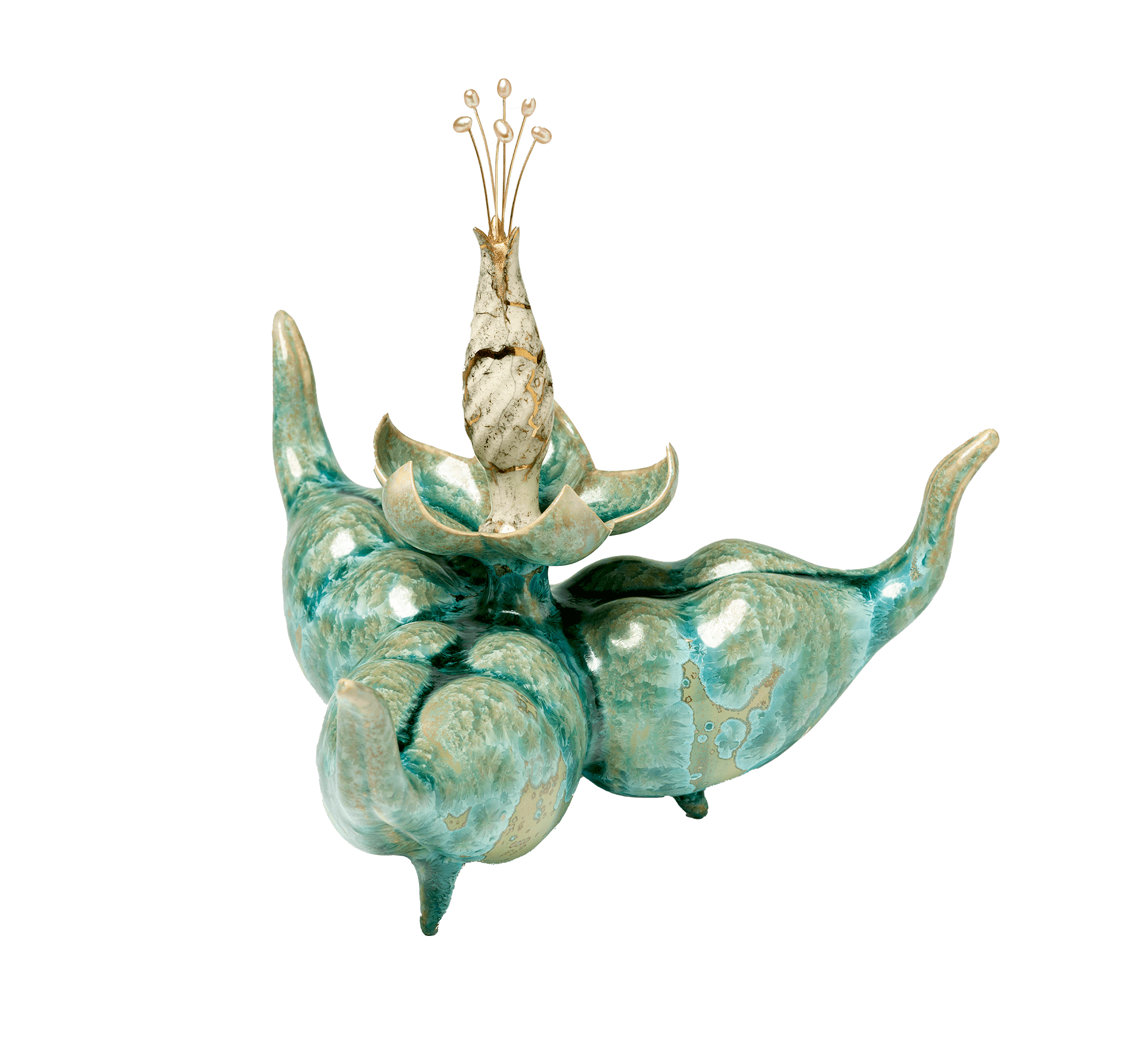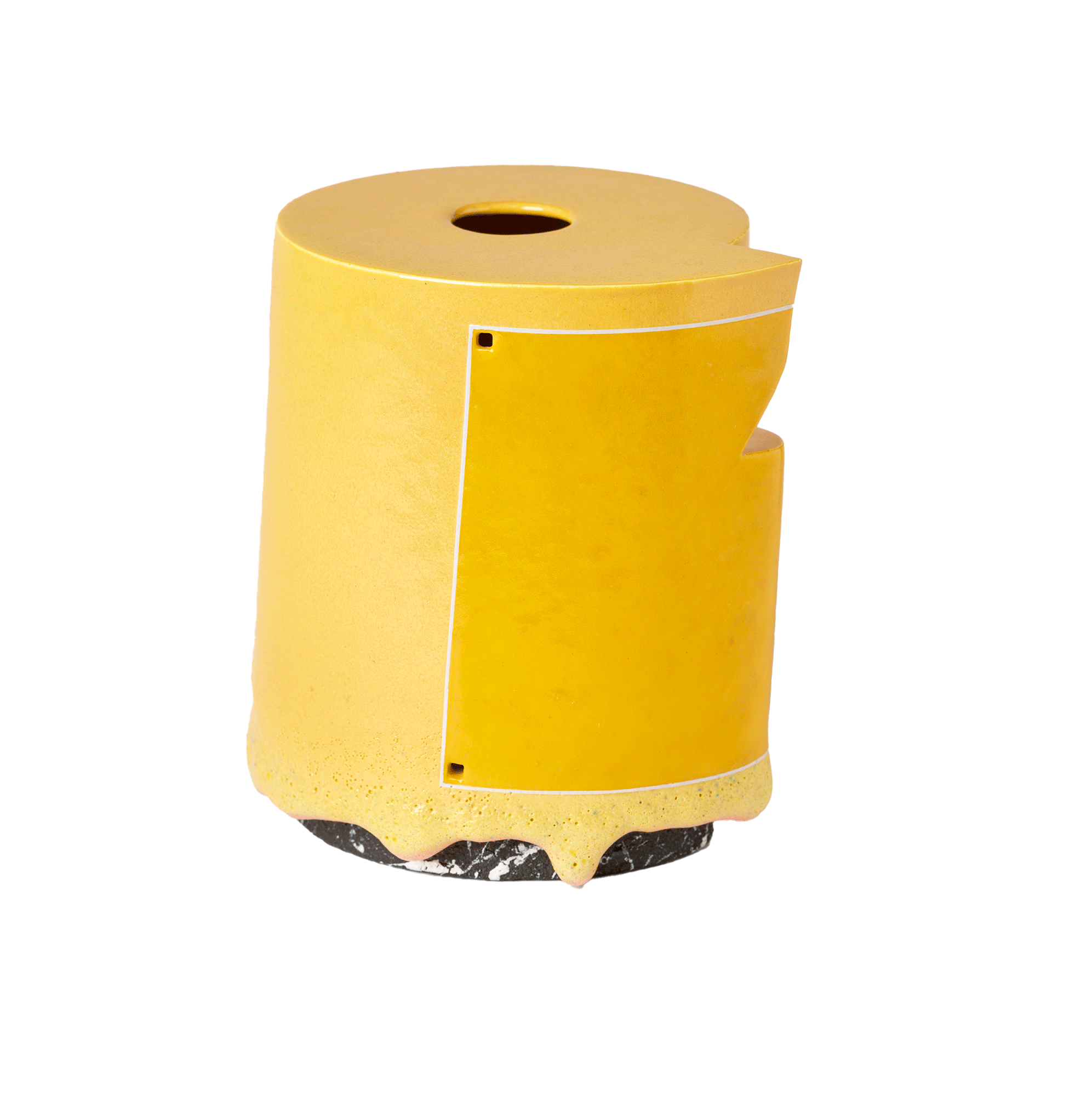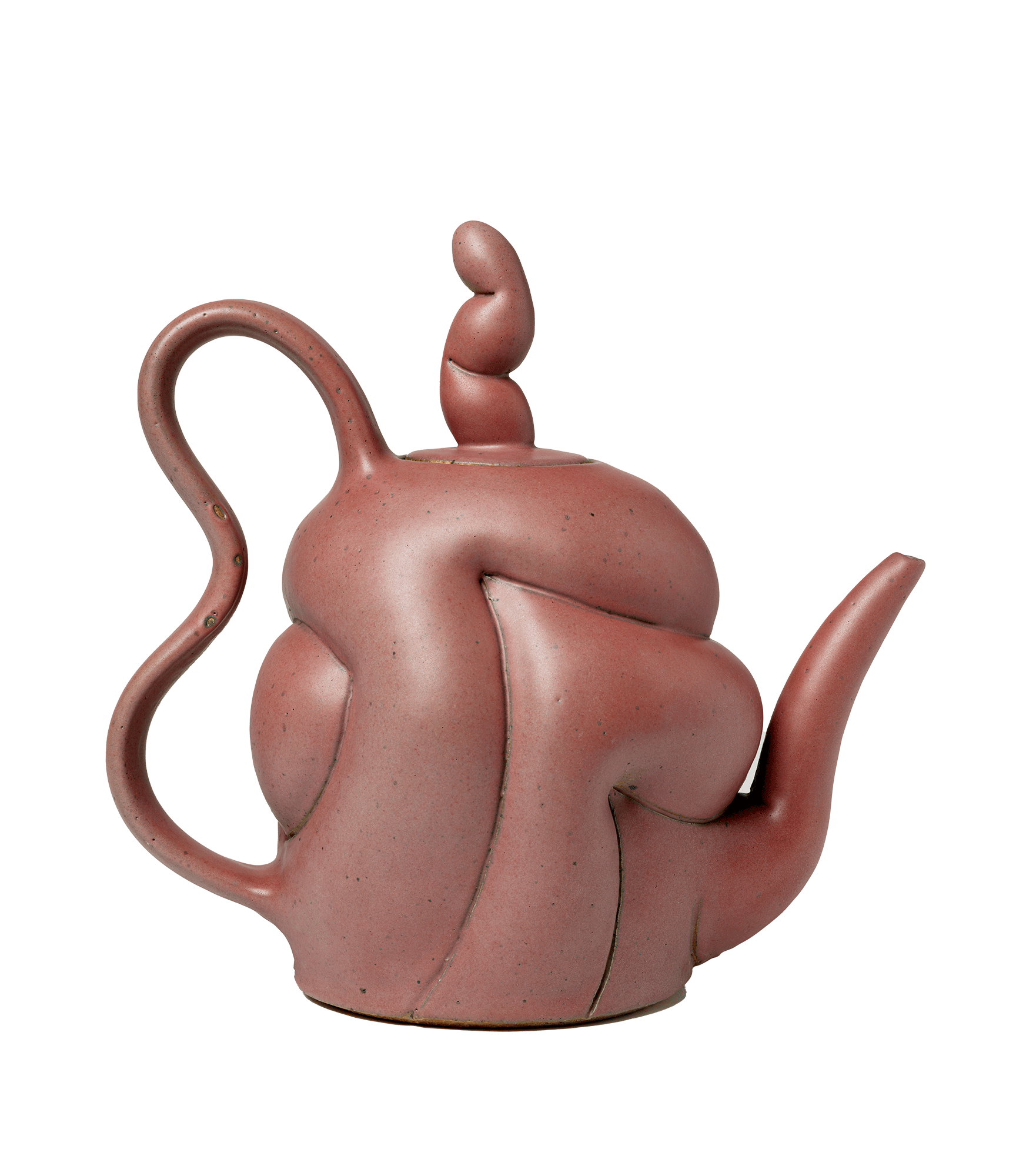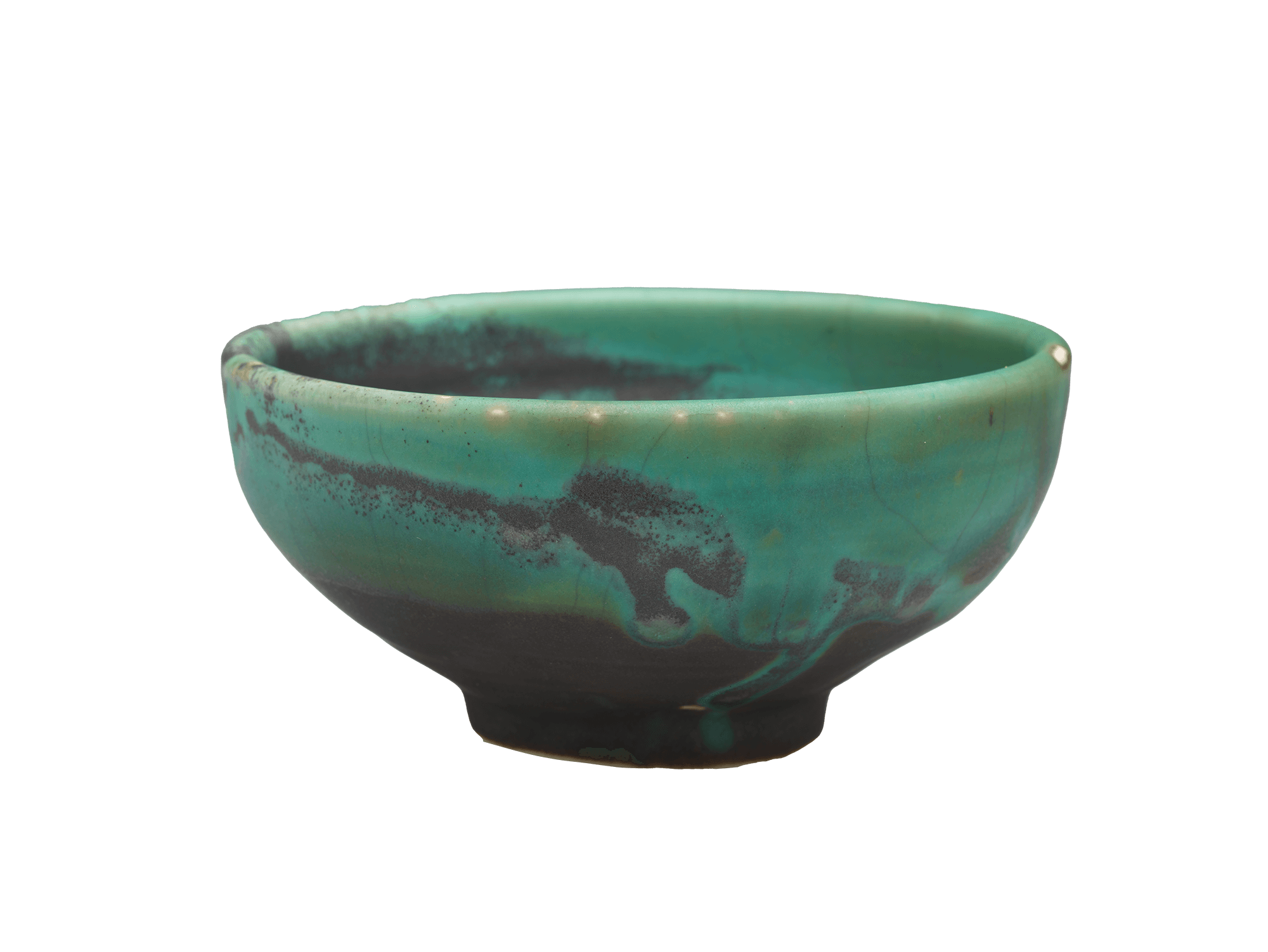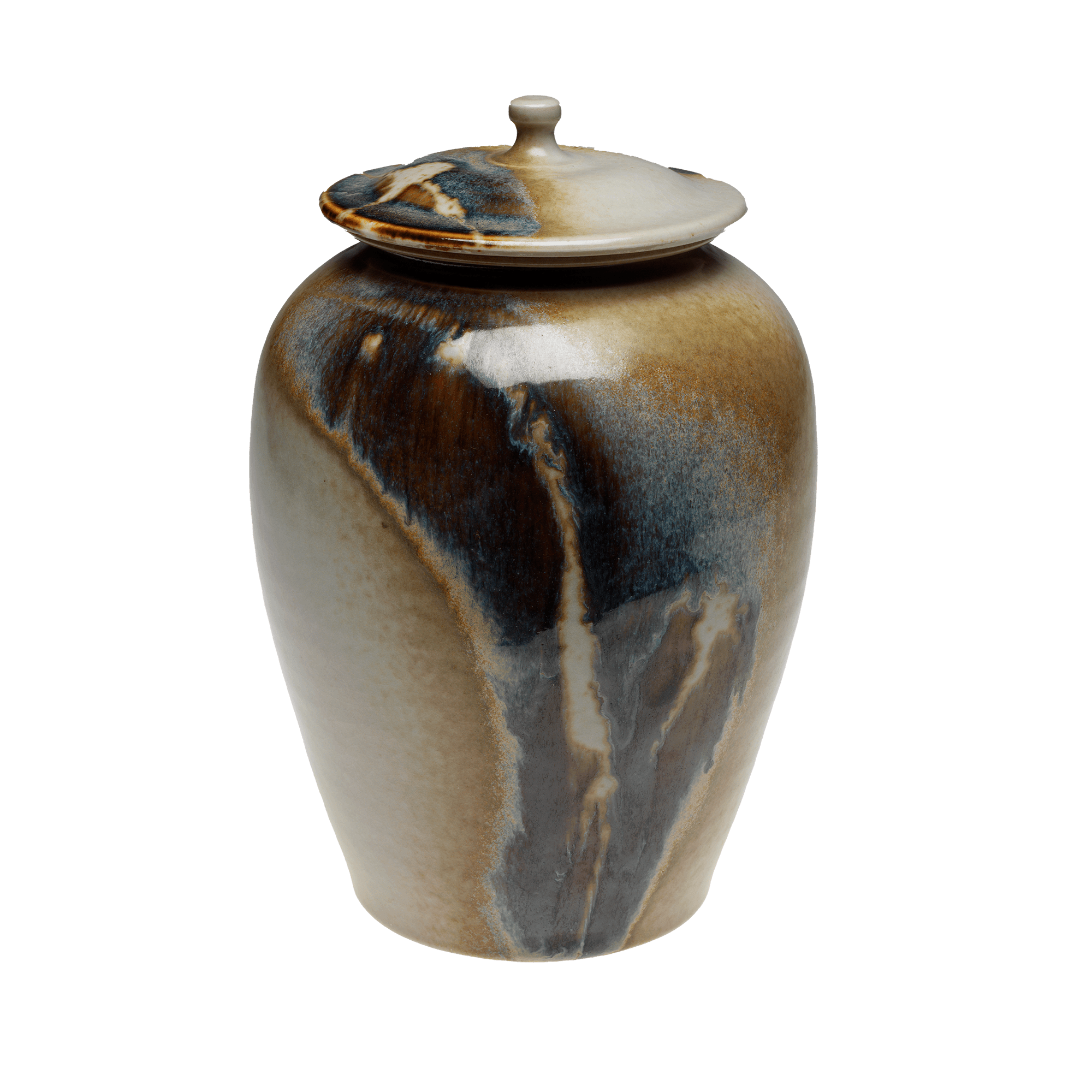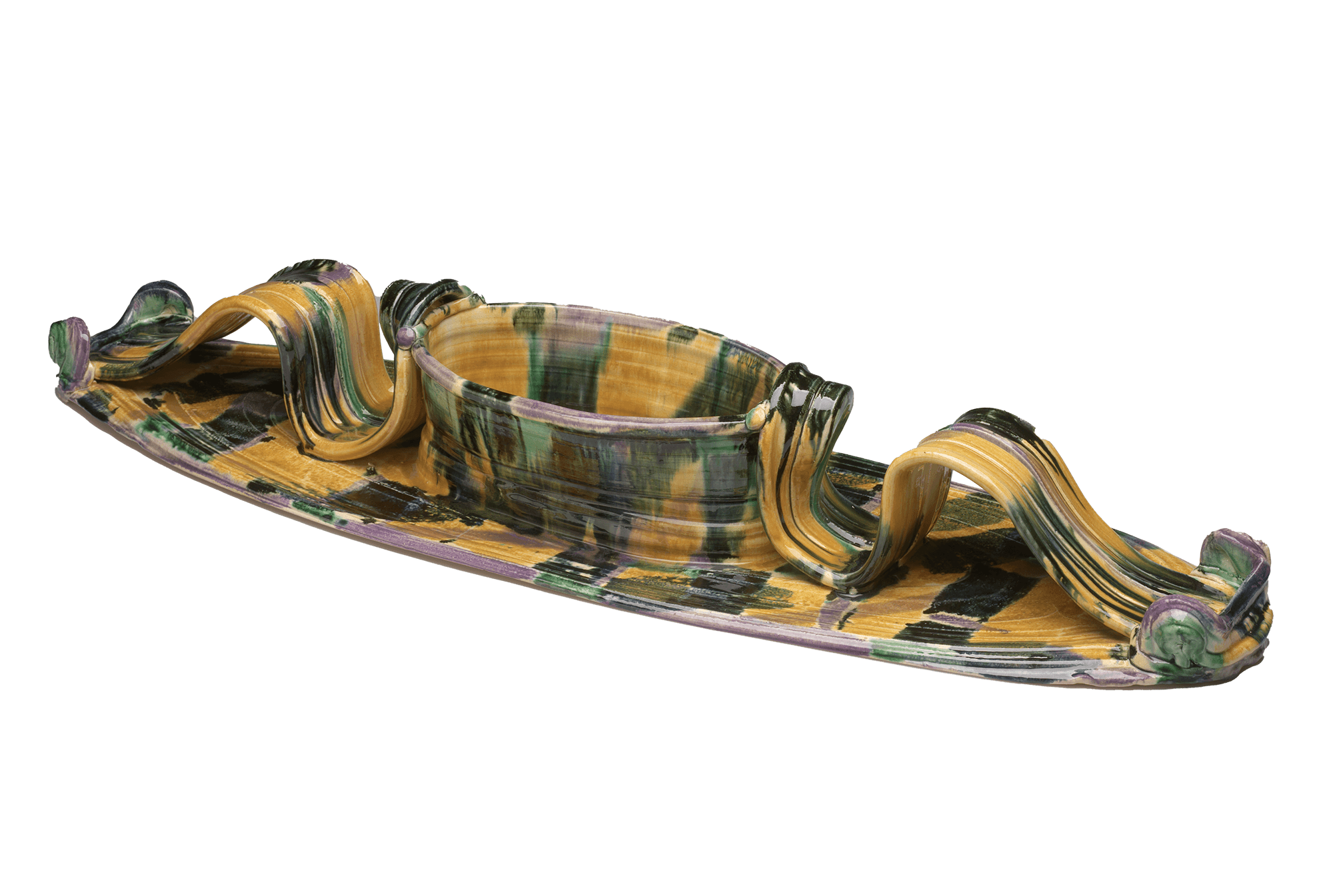 Whether flat or 3-dimensional, ceramic works have long been embellished with painting. Effects vary widely depending on the materials and techniques used, creating either soft or defined imagery that can honor historical precedents or presents new ways of seeing.
The naturalistic design of Eunjung Park's Flower Teapot (2000.45) suggests European illusionistic tableware from the 1700s made in the forms of flowers, fruits, and vegetables. Each component, from the melon body to the asparagus handle and spout, is painted with subdued colored glazes. A feast for the eyes, Farraday Newsome's Teapot with Oranges (1997.63) is a contemporary take on 19th-century majolica, tin-glazed earthenware characterized by realistic depictions of fruit and other natural subjects. To enhance the brilliance of her colors, Newsome first covered the brown terra-cotta body with a white glaze and fired the work before painting on the colored glazes.
Tin-glazed earthenware produced in England and the Netherlands, known as delftware, drew inspiration from the blue and white porcelain produced in China and across the Persian Empire (present-day Western Asia). Hylton Nel's Dish (1999.41.1) alludes to delftware with its blue and white border, but it also features a realistically painted polychrome figure.
Anne Kraus's Distant Echo Coffee Pot (1989.015) references the high style of Baroque French and German porcelain with its curving shapes and decoration in gold. Similar to other scenes of faraway places painted on porcelain, Kraus's rendering conjures an image from one of her dreams. The lush landscape on Kurt Weiser's Untitled Teapot (1992.046) was inspired by the artist's trips to Thailand.
Image
Image
Image
Image
Image
Images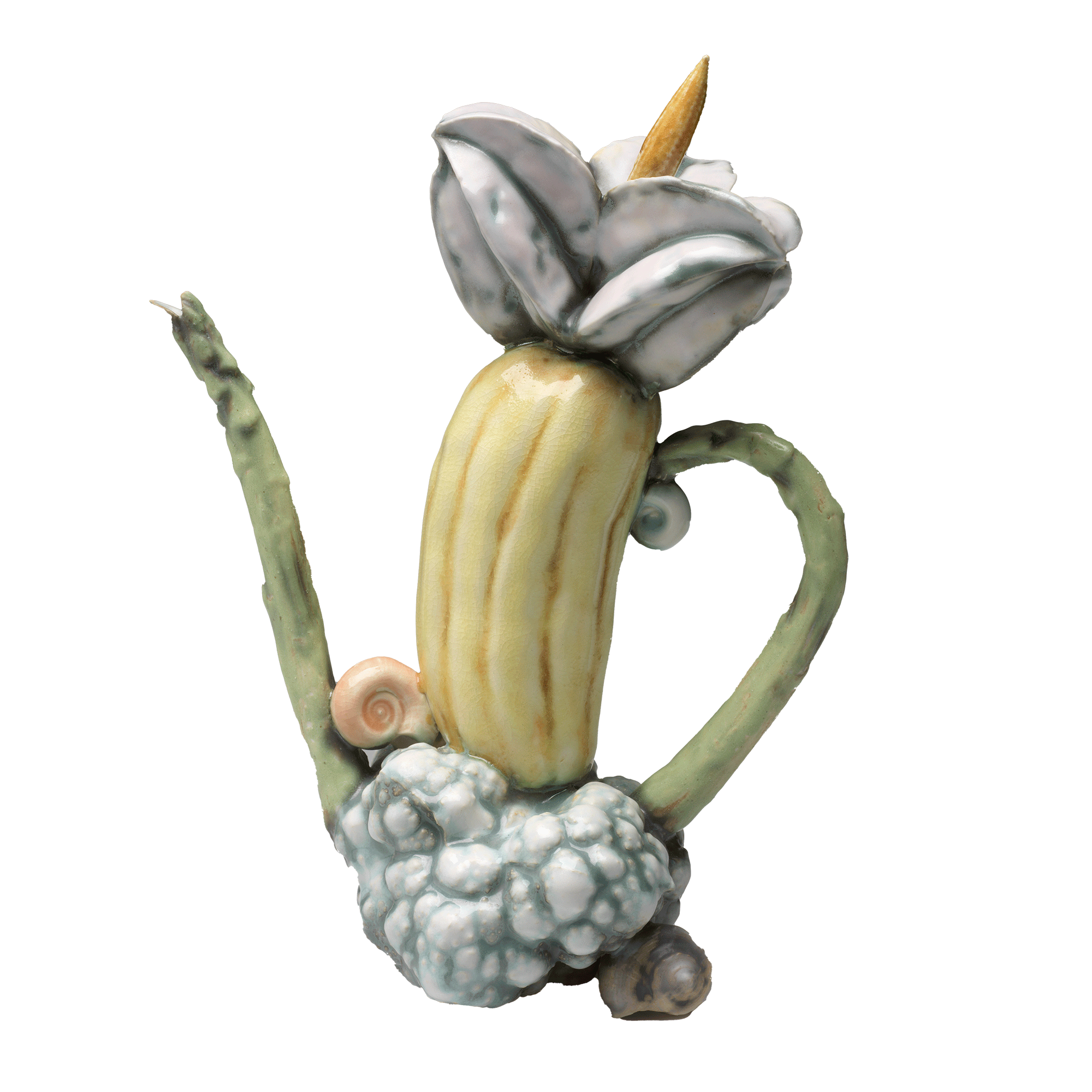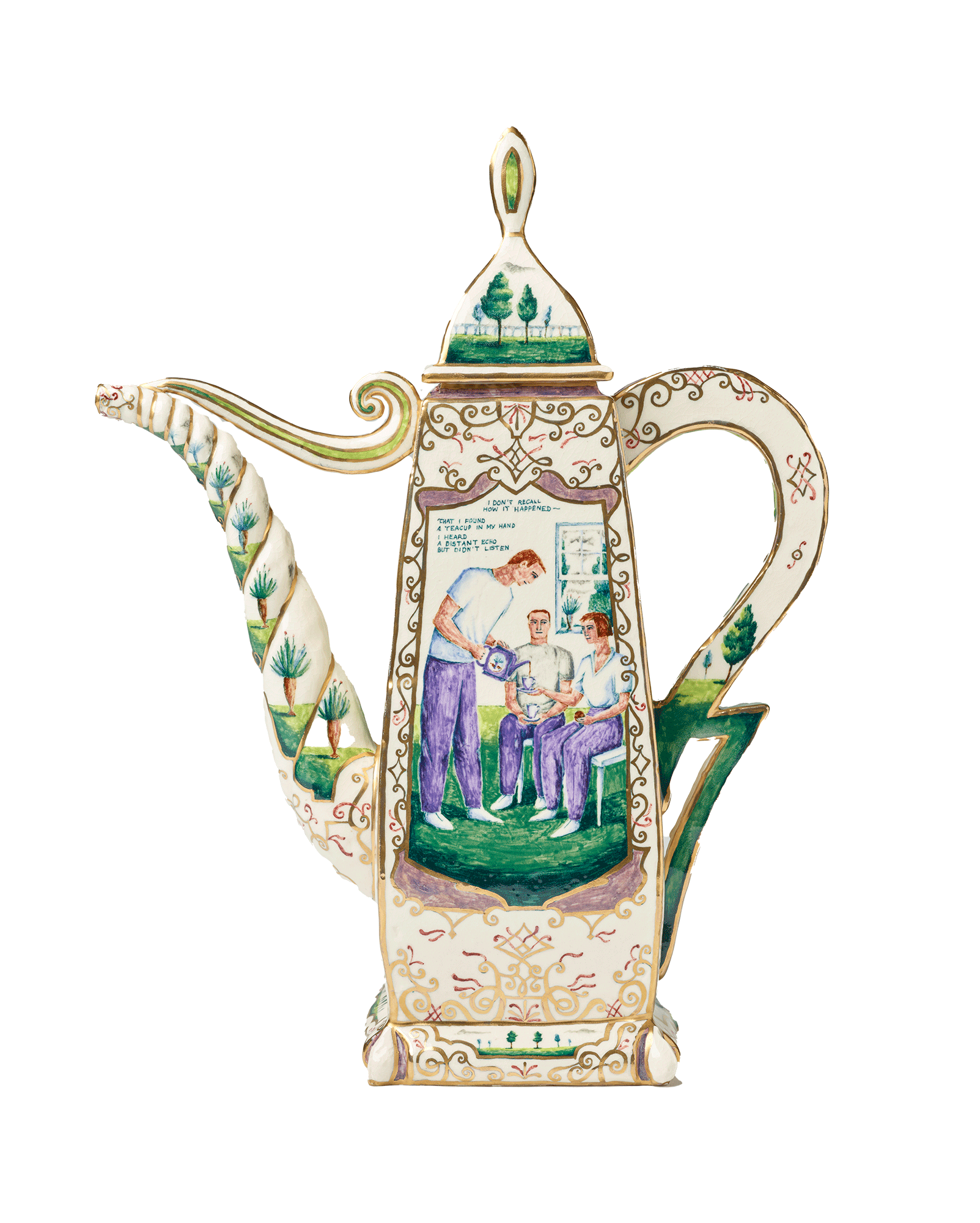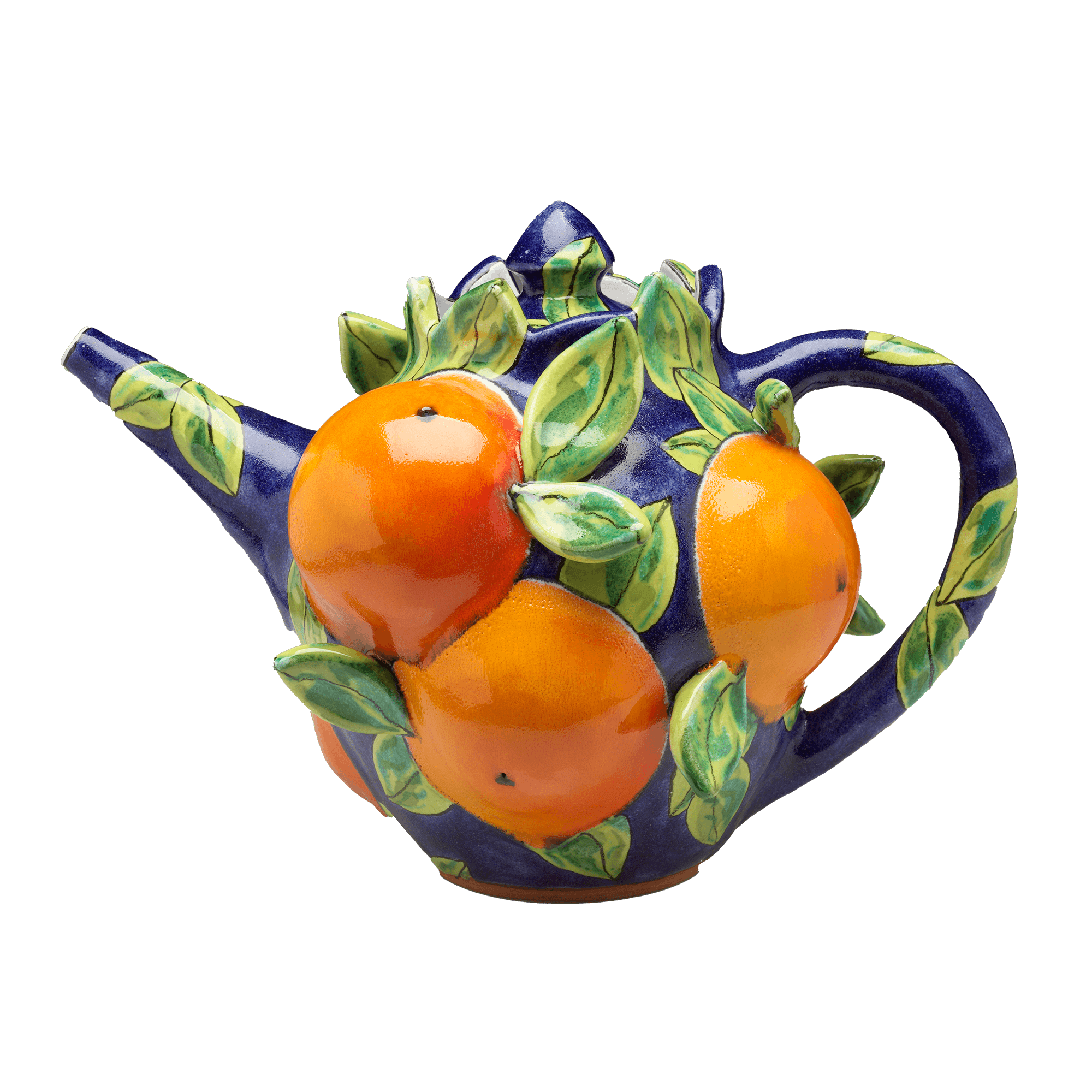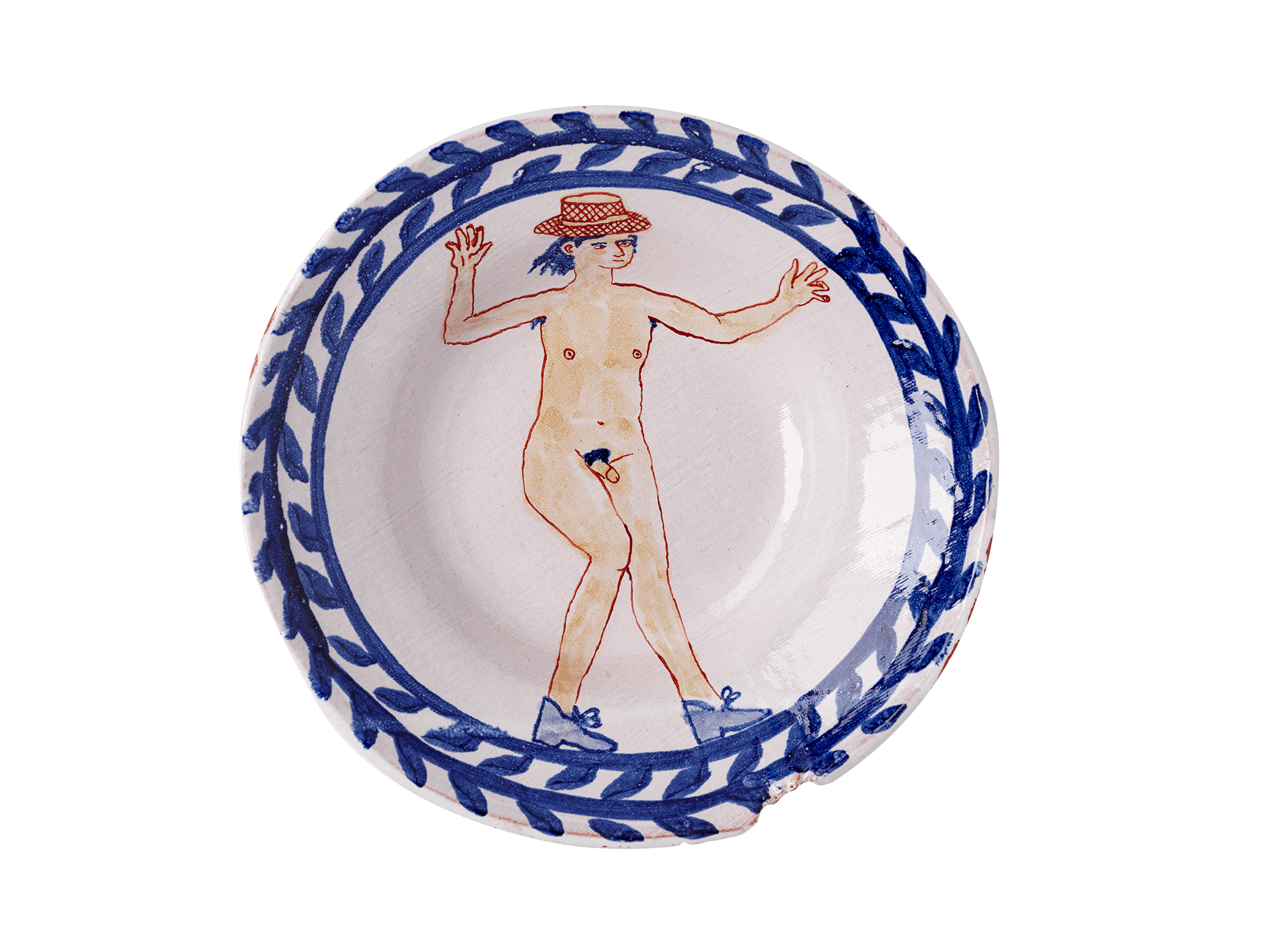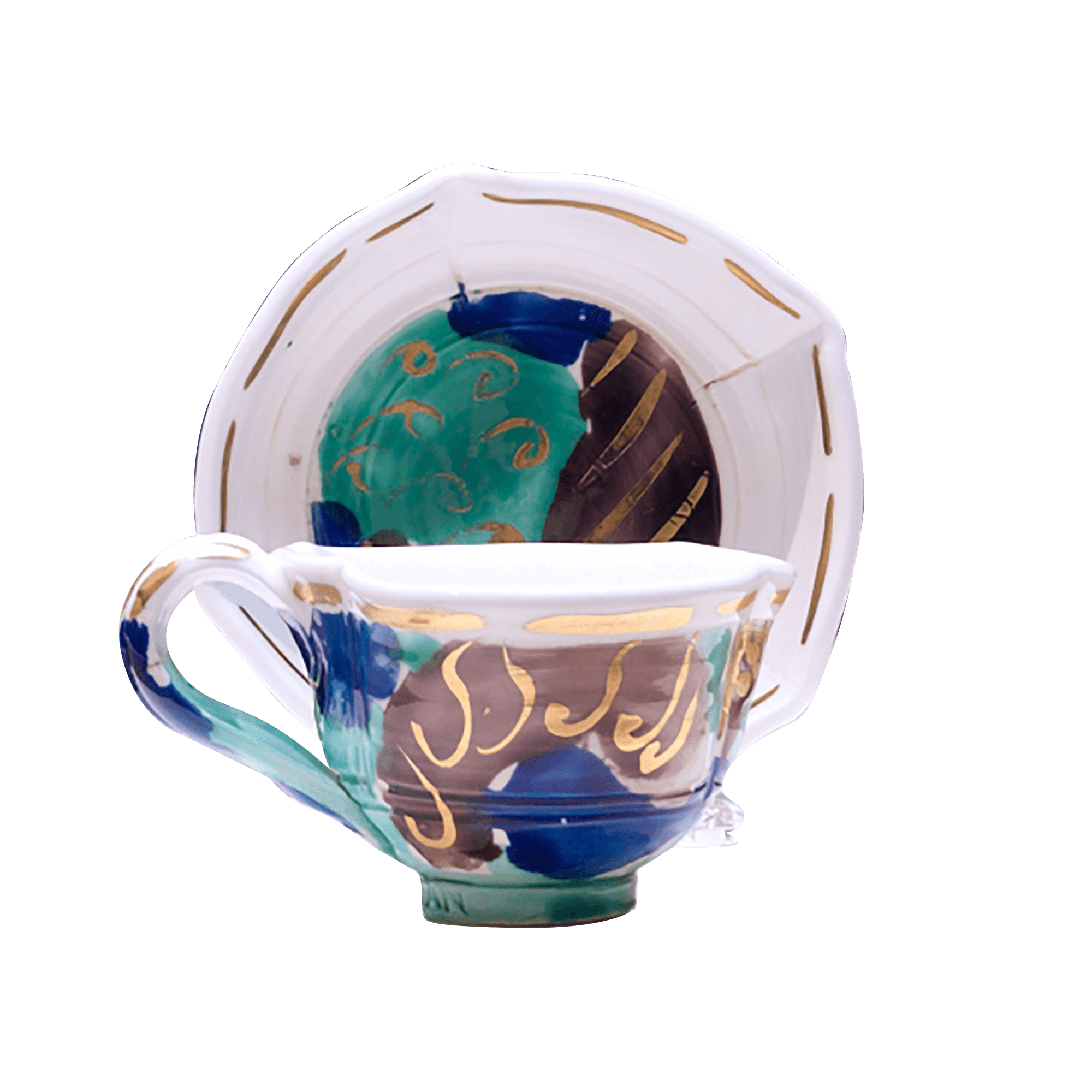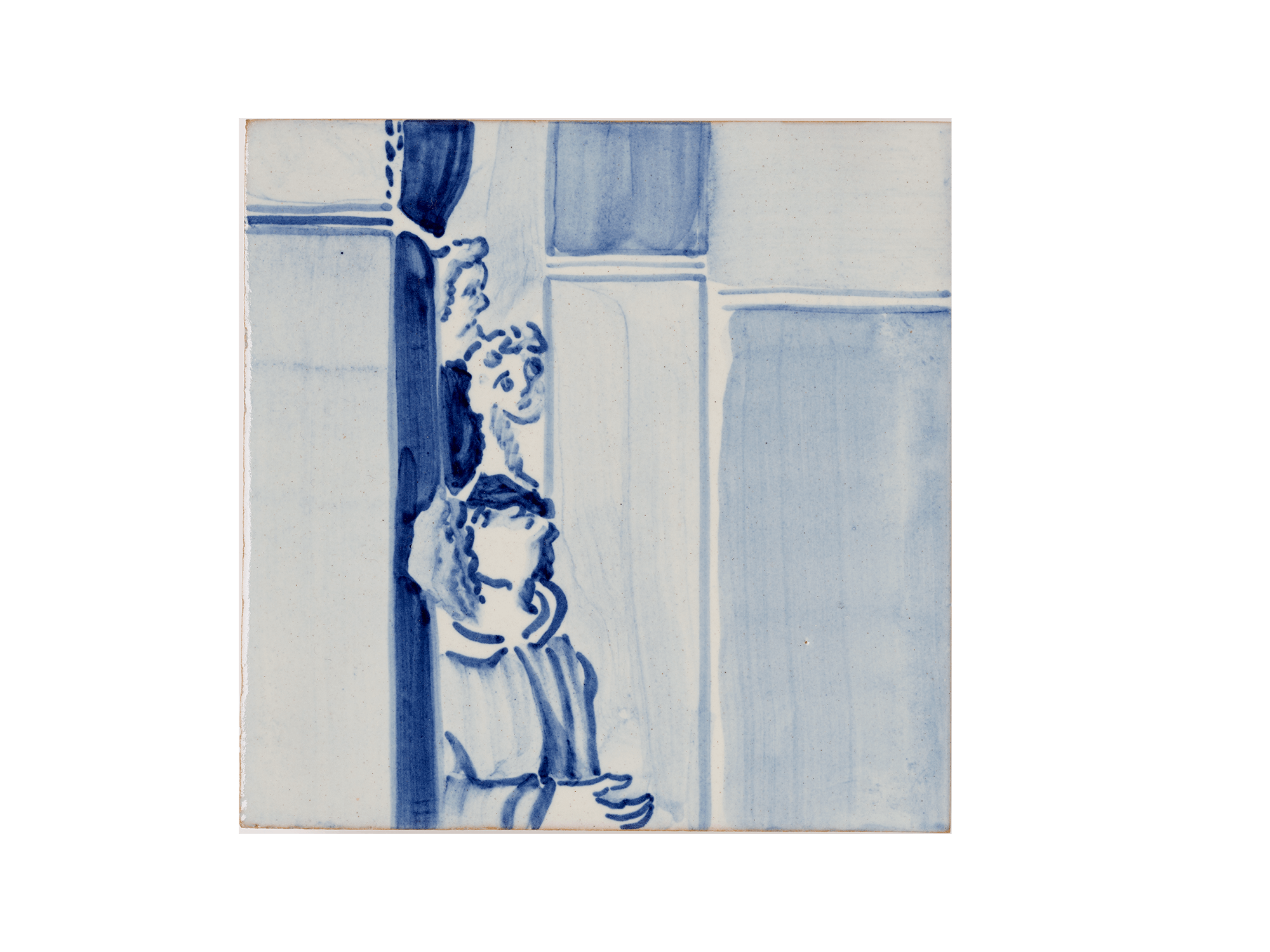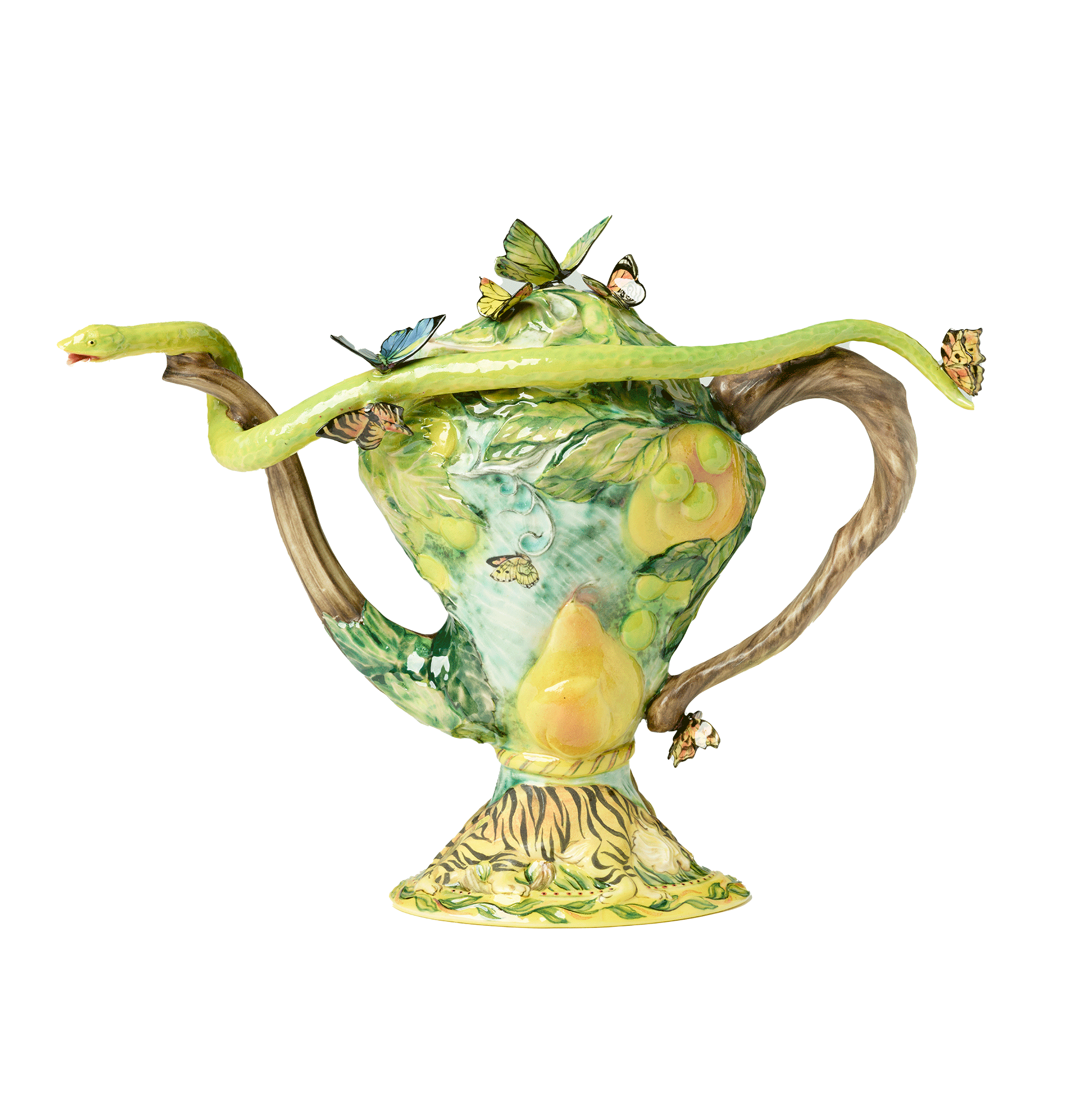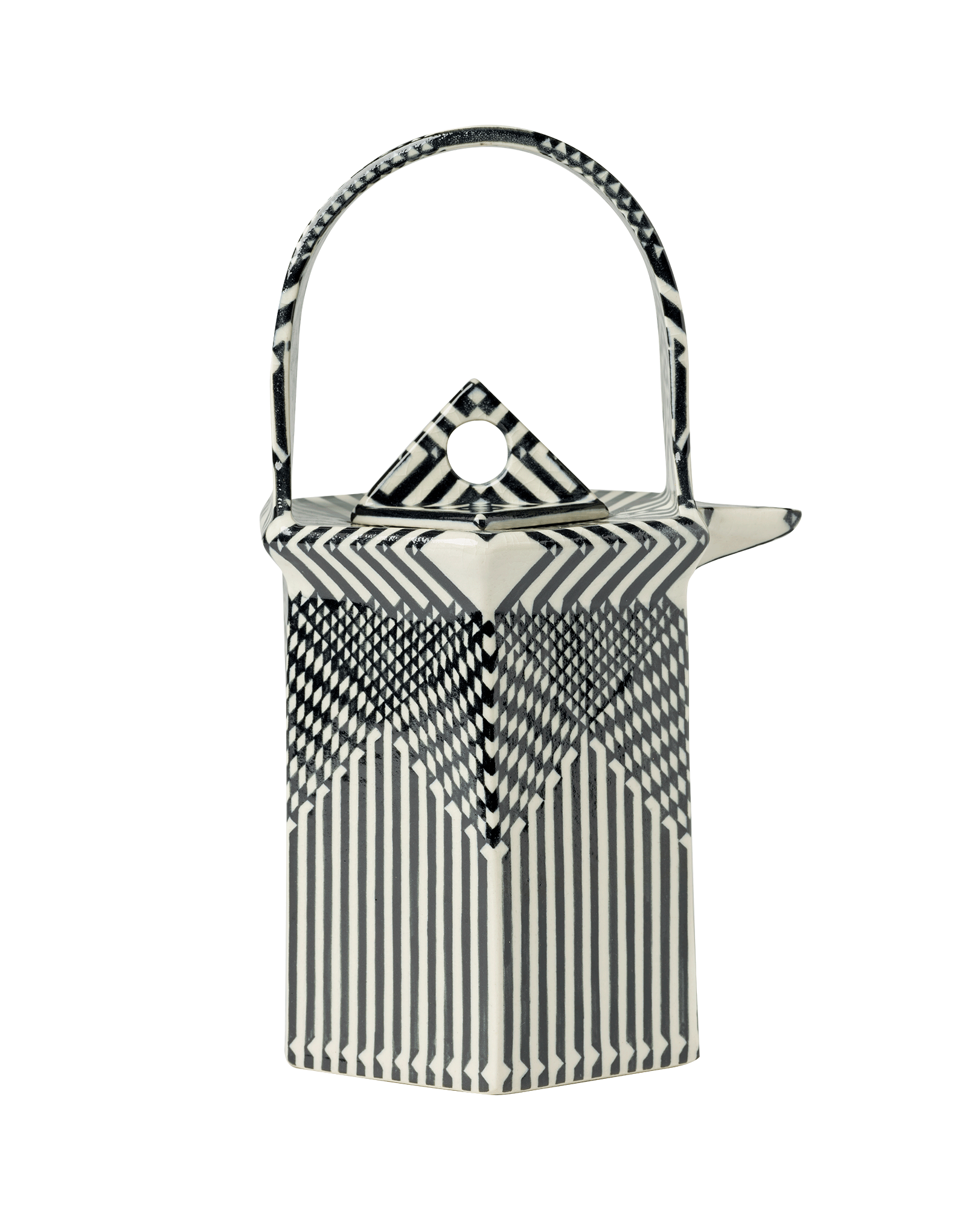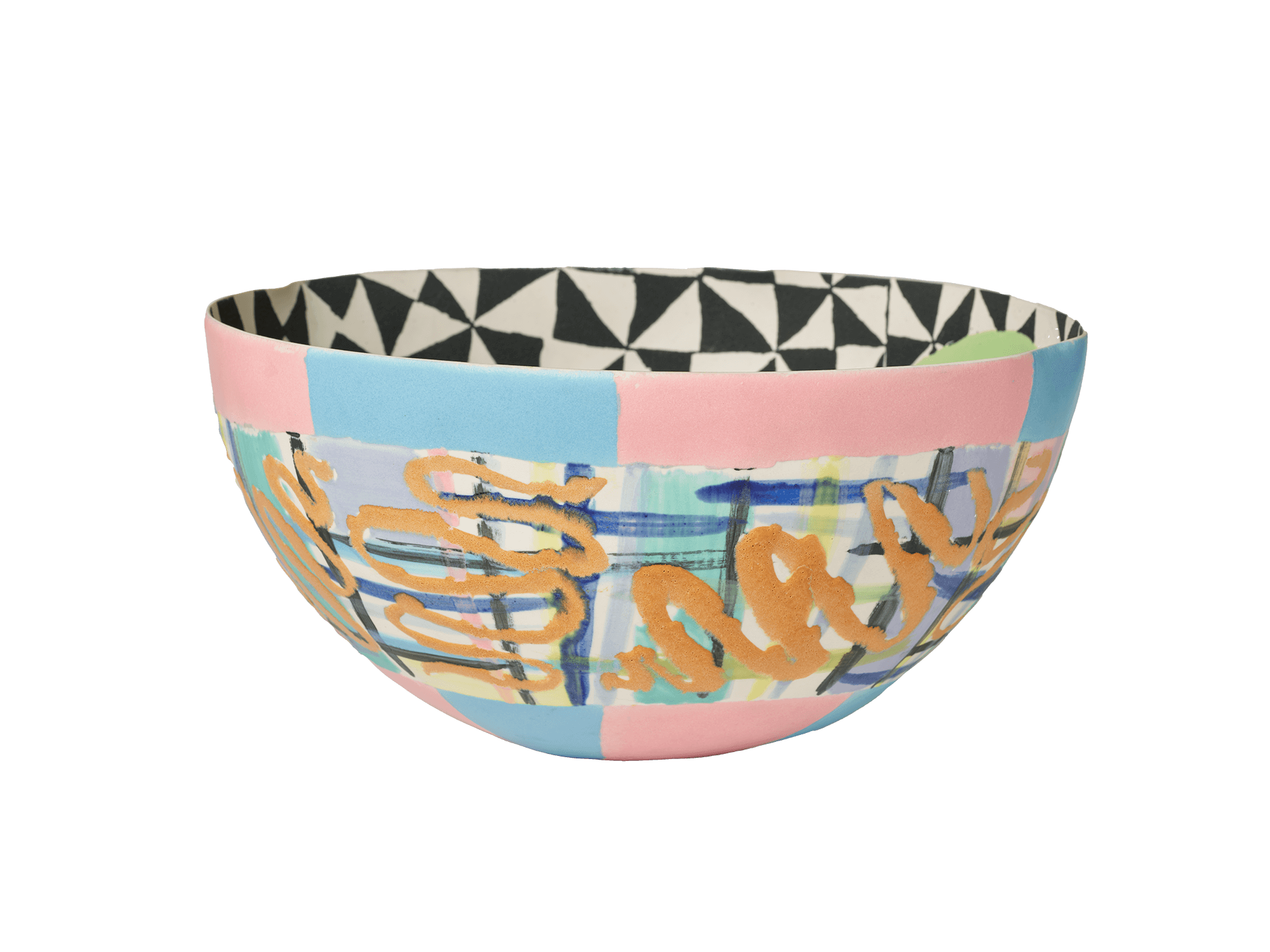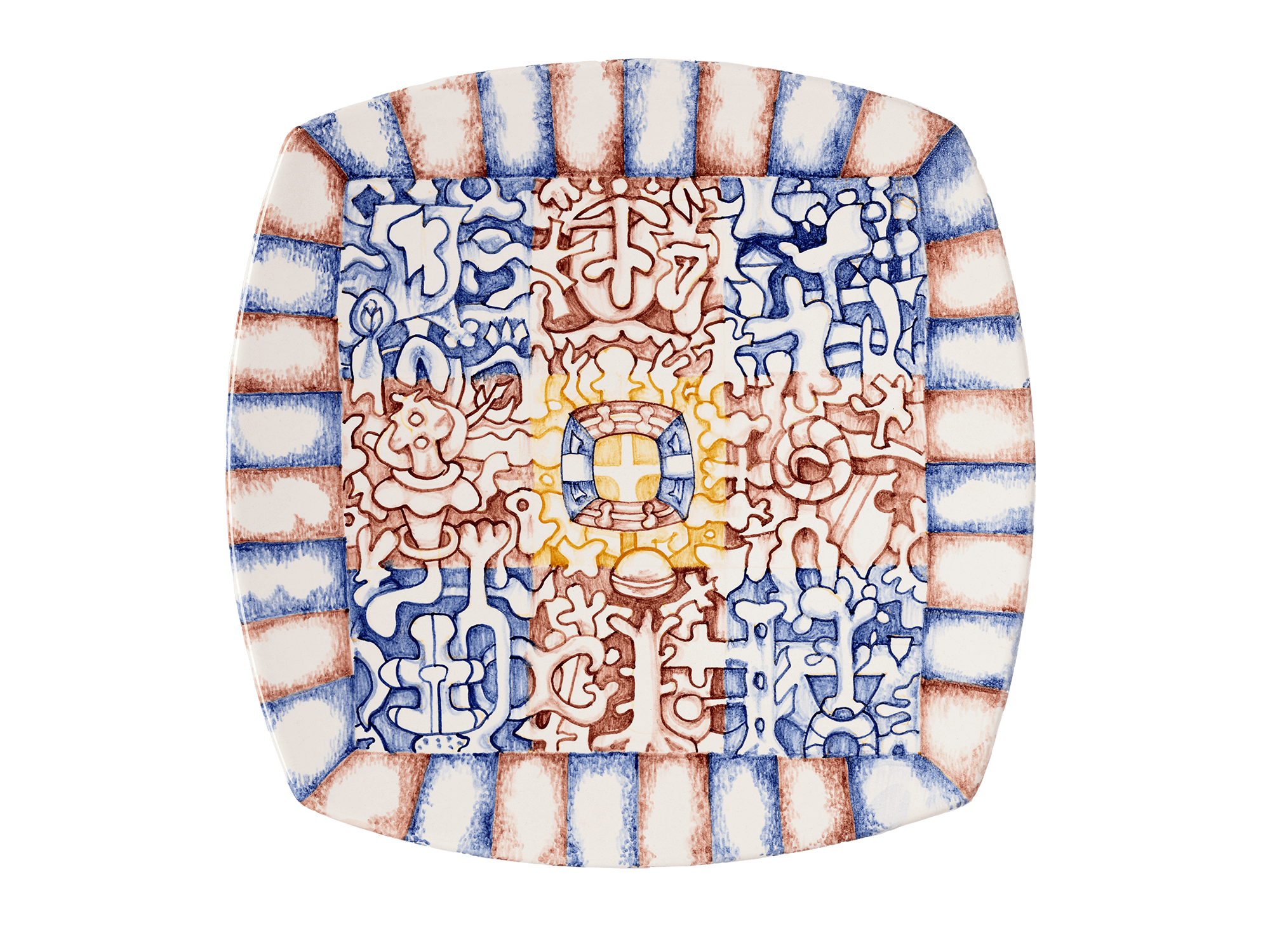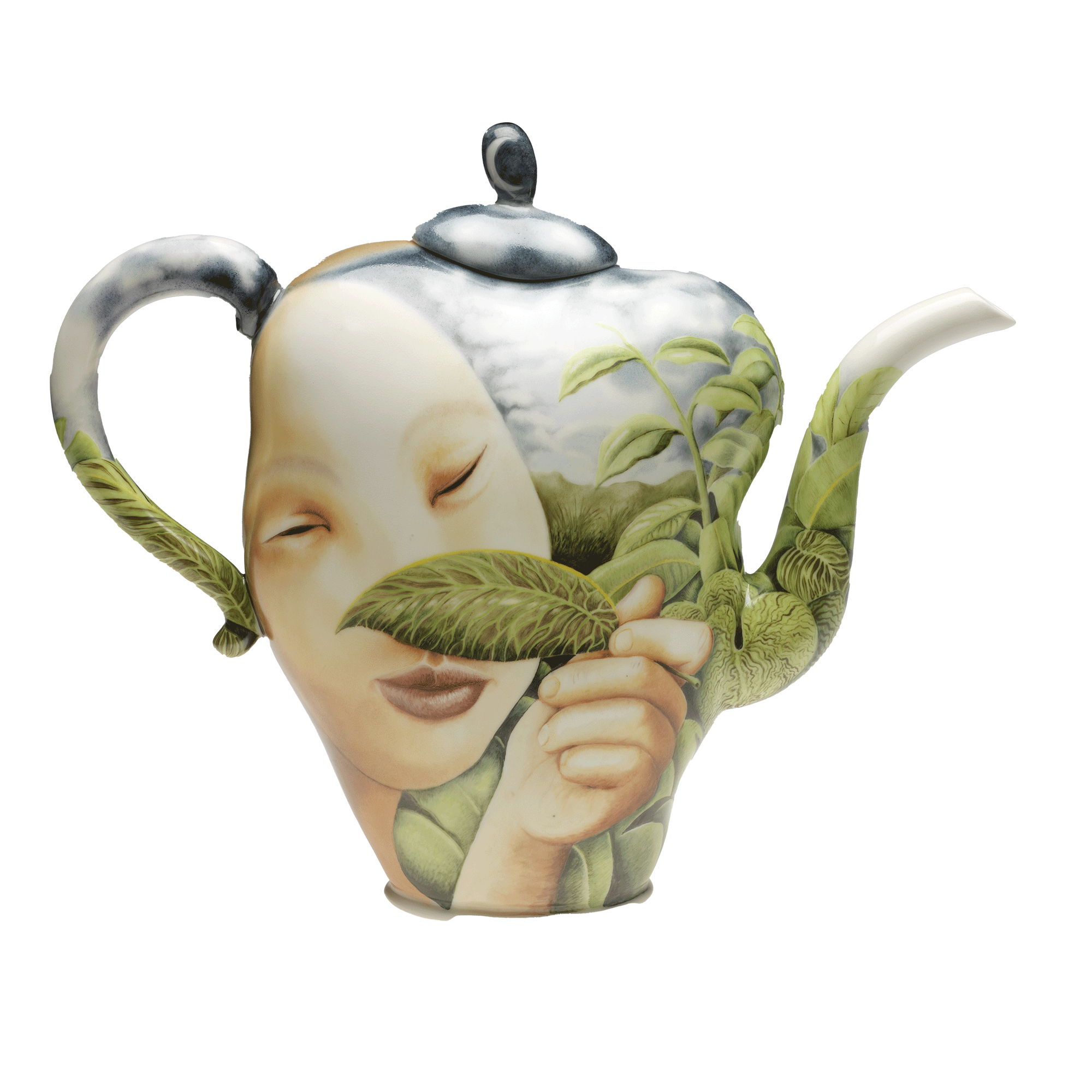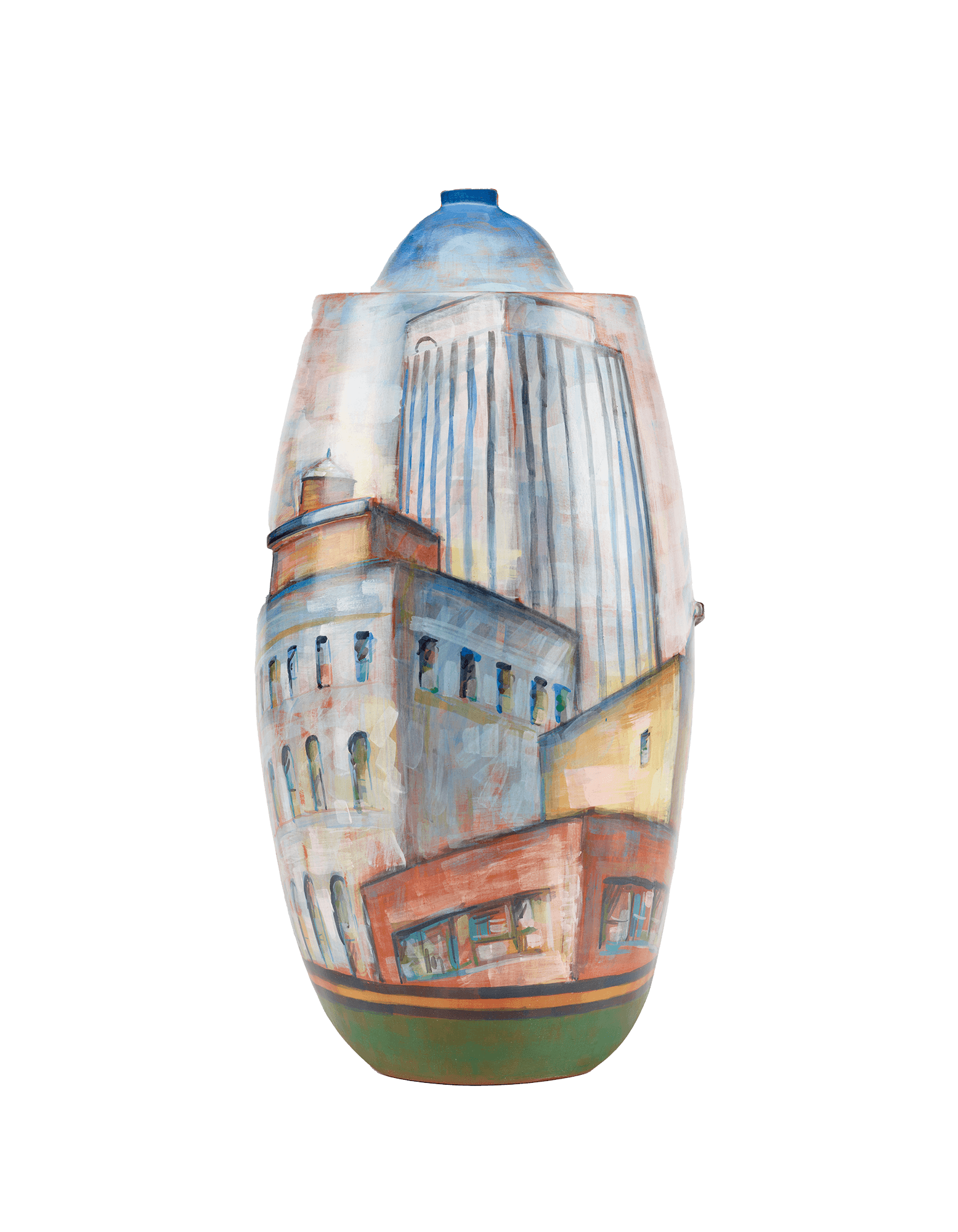 The process by which clay is heated in a kiln. Firing at a high temperature can render clay impervious to water, a state known as vitrification.
Image
Image
Image
Powdered silica and other substances, fluxes, and stabilizers that are mixed with water and applied to a clay body. When fired in the heat of a kiln, these fuse into a glass-like coating.
Image
Image
Image
A furnace or oven for drying or baking ceramics.
Image
Image
Image
Overglaze (onglaze, enamel)
Ceramics colors designed to be painted on top of a glazed surface, to which they fuse during the firing process.
Image
Image
Image
The process in which ceramic work is removed from the kiln at bright red heat and placed in containers with combustible materials, creating a post-firing reduction (or smoking) that blackens raw clay and causes crazing in glazed surfaces.
Image
Image
Image
Semifluid clay used to decorate a ceramic vessel or to cover its surface with a solid-colored background, onto which further decoration can be applied or incised.
Image
Image
Image
A method of relief printing onto ceramics in which slip or glaze is soaked into a natural or synthetic sponge and pressed onto the surface.
Image
Image
Image
A method of decorating pottery by using an inked engraved copperplate to make a print on paper that, while still wet, is pressed against a glazed pottery surface, leaving behind an impression, or transfer, of the engraving. The ceramic is then fired to adhere the ink to the surface.
Image
Image
Image
Virtual Program, recorded 5.14.20.
On the Surface: Contemporary Ceramics is the focus of this talk by Emily Banas, Assistant Curator, Decorative Arts and Design. Look closely at a select group of objects that will highlight distinct decorative techniques including slip decoration, sgraffito, glaze/unglazed, and painting.
Virtual Program, recorded 1.14.21.
Join the conversation on work in the Museum collection centering LGBTQIA perspectives and imagery with Christina Alderman, Assistant Director, Family and Teen Programs; Emily Banas, Assistant Curator, Decorative Arts and Design; and Conor Moynihan, Andrew W. Mellon Fellow, Prints, Drawings, and Photographs. Interpretive and curatorial considerations, along with historical, social, and cultural contexts of queer art, will be discussed.
Exhibition Curator
Emily Banas
RISD Museum Interim Director & Deputy Director,
Exhibitions, Education, & Programs
Sarah Ganz Blythe
Editor, Museum Publications
Amy Pickworth
Assistant Director,
Digital Initiatives
Jeremy Radtke
Graphic Design
Brendan Campbell & Derek Schusterbauer
Photography
Erik Gould
Created using Ziggurat, an open-source platform