GERUIHAN XU
A Better City for Her
Image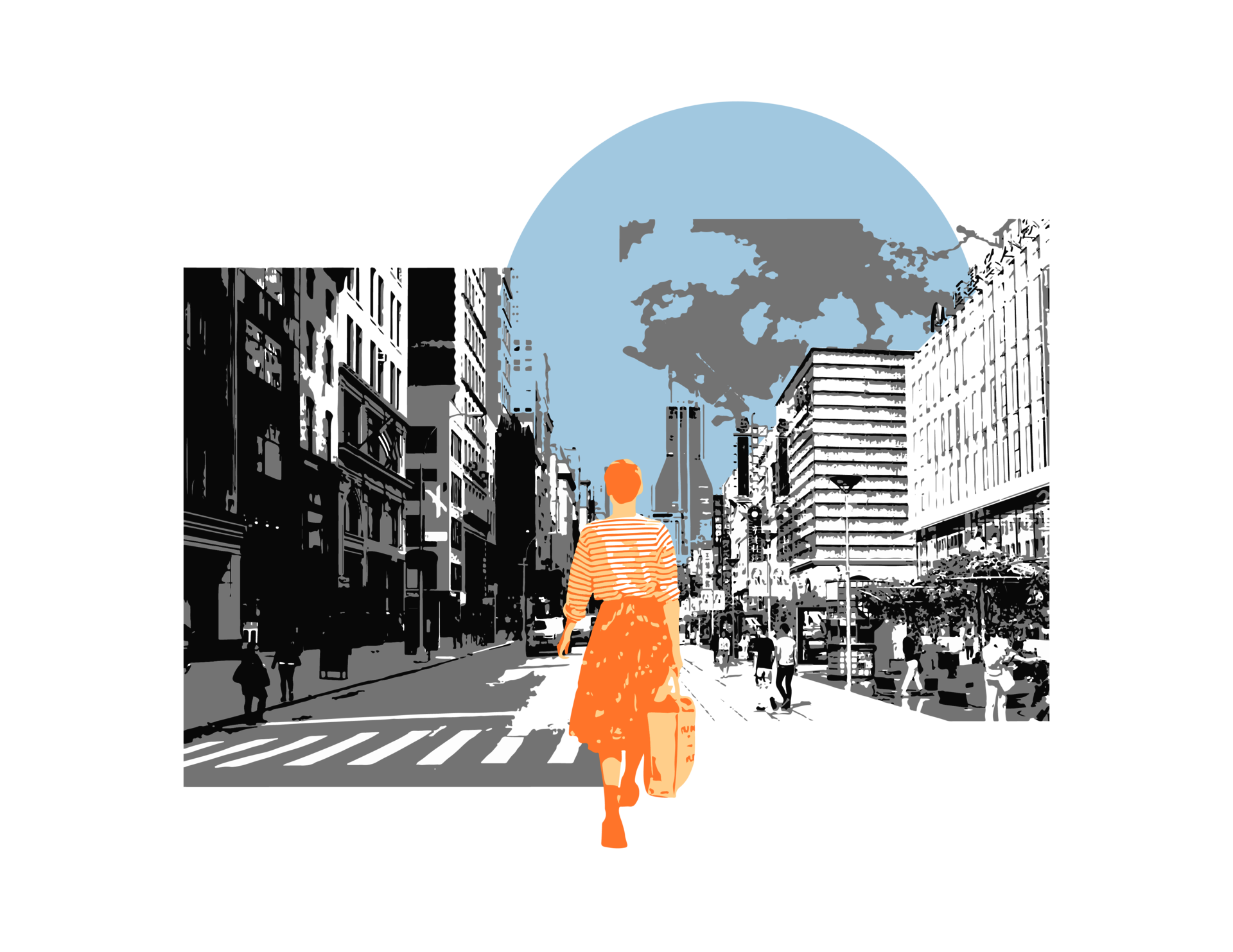 I envision a world with gender equity, where women's rights are not compromised. And I foresee a future where all public spaces support the needs and desires of women, a space where women feel safe, welcomed, and comfortable stepping into public spaces and feeling truly free.
Image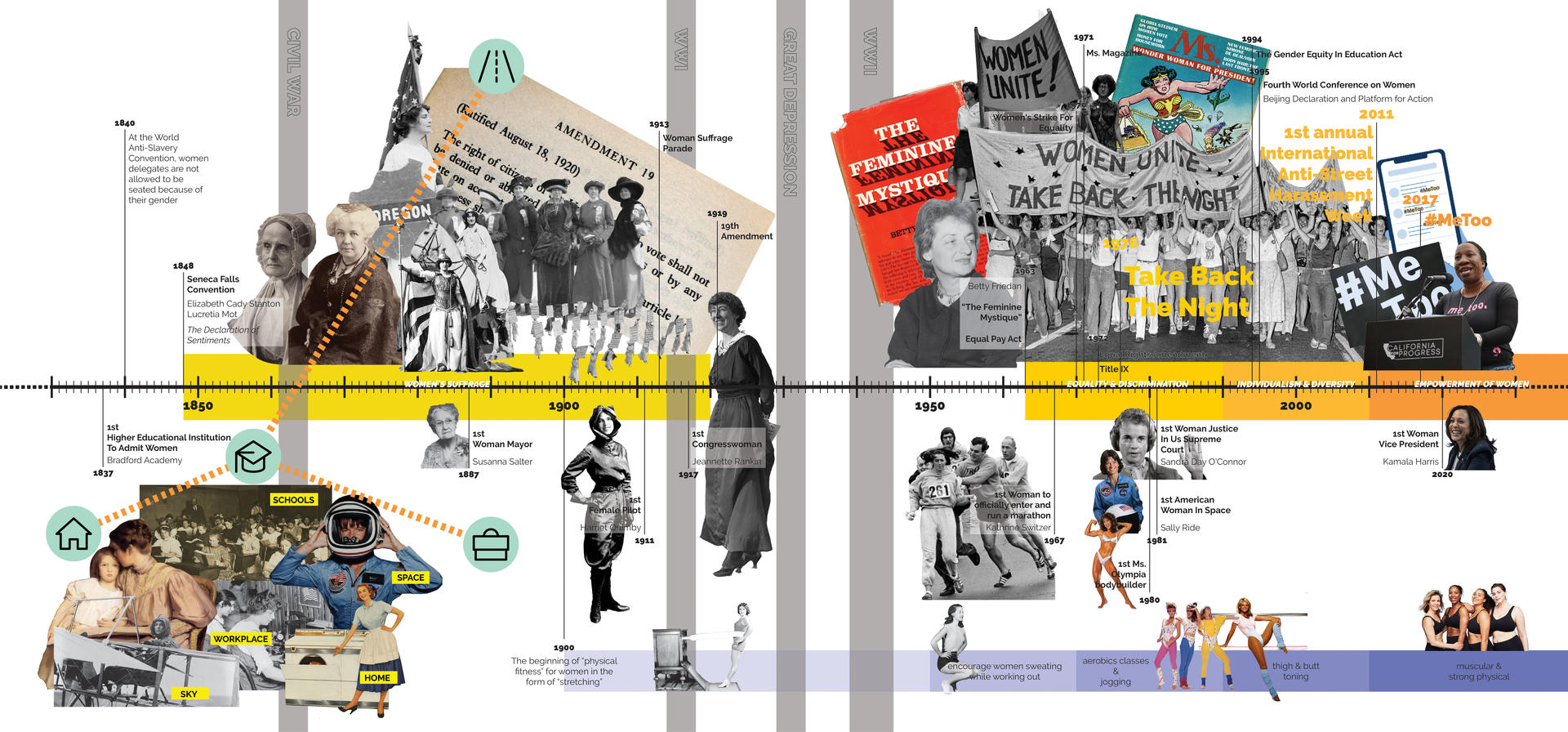 THE FEMINIST HISTORY OF THE UNITED STATES
In the feminist history of the United States, protesting on the street is the primary approach for women fighting for their rights. For a very long time, the fights were focusing on women's suffrage. The fights for women's safety start around the 1970s with the movement of Take Back The Night which combats sexual violence and violence against women. And it evolves into the #MeToo movement on social media after the millennium.
Image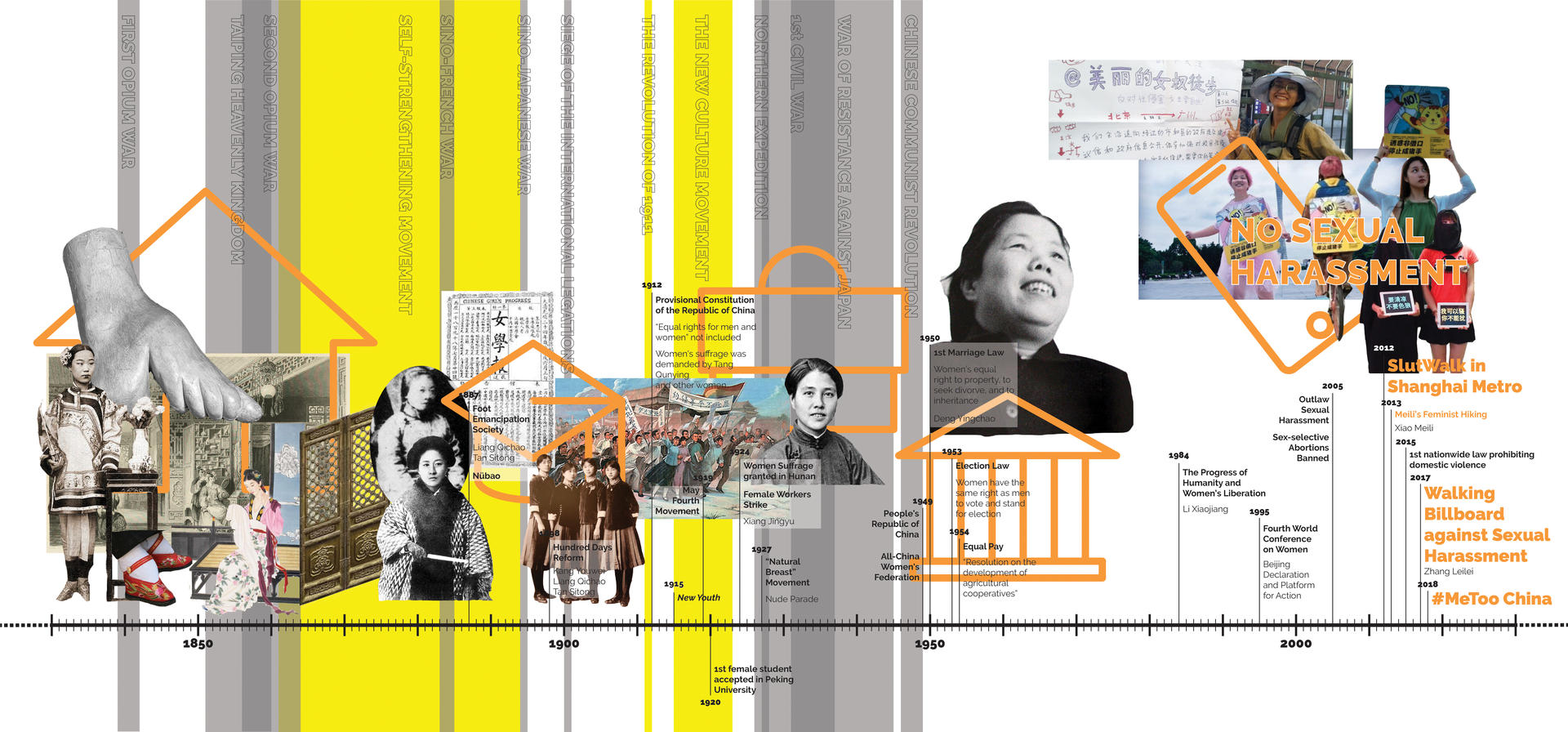 THE FEMINIST HISTORY OF CHINA
While in China, the fights for women's rights are brought up because of the invasion of foreign countries, when women are first considered as people of the motherland instead of herself. Since the founding of New China, the fights focus on women's legal rights through the constant efforts of women representatives. Protesting on the street is no longer a primary choice. The fights demanding safer public spaces for women start in the 2010s concerning the issue of sexual harassment in public transportation, which benefits from the wide use of social media.
Image

Despite the gains made in recent decades in many parts of the world concerning gender equity, public space continues to fall short of ensuring women's personal, collective, and safety needs and desires are being met. My goal is to challenge that and by doing so, reclaim the city for women.
Image

A Better City for Her refers to not only...
safer public spaces against sexual harassment
but also...
provide spaces where women can advocate their rights safely and freely, and be empowered both physically and mentally.
Image

PROGRAM
introducing appropriate programs to activate vacant lots, help women reclaim the spaces and create a sense of belonging.
- propose programs that could help women become more physically strengthened and encourage them to get involved
- propose programs that attract women, and create communities that women feel safe and comfortable to be in
- propose pop up events in less open space to ensure those spaces could be constantly occupied
Image

Image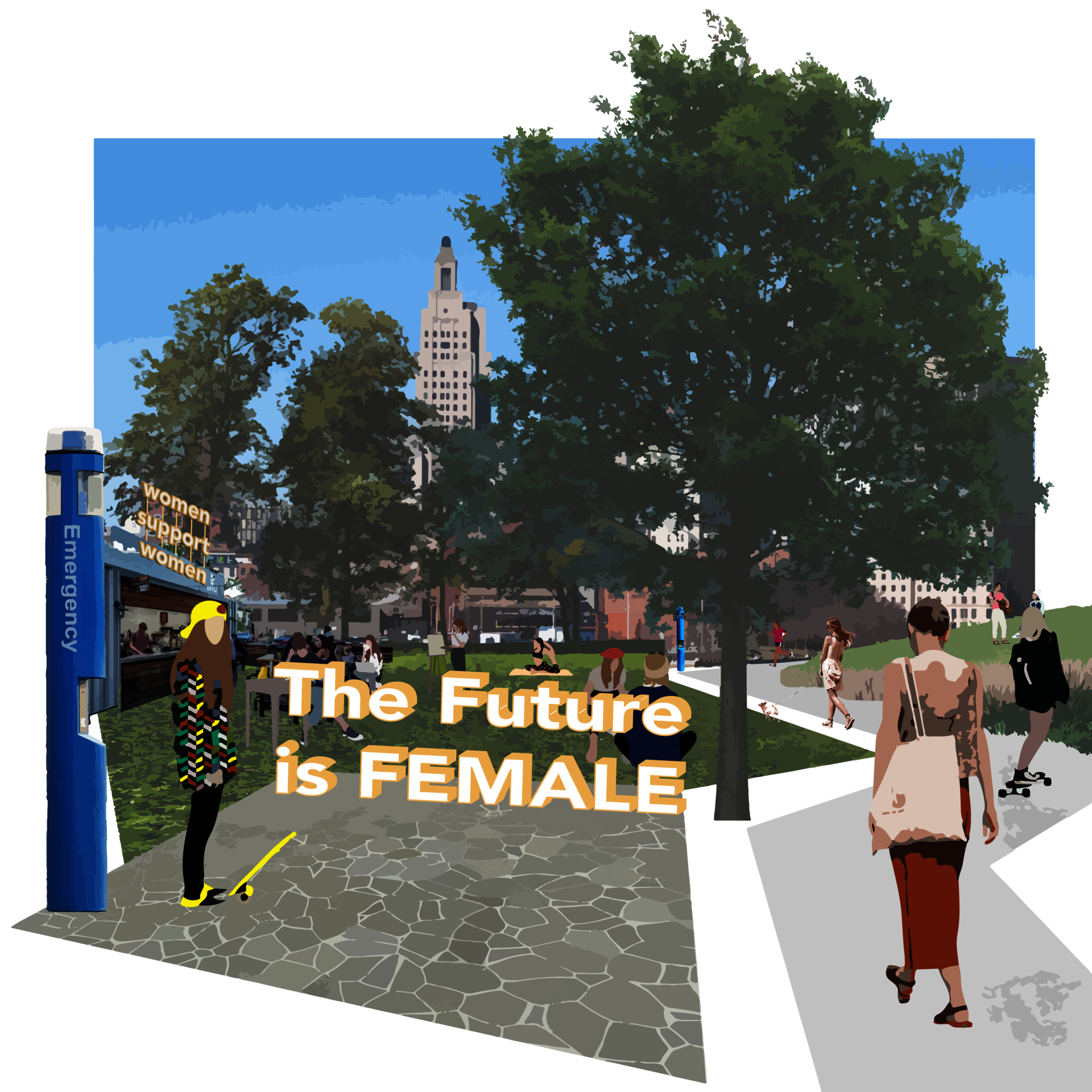 Image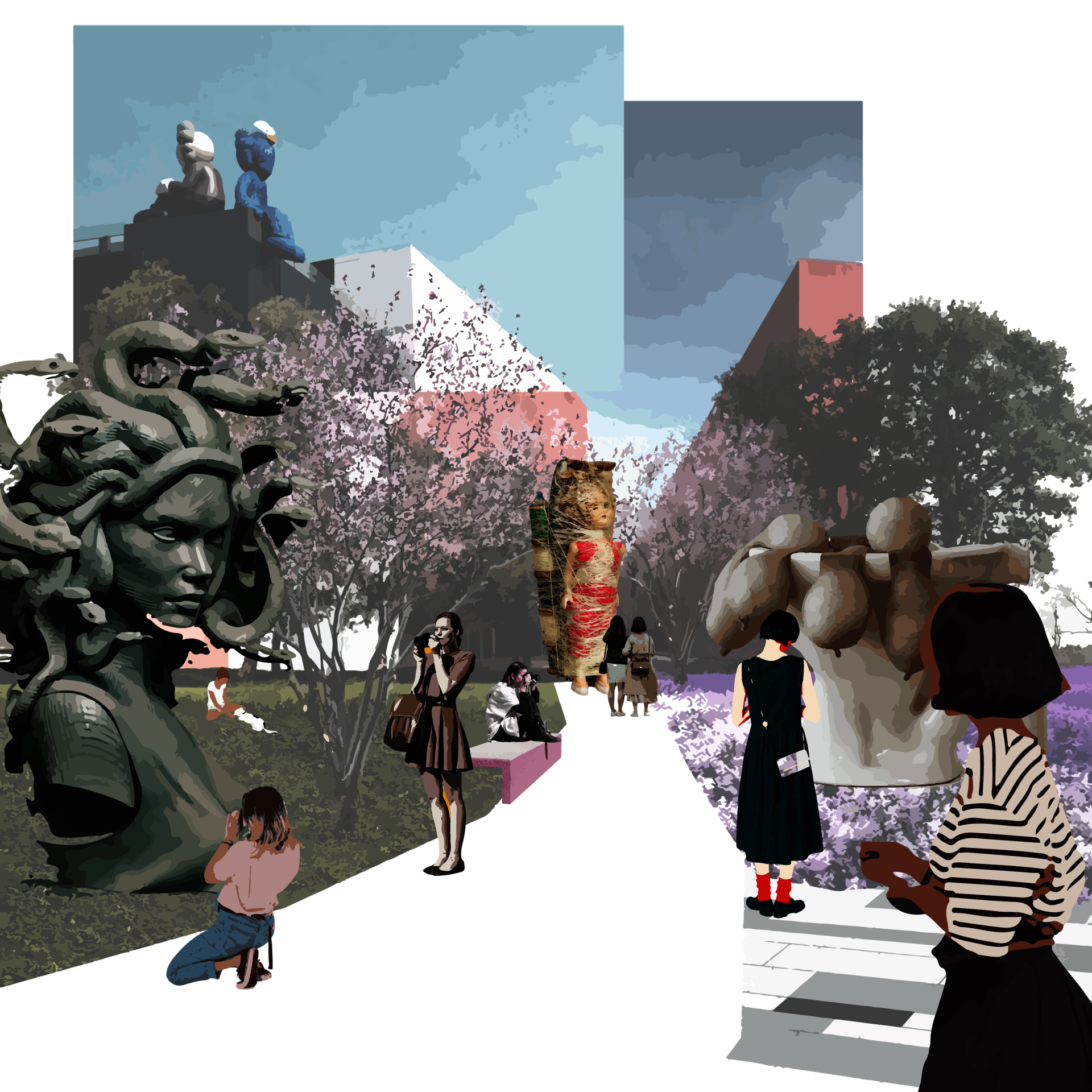 Image

PROGRAM through social media
incorporating social media elements in site design to help advocate mental empowerment and connect women's communities in a broader context
- provide some elements in the site design so women can build their knowledge by learning about the history of feminism and reflect on that through social media
- build a local and a global network of active feminists and provide interactive elements in the site design so that women can connect with like-minded women through social media
- create a platform to organize local and global events that advocate for women, changing the patriarchal mindset of not only designers but also the public to further achieve the goal of reclaiming the city for women
Image

Image

Image

Elevation
utilizing the advantages of elevation to avoid blind spots, create surveillance from people, and make women feel comfortable
- propose male-dominant spaces at a lower elevation, so that women can choose freely from spaces to spaces without worrying about the possible man's gazing
- propose a hierarchy of levels of elevation to create natural surveillance from people
- propose clear windows to the stores at ground level near space with few people such as parking lots to make women feel the space is under surveillance as well
Image

Image

Image
Image

SCALE
controlling the scale of design that suitable for women can help them feel comfortable spending more time in public spaces
- balance the openness and enclosure to create spaces that meet the functional and safety needs of women
- be aware of the dimension of the female body and adjust the scale of design elements
Image

Image

Image

Context
paying extra attention to the edges of spaces can help choose the compatible combination of design elements and ensure full use of proposed programs
- identify the structural elements of the context and adjust the other principles to avoid creating blindspots
- analyze the functional elements of the context to propose the appropriate programs that suit women's needs
Image

Image

Geographic and Spatial Literacy
adding guiding elements that provide navigation to help women locate where they are and plan for optimal routes that would make them feel safer and more comfortable especially in emergencies.
- design a visual system (color/icon/etc.) to show the degrees of safety in different spaces
- design a visual language (patterns/signs/etc.) to guide women from one place to another, especially to those public infrastructures (restrooms, police stations, etc.)
Image

Image

Image

Image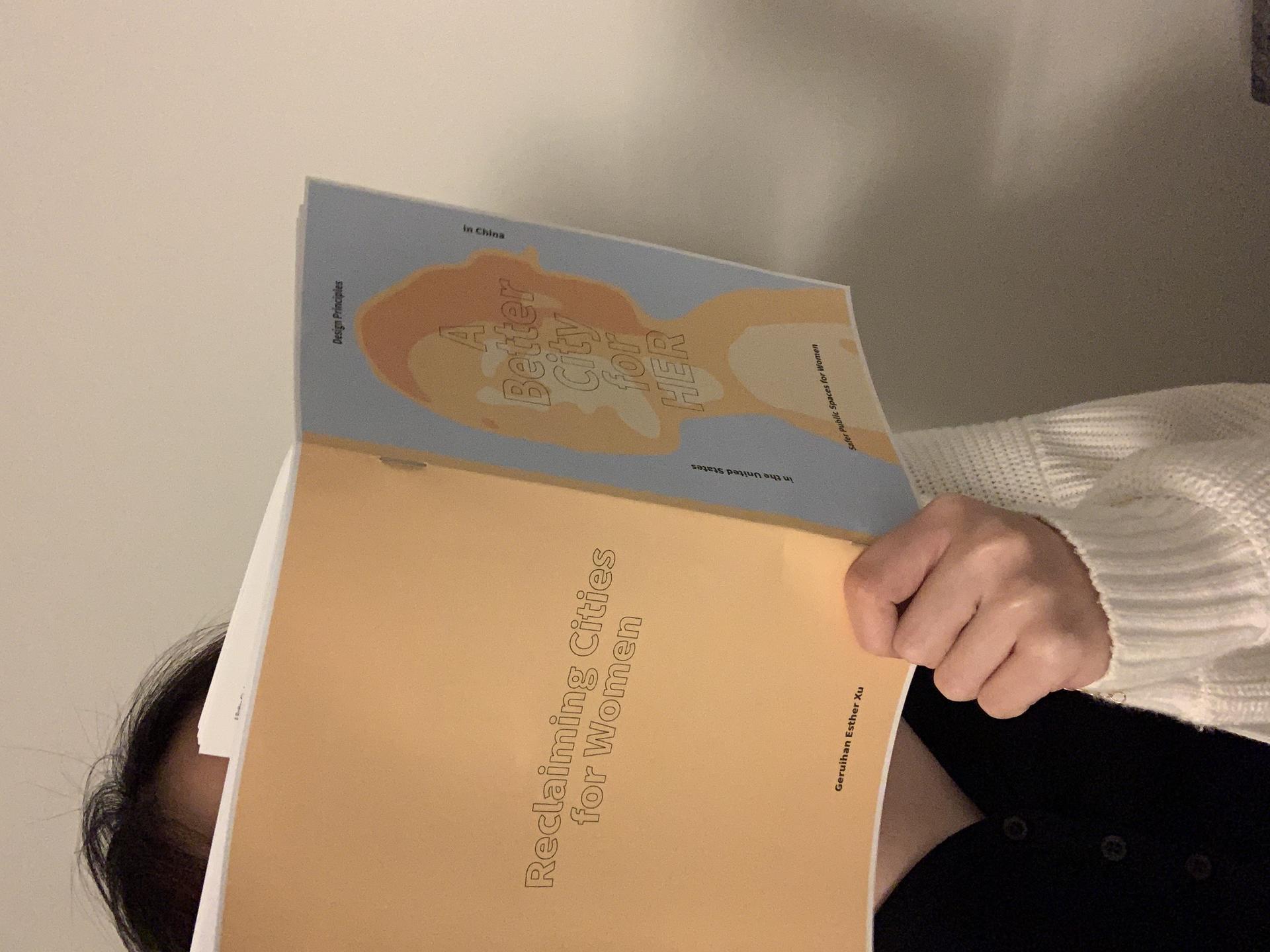 Only site design is not enough for reclaiming cities for women. "A Better City for Her" needs the efforts of both designers and the public.
We, designers, try our best to design safer public spaces for
women. However, it requires future effective management and other social strategies to complement strong designs. The physical and mental empowerment of women is needed to help women themselves unite and reclaim their rights which is not limited to just the true freedom of using public spaces.
Meanwhile, the most important thing is that we all change our mindset, recognize the current situation of women in public spaces, know her needs, desires, and aspirations, and finally help to change the status quo. Only then can we truly start to build a better city for her.
Image

ABSTRACT
Gender dynamics in public spaces are important issues to study. Here, I challenge the patriarchy in the built environment because it intensifies the oppressed status of women in modern cities. Listening to women's concerns is the first step of doing so. Meanwhile, I am aware that different socio-cultural backgrounds would affect women's attitudes, preferences, and other aspects of public spaces. Thus, the thesis will be discussed in the contexts of mainland China and the United States due to the limitation of my experience.
In this thesis, I want to find out what are the needs of women in public spaces and what kinds of spaces would make women feel safer and more comfortable. Therefore, this thesis first looked back on the different history of feminism movements in the United States and China; then summarized the critical issues that women face in public spaces in the two socio-cultural backgrounds; and proposed a series of design principles by increasing visibility to guide designers in designing safer public spaces for women. At last, a zine, which includes all the information briefly, is designed to distribute among designers to remind them to design for women in the future.
Ultimately, my goal is to help build an understanding of the current situation of women in public spaces, the necessity of addressing those needs and concerns, and how to design safer public spaces for women.