XIAODONG YANG
Eco-Corridor for Wildlife: Reclamation of wildlife habitat
ABSTRACT
This thesis aims to reclaim the fragmented habitats of wildlife and natural environments under the current human-dominating world. Through a series of landscape interventions, an ecological wildlife corridor will be proposed to not only help wildlife migrate without being impacted by the constructed infrastructure but also arouse humans to rethink and revalue the relationship between humans and wildlife.
The researches focus on the infrastructure's negative impacts on wildlife, Interstate 95, and coyotes in specific in Rhode Island and ecological approaches that could potentially remedy this issue. Human infrastructure, like highway systems, has caused great fragmentation in the original wildlife habitat and poses threats to wildlife that cross it during migration as well. This thesis utilizes the Moshassuck River that runs through culverts underneath the I-95 as a primary passage and integrates existing isolated green patches to expand the ecological corridor. This study aims to discover creative approaches that could form ecological corridors and potentially apply to other urban areas that have similar issues.
CHAPTER ONE: CONFLICTS BETWEEN HUMAN AND WILDLIFE IN NEW ENGLAND
Historical Timeline of Human Development and Wildlife
Image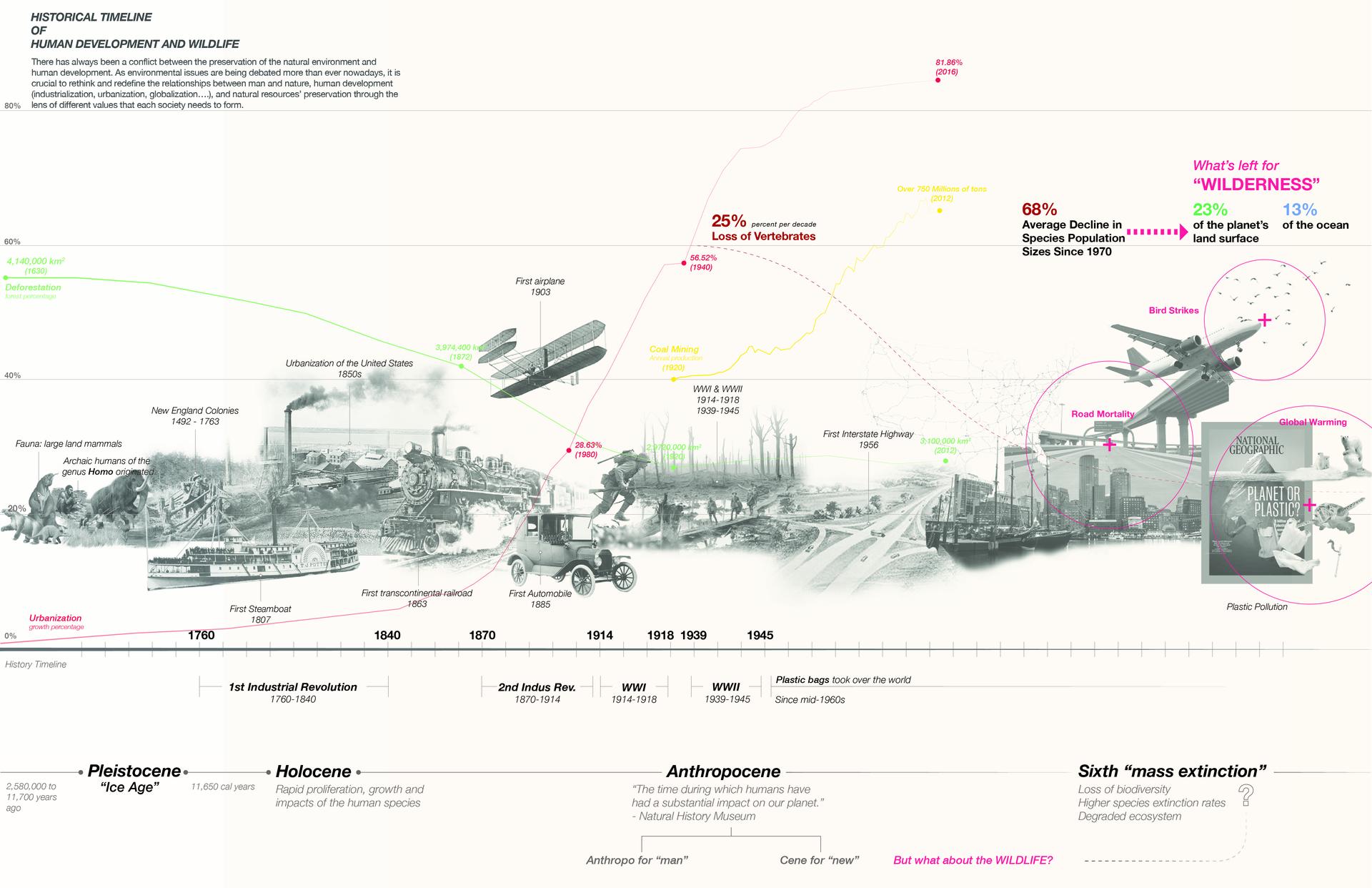 Fauna in New England Region
Image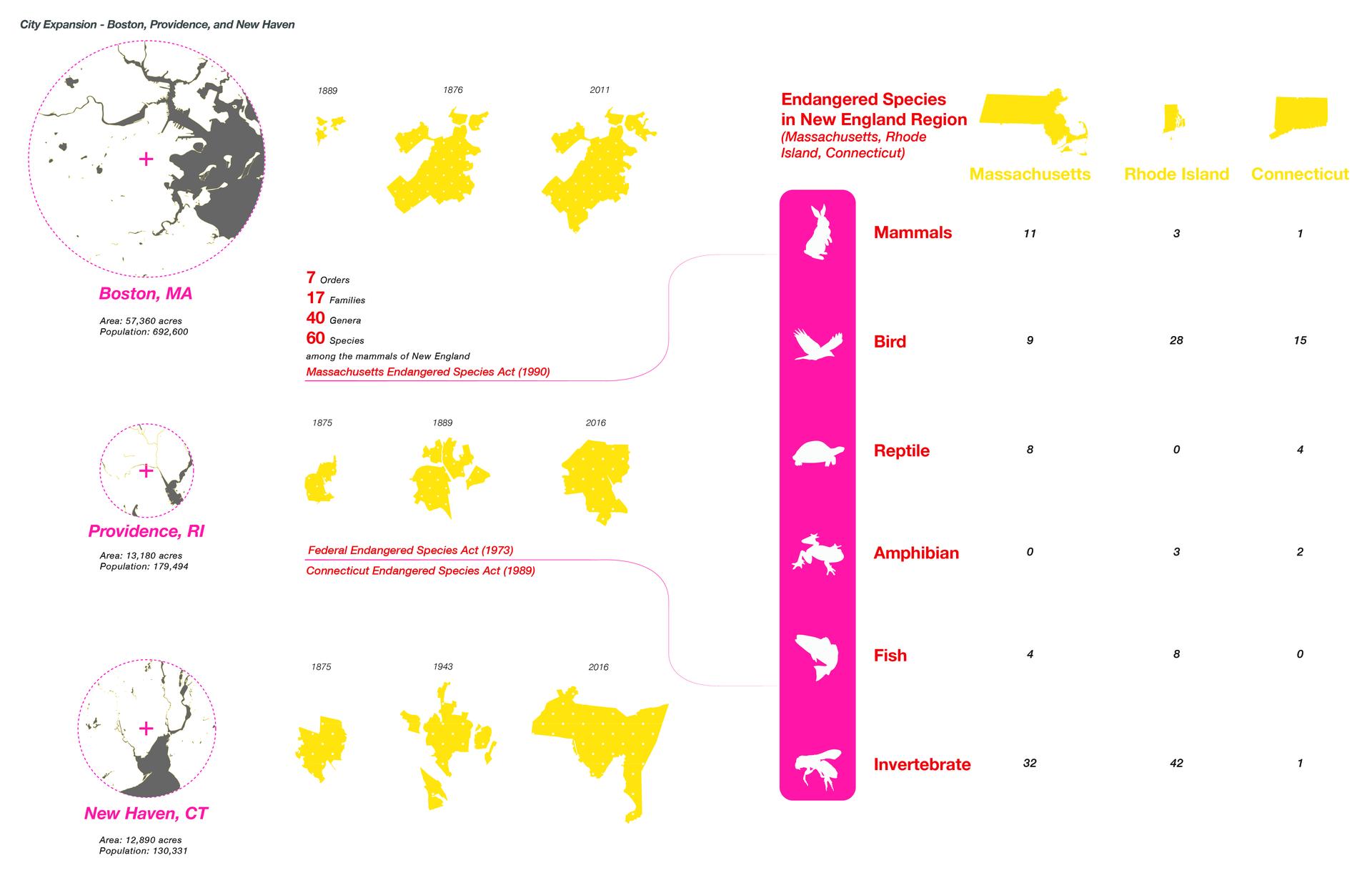 Road Mortality
Image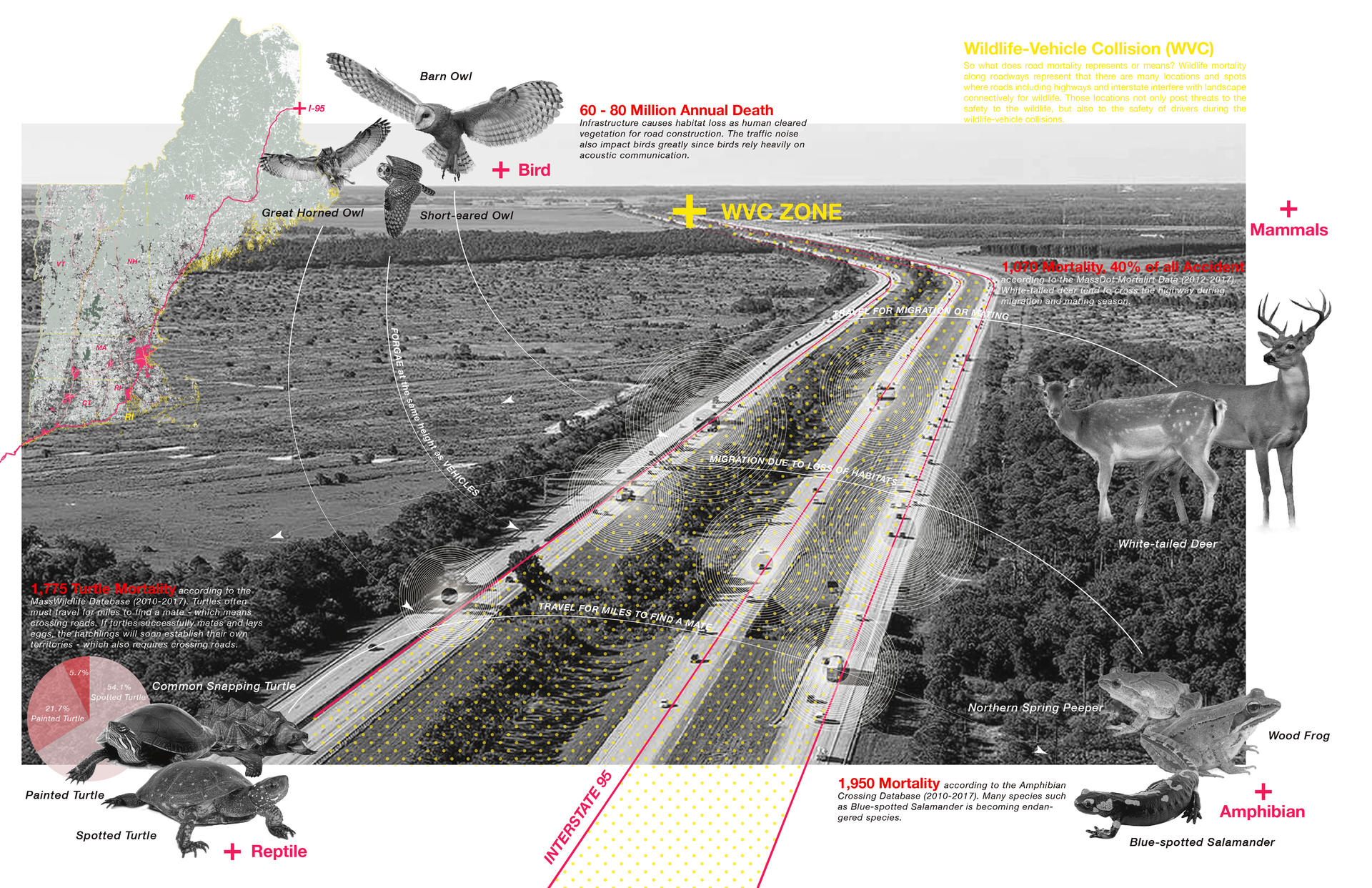 Infrastructure Study
Image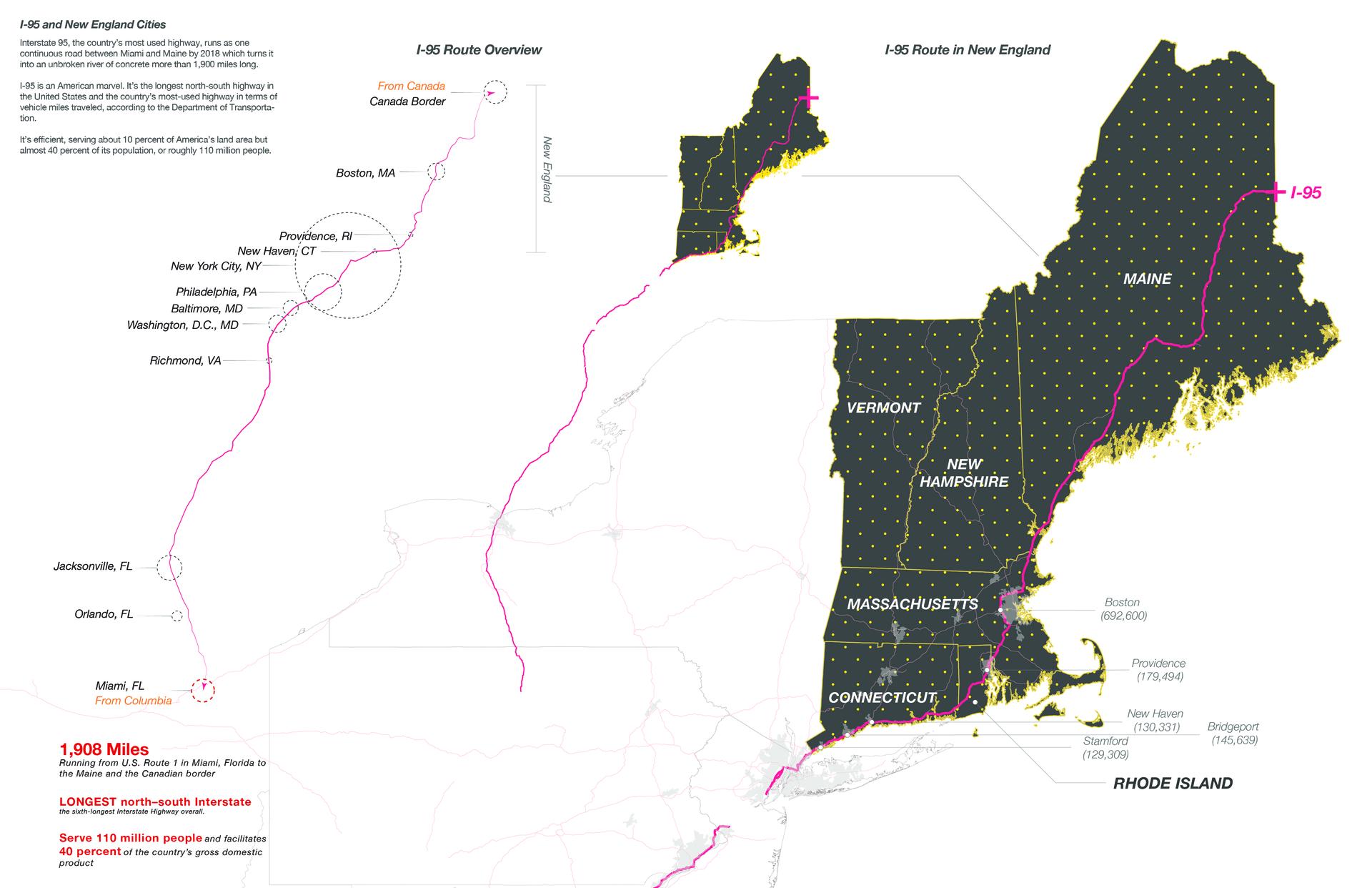 CHAPTER TWO: CONFLICTS BETWEEN HUMAN AND WILDLIFE IN RHODE ISLAND
CHAPTER TWO OVERVIEW
In this phase, I am interested in the issue of road mortality and am intrigued to figure out the impact that traffic including interstate, highways, and primary roads have on the whole wildlife community in Rhode Island specifically. Ocean State is considered high risk for animal collisions, with a 1 in 84 chance of colliding with an animal on the road. According to data from State Farm's insurance records, more than 1.96 million animal collisions took place from 2019 to 2020, involving large wild animals, pets, and farm animals.
In this phase, I focus on large mammals, coyotes specifically, to further understand the issues that they are confronting and propose solutions to help remedy the issue. Besides these two animals, I will also take smaller mammals including New England cottontail, Gray squirrel, and raccoon that often use urban environments as their habitats into consideration.
I-95 AND WILDLIFE HABITAT - URBAN CONDITION (PROVIDENCE & PAWTUCKET)
The first condition that I focus on is the urban condition and I choose Providence and Pawtucket to further analyze. Providence and Pawtucket both have relatively high populations, especially for Providence that has the most population (179,494) among all the cities in Rhode Island. In this urban environment, previous habitats were fragmented by infrastructures such as Interstates, train tracks, and primary roads like Main Street. Several potential habitats are parks and cemeteries which have been blocked by neighborhoods as well as traffic.
SUBURBAN CONDITION (WARWICK)
I chose Warwick to further analyze. Compared to the previous urban condition in which the urban environment occupies the majority of the area, Warwick has less urbanized area and potential habitats have increased greatly. Especially on the south-west city boundaries, wetland, natural forest, and farmland have occupied almost the whole space.
RURAL CONDITION (RICHMOND)
Last but not least, I chose Richmond to understand the I-95's impact on habitats in rural areas. Richmond is a rural community that has around 7 thousand population and is mostly forested and landlocked. The majority of the population resides along both sides of the road that connects the interchange of I-95 and I-95 is the only major road that runs through the city.
CHAPTER THREE: ECO-CORRIDOR FOR WILDLIFE
Image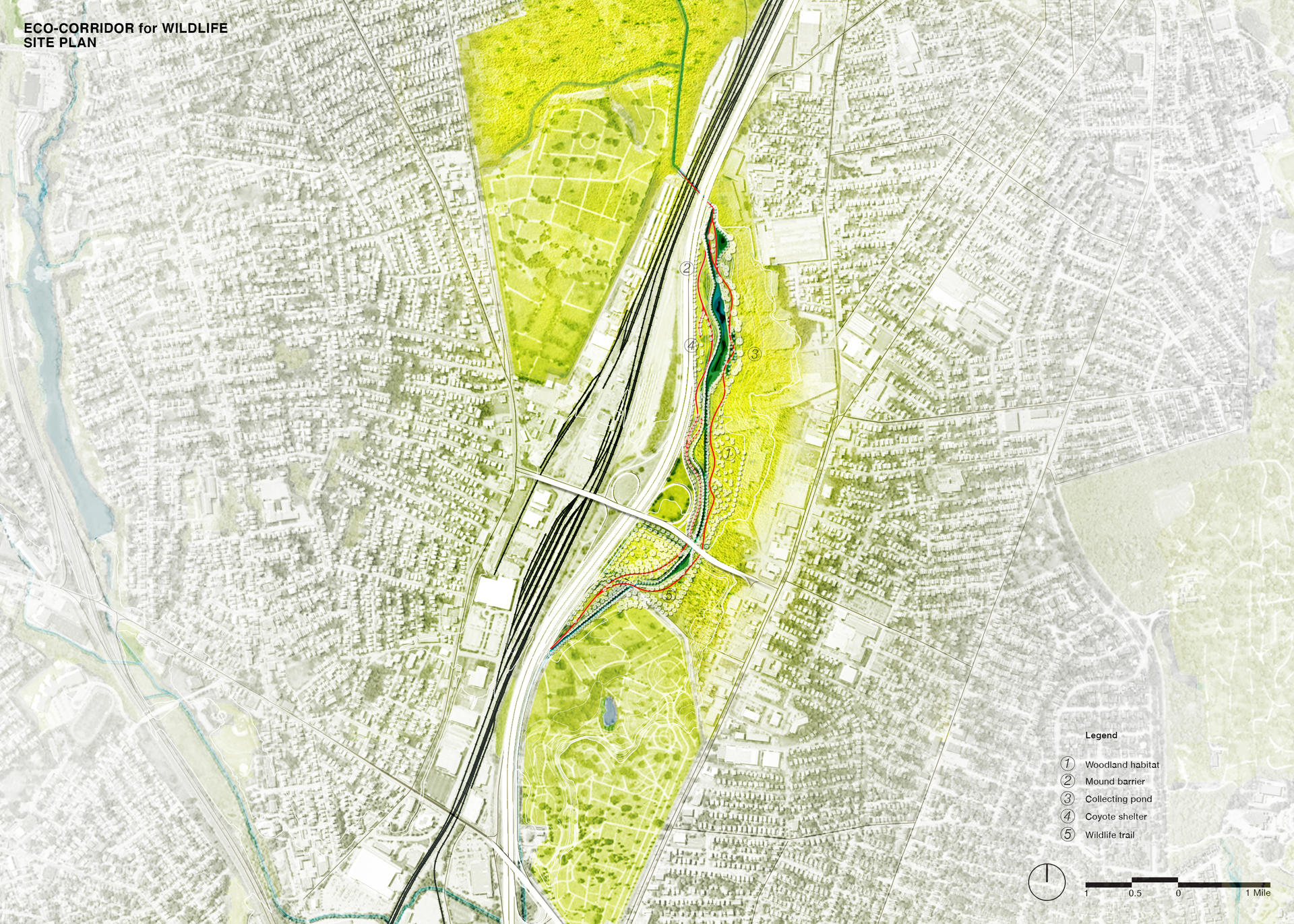 Image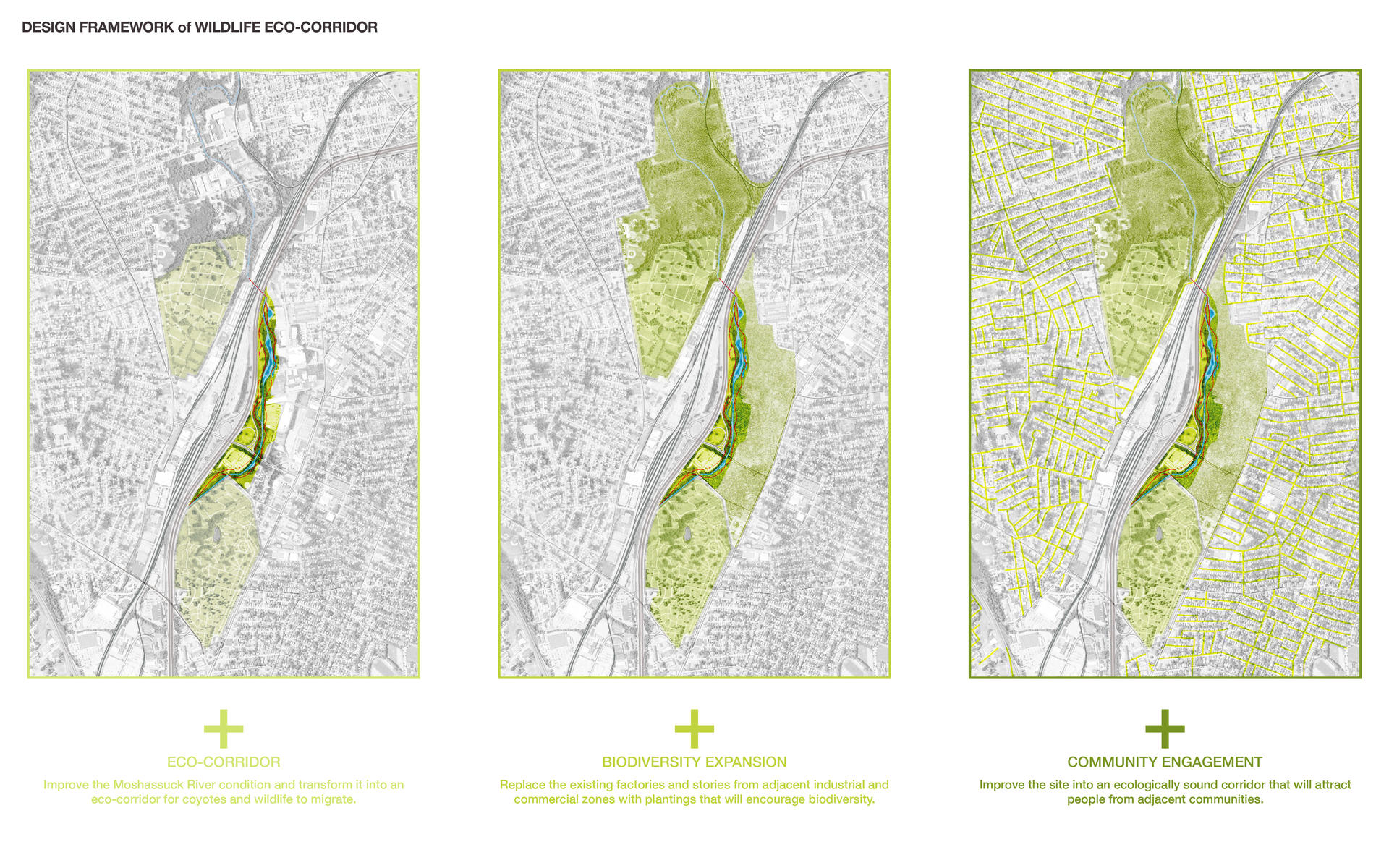 ▲ Through the process of researching and case studies from my thesis, I realize that there are still a number of opportunities that lie within the urbanized area and have great potential to be transformed into corridors that link among fragmented habitats.
▲ It is crucial to utilize all the existing spaces and find ways to accommodate wildlife in order to prevent wildlife such as coyotes from going into neighborhoods and harming people. If a small portion of each space will be improved and redeveloped into a habitat suitable for wildlife, each space will become a stepping stone that will eventually form a more impactful ecological corridor and ecosystem. 
Image