SIQI RAO
Virtuality, Reality, Community
ABSTRACT
With the popularization of the Internet and the development of technology, virtuality has penetrated into our lives and has taken up an increasing proportion of our time. However, while bringing convenience and benefits, virtuality also brings many problems, such as polarization, radicalization, cyber violence, and social isolation. In the face of these problems caused by virtualization, this thesis studies the importance of the sense of place in a community and uses some virtual technologies to enhance real-world relationships, working to alleviate problems caused by virtualization. At the same time, it explores the role of virtual tools in shaping the sense of place for neighborhood parks and open spaces. The focus of this work is in the Silver Lake neighborhood of Providence, Rhode Island. 
Here are two questions for you. Do you notice that we are spending more time on our screens? Do you feel that we are losing our sense of community?
We are attracted by the internet, and as a result, we are losing in-person relationships around us. Problems raised by digital media, such as social isolation, depression, polarization, and radicalization affect our physical mental health and even disturb our entire society. 
Community relationships are an important component of society, and they can help us deal with these problems. However, with the increased use of digital media, we are losing our sense of community.
Since the virtual world is so attractive, we take advantage of virtual tools and utilize their appealing features to help restore the sense of place and ultimately connect the community.
Based on the facts and thinking, what I want to do is to address the topic of the 21st-century community in a case study and aim to build an understanding of the importance of sense of place and virtual function in contemporary social relationships. The work explores how landscape architects can use virtual tools as a bridge to build a connection to the physical world and help strengthen the sense of place in actual communities.
Image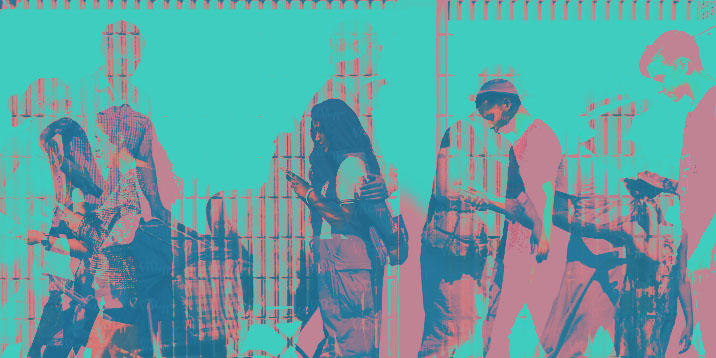 Image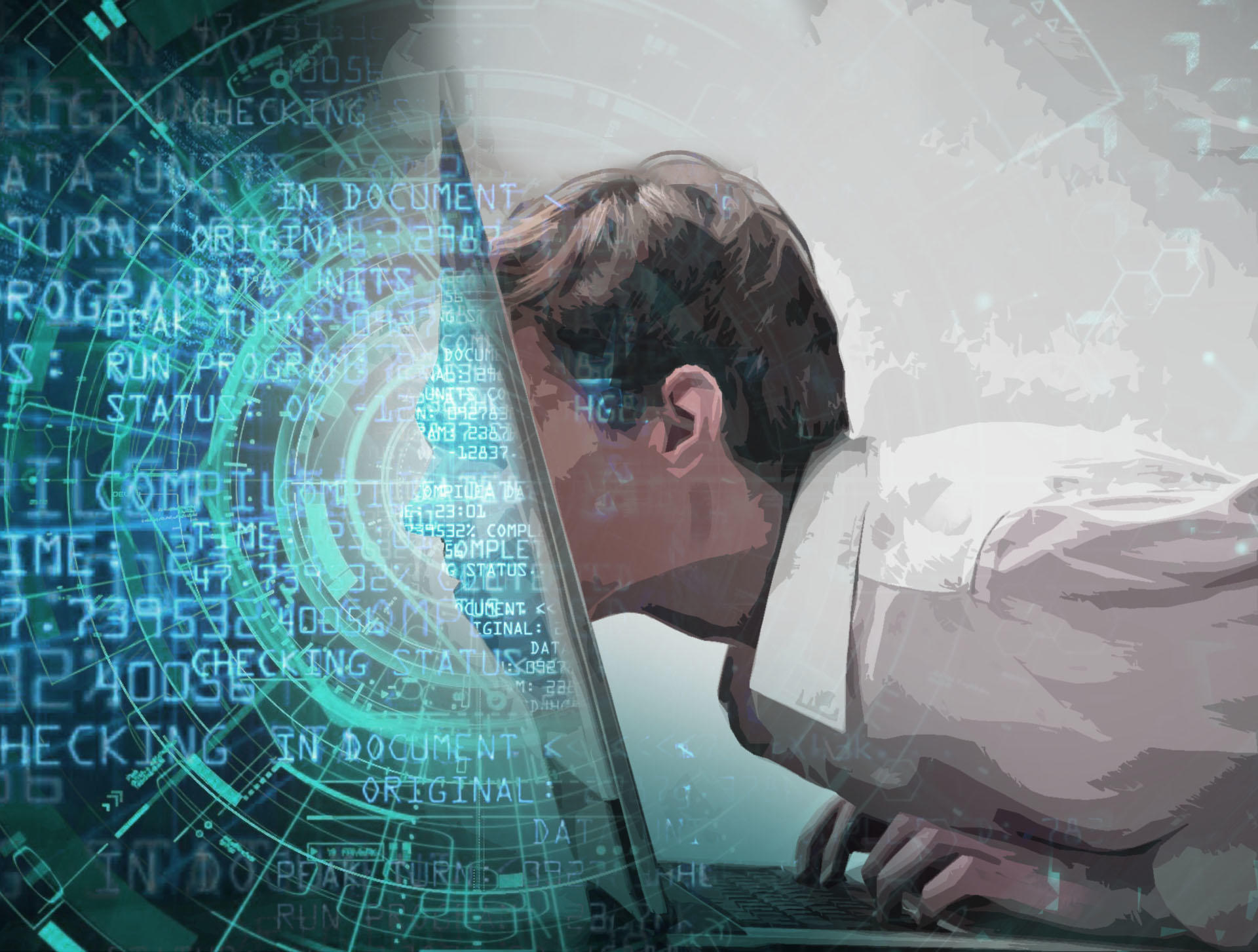 ▲ Do you notice that we are spending more time on our screens?
Our phones, laptops, ipads are becoming more and more attractive. In this Internet age, many outdoor activities have been replaced by online ones. On the one hand, we have rapidly developed technology which makes our lives more convenient. On the other hand, we tend to have less interest in the close and nearby, which can cause people to lack empathy and lose relationships in the physical world. These are signs that we are shifting our focus from the physical world to the online one. 
We are in an age between reality and virtuality, moving forward to the latter very fast. And the COVID-19 pandemic is undoubtedly accelerating this trend. 
We used to value physical communities and now we are turning to virtual communities. What is a community? It has many meanings. But it basically describes a group, which emphasizes the relationships between people. Physical community adds a geographic range to the community that combines the relationships between people and place. The virtual community erases the boundaries of time and distance, so it is not necessary for a virtual community to have a sense of place.
It may seem like a good thing that we don't have as many restrictions as we have in the physical community. However, we are losing physical ties which are very important for both individuals and society. 
Our sense of community has significantly declined for the past half century. 
Physical community tells the story about the relationships between people and places. It emphasizes the place attachment with emotional bonding and behavioral commitment. Effective public spaces in physical communities help build the sense of community which inspires people to be more socially active, encourages more community participation, and improves physical and mental health.
Public spaces, such as streets and parks, foster sense of community by facilitating chance encounters between neighbors and expressing a shared goal and vision that increases community pride and belonging. With that in mind, how can we make an effective, high quality public space that fully plays its role?
Sense of place is a perfect way to enhance a sense of community.
The charm of a physical community lies in its historical memory and cultural heritage. And these will naturally generate a sense of place.
One of the outcomes of virtualization is we have less interest in our physical space or the sense of community enhanced by it. Correspondingly, strengthening the sense of place can help to deal with the issues raised by virtuality and can contribute to the whole society's well being.
So how can public space help people build a sense of place and maintain the communal relationship?
How can we take advantage of virtuality to encourage people's engagement in their communities and connect with the physical world?
Silver Lake is a neighborhood located on the western side of Providence, Rhode Island. It is bordered by the Hartford and Olneyville neighborhood to the north, West End neighborhood to the east, and Cranston on the west and south. 
Silver Lake was originally named after a lake which was later dredged and filled in. It was a quiet, rural area. Many workers and Italian immigrants came here after the extension of the Plainfield Street trolley line in 1882. Silver Lake then became an Italian-American neighborhood.
Since the mid-1990s, rapid development and more job opportunities have attracted more immigration from Latin America. Thus, Silver Lake has transformed into a largely Hispanic neighborhood.
The neighborhood is now predominantly Hispanic from Guatemala, Dominican Republic, Bolivia, EI Salvador, etc.
Image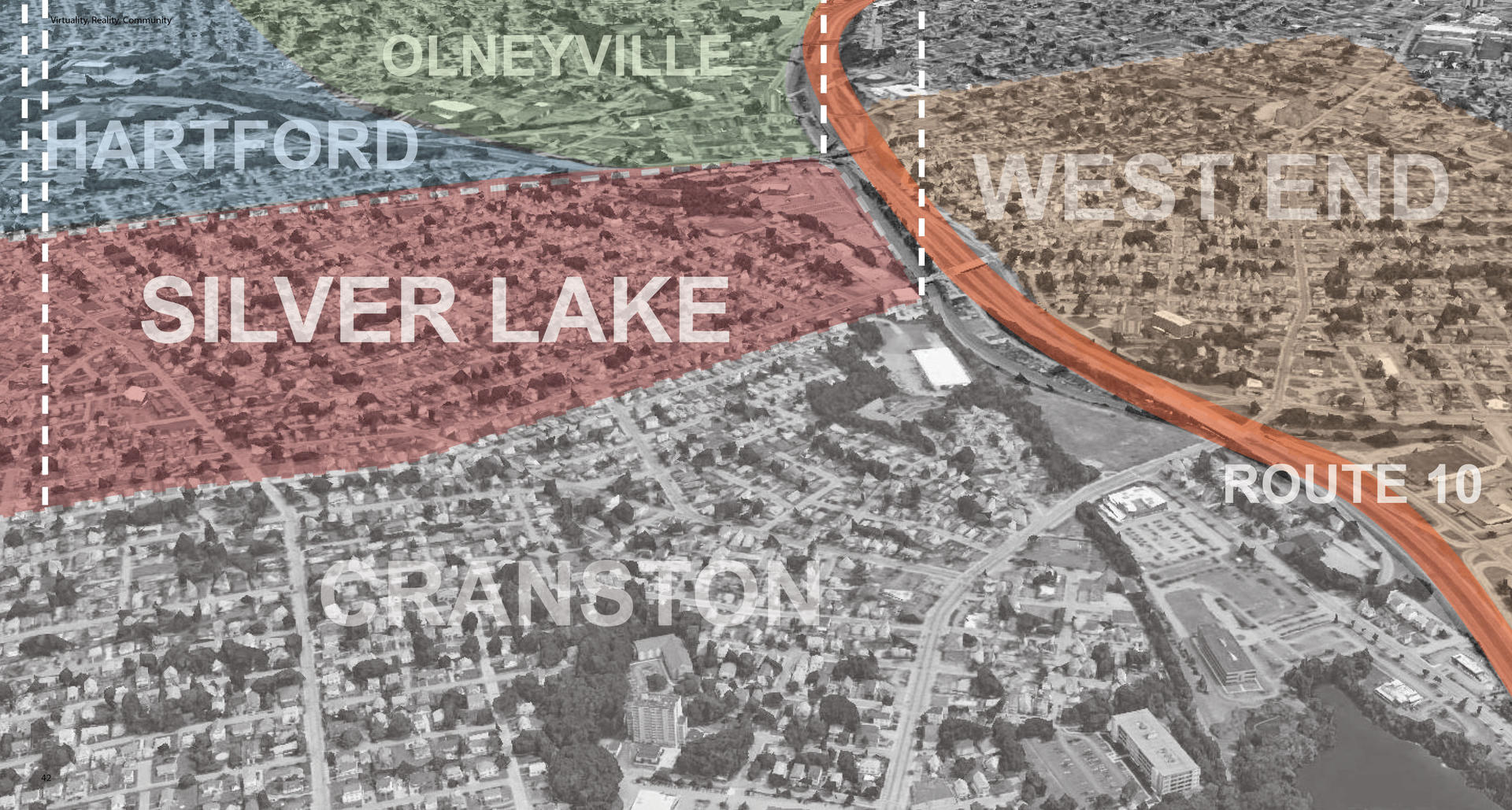 Place Vision
Image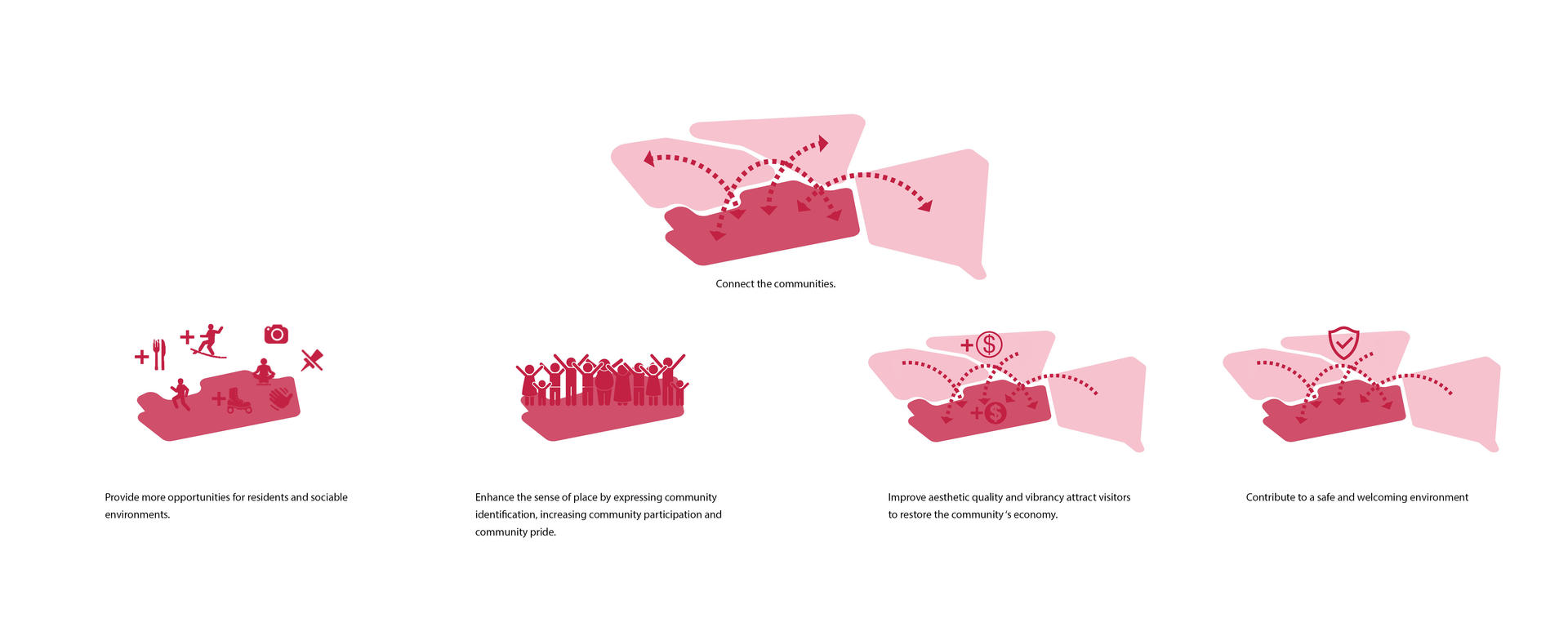 Strategy
Image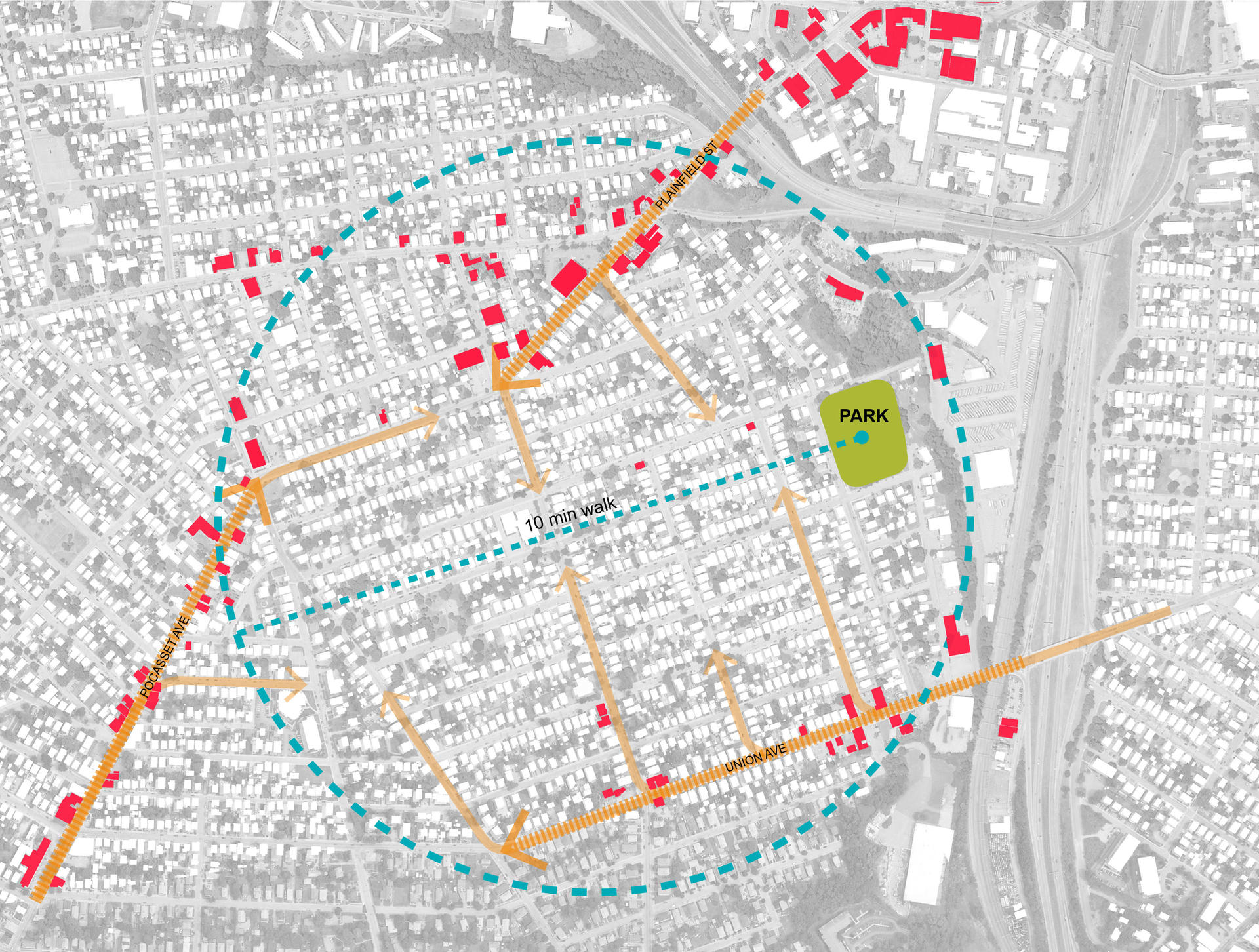 Element Extract
Image

▲ Simple geometric patterns and colors from the Hispanic textiles represent the cultural vocabulary and recall the original culture of immigrants in the community.
The bus stop has triangle and zig-zag structures with triangle top glass that cast colorful shadows to the ground, enhancing the language of color and shape.  The sidewall for wind protection gets the form of linear texture and extends to the sidewalk pavement. 
The virtual technology is applied to the benches. They have heat sensors that can track people's movement and react to it. Also, they can connect to your devices when you focus on your screen and notify you that there are many AR to explore in the neighborhood. When people are wearing earphones, the benches can share music in real time from the DJ Booth of the park which links the whole community together with music and invites people to join the activities. 
Neighborhood Scale
Image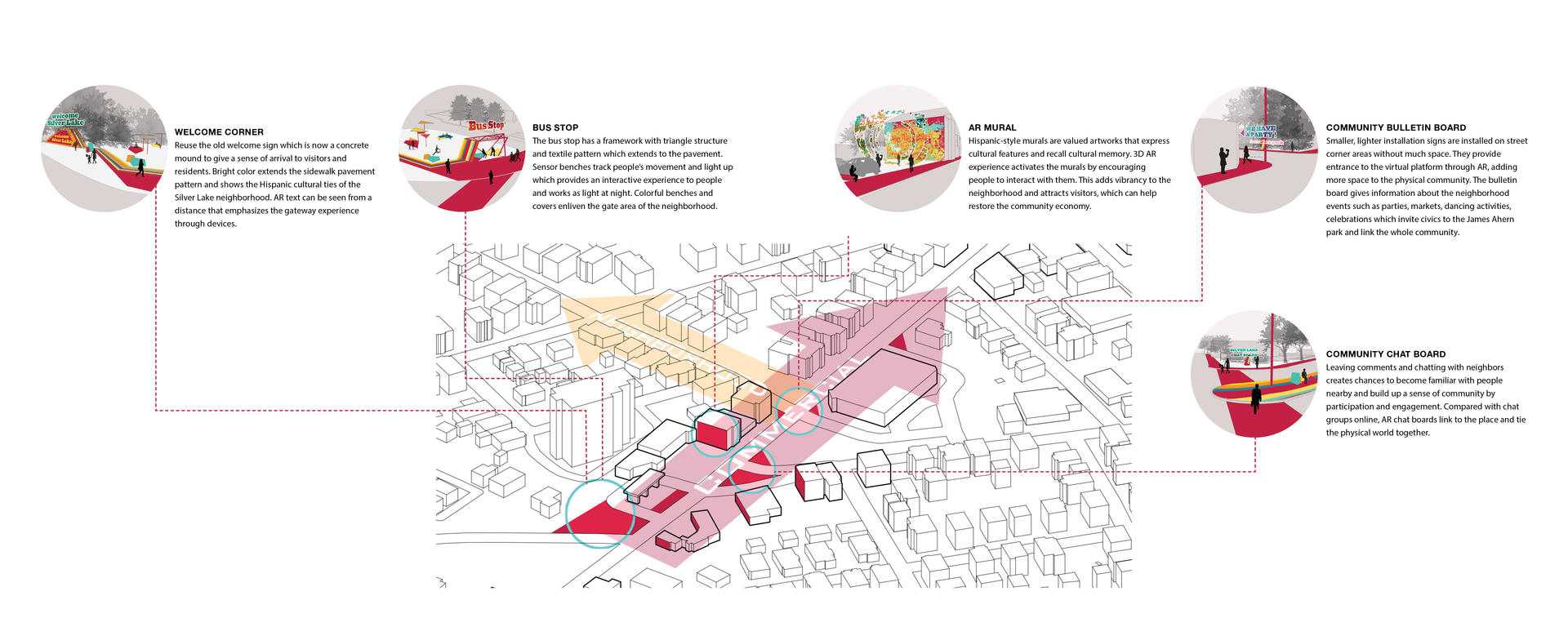 Image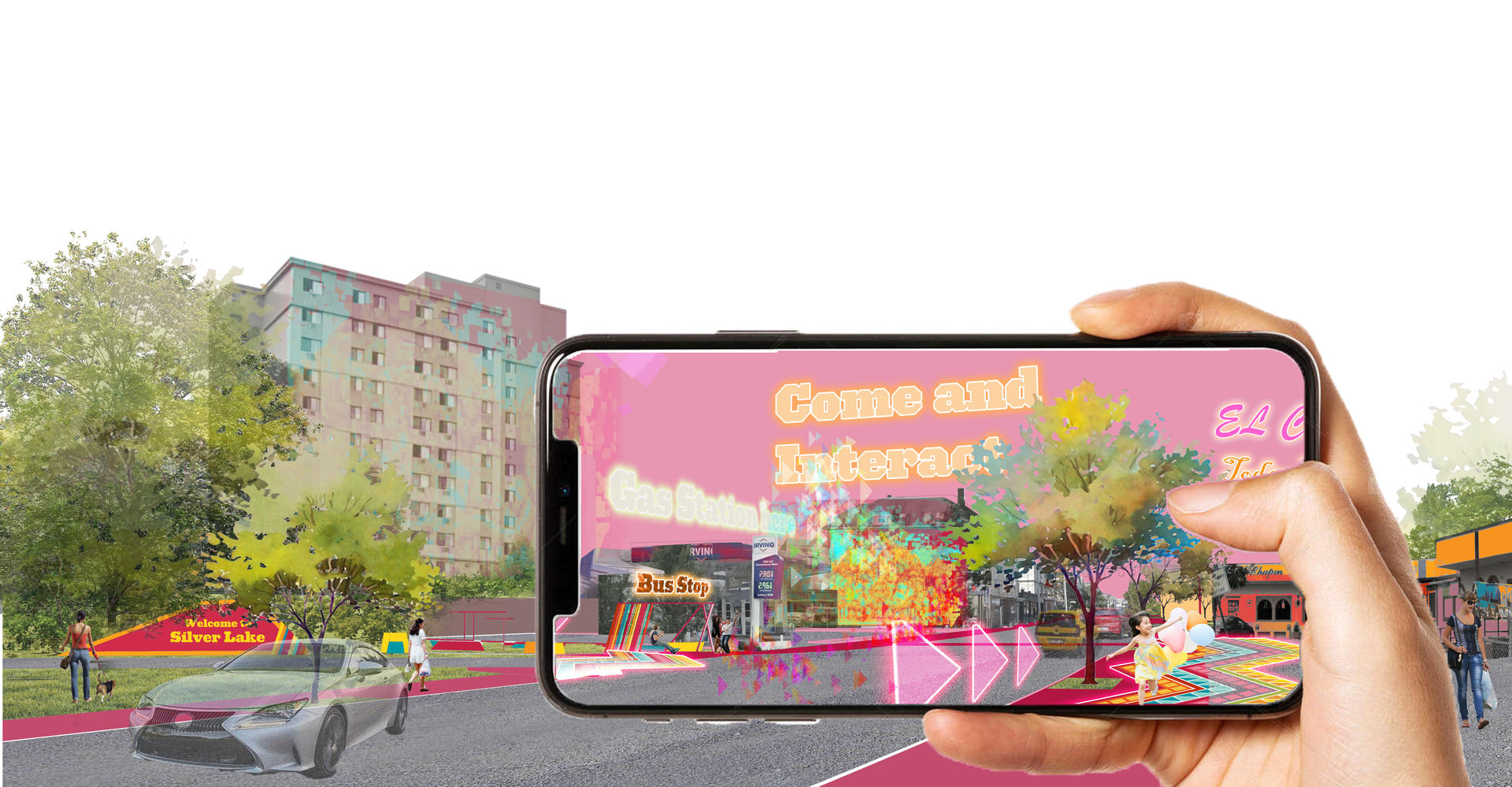 Making the park more easy to use in multi-faceted ways offers the neighborhood a diversity of activities and meets the needs of multiple groups, enhancing prosocial neighborhood relationships. 
From daily use to event use to virtual tool use, the new park breaks the limitation of a single-purpose area and provides more options for how to use the public space.
The use of virtual tools such as projection, AR and sensor technology enhances visual stimulation and creates new opportunities to interact with space and people, encouraging dialogues between civics. 
Image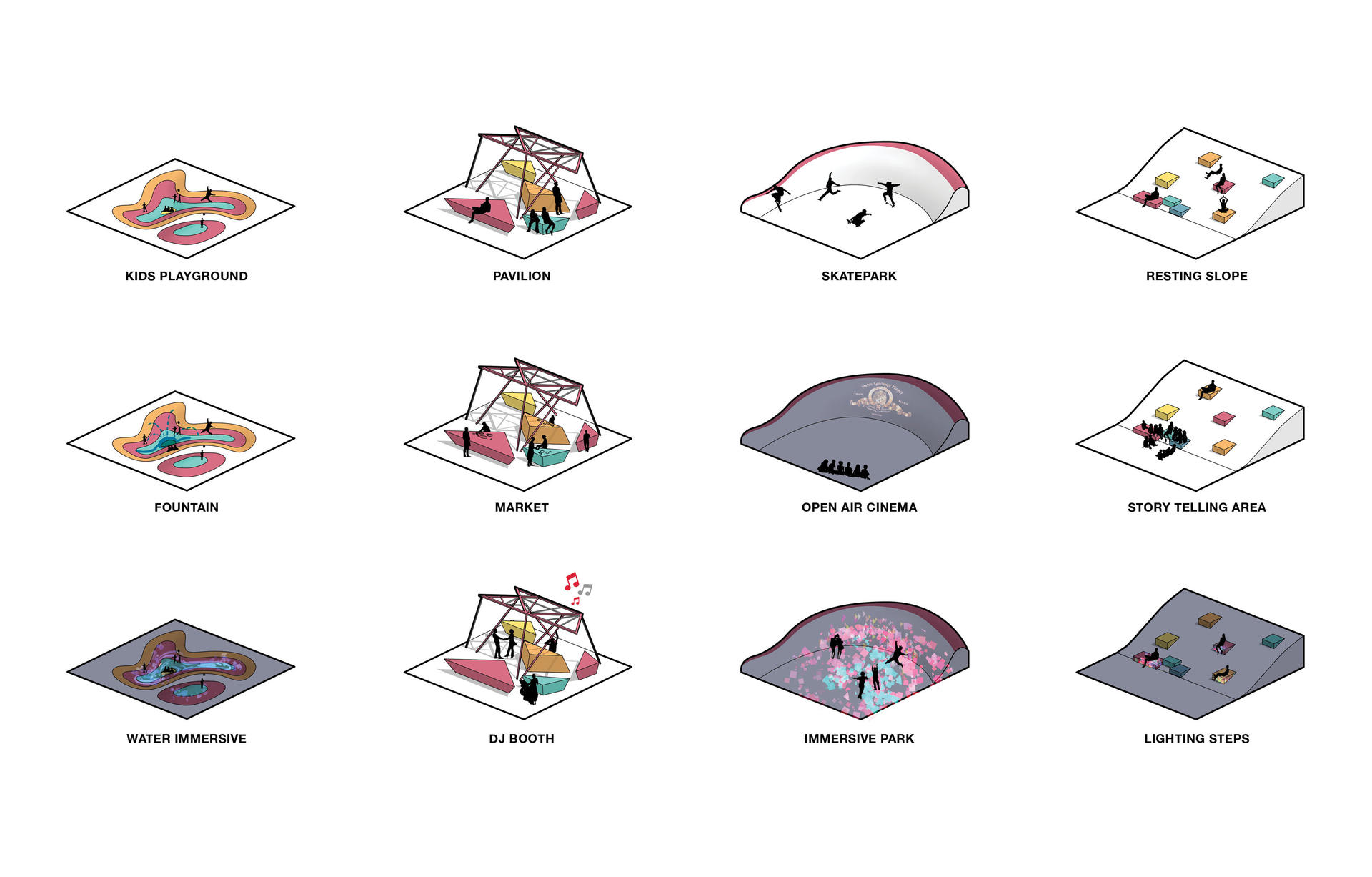 Image

Image

Image

BIBILOGRAPHY
Mohammad Dalvi-Esfahani, Ali Niknafs, Zohre Alaedini, Hajar Barati Ahmadabadi, Daria J. Kuss, T. Ramayah, "Social Media Addiction and Empathy: Moderating impact of personality traits among high school students," Telematics and Informatics 57, (2021), https://doi.org/10.1016/j.tele.2020.101516.
 
David Silver, "Howard Rheingold," Encyclopedia Britannica, March 17, 2021, 
https://www.britannica.com/biography/Howard-Rheingold.
 

Howard Rheingold, The Virtual Community : Homesteading on the Electronic Frontier (Cambridge, Mass. :MIT Press, 2000).

Emily J. Rugel, Richard M. Carpiano, Sarah B. Henderson, Michael Brauer, "Exposure to natural space, sense of community belonging, and adverse mental health outcomes across an urban region," Environmental Research 171, (April 2019): 365-377.

Robert D. Putnam, Bowling Alone: America's Declining Social Capital (Journal of Democracy,1995), 65-78.

Russ and Krasny, Urban Environmental Education Review.

Rugel, Carpiano, Henderson, Brauer, "Exposure to natural space, sense of community belonging, and adverse mental health outcomes across an urban region," 365-377.

 Jacinta Francis, Billie Giles-Corti, Lisa Wood, Matthew Knuiman, "Creating sense of community: The role of public space," Journal of Environmental Psychology 32, no. 4 (2012): 401-409.

Camilla A. Michalski, Lori M. Diemert, John F. Helliwell, Vivek Goel, Laura C. Rosella, "Relationship between sense of community belonging and self-rated health across life stages," SSM - Population Health 12, (2020),
https://doi.org/10.1016/j.ssmph.2020.100676.