1.
"I was also born in a mining town, an iron ore mining town — not in America, but in China. " This is how I would introduce myself when I was working on my thesis project Fossil Morphology centered on the coal mining towns of East Pennsylvania. The project began with my curiosity in understanding the mining reality in a different country. 
2.
The connection between my hometown and the America industry has long been established during my childhood. I grew up in the 90s in a small town in North China. In fact, my hometown is more a company than a place. It doesn't even have a name of a place. It is named after its industry – Central Shandong Metallurgy and Mining Company. The population consists of around 70,000 people who predominately work for the company as miners, engineers and rear service.
My childhood was a period when China had adopted the "Open Door Policy", initiated by Deng Xiaoping in 1978, which allowed China to open itself up to foreign businesses. In the 90s, the secondary industry in the United States witnessed its dramatic decline. The country began relying upon third-world countries that had lower labor cost during the process of globalization. As a result, the 90s was a period when the development of industries in China greatly advanced. My hometown company was one of them. The underlying connection of the two different mining landscapes has been driving me to reflect on the mining towns in the US.
My thesis project Fossil Morphology consists of a film, a series of photographs, and a sound installation. It examines the coal mining landscape, ecology and the visual aesthetics of the underground.
Image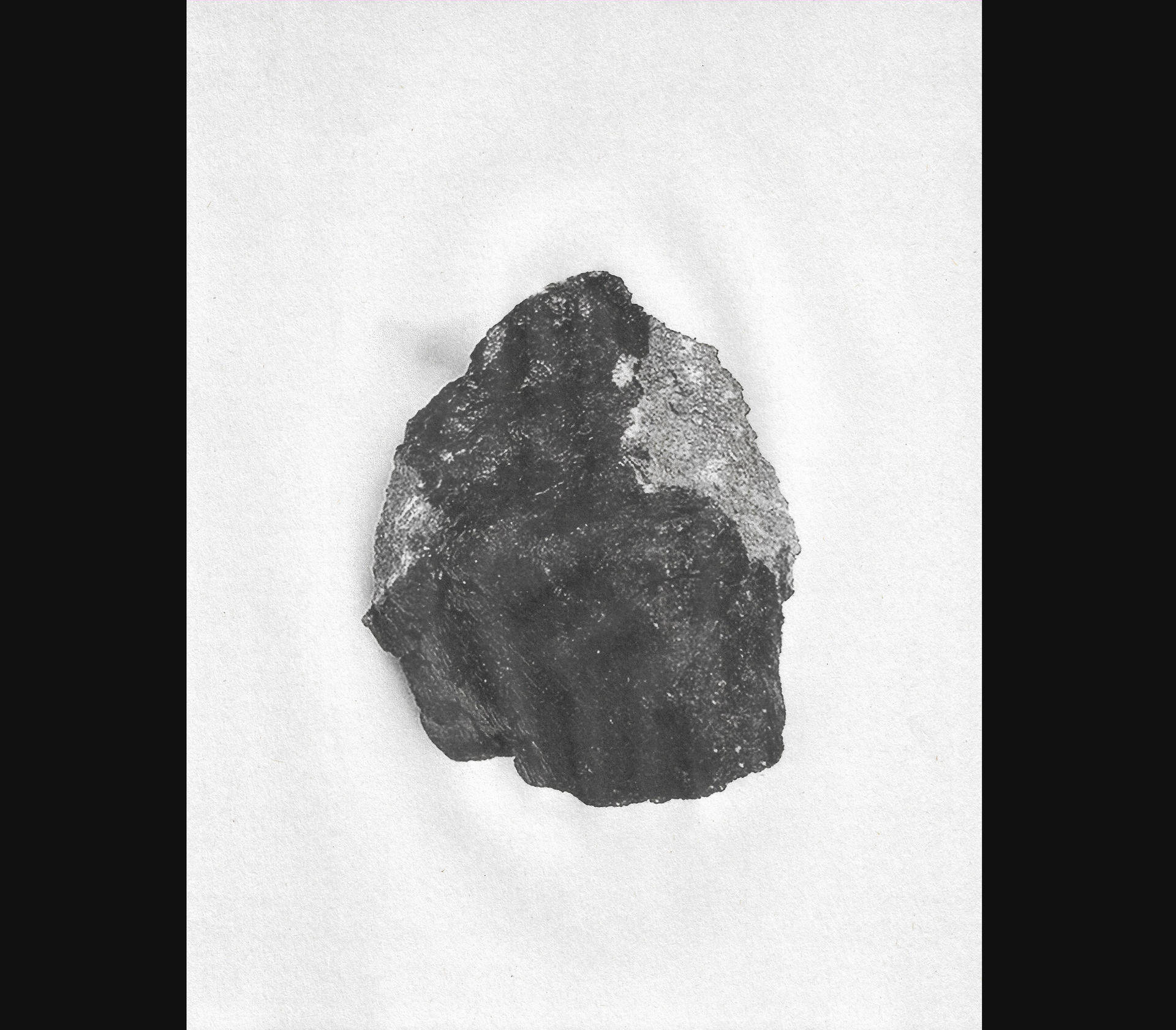 notes on carbonization

化碳记事
film, digital (HD), 20 minute 31 second, color, stereo
In this film, the Chinese voice-over is telling one story about a monk, which I heard in my hometown during my childhood, while the visual is telling another story about a miner, which is filmed in former coal company town Shamokin, PA using the local resource. Conflicts and negotiations are continuously happening, between the visual and the audio; between the subject and its psychoanalytic object of desire in the narrative, as well as between me and the local American people at the coal country whom I filmed with.
The experience of watching cinema is like going into a cave. This film responds to this linear and inward experience.
*click to watch the film ↓
Image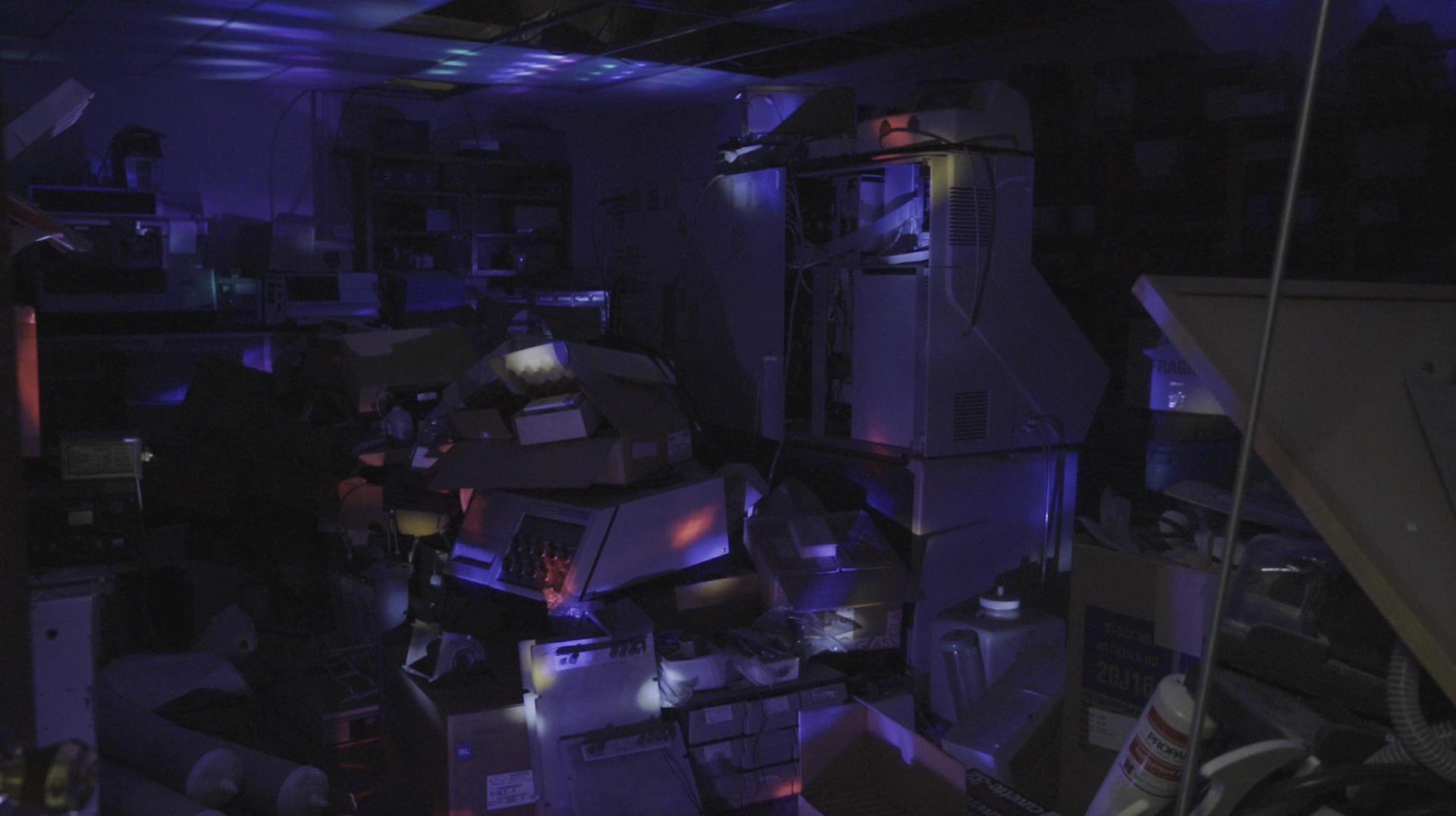 Image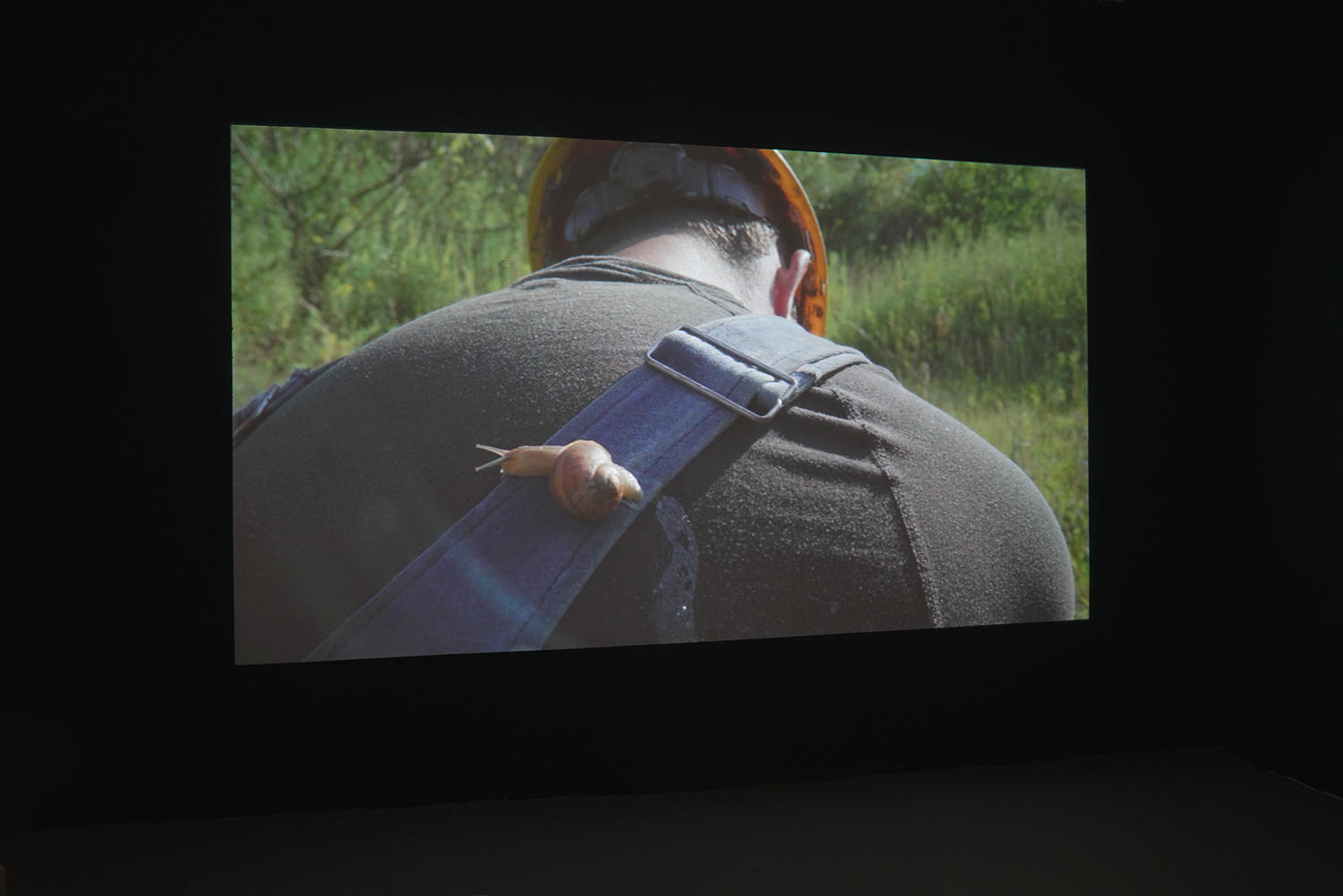 Image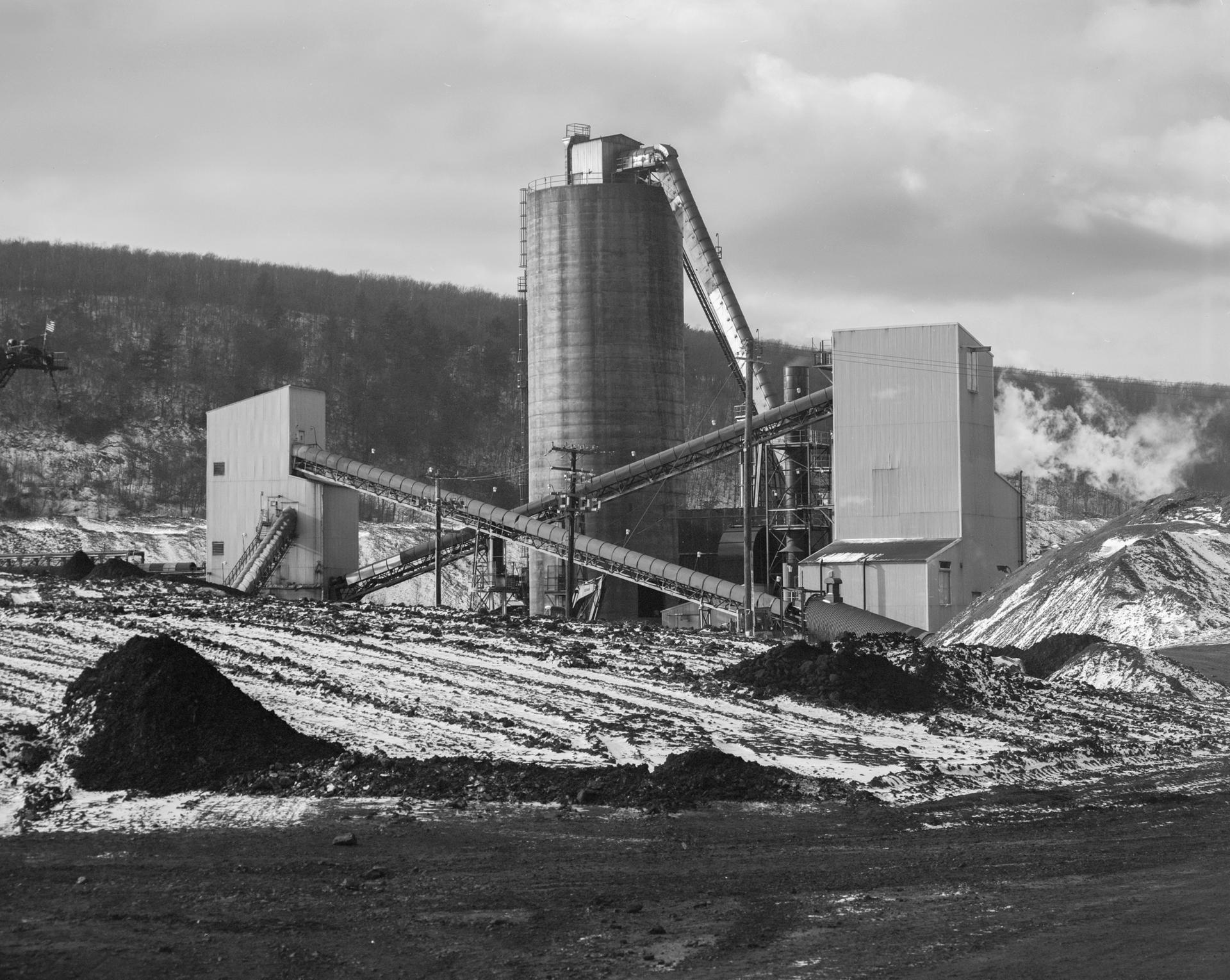 Fossil Morphology

 

化石形态学
photography, archival pigment print, metal frame
The environment is pregnant with an imminent explosion. Time is suspended, and everyone is waiting. The dark flows of energy is throbbing in Nature, transforming from one life form to another.
Energy -- the purpose of burning coal, the anxiety driving the capitalism, the power within our bodies, and, what a photograph preserves. In its early age, photography was believed to be an extension of our mind and body. One that takes in our soul and absorbs energy. 
Image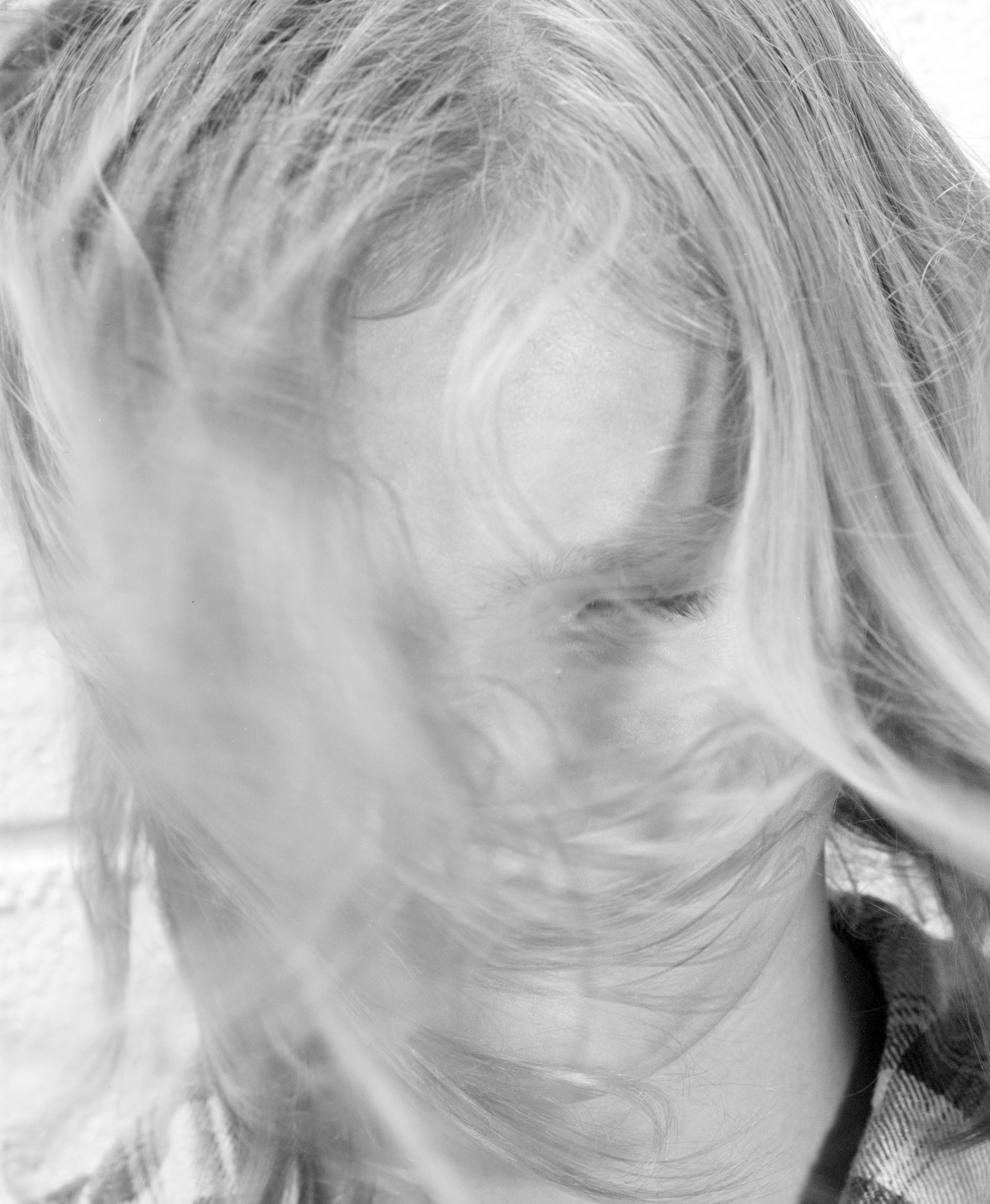 Image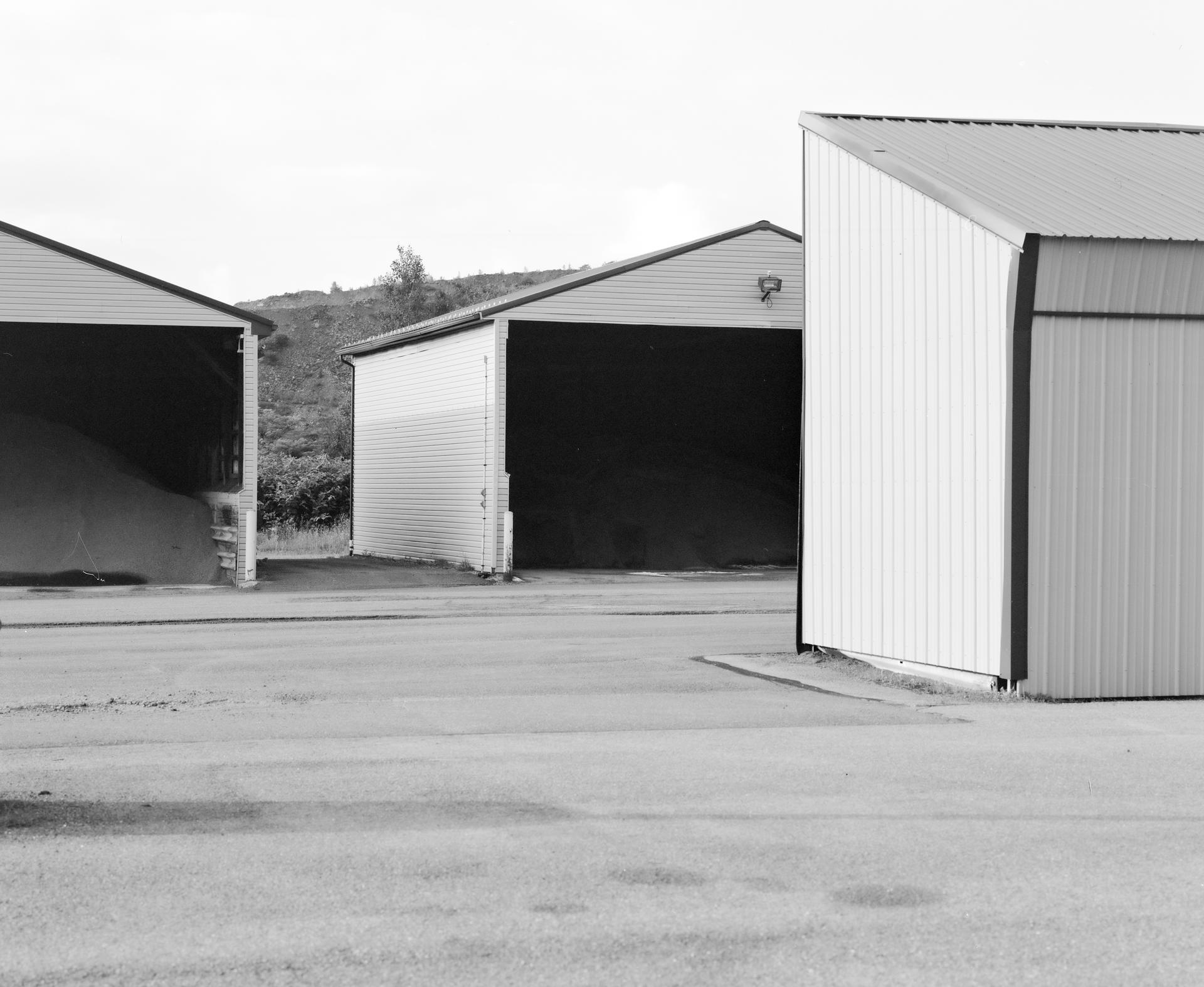 Image
Image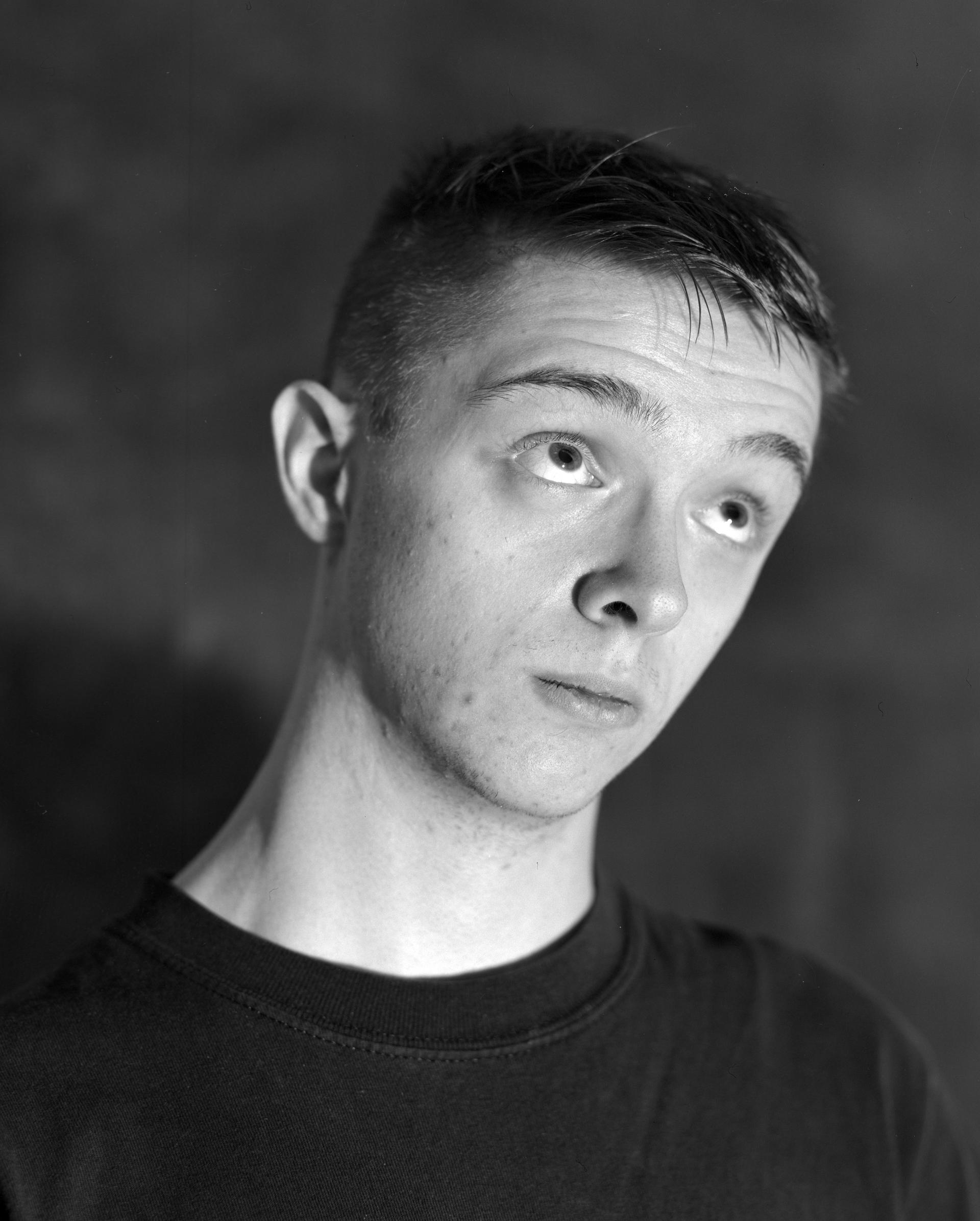 Image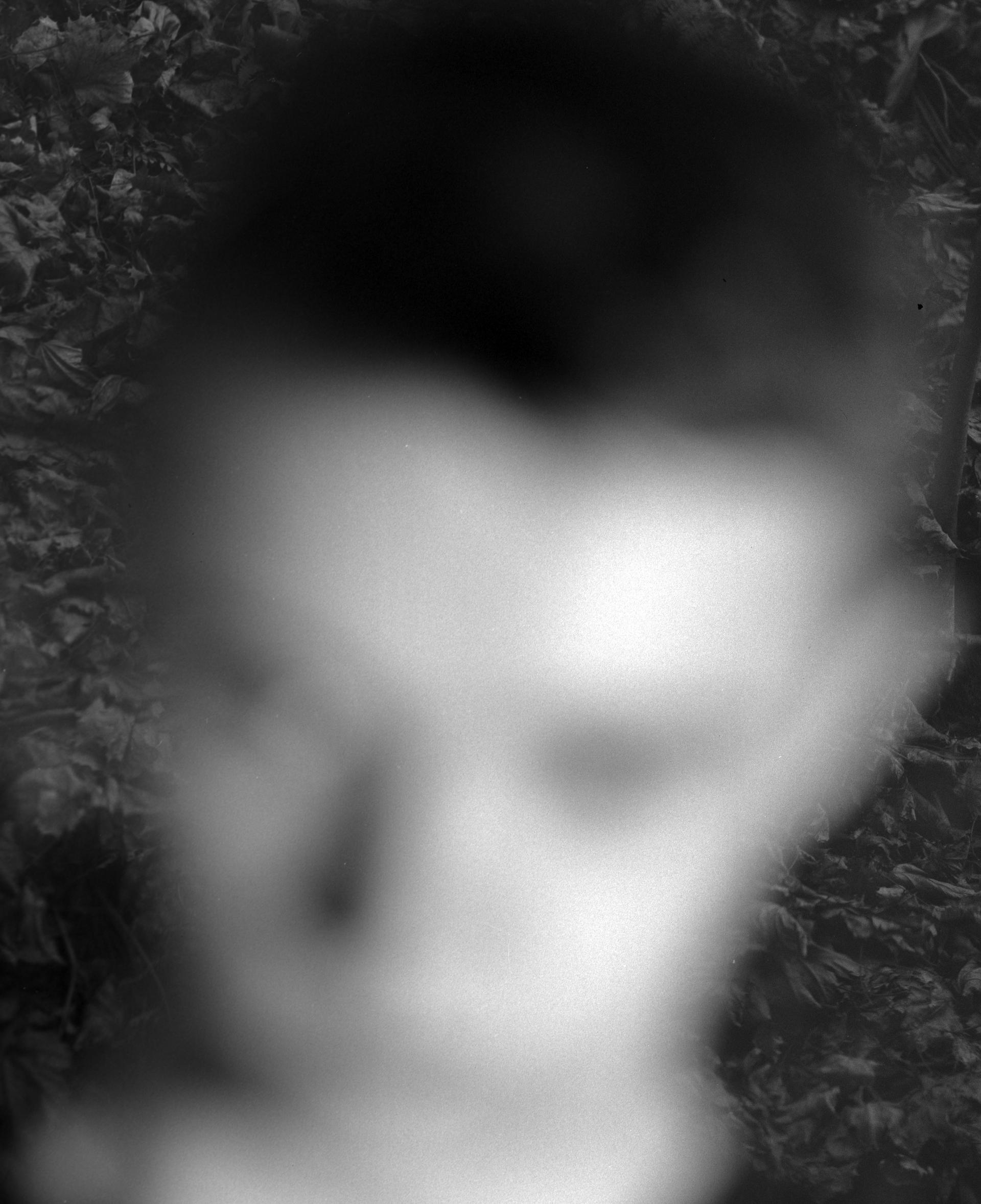 Image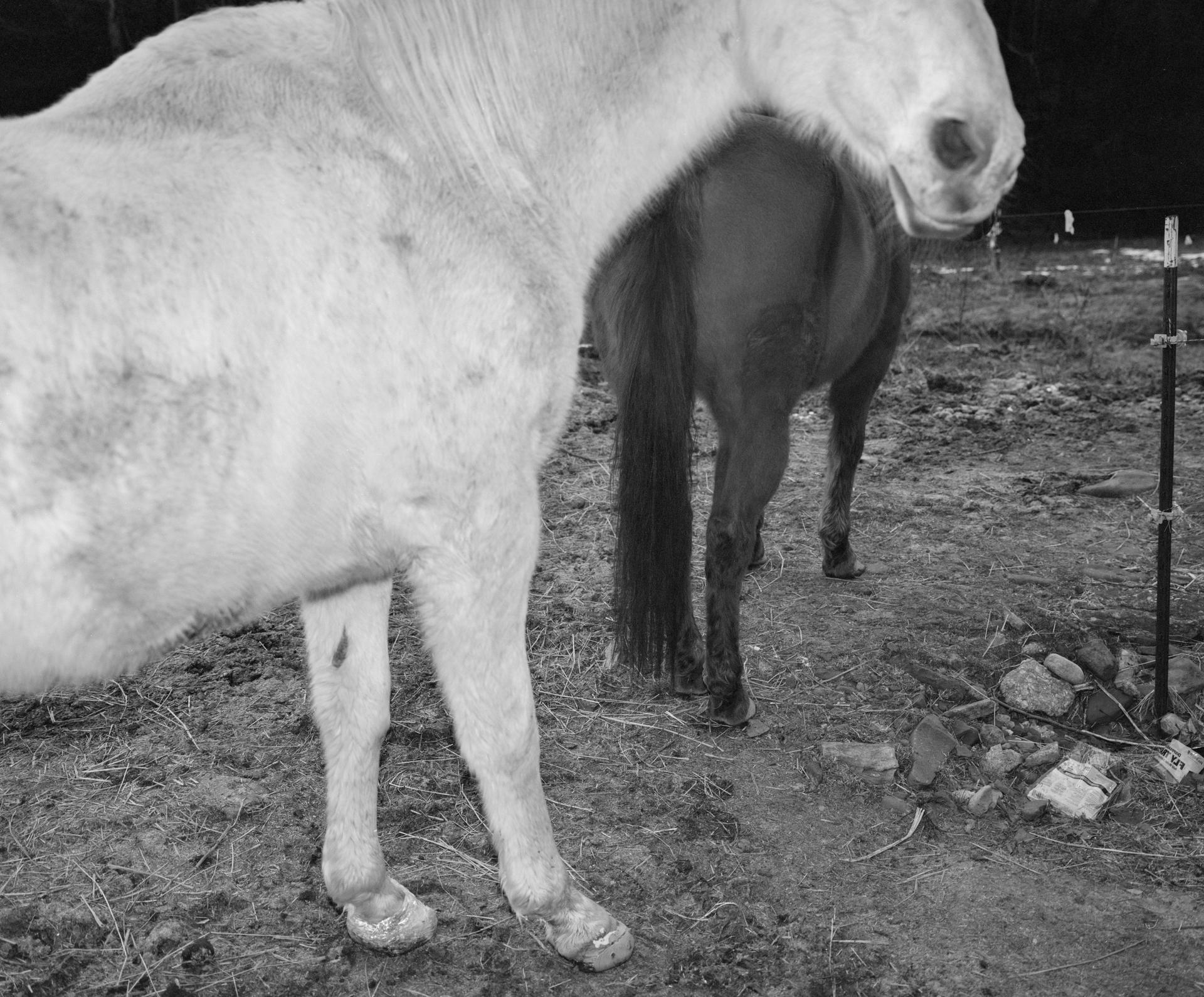 Image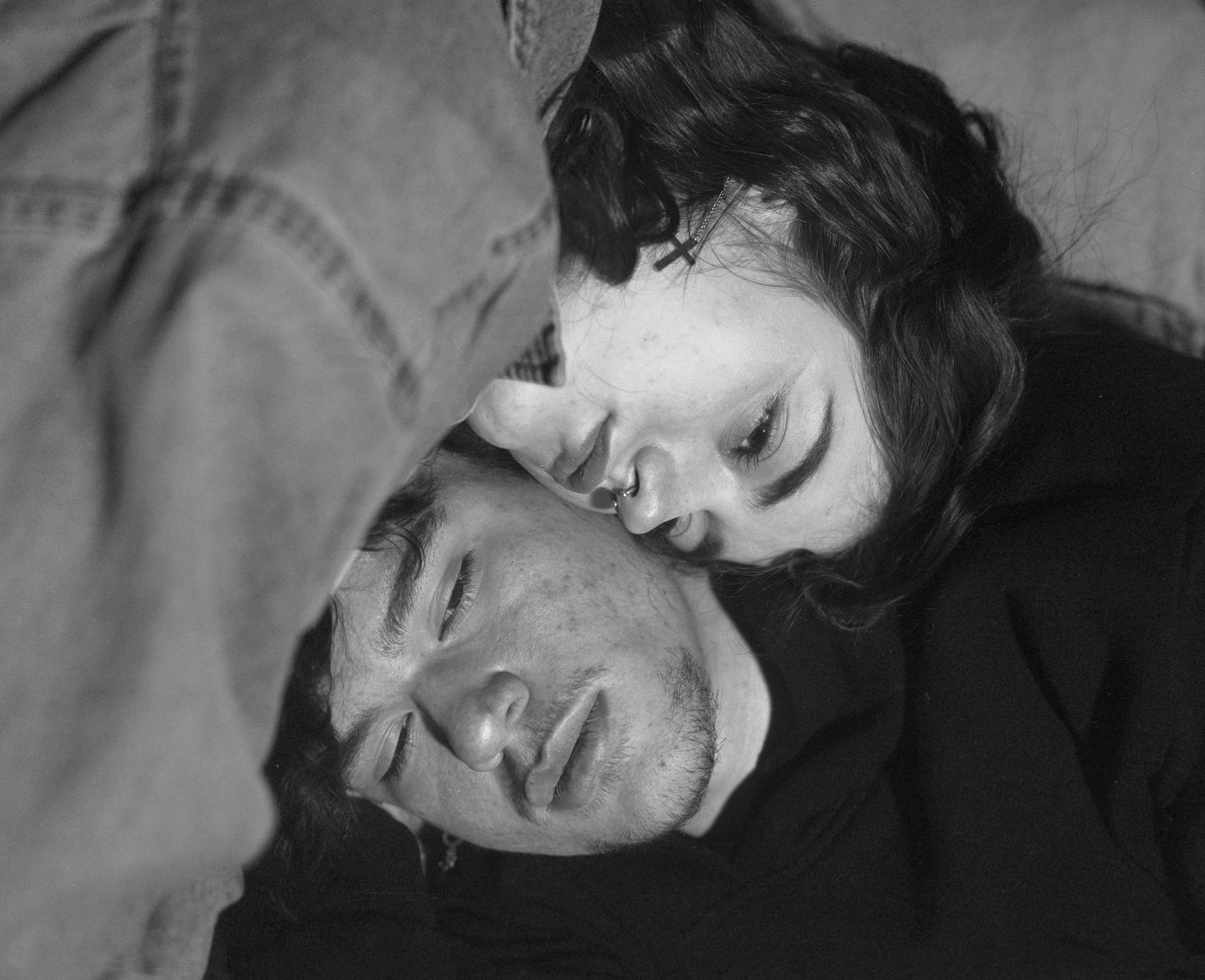 Image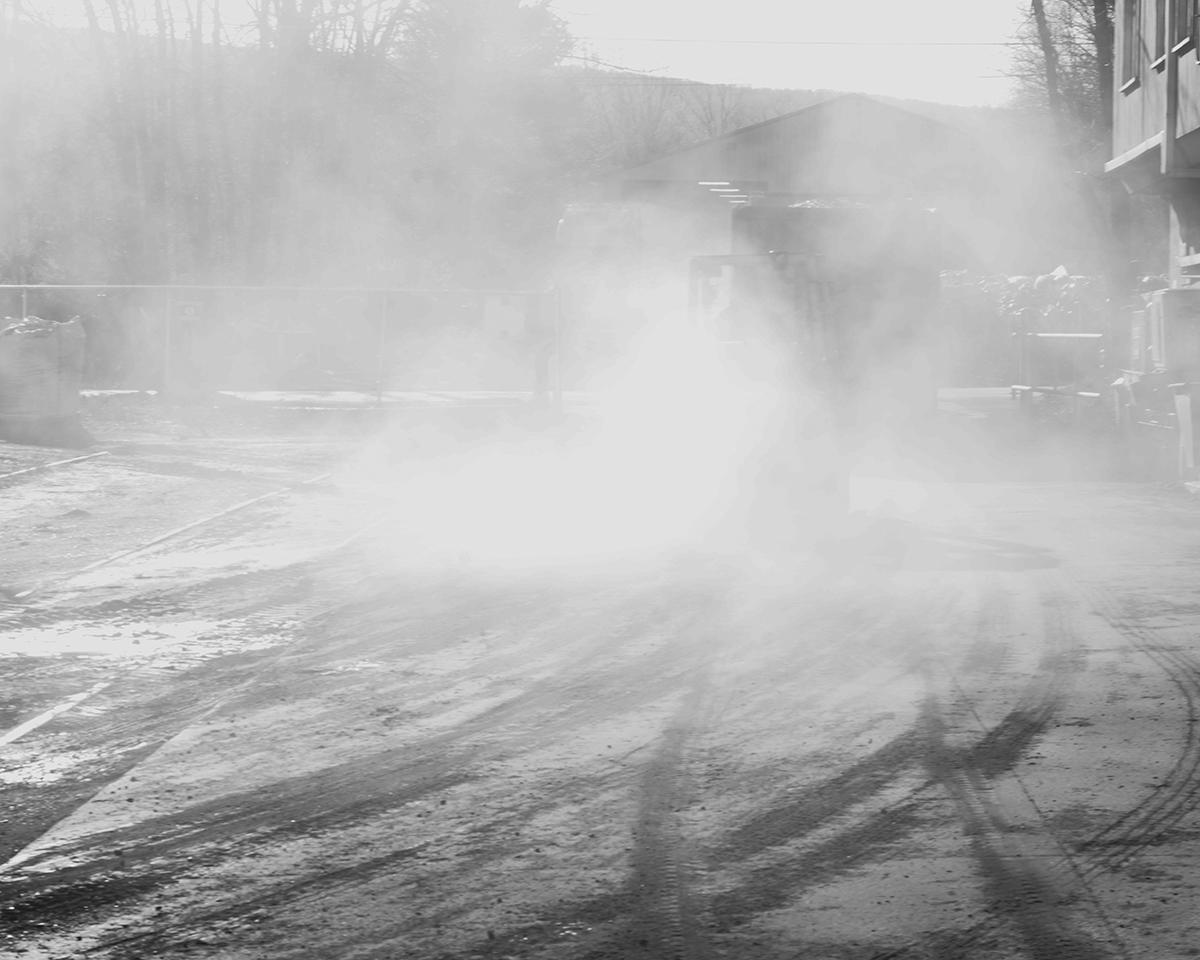 Image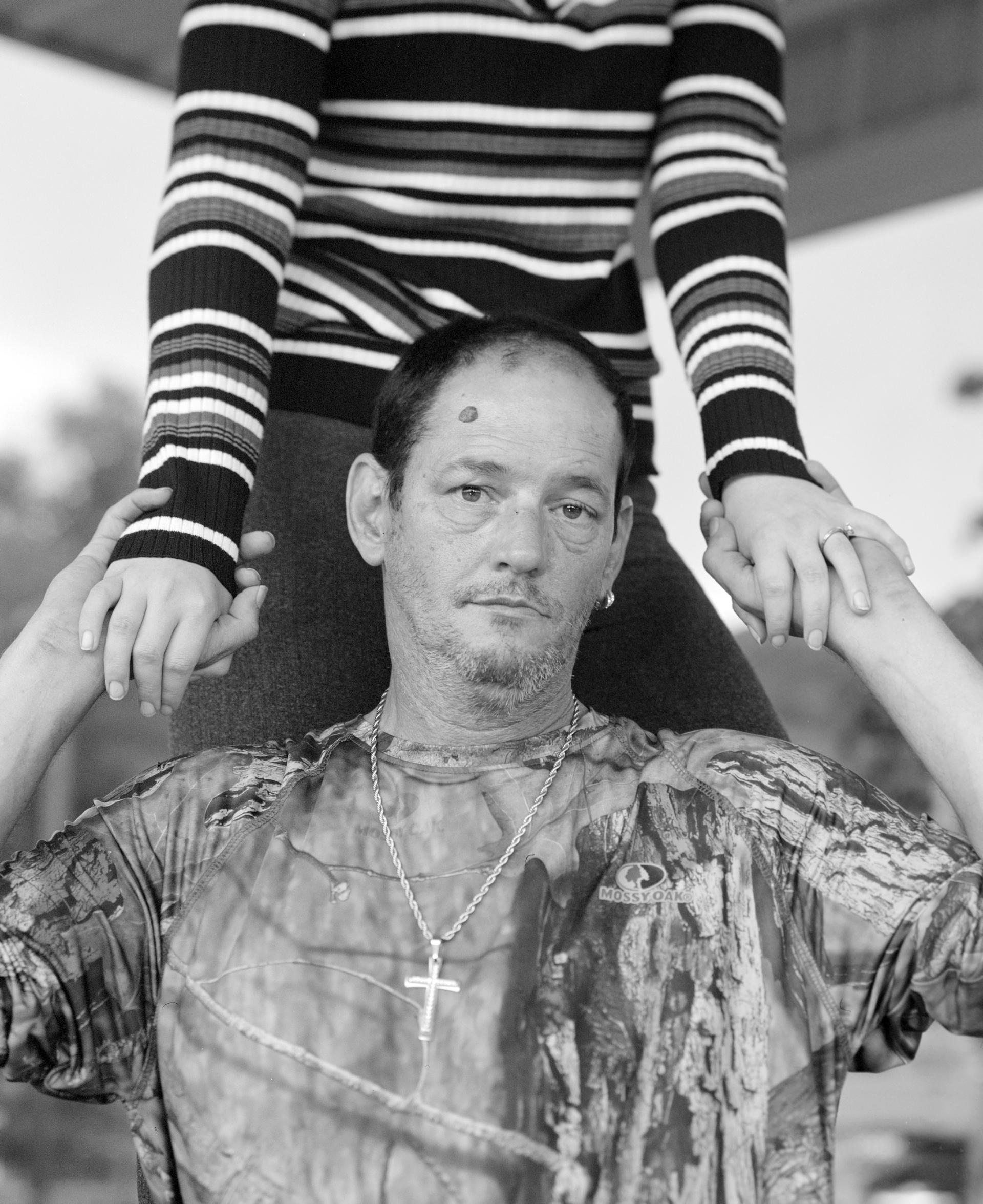 Image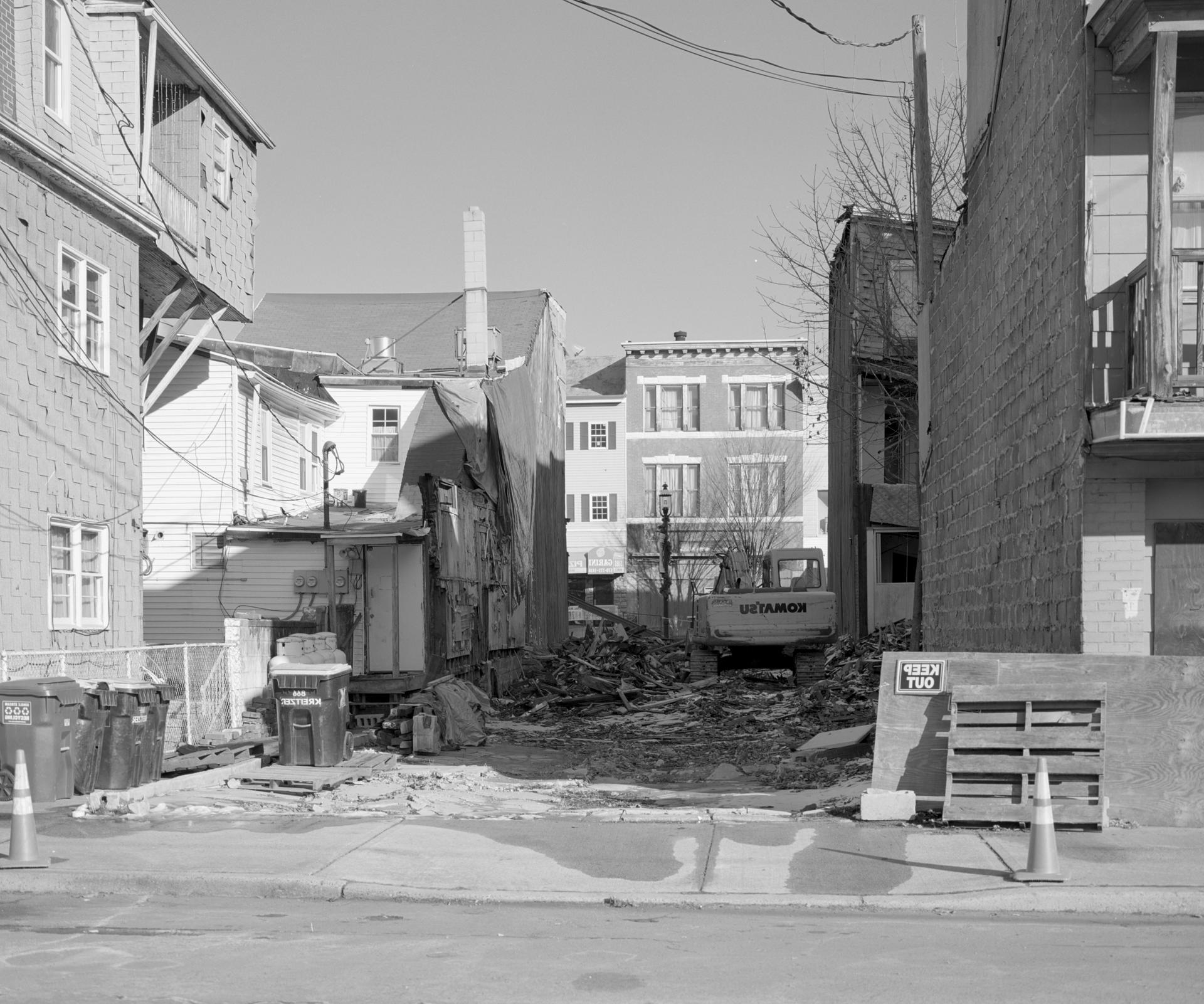 Image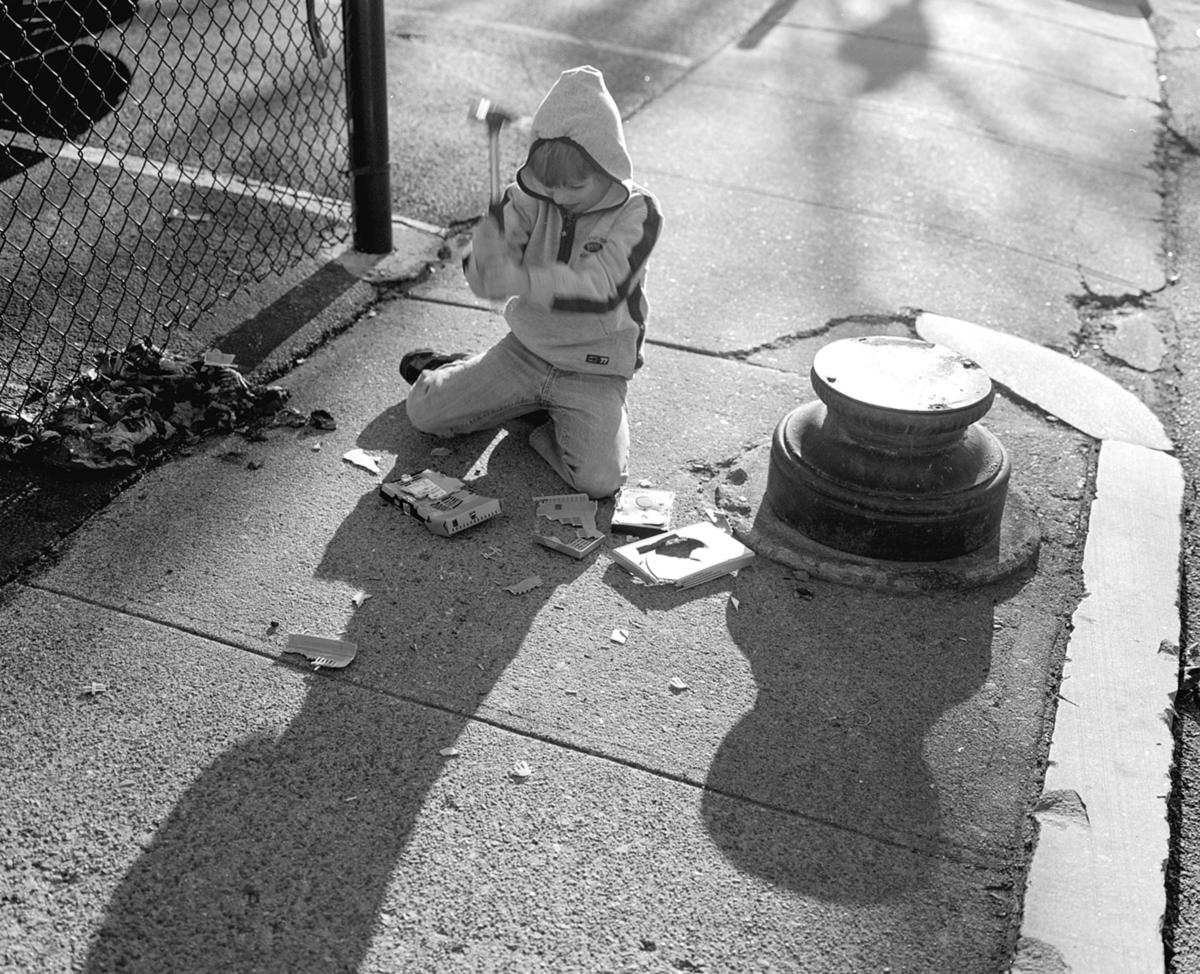 Image
Image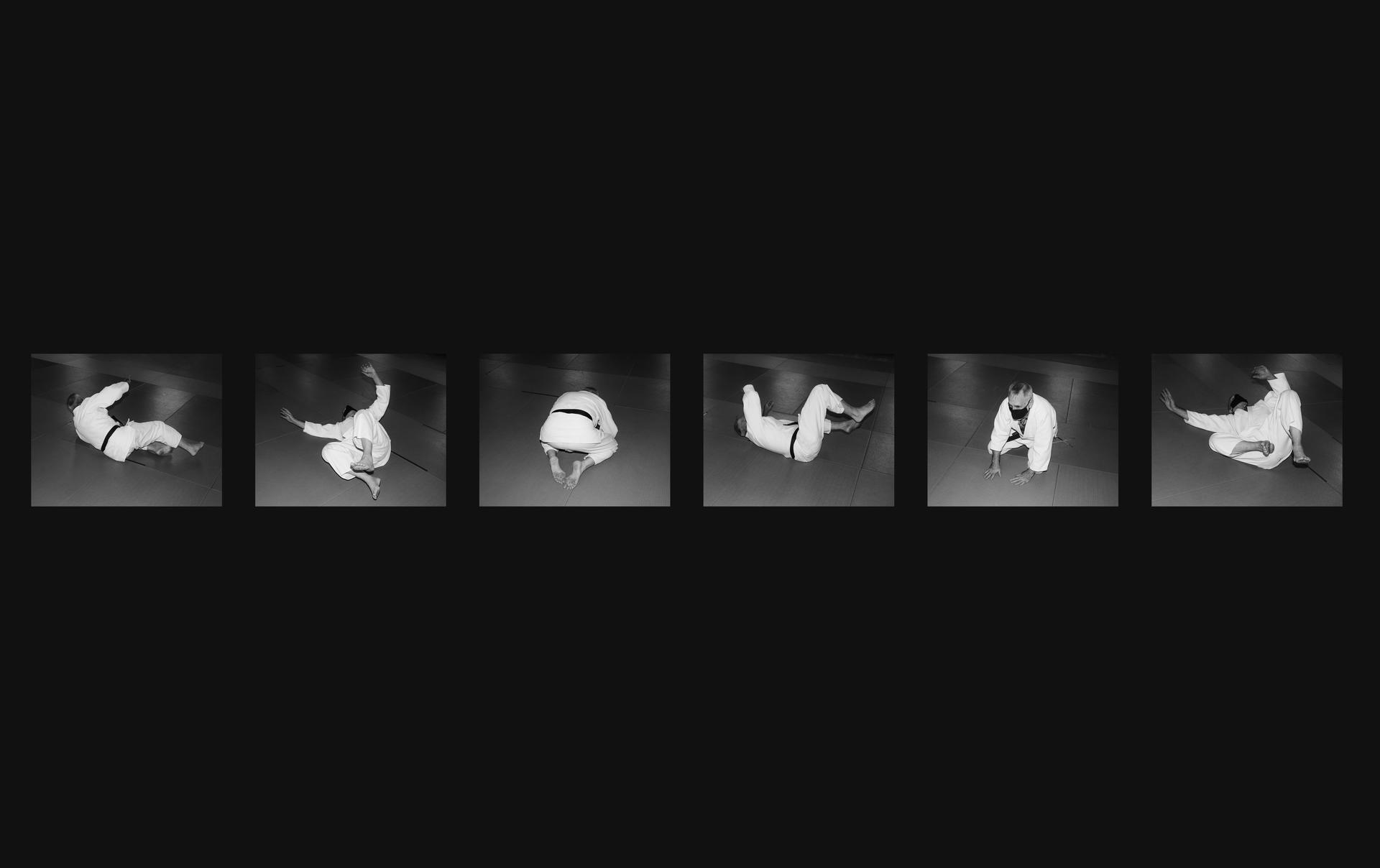 Image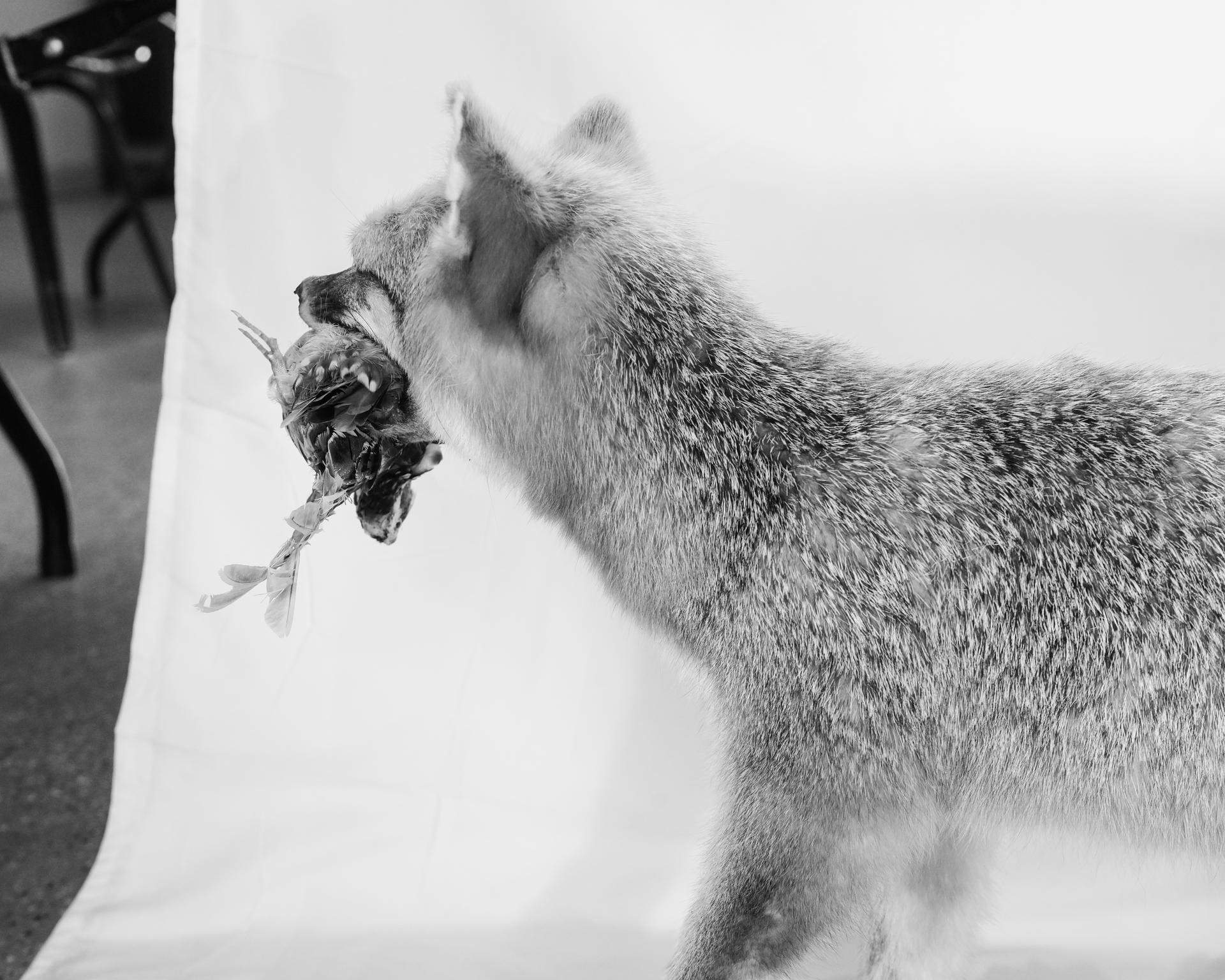 Image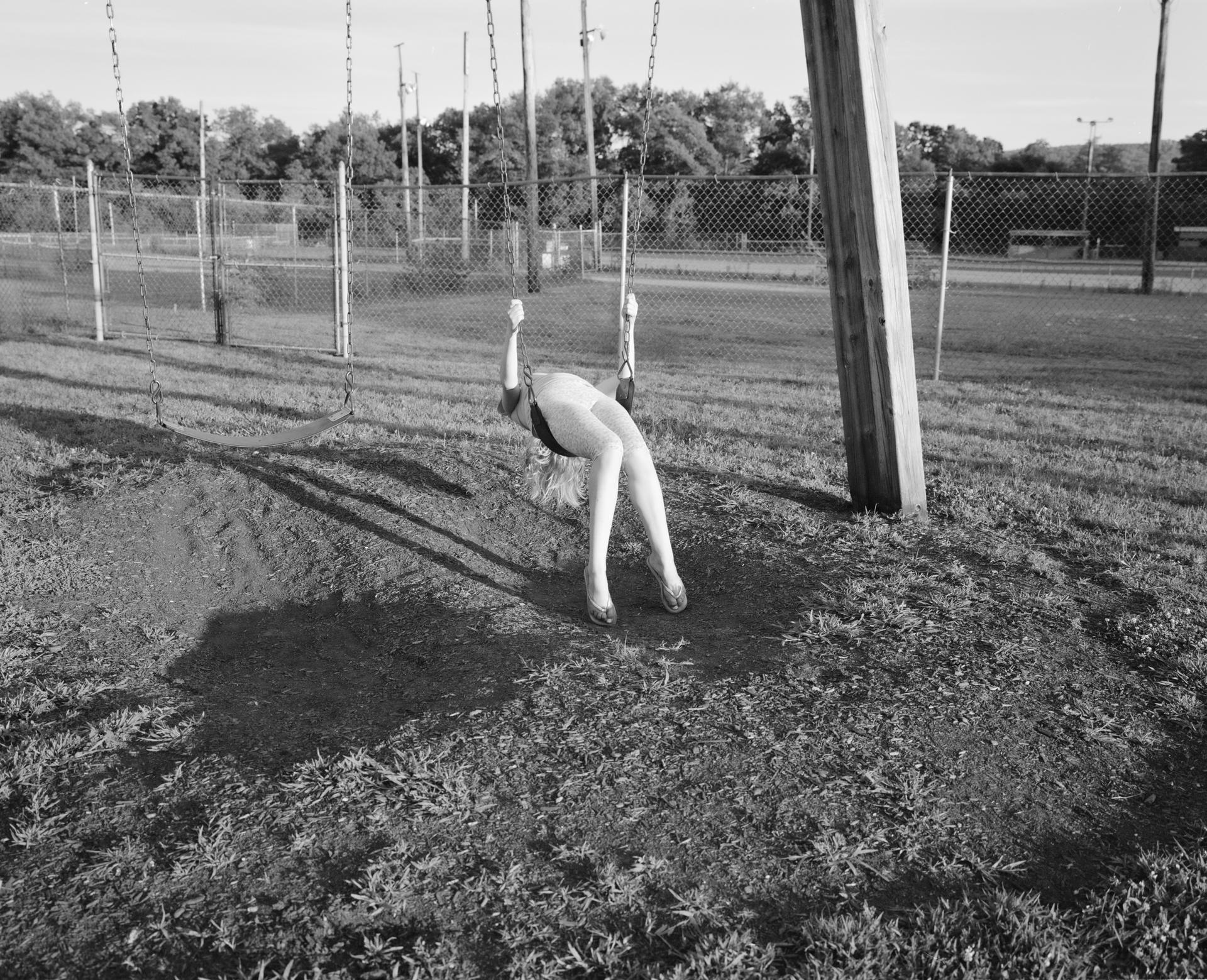 Image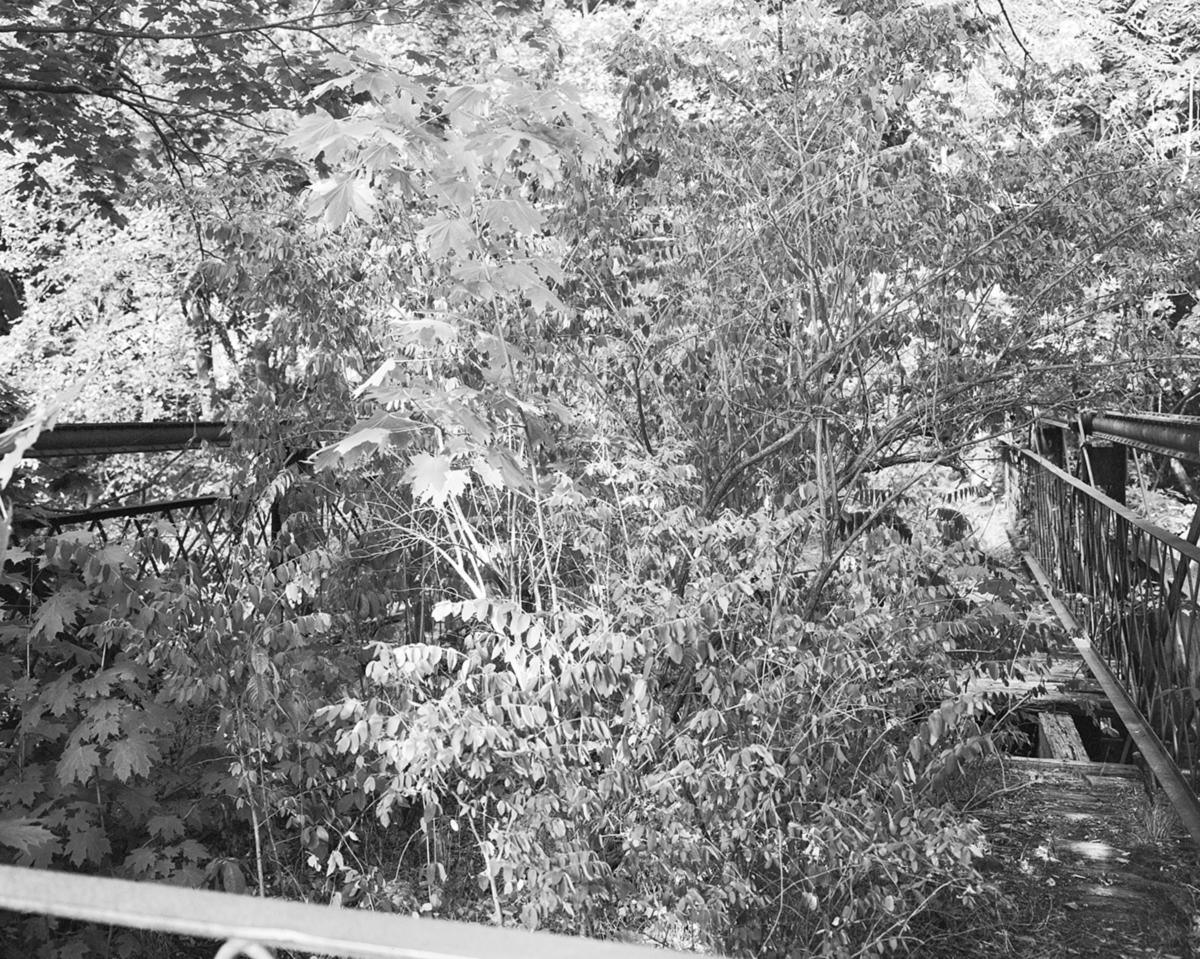 Image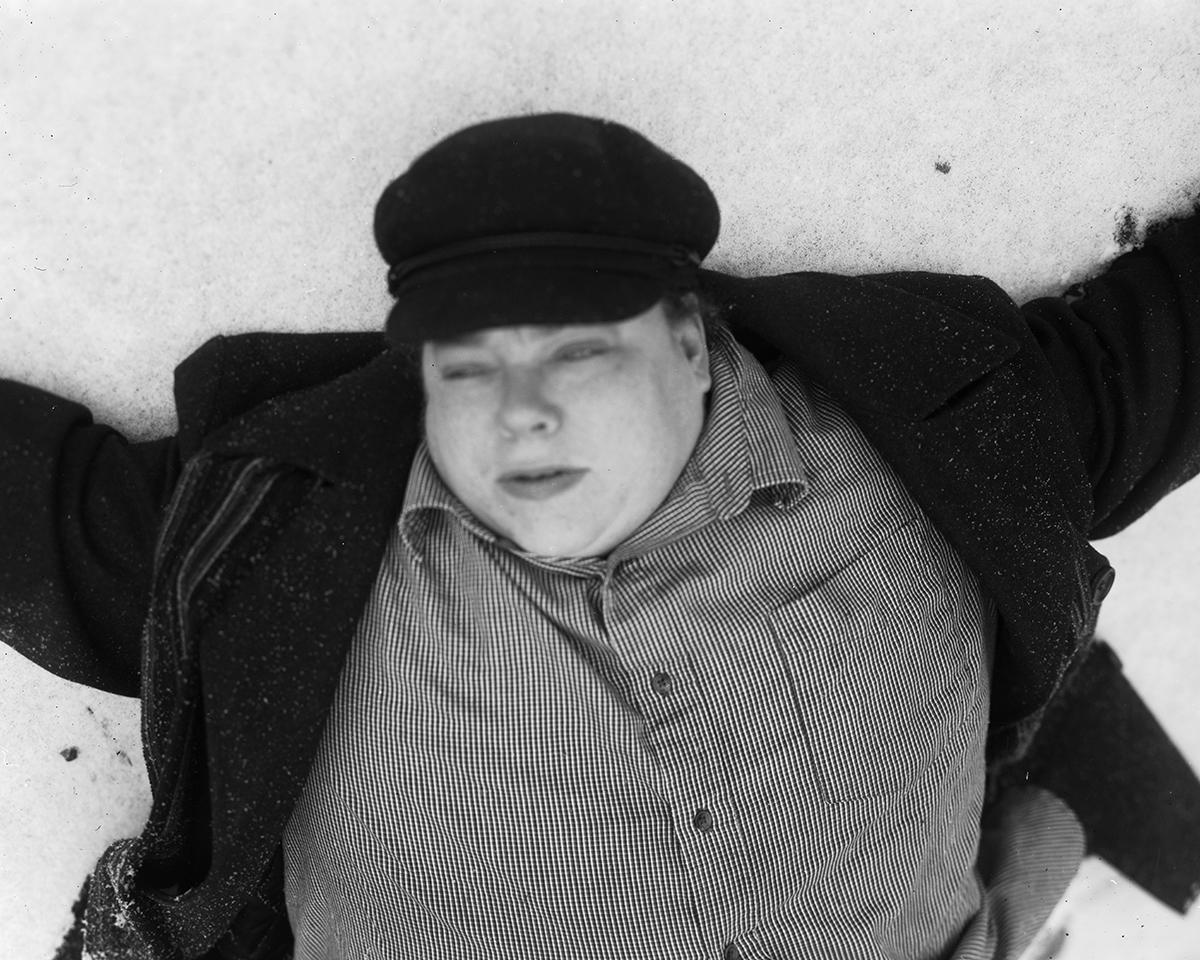 Image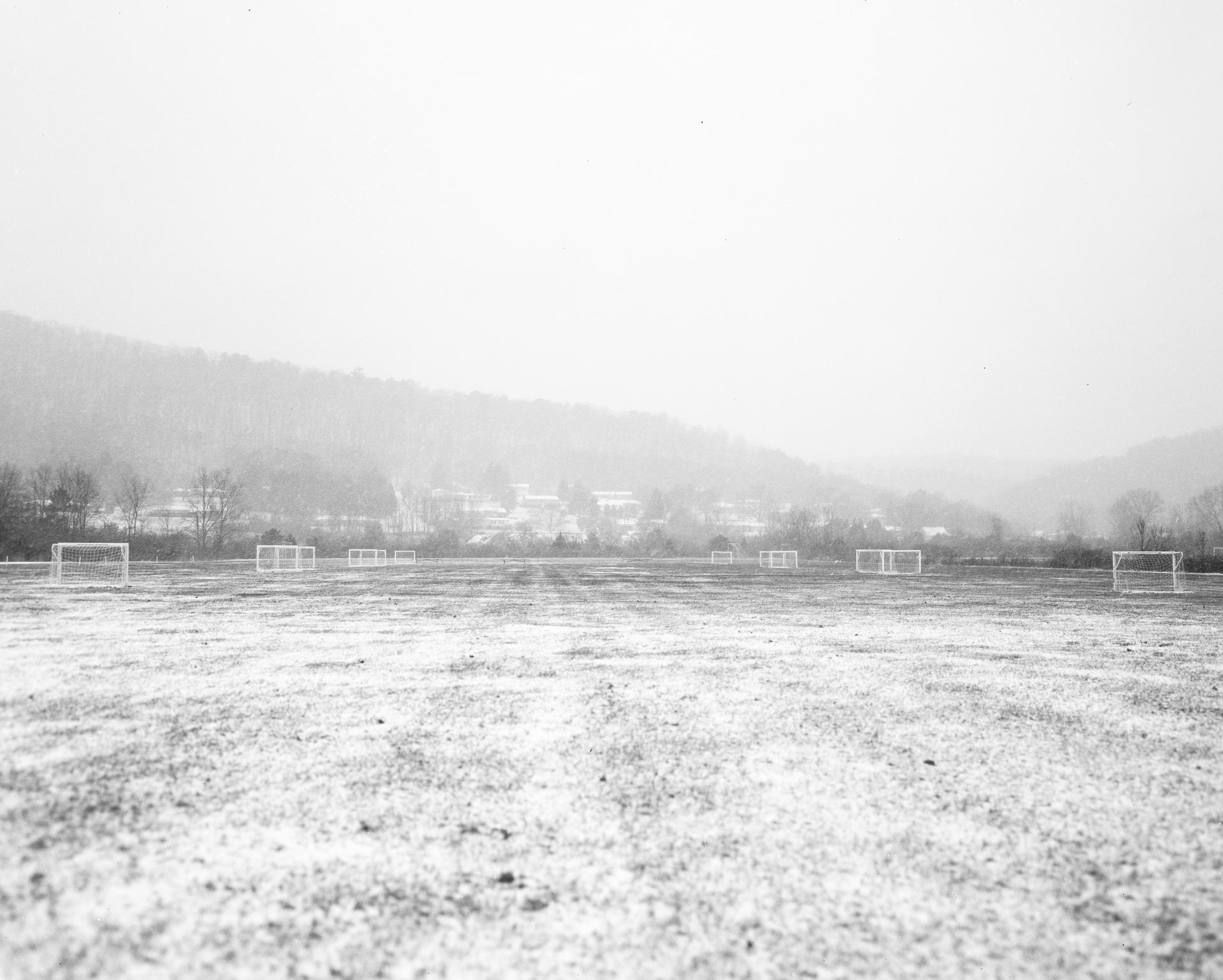 [Image List in installation view]
1. Kloey and Bruce, Archival Pigment Print, Metal Frame, 20 x 16 inches
2. Untitled, Archival Pigment Print, Metal Frame, 31 x 25 inches
3. Untitled, Archival Pigment Print, Metal Frame, 17 x 14 inches
4. M is Bending, Archival Pigment Print, Metal Frame, 10 x 8 inches
5. Untitled (children's bike in Acid Mine drainage), Archival Pigment Print, 2x3 inches
6. A Study of Light, Archival Pigment Print, Metal Frame, 8 x10 inches
7. Cyber Security, Archival Pigment Print, 5 x 4 inches
8. Untitled (newsprint), newsprint, coal dust, 18 x 24 inches
Image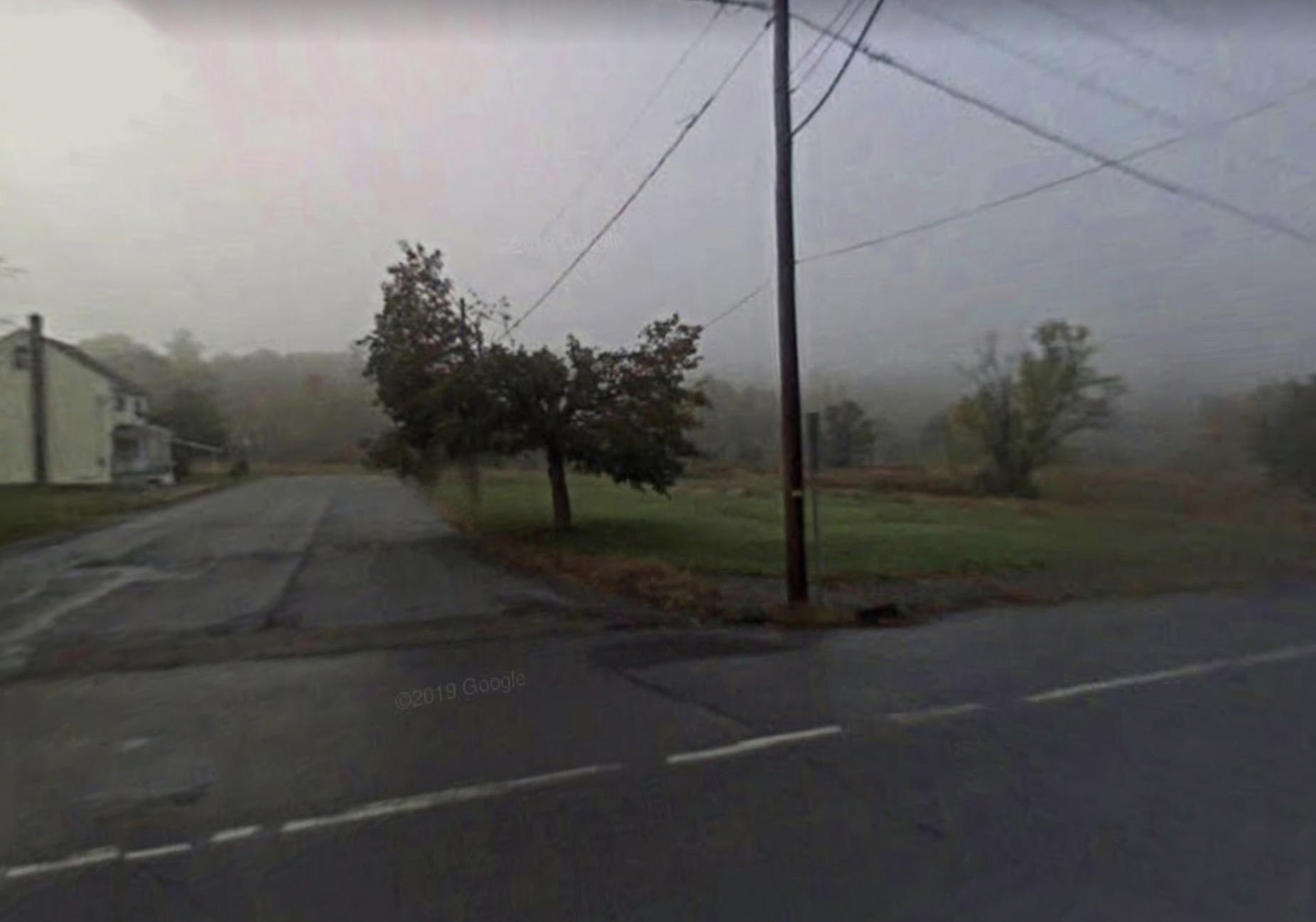 Above: Centre St, Centralia, google street view, 2019
Among all the coal towns I have been to, I was particularly attracted by Centralia, a former coal town that is currently a ghost town. By the 1960s, people had left because of its serious underground mine fire in the complex and involuted tunnels of former coal mines. It is said that this fire first started due to a fire at a giant landfill near the entrance of a coal tunnel. The tunnels, as seen from the map, make up an underground kingdom of mine that is about the same size of the town itself. 
When the fire got spread into the tunnels, Centralia's land was turned into a "breathing organ". Underneath it, the mine fires generate warm steams that leak through the cracks and arrive above the ground.
Image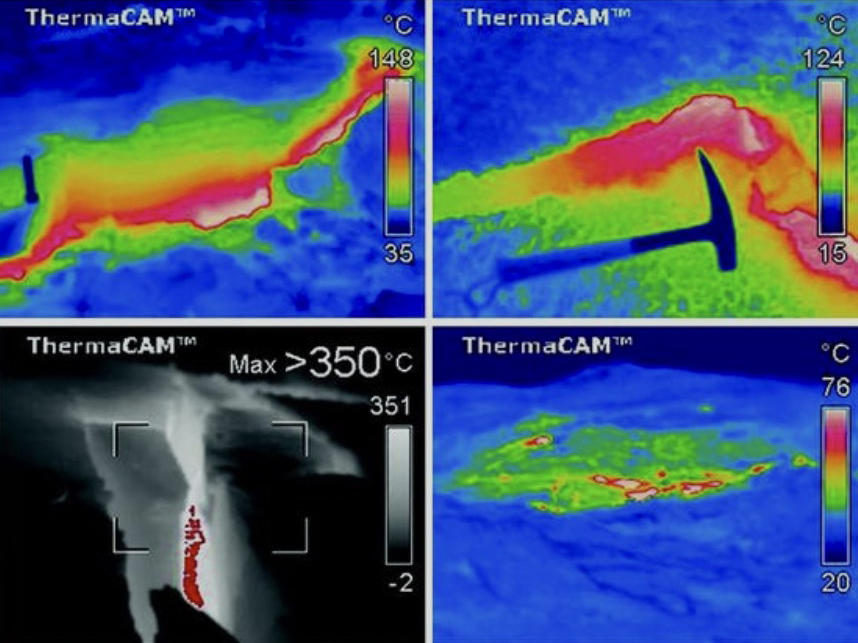 Above: Thermal Infrared Remote Sensing of Surface and Underground Coal Fires of Centralia
Breathing

呼吸
6-channel sound installation, 14min17sec, stereo

pure data, computer, audio recorder, Teensy LC, Adafruit temperature sensor, electrical wires, breadboard
Image
Map of Centralia's underground tunnel
Image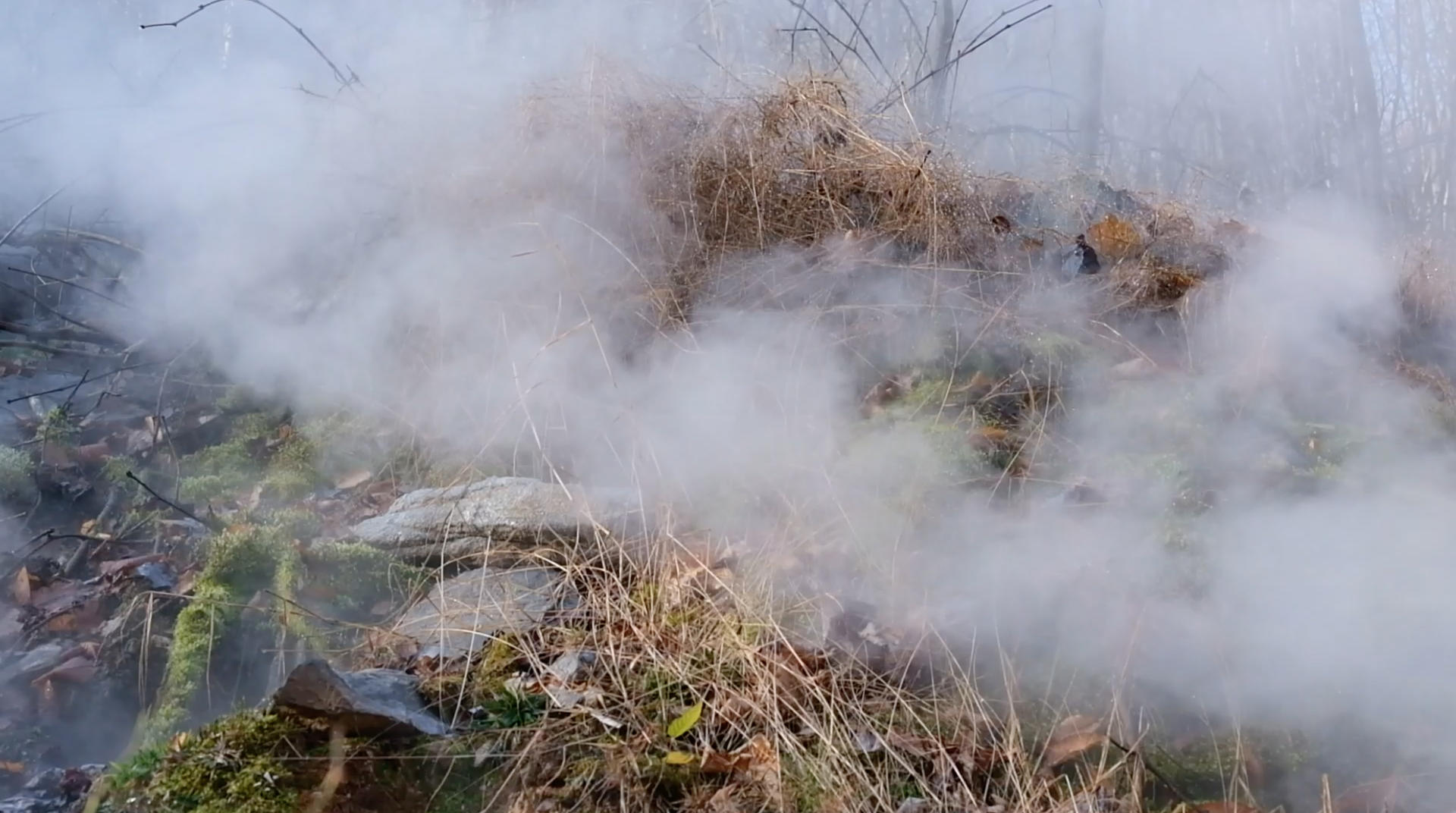 Image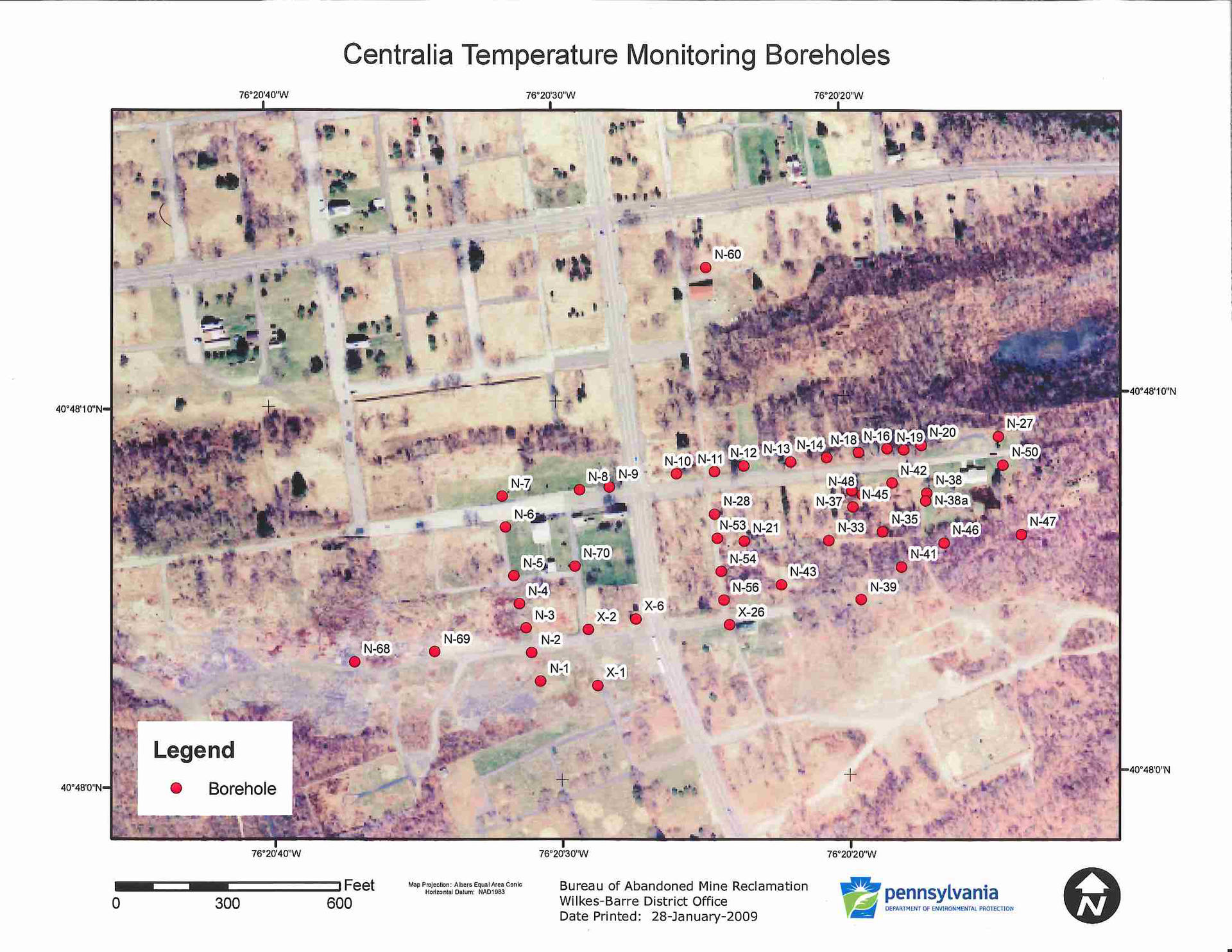 Above: left -- steam coming from the borehole; right -- map of Centralia's boreholes
Image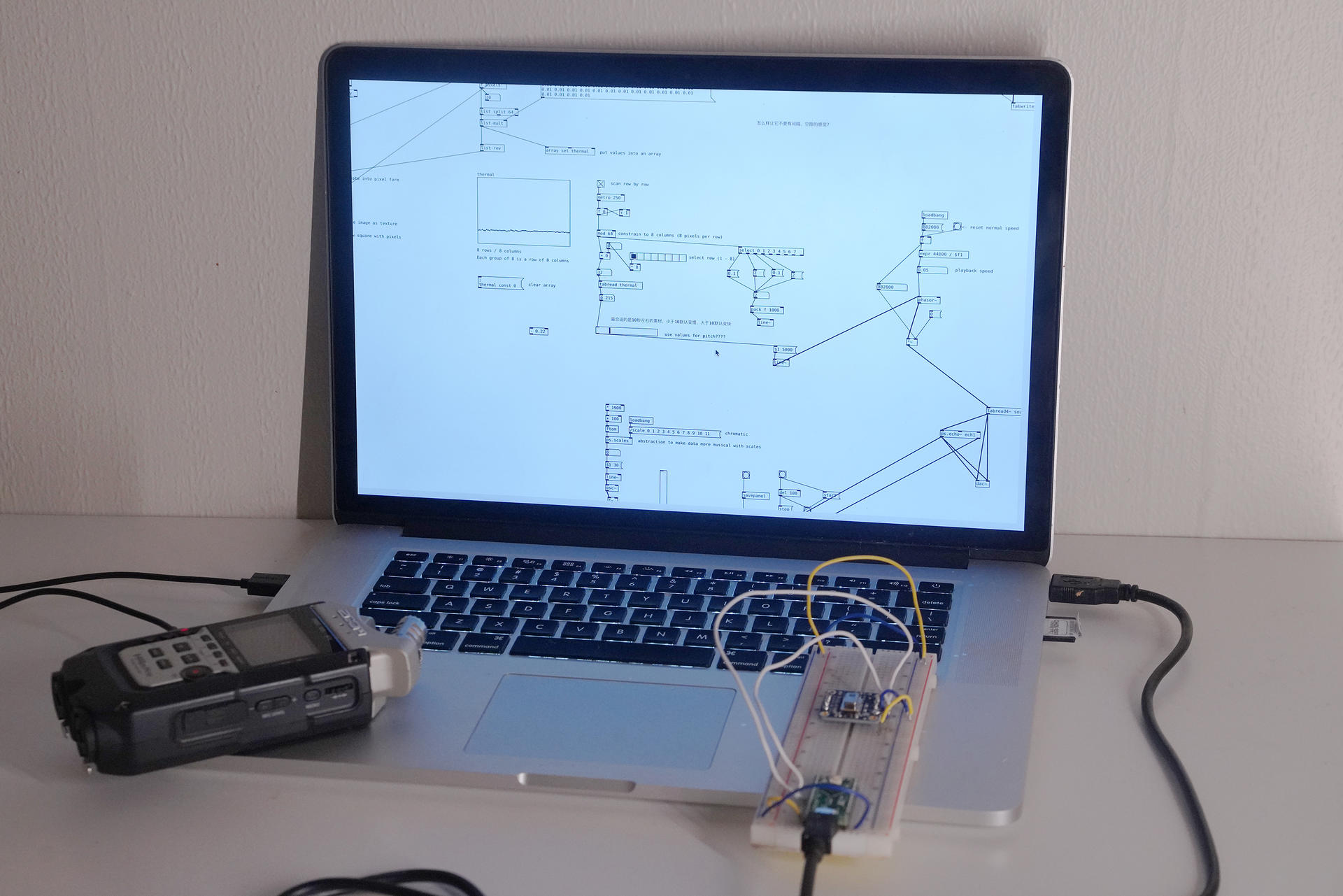 I built my own modulation system: one that collects sounds from the holes, cracks and underground shafts, and then uses its sensor to modulate the pitch of the sounds according to the thermal readings picked up from the sounds' own locations.
Through this "synaesthetic" process, we are able to "hear" the warmth of Mother Earth's inhales and exhales.
Image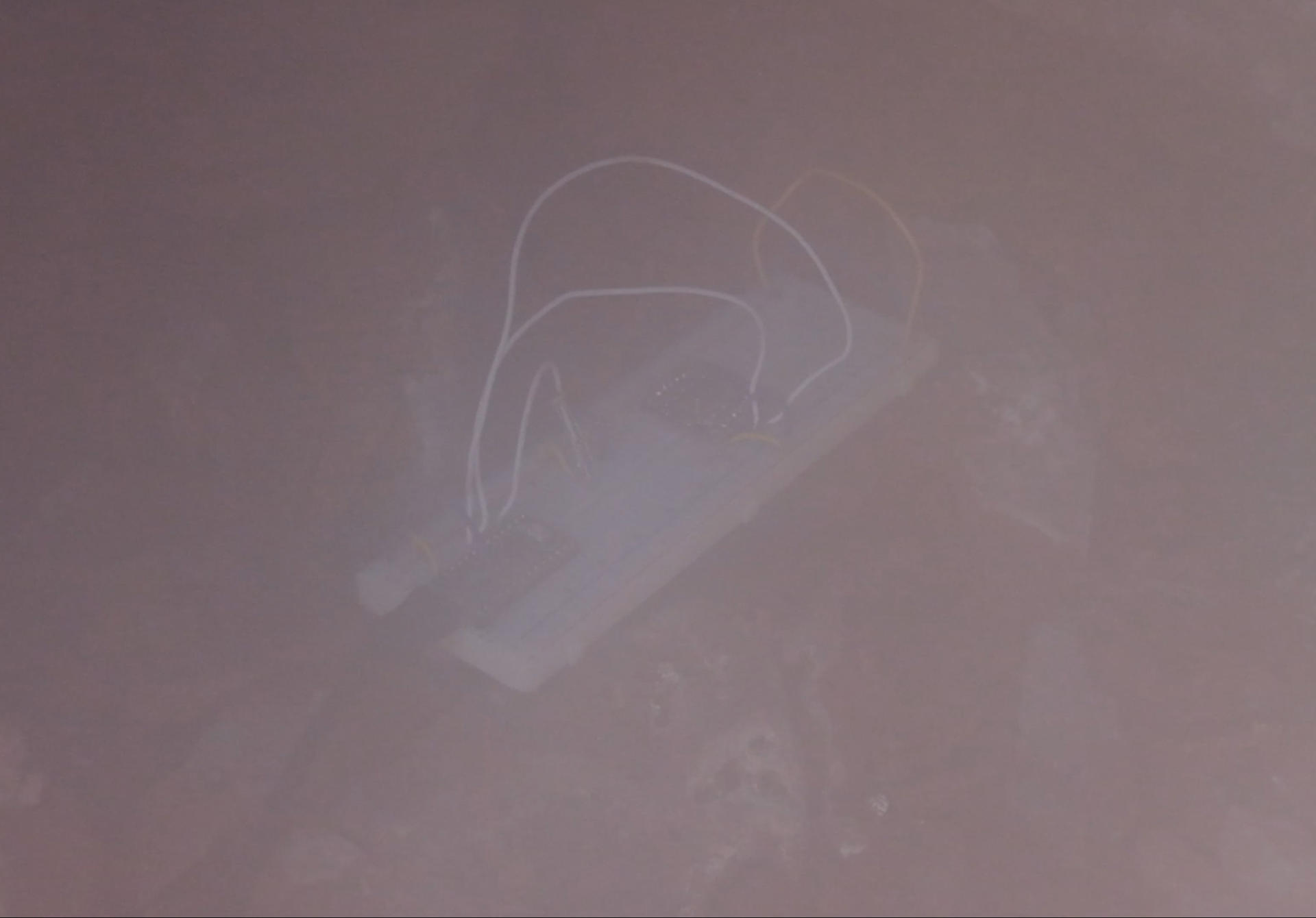 *click to watch the video illustration of the making process ↓
*click to hear the combined sound tracks →
In her essay The Carrier Bag Theory of Fiction, the science-fiction writer Ursula K. LeGuin notes that technology, especially modern technology, has been piercing the world with its powerful, "big, long, hard thing." LeGuin then introduces another way of looking at our world and the beginning of human civilization – to see it from the perspective of a container, a recipient and a beholder of the world. The tunnels underground are one of this penetrating activities. However, it is only because of the disaster which ceased this penetrative activity, that the mine shafts and the tunnels became empty and hollow. They are now turned into bags or rather, actual carriers of the air. The underground structure as a carrier bag (a pipe-like musical instrument) makes possible my sound piece.
Image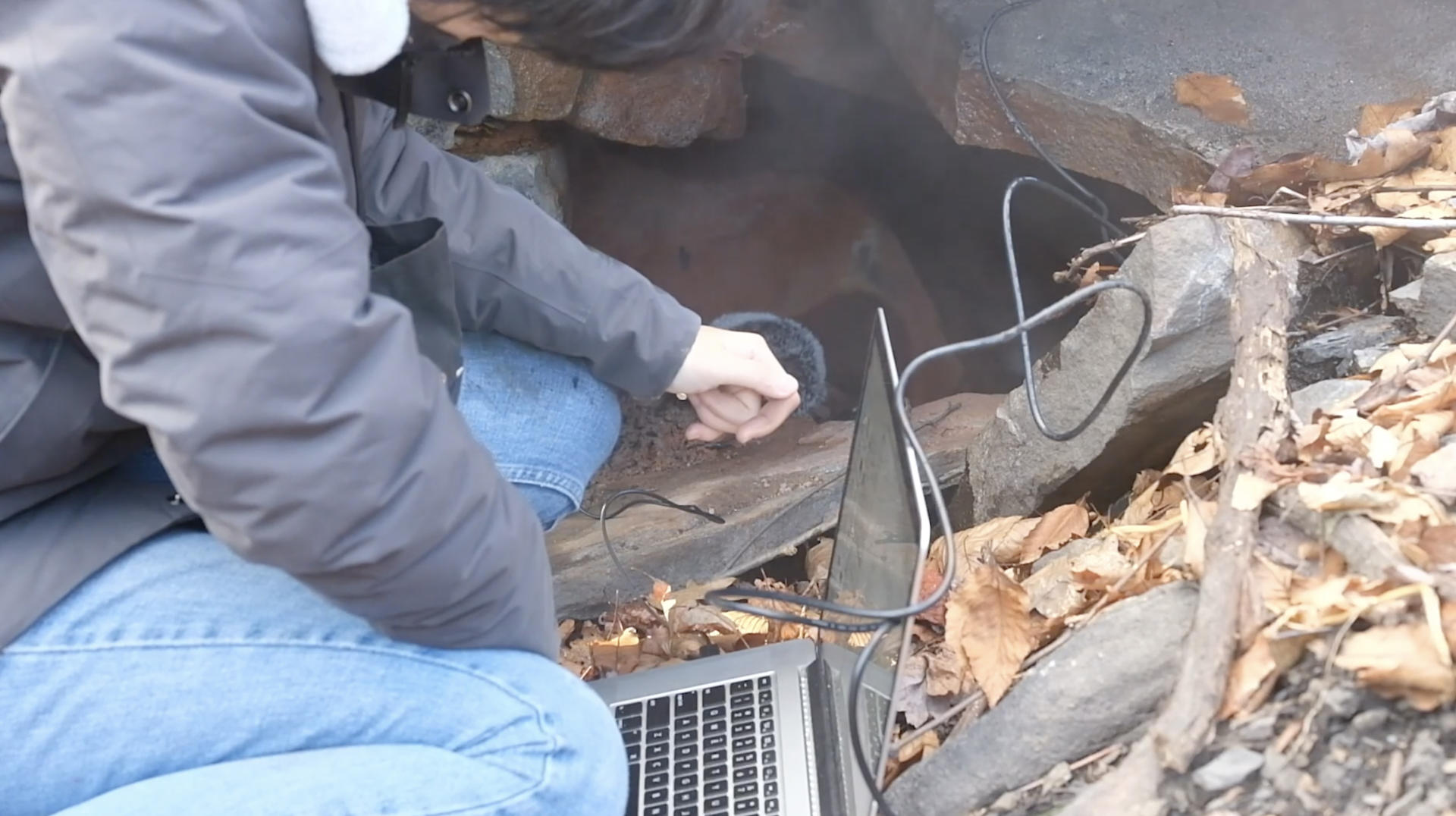 Image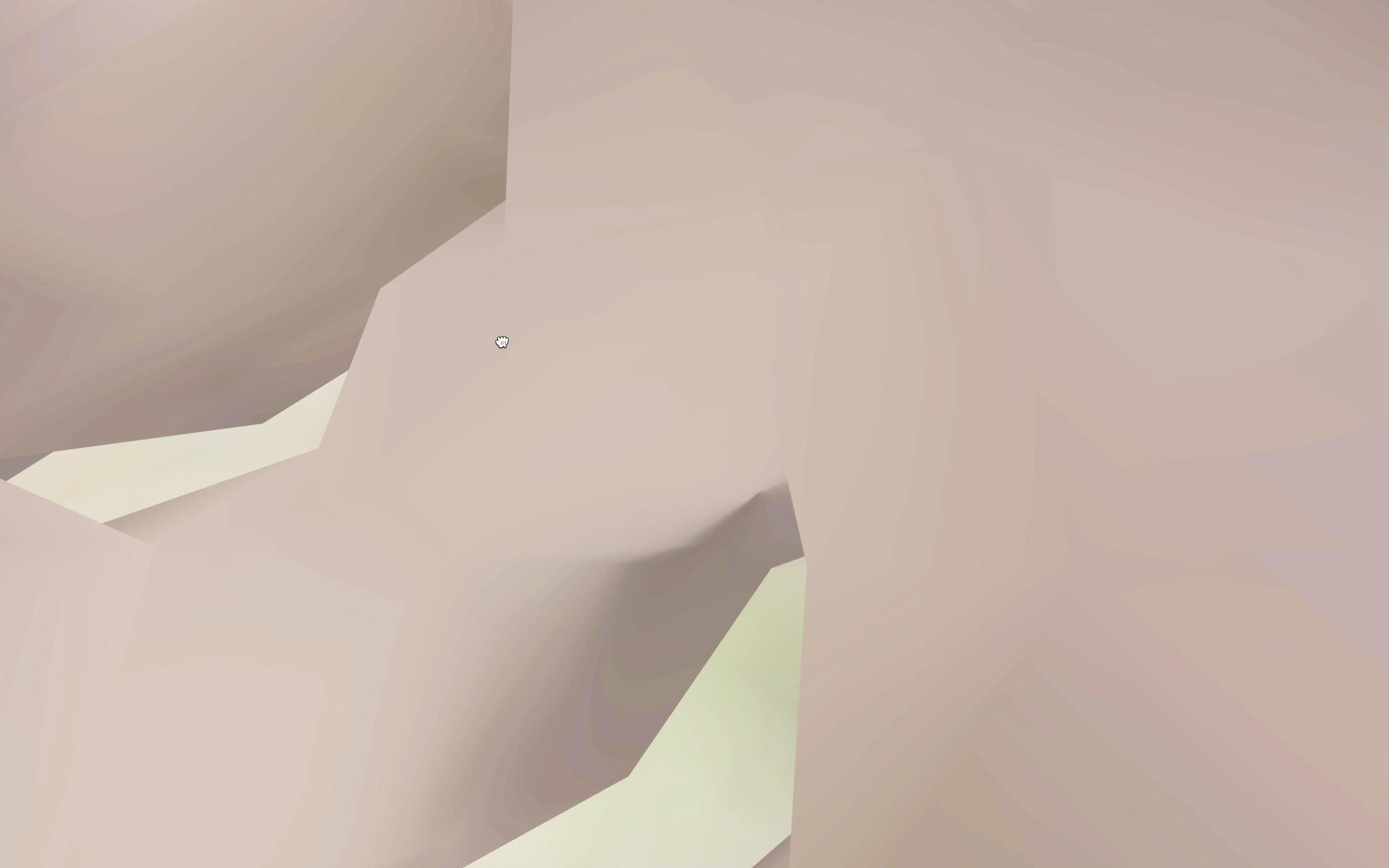 In Geology of Media, Jussi Parikka cites an uncanny 1928 story by Arthur Conan Doyle called "When the World Screamed." In the story, a professor, Challenger, is engaged in a secret drilling operation down to the earth. He built shafts and drilled deeper and deeper through the Earth's crust until he found a hot core layer where the Earth pulsates like an animal. The scene that unfolds resembles a rape, where Professor Challenger decides to penetrate this vibrative layer with his driller. He then hears the earth scream as it is penetrated.
The underground, in myth and history, is both a realm of infrastructure and hidden labor, as well as where the romantic imagination of the hell happens.
*background: 3d scanned image of Centralia's borehole
Image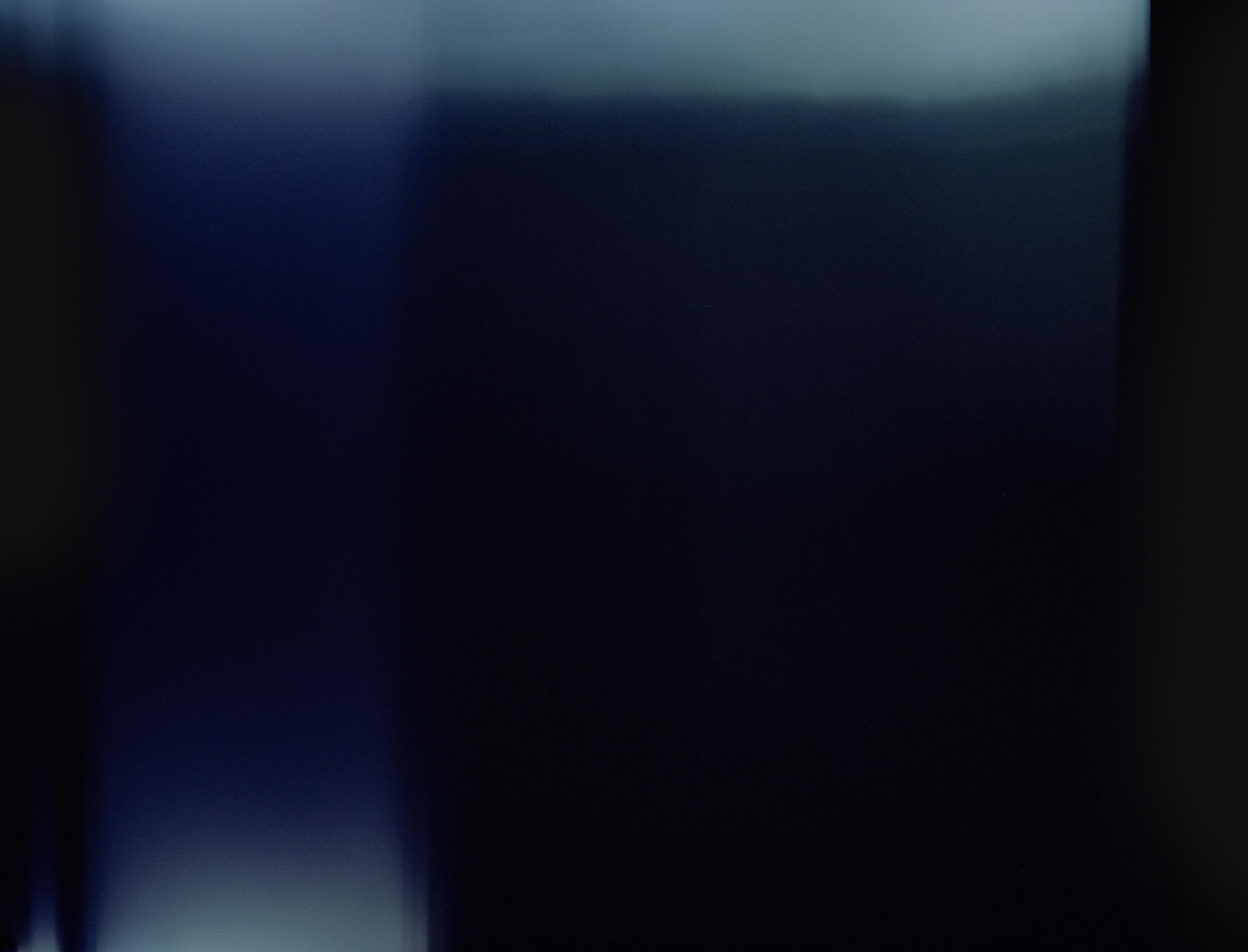 Acknowledgement
Thank you to each person in the coal mining area who let me take their photograph: Kloey, Bruce, Francis D, M, Fawn, Izzy, Wolffy, Kevin, Chrystal, John and Melissa.
Thank you, to the Yasenchak family, Alex McFarland, Justin Skavery and all the local people in the mining area for acting and helping me complete the project. I can never achieve this without you.
Thank you to the people who helped me complete my thesis project: Mr. Don Rosini and his family, Ms. Kathy Vetovich, Shamokin News Item (especially Becky who interviewed me), Emily and the Bamse Coffee,
Thank you to Mark Stansberry, the great animator and my best friend in the coal area. Thank you for all of your kindness and trust.
Thank you to Alex Strada, who I learnt so much from. Thank you for being so encouraging, inspiring, generous, and kind.
Thank you to Jinying Li for the depth of your insight and your warm feedbacks. Your class will be my all time inspiration for art creation.
Thank you to Steve Smith who has given me so much courage, inspiration and confidence along the way.
Thank you to Laurel Nakadate for your individualized support and care.
Thank you to Brian Ulrich and Stanley Wolukau-Wanambwa for believing in what I do. Thank you to those friends who are honest and true to me at RISD.
Thank you to Lucas Blalock, Sharon Lockhart, Nandita Raman and Paul Pfeiffer for your constructive feedbacks and pushing my work forward. 
Thank you for inspiring me
André Bazin. What Is Cinema?
Andrey Tarkovsky. Stalker.
Bruno Latour. We Have Never Been Modern.
Apichatpong Weerasethakul. Phantoms of Nabua; Mobile Men; Uncle Boonmee Who Can Recall His Past Lives.
Chantal Akerman. Jeanne Dielman.
Francis Alÿs and his various works.
François Truffaut. The 400 Blows.
Federico Fellini. Eight and a Half.
Gilles Deleuze. Cinema 1 and 2; The Logic of Sense.
Gustav Deutsch. Film ist. 1-6.
Guy Debord. The Society of the Spectacle.
Ingmar Bergman. Persona. Wild Strawberries. Fanny and Alexander.
Jacques Derrida. Specters of Marx; Memoires: for Paul de Man.
Jacques Lacan. Anamorphosis.
Jan Svankmajer. Neco z Alenky.
Jean Baudrillard. The Gulf War Did Not Take Place; The Consumer Society: Myths and Structures
John Durham Peters. The Marvelous Clouds: Toward a Philosophy of Elemental Media.
Jussi Parikka. A Geology of Media.
Kader Attia and his various works.
LaToya Ruby Frazier. LaToya Ruby Frazier: the Notion of Family.
Laura Mulvey. Death 24x a Second: Stillness and the Moving Image.
Lieko Shiga. Human Spring; Rasen Kaigan.
Luis Buñuel and his various films.
Peter Greenaway and his various films.
Sigmund Freud. Interpretation of Dreams: the Psychology Classic.
Teresa Brennan. Exhausting Modernity.
Ursula K. LeGuin. The Carrier Bag Theory of Fiction.
Vilém Flusser and his various books.
Vivian Sobchack. Carnal Thoughts: Embodiment and Moving Image Culture.
Zhang Peili and his various works.