Caroline Lippincott
The Fetish of Forever: Objects in Transformation
Traces and marks left behind tell the stories of buildings and their materials. Remnants of the past remain, while new construction is layered on top, creating a kind of palimpsest. Artifacts of material time - rust, erosion, growth - are inevitable, yet often feared. Typically in search of longevity, architects gravitate toward materials and finishes that promise durability. My work questions some of the assumptions we have about material quality as a function of time. Through experimental artifacts, this thesis reorients our perceptions of time's effects on the built and natural environments, and introduces a new and expanded time scale. Perhaps permanence is found when we learn to expect the unexpected and work with - rather than against - time and impending deterioration. 
Image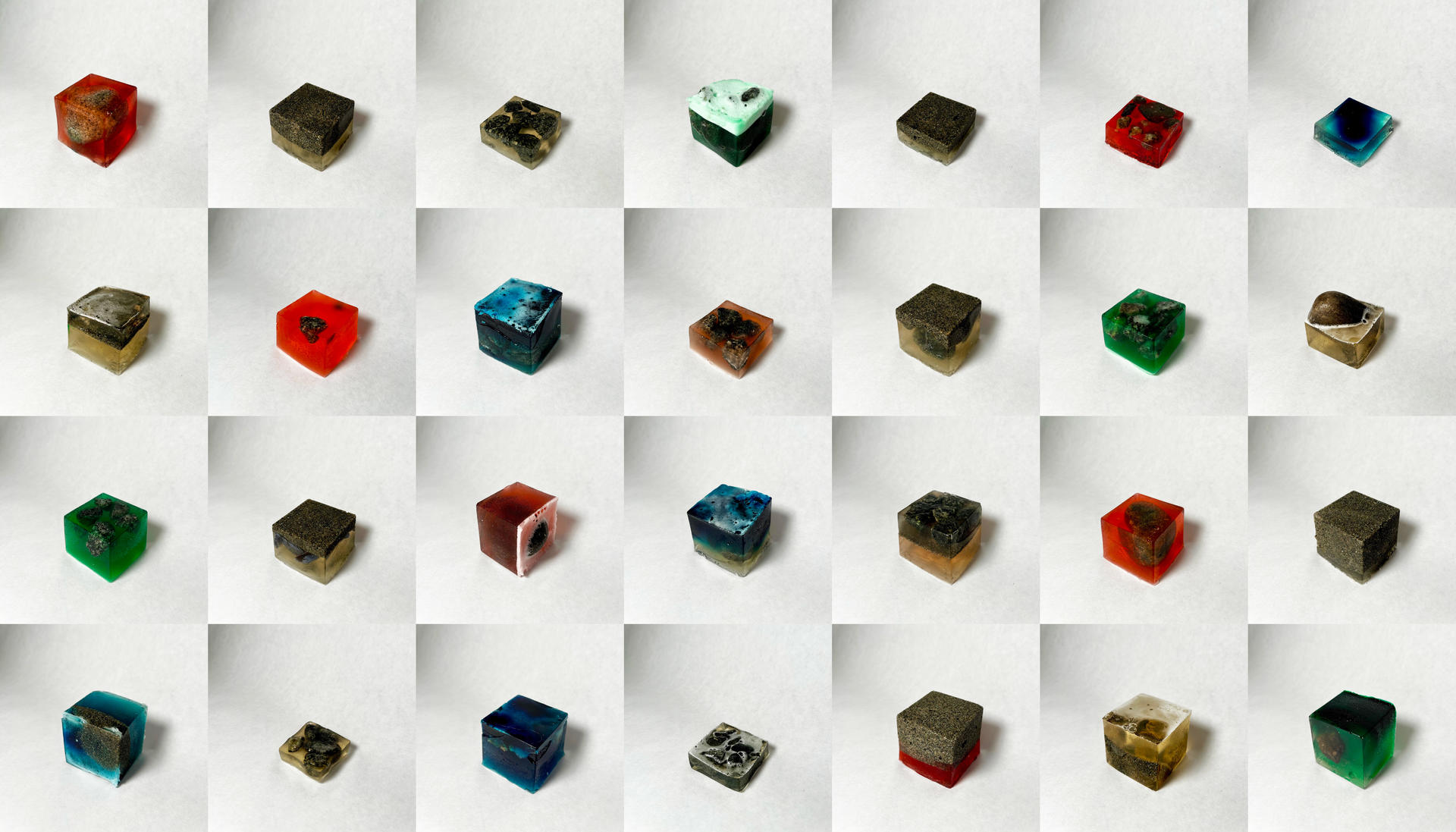 Collection of Bioplastic Cubes with Rock and Sand Aggregate
Gelatin, Glycerin, Water, Aggregate
2"x2"x2"
2022
Blending materials thought of as permanent and impermanent, I try to understand what happens when the impermanent element vanishes. How does the permanent exist without the impermanent?
Image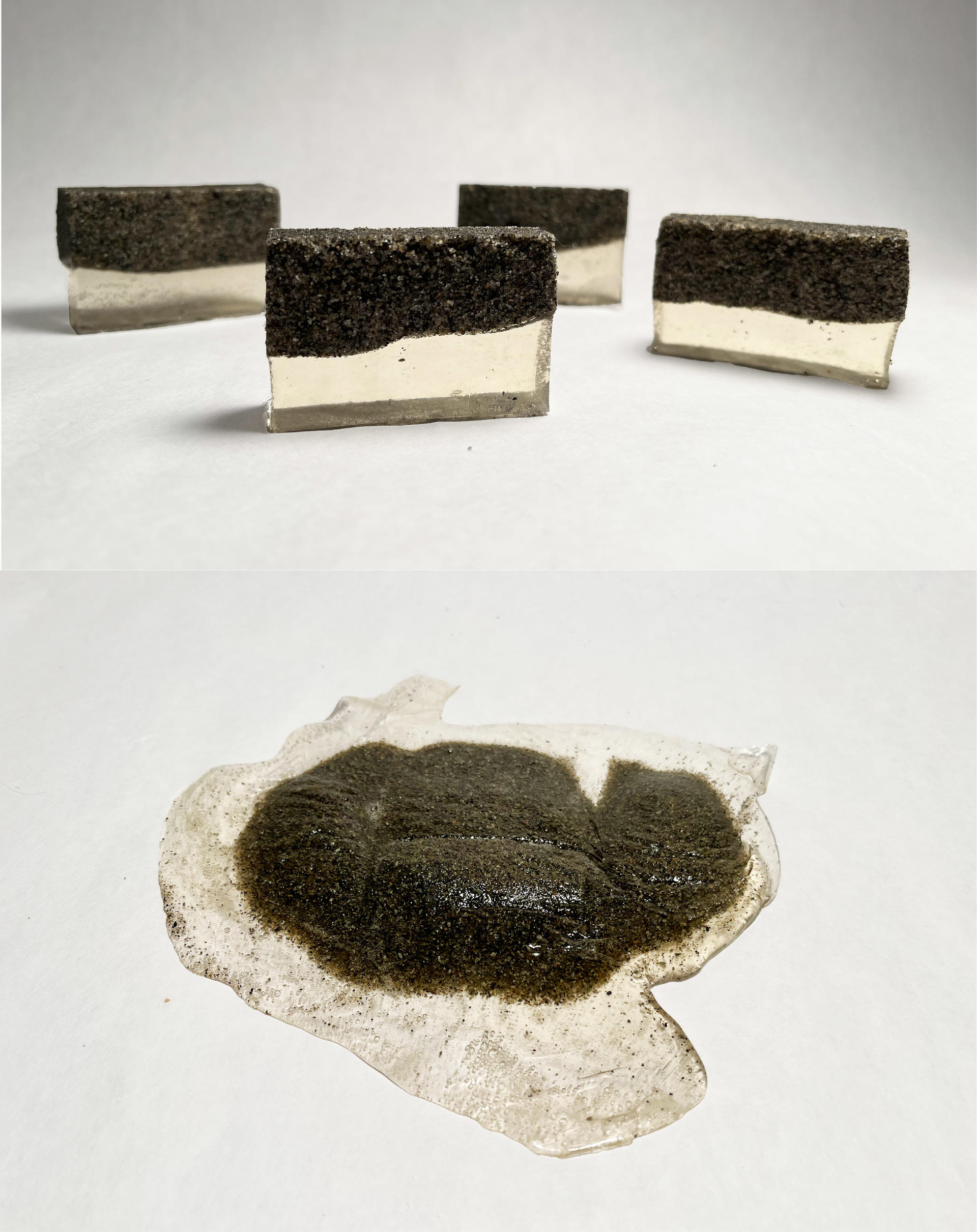 Melted Bioplastic Cubes
Gelatin, Glycerin, Water, Aggregate
2022
The cubes are also thermoplastics meaning that their properties change under certain temperature conditions. As shown above, when exposed to intense heat, the bioplastics melt. On the other hand, when exposed to colder temperatures, the bioplastic hardens and becomes more brittle.
Image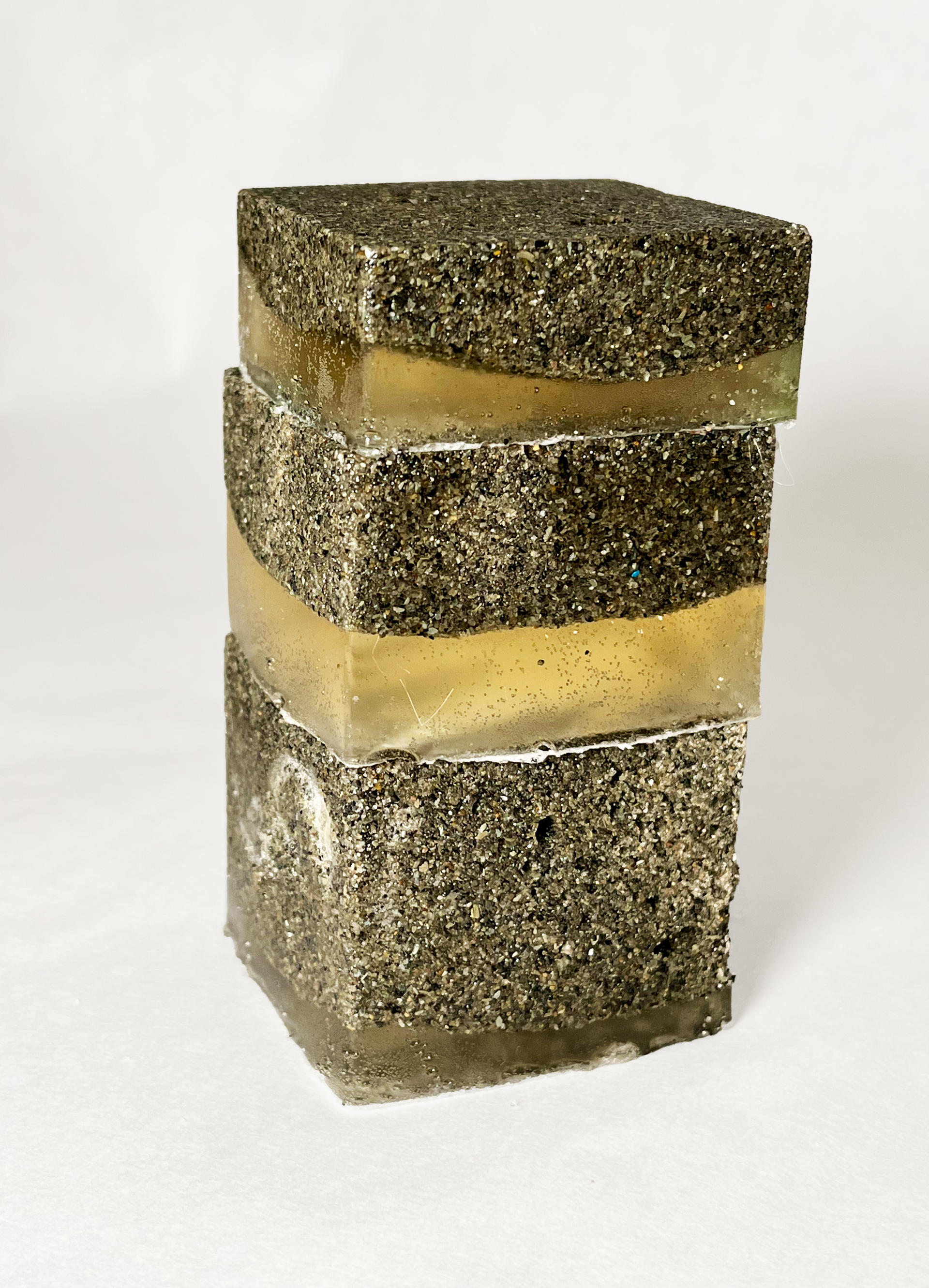 Stacked Bioplastic Cubes
Gelatin, Glycerin, Water, Aggregate
2022
Next, I will be stacking and configuring the cubes on the beach where most of their sand and rock aggregate came from. After some time, the gelatin base will wash away, and all that will be left are the rocks and sand. How can we arrange these pieces so that the remnants fall in an impactful assemblage?
Image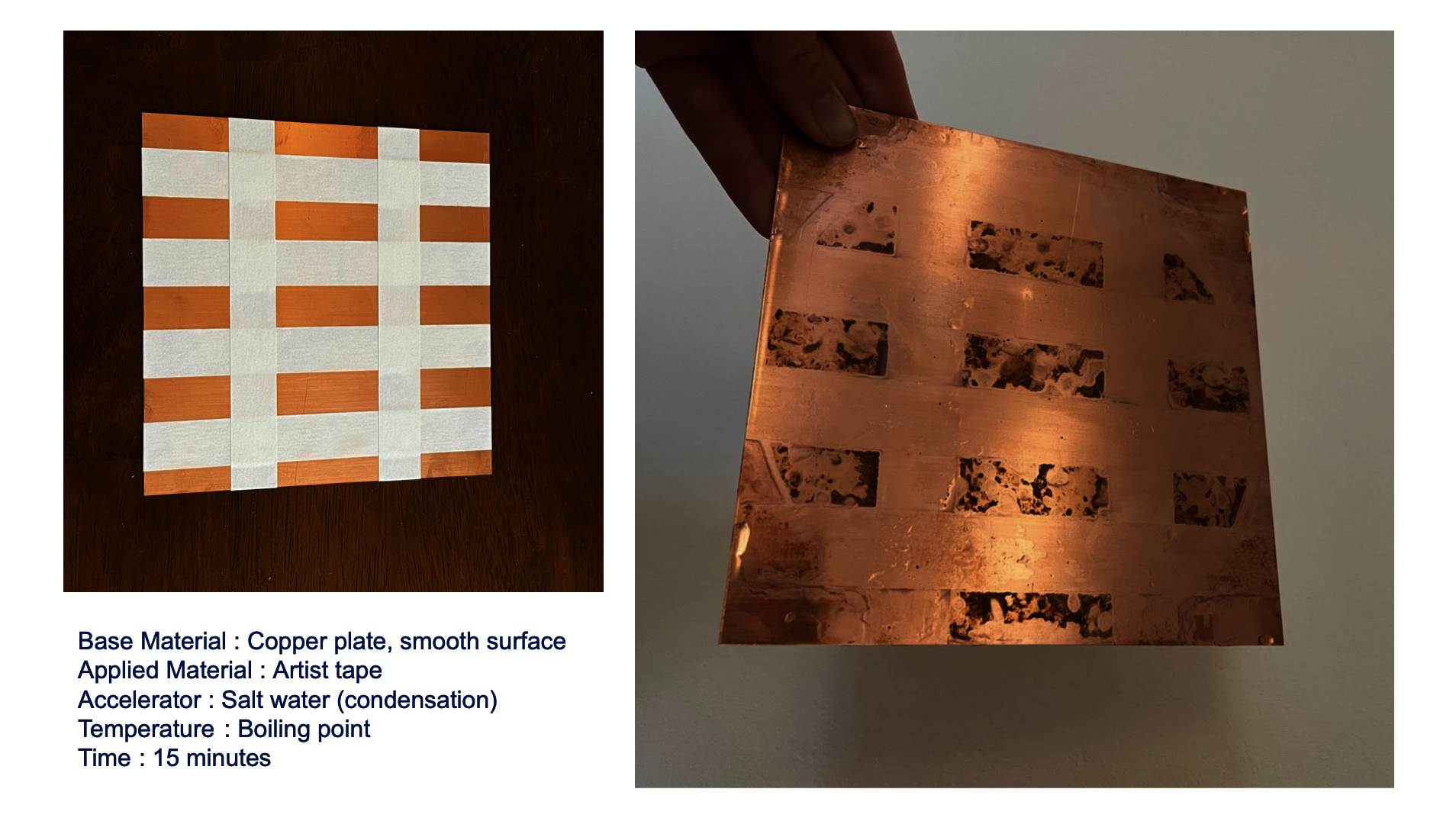 Drawing with Rust
Copper
6"x6"
2022
I am trying to manifest what intentional decay can look like in regard to architectural representation. How can we manipulate a material and the factors that lead to its degradation and turn it into a new way of seeing? How controllable is the process of decay?
Image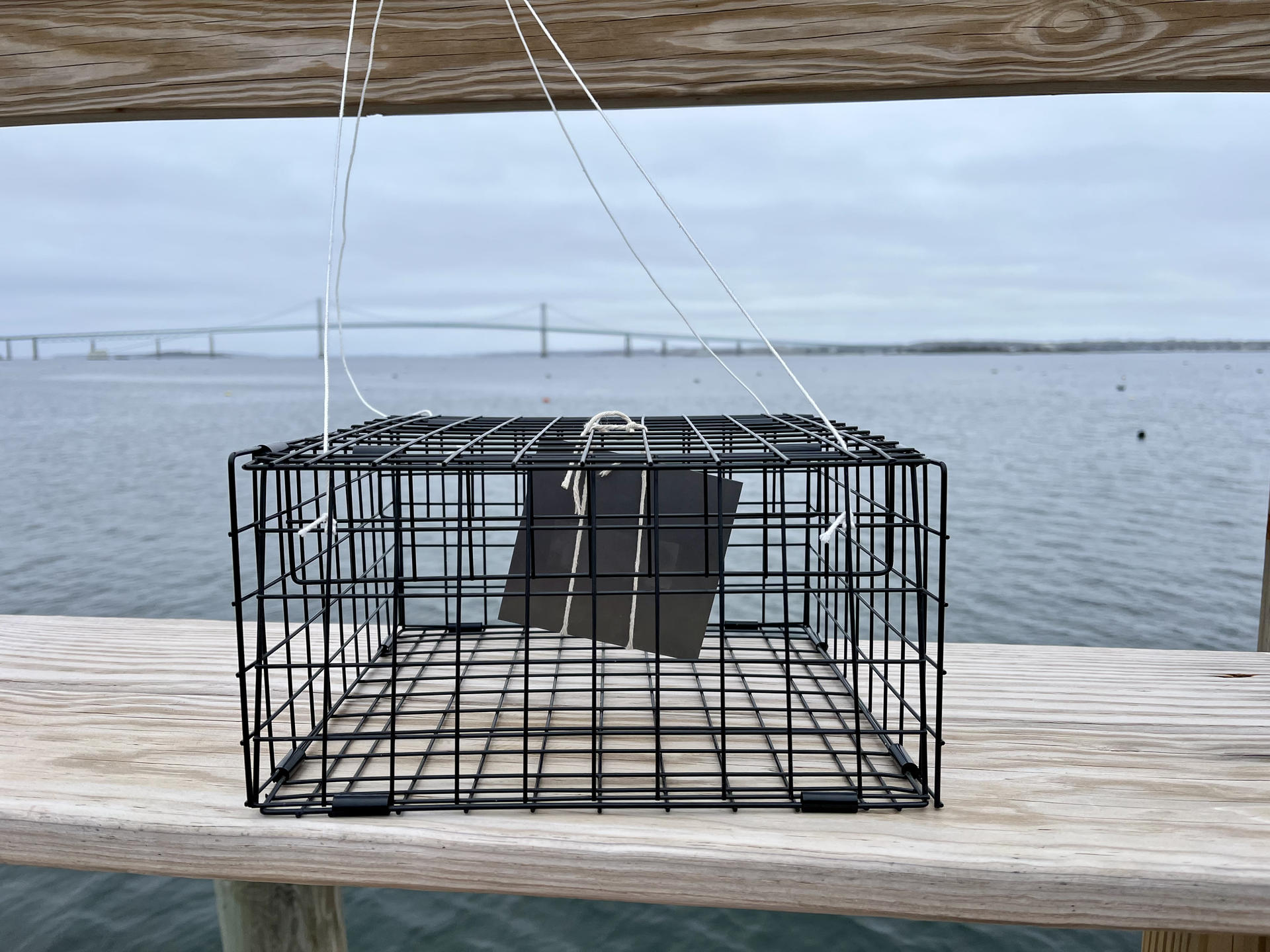 In the Elements
Weathering Steel
2022
I am also exposing these pieces of copper and steel to the ocean. This experiment also makes us think of materials as a litmus of atmospheric and ecological conditions.
---
---