Image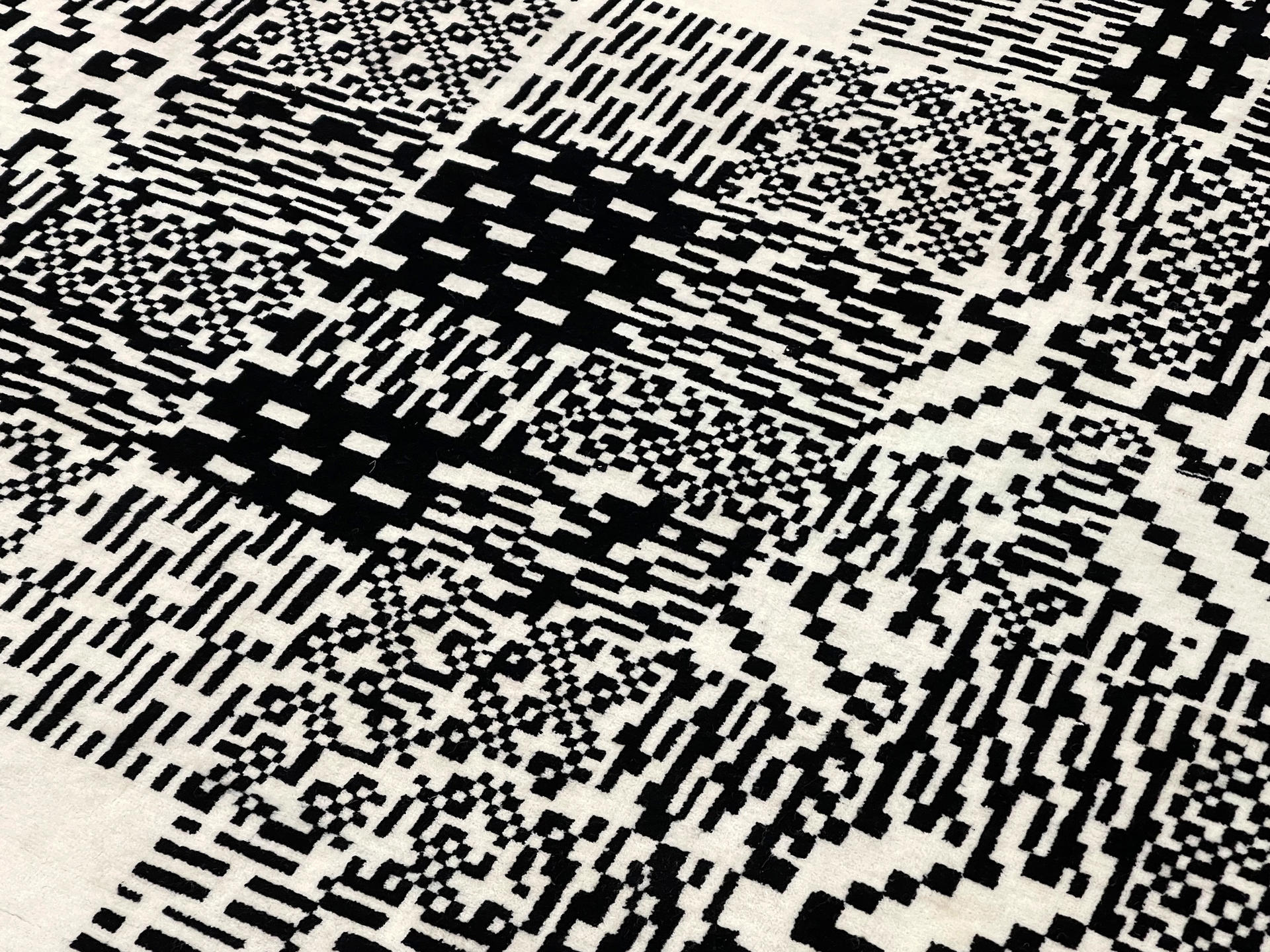 Electronics and servers and motors and processors are everywhere in my crowded studio of tools and of things. Ethernet cables descend out of the ceiling like vines. Power cables like roots. Game consoles play themselves. Cameras and sensors record everything. Prints and drawings are stacked in columns reaching up to and supporting the dropped ceiling. Leafy green plants and succulents fill any and all open spaces. Feedback loops of sound and chromatic image compression transmit through each screen. Near the crackle of the fireplace and the hum of the stereo, a laser printer whirs, shooting copies across the room to scanners waiting to digitize each page. The printer and scanner create a looping call and response. Each machine is waiting to interpret what the other one creates.
There are small motors spinning and winding. The motors are setting off a chain of actions that result in ball point pens tracing bitmap paths on the surfaces of fresh pieces of cardstock. The papers are a yellowish muted shade called "Ivory." And I can smell the ballpoint pen ink flowing onto the Ivory surfaces. An unnatural smell. The pen is drawing a pixel grid. The grid has been overlaid and abstracted into a complicated but repeating pattern. The grid looks like a woven rug or a computer chip. The grid is present and interpreted in numerous ways.
At the center of the studio rite are the conjurors and the interpreters. They are surrounded in a swirl of drum and bass, incense, and smoke. Currents of dust cross paths in and out of the computer fans. The conjurors test calculations and find textures that might divine a new icon. Each command they issue sets off a chain of events that can only be hypothesized and are not guaranteed. In between commands they play go and other games while the maelstrom of circuits flow with unknown numbers and potentials.
How can emergent systems be applied to image making? What is the future of print? How do images on a screen function differently than statically on a wall, or in a book? What does archiving mean during a time in which it's possible to generate thousands of images with a few lines of code? As an artist, I'm tackling these questions in my software, programs, paintings, drawings, photos, presentations, and books. I use analog and digital mediums to reflect on diaristic gesture, chance, transference, image reproduction, automatic language, automating drawing, micro and macro perspectives of scale, and generativity.
I've been studying and creating emergent and generative systems in the form of painting software and programs that generate images. I'm interested in how simple processes can combine to create exponential outputs and lead to new ideas and processes. I'm exploring these subjects through rules executed by hand with a pencil or brush, or with rules executed by a computer through scripting languages. I'm working on a parallel series of paintings and computer programs that generate unique flowers. They've led me to consider cosmological questions of generativity and world- building. The indexical and abundant nature of my image making projects lead me to explore issues in archiving as well. As artists and programmers begin to implement Machine Learning and Generative Adversarial Networks to produce dizzyingly vast amounts of images in all art styles, I am asking, what does this mean for art and for archiving and design?
 
Image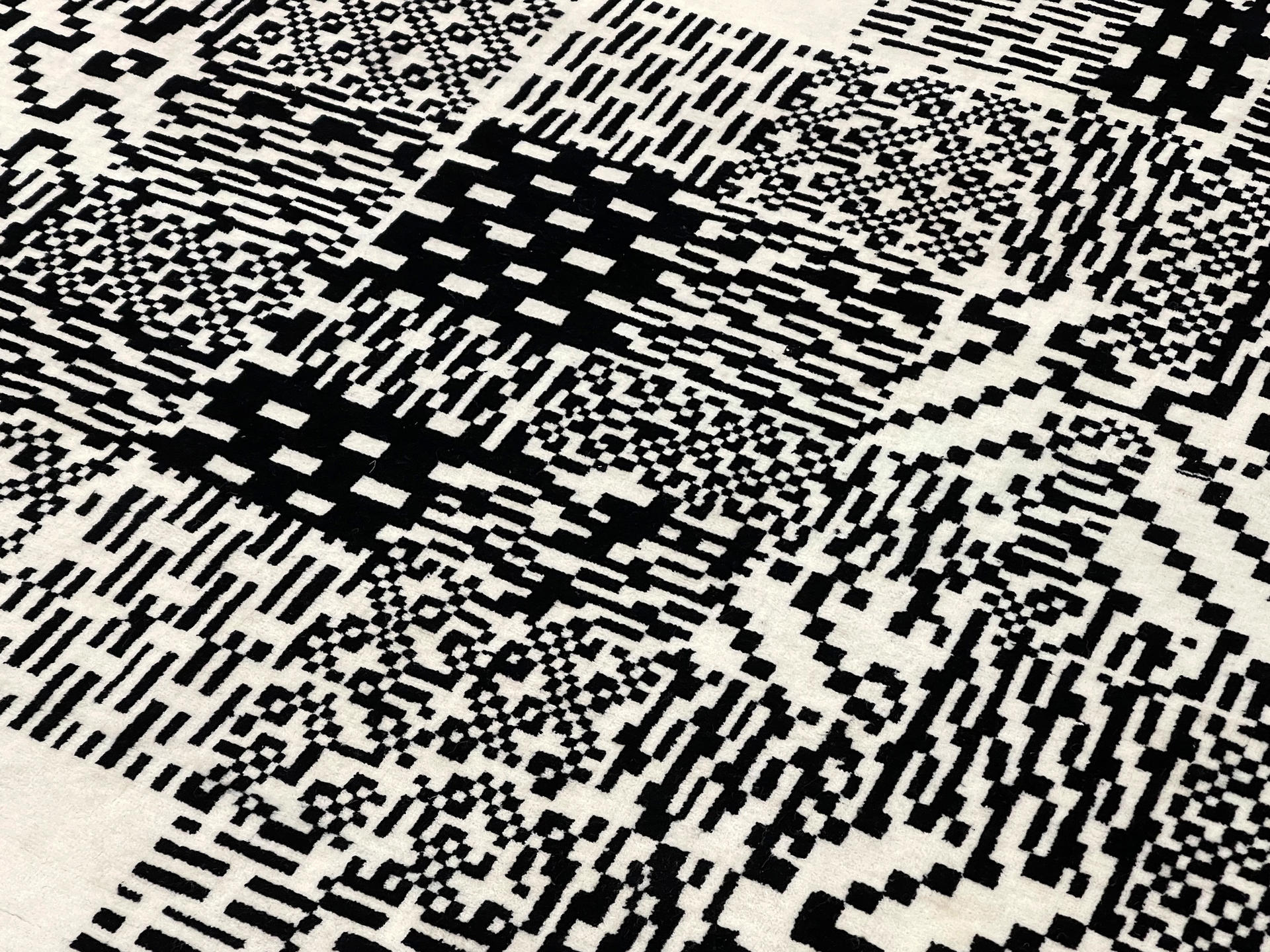 Pixel Rug (10_16_21_Pixel_Rug_01.png), 2022 (detail)
Hand-knotted wool, JavaScript, Photoshop
96 x 96 in.
2022
Produced in collaboration with Samira Gagné Ludwin of Maman Rugs (Los Angeles) and woven by Shanti Sunita Aparna of Nitya Exports (Bhadohi Nagar Palika, Uttar Pradesh, India), Pixel Rugs is a series of computer-generated images programmed by Smalley responding to the concepts of creating pixel art, dithering textures, and anti-aliasing in digital images. Over the past year, the series of hundreds of procedurally generated Pixel Rugs have materialized as an exhibition of plotter drawings; modded game assets in Minecraft; NFTs; a playable GameBoy cartridge containing an interactive slideshow essay; and now as a series of six unique handwoven rugs. This summer (2022), the rugs will be exhibited at Phillips London and The State Silk Museum in Tbilisi, Georgia.
Image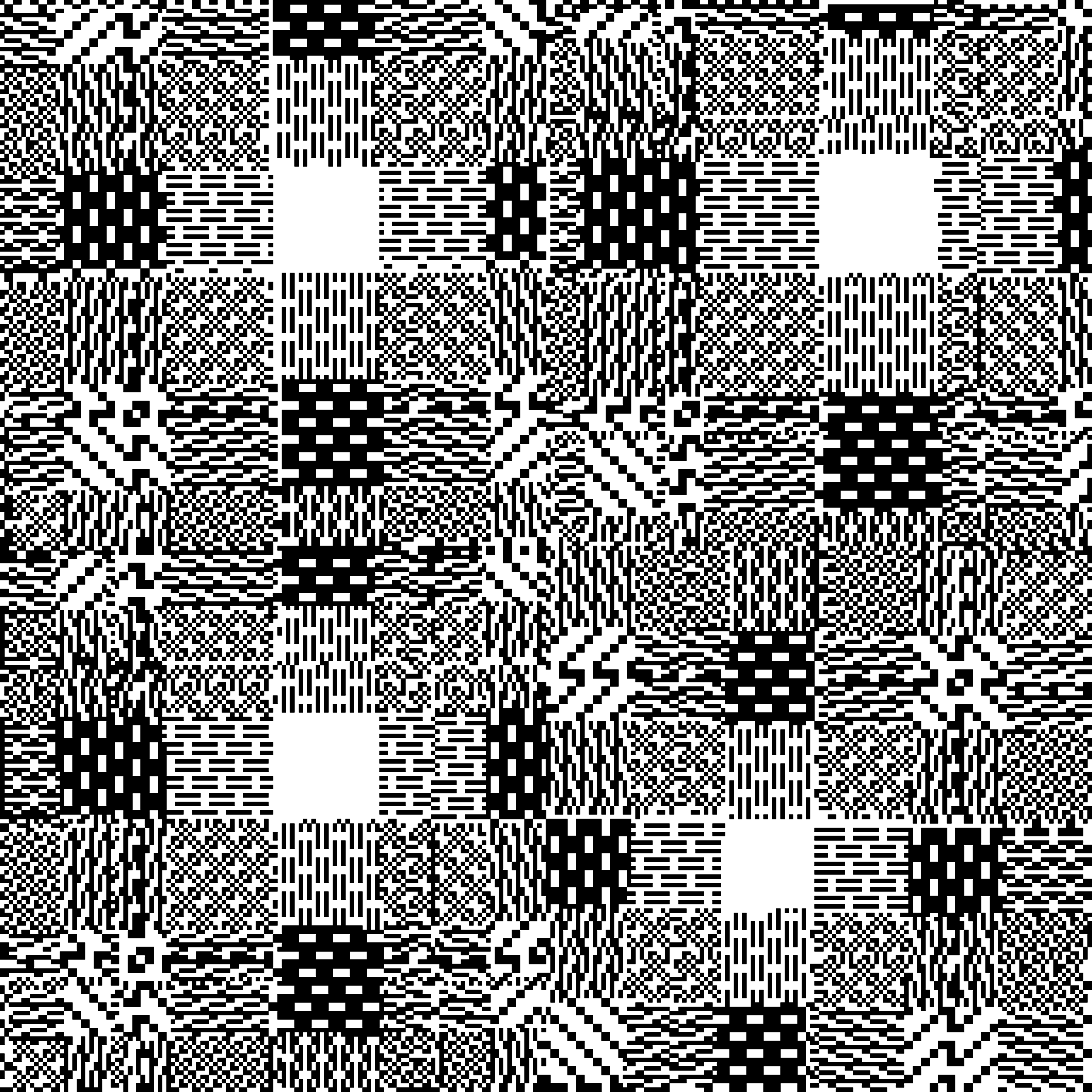 Pixel Rug (10_16_21_Pixel_Rug_01.png)
JavaScript, Photoshop
256×256 pixels @40x (10240 × 10240) PNG
2022
Pixel Rug (10_16_21_Pixel_Rug_01.png), originally released as part of a daily series of generated digital images on the NFT platform Hic Et Nunc, now known as Teia, ( https://teia.art/objkt/439500 ). The full collection of NFTs can be seen here ( https://teia.art/Travess ).
Pixel Rug script outputs, (video documentation)
JavaScript, Photoshop
1920 x 1080 pixels, 4:00 mins.
2022
Each rug is created from a computer script that is filled with chance actions, random number generators, so that no two rugs look the same.
Image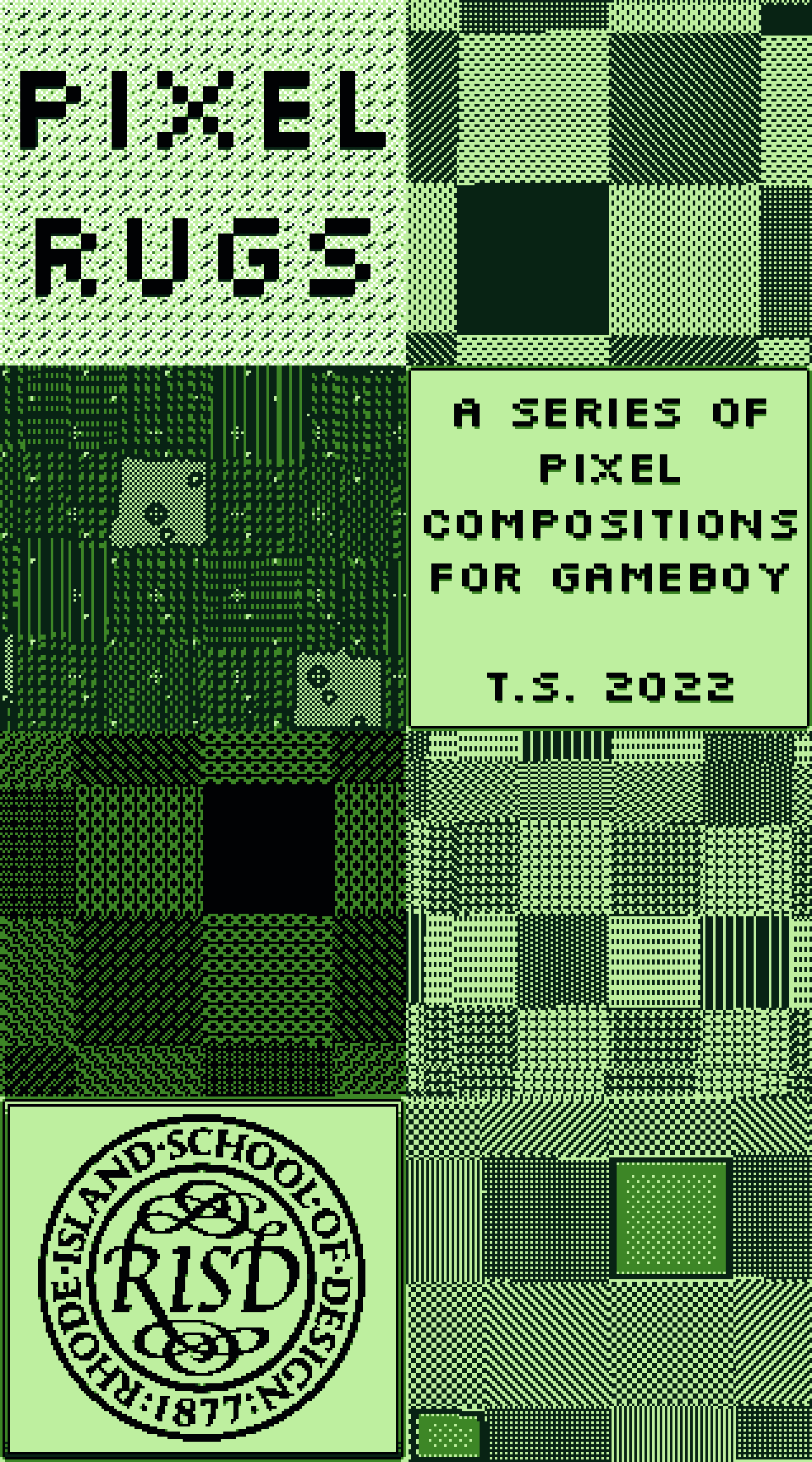 Pixel Rugs, an Interactive slideshow for Game Boy
Software
.GB rom file, 262 kb
2022
Pixel Rugs started as an experimentation with creating pixel art in Adobe Photoshop with the tight confines of small pixel matrix and a 1-bit pixel palette. These small images reference geometric abstraction, Appalachian textiles and quilting, and early video game backgrounds and textures. The GameBoy game version of Pixel Rugs acts as a form of documentation of the project and another gesture towards the digital contexts that inspired the work. The following link is for a playable web version of Pixel Rugs for Game Boy - ( https://www.travesssmalley.com/PixelRugs/ ). 
---
---