Yuxiao Liao
Regenerating the ground
New England is blessed with a mosaic of productive agricultural landscapes. These agricultural landscapes also sustain valuable wildlife habitats, provide flood control and act as an enormous carbon sink. Farmland in New England declined significantly in the 20th century as agricultural land was abandoned and developed into urban and suburban sprawl. In 1930 there were about 14 billion acres of farmland, by 2017, there were only 4 billion acres left. New England lost almost 70% of farmland in the past 80 years. John Dobberstein has claimed that due to our current development and agricultural practices, there are only 60 harvests left. In order to meet future food needs, we are likely going to have to look to non-traditional agricultural sites and alternative agricultural practices.  
This thesis delves into retrofitting dying commercial land with a high-intensity urban regenerative agriculture system. By learning the principles of regenerative agriculture, the thesis aims to replace the depressed urban property with regenerative farmland and couple animals and crops to improve the site's soil health and bring the healthy ecosystem back. The proposal for the 120-acre site includes aquaponic greenhouses, crops coupled with chicken tractors, rotational grazing, and agroforestry. The outcome of the thesis offers an approach that shows agriculture can coexist with development and blurs the boundary between the urban and rural. It not only addresses the increasing demand for food but also brings a regenerative lifestyle for people.
Image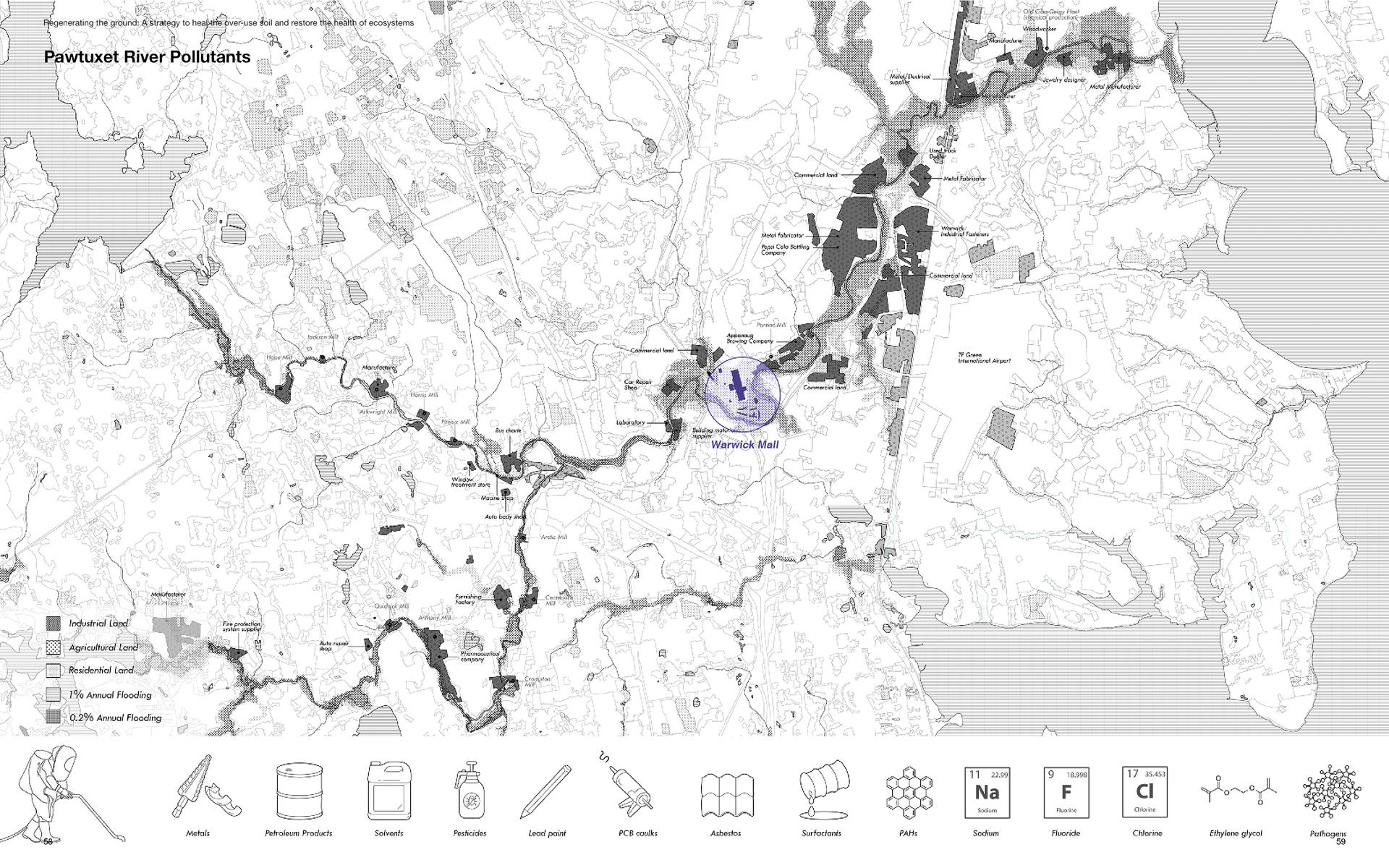 The thesis's focusing site is situated in the Pawtuxet River watershed, which is heavily influenced by industrialization and urbanization. Because of the continuing development, the watershed is filled with a series of environmental issues.
Image
The core of regeneration is making connections, the proposal will build connections among a variety of elements and let the site generate its own fertility and work by itself. From this regenerative system, a bunch of food products, crop waste, and animal manure will be produced from each parcel, and then they will be reintroduced to this production system as the input resources, so we can make all elements work together efficiently and save more energy resources. The zoning is decided by the intensity of service and flooding conditions. The whole site is briefly divided into five parts, The community activities center will be placed at the entrance of the site, the food factory will be surrounded by crop rotational farm and compost land, the berm system will go through the rotational grazing farm and protect the production land from flooding. the last part is the riparian forest.
Image
Based on the previous system and analysis, I started to ask myself what kind of product I could choose and make it perform as many functions as possible. So I did a series of functional analyses of potential products from three categories: in-ground plants, animals, and greenhouse plants. From this analysis, I have a better understanding of those design components, like how much energy and resources I need for raising those plants and animals and how many products and benefits can I get from the output.
Image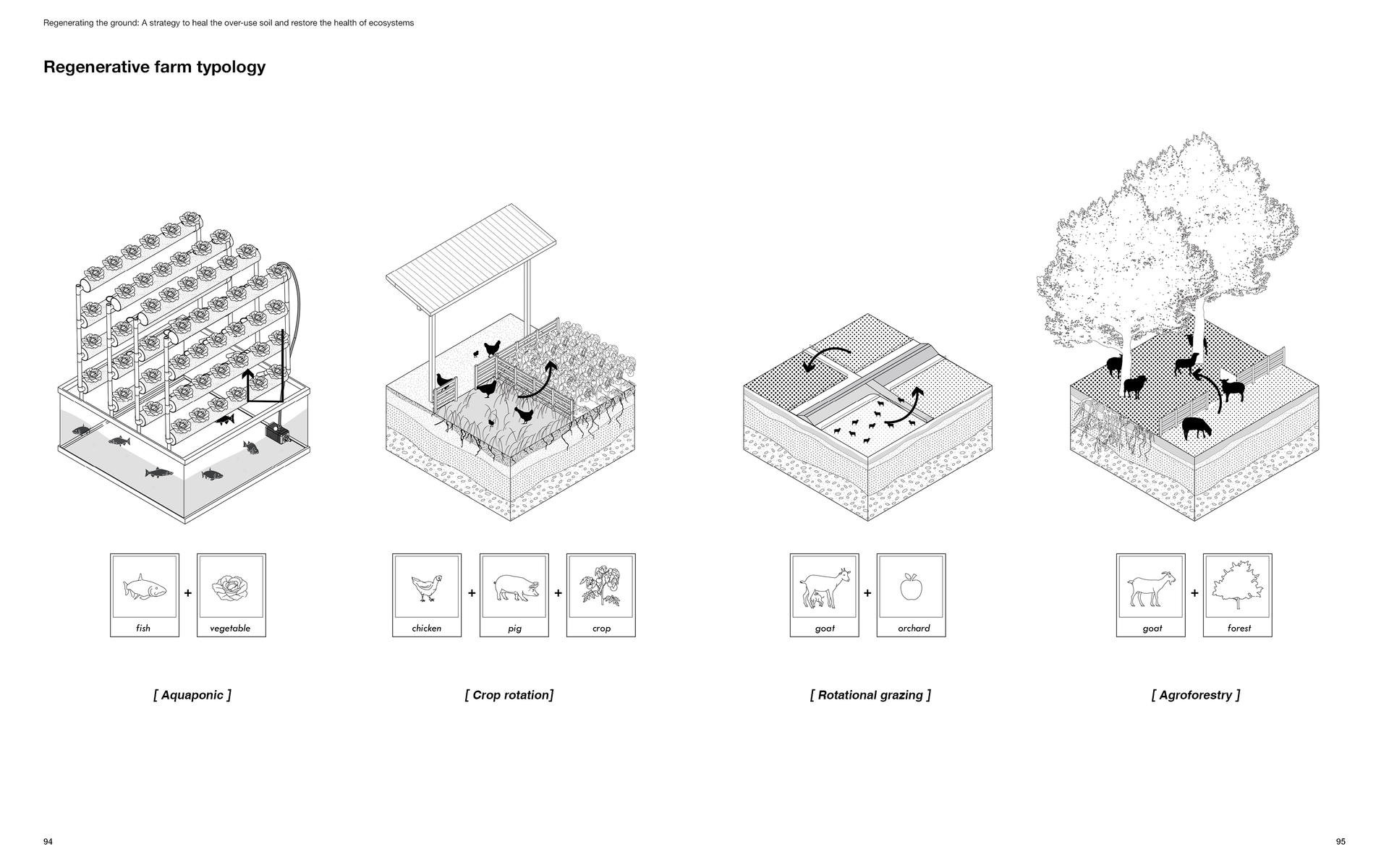 For the on-site regenerative agriculture practice, there are 4 typologies-Aquaponic, crop rotation, rotational grazing and agrofoerestry, they will combine the animals and plants in circular ecosystems to  improve soil's health, and increase nutrients available for crops.,
Regenerative farm practices
---
---