Key concepts: Burnout, memory, feminism, nomadic experience, reverse cultural shock 
 
What is the reality of young people born between 1985 and 1995 in China? How do they feel about themselves? As one of the generation, I feel like I'm often haunted by futures that failed to happen. Reasons are multiple and are closely influenced by the social context, such as the implications of the Cultural Revolution (1966-76) and One Child Policy (1980-2016), which has marked each individual's growth in this age with unfading recollections. 
Artist bio
Yangyang Mao (b. Xinjiang, China 1992) is an artist working primarily in sculpture, installation, and painting. Mao graduated from Marietta College and New York University, and is currently in the MFA Sculpture program at Rhode Island School of Design. The majority of her works engage with content derived from the humanities and social sciences. She is enchanted by gaining knowledge in regard to human well-being and mental states, like the topics about collective wisdom and moral integrity. Mao also finds fulfillment through probing into the varied social phenomena and examine interpersonal relationships via diverse media, which come out of her self-experience while delivering her empathy for others' circumstances. 
She has been studied at the Pyramid Atlantic Art Center in Washington D.C. in 2012 and published the thesis "Accessibility and Preservation of Buddhist Art In the Dunhuang Mogao Caves" in 2016. Recent exhibitions include Nurturer, Yi Sen Art Space, Jingdezhen, China 2020; Into the Unknown, Sol Koffler Gallery, Providence, RI 2021.
 
Image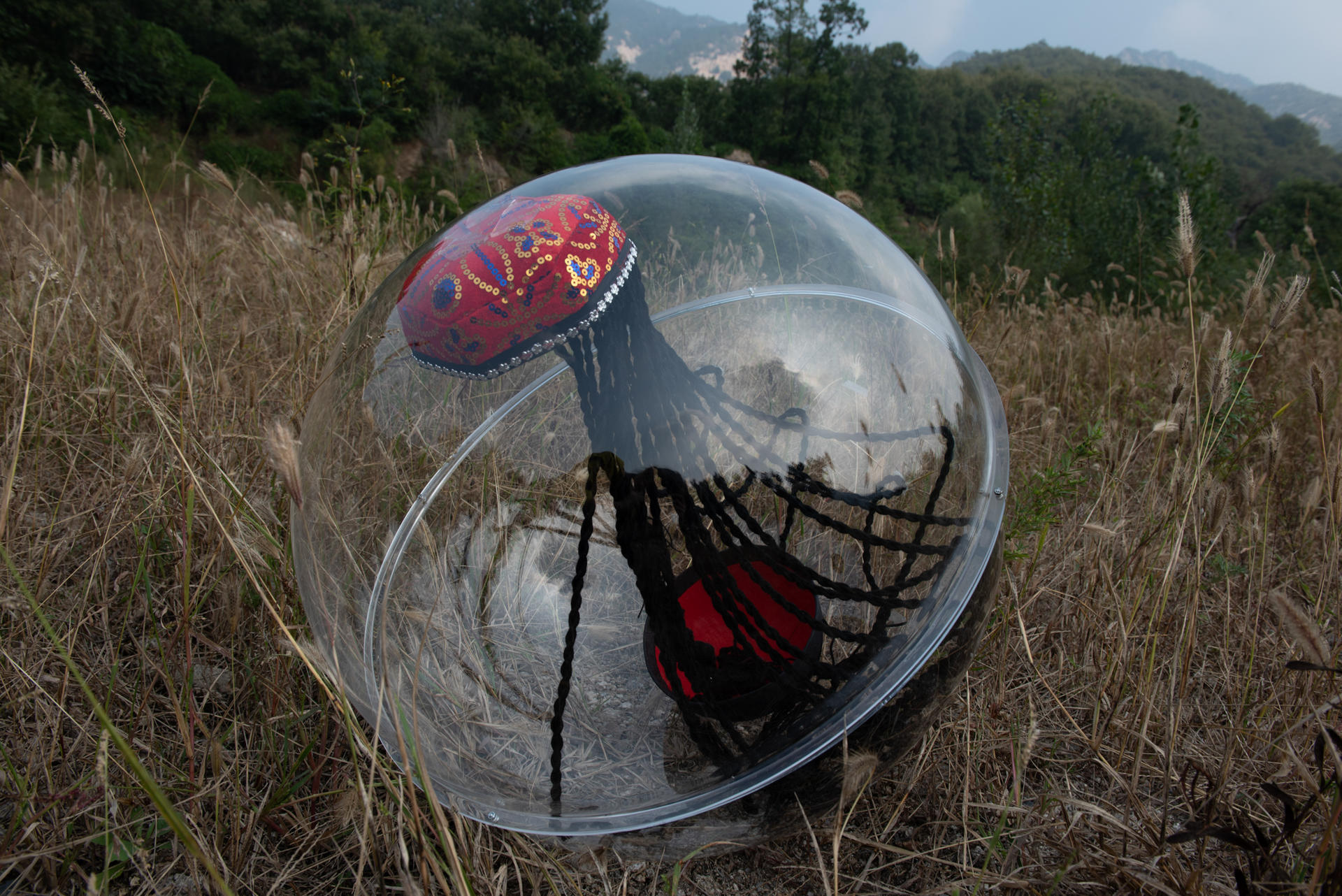 This inspiration came from the pairing aid policy in my hometown Xinjiang, which focused on placing Han relatives in the homes of Uighurs whose family members had been imprisoned or killed by the police.
Making Families As Seeds of Pomegranate. PVC balloon, helium, hydrographics transfer printing sticker, fluorescent liquid, tabour, acrylic ball, hats of Uyghur and Han. 
This inspiration came from the pairing aid policy in my hometown Xinjiang, which focused on placing Han relatives in the homes of Uighurs whose family members had been imprisoned or killed by the police. As a faux relative, there was an emotional entanglement generated while undertaking programs of indoctrination and surveillance. I use PVC balloon, hydrographics transfer printing sticker, fluorescent liquid, LED light, ethnic tabour, and hat to show different standpoints and motion trails of different emotions to which two identities belong at different time and in different environments. In the daytime, balloons with relative-making symbol drag an ethnic tabour all the way to the sky, expressing a perplexed emotion of being muted and controlled. At night, these balloons float into a wood, fear and uneasiness come along. The heart-shaped balloon seems to be the reflection of lonely heart, and contradiction and struggle of the reality. In the second work, I use braid on hat to connect the two nationalities together. When the ball rolls in grass, the two parties waywardly drag each other. Tension produced inside the same space creates a state that is always tensional, just like two people have a talk.
This series of works, with the help of certain time and natural space, present how people get along with others of different identity and background in such special political environment, such as direct feeling of Han Chinese when they get involved in life details and private space (wedding ceremony or funeral) of ethnic people, and their psychological fluctuations during regular adaption period, e.g., fear, sympathy, tentativeness, solitude, anxiety, superiority, compunction, and other complex emotions. In a word, they are both controller and the ones being controlled.
Image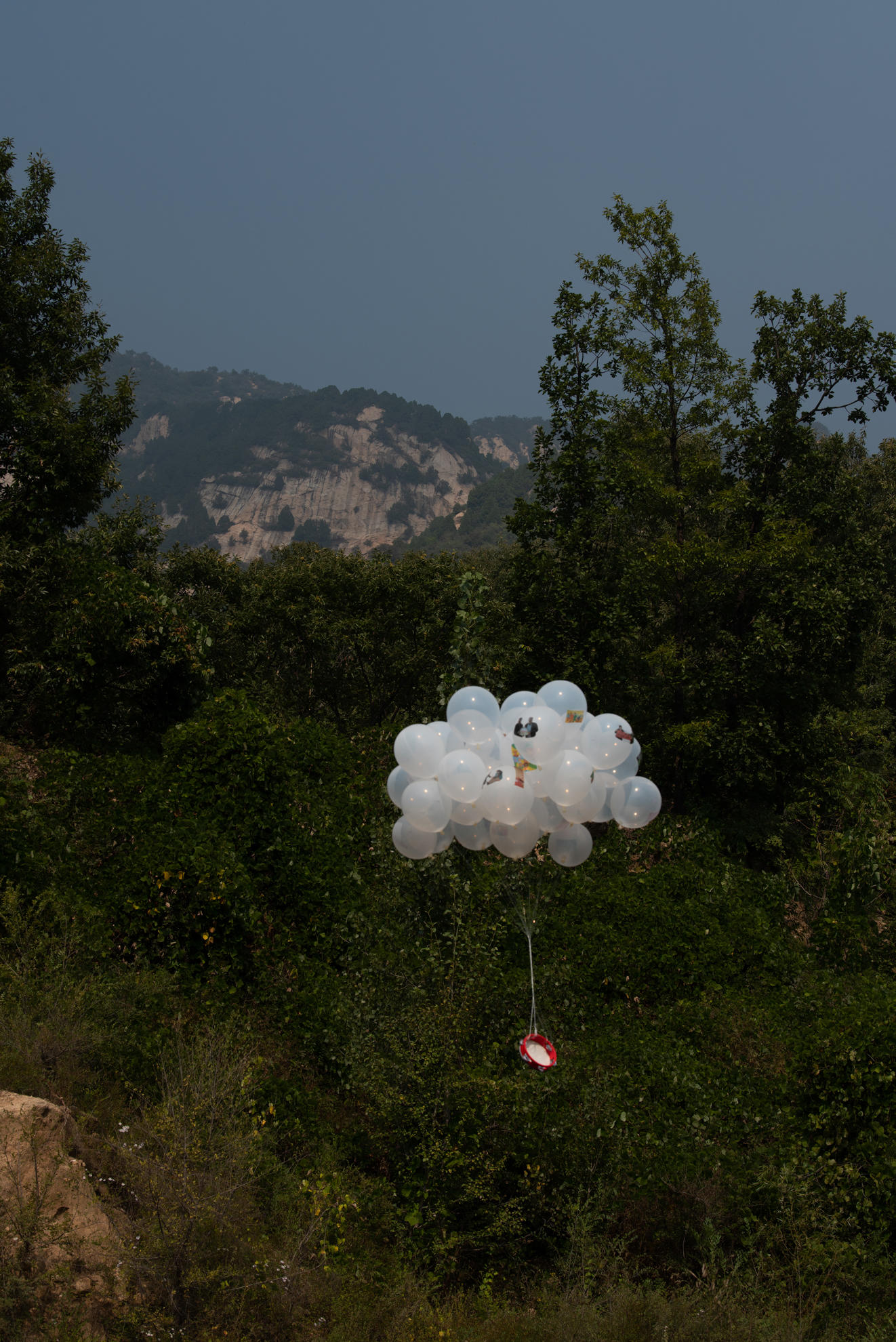 Making Families As Seeds of Pomegranate
The work was inspired by square wheat straw sand barrier in Mogao Caves at Dunhuang, and is also the extension of my NYU thesis. I mainly used epoxy resin, wax, argil, hemp paper to connect fake arms into a magic cube for desertification control. Through the form of spatial installation, a mysterious atmosphere full of exotic charm was created. The work meant to provoke the public's thoughts about civilization and conviction.
In this special and subtle ecological environment, sculpture changes noiselessly every moment. The fake arm made of wax has documents of different nationalities in old Uyghur alphabet, Tocharian languages, Sanskrit, etc. inside, which implies blending of various cultures here once; There are bast fibers of Dunhuang broussonetia papyrifera in the one wrapped by frost. Its mottled and fragmented traces suggest degradation of cultural relics; The one transparent looks gorgeous with the help of colored drawings and Buddhas made of argil, expressing the idea of samsara in Buddhist culture while echoing frescoes of flowers and Buddhas on the ground and walls. Three distinctive arms seem to show people their glory and vicissitude after experiencing the past millennium, embodying changes of time and the sense of heaviness of history. 
Withered bark, soft cystosepiment, and fragile argil all show a sense of powerlessness. With the passage of time, the relics are doomed to decay, regardless of arduous human interventions. Cheap wallpaper printing material and glossy paper strengthen the gloss in front of our eyes. Historical relics could only long live in people's memory, thus leaving a stretch of cultural wilderness behind and giving people endless regret.
Viewer are invited to enter the space and then use his or her own arm to constitute the closed loop of the magic cube, aiming to create an intimate connection and cultural resonance between man and preservation of cultural relics.
 
Image
Provider Plan. 200x240x270cm. Epoxy resin, wax, argil, canvas, glossy paper, sand, wood, plastic foam, bark of broussonetia papyrifera.
This series of works were inspired by the introduction of face recognition technology for hog in China in 2018. Science and technology development has imposed very positive influence on man, while invisibly making man become more superior and tend to neglect details behind food. 
The work consists of 6 parts: pre-butchering management, stunning technique, butchering, processing, packaging and delivery. Mixed media and paintings were used to select and describe details in the process from raising hog to processing food link by link.
At the pre-butchering management stage, I mainly used PPR pipe and shower head to present abrosia, showering, and pacifying that hog has to experience when waiting for being butchered. At the stunning stage, I used gorgeous lamplight to create an illusive, alluring, and gaudy atmosphere. With staggered modulator tubes, a sharp matrix was produced, and people tried to find a safe place in this limited space. The posture show sense of despair and powerlessness that is oppressed, enclosed, and penetrated. At the third and fourth stage, paintings and mechanical arm was used to show the precise but rigescent pattern of industrial assembly line, while creating an endless sense of time. Finally, I conducted documentary interview with managerial personnel, so as to perfect details of leaving factory, and ritually end the whole cultivation.
The whole set of work, on the one hand, shows application of advanced technology in modernized cultivation and influence on productivity enhancement; on the other hand, it makes audience curious, and encourages them to explore profounder content in life that is closely related to people and behind seemingly ordinary foods, such as science and technology iteration, animal emotions, business logic, and humanity, so as to deepen self-cognition and sense of duty as a human and trigger people's thinking about food and technology, thus giving food meanings of different dimensions.
Image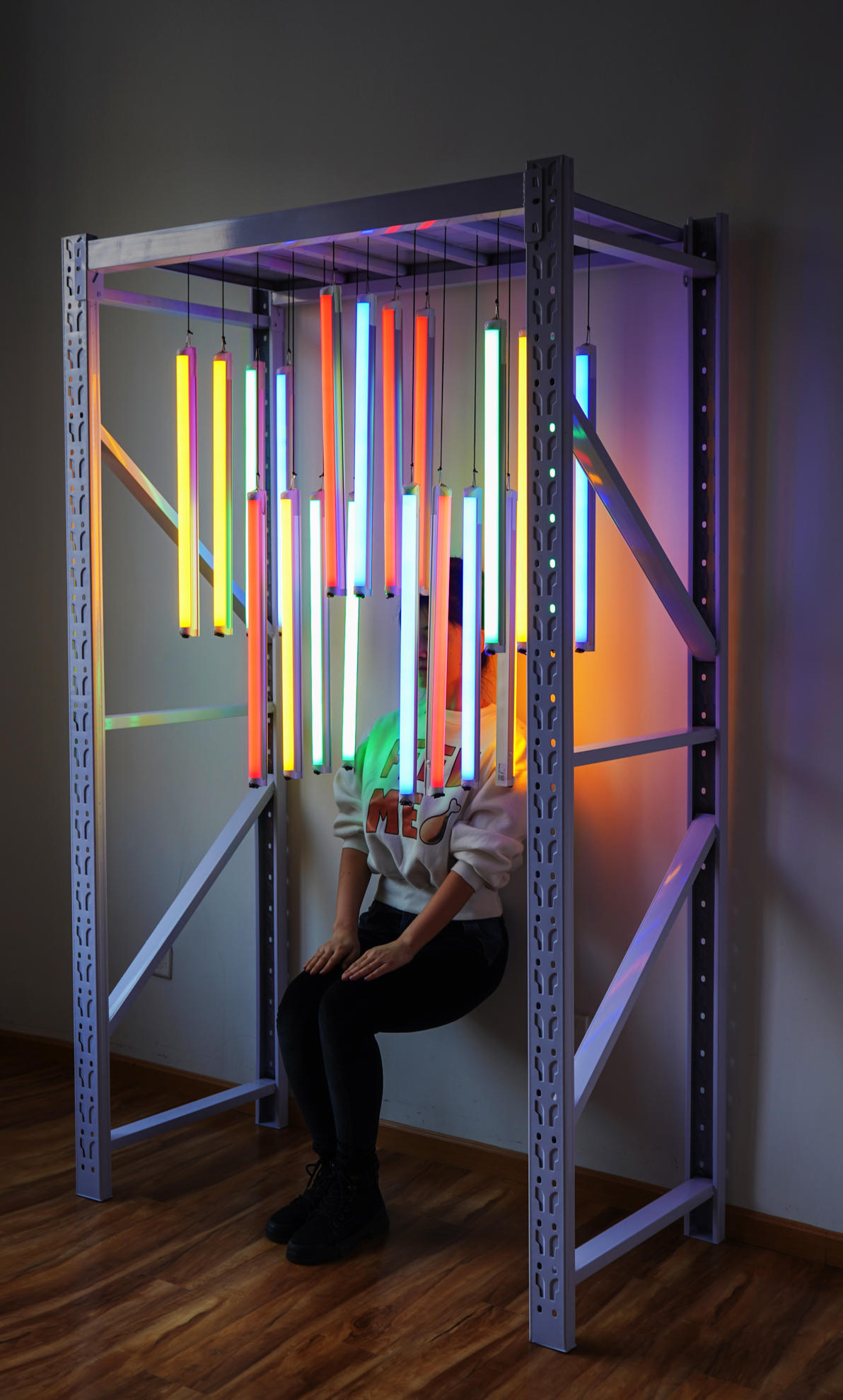 Bacon Factory. Mixed media.
---
---