Image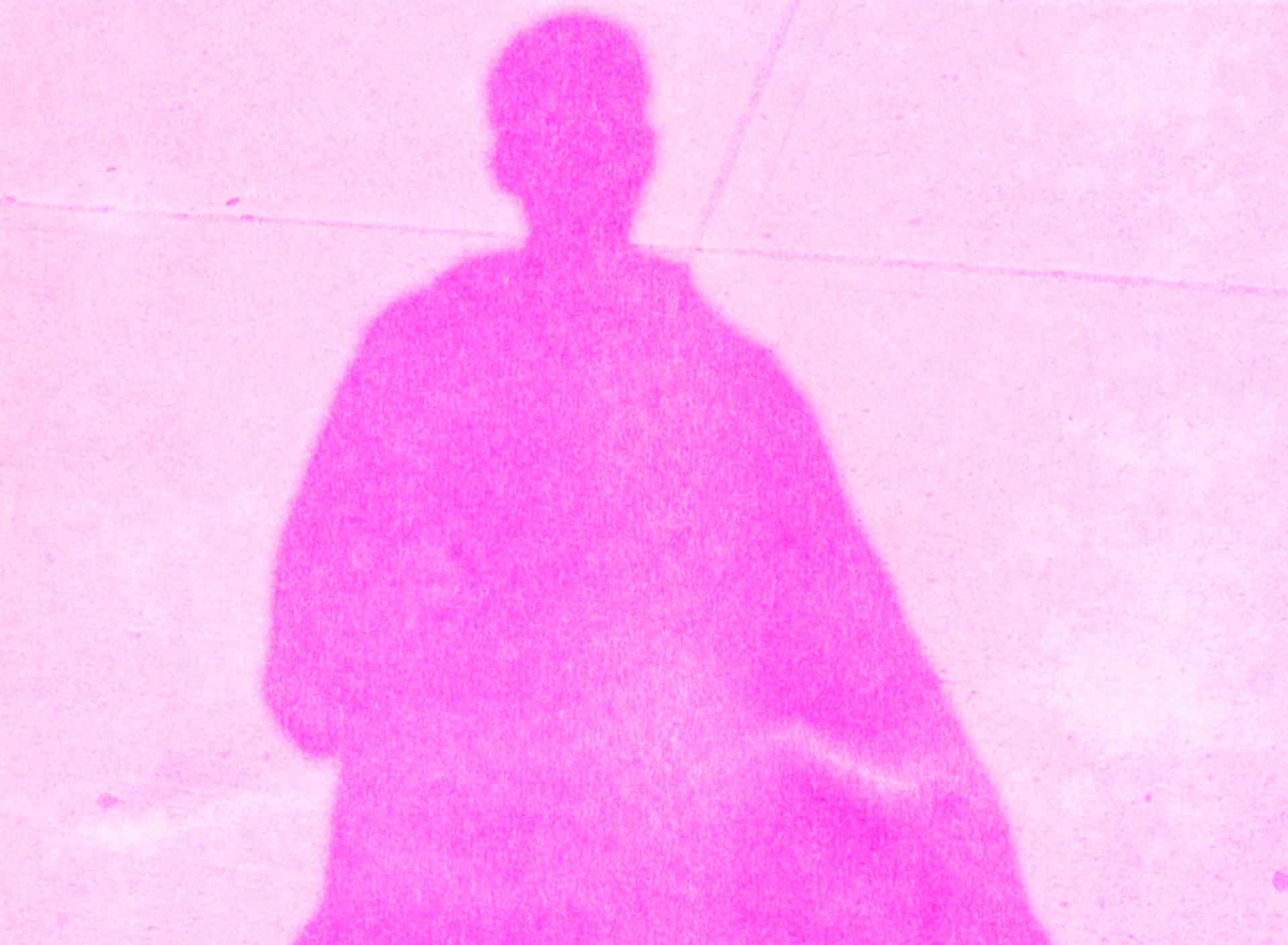 Form Follows Feeling Follows Form
In this thesis, I explore ways of expression at the intersection of form, feeling, and storytelling; through my lived experiences. I emphasize the act of documentation, encouraging introspection and reflection as a means of creating a body of personal work. I also talk about developing my visual vocabulary and language to express these narratives, along with strategies and plans for making personal work outwardly visible.
Ponder
Print on Paper
89mm * 51mm
2022
'Ponder' is a compilation of written works that take the form of questions, counter-questions, answers, affirmations, and musings. These pieces are interwoven to create a narrative that aims to explore and scrutinize my identity as an individual and how it shapes my professional work. Through this process, Ponder also serves as a self-assessment tool that allows me to evaluate my progress and direction, enabling me to check in with myself and gain insight into my current state of being. The fragmented writing has allowed me to remove myself from the conversation, shedding light on human lived experiences. The form takes its size from calling cards, making the conversation more intimate and personal to the reader. The proportions are then modified to align with different collaterals like receipts, postcards, memos, etc., further emphasizing the personal and introspective nature of the project.
Image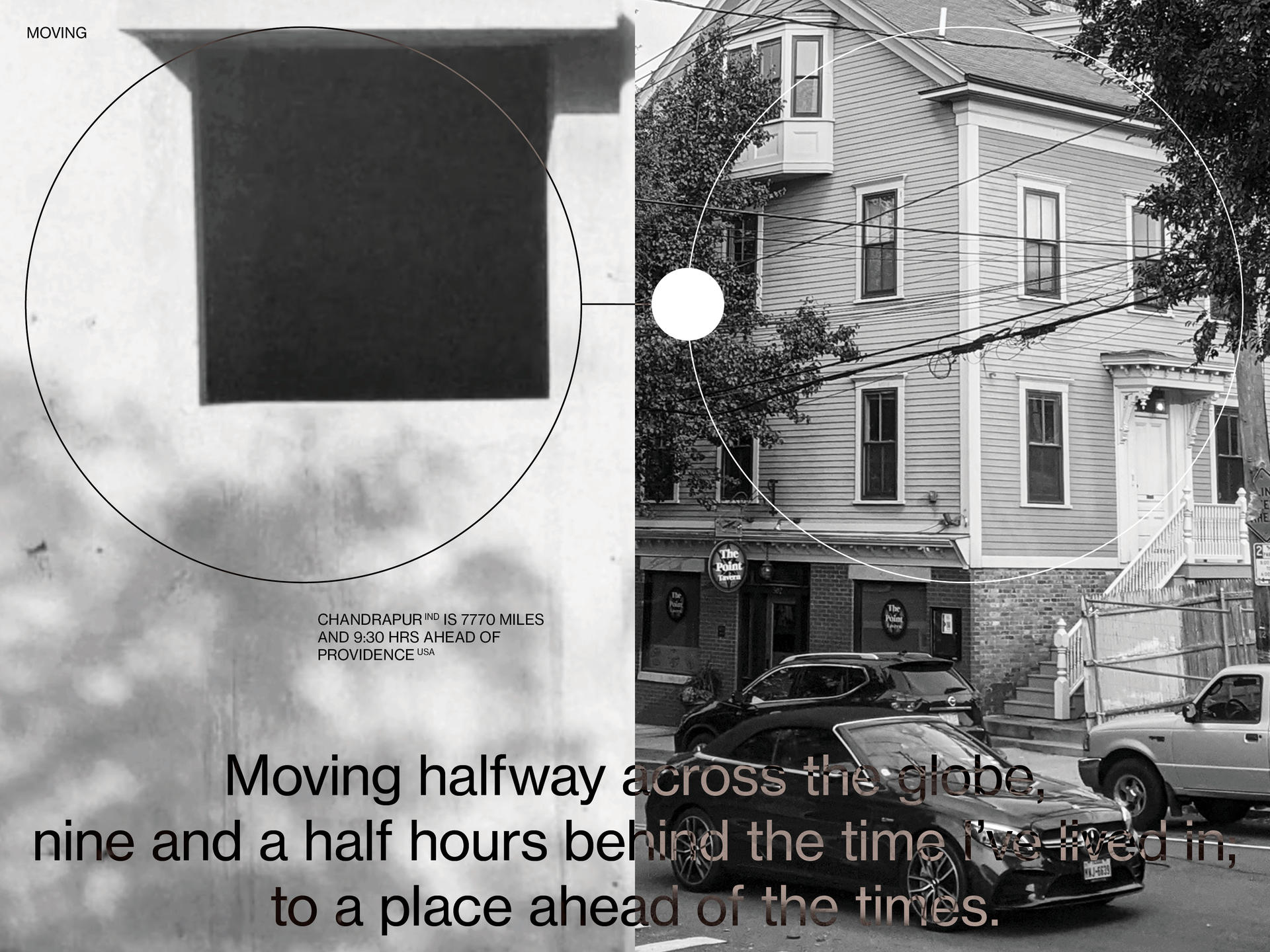 Leaving the Bubble
Print on Paper
6inches * 9inches
2021
As part of the RISD MFA '23 cohort's collaborative publication, Atlas, I designed a 16-page piece that explores the concept of shifting. Specifically, I discuss the challenges and experiences of leaving a familiar place behind and moving to a foreign land. Through personal anecdotes and reflections, I provide insight into the complex emotional journey of shifting, expressing empathy and understanding for those who have undergone similar transitions. I employ a circle as the protagonist that takes a journey through the eight spreads of the piece. Alongside the narrative, I've incorporated found images from my personal collection on my phone to enhance and complement the story. This visual element adds depth and nuance to the text, creating a more immersive reading experience.
Image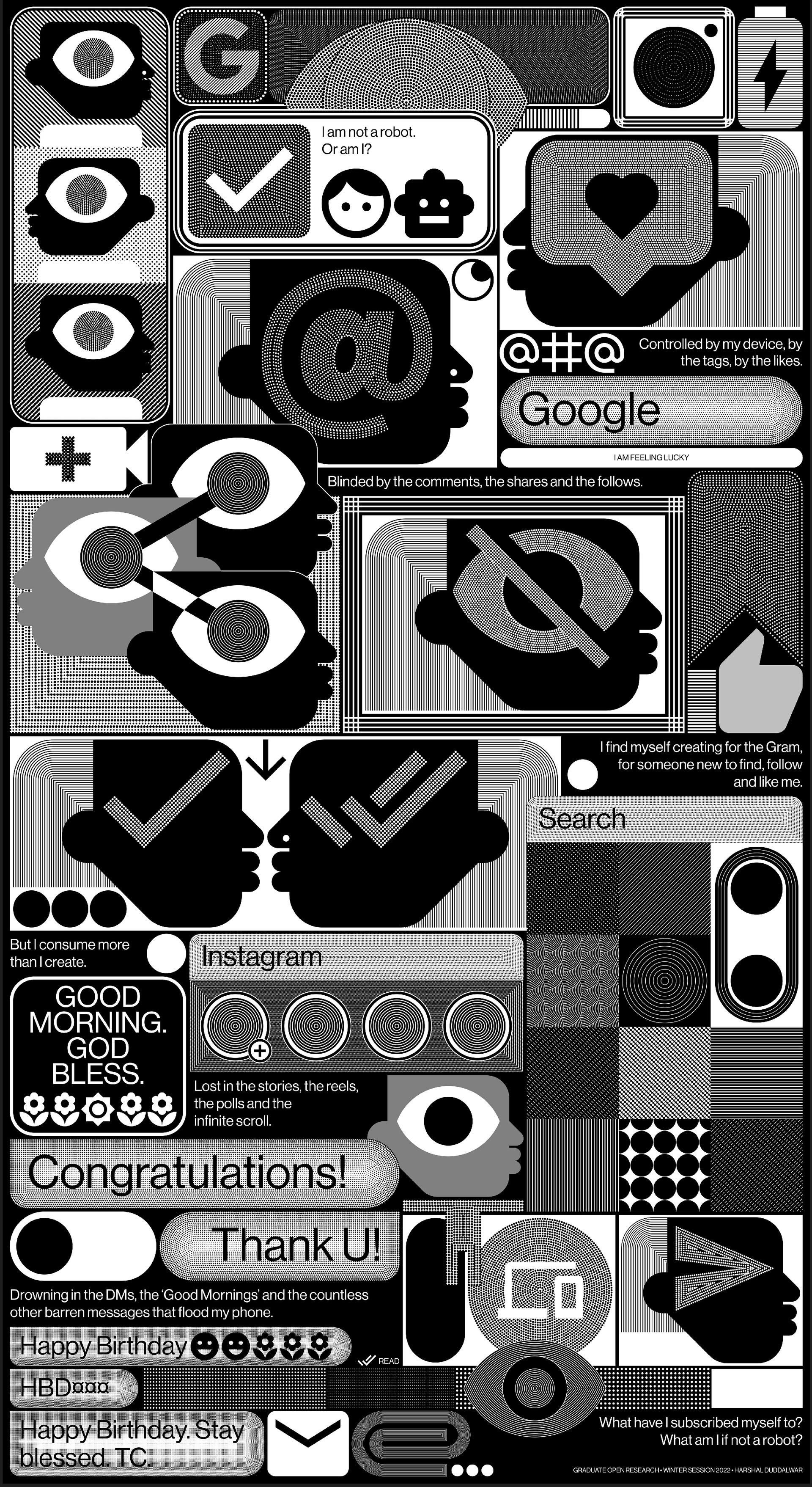 I am not a Robot. Or am I?
Textile Print
4ft * 7ft
2022
'I am not a robot. Or am I?' is a tapestry that combines Indian folk and tribal art, such as Warli and Madhubani, with system icons and symbols from Google's Material Design, a design language that has become ubiquitous in our daily lives. By fusing traditional forms and compositions with modern-day communication elements, this project explores the impact of social conversations and technology on our habits and patterns. It embraces and critiques the medium of communication in today's world, highlighting the need for self-reflection and awareness.
Image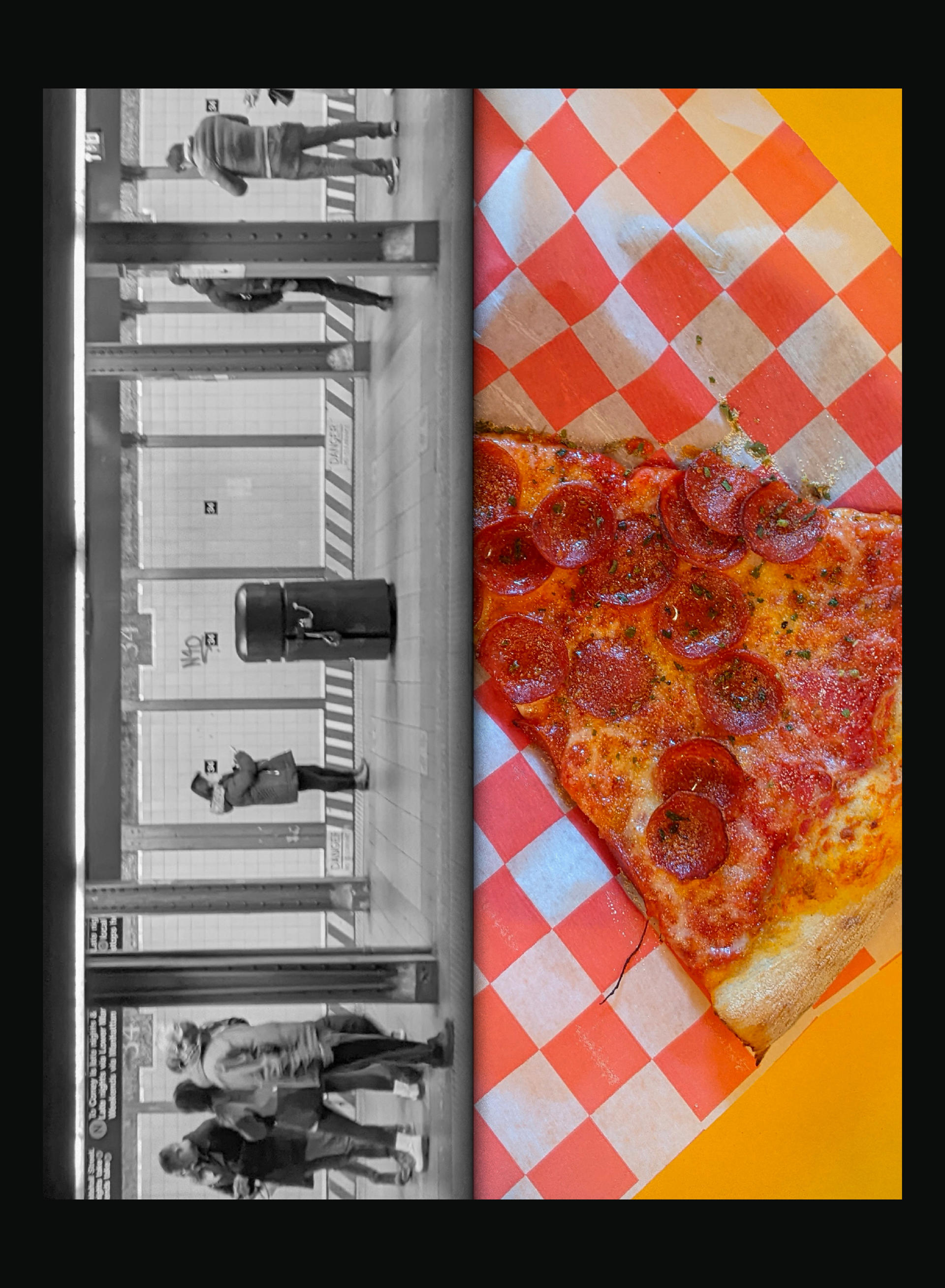 Mumbai Manhattan
Print on Paper
3inches*7inch
2022
'Mumbai Manhattan' is a tall book of images that showcases my experiences in New York City, drawing parallels to my memories of Mumbai. Through this piece, I reflect on the similarities between the two cities, documenting the sameness of urban life across different geographies. Each image is carefully selected to highlight the sameness of the city, documenting the subway (in comparison to the local trains), NY-style pizza served on a checkered paper (in comparison to the street food), and the tightly packed buildings of Manhattan (in comparison to the crowded streets and lanes of Mumbai). By removing its association with Mumbai, the book invites readers to appreciate the unique character of New York while also recognizing the universal elements of city living.
Image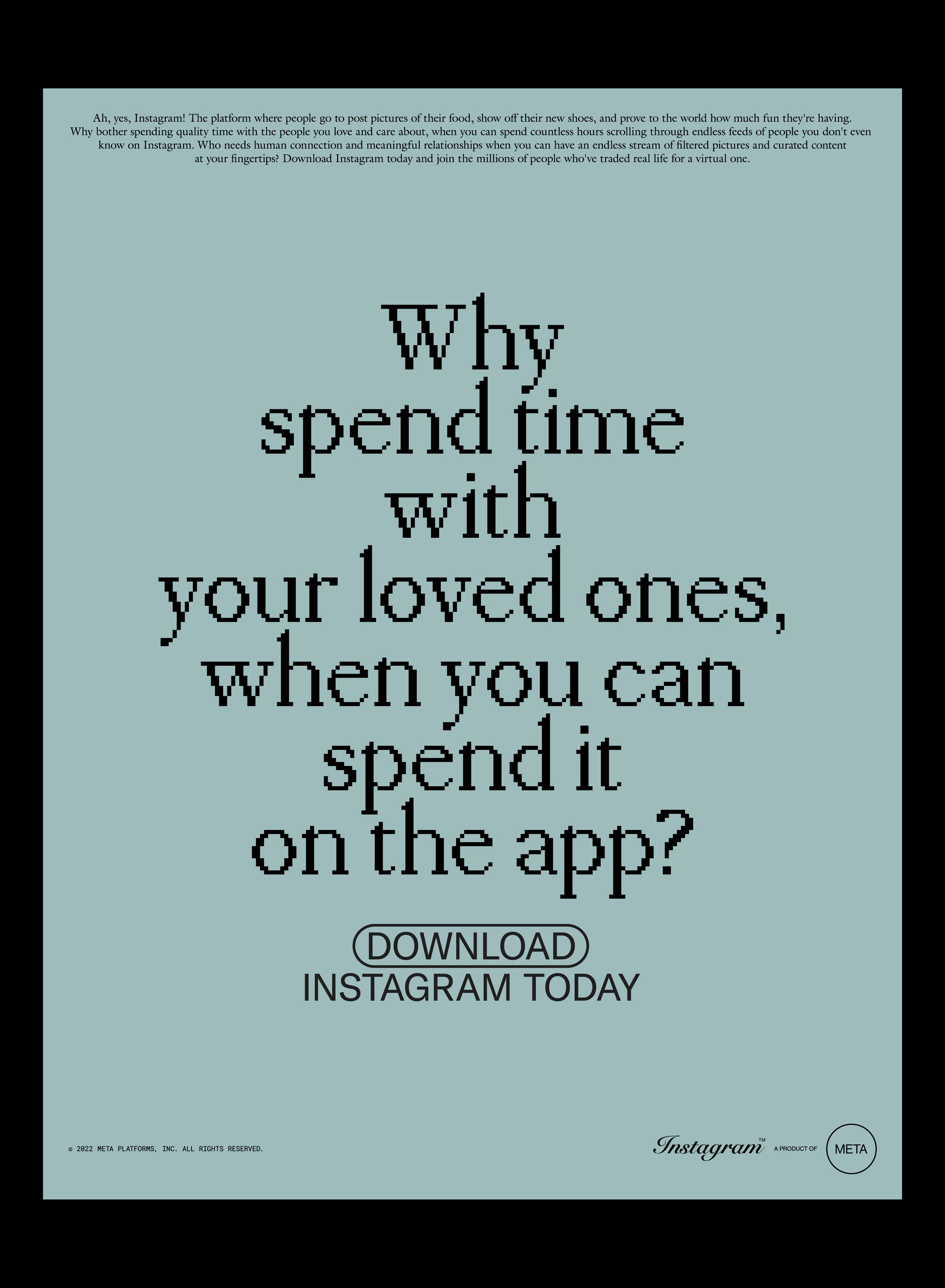 Speculative Present
Print on Paper
24inch*36 inches
2022
The amount of time people spend on their devices, whether for social media, work, or personal use, is increasing. The emergence of Web3.0 and Metaverse is further blurring the lines between the physical and virtual realms, cementing our dependence on technology. This trend has led to a decline in human consciousness as technology, facilitated by these devices and software programs, gradually takes over. Despite being aware of this irreversible impact on people, social media companies and tech giants prioritize profits over the well-being of their users.
In a world where convenience is abundant, it can be challenging to remain mindful and present. However, it is essential to recognize the potential negative consequences of over-reliance on technology and to take proactive steps to mitigate them. As for brands and companies, it can be difficult for them to speak the truth, given that their primary objective is to sell products and services. Nevertheless, it is essential for them to acknowledge the impact of technology on individuals and society and to prioritize user well-being over profit. What would it look like if they spoke the truth? The following images are a possibility.