Image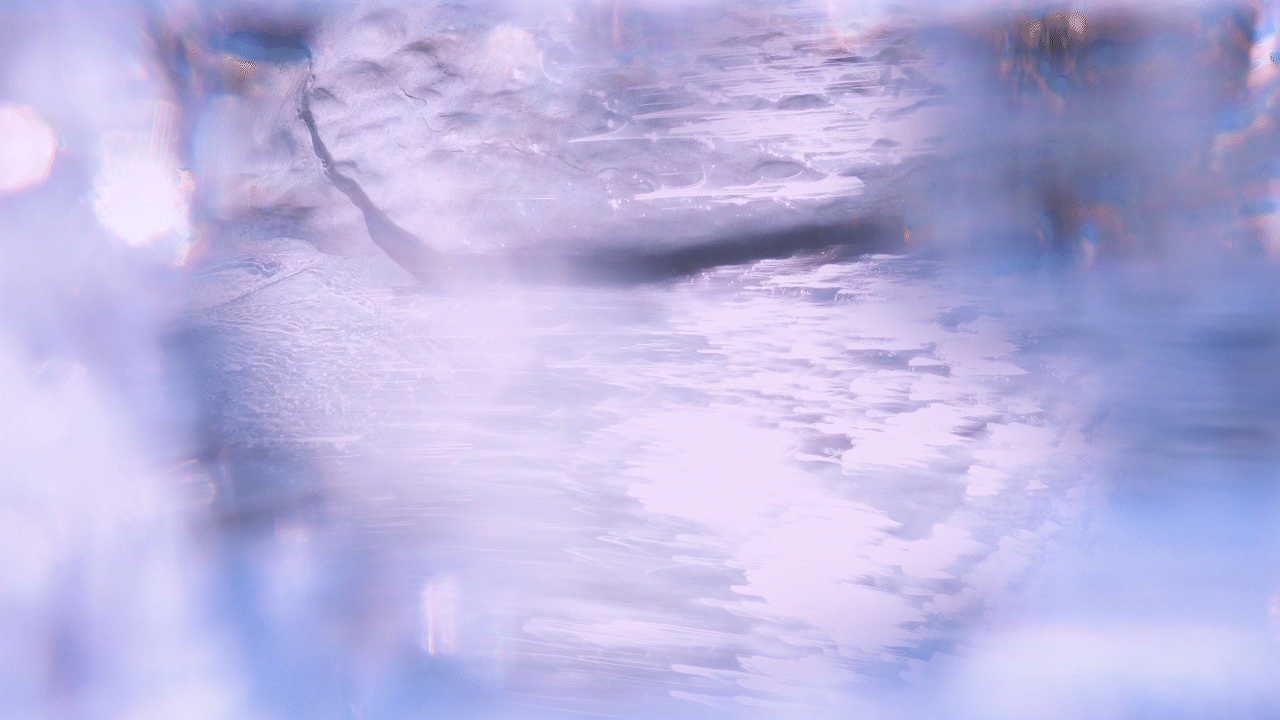 OtherWorldly Gestures seeks to give form to the intangible. I work primarily with light as material substance to shape a speculative emotive space in which I make metaphysical phenomena experiential. I collaborate with ecological and technological elements to express a spiritual understanding of Self and World. Most recently, the work translates material objects and architectural elements from my cultural heritage, and gives visual and haptic form to the sacred relationship between body, soul, and natural world.
Through these explorations, I begin to propose a speculative OtherWorld. I delve into the precolonial, ancestral teachings of a mystical spiritual path, referencing Sufi teachings, Islamic perspectives, diasporic Bengali heritage, and Texas landscapes as source material from which to weave a new set of future mythologies through physical and digital mediation.
 
Image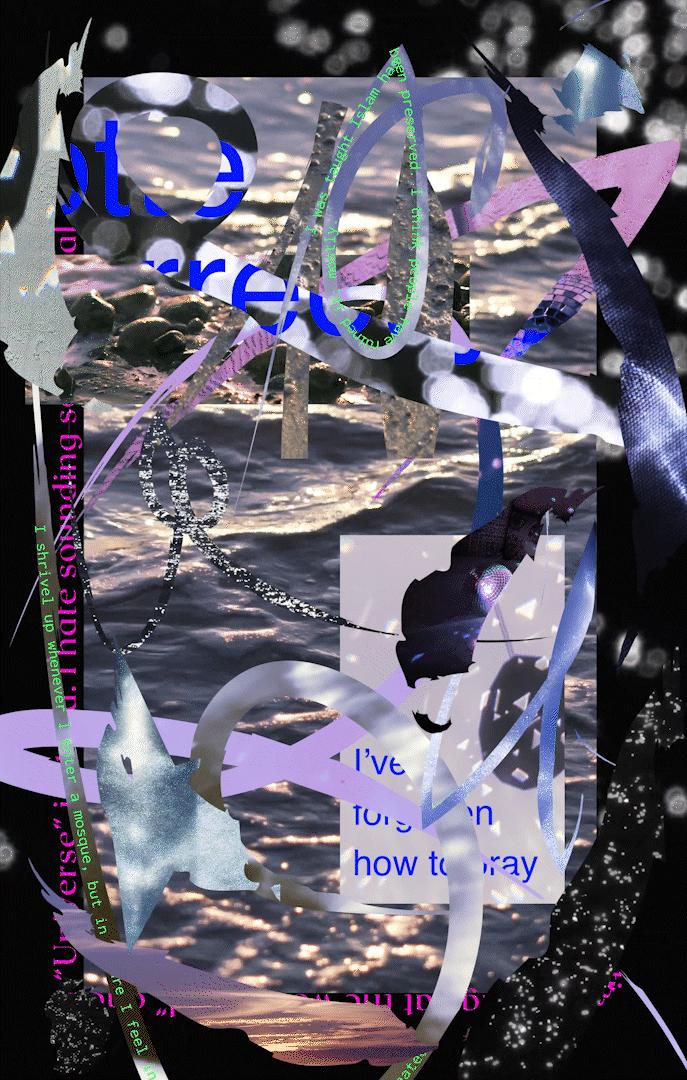 Unsacred Jainamaaz
Video Installation, Projection
2.5' x 4'
2022
Referencing the visual language of Islamic architecture, I designed a contemporary prayer rug that emphasizes depth of space and the explosion of energy in search of freedom and balance. My mark-making makes this design personal, and expresses my continuous search to find myself in my faith, and my continuous dialogue with it. 
Videos of light are embedded in the strokes; the rug itself is projected onto sand to ground the piece in an otherworldly, nature-defined sacred space. 
The sand references both my connection to the sea, as well as the origin of Islam in the desert; it is further a metaphor for the ephemerality and boundlessness of this life.
Image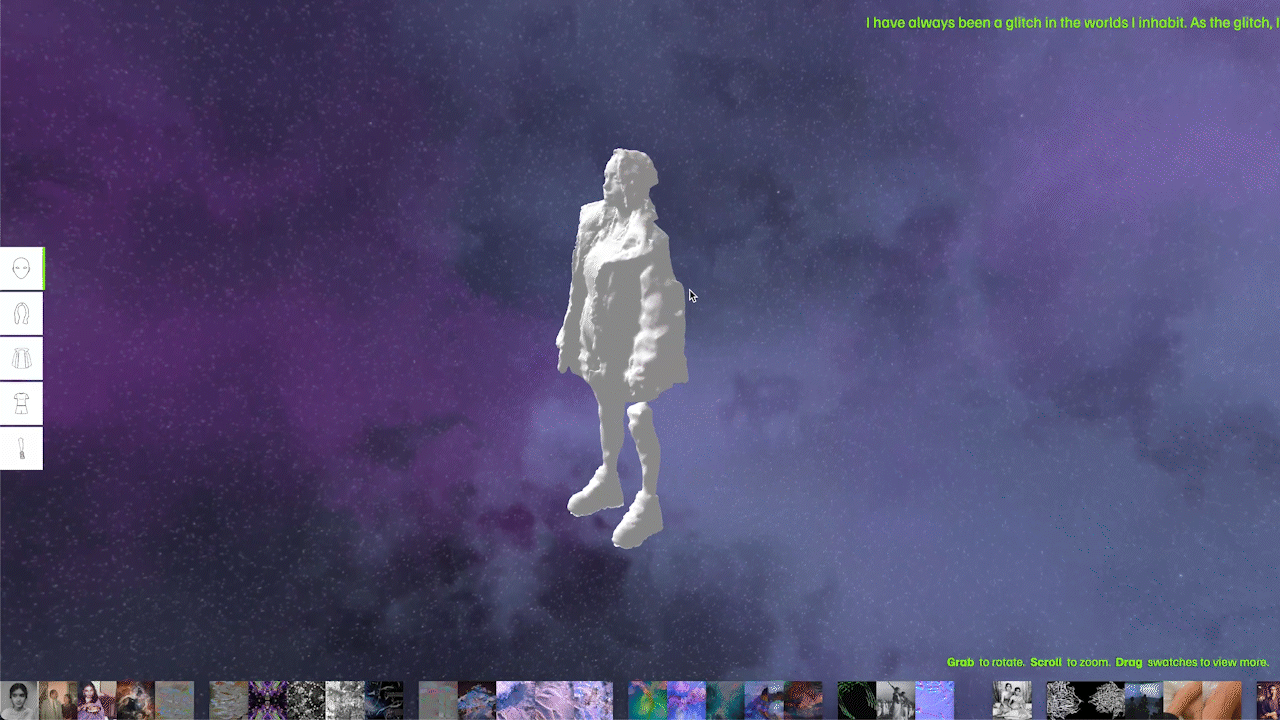 Avatar Builder—Avatar Sadia
Interactive Website
2022
This interactive web project is an investigation of the visual markers of identity through the form of my simulated body. Taking inspiration from paper dolls and video game avatars, I am working to question the visual language and form of identity as it relates to the interior and exterior self. In applying my photos, art, and visuals to the surface of the body, I ask if how I see and process the world could inform and become how the world, in return, sees me.
Image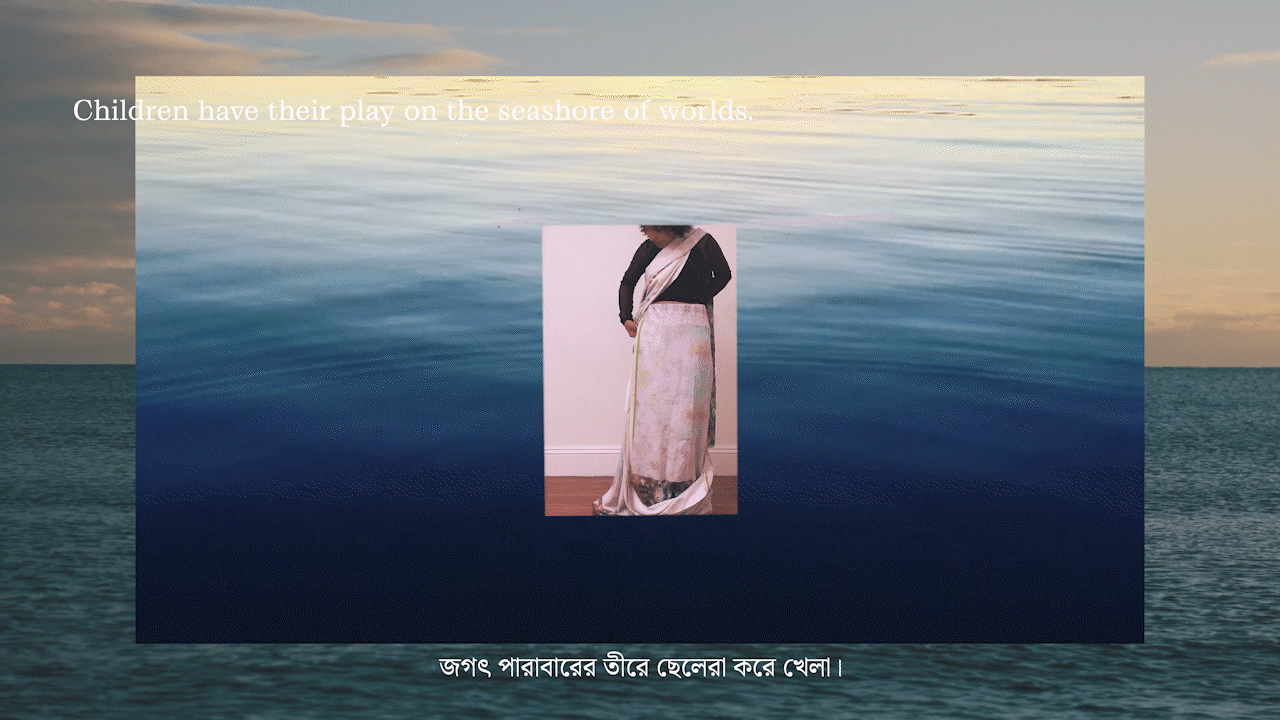 Gitanjali No. 60
Video
3840 x 2160
2022
Through a hybrid documentary film, I explore a method of expressing the experience of diasporic longing for belonging, and personal engagement with heritage, identity emotions, memory, futurity, and generational connection in a sensory, dreamy way.
Abstraction and visual collage creates an emotional landscape that evokes the feeling of being awash in overlapping memories and feelings; it is ephemeral, unpolished and textured, a watery and glitchy exploration of the thin veils between life and death, between here and there, between America and Bangladesh, between myself and my heritage. 
I use performance, learning to wear the sari I designed with my mother instructing me over FaceTime, laid over fractured, data-moshed, glitched abstract visuals.
How Does the Ocean Dream?
Video, Animation, Installation, Projection
3840 x 2160, 1920 x 1080
2022
This immersive two-channel video installation is experienced as a meditative, sacred space, inviting the audience into an alternate world. I question sacred connections to the cosmos, and imagine the Ocean as a nonhuman yet equally emotive entity. A poetic video narrative is projected on the left screen. The screen on the right displays an animation of waves crashing over one another, reinforcing themes of resistance to borders, boundaries, and categorization present in the narrative.
Image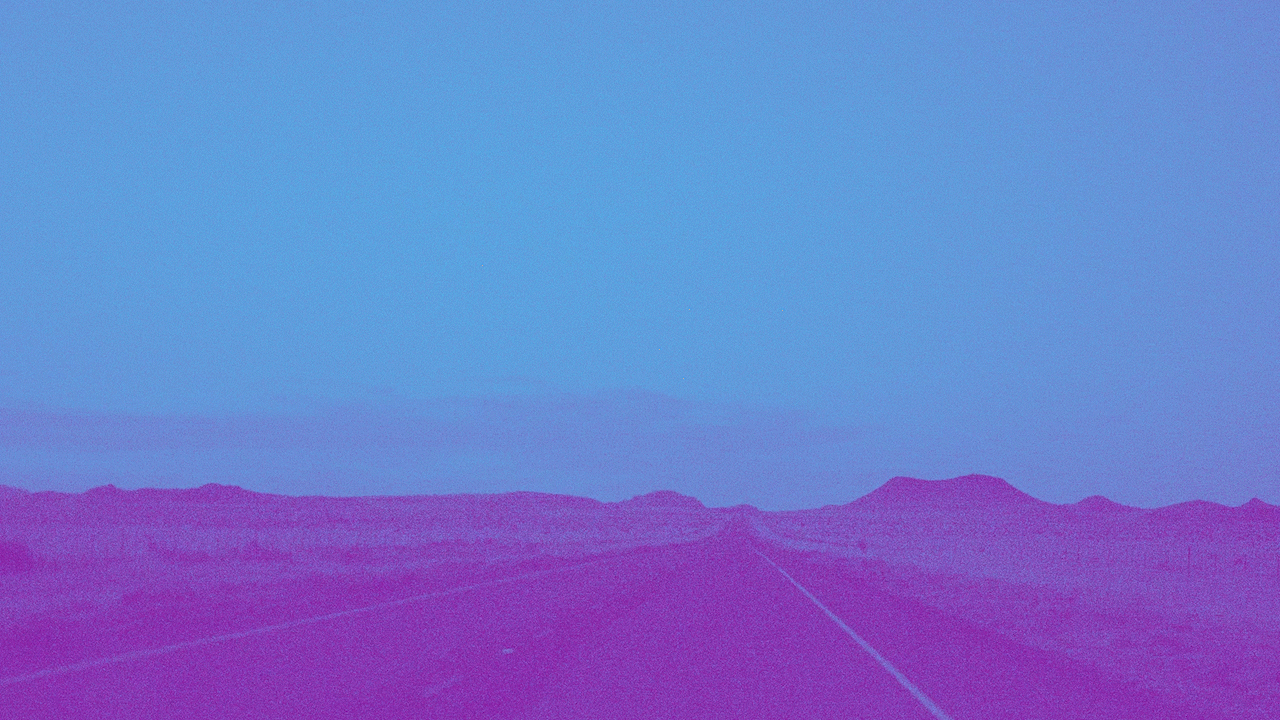 All the Colors of the Desert
Video Essay
1920 x 1080
2022
This three part video essay documents my connection to the desert through the lens of my faith, gender, race, and soul. 
I took video footage from my road trip through West Texas, selected thousands of screenshots which I treated to create an otherworldly atmosphere somewhere between dream and reality, and resequenced the images to my narrative to construct the meandering video essay. 
The jerky, stop-motion quality of the video emphasizes the discordant and disorienting relationship between soul and body that my narrative expresses.
Image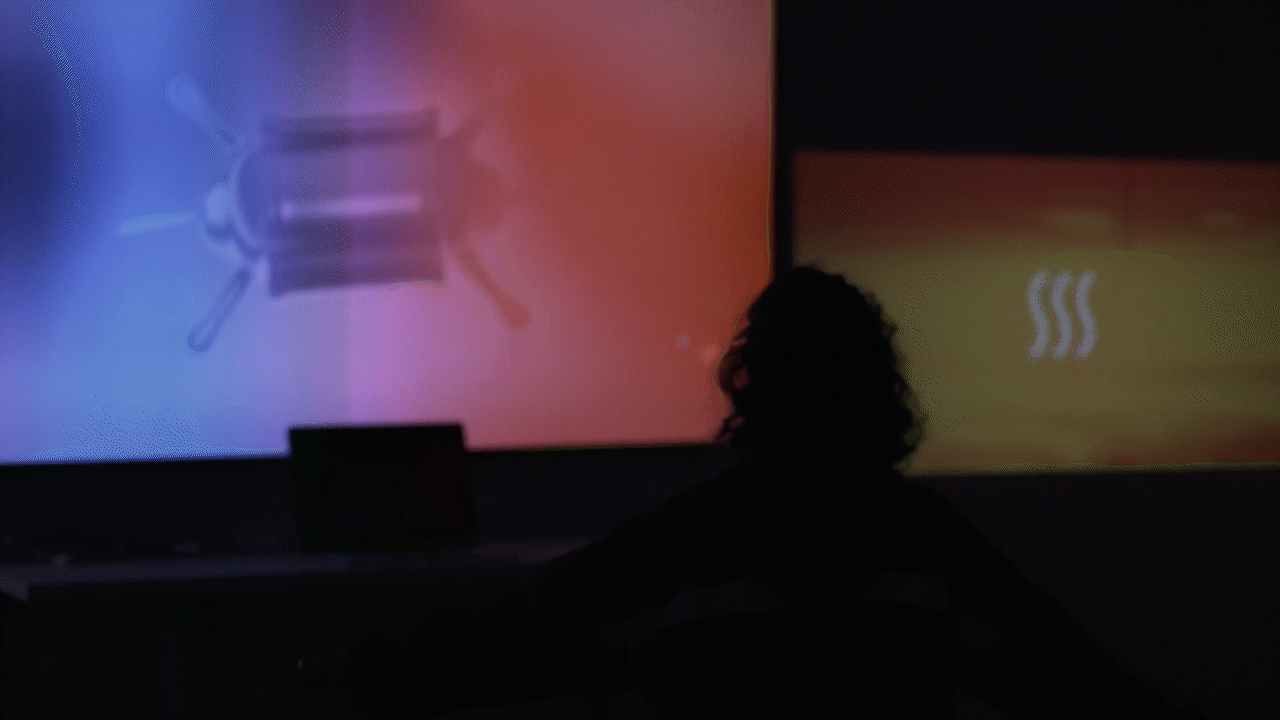 Diatomic Life
Interactive Video Installation
10' x 10'
2022
This project seeks to imagine the experience of a diatom and facilitate connection in order to create a visual, empathic relationship between human and non-human, and break the barrier of didactic discussions around climate change. 
A diatom's stress or excitement, often in reaction to thermal changes in the oceanic environment, can be observed through the release of a fluid calcium substance, revealed through fluorescence marking. We were very interested in this concept of color as language, and intuitive, emotive communication. 
The installation recreates this experience. Users are able to interact with a televised diatom by moving within its space. By doing so, the diatom reacts with movement and changes to color. The result is a "felt" space, one that communicates experience through subtle formal changes, not native to either species.
Image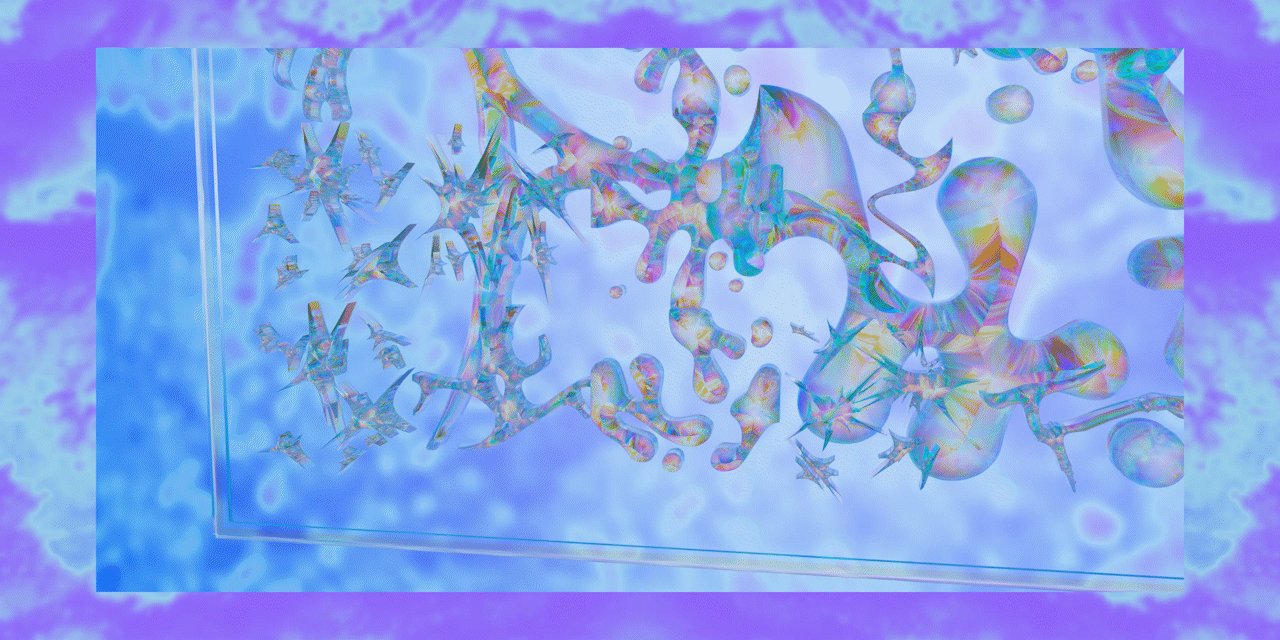 Underwater Mashrabiyya
3D Rendering, Video, Animation
3840 x 1920
2022—2023
I have experienced Mashrabiyyas most often within the mosque, sectioning the women's area away from the main prayer hall, as the gate blocking me from the world of the divine. If the interior prayer hall is considered the portal to the divine, a space where veils are lifted and another world lies within reach, then that space was reserved solely for male worshippers. 
Through this project, I redesign the Mashrabiyya as a new type of portal into a speculative underwater world. Instead of the perfection of Islamic geometries, I drew modules of organic forms inspired by swirling vegetal forms, starlight, water caustics, and cosmic shapes. I developed 3 screens, modeled in prismatic glass, progressing from high density to low, allowing the screen to stretch apart and dissolve for greater access to the world that could lay beyond.
Image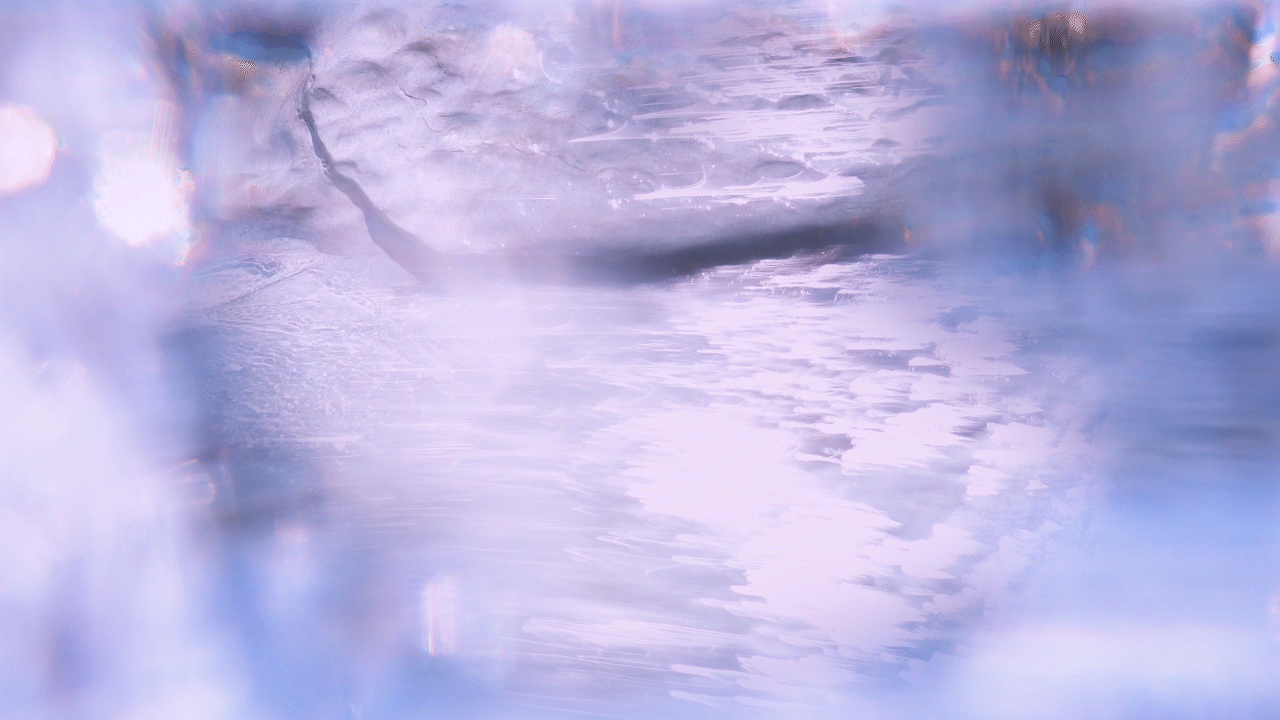 Tidepool Portals
Video, Glass Casting, Animation
3840 x 2160
2023
Comparing the tidepool to the human soul caught within a physical body, I explore the idea that a tide pool remembers its past life in the ocean, fragmented memories of being part of something vast and unfathomable, before it was trapped by the boundaries of its new body. I used glass pieces to work with sunlight and the movement of water, using the glass as a lens to distort light and motion while capturing footage. To create the feeling of a portal, or spirit, something alive flitting through the landscape, I digitally layered and animated the portal spirit. 
Image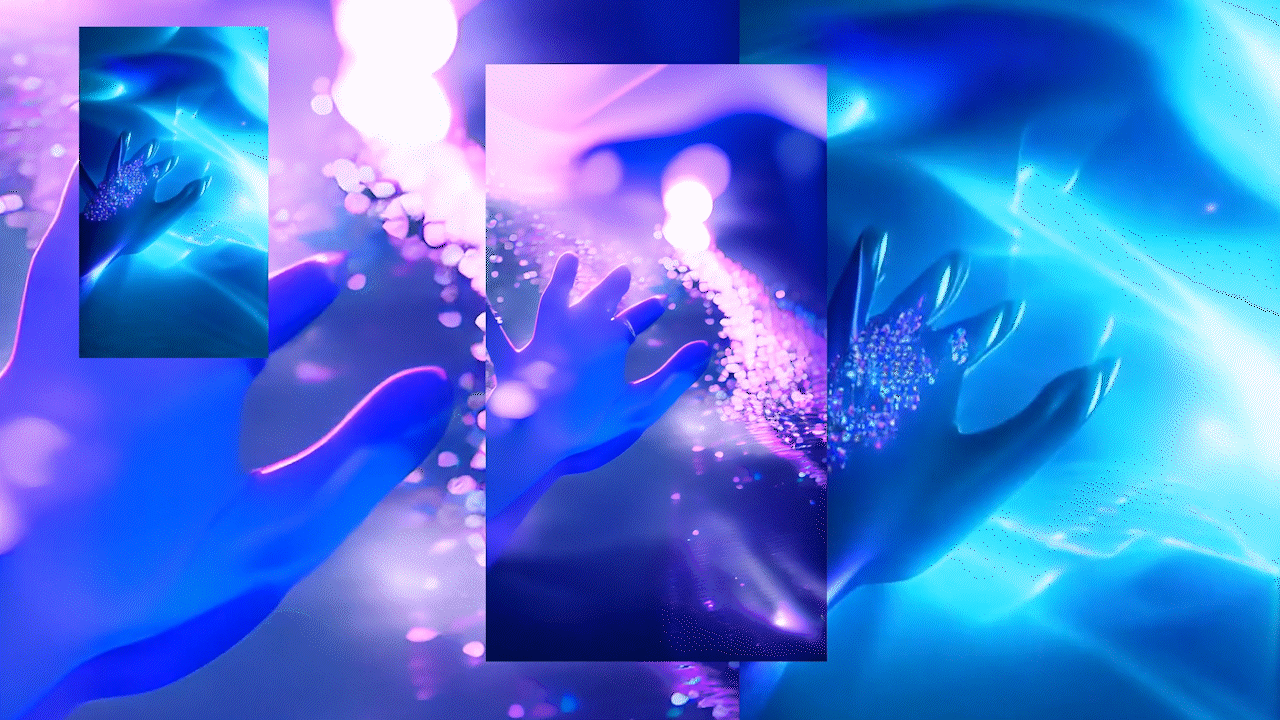 OtherWorlding
AI Video-to-Video training and generation, Video, Animation
3840 x 2160
2023
This project experiments with a process of giving visual form to OtherWorld, and was conceived as a result of my desire to collaborate with the people in my life who are influential to my thinking and making. After a series of interviews and conversations, I asked each participant to send me short video clips capturing spaces and moments in time that brought them joy. I combined these videos with videos of my own, all capturing nature and connection in some way. 
Using Runway GEN-1's Video-to-Video AI generative system, I trained the generator with my own videos and renderings to create a wholly new vision of OtherWorld. I edited these clips together to create a textural video landscape co-created between myself, my community, the world around us, and artificial intelligence.