Image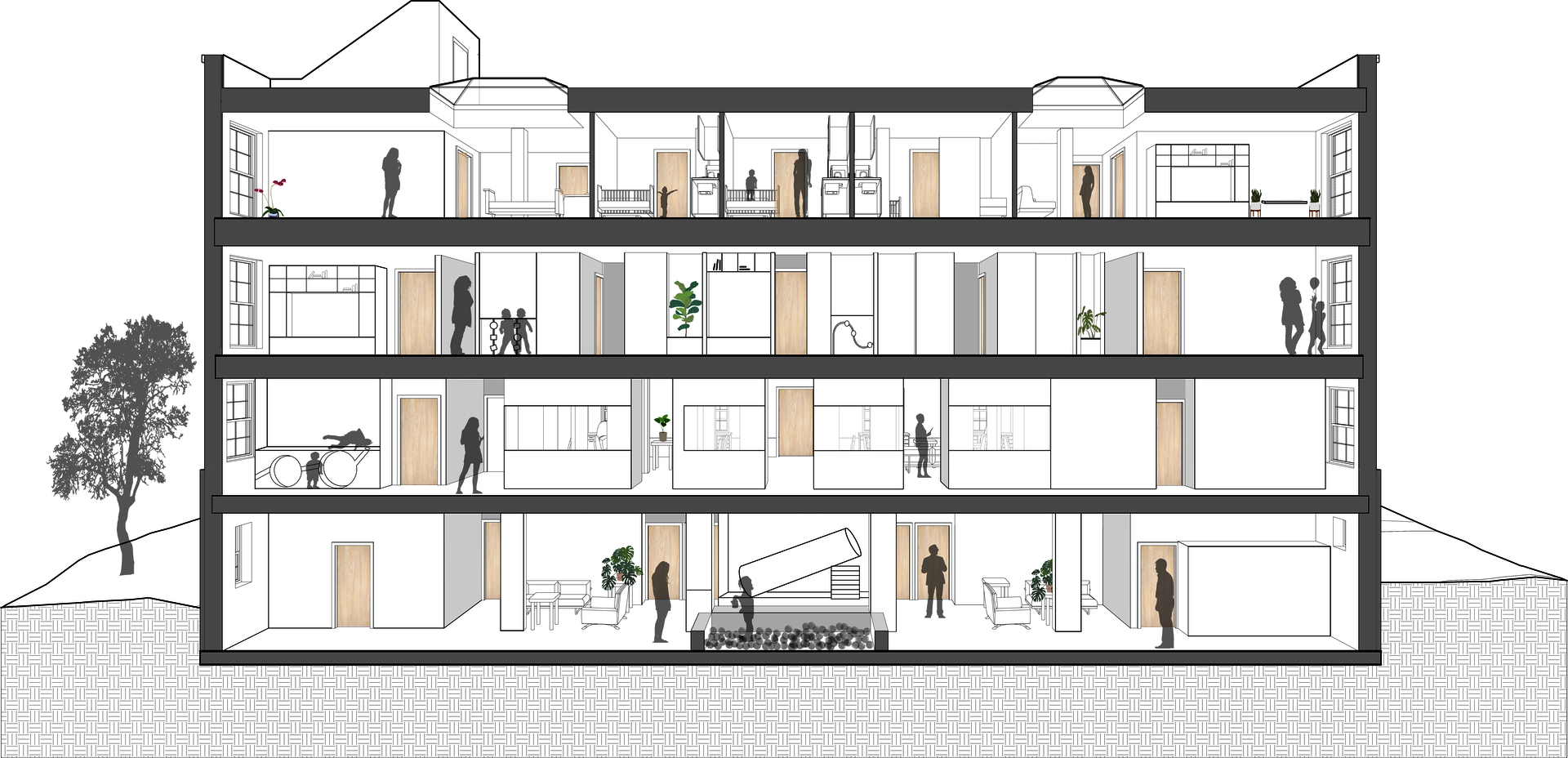 The main entrance to this shelter is a respectful, modest and invisible adaptive reuse intervention, providing the residents with a safe and dignified entrance to their new home. An environmentally and economically sustainable solution to the existing U - shaped corridors in the host structure was to transform these spaces into "In-Habitable" and programmable spaces. Making children the focal point of our Trauma Informed design strategy, this proposal of "In-Habitable Walls" hosts a variety of activities, textures and opportunities for interaction, helping the children heal through play. The walls help to provide ordinary comfort to the adult residents by easing their day to day activities while creating a program within corridor walls on both sides which is intended to provide comfort to both types of users. These walls take various forms depending on their specific location, ranging from study pods, to storage in administrative rooms to kitchenettes in the residential areas.
Image Site Development
3D Visualization 
2023
Our site is a decommissioned, turn of the century U shaped convent building that shares a boundary with a school and a church. Located in a wealthy residential neighborhood, it was essential for us to respond to the context appropriately. With a sensitive, sustainable approach we have chosen to retain most of the building exterior, while opening up the access to the inner courtyard. A welcoming and safe atmosphere has been created by changing the entry access through a double height space while maximizing access to open terraces and the lawn. 
The U shape building has an activity wall on its open side, closing the U shape making it a courtyard building, allowing for private courtyard space for the residents. This space can then be used for more private communal activities of their choice. 
Image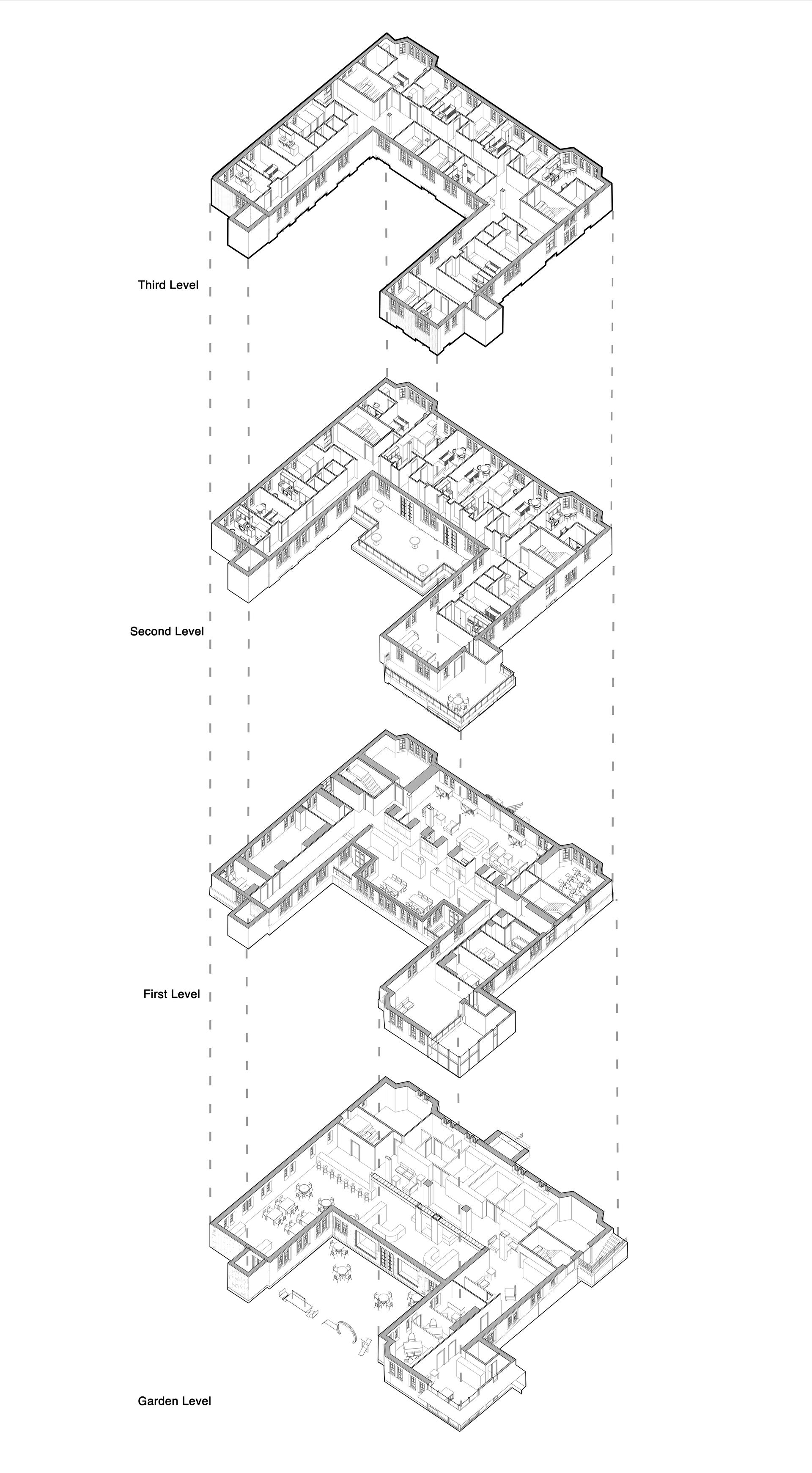 Exploded Axonometric Views
Digital Visualization 
2023
This building is zoned in sections with the Garden Level having the most public functions like offices, visitor lounges and community spaces. 
The First Level is a semi private with case workers and resident access..This floor  mainly focuses on healing through play for children by humanizing the U-shaped corridors for the kids. These interactive walls are designed with the kid's eye level in mind. The various textures, activities and interactions with these surfaces will keep the kids stimulated and engaged. 
While the kids are engrossed in these activities the walls also provide storage options at higher level for the adults.
Image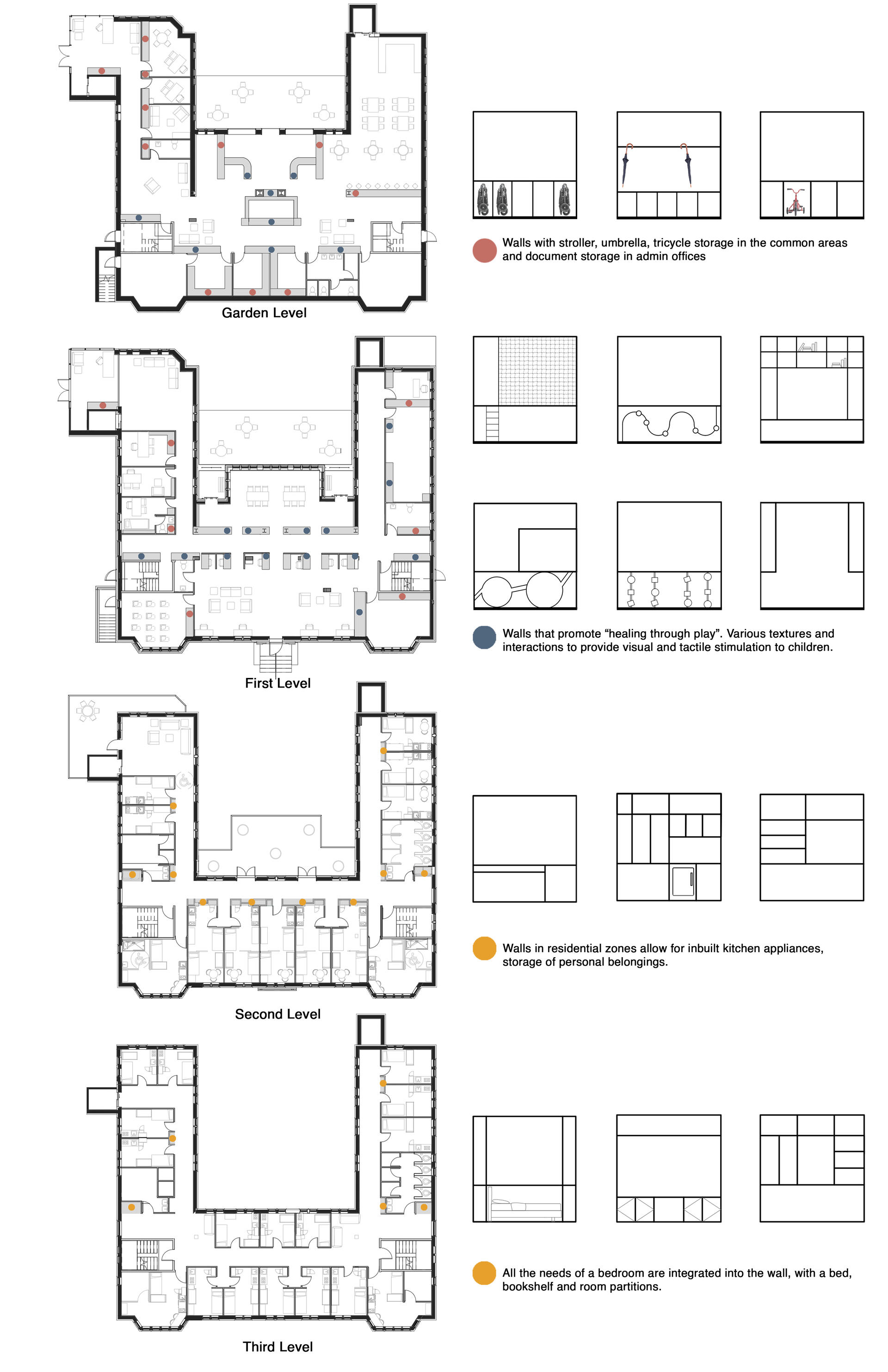 In-Habitable Wall Exploration
Digital Visualization 
2023
The main aim of the "In-Habitable Walls'' is to provide ordinary comfort that one usually takes for granted. These are simple aspects of living in a home that one assumes will be provided for. Eg- space for storing shoes, coats, umbrellas, books and toys. 
By helping to ease daily chores and activities, the walls empower the adult residents to focus on rebuilding themselves.
Image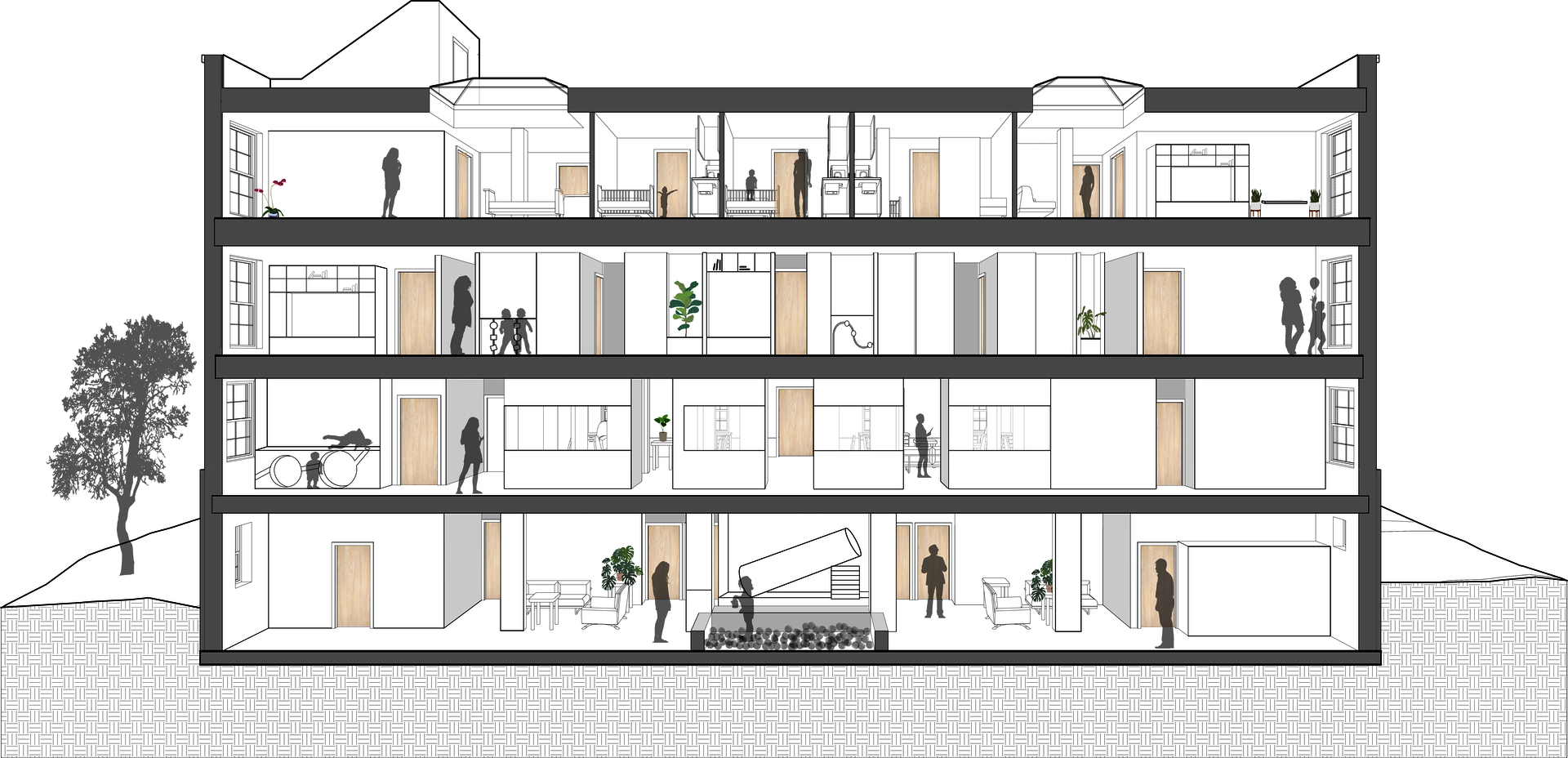 Interior Perspective 
3D & Digital Visualization 
2023
The existing corridors of the building were dimly lit, endless and confusing. The aim was to convert this into the most active part of the building by implementing interactive walls to promote healing through play among the kids, while easing out daily activities for the adults. The "In-Habitable Walls'' on each floor are programmed with a function unique to its location in the building. By creating programs on both sides of the walls, we aim to provide usability to users on either side of the wall. 
Image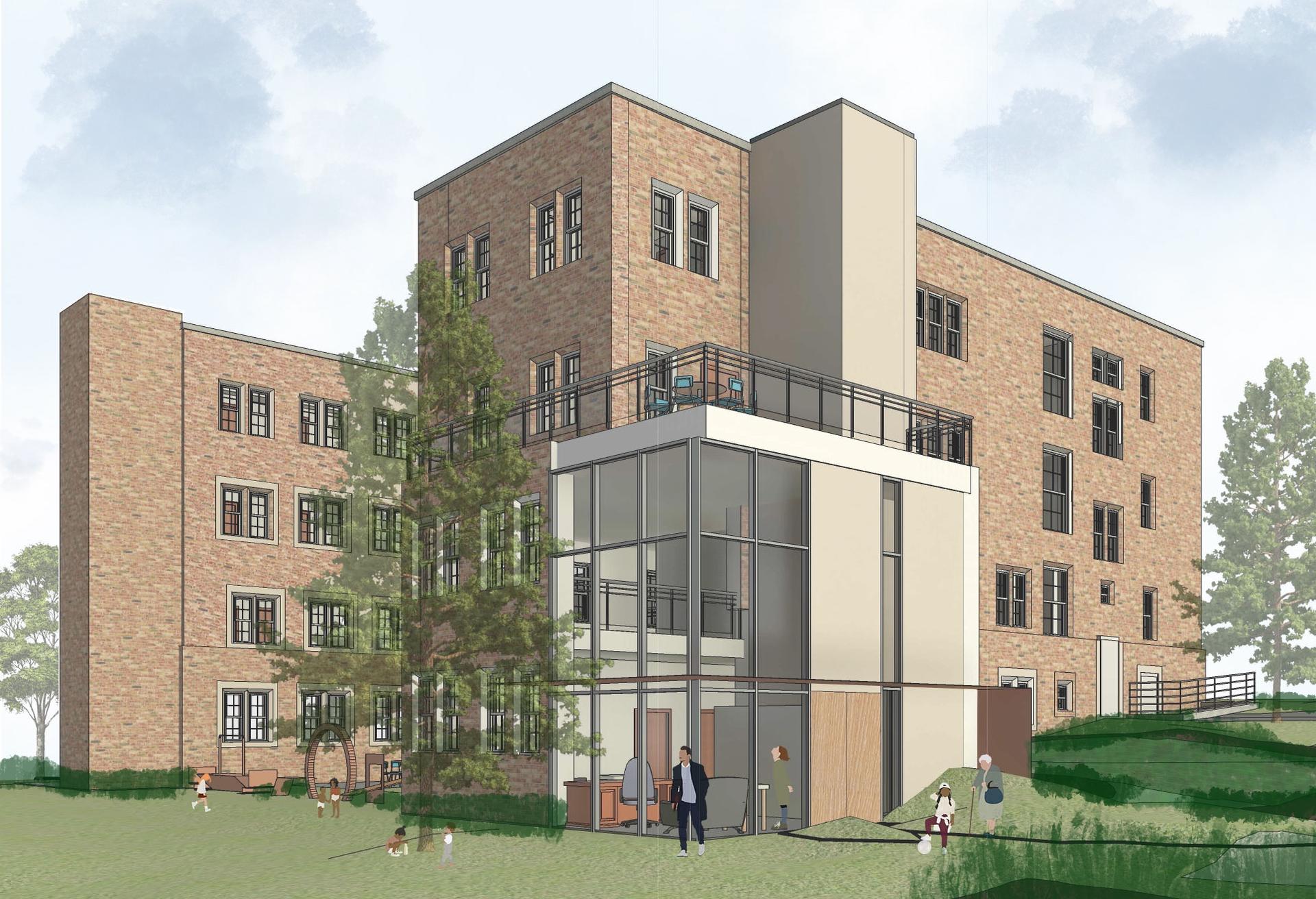 Exterior View
3D Visualization 
2023
The respectful and modest side entrance allows the resident to enter and exit the building with privacy. It helps to safeguard them from the hostile neighborhood environment while the exterior "In-Habitable Wall" adds a playful element that accommodates multiple activities. The residents and children will now be encouraged to and will feel safe to spend time in the courtyard, either enjoying various activities or playing on the lawn. 
Image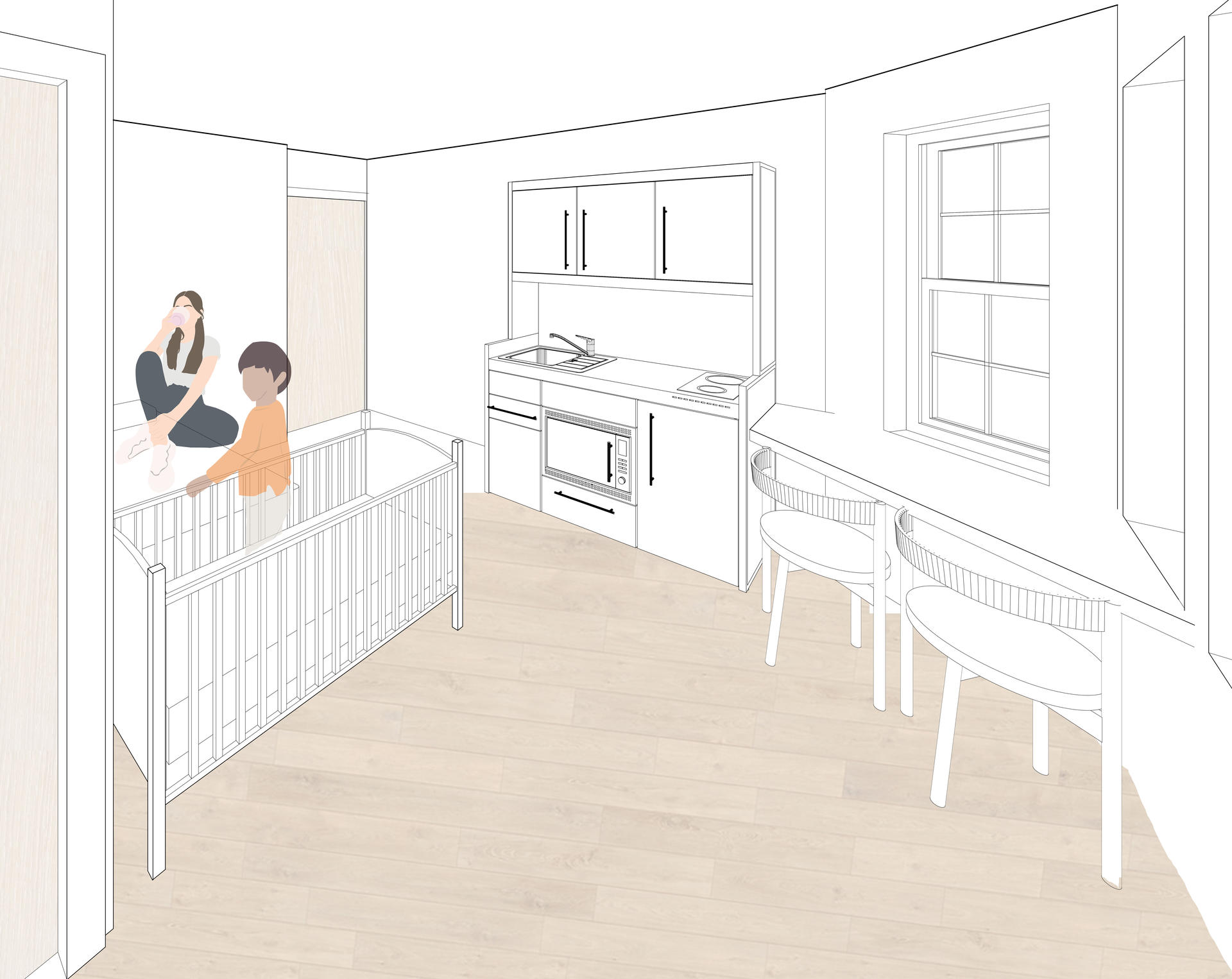 ADA Room View
3D Visualization 
2023
With ample daylight in all the residences, the mother and children have a well equipped, self -sufficient space to spend their time. There is sufficient storage space for their belongings, and an in-built kitchenette allows them to share meals in their own personal space without having to go to the common kitchen area. The use of specific soothing materials, textures and colors are helpful to facilitate a comfortable environment. Acoustic panels help to maintain auditory privacy.
Accessible rooms are designed to facilitate ease of movement of a wheelchair user inside the room. 
Spider Silk Factory
Hand crafted physical model 
18"x18" 
2022
A diorama designed for the Museum of Natural History, Cape Cod; this exhibit was designed to encourage children to engage and interact. The main theme was to study spider webs, and the multiple assets of spider silk.
The children are encouraged to climb, jump, walk through, crawl and move around the diorama as they like. They can read about, watch informational videos.and perform activities to learn more about these animals.
Image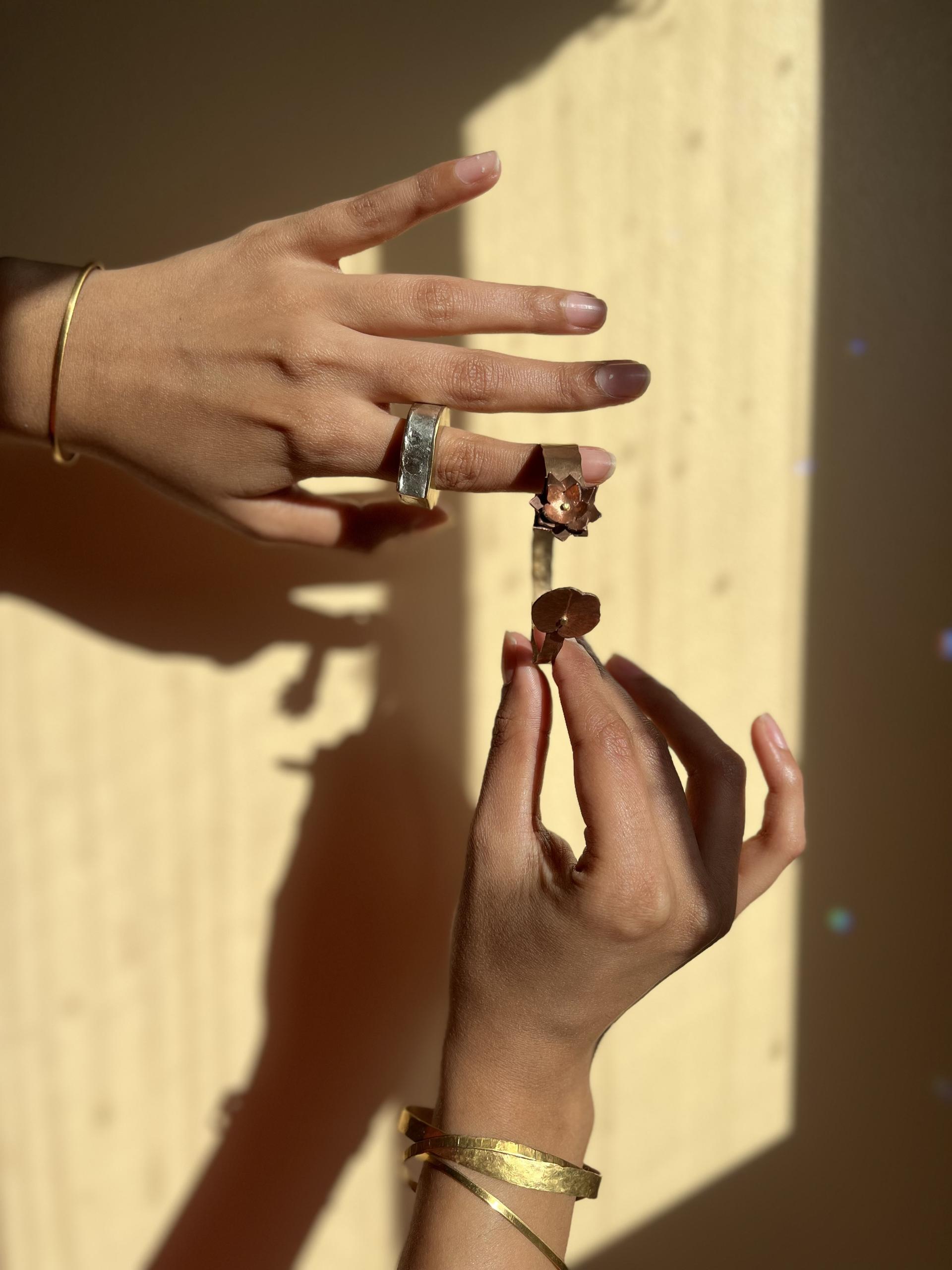 Trinkets
Brass
2022
A fall semester elective focusing on jewelry design and metalsmithing, I explored designing rings, bracelets using brass and silver.  
Memoir 
Handbound book made using imprints of leaves
5"x7"
2023
A coptic stitch hand bound book comprising a collection of prints of mainly leaves and twigs.