Image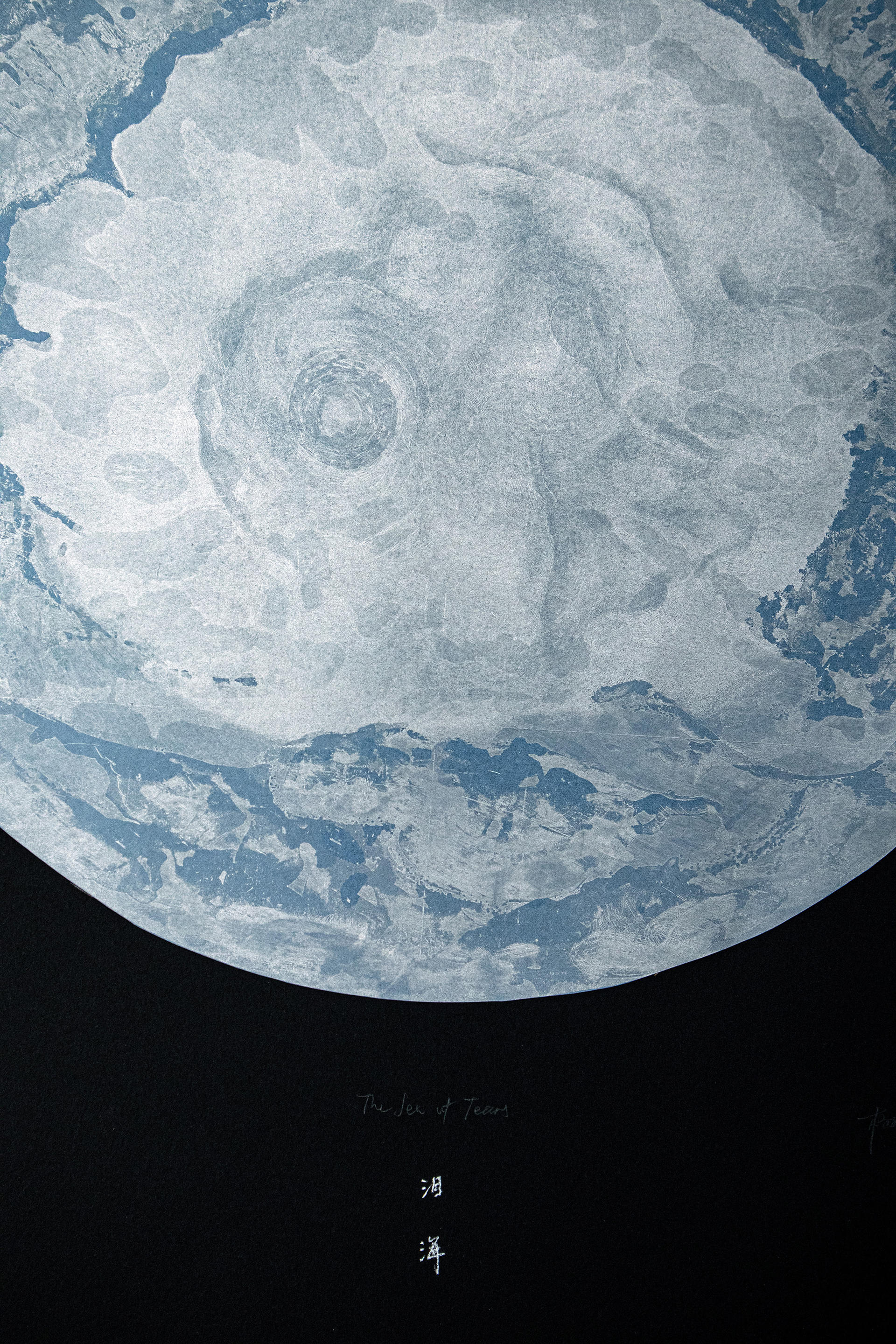 One More Time, I Love You ––我有所念人,隔在远远乡
In my thesis project, I use intaglio printing and embroidery to convey my feelings about the legends of the Three Lives Stones and the Meng Po Soup. I feel an invisible similarity between human feelings and the two processes of etching and embroidery. Drypoint or acid-bath etching on the copper plate will leave a row of fine scars, as long as the action that represents my consciousness touches the surface of the plate. The scars are superimposed as I move, gradually becoming dense until I can't tell what they look like individually. Embroidery is the same. When a stitch goes down, the mark is too small, as if a grain of sand fell on the ground. However, the marks from a thousand stitches overlapping, again and again, are too heavy, so heavy that the fabric underneath is bent and curled and cannot be restored to flatness even when ironed at high temperatures.
Image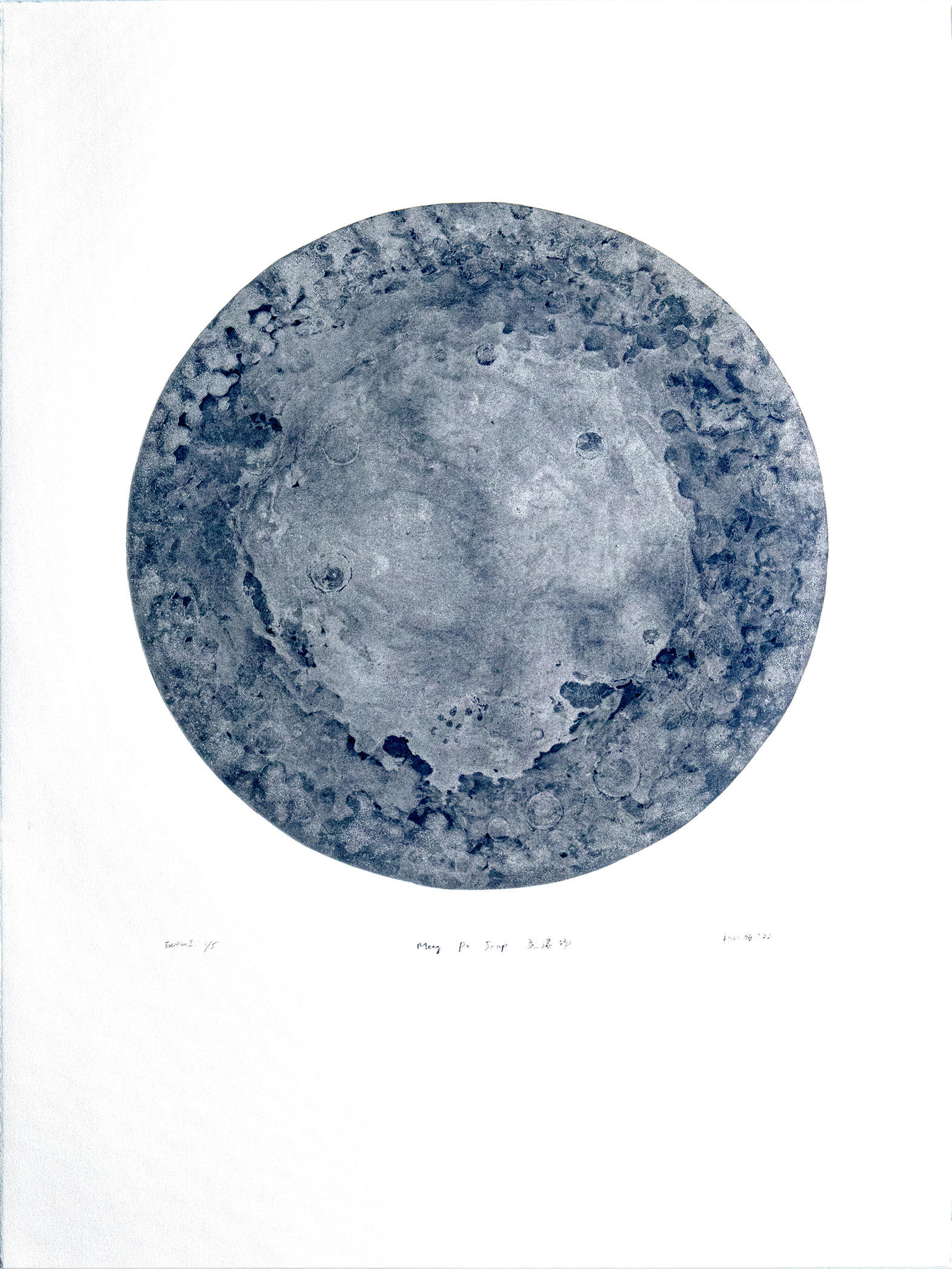 Meng Po Soup
Intaglio Print
22"x30"
2022
The Sea of Fertility is a group of prints which includes two etchings, Meng Po Soup (Soup of Oblivion), and The Sea of Tears. They are my speculations on the concept of Meng Po Soup and the feeling of nothingness after the living soul loses its memory. In this series of etchings, I wanted to convey a hazy, barren, vast, and expansive feeling through the language of monotone images printed from copper plates. I believe that beauty that is set in stone in the process of intaglio plate-making is not true beauty. It is the uncontrollable destruction, devastation, and violence caused by material and randomness that brings beauty to its true balance.
Image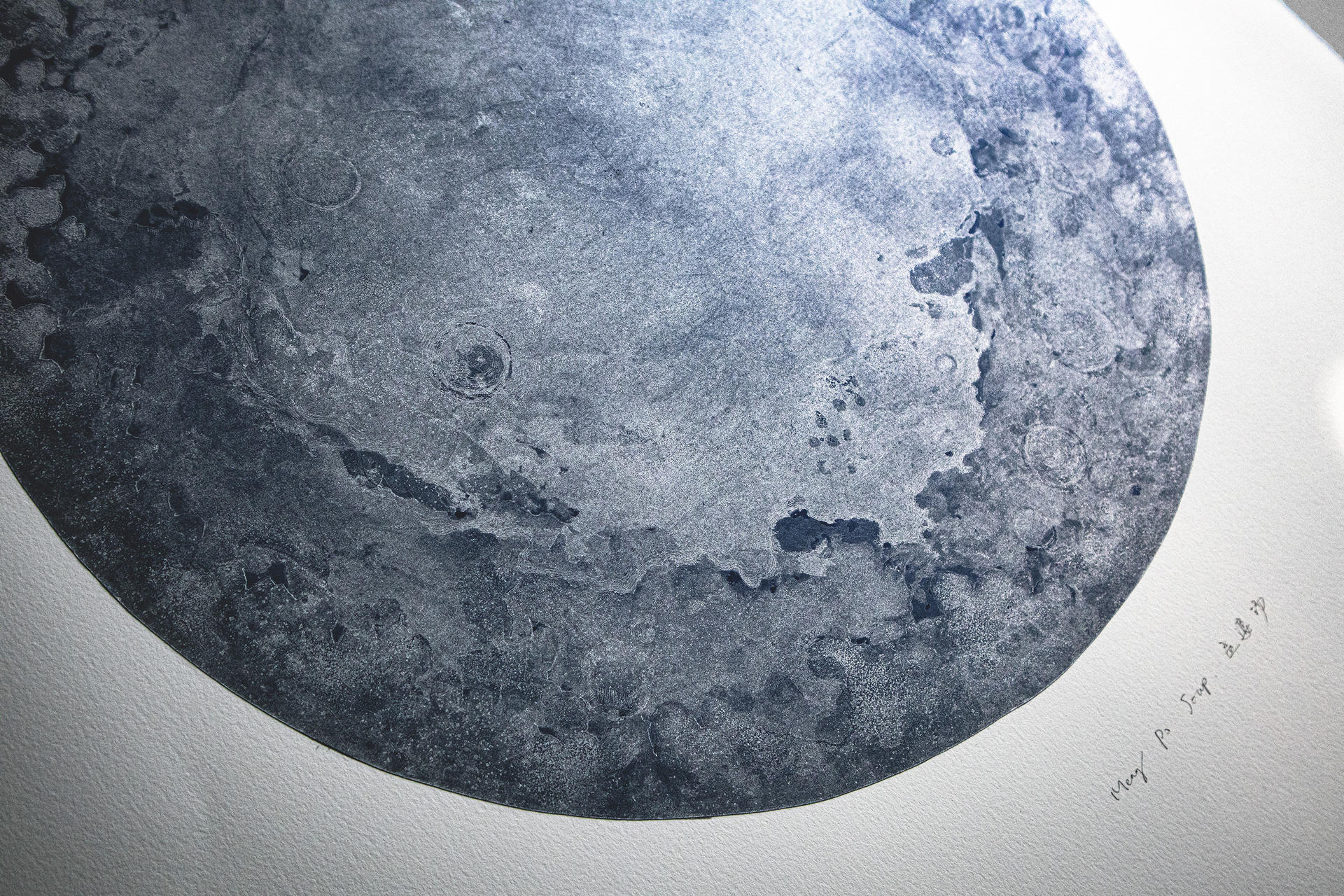 Meng Po Soup (detail)
Intaglio Print
22"x30" 
2022
Usually when making copperplate prints, I think about the clear black and white relationships in the picture, but in this series, I want to try to create a virtual image that is neither colorless nor transparent, but has a strong sense of ash. The silver ink captures the sandy and liquid texture of the plate marks, resulting in an image that resembles cold, shiny ashes scattered across a shimmering blue lake. These feelings of ash and water vapor are my expression of the joys and sorrows of countless people and scenes. In the picture of Meng Po Soup, I want to express not only a person's past, but also more fragmented and scattered things. There are forgotten objects, unforgettable experiences, and even some character traits that have been hidden by time. This is the cause and effect entanglement of right and wrong, the ups and downs of the seven emotions and six senses, and the ashes that remain after a lifetime of burning.
Image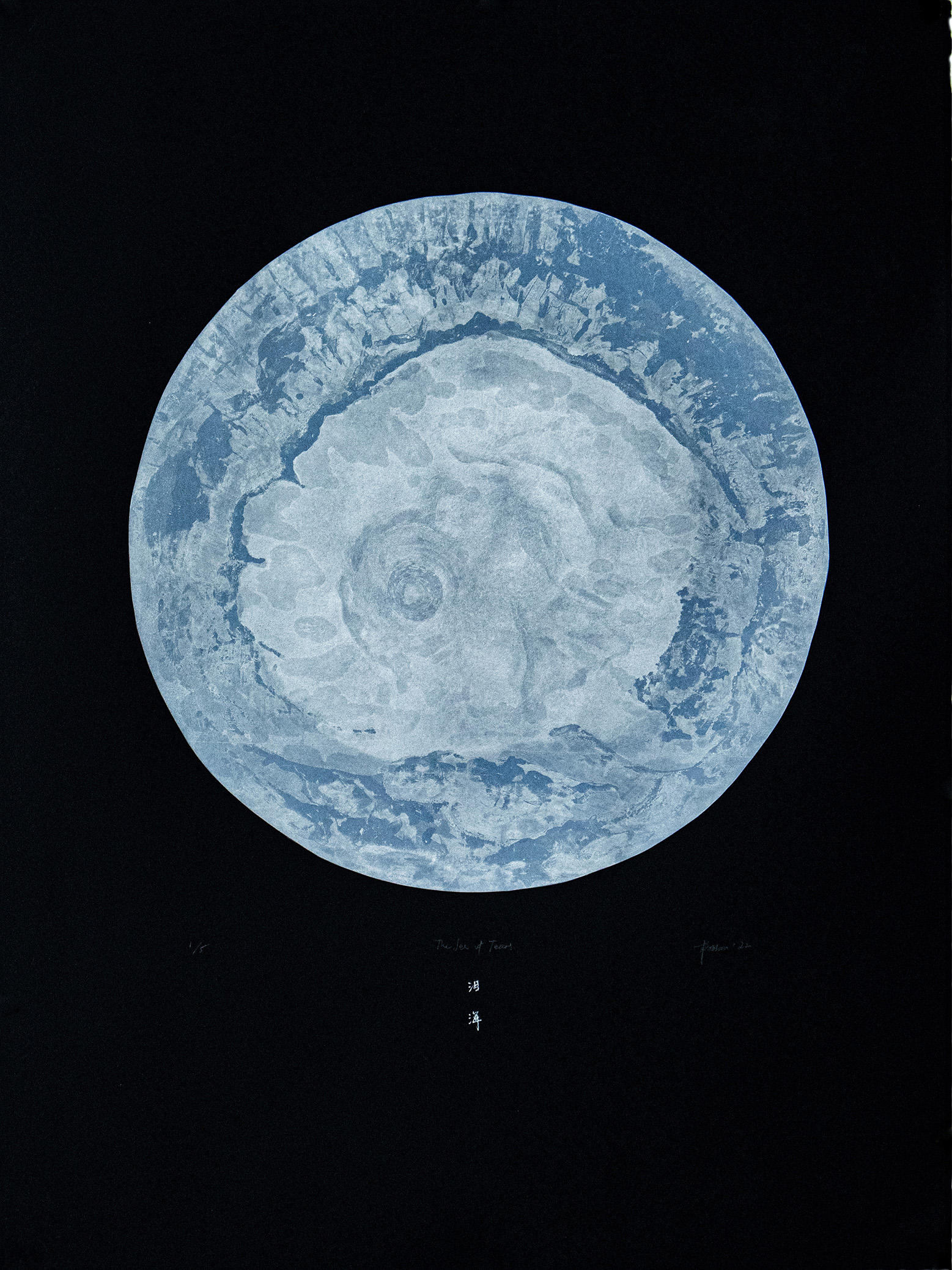 The Sea of Tears
Intaglio Print
22"x30"
2022
In the second print, The Sea of Tears, I focus on the marks that tears leave on people's hearts. Some Western legends believe tears are a byproduct of the material that becomes water when the heart is damaged. In this Chinese myth, the different tears people shed throughout their lives are the ingredients of Meng Po Soup. The soup is said to cleanse an individual's memory, freeing them from the burdens of their past life and allowing them to reincarnate into the next without any lingering attachments or traumas. This bowl of soup, or a collection of tears, is a gathering of obsessions and the most important memories of a person's life. I translate my thoughts about tears and human life through texture and marks that look similar to the dry seabed on a piece of thin Gampi paper to give a sense of softness, fragility, and pliability of everyone's memories of crying.
Image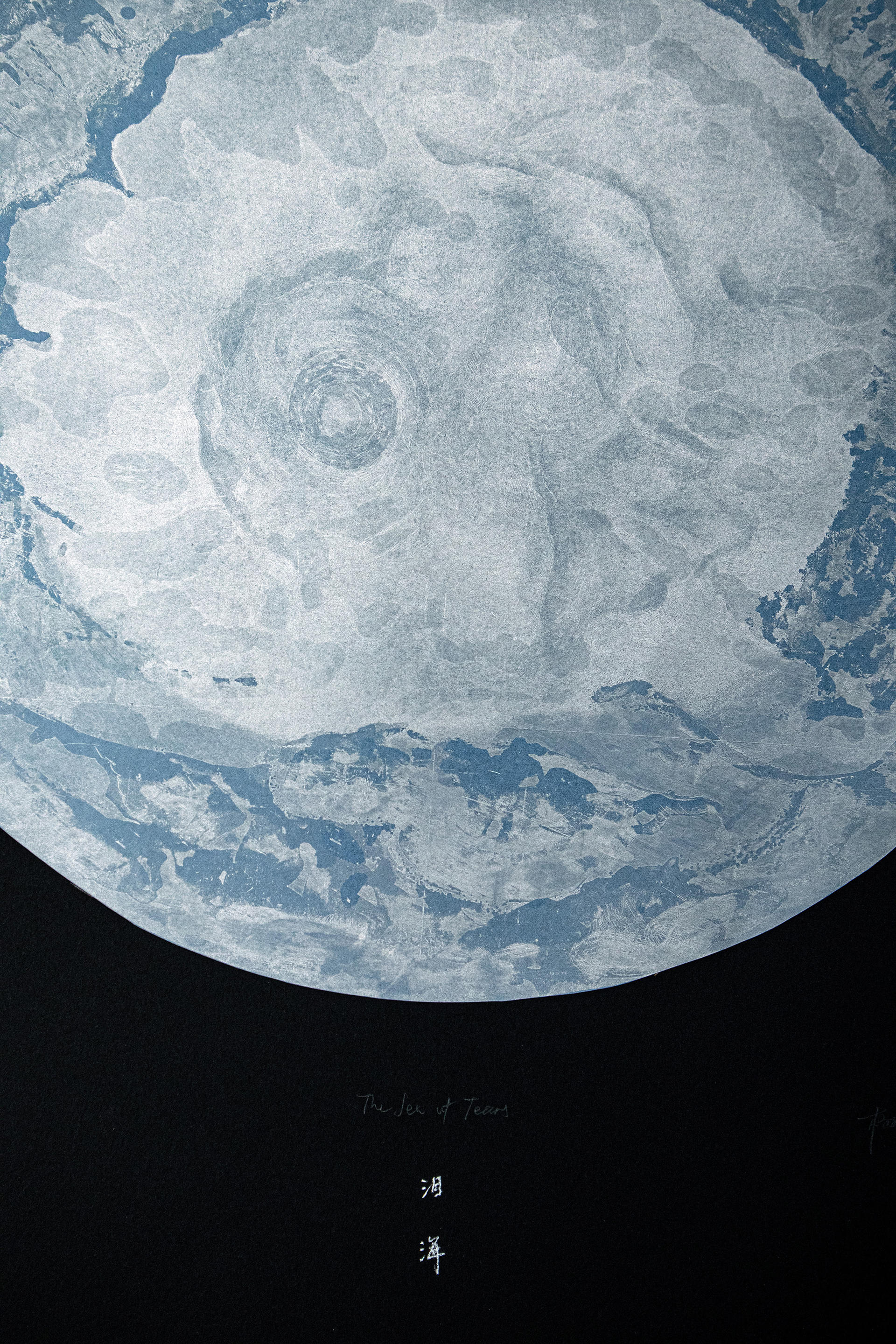 The Sea of Tears (detail)
Intaglio Print
22"x30"
2022
The act of weeping is further intensified by the royal blue gampi paper, with silver ink used to print the image, which is cut into circular shapes and pressed onto the dense black BFK paper using the chine-collé technique. When viewed from a distance, the image appears like a glimmering teardrop within the darkness. Upon closer inspection, one can discern the depth of the moon-crater-like imprints, with the center of the pattern resembling a curled-up, ancient biological embryo fossil resting at the bottom of a swamp or seabed. When we cry and wipe our tears, our memories of tears will leave marks on our skin, then dry out and become invisible energy, an imprint of our existence in the world.
Image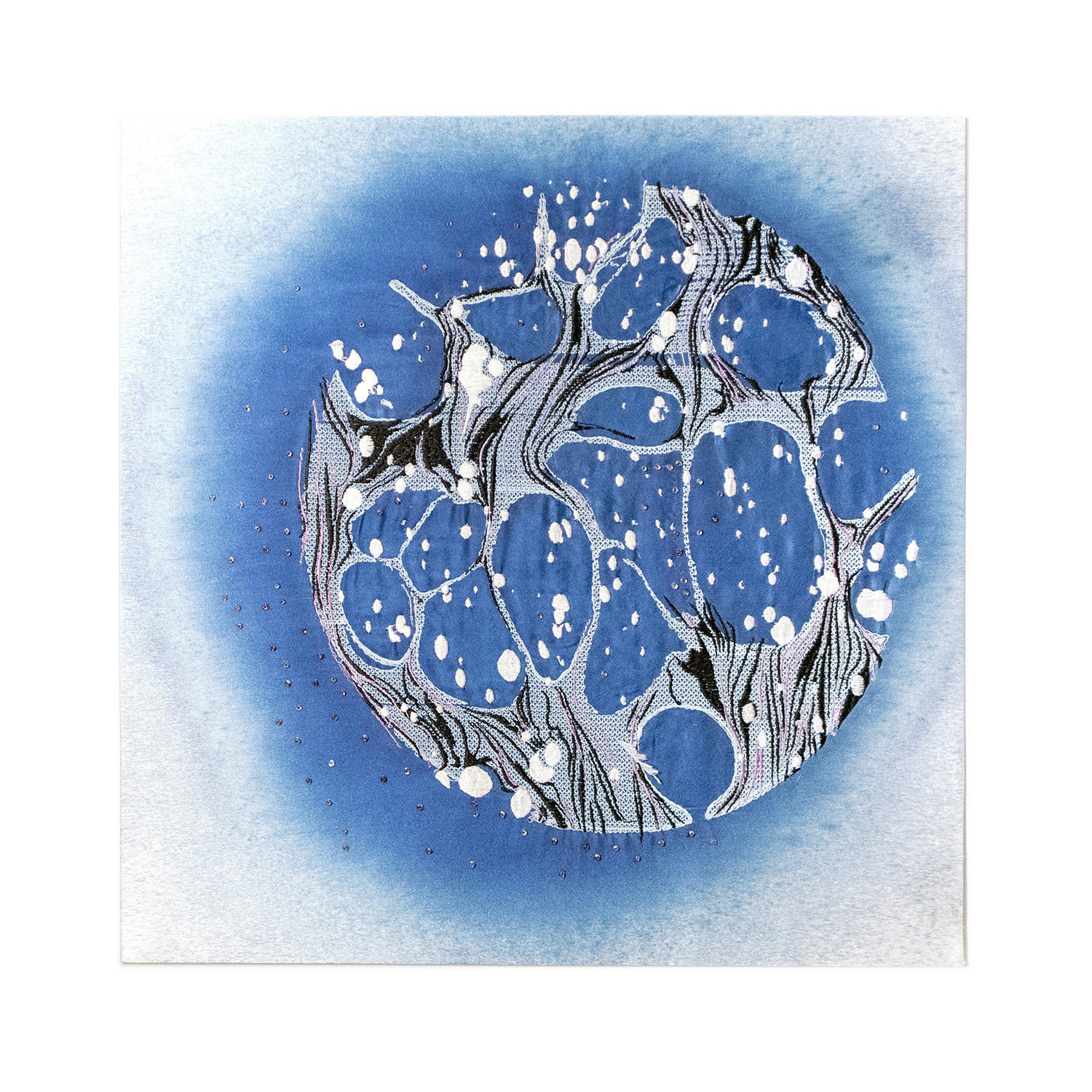 A Dream Evocation - Night
Cyanotype and Embroidery on Silk
13"x13"
2022
A Dream Evocation is a series of small-size embroidery and cyanotype works I created to express memories, forgetfulness, and dreams. After drinking Meng Po Soup, how does one recall their life? An individual's life comprises innumerable moments, some tiny, sparkling fragments, while others stretch out like the undulating waves illuminated by moonlight. Everything is a detail, a paragraph of life. It's endless, in various forms. No matter how deeply one holds a grudge or no longer cares, everything is entangled together, forming a kind of endless confusion. 
Image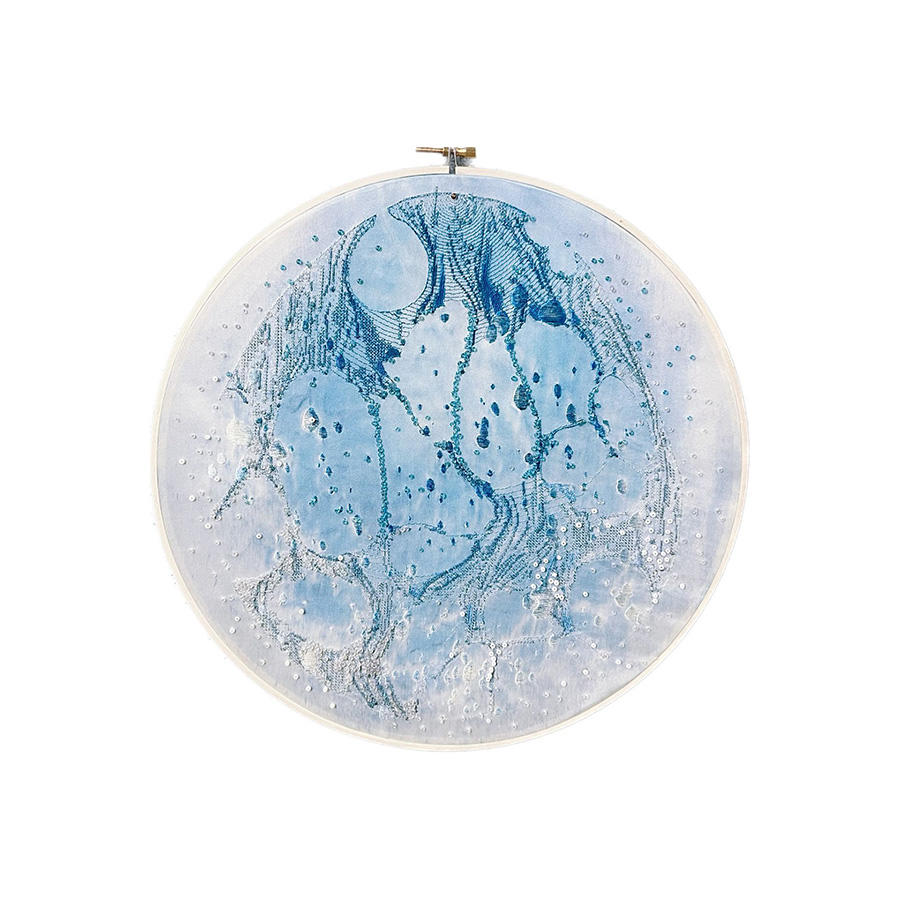 A Dream Evocation - Day
Cyanotype and Embroidery on Silk
12"x12"
2022
Image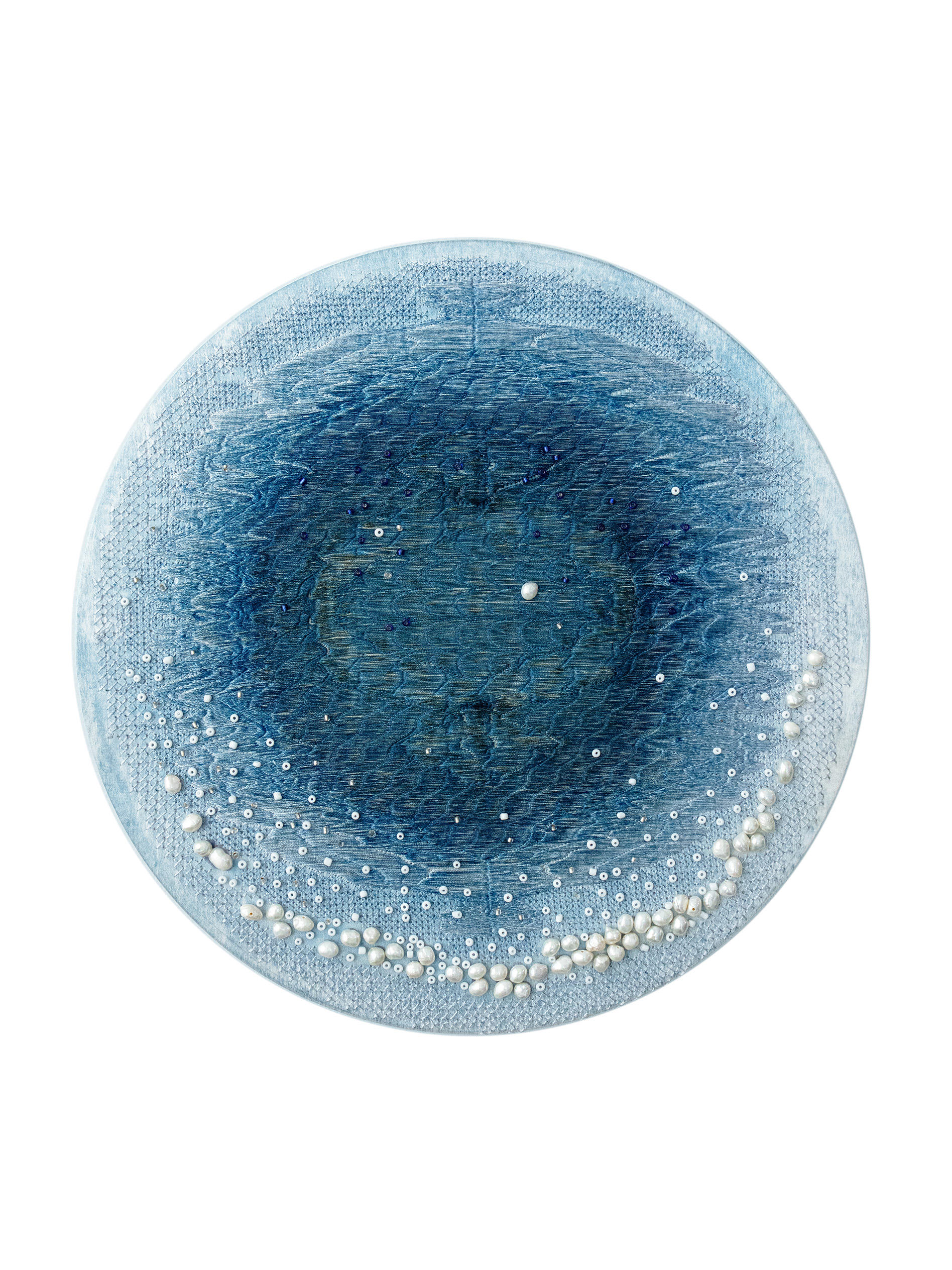 A Fog on the Sea
Cyanotype and Embroidery on Silk
10"x10"
2022
People can let go of the past, but if the past itself has a soul, how can one let go of it again and say goodbye to oneself? In the darkness, tiny specks of light flicker like dust, because the old grudges and entanglements, as well as the unrelenting desires, are all intertwined. It's the obsession one lets go of and the yearning another picks up. I use blue silk threads of varying shades, stacked to create a pattern with shimmering waves, which represent the mist at sea, the tides in a cup, the moon hanging in the endless night, the eternal loneliness on the moon, and the dreamlike world.
Image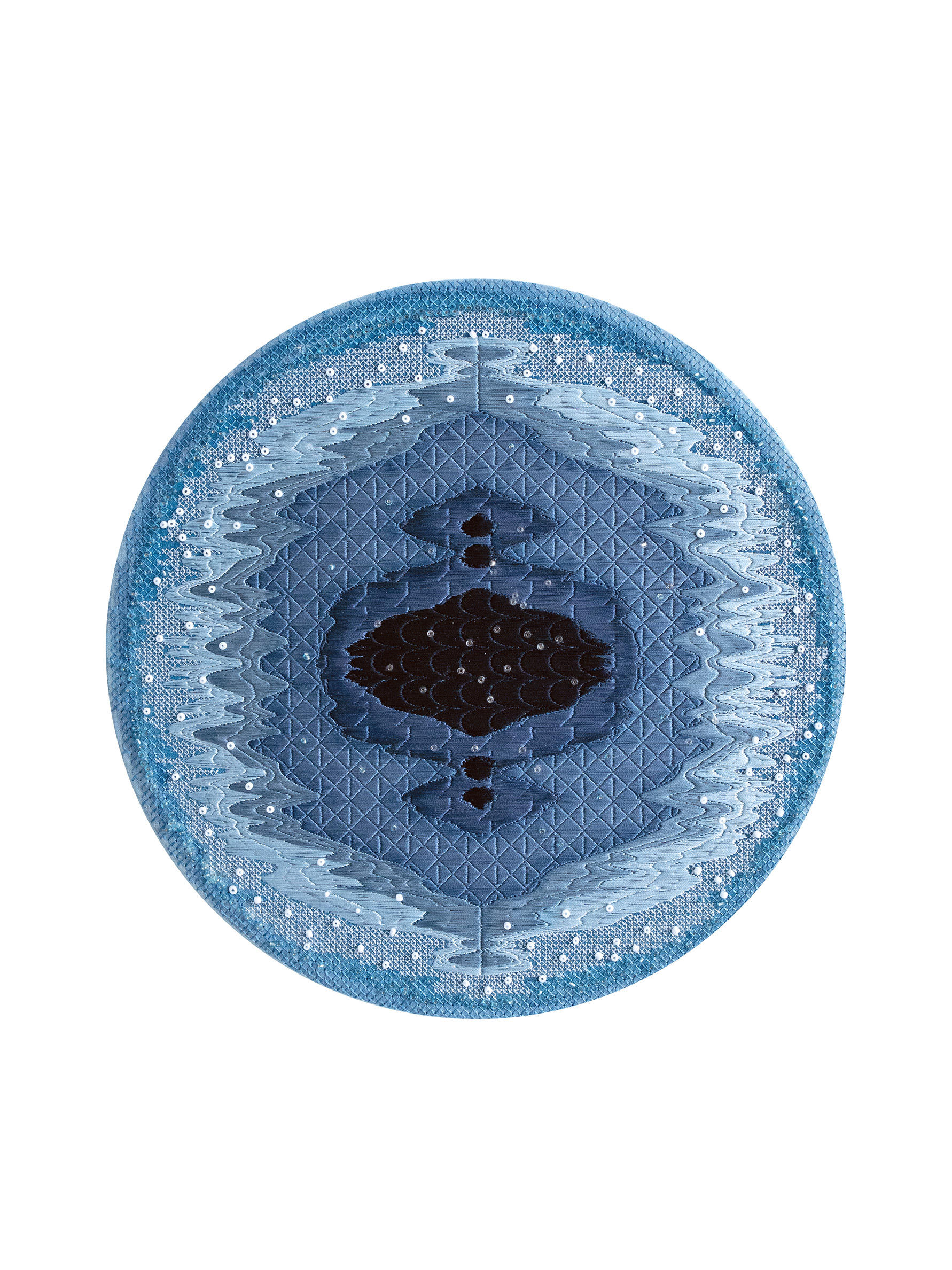 Tides In The Cup
Cyanotype and Embroidery on Silk
10"x10"
2022
Image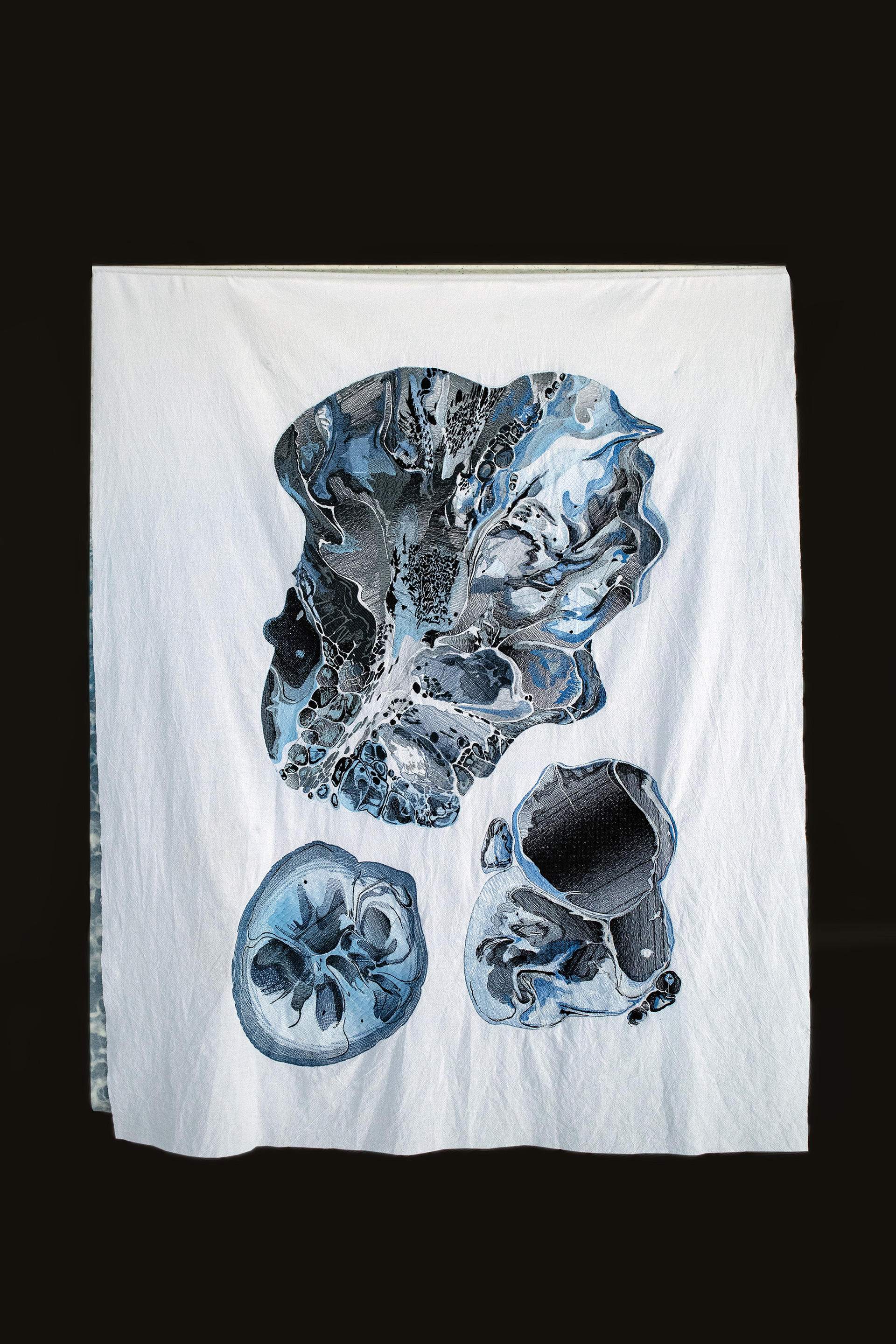 The River of Forgotten
Embroidery on fabric
31"x38"
2023
I use both intaglio printing and embroidery in The River of Forgotten. It is a hanging piece that has two sides. On one side, silver bubble swirls are printed on a gradient cloud-like Asian handmade paper (Kumogarashi paper) scattered with pearls and glass beads. On the other side, embroidery like an oil slick is intertwined in circles to create an indefinable trace. Inspired by the random distribution of oil spots and ink, I drew one large irregular but organic pattern and made this pattern into a gigantic embroidery. Over 200,000 stitches of different shades and textures of blue silk threads formed the entire image. I consider the embroidery process itself to be self-narrative and retrospective. In this work I want to describe the process of melting and the residual traces of things that cannot be melted.