Able: Vision Accessibility in Retail
Sae-Young Cheon, Nicole Lee, & Mingwei Zhong
Environment drives motivation. When an environment incites positive emotional stimuli, it is only natural for one to seek it out more frequently. Marginalized groups who are unable to be a part of services and products have to take an extra step to adjust their activities and behaviors. Their pain points are slow to be addressed for implementation, as enough profit could be established without investments in accessibility. Yet, what corporations fail to realize is that practicing inclusivity may enhance the experience for all, which is an investment for higher profit and corporate social responsibility.
Picture apparel shopping. While many may consider it to be effortless and even stress relieving, those with vision loss can find it daunting. An activity such as apparel shopping – in which vision is imperative to the experience – is often a very difficult task for those who rely on other senses. In a setting that is meant to promote convenience and stress-relief, visually impaired individuals become dependent, stressed and intimidated because the environment and the service is negligent of their needs.
As design engineers, team Able explores a B2B service concept, serving as a bridge between visually impaired shoppers and retailers. With a strong basis of user research, the team reconstructs the design and perspectives apart from the preconceptions, and tackles the unjust nature of today's shopping experience. Research in the past and present cases indicate that most retail spaces are not properly designed around the customer experience by prioritizing profit per square. As a result, shoppers including the sighted grew to adjust around the given. To introduce a solution that bolsters the motivation and independence possessed by the majority, the team executes service design, experience design and product design to address the needs of visually impaired shoppers foremost, and also to appeal to the retailers and the sighted.
The solution comprises a versatile scope of products including a mobile app, multisensory magazine, assistive hanger, assistive price tag, multisensory experience, and a pop-up store. All products and experiences are carefully designed to ensure accessibility using credited frameworks and guidelines provided by Americans with Disabilities Act (ADA), Web Content Accessibility Guidelines (WCAG), as well as direct user responses. On a deeper level, Able's mission is to deliver independence, efficiency, safety and enjoyment.
The driving force behind this project is the three team members' enduring empathy in people. It is the emotional resonance of the members with users and the endeavor to utilize design engineering to formulate a path to a more ideal shopping experience. In every step of the journey, the team consistently consults, co-designs and tests creations with users to reflect real needs and pain points. 
Image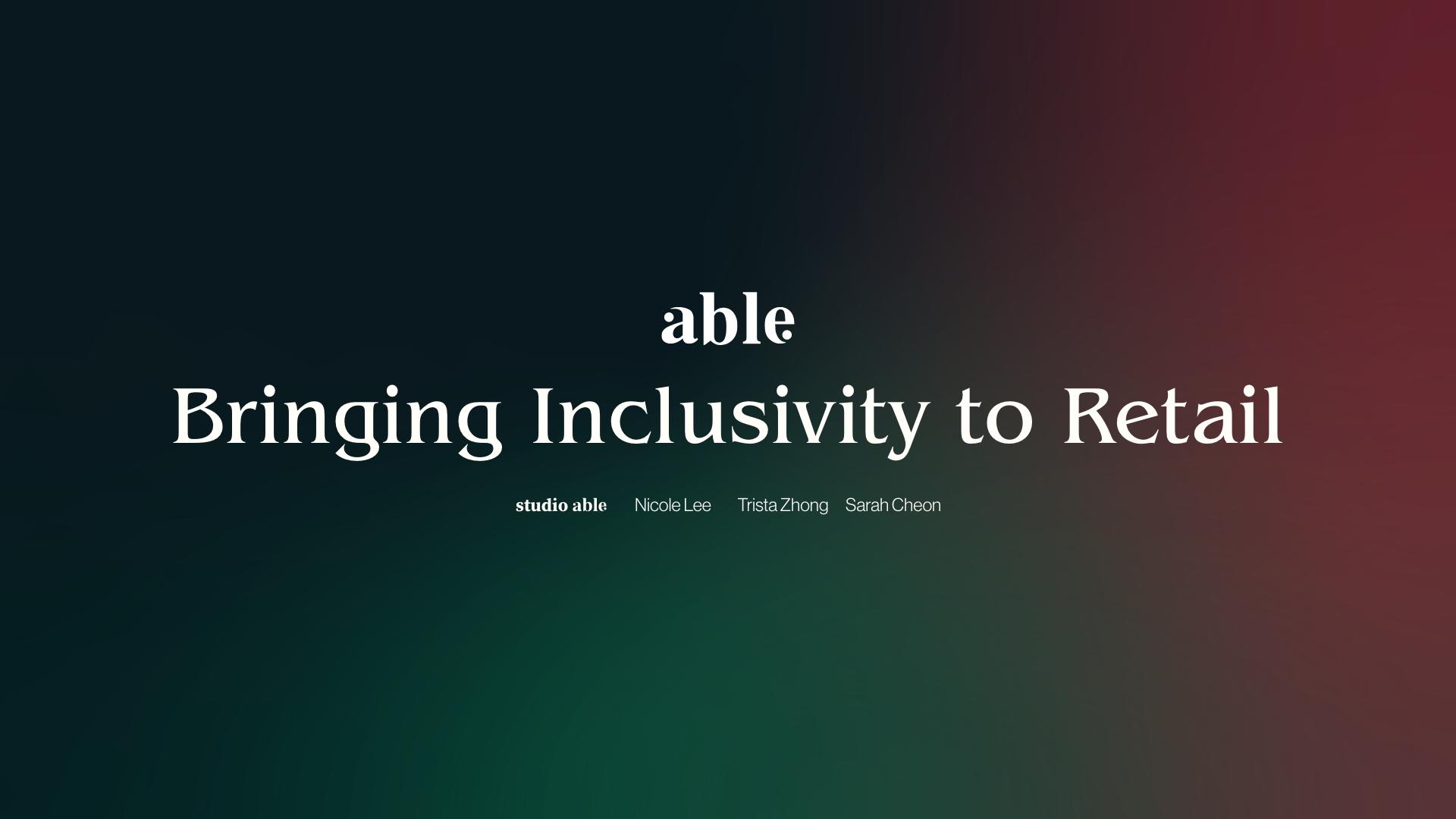 Able is a design agency concept that serves as a bridge between a currently excluded segment group, the visually impaired shoppers and retailers. Able's mission is to facilitate an inclusive, independent and enjoyable shopping experience.
The Able mobile app experience is attentive to the users' shopping needs in and also out of the store. Users seek an efficient shopping flow where they can walk in the store confidently and find products they are searching for depending on their size, budget and occasion. The app features include pre-browsing and reservation for try-ons of store goods in advance of store visit, in-store navigation and item information to remove the entry barrier caused by poorly structured and over-stimulating store layout. The color scheme, typeface and UI architecture were designed referencing the WCAG 2.1 accessibility guidelines.
Referred to as the Multisensory Station, this experience is integral to the in-store shopping exploration. Customers may scan a piece of clothing in front of the color and distance sensors, and depending on the item color, the object plays a color-designated tune. This experience embeds an element of joy by allowing customers to play with sensory responses. To the visually impaired, this allows them to explore the joy of perceiving light and color through hearing, which is often their dominant receptor. This experience is less so about shopping assistance and accessibility, which is already achieved through other Able products, but more so about elevating shopping to a more satisfying and fun activity to counter the common opinion of stressful and intimidating.
---
---