FRUITful
Mark A. Araujo, Maddie Jacks, & Kat Maddox
There are tens of thousands of wonderful organizations that aim to solve some of the biggest issues with our food system, from food insecurity to food waste to degenerative agricultural practices. The trouble is that most of these nonprofits, especially the smaller ones, have a tough time obtaining and maintaining recurring funding. While young professionals in the US are motivated by social causes and express interest in helping solve the problems above, they are often undereducated on the impact these issues have, lack awareness of these organizations aiming to solve them, and are overwhelmed by the barrage of requests for donations from organizations that they don't know if they can trust. FRUITfull breaks down these barriers for donors in order to increase the volume and longevity of donations for small to midsize food nonprofits. Through user-centered design, engaging impact visualization, and AI-driven experiences, our platform provides a novel, customized, and trustworthy service to donors.
This is the first version of our digital donation platform, consisting of an educational and engaging on-boarding flow, customized recommendations, and a donation page that allows users to understand the impact of their money on different organizations. 
FRUITfull is a donation platform, specifically catered to food security nonprofits, to improve donation habits in young professionals and to maximize the impact of their donations by targeting small nonprofits.
Image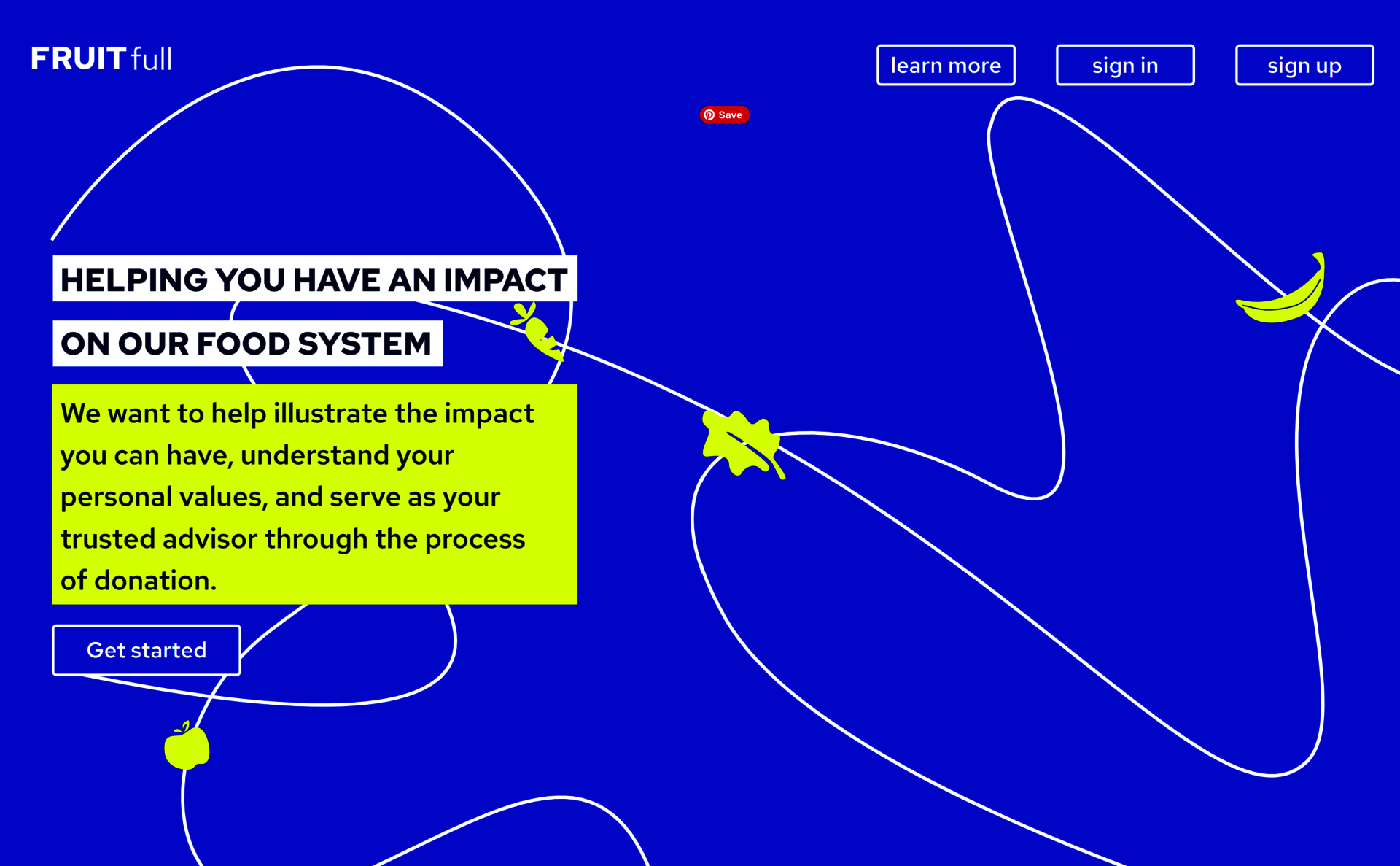 It is our mission to serve as educator and advisor to help young people understand the potential of their ongoing donations and help them find the best way to have an impact on issues that they care about. 
The platform will promote the nonprofits where your donation will have more impact while allowing you to split your donation amongst multiple nonprofits without having to go through the work of visiting each individual site to donate. The platform will show your impact statement at all times and you will be able to create donation groups. This way the act of donating feels more community driven and social. As a thank you for donating and a nod to social signaling, we will provide an illustration/badge for people to share on social media and to influence those in their network.
Image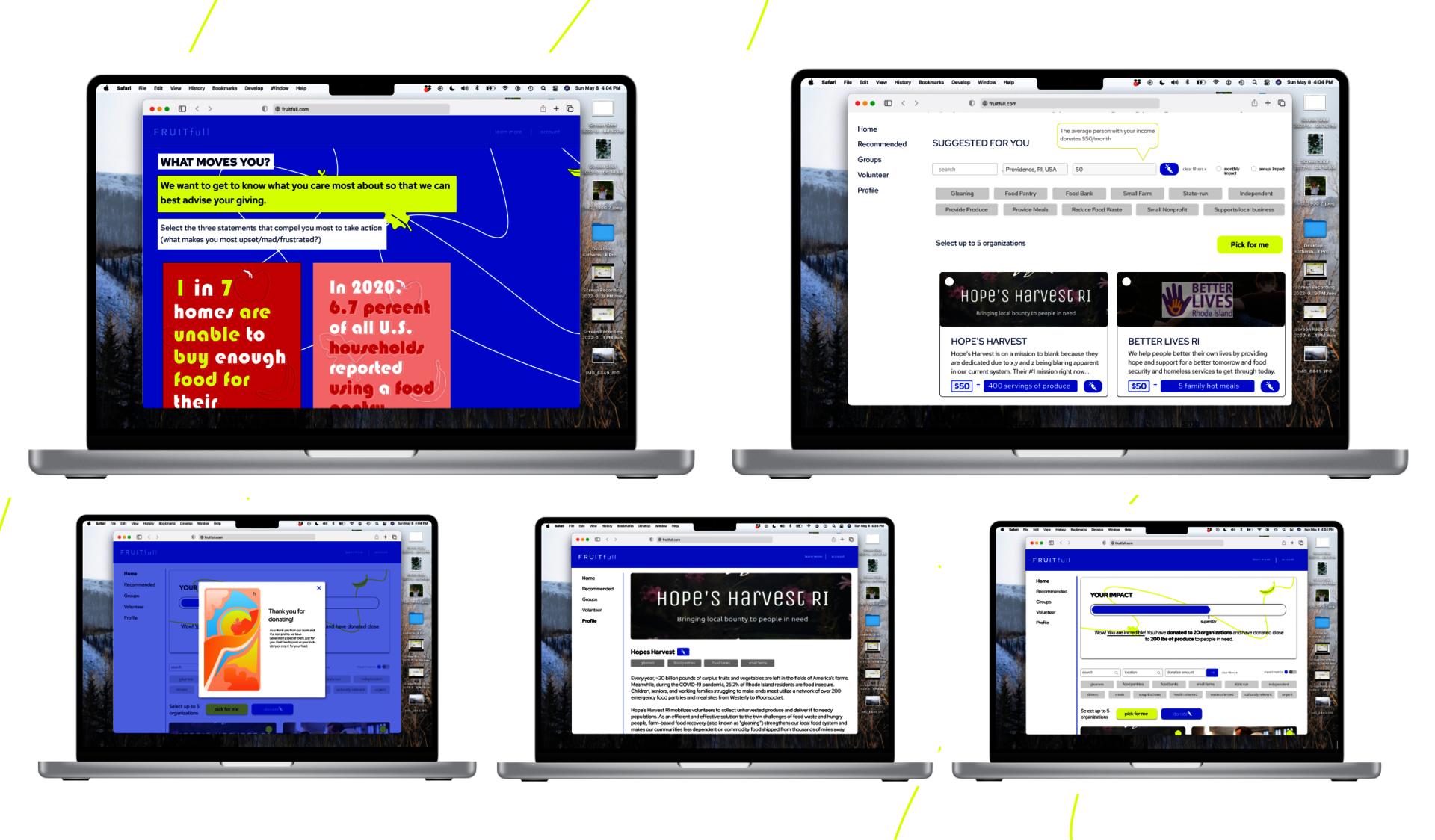 Zoom to see detailed views of a selection of screens from our prototype.
To get to the question of "how can we best encourage ongoing donations from young people?" we started with a much larger one: "how can we close the gap between food waste and food insecurity?". To tackle this large question, we conducted interviews with over 60 organizations, in the process of which we realized that the biggest underlying problem in the system was a lack of recurring, unrestricted funding for these small to midsize food nonprofits. Grants and large foundation gifts, while helpful and generous, do not provide the reliable ongoing funding that organizations can rely on to hire more staff members and pay for operating expenses, the backbone of any agency. We then decided to dedicate the rest of our semester to understanding how we could tap an untapped market of lasting donors to these organizations, those just starting their career.
Image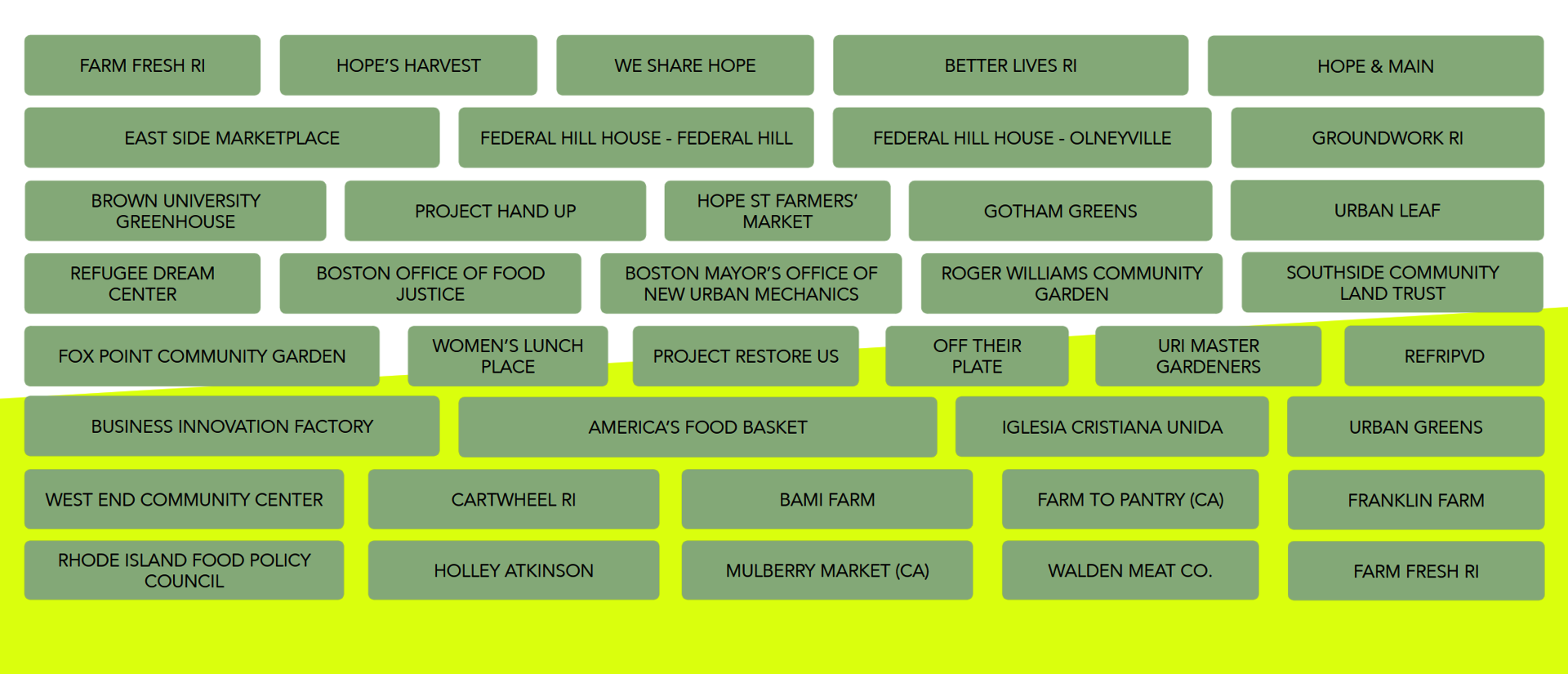 This is a selection of the organizations we spoke to, spanning Rhode Island, Massachusetts, and California, all within the food system.  
---
---