Connective Movements describes the winding, associative thoughts gathered from long conversations with colleagues and internal dialogue with writers, philosophers, and filmmakers. Using the visual essay, I follow points of interest through labyrinthine and idiosyncratic logics. Collage and montage results in an assemblage of visual ideas both analytic and personal. Although the outputs vary, my body of work has been informed by a sustained inquiry into moving image with a focus on small moments and subjectivity: cloudwatching can spin into thoughts on communication, or simple, everyday words burrow into experience and memory. With this aim, I use the constituent parts of image, sequence, and narrative to cultivate spaces for extended interiority.
Between
Video, Sound
(01:57)
2022
Between is a split-screen video inspired by the writings of Martin Buber that asks the question "what is communication?" which led to two exchanges with Dougal Henken (GD MFA '23) and Sun-Ho Lee (GD MFA '23). Both Dougal and Sun-Ho had been making work that derived from conversations with others, and these interviews with the two of them were then built into a narrative framework about cloudwatching.
Through the Labyrinth (excerpt)
Video, Sound
(07:30)
2023
Through the Labyrinth is a video essay that discursively explores the concept and form of the labyrinth using a labyrinthine mode of thought. Rather than being purely analytical, it winds through a series of different modes and views—including the mythic, the pop-cultural, the historical, and the literary—and pursues a desire to be transformed by one's own questioning.
In Words
Video, Sound
(02:17)
2021
In Words is a video exploring interiority and the personal, experiential dimension of language in contrast to taxonomic language systems such as dictionaries. I derived the content from conversations with four colleagues that were part open, winding conversation and part word association, which resulted in a set of personal definitions. From these interviews, I rotoscoped the footage as well as added my own associative layer to their thoughts.
Image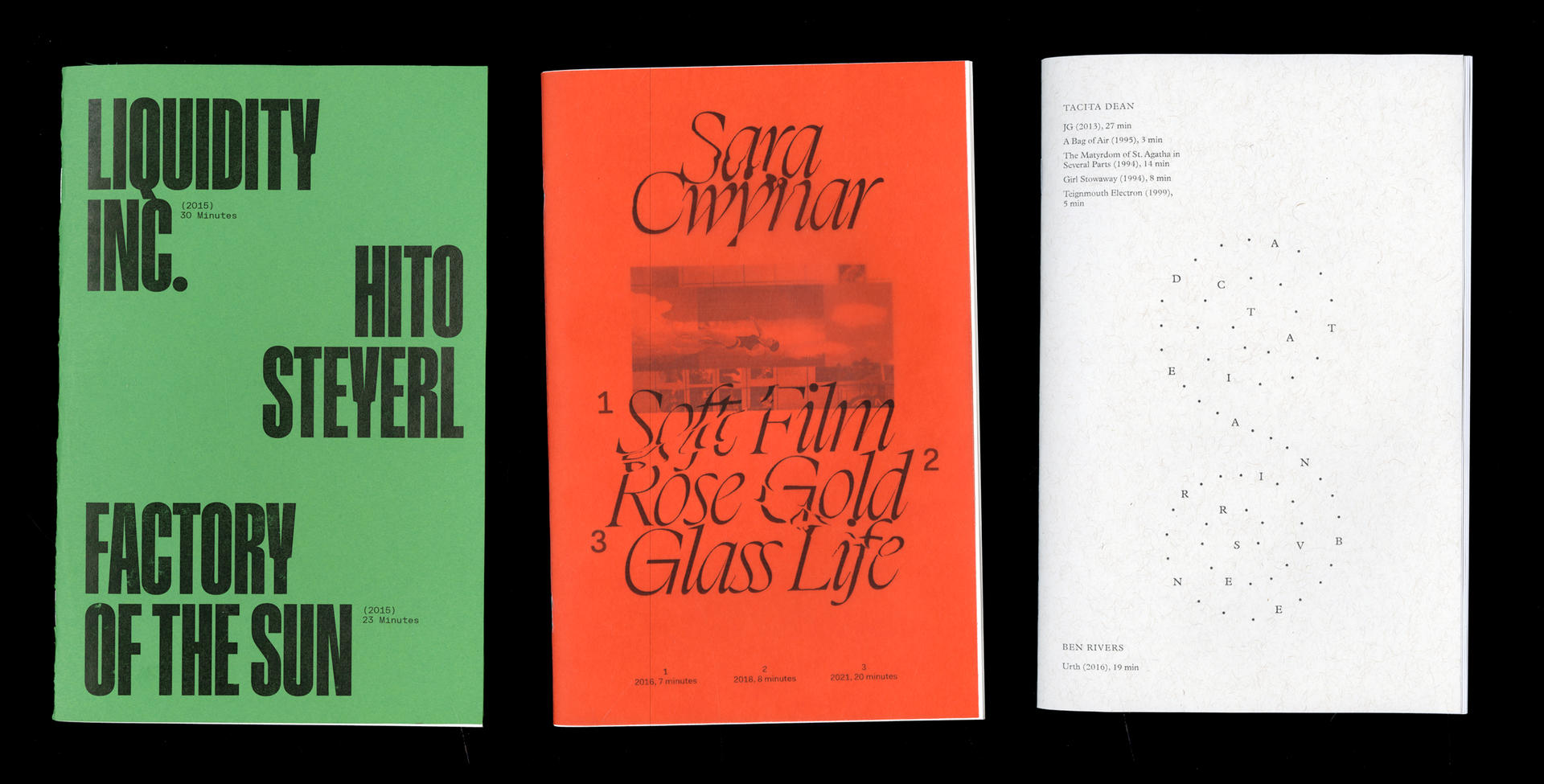 Film Screening Booklets
Saddle-stiched publications
5.5" x 8.5"
2023
Over the course of my second year, I organized a series of film screenings in fall, winter, and spring to open up my research into graphic design and film. This series was around the theme of the video essay and small booklets were distributed to viewers.
Image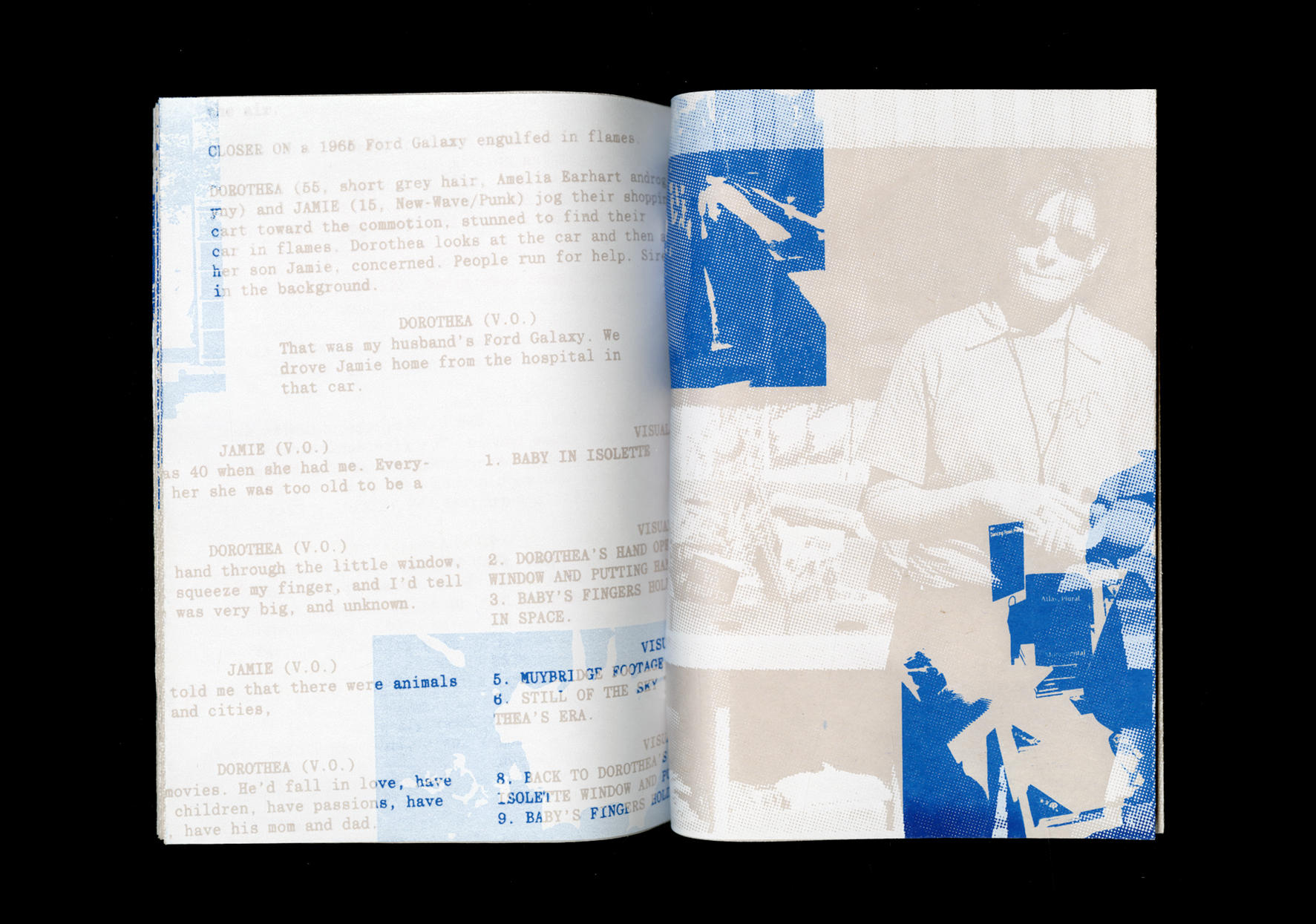 Now and Then
Silkscreened newsprint publication
5" x 6.75"
2022
Now and Then is a small, silkscreened publication and poster that documents a trip to the 2022 NY Art Book Fair and the spaces of memory that were opened up in my return to New York City. 
As You Zoom Out, You Zoom In
Looped riso animation
(00:30), looped infinitely
2022
As You Zoom Out, You Zoom In is a looping riso animation that takes the Cold War-era scientific vision at work in the Eames's Powers of Ten (1977) and twists it into a paradoxical loop. After zooming into the absolute micro, you find yourself back out in the macro.