Searching for New Landscapes
"Searching for New Landscapes" ventures beyond familiar environments to explore new territories in graphic design. By changing our environment and patterns, looking at things anew with a fresh perspective, and transforming the tools we use, we can spark new insights and catalyze evolution for growth.
This study proposes getting away from known environments and breaking existing habits by responding instinctively and rapidly to unexpected prompts. The collected works and writing underpin the importance of thinking flexibly with a lighthearted  "why not?" attitude and looking at things beyond existing definitions. These methodologies are further applied to the action of teaching, to create spaces that empower students to push beyond the traditional boundaries of their discipline. As a present continuous, "Searching for New Landscapes" keeps seeking ways to discover new horizons.
The keywords of "Searching for New Landscapes" are Flexible Thinking, Defamiliarization, Reinterpretation, and Transformation.
Image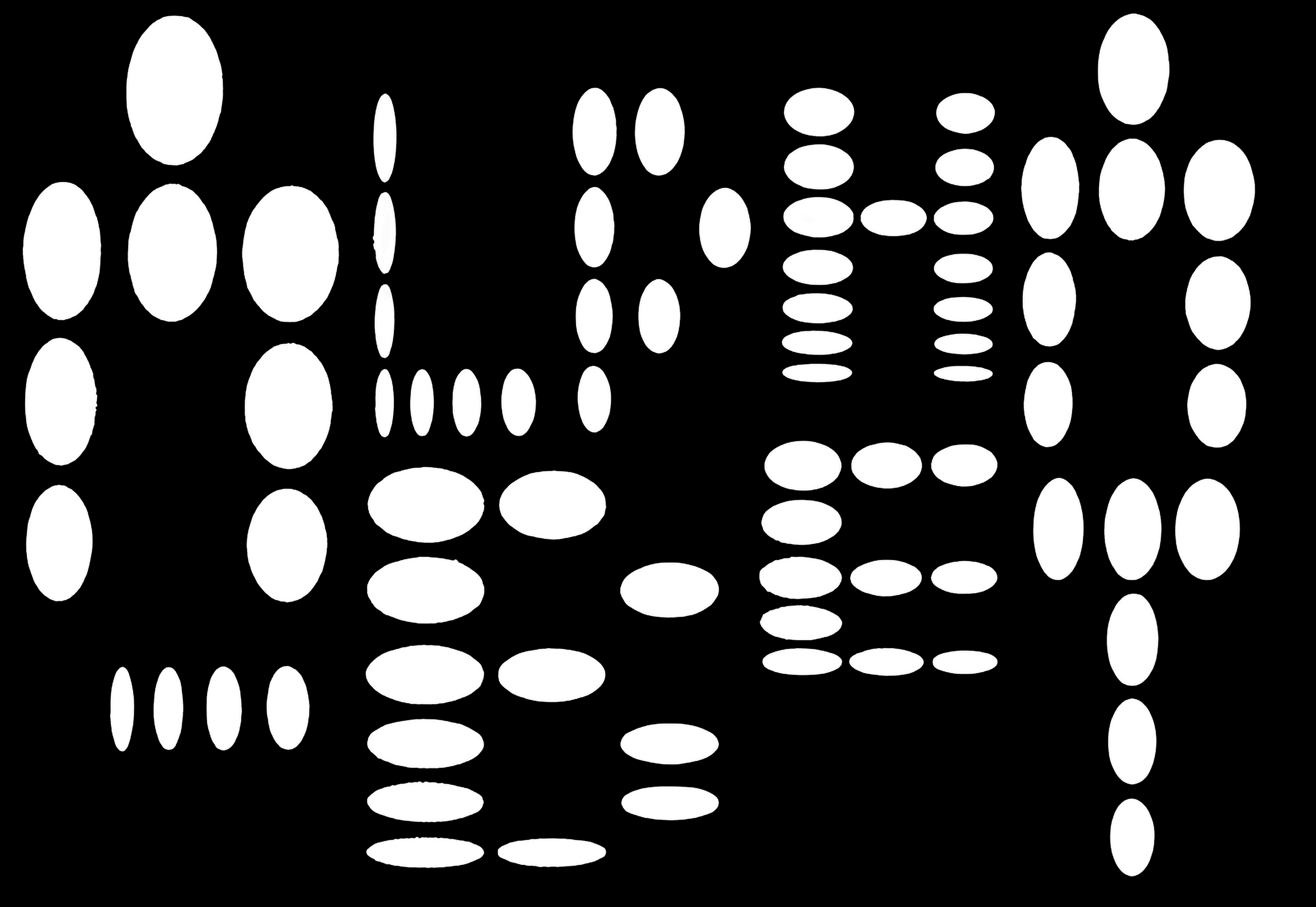 A Journey of Dots
Typeface / Motion Poster
2022
"A Journey of Dots" is a collection of small projects related to "Dots." Although each project in this collection was created for a different prompt, they influenced each other as they were created over a short period of time.
And On And On
HP OfficeJet 250
8.5 × 77 in sheet
2022
"And On And On" was created by following the process of office work.
Each letter was designed by using Google Sheets and then printed out with a home printer. I glued the edges of the papers together, put the connected papers into the printer, and hit the print button while making a loop of the papers.
As a printer does not recognize the end of the loop, it continuously prints, and the letters of the expression "And On And On" automatically go through the printer over and over, resonating with the pain of the office.
Image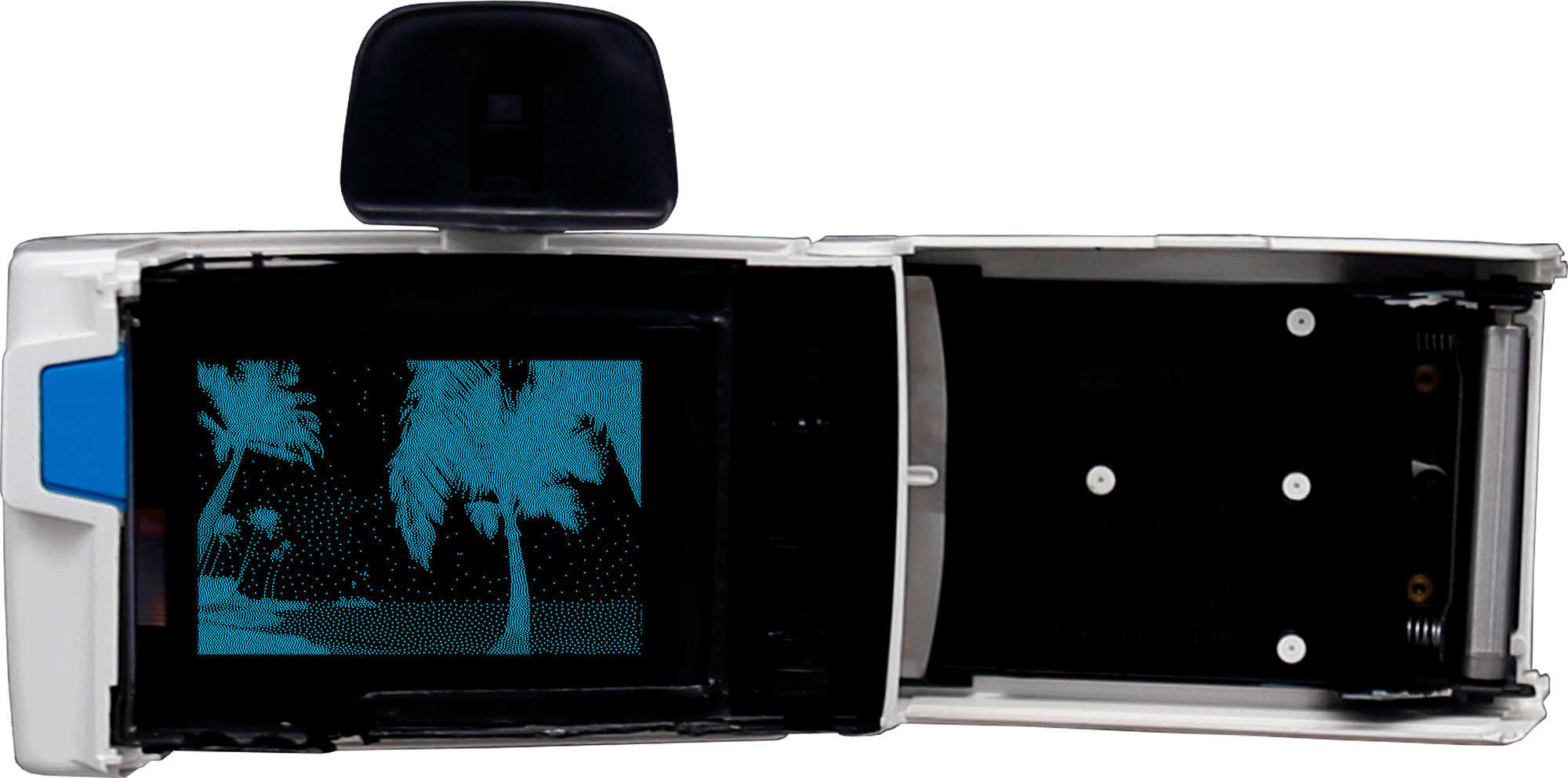 Waves
Raspberry Pi
2.1 × 4.9 × 5.1 in
2021
Today, one of the most common image-making tools is a camera. I applied the concept of "combination" and "separation" to my own project and created a camera that automatically separates RGB color plates from the photographs to generate new images.
To show generated images, I mapped three different projects of red, green, and blue lights. The lights from the projectors were overlaid on top of one another to generate a full-color combination.
The generated images are uploaded to my Dropbox, where anyone can download them by scanning the QR code.
Image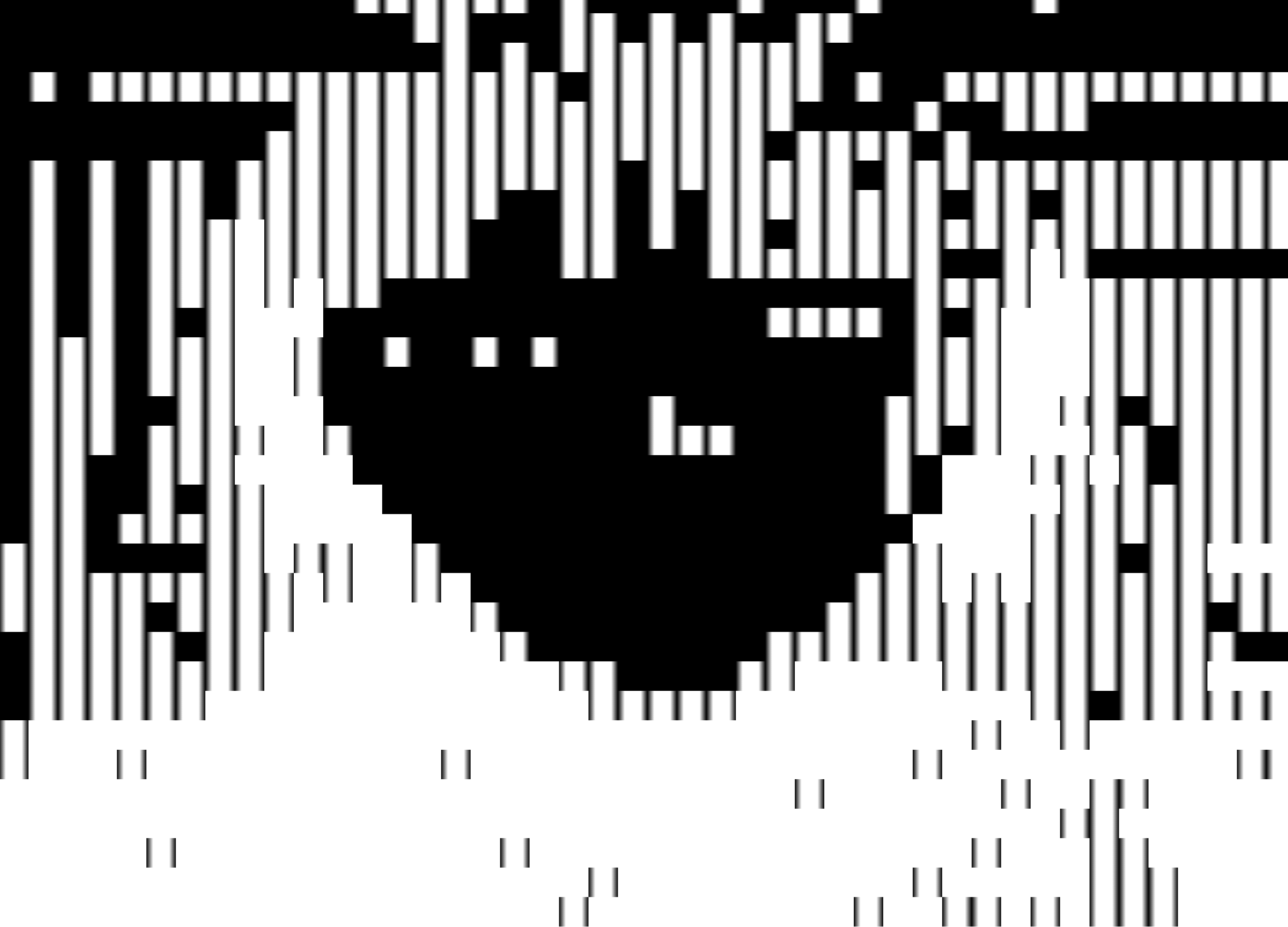 Infinite Figures
iPhone, MacPro
2022
In this project, old portraits at the RISD Museum are regenerated into digital images with my iPhone camera. When I take a photo of a portrait and its description text, my iPhone camera automatically detects the text of the medium used in the portrait. Based on the microscopic images from the material used in each portrait, a different set of pixel modules is applied to generate new digital images.
This generated image is uploaded to my laptop, where it is documented in the archive with other generated portraits, and then shared on Instagram. 
I further developed this idea into an additional side project. When users take selfie videos, the videos are generated into animated GIFs and shown on a website.
Frozen Island
Website, TV
2022
Frozen Island defines Google Maps as an island frozen in time. Although Google Maps is mostly regarded as a map-based platform to view location data, it also allows for amounts of timelapse footage of the world. Selected captured moments are marked on the map, and you can explore the island by dropping the Google Maps avatar into the pipes using a joystick. 
This project initially began when I found watermarks on the sky of Google Maps Street View, which reminded me of the sky in the 1998 film, "Truman Show." Although ​Seahaven Island where Truman lives is real, people in the movie who are watching The Truman Show only experience the place via screens. I see Google Maps in the same way. Though we experience Google Maps only via screens, it is alive with the ceaselessly substituted copies of our present. 
Image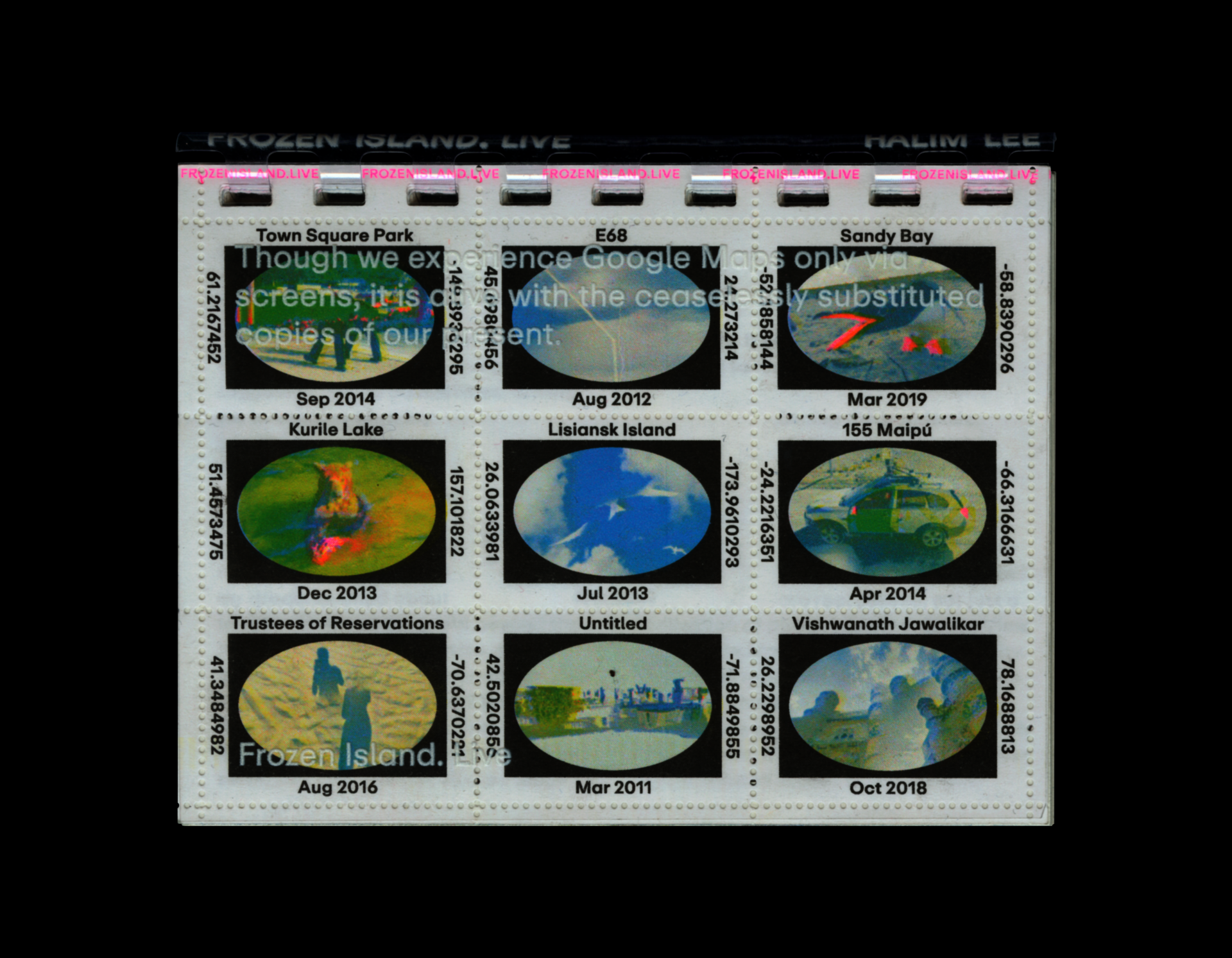 Frozen Island. Live
Book
5.3×4 in
2023
This publication translates "Frozen Island" into a physical form: print media. As a gift from "Frozen Island," a set of perforated, lick-and-stick stamps are presented at the beginning.
The oval circles used throughout "Frozen Island. Live" are indicative of the Earth, the viewing eyes of users, and the idea of a portal. Each stamp makes up with a cover is a mini-portal that takes you to surprising moments on Google Maps. By tagging the stamp with your phone, you can travel to strange and beautiful places in the world. 
The title of this book, "Frozen Island. Live," is named after Frozen Island's website address — frozenisland.live
Portal
Website, Projector
2022
"Portal" opens the door from your home to the world. Now you can go anywhere by simply saying the name of the place you desire to travel to, which can vary from your hometown that you haven't visited in a while or a bucket list travel destination. 
This piece was born out of the struggle to travel during the global pandemic. I couldn't visit my hometown in Korea due to travel restrictions, so I created this piece as an outlet for freedom. You can traverse virtual streets in the portal as well, using iPhone as a joystick.
Technically, "Portal" is not a real portal that can physically transport you to another city, but this piece does not articulate the truth. By distorting and tweaking reality, the portal generates magical feelings and makes our lives more exhilarating and enjoyable.
Dancing in the Moonlight
Website
2022
The title, "Dancing in the Moonlight," was named after the song of the same name. Sherman Kelly, the songwriter, wrote this while recovering from a severe injury after being attacked by a gang. Through the song "Dancing in the Moonlight," he envisioned an alternate reality of a peaceful and joyful celebration of life. From my own project of the same name, I pursue the same goal. 
When users drop the Google Maps avatar onto the place they want to go, they can dance at that location with music while traversing virtual streets on Google Maps. Anyone can record and share their dance moves as well as dance together with other people.
The avatars created by participants are shown on Google Maps in yellow as figures of moonlight. If more participants join this project, the initially dark Google Maps interface will become far brighter with their individual moonlight avatars.