The wealth of color present in nature has long been a major source of inspiration for works of art and design. Yet as more species become extinct due to habitat loss, climate change and unchecked hunting, will we face a less colorful, more monotonous future? How will this impact art and design and how could either be utilized as tools to counteract the loss of color? This thesis speculates upon such a future by the sixth wave of mass extinction and instigates a movement that celebrates color.
A Color Cabinet of Curiosities
Installation I Print, Poster I Animation I AR
60 x 80 inches, 80 x 120 inches
2022
Taking a step further from just re-creating a Victorian cabinet of curiosities, I scanned real objects derived from the natural world using 3D technology and reduced them to color pixel information out of which I derived and re-created new species as part of my own process in order to fit my own narrative of color.
Image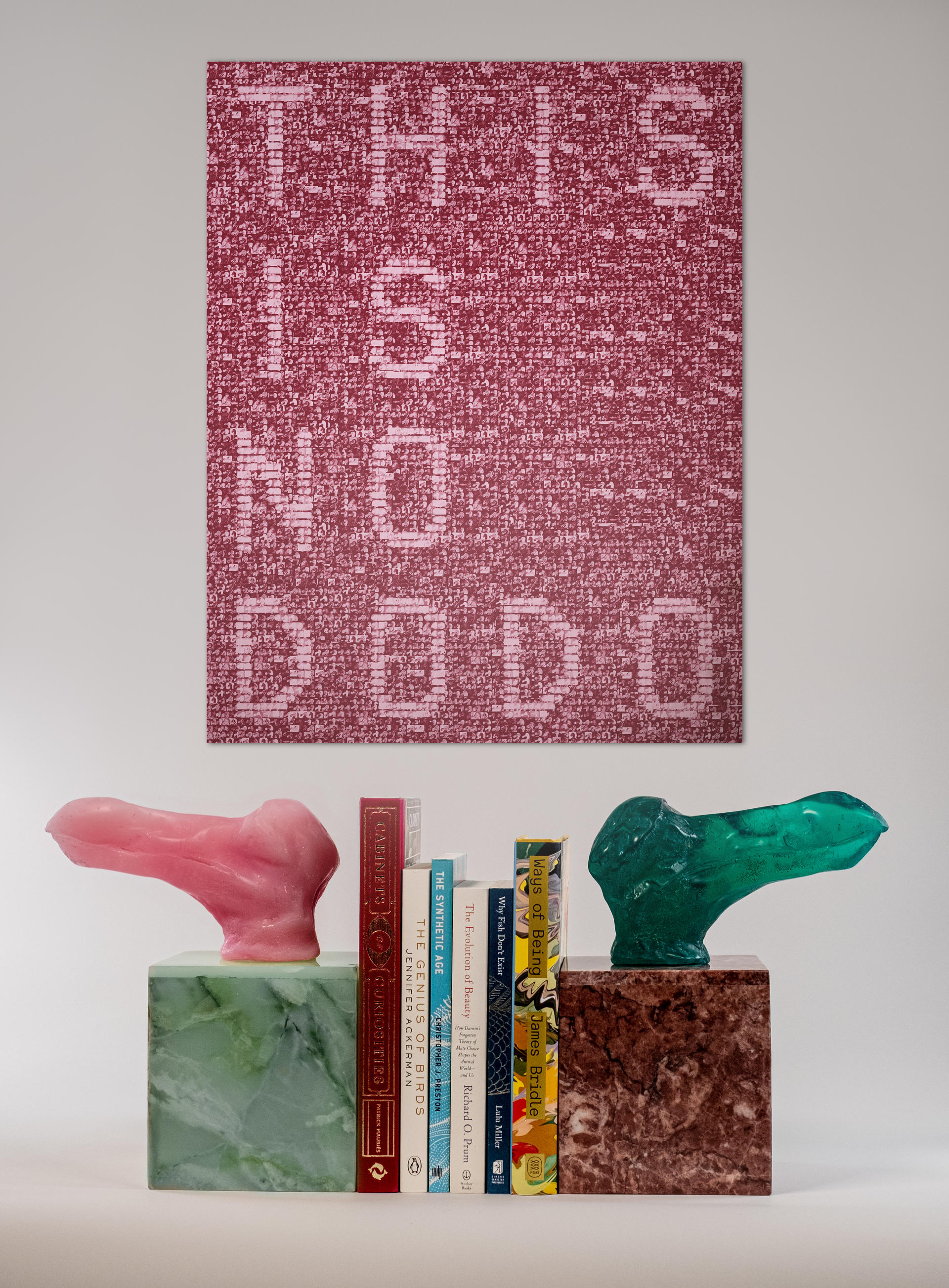 This Is No Dodo
30 x 60 inches
2022
Inspired by the dodo, probably the most famous symbol of extinction, This Is No Dodo explores how we have the ability to resurrect something through re-invention. I created bookends made from the mold of the Oxford Dodo; the best preserved dodo specimen part of Oxford University's collection. This project plays with the ambiguity between scientific artifact and design object. The design of the foldable poster is based on an image data base of dodo heads I collated to show how the visual representation of the dodo is merely a projection surface for human imagination.
Image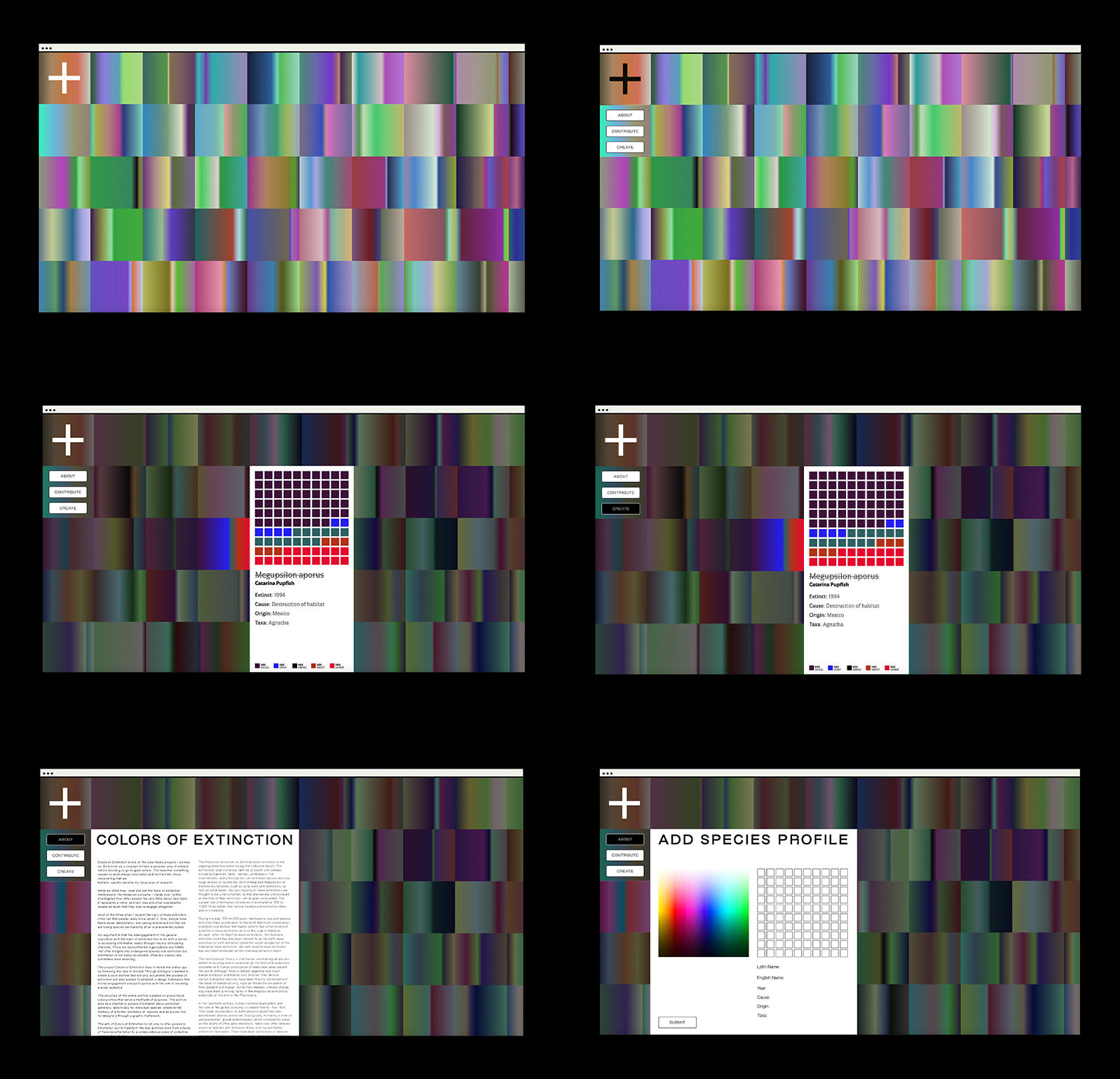 Colors of Extinction
Information Design I Web
2023
The project Colors of Extinction tries to tackle the status quo by following the idea of Access Through Ambigity: I wanted to create a color archive that not only documents the process of extinction but also wanted to establish a design framework that invites engagement and participation with the aim of involving a wider audience.
Image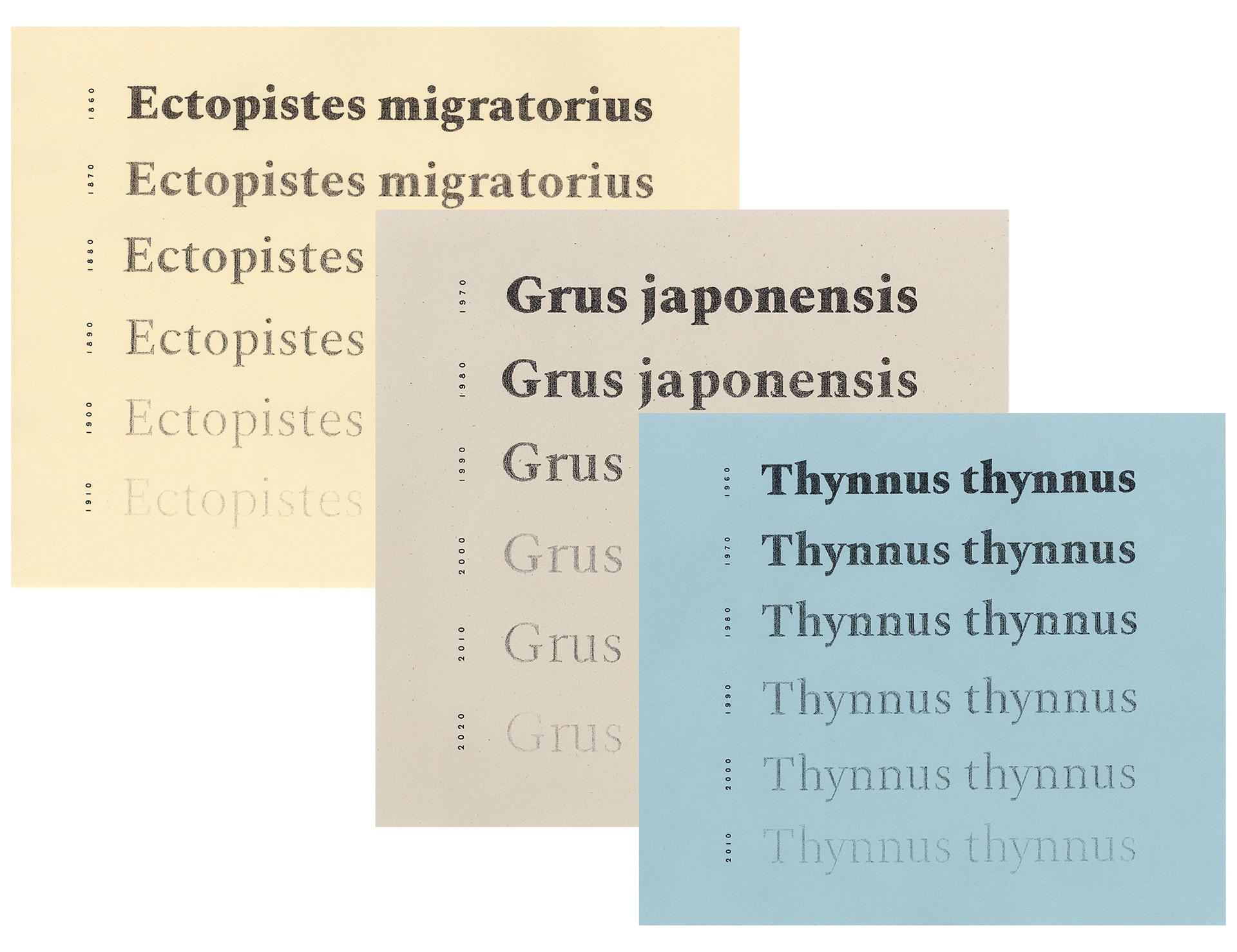 Exodus
Variable Typeface I Poster Series
40 x 20 inches
2023
In a variable type workshop during my last semester, I began to sketch out ideas of how a typeface with a scientific topic could translate visually. Inspired by an article about shrinking living space for species in The New York Times, I decided to create a typeface whose weight variable represents population cluster density.
Image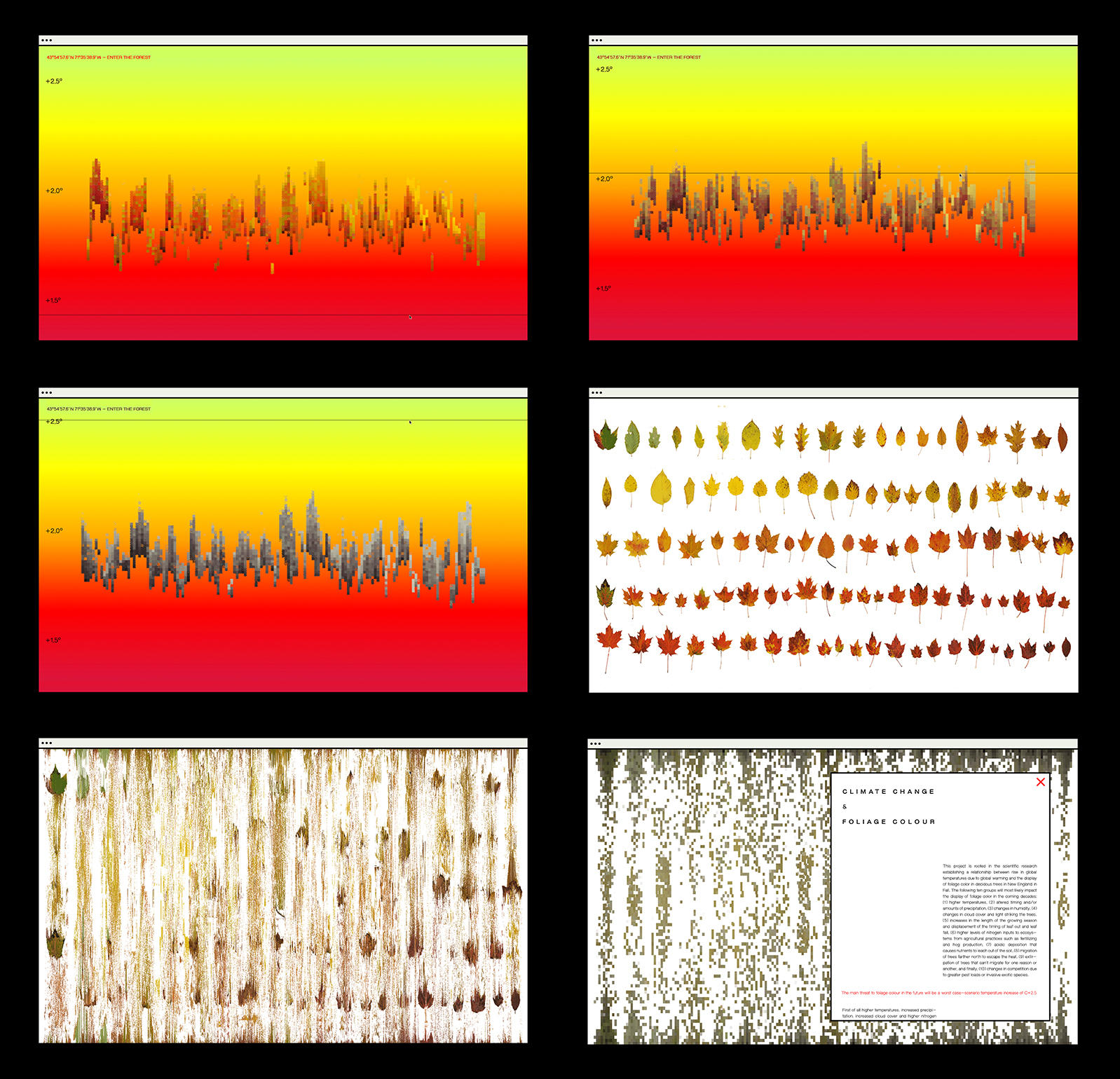 Forests Are Warming
Information Design I Web
2022
Forests Are Warming is an information design project that visualizes the impact global warming will potentially have on the color range of fall foliage in New England through interactive, web-based design.
Image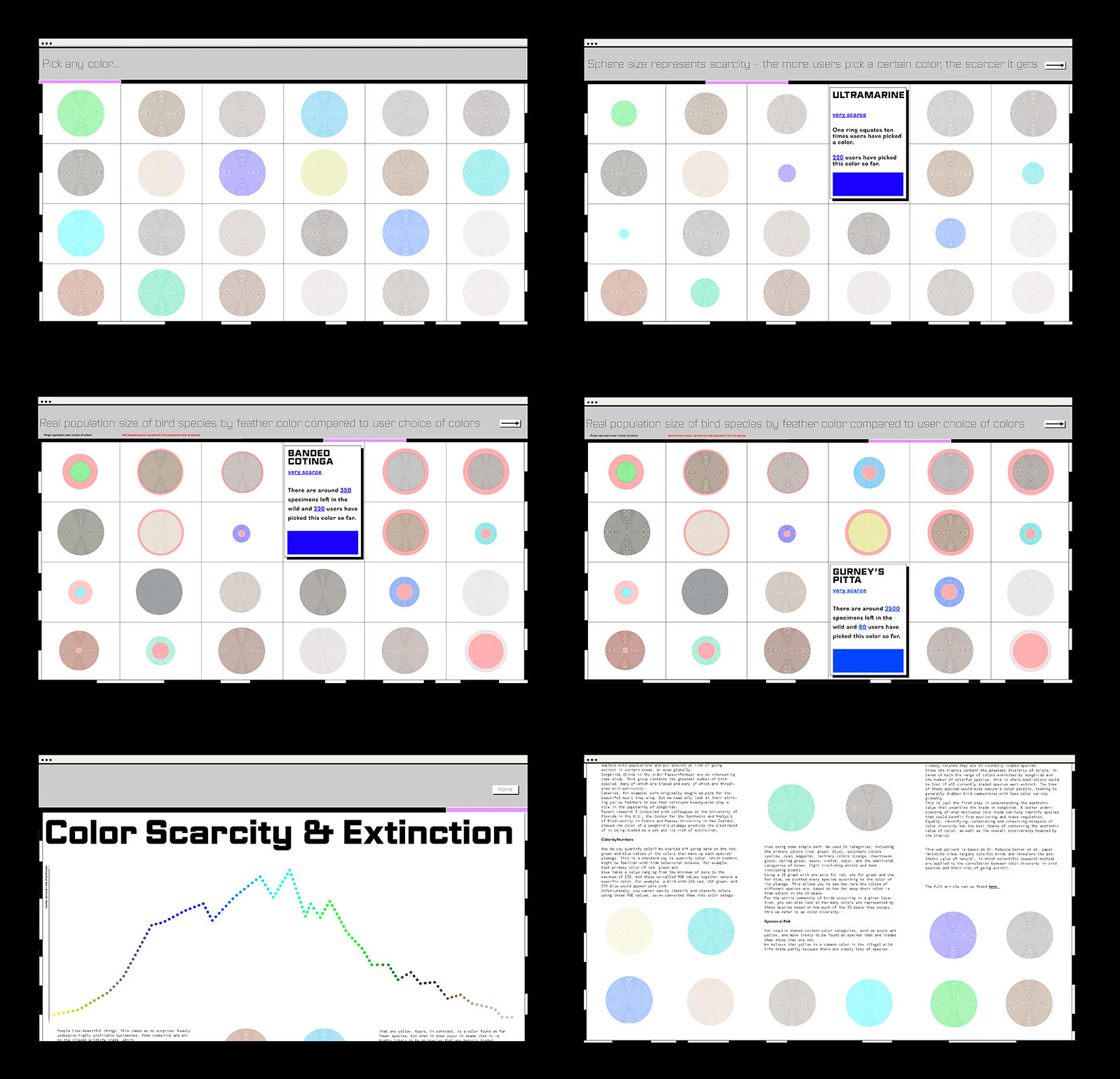 The Scarcity of Color
Information Design I Web
2022
Scarcity of Color is an information design project based on recent research establishing a positive statistical relationship between how colorful a bird species is and its risk of extinction. The user experience is structured in order to replicate humans' tendency to prefer saturated over muted colors with direct reference to species loss.
Image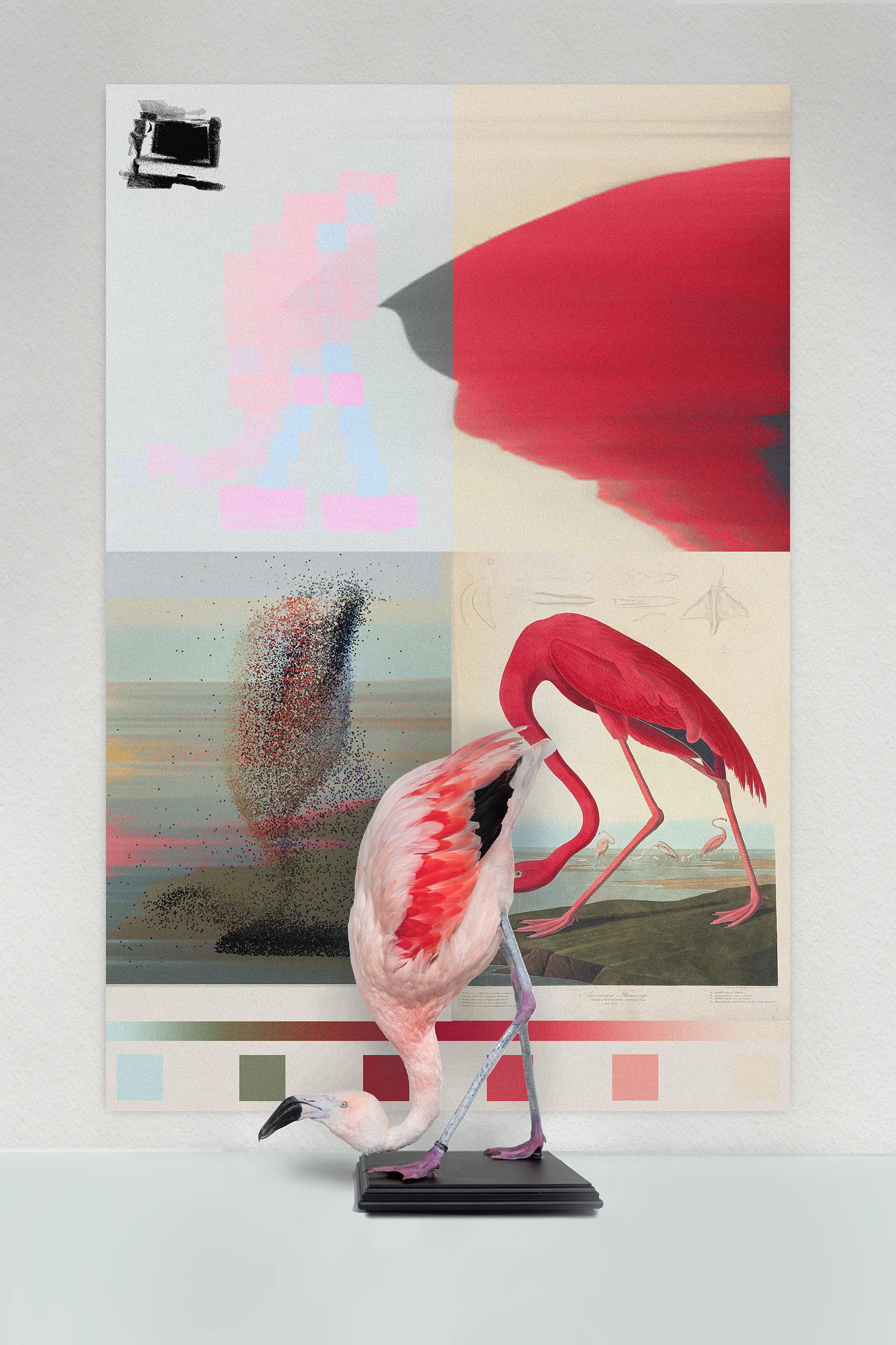 What is a Flamingo?
Installation I Poster
60 x 80 inches
2022
What is a flamingo? is a study of John James Audubon's most famous print of the American Flamingo in the context of graphic design.Audubon's works are still celebrated as some of the most stunning examples of how nature gets represented in art yet the way he depicted said specimens has little to do with realistic representation and much more with a hyper-idealized idea humans had of the natural world. Therefore, this project explores how graphic representation has the power to create icons that only exist in our imagination but are perceived as real as well as the implied responsibility of designers.
Typographic Murmurations
Typographic Animation
10 x 10 inches
2023
Type murmurations is a poster series based on a motion graphic that use the idea of biomimicry and applies it to graphic design. Flocking systems famous in species like the European starling (Sturnus vulgaris) are used mainly to fend off predators while also serving as a contact point for intra-species communication about feeding sites.
Image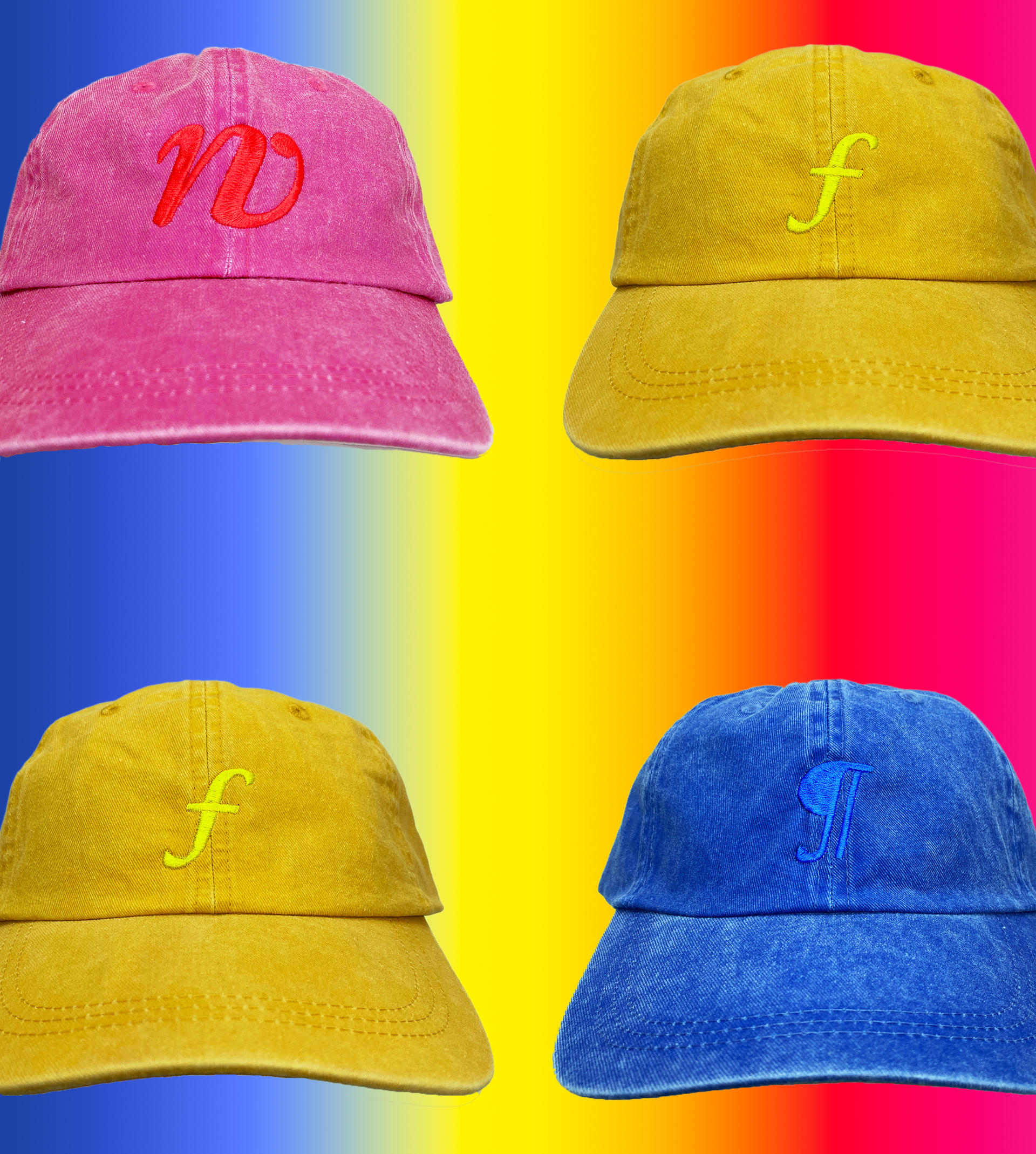 Extinct Typography
Digital Embroidery
10 x 30 inches
2023
Extinct Typography looks at the concept of extinction through a glyph-based lens in digital embroidery: while most of us associate the ceasing of existence with living things, this project poses the same question in the context of concepts or ideas. What if an idea ceases to exist? Is that as legitimate a form of extinction as the dying out of a species?