Moving at the Speed of Trust
Moving at the Speed of Trust is a workbook of strategies — practices, definitions, and techniques — to nurture community-building in support of inbetweeners who live between power structures and cultures and are often left out. Inbetweeners are those individuals whose lives are in transition through recent immigration or forced translocation from Asia to America. 
These strategies revolve around threads of trust: kin, giggles, vulnerability, and shared experience. With these threads, we can question power. We can preserve stories, expand the ways we connect, shift perspectives on what is "standard," and cultivate a community rooted in understanding. To understand each other's core in these spaces means reclaiming what has been overlooked, bearing witness to the fact that our present experience is not the end, and manifesting a pluralistic future.
Image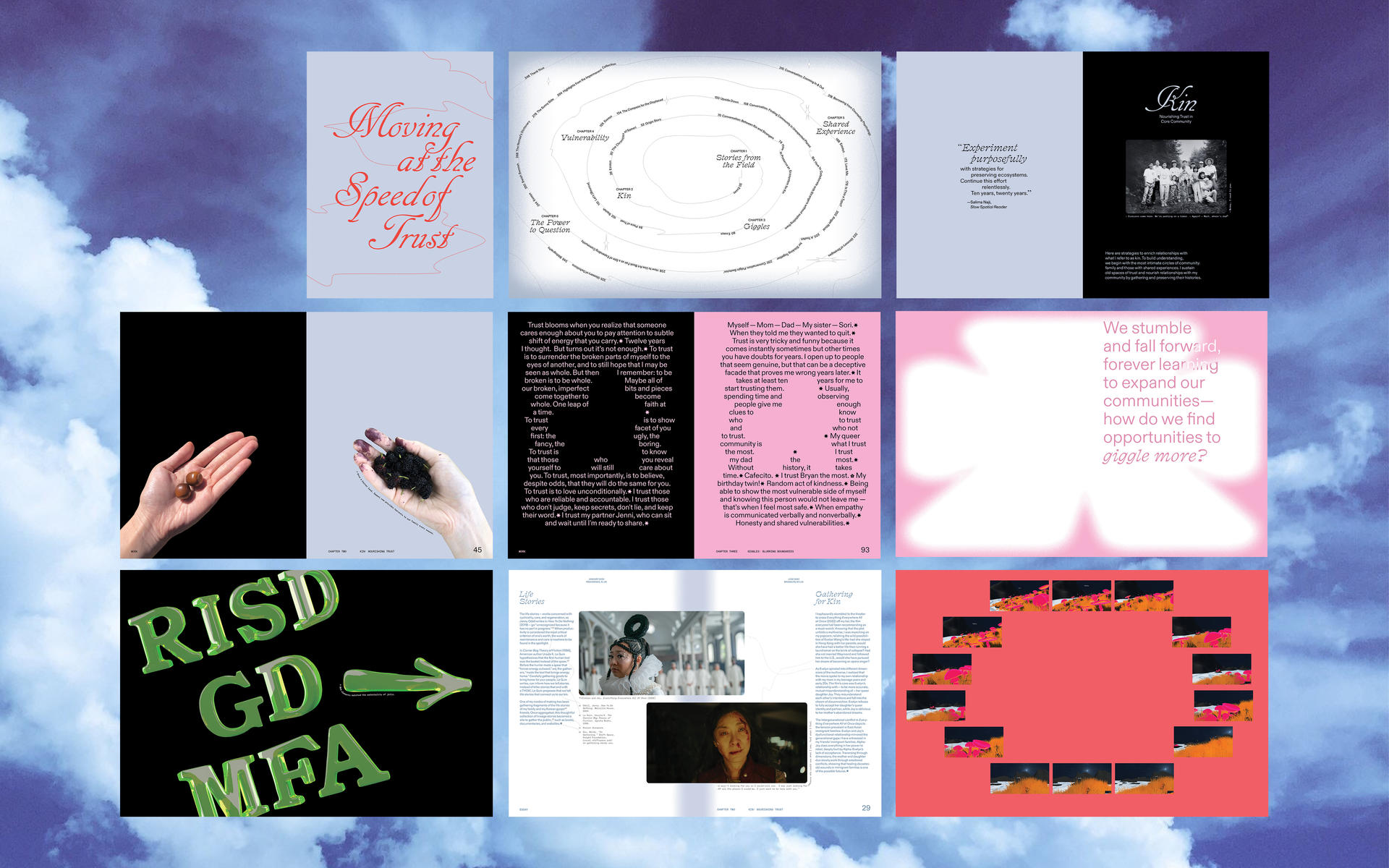 Moving at the Speed of Trust
Perfect bound book
8.5 in x 11.25 in
2023
Wherever you are, I hope the experiments in Moving at the Speed of Trust inspire you to return to your community with warmth and care. The work in this book emerges from my experiences of navigating the awkward cracks between structures and cultures and working with people who have been displaced. I investigate the power in 1) nourishing trust within your community of kin, 2) building a space of trust in new environments, 3) using trust as a common ground to connect communities that are isolated from each other, and 4) Using this coalition of trust to question systems of power that has defined what is standard. I invite you to meet me in this messy space of the inbetween.
Image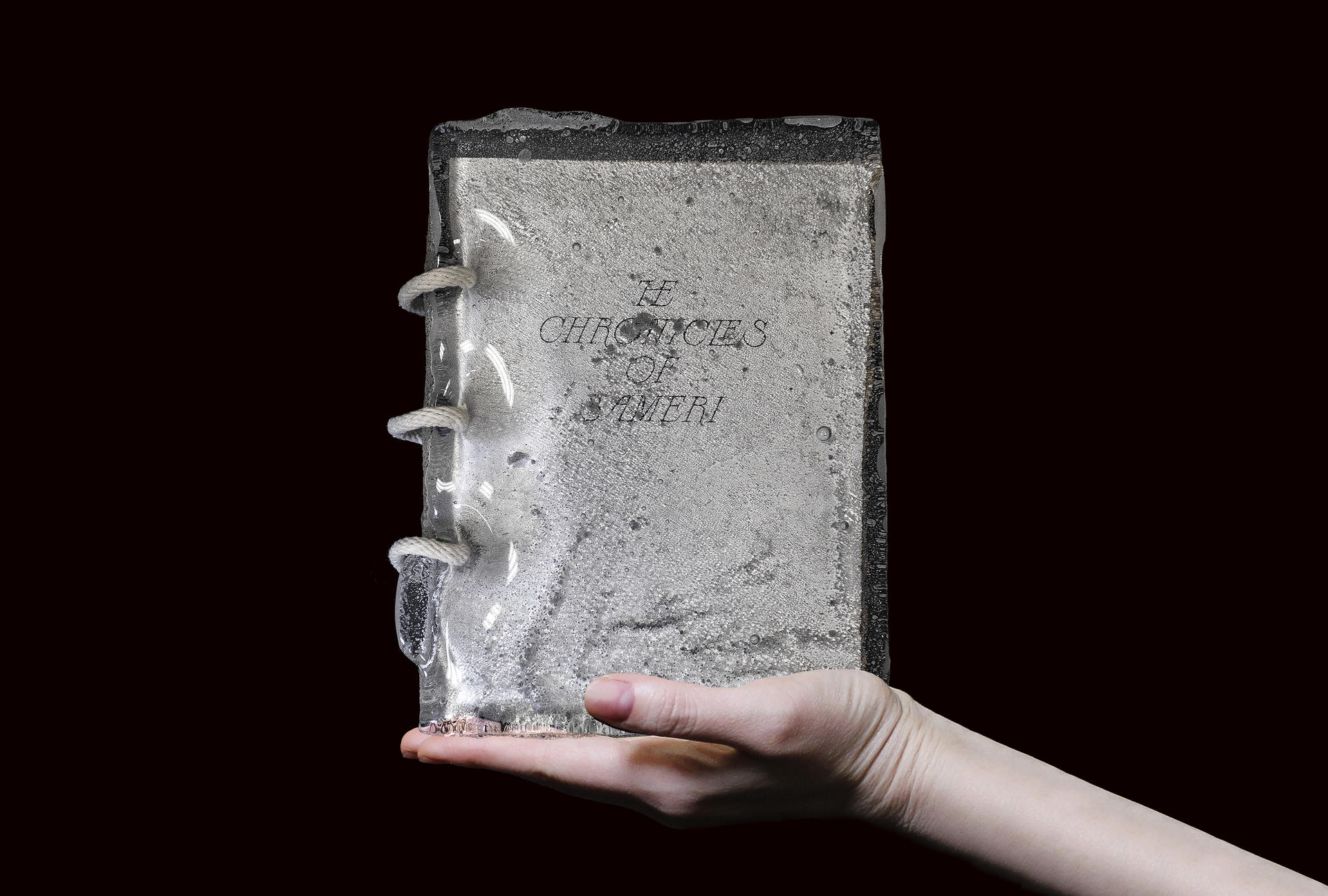 The Chronicles of Sameri
Glass, rope, paper
6 in x 8 in
2022
"Let me know if you ever meet any aunties with the last name Chu," my mom added as we hung up. It was our first call after I landed in Southeast Asia for refugee work. Mom has sisters in North Korea whom she has never met.  
I come from a war-divided family. With hopes of reuniting with their babies, my grandparents cultivated a piece of barren mountain land in Sameri and built houses for the following generations to live alongside each other, never having to separate. 
The Chronicles of Sameri collects the memories of this land from all family members. I wove together my aunts' and uncles' spotty memories of Grandpa and Grandma. The gravity of the narratives shifts over generations; once a war-ridden land, Sameri was a labor site to which my parents returned on weekends to plant hundreds of pine trees. 
Origin Story
Documentary Film
'09:32
2022
Where is home for you? — is one of the first icebreaker questions people ask each other. It is also the one that baffles many of my friends who are third culture kids. They feel comfortable navigating a back-and-forth relationship between languages, conjuring up Konglish, Chinglish, and many other exclusively intelligible code meshing.29 They have a list of ex's nationalities that reads like a FIFA World Cup bracket, and they get nervous whenever a form needs them to write a "permanent address." Having grown up in multiple countries by choice, chance, or force, third culture kids struggle to define where home is. 
Origin Story is an archive of third culture kids' multiple homes while they grew up, stitched together in the form of a documentary. As my friend Lindsay Jungmi defines it, "Home is not a place; it's a state of mind."
Image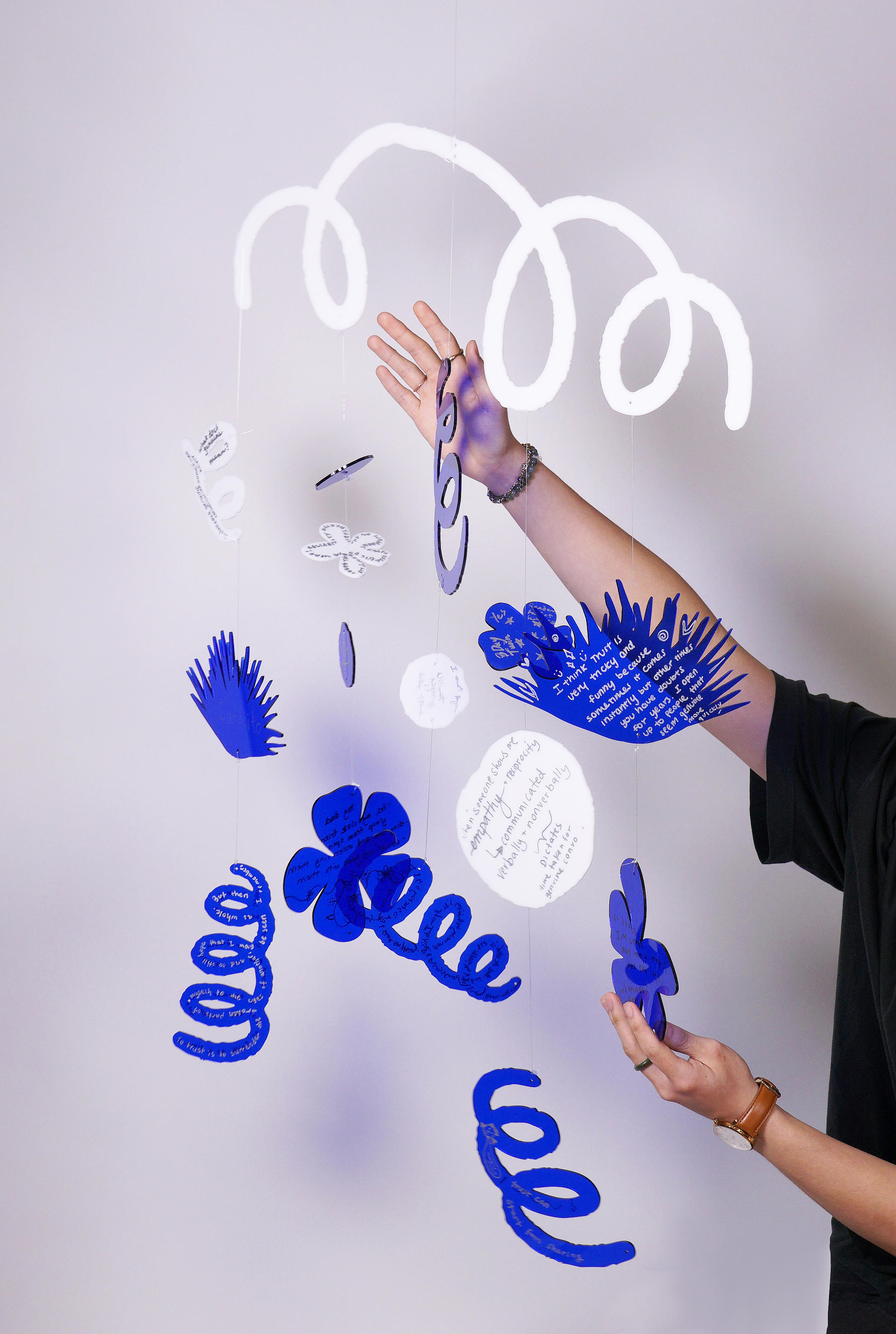 Place of Trust
Plexiglass, monofilament
1 ft x 4 ft
2023
In March 2023, I ran a workshop at the Printed Matter, a bookstore in Chelsea, New York City. I invited the audience — dozens of strangers — to collaborate. I asked them: "Which of your communities makes you feel safe enough?", "What are the subtle cues that make you feel safe?", "How long did it take you to break the silence and open up to each other's experiences?"
Participants helped each other to bind the pieces together into a mobile, Place of Trust. Some of the answers read: "To trust is to surrender the broken parts of myself to the eyes of another, and to still hope that I may be seen as whole. But then I remember: to be broken is to be whole. Maybe all of our broken, imperfect bits and pieces come together to become whole. One leap of faith at a time."
Let's [Bounce]
Bouncy castle
10 ft x 15 ft x 15 ft
2023
Let's [Bounce] is a bouncy castle that facilitates a joyful storytelling environment between people. The structure reminds people of their childhood yet puts them off balance; it experiments with whether physical vulnerability can lead to authentic conversations. 
Image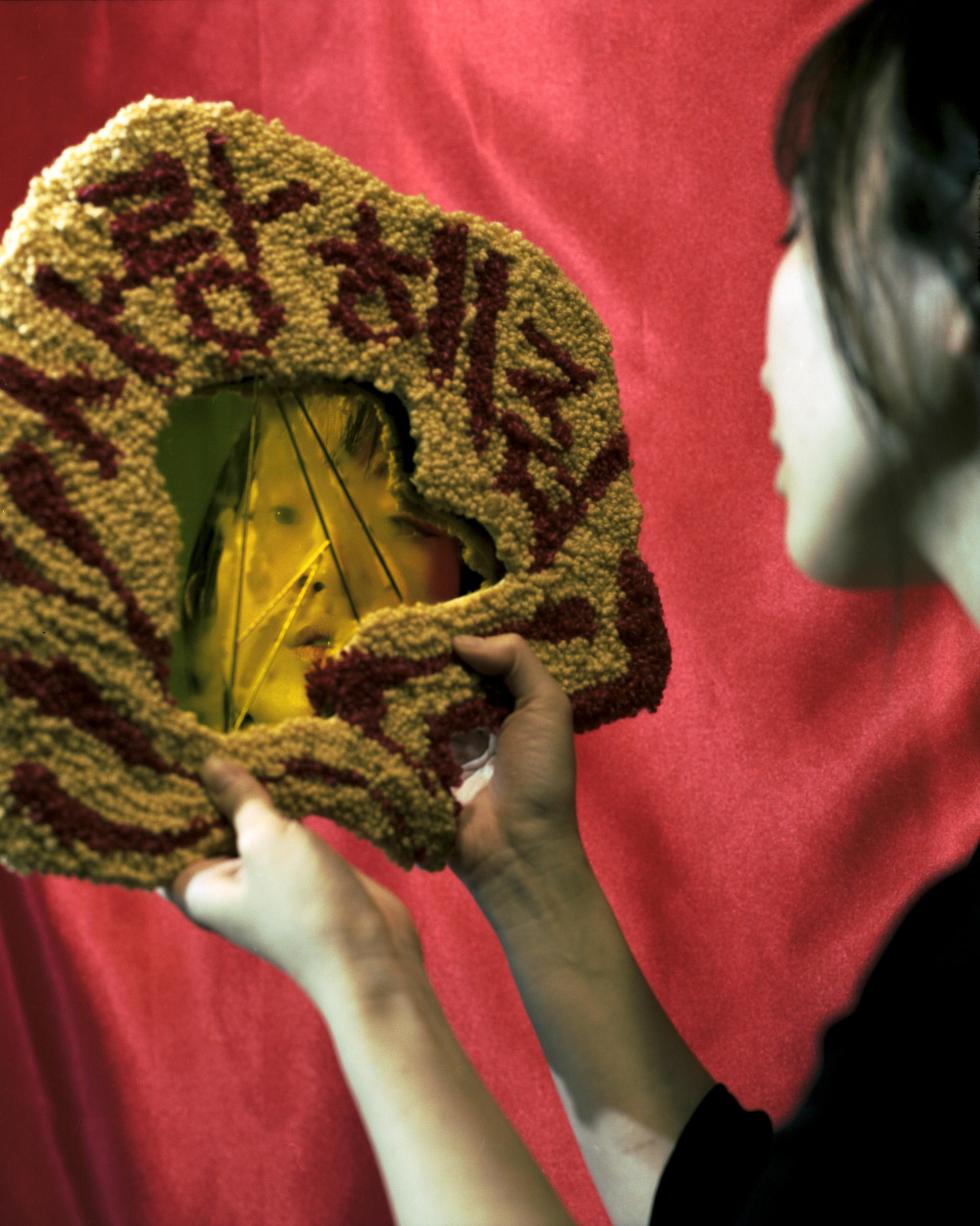 LOVE Me
Performance
18 in x 18 in
2022
The number of Asian-targeted crimes skyrocketed following the pandemic. Violence had never felt so close. Fear of being attacked in the street is a lived experience of mine. 
During that time, Brown University's Asian American Political Alliance was rebuilding its community space at the Center for Students of Color. Hoping to turn the space into one centered on healing, memory, and experiences of displacement, the Brown AAPA reached out to me to commission work. As a response, I stitched Love Me, a fragmented mirror covered with a tufted frame.
Image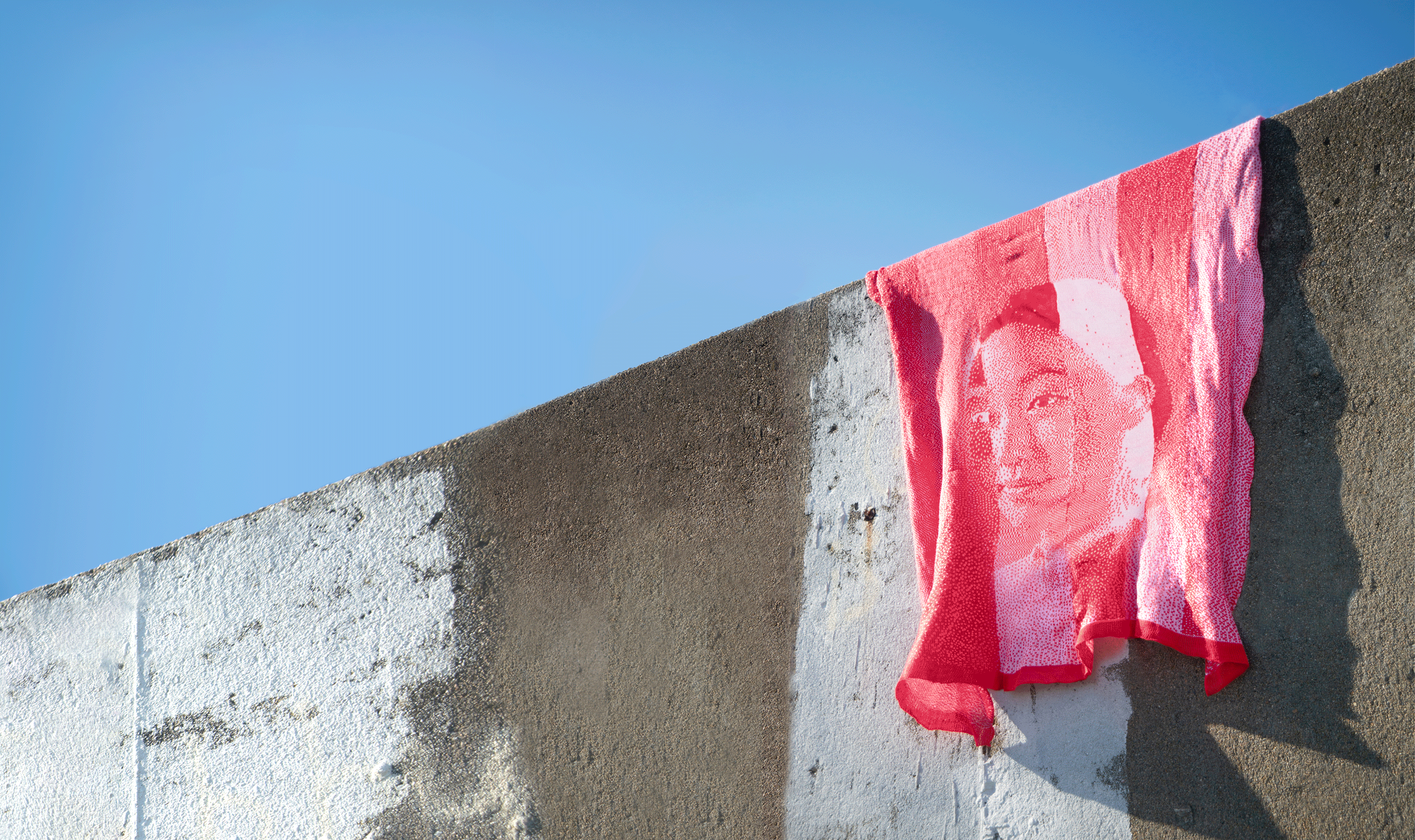 Swish Swoosh
Yarn
30 in x 42 in
2022
Swish Swoosh is a carrier bag of stories about Asian Americans' bilingual identities. Asian Americans rapidly switch languages at home and in professional settings. I asked how multilingualism impacts the way they navigate this country. The switching extends beyond just language; different personality traits, beliefs, and levels of responsibilities are associated with each language we speak. 
The process of knitting an image is messy, quite like the immigration process. Knitting machines are old bodies from the 1960s. Originally, the knitting machines used for Swish Swoosh can only read 24 pixels of information per row. The machine is hacked by plugging in an intimidating microcontroller to increase its data processing capacity to 200 pixels. The hacked machine constantly produces glitches, refusing to fully surrender to this new, forced way of existing. 
Image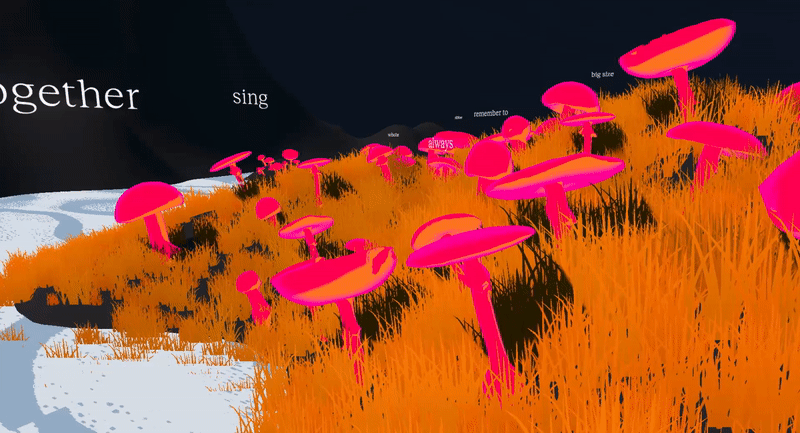 The Sunny Side
Game
3 Stages
2023
The Sunny Side is a game where the player walks around, harvests words from the environment, and generates poems with the gathered words. As the player stops to smell the flowers and jumps to reach the tallest mushroom, interactions with the world populate new nouns, verbs, and adjectives. 
The player slowly grows their glossary in each stage, just like an immigrant who picks up new words and expressions one by one. The poems are fragments and awkward combinations far from grammatical logic: wiggle little ones; we together walk alongside; this way come.