Image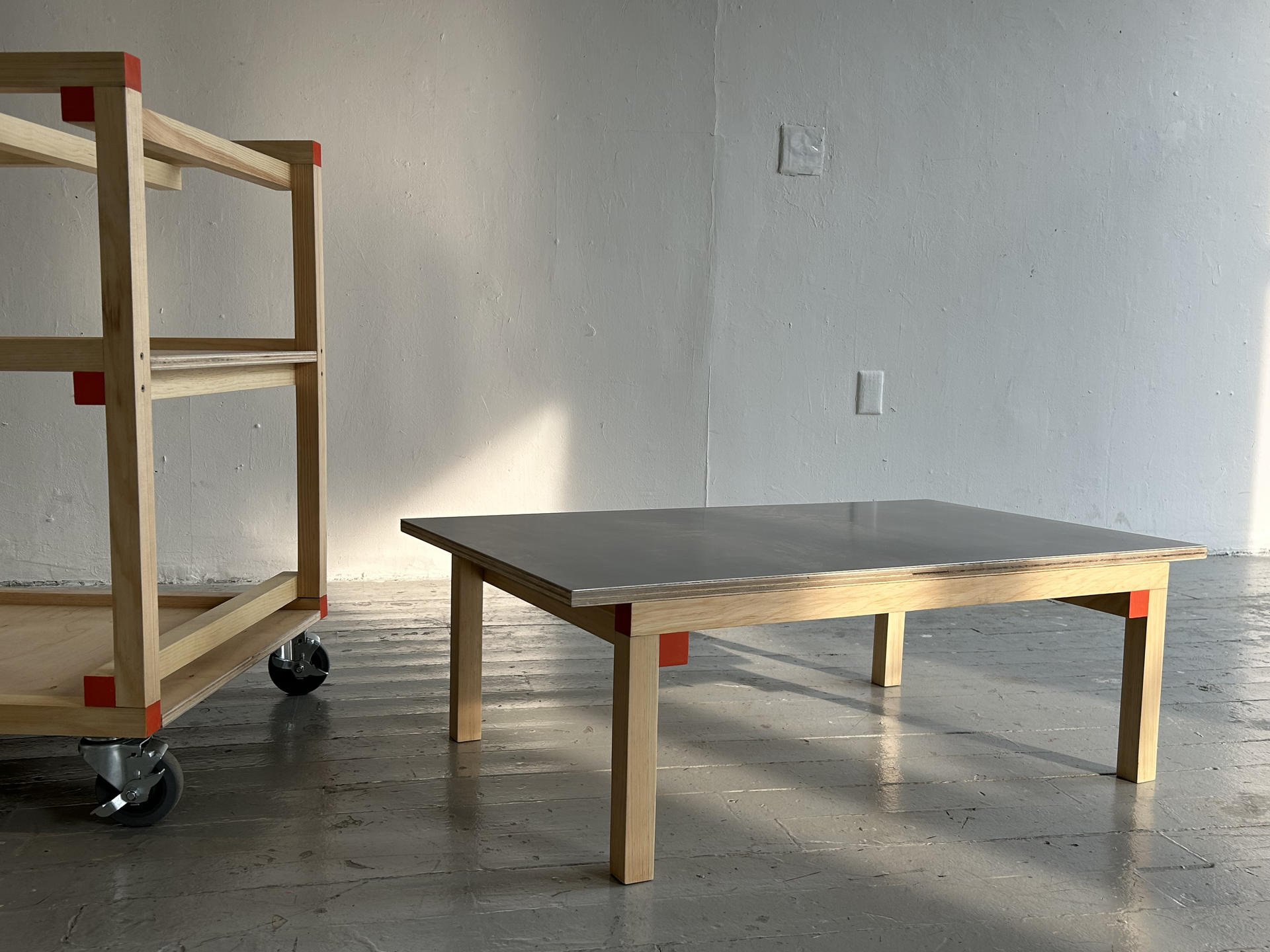 The People's Food Project
This thesis addresses food insecurity, stigma, and the limitations of the food pantry in high density, low income neighborhoods through a prototype—sited in Winooski, Vermont—that redesigns food assistance. The prototype places food distribution within the existing network of corner stores, adapting the established community spaces to encourage a host of shared food experiences: growing, cooking, eating, sharing, and learning. The prototype functions as a hub and spokes model: one main food center supporting a series of small food spaces—a market, kitchen incubator, and collective kitchen and dining space. As a design manual, prototypical elements guide the design of food assistance spaces, using approachable, comfortable, and efficient design to elevate spaces of necessity into places of dignity, inclusion, and autonomy. The flexibility and responsiveness of this design system can be implemented within a broad range of spatial configurations and building typologies, providing opportunities to support food insecure communities across the country.
Image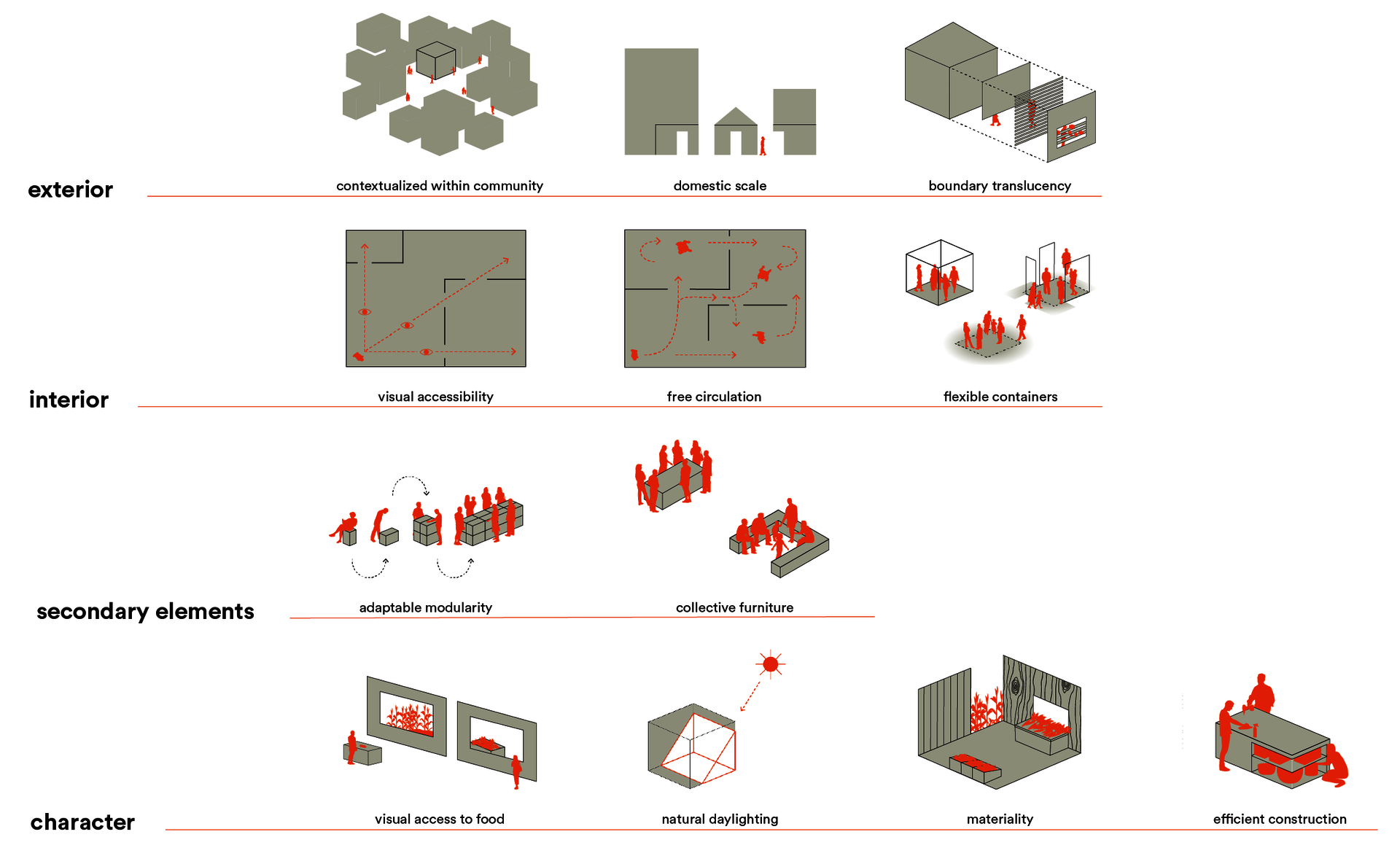 design principles
Concluding from different methods of analysis and research, a series of principles were developed to guide the design of food assistance spaces. The topics analyzed include: current food distribution methods, the corner store and other food spaces, architectural precedents, and research in design's effect on psychological comfort and wellbeing. The design principles respond to three identified needs within Winooski: the limitations of the food pantry, the refugee population's vulnerability to food insecurity, and the lack of indoor public space. Divided into four categories—exterior, interior, secondary elements, and character—the principles encompass the full scale of the physical space. Overarching through all categories, these principles address visual accessibility, physical accessibility, autonomy in space, and efficient design.
Image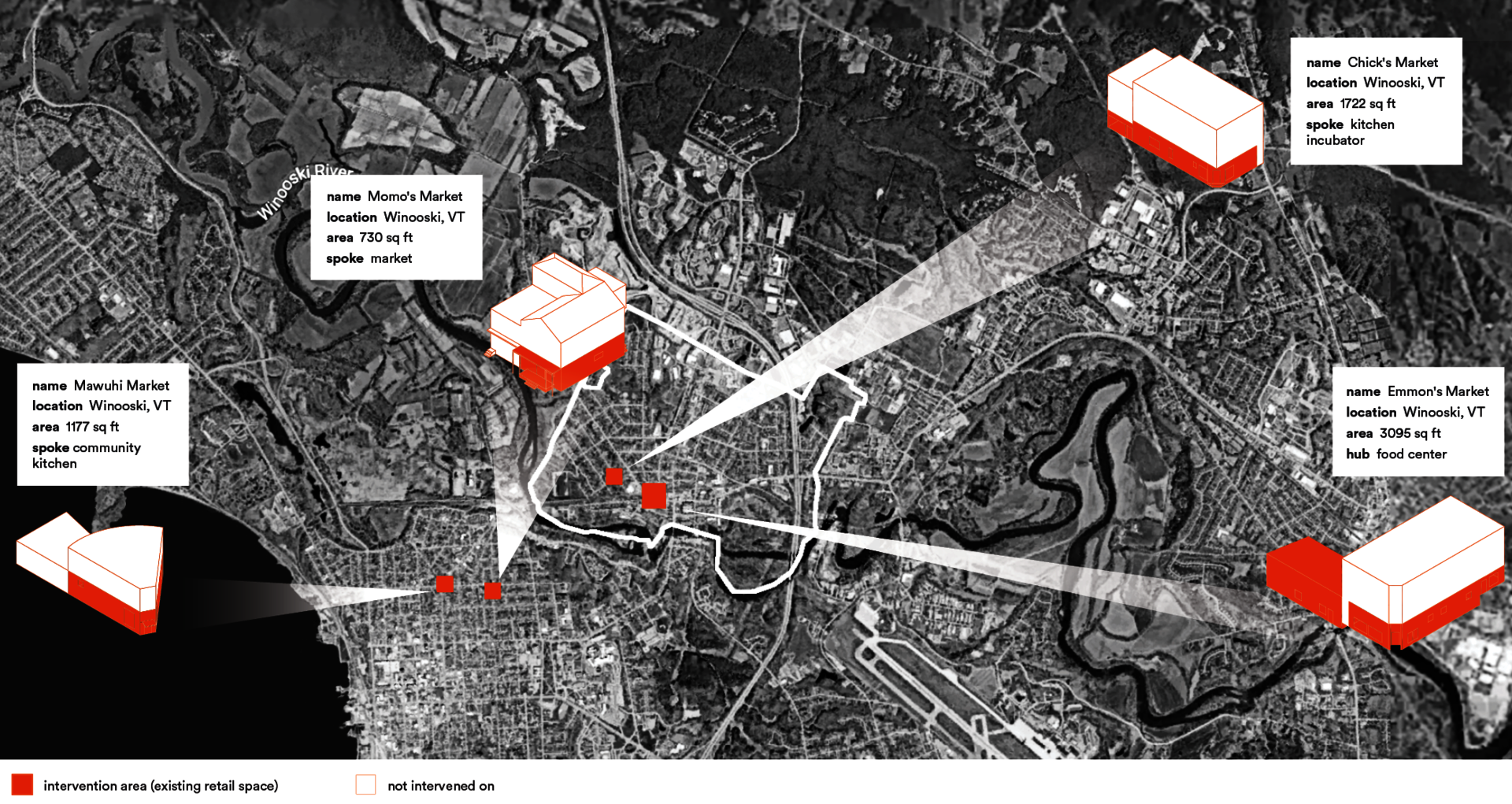 hub and spokes
The network approach functions as a hub and spokes model: one main food center supporting a series of small food spaces—a fresh produce market, kitchen incubator, and community kitchen. This network of food spaces throughout Burlington and Winooski serves to connect existing free food distributions, growing initiatives, local farmers, and corner stores, functioning as a regional food system. In doing so, it both fills the gaps left in the current foodscape and provides space for social interaction around various shared food experiences. Permanently embedding food assistance within established corner store networks honors the role of the corner store in historically filling food access gaps. Further, underused pockets of space within high density, low-income areas are revitalized, responding to their lack of unused, high volume square footage. Smaller implementations scattered throughout food insecure neighborhoods become easily accessible, able to reach the community directly where there is a need.
Image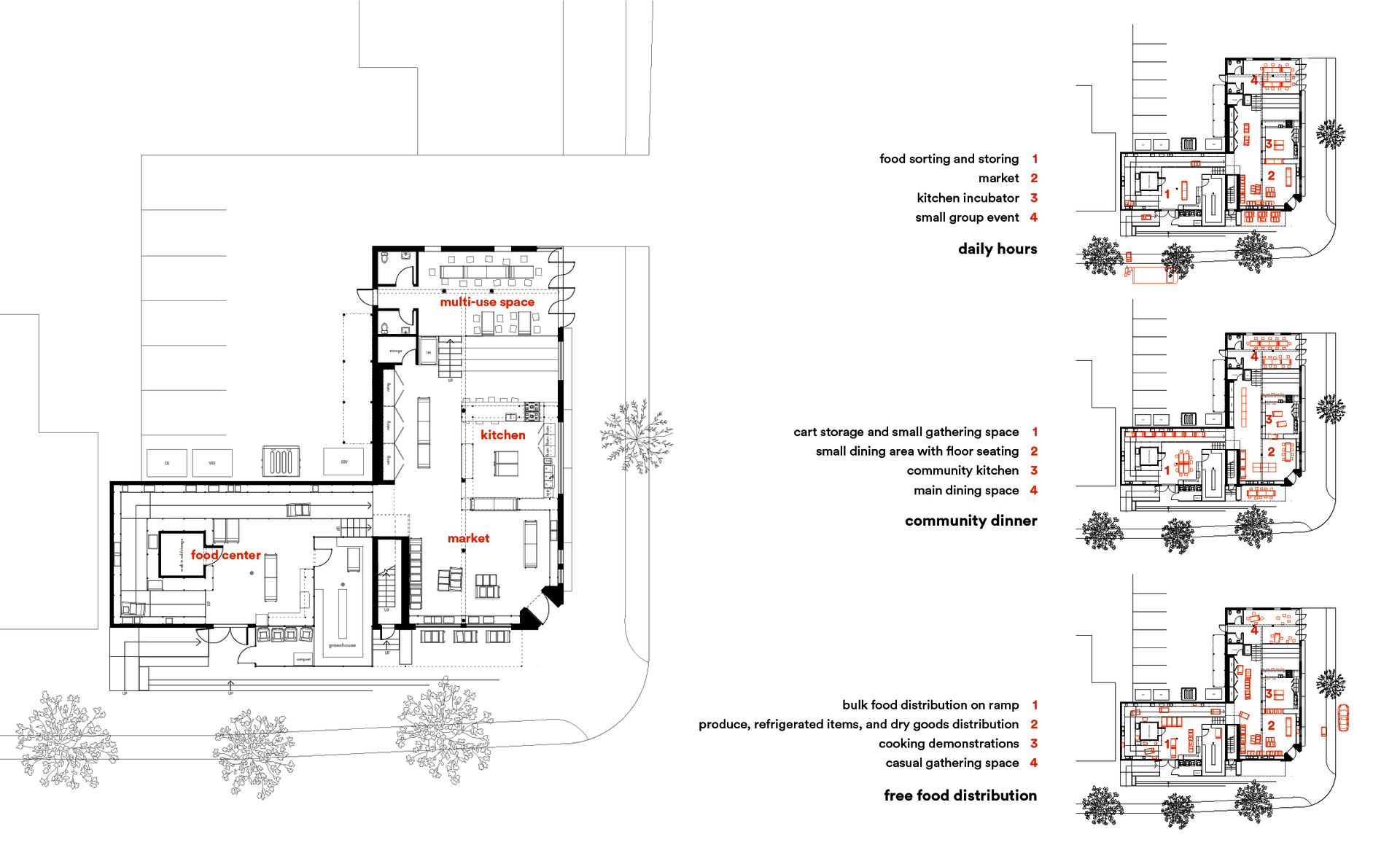 configurations of flexible elements
Flexible elements—carts, bins as food display and seating, and pivoting doors­—allow space to be populated in various ways, accommodating many programs within the same space. These elements are easily adaptable, allowing users to manipulate the space and function as they please. These plans present three possible configurations of flexible elements: daily hours, community dinner, and free food distribution. Each configuration uses 30 carts as countertops, dining tables, food display, and food transport. 
Image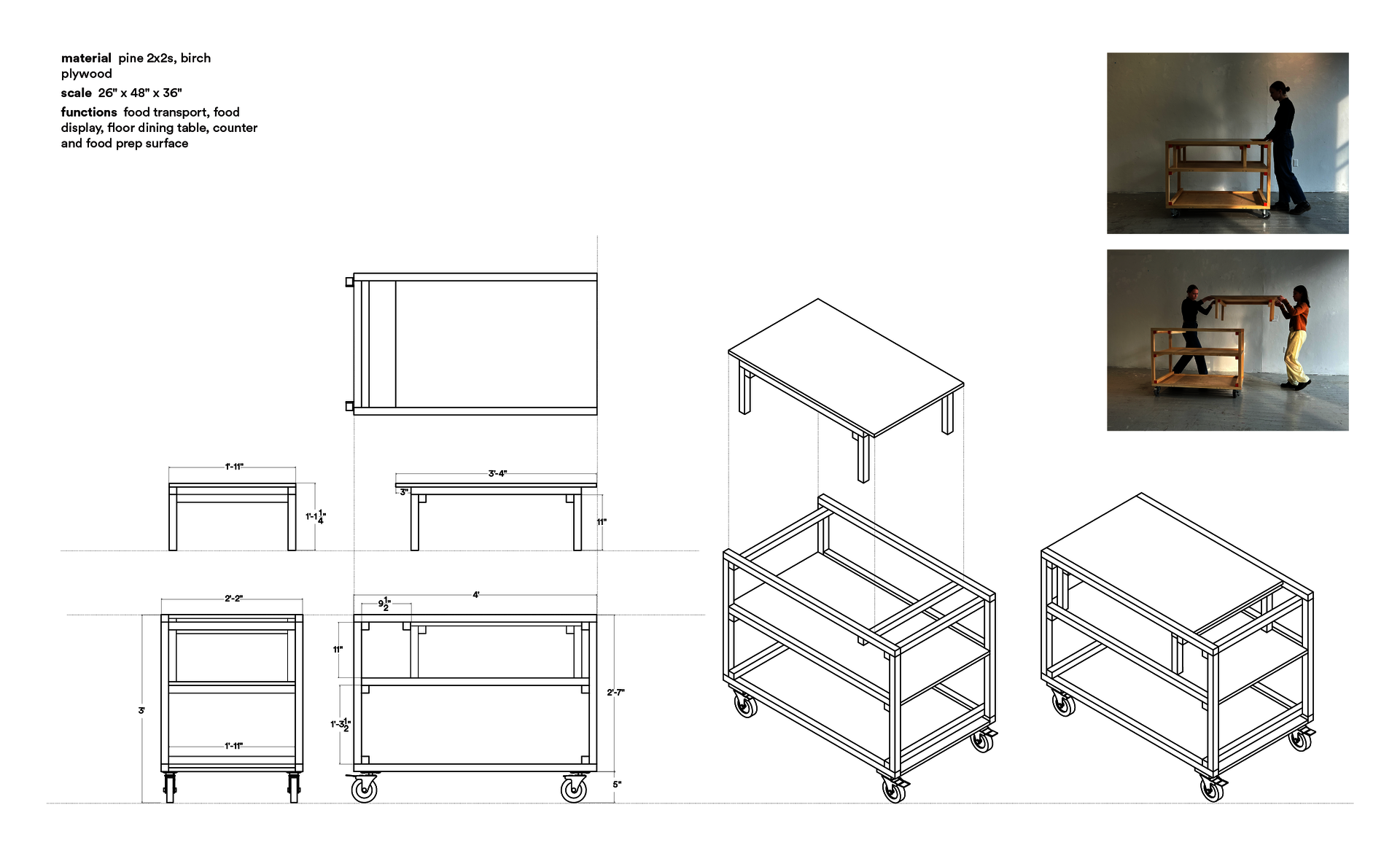 food cart 
wood
26" x 48" x 36"
2023
In responding to the needs of food assistance spaces, particularly regarding improved circulation, organization, flexibility, autonomy, and variety of use, I designed and built a full scale food cart with a floor dining table nestled inside. Besides movement of food, the cart serves as a food prep counter, food display, seating table, and floor dining table. It allows users to directly modify the space and how they use it, reinstating agency that is sometimes lacking in free food distributions while simultaneously maximizing square footage.