Image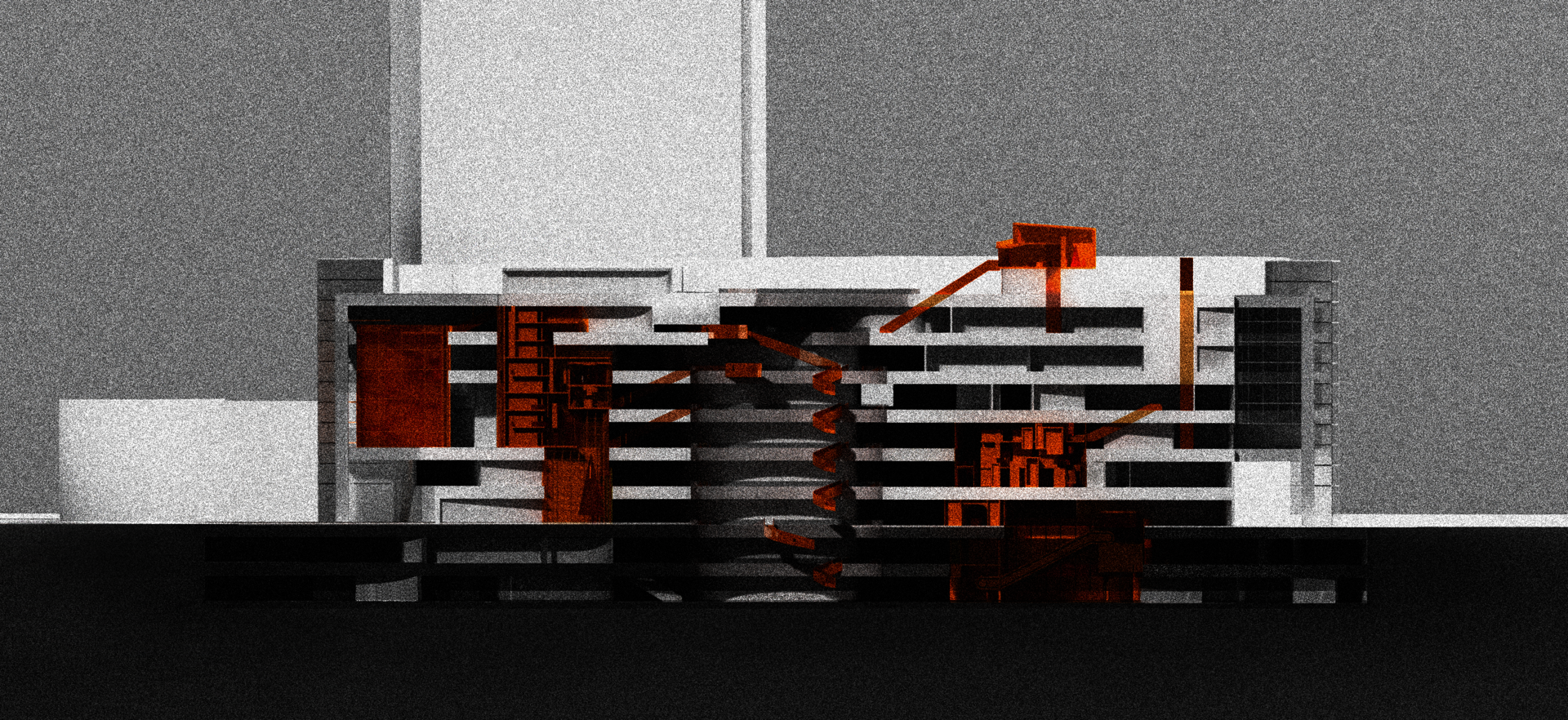 Consumerism was born in the industrial age, and has been criticized since that time, but it still exists and flourishes in new forms with the information age. Consumption affects values and life, spurring economic growth and causing ecological crises. Therefore, a critical discussion of consumerism must continue.
This thesis proposes a space within an existing mall that raises people's awareness to be vigilant against the control of consumerism by exposing how marketing packages goods and manipulates people's psychology to guide consumption. An ideal mall to host this program is the Changsha International Finance Square, a large mixed-use building in the most flourishing street in Changsha, a medium-sized city in China. 
Existing malls reinforce traditional consumerist messages. The hierarchy of brands is expressed in architecture through placement and access to valuable resources, such as layout, traffic and more.  Beyond physical space, with the development of the Internet, consumerism has emerged in all parts of life, analyzing data from phones and understanding of consumer psychology to manipulate people into buying even more. It shares similar characteristics with traditional consumerism, but promotes fanatical consumption in a more complex form. 
This thesis explores the characteristics of traditional consumerism and internet-driven consumerism spending, transforming them into spatial maneuvers. By deconstructing the hidden connotations of consumerism in daily life, the thesis seeks to reconstruct these elements using an architectural language that consumers can perceive. Ultimately, the goal is to create an experiential space within a shopping mall that teaches consumers how to recognize this manipulation.
Image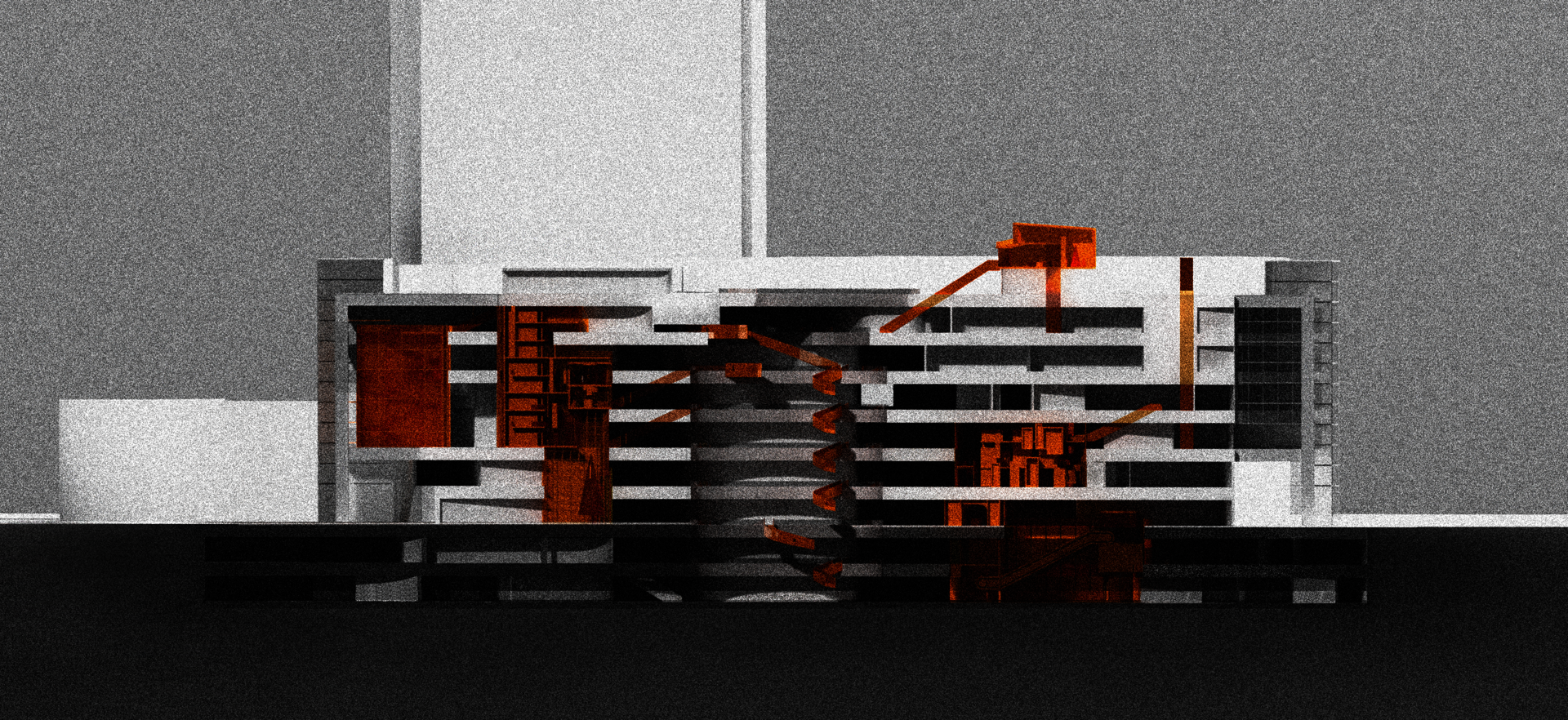 Section
This section shows how the experiential space was inserted into the existing mall. There are ten marketing strategies been summarized in consumerism culture. The shared philosophy among the ten themes revolves around using psychological manipulation and targeted marketing strategies to influence consumer behavior and maximize profits. A narrative order for touring these 9 spaces has been created, they are: Obsolescence, ties to impression, inescapable, imagination, surveillance, lottery, over-packaging, creating connection, one more thing.
Image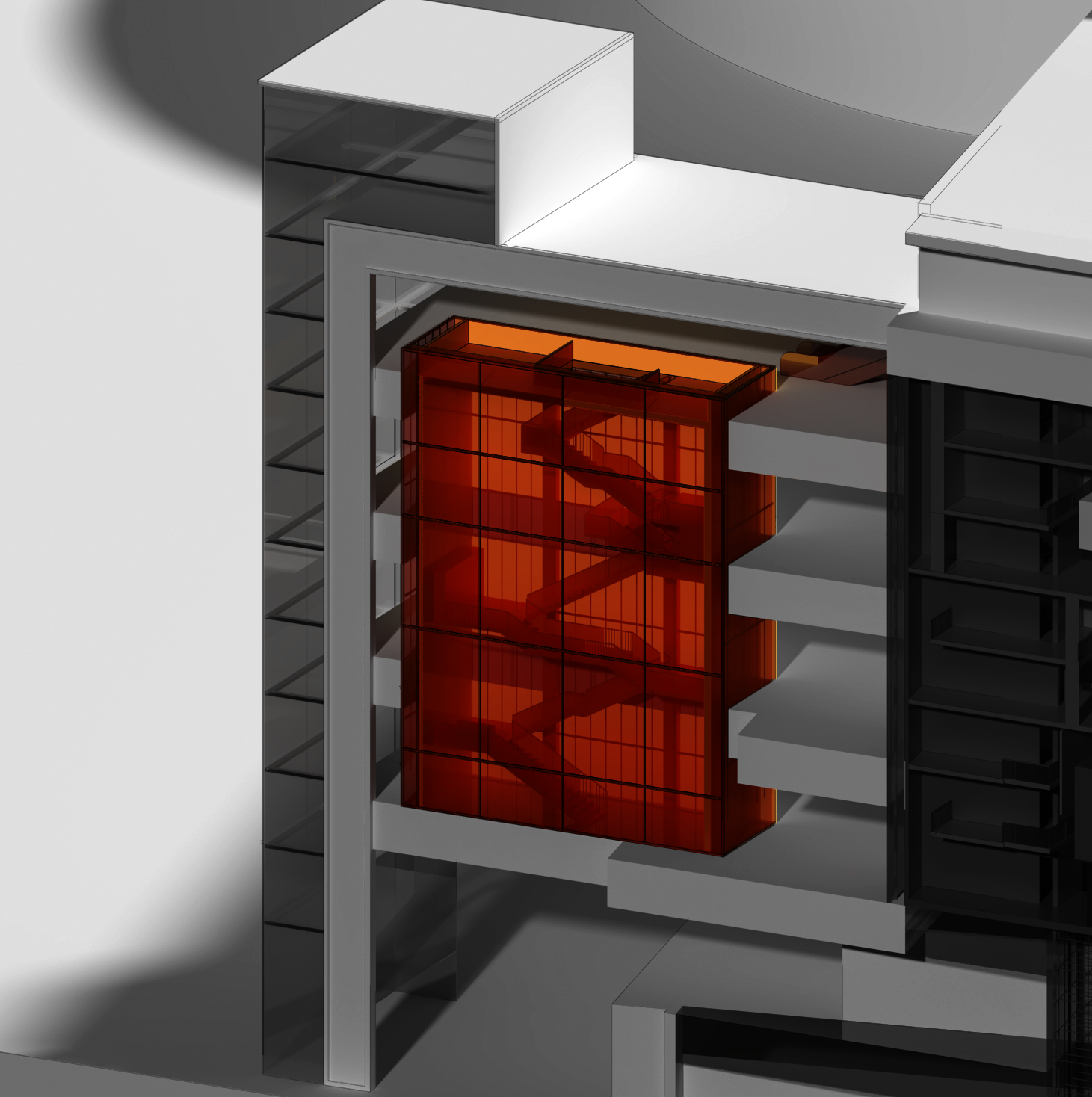 One More Thing
"One more thing" mentality takes hold among consumers browsing clothing options. Shoppers believe there is always one more item they need to buy, resulting in impulse purchases and the continuous acquisition of products. Using multiple floors and rooms to replicate a shelf-like environment. However, strategically placing an inaccessible corner within this space serves to symbolize the insatiable craving for acquiring additional possessions.
Image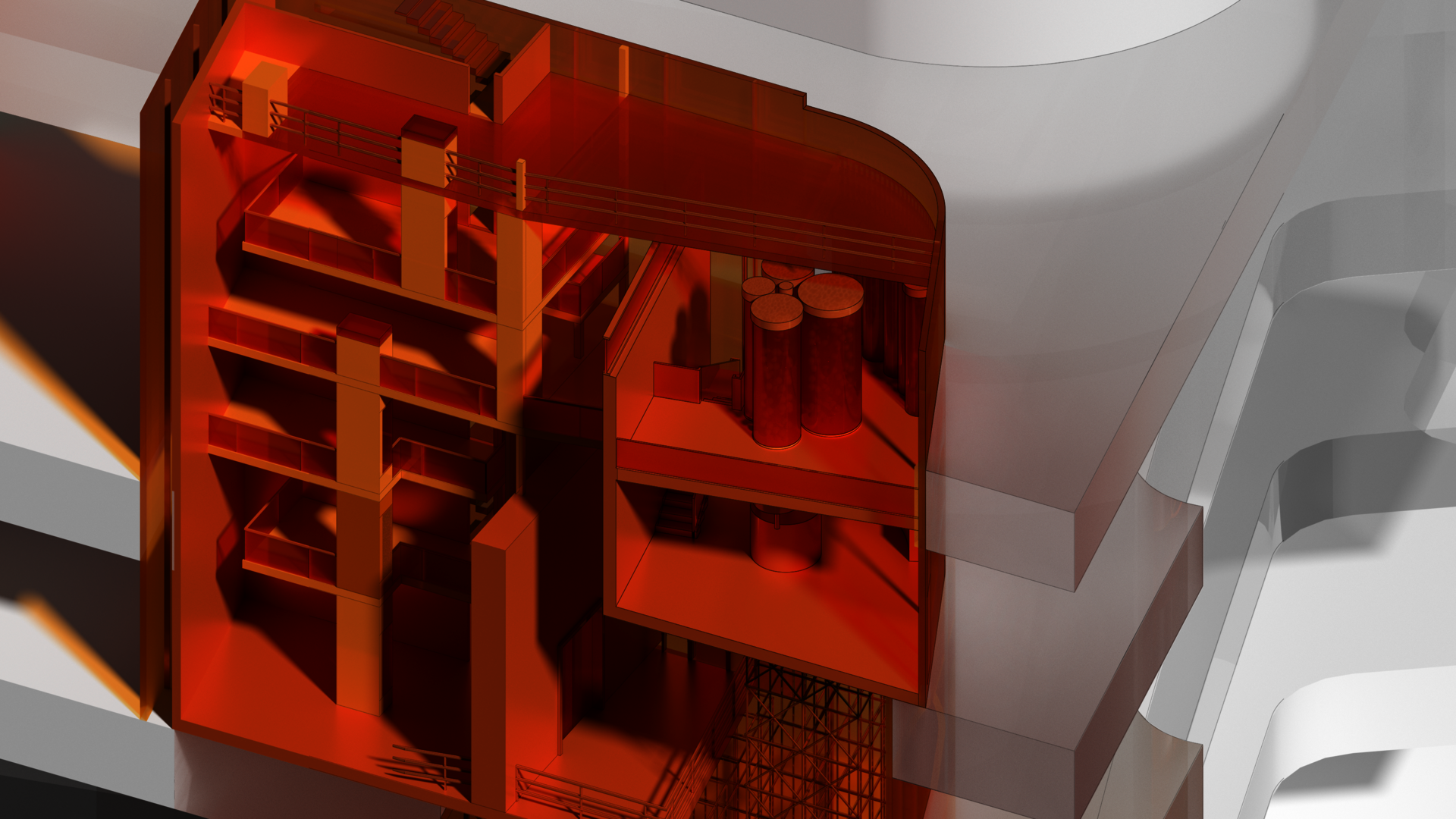 Lottery
Lottery-style marketing, such as that used by Pop Mart and Genshin, adds excitement to the overall mall experience, as consumers are enticed to spend more money in hopes of obtaining their desired items. There are several cylinders in the room, by interacting with it visitors able to obtain a ball,with only a limited number of them being colorful while the majority remain white, when visitors come to the second floor where the cylinder became transparent, enabling a visual comparison between the white and colorful balls, indicating the possibility for achieve desired item by lottery- style marketing.
Image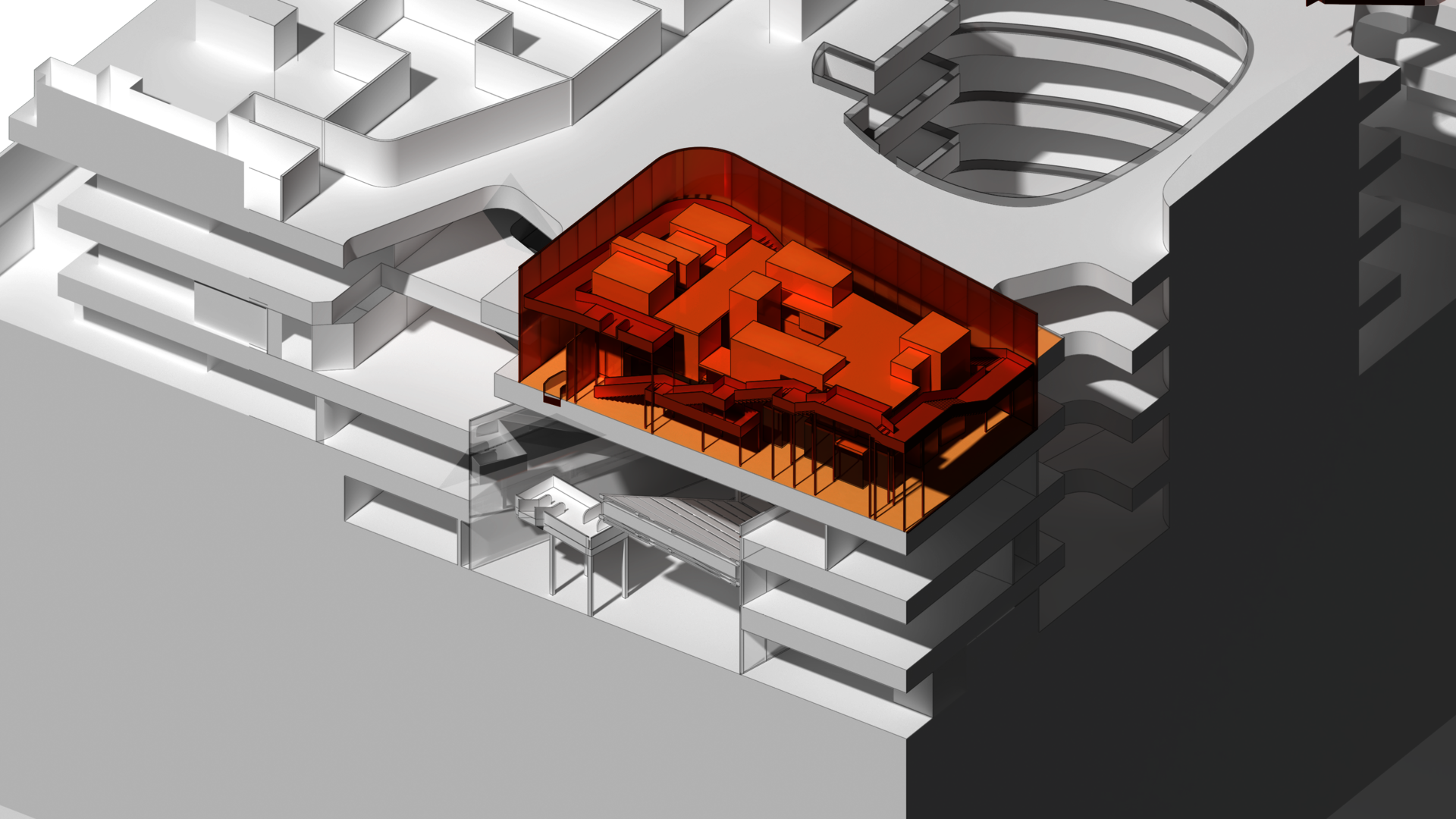 Inexcapable
Ads appearing on billboards and digital platforms such as apps, reinforcing the desire for these products, this is the "inescapable" nature of advertising. There are staircases going up and down, the placement of fake shops facing the staircases creates an inescapable environment where advertising constantly surrounds consumers.
Image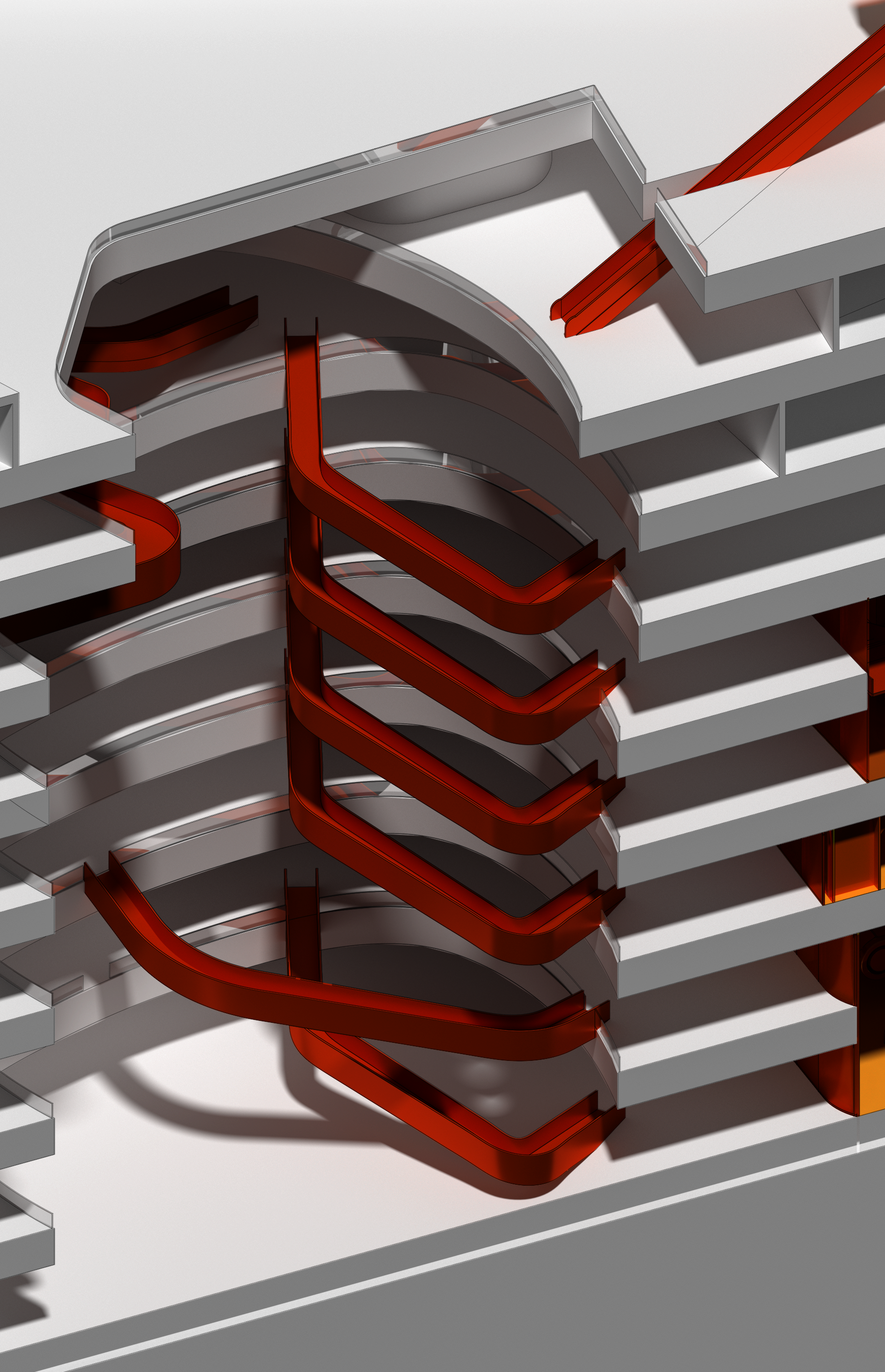 Surveillance
Throughout their shopping experience, consumers are subtly monitored through surveillance measures. Retailers optimize marketing strategies to further influence shopping habits. Multiple escalators create a hierarchy of surveillance, visitors on the escalator observe people in other experiential spaces, visitors on the upper floors' escalator observe lower floors, to visualize how easy it is to monitor consumers.
Image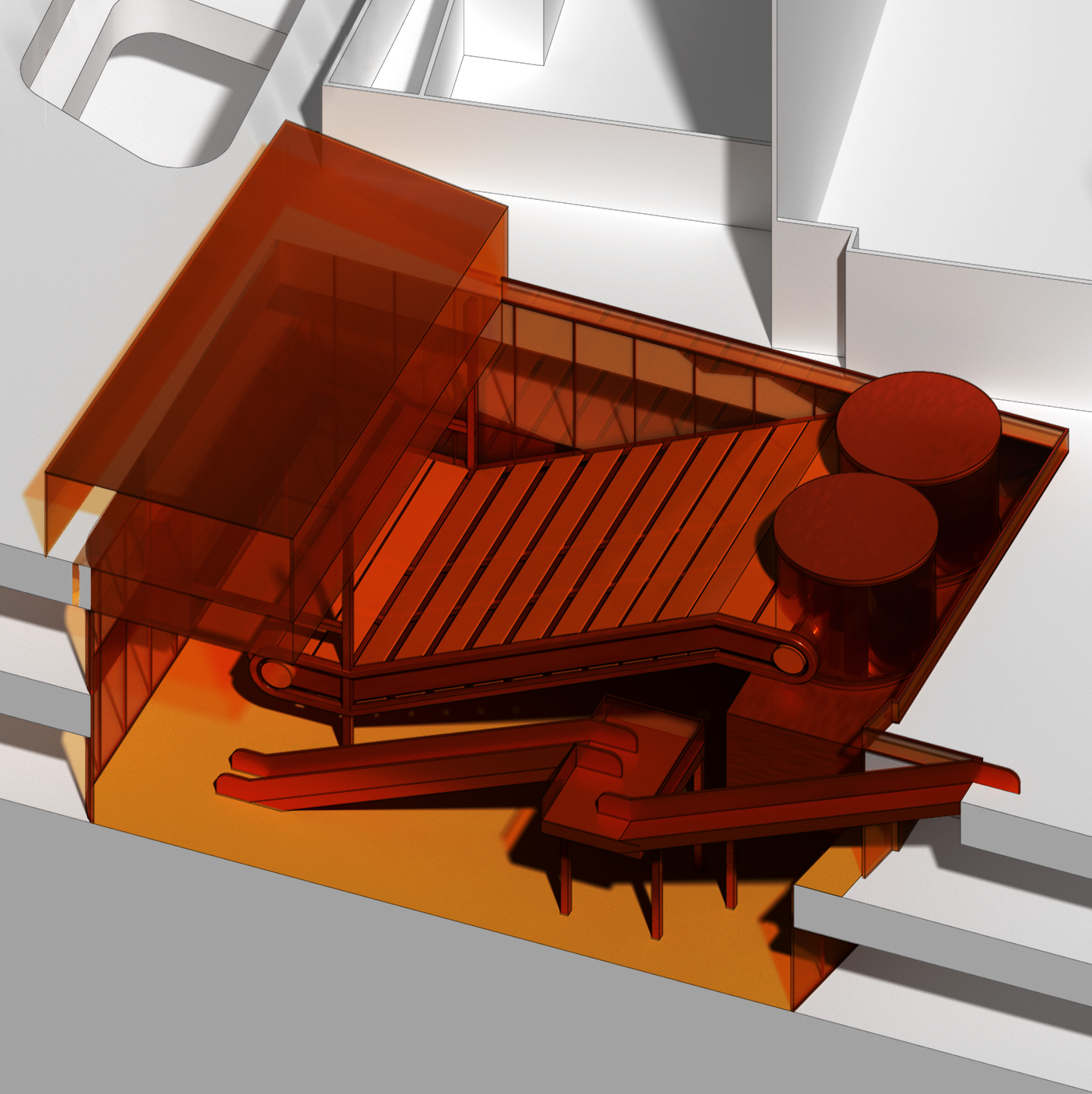 Obsolescence
Obsolescence means products are designed to go out of style quickly, prompting consumers to replace them with new items. This space interacts with existing fast fashion and smart devices shops next to it, each time they sell an item, there will be a package sent to the conveyor belt, showing the speed of the product's update.
Image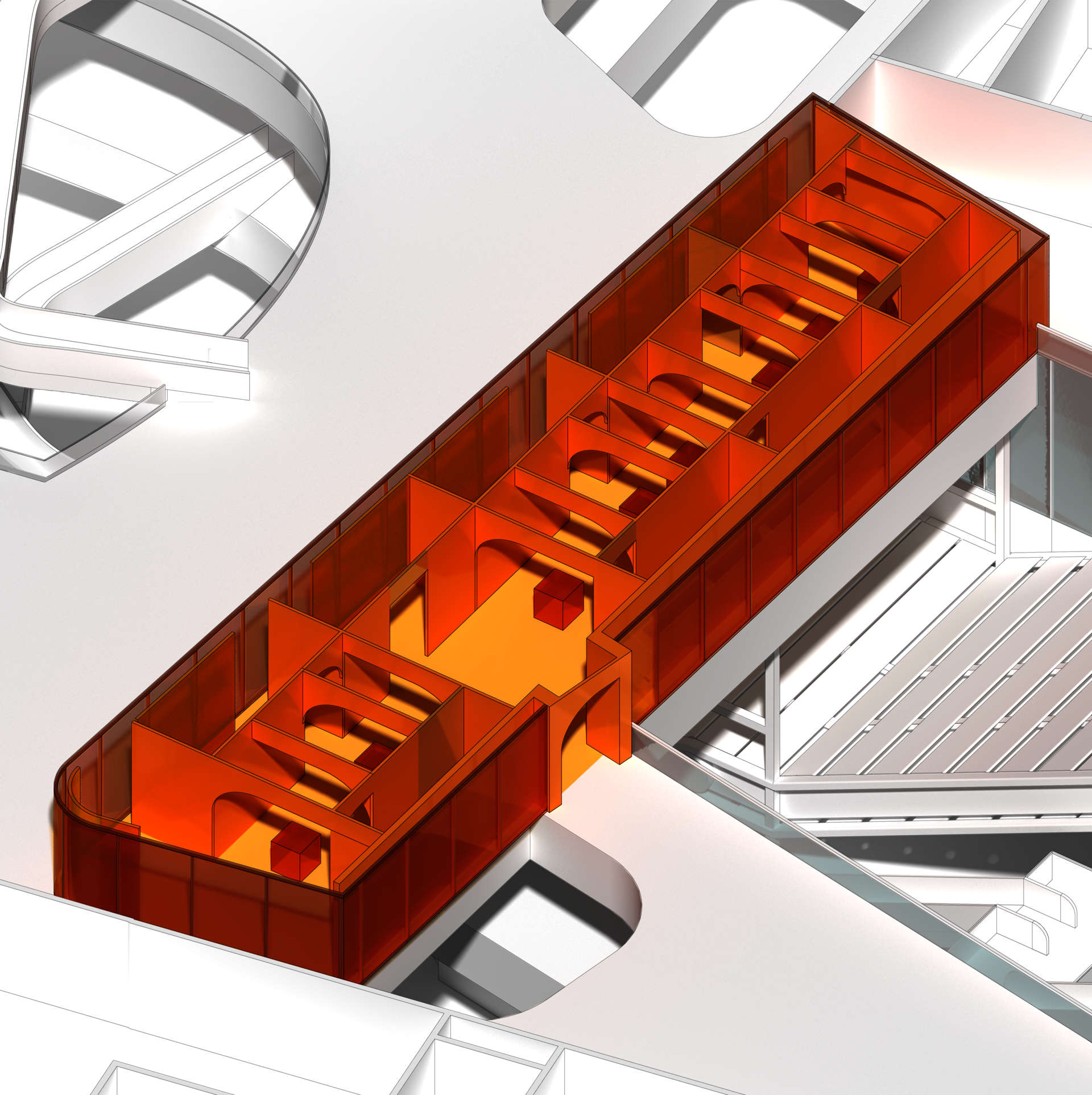 Ties to Impression
Popular brands, trendy designs, creating ties to impression, were employed to fulfill the desire for status recognition. The presented space illustrates a single product from multiple brands, showcasing the intricate details of diverse marketing strategies employed by each brand to establish a sense of uniqueness for their respective products.
Image
Imagination
Imagination refers to merchants promoting their products by creating a sense of popularity and exclusivity. Reaching the top floor, visitors are greeted with a captivating image, but as they approach, they discover the chaotic backside of the sculpture, mirroring the often-disillusioning experiences consumers encounter in activities that are popular on social media.
Image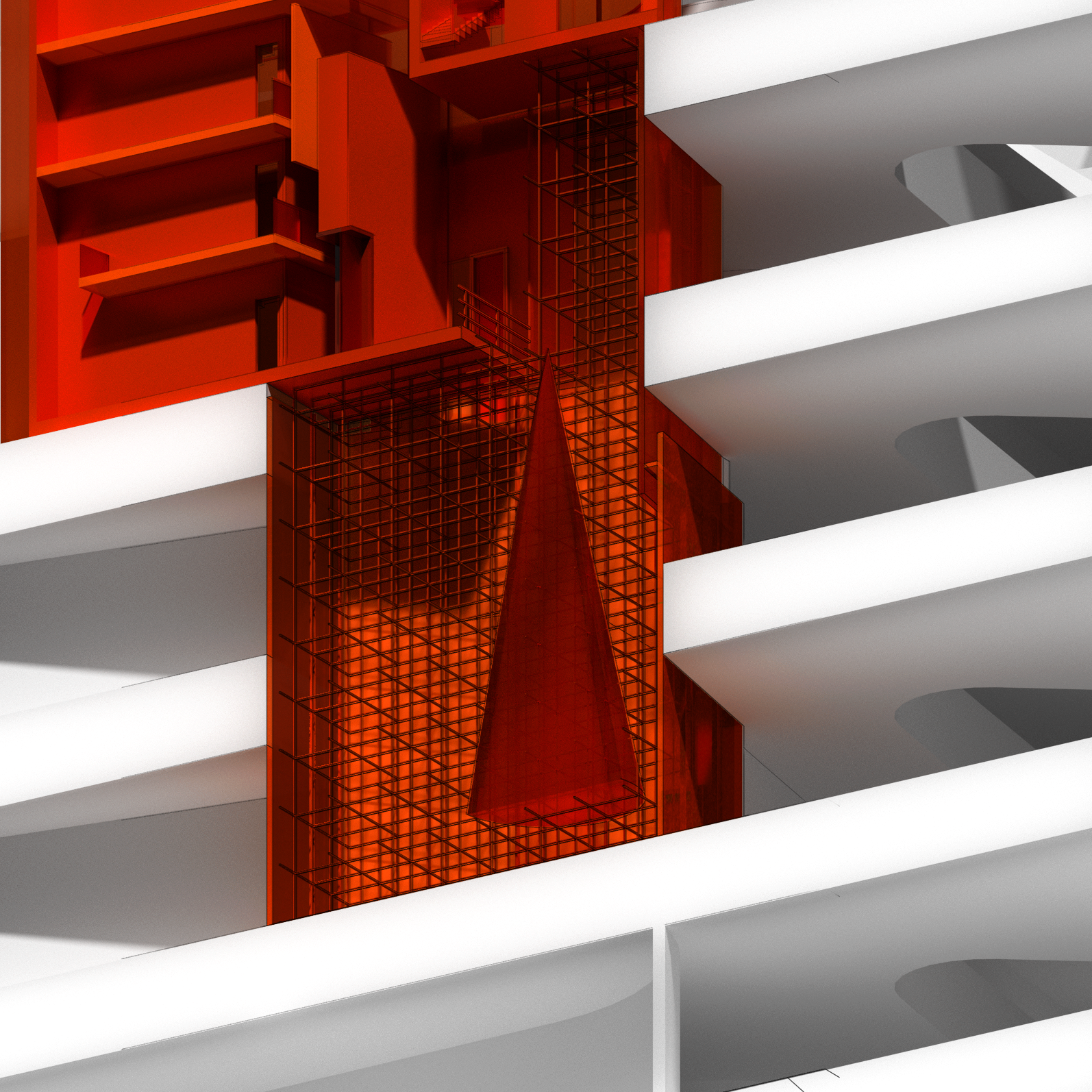 Over-packaging
Over-packaging with excessive packaging making products seem more appealing and valuable. The juxtaposition between the frame structure and the cone symbolically represents the relationship between package size and the actual volume of the product being showcased.
Image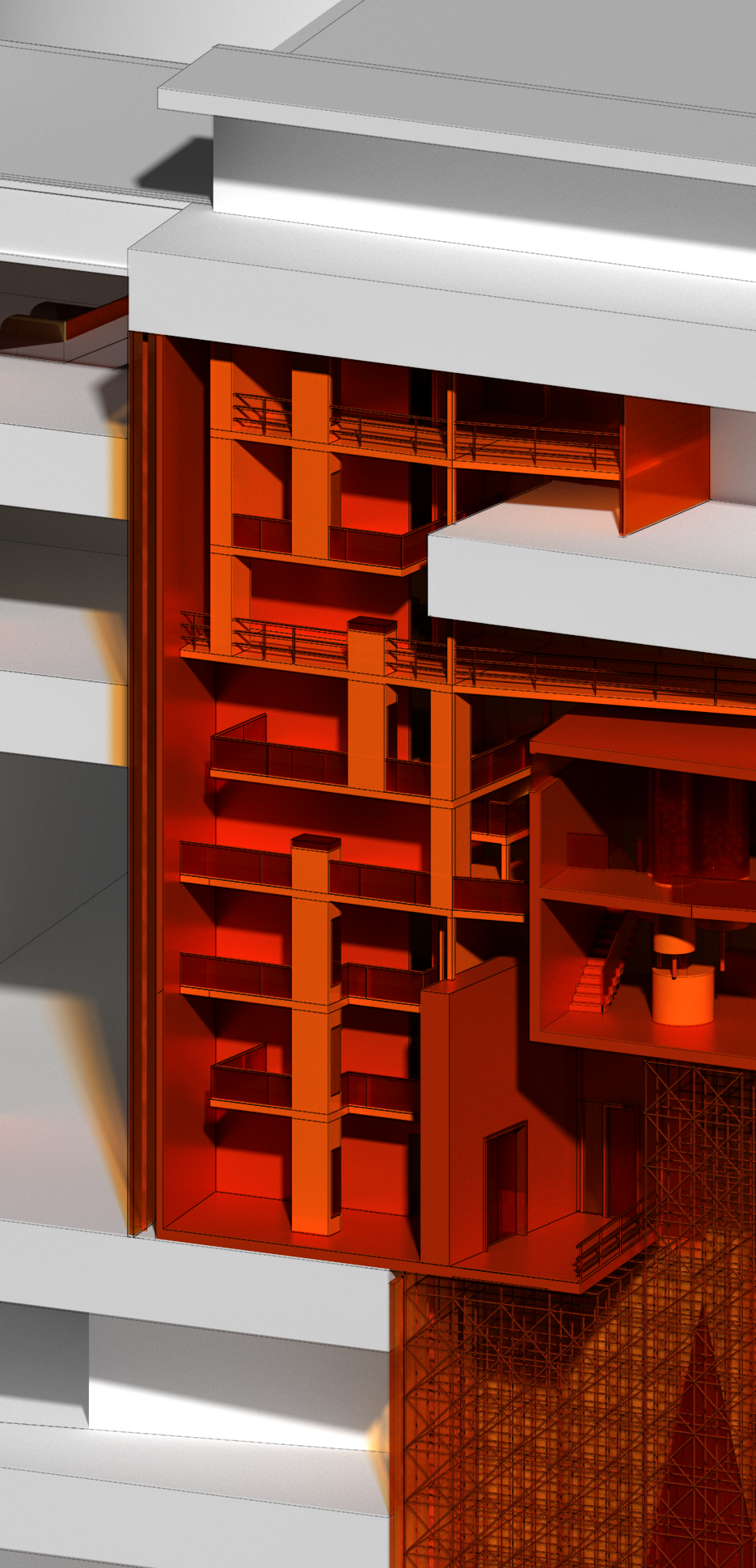 Creating Connection
Creating connections, brands foster connections between fans and create interactive experiences. visitors engage with screen images to progress to the next floor, and upon exiting, they carry with them the image they feel most connected to, mirroring the emotional attachments people form with celebrities and idols.