Image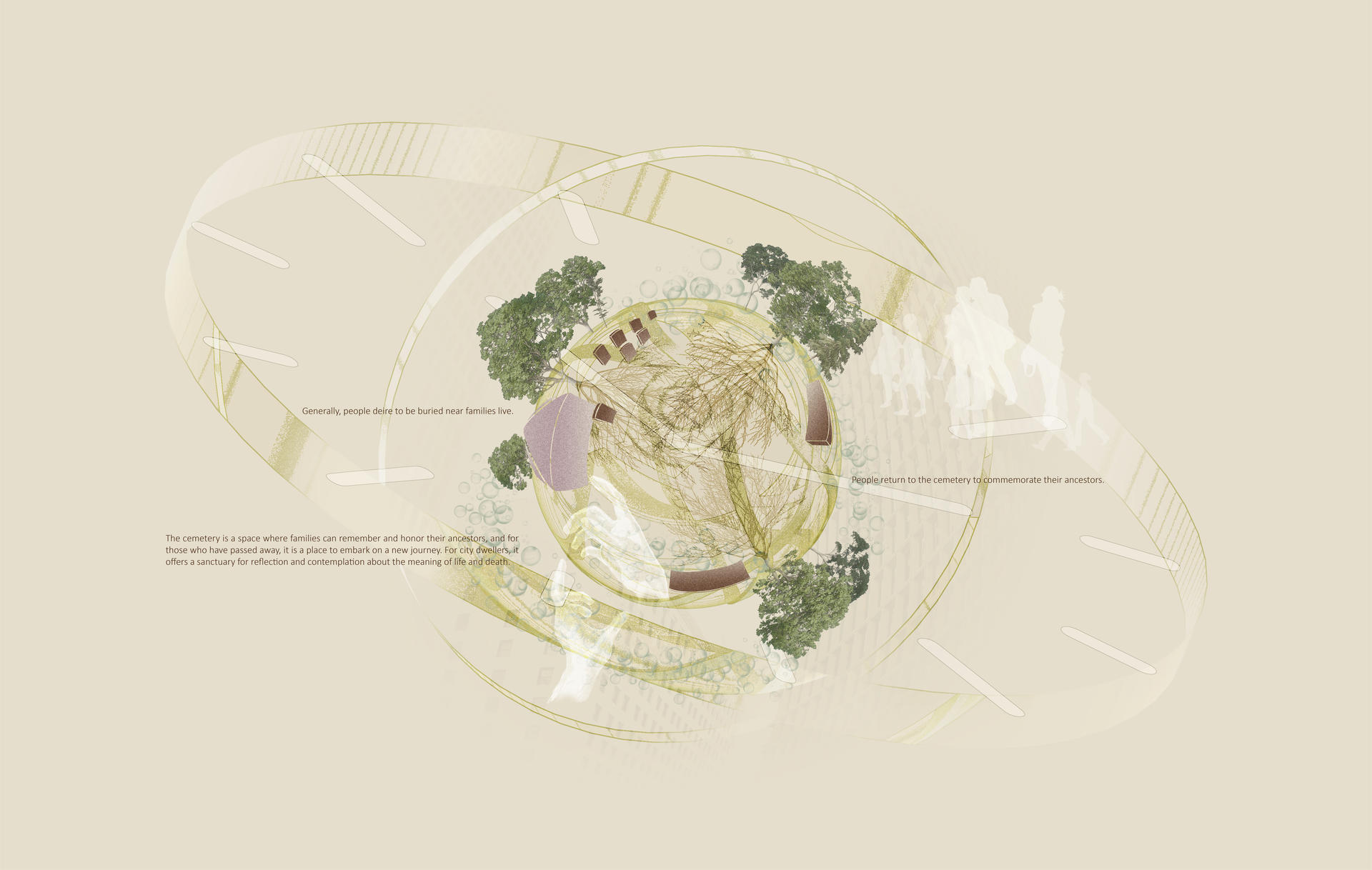 The traditional funeral service industry has enormous environmental and financial costs. In contrast, green burial, and Natural Organic Reduction (NOR), accelerate the human body's degradation and reduce toxic substances in the land, assuming responsibility for our burden on the earth. They provide a gateway between us and the processes of nature and ask us to set aside self-consciousness to accept our oneness with the universe. By gifting our bodies back to the earth, where decomposition enriches soils and nurtures the growth of other life forms, we honor those who have transitioned to another state by continuing the cycle of renewal. 
Available land and land values largely determine modern burial locations; migration and relocation have increased the distance between people and their family cemeteries, making it even more challenging to visit cemeteries that were once easy to reach. In response to limited land availability, cremation has gradually become the mainstream for burials. In the 1960s, 3.56% of burials were cremated, compared to 60% today. This thesis examines the intersection of burial and memorialization rituals, land practices, and ecological regeneration, focusing on how NOR offers equitable and personalized options for memorialization.
Image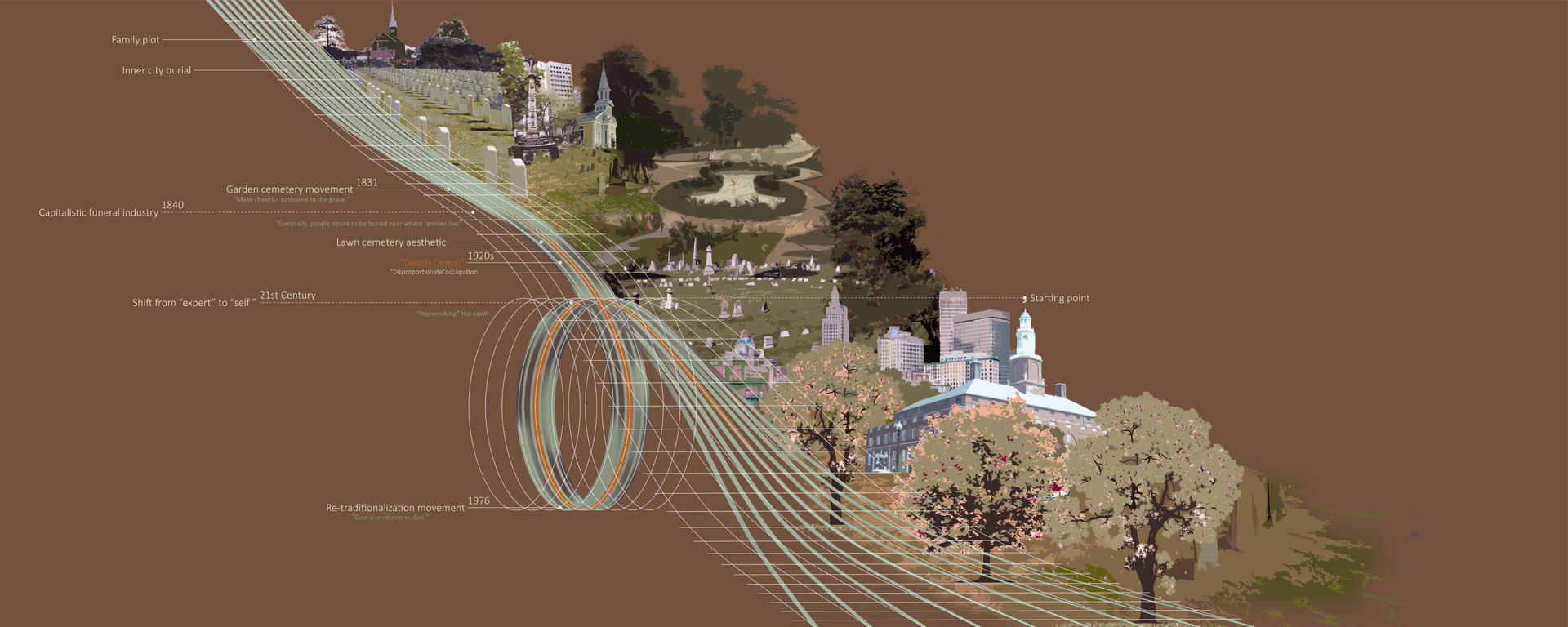 This diagram summarizes the history of cemeteries in the United States and provides an overview of my thesis. It depicts a timeline of changing attitudes towards death in urban areas leading up to our current era, where traditional burial practices and denial of death have negatively impacted land use and the environment. As we face a new turning point in history, where cemeteries in cities are constantly filling up, we need to consider alternative approaches. This thesis adapted NOR as a new funeral method that offers a more equitable and eco-friendly solution. By transforming cemeteries from a particular location to a more extensive system within a contemporary urban context, we can accept history, people's choices, and perceptions while addressing the pressing issues of land use and environmental sustainability.
Image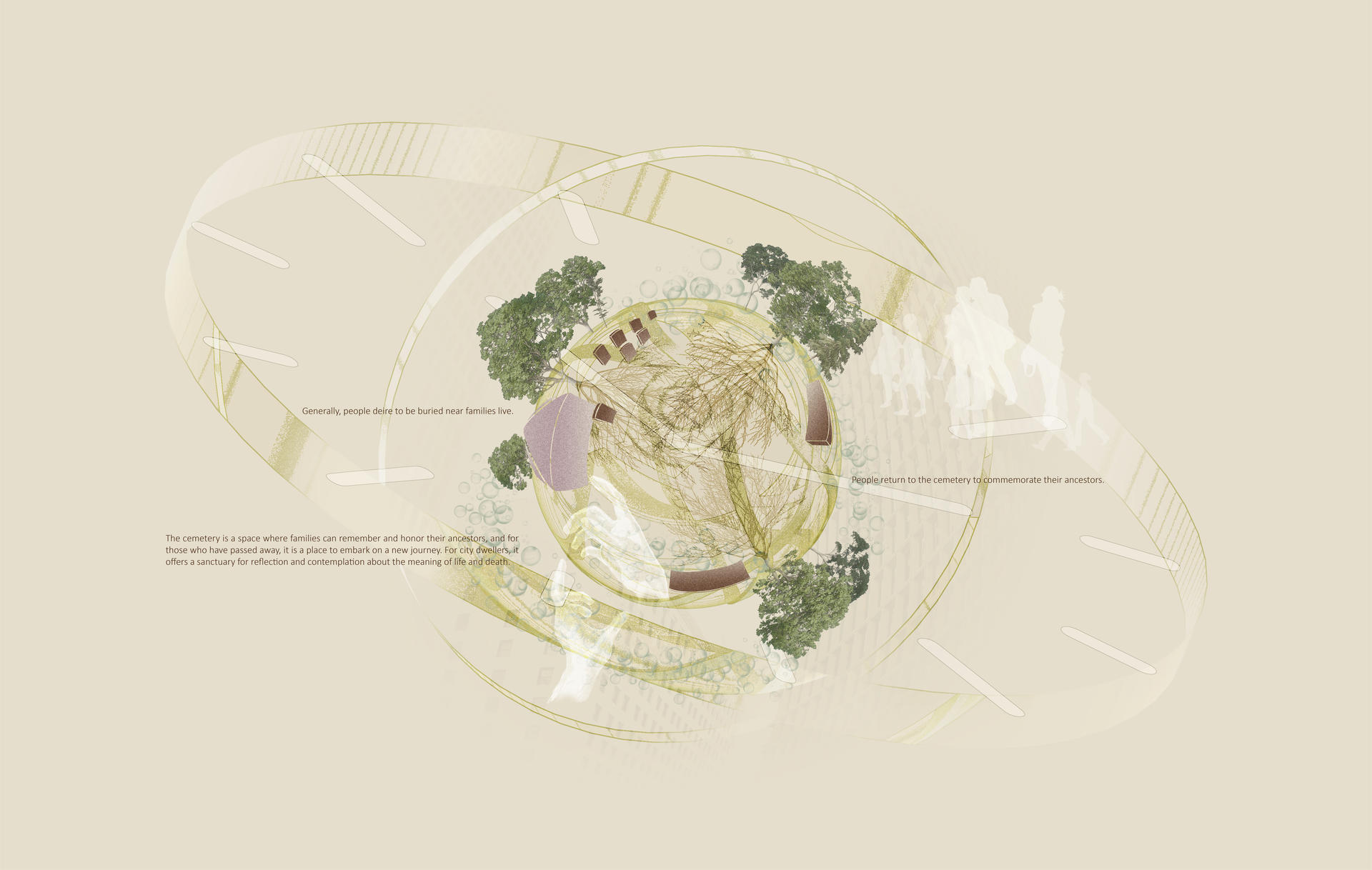 Why a cemetery in the city? Generally, people desire to be buried near families' lives, which allows their family to return to the cemetery to commemorate their ancestors frequently. The cemetery is a space where families can remember and honor their ancestors; for those who passed away, it is a place to embark on a new journey. For people living in the city, it offers a sanctuary for reflection and contemplation about the meaning of life and death. 
What is the wilderness? Wilderness is a symbol of the cycle and a carrier of atomic movement. Everything undergoes different processes under its timescale. Here, individuals relinquish their self-consciousness and recognize themselves as integral components of the natural world, transforming into fluid elements and flourishing into plants or animals. As a symbol of death and in the context of a city, the cemetery serves as an entrance to the wilderness, a microcosm of the world. It is a constant that is not overly influenced by societal perceptions.
 
Image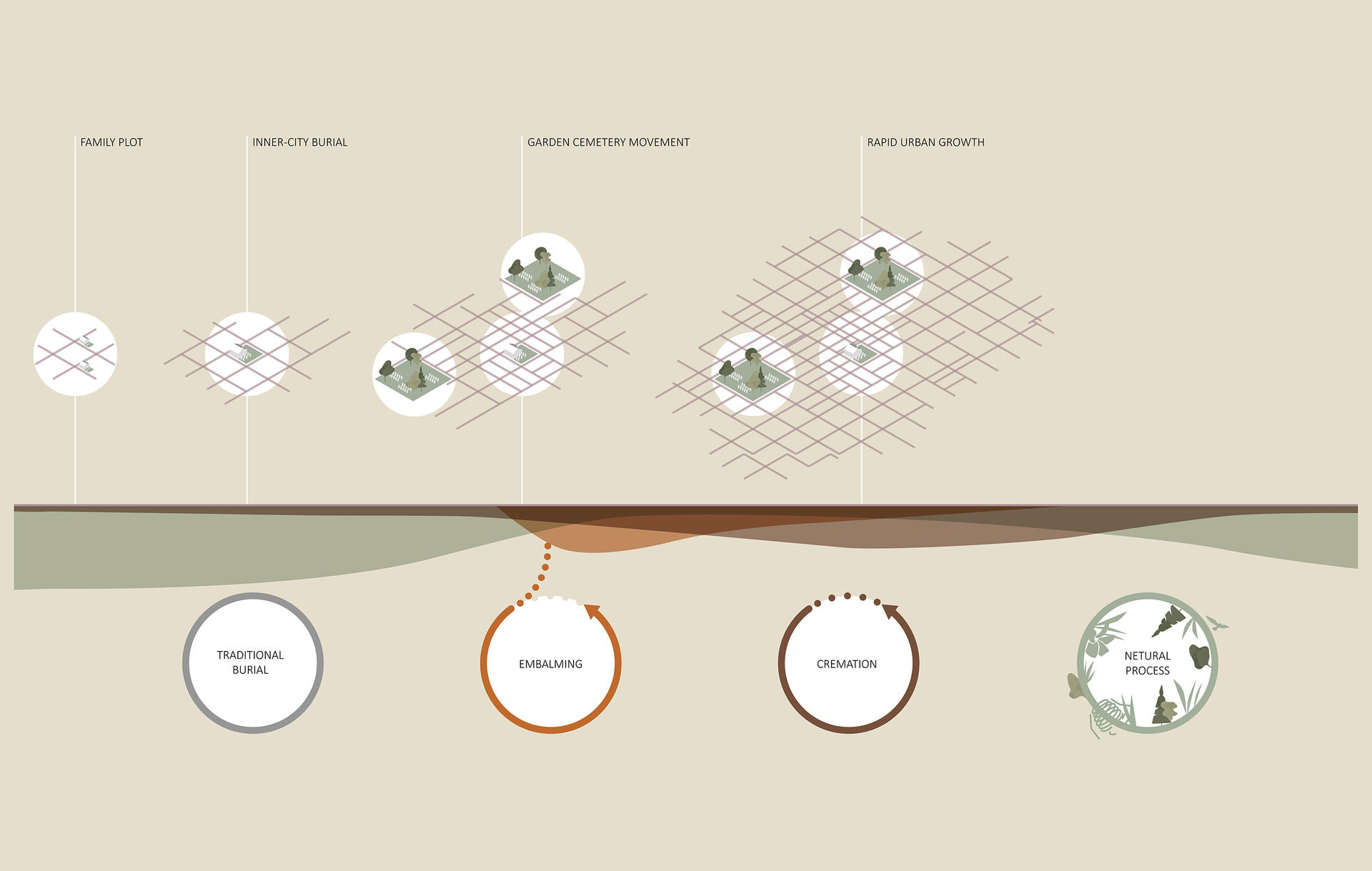 The spatial relationship between cemeteries and cities constantly evolves, reflecting people's changing attitudes towards them. Family cemeteries were often overtaken and eventually merged into public ones, usually located near churches, and played an essential role in the community. At the end of the 19th century, the garden cemetery encouraged people to view cemeteries as unique experiences for gatherings and trips. With the further expansion of cities, cemeteries once located in the suburbs gradually return to the city and fill up. This situation forces us to reconsider the role of cemeteries and thus make a different choice.

Embalming and cremation have each been dominant funeral practices during certain times, and both have enormous environmental and financial costs. In contrast, the natural burial process, open to accelerating the degradation of the human body and reducing toxic substances in the land, assumes responsibility for our burden on the earth.
Image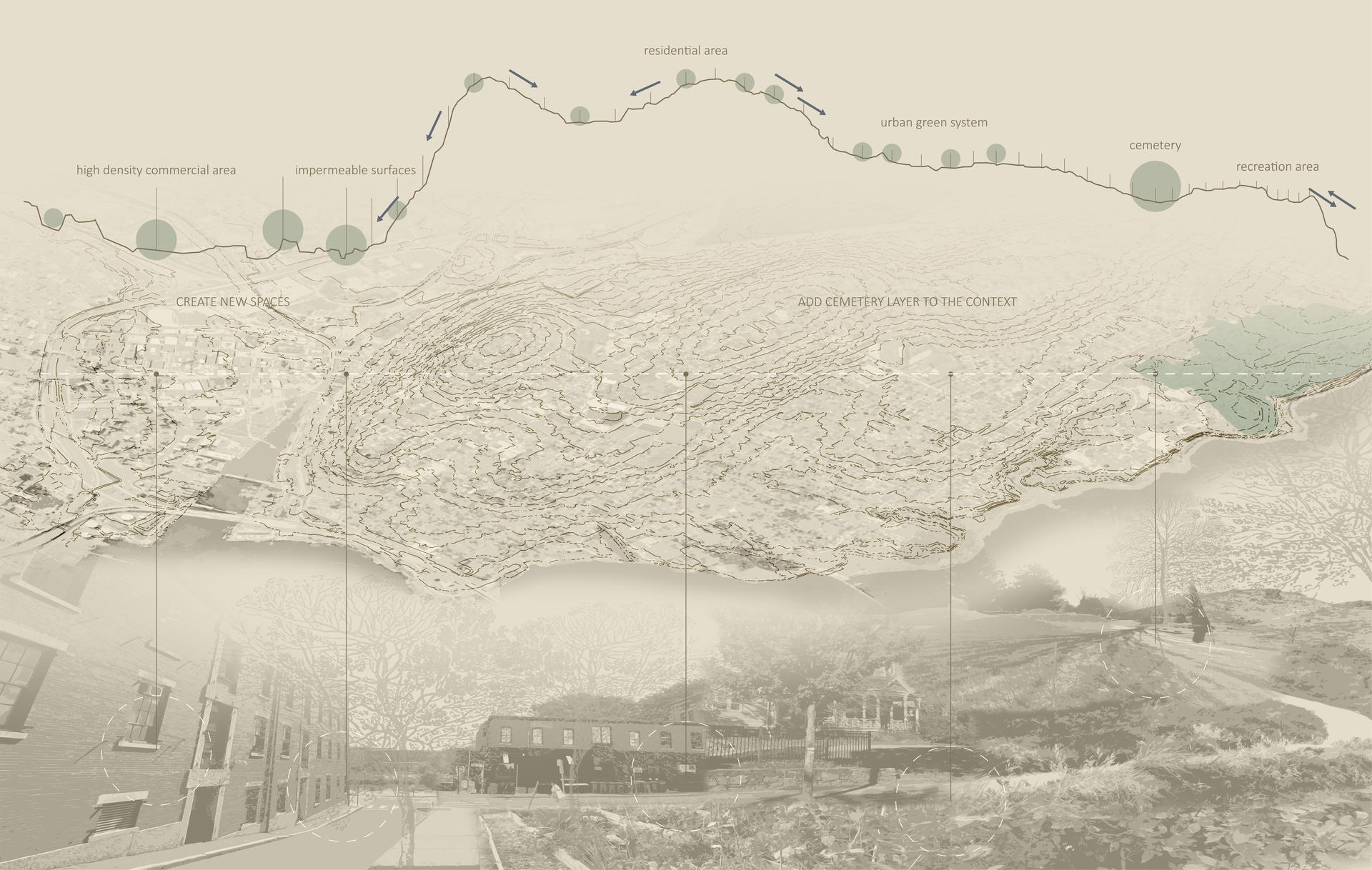 In March 2023, Rhode Island is set to introduce a bill proposing the legalization of NOR for burial purposes. Swan Point Cemetery was built during the garden cemetery movement and is currently the only recognized green burial cemetery in Rhode Island. It serves as a starting point for this thesis to bring new opportunities for different land uses that extend beyond the traditional cemetery setting, creating new possibilities for urban spaces.
Incorporating a new cemetery context into the existing urban environment can achieve permanence while maintaining land stewardship. The proximity of these new spaces to the denser downtown area presents an opportunity to add more memorial spaces and provide new sites of remembrance, adding value to previously forgotten land and impermeable ground. Such a development ensures the long-lasting ecological value of the land while contributing to the overall re-wilding of the inner city.
 
Image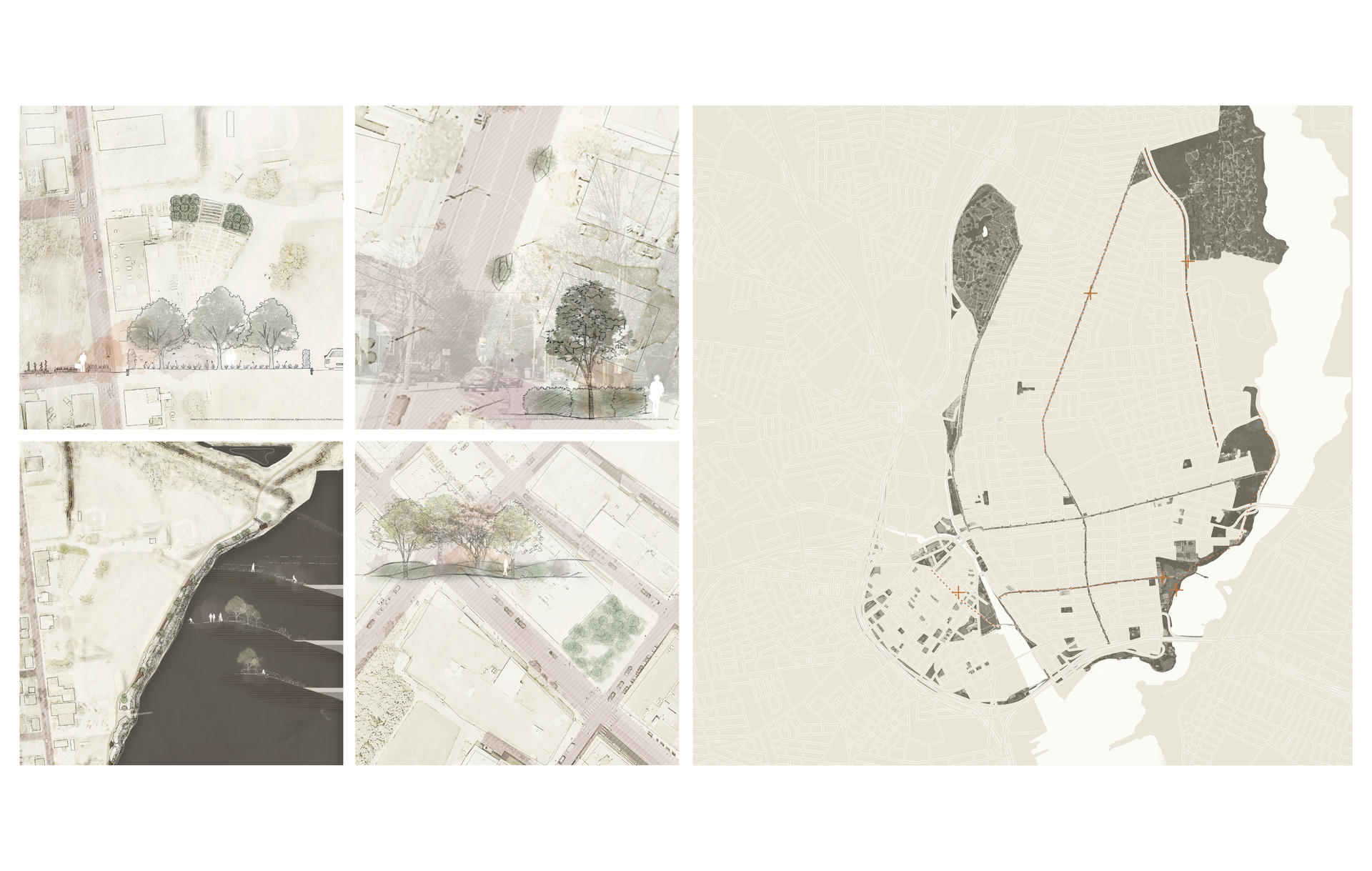 As a unique material, it symbolizes renewed life to awaken the place we left over. An everlasting name signifies a permanently present tree, always cared for and always unique.
Several potential site tests in Providence: 1. A pollinator garden located near a community garden to provide support. This space can be defined as a memorial area by incorporating tree arrays on both sides. 2. Maintaining the health of street trees in empty tree pits. Giving a name to the street tree sets a promise of a living life and is always cared for.  3. A careful use of nutrient soil can maintain the overall health and vitality of the conservation zones. 4. Downtown, a memorial park with undulating topography can be developed, replacing a parking lot. It aims to block the sound, providing visitors with a serene and quiet experience amidst the bustling density of the downtown area.
 
Image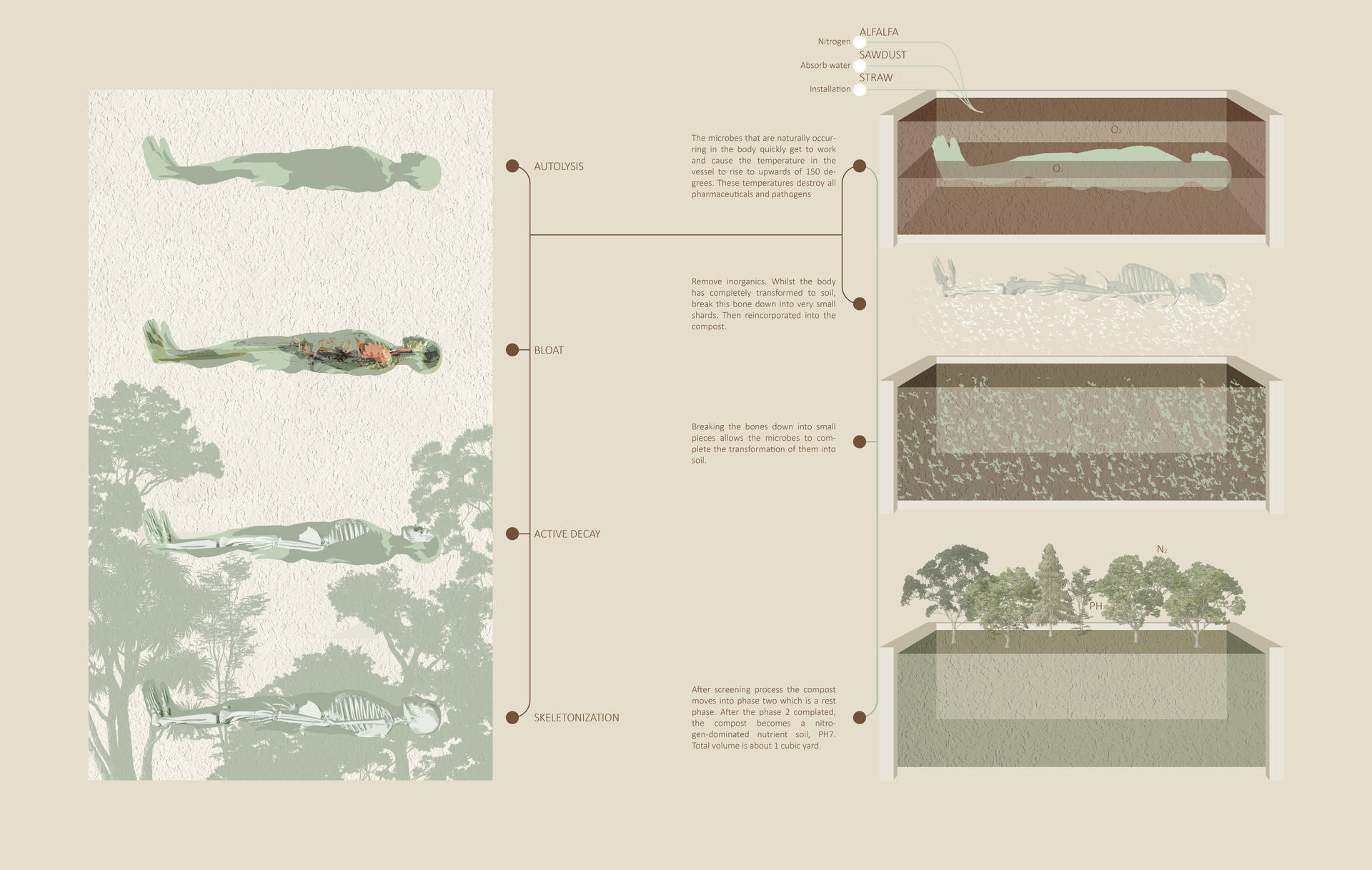 NOR (human compost) is converted into 1 cubic yard of nitrogen-based nutrient soil in about two months by accelerating the degradation process through heating. Like ashes after cremation, families have a more accessible choice about how they are stored.
Image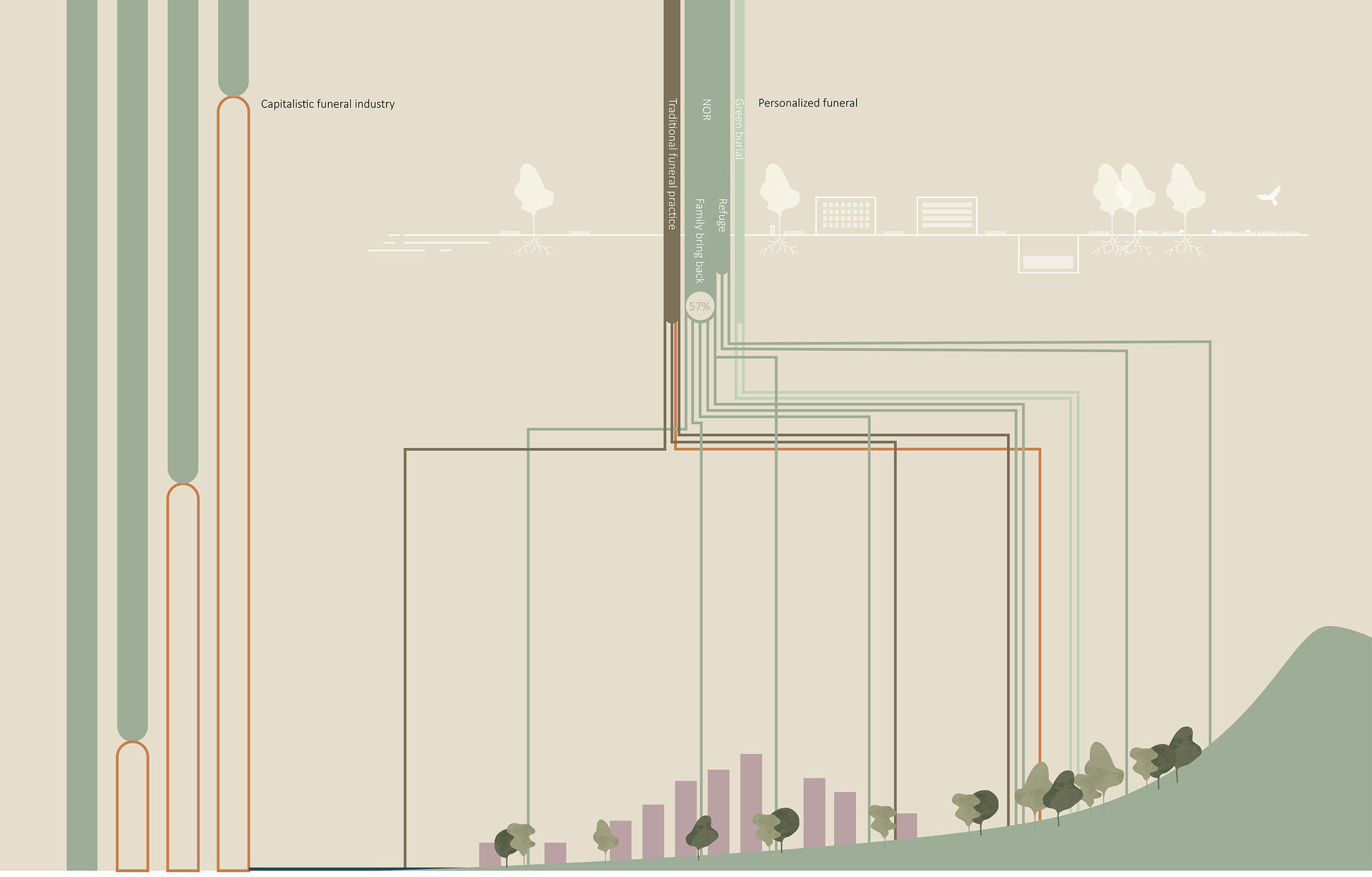 As the funeral industry becomes increasingly commercialized, many individuals feel dissatisfied with relinquishing complete control over end-of-life decisions to industry experts and offering individuals the ability to make their own choices regarding the disposition of their remains, whether a traditional cemetery, a natural refuge, in front of their home, along a riverfront, or in a densely populated city, provides the maximum amount of flexibility and autonomy possible.
Image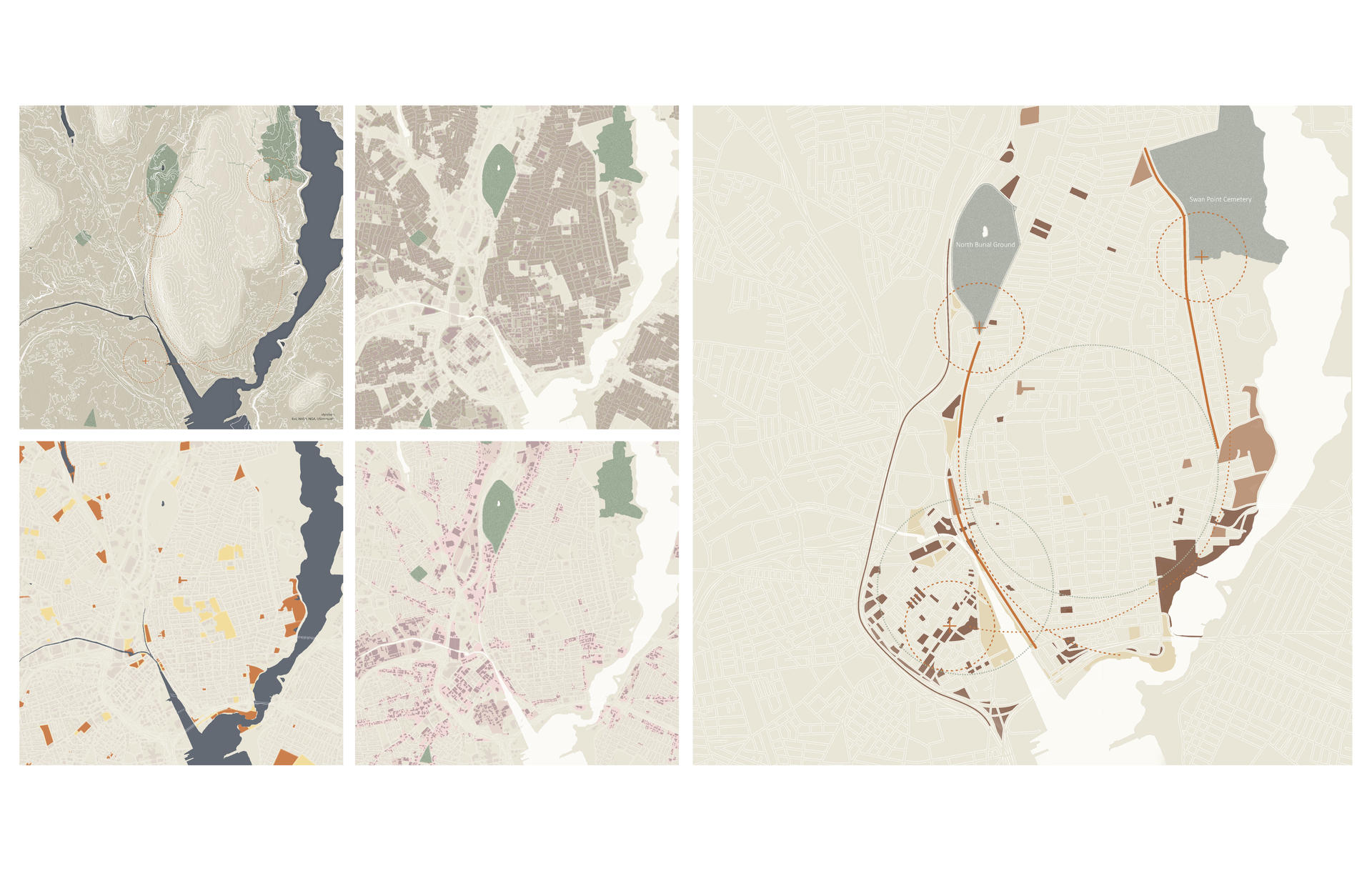 The mapping analysis in this study incorporates various factors, including geological features, residential zones, commercial districts, recreational areas, and conservation zones. Based on this analysis, a proposed framework is presented, which involves branching out from the cemetery into the surrounding residential area and eventually expanding further into the densely populated commercial area.
Image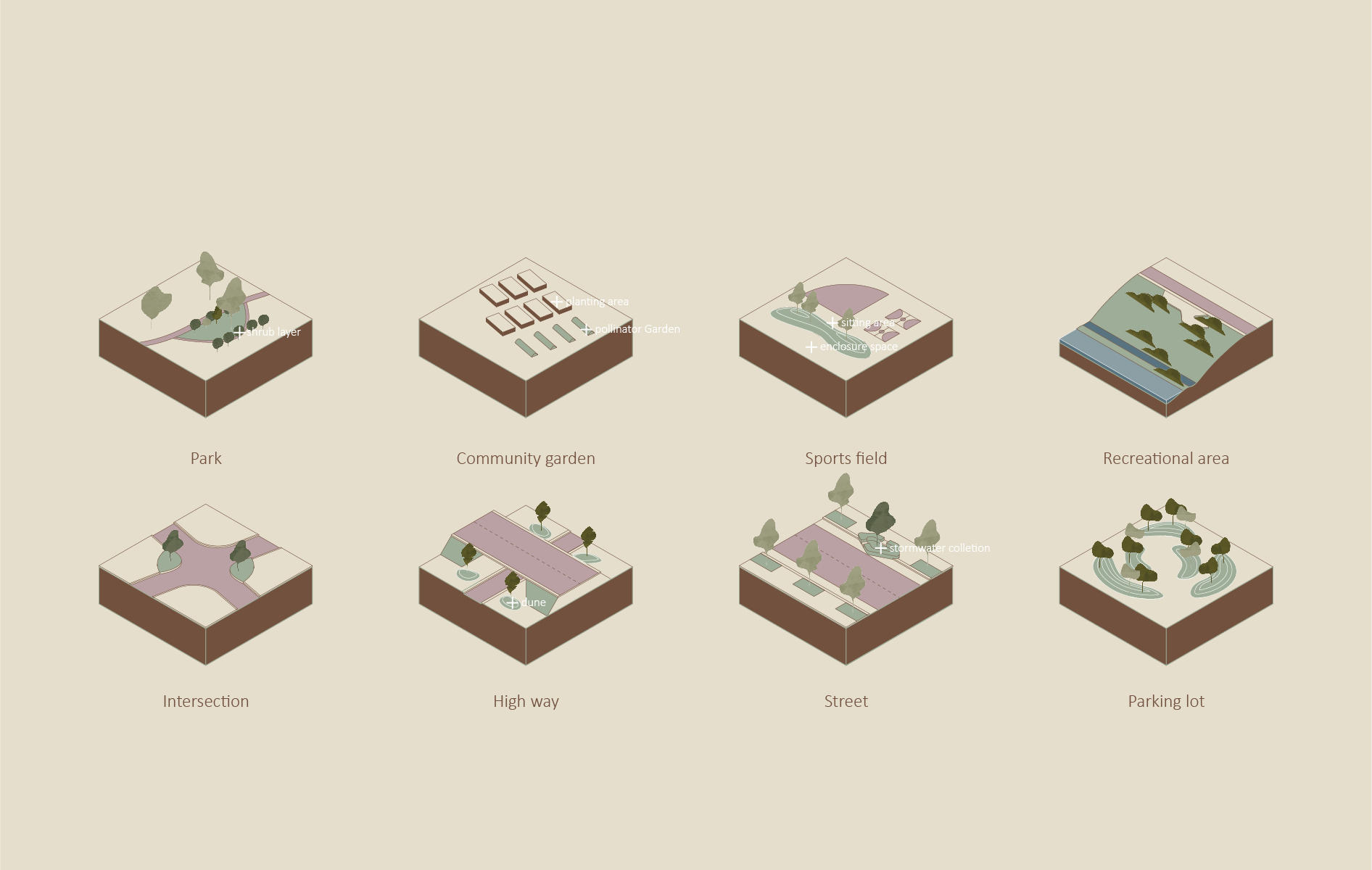 Upon design tests, I explore the development of potential applications and typologies within urban contexts.
Image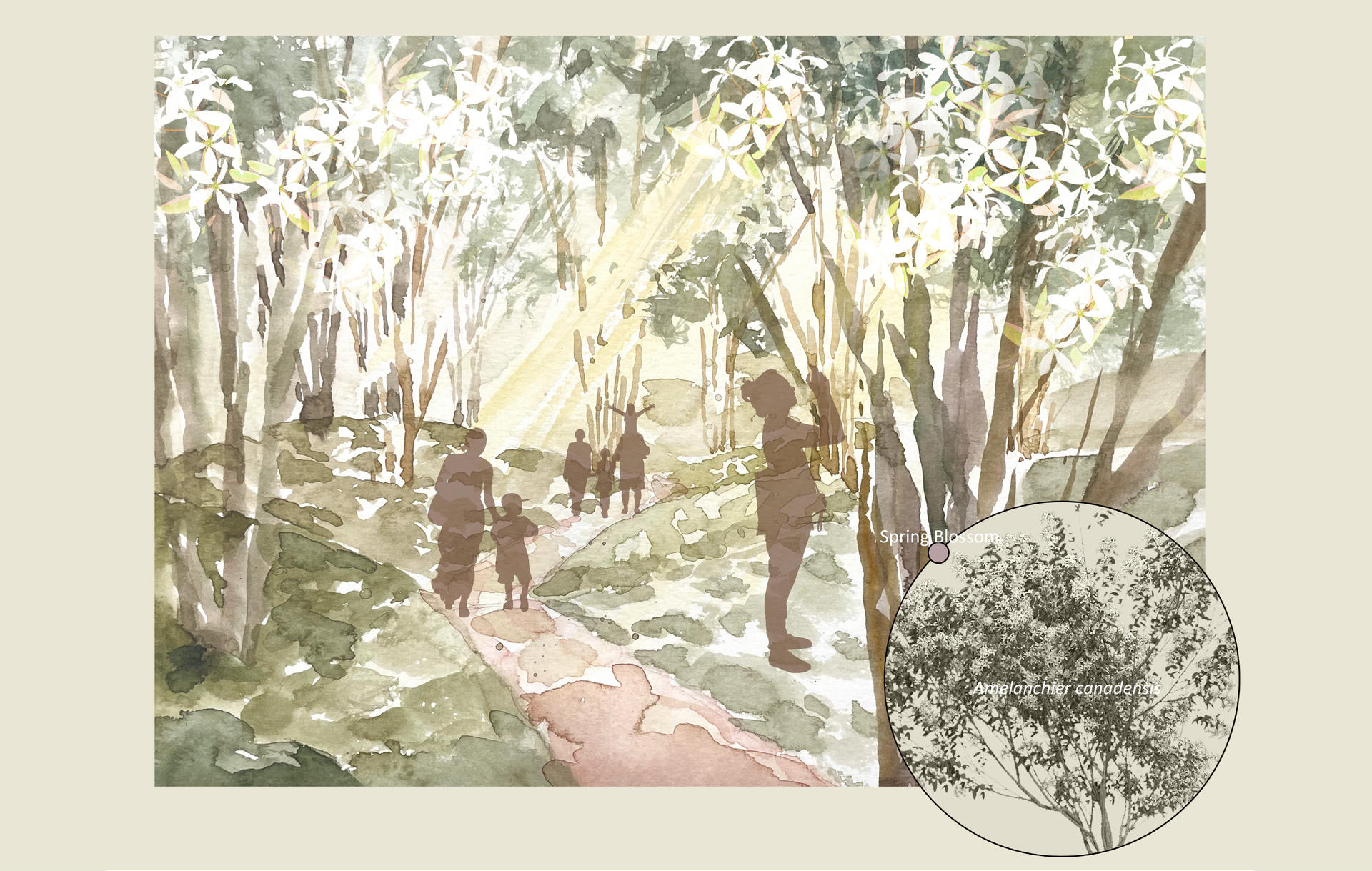 Native shrubs such as Serviceberry are encouraged to be used. When the distinctive white flowers blossom together each spring, signaling the need for new nutritious material to be scattered on the ground, this is a time for the entire community and city to celebrate life and death together.