Image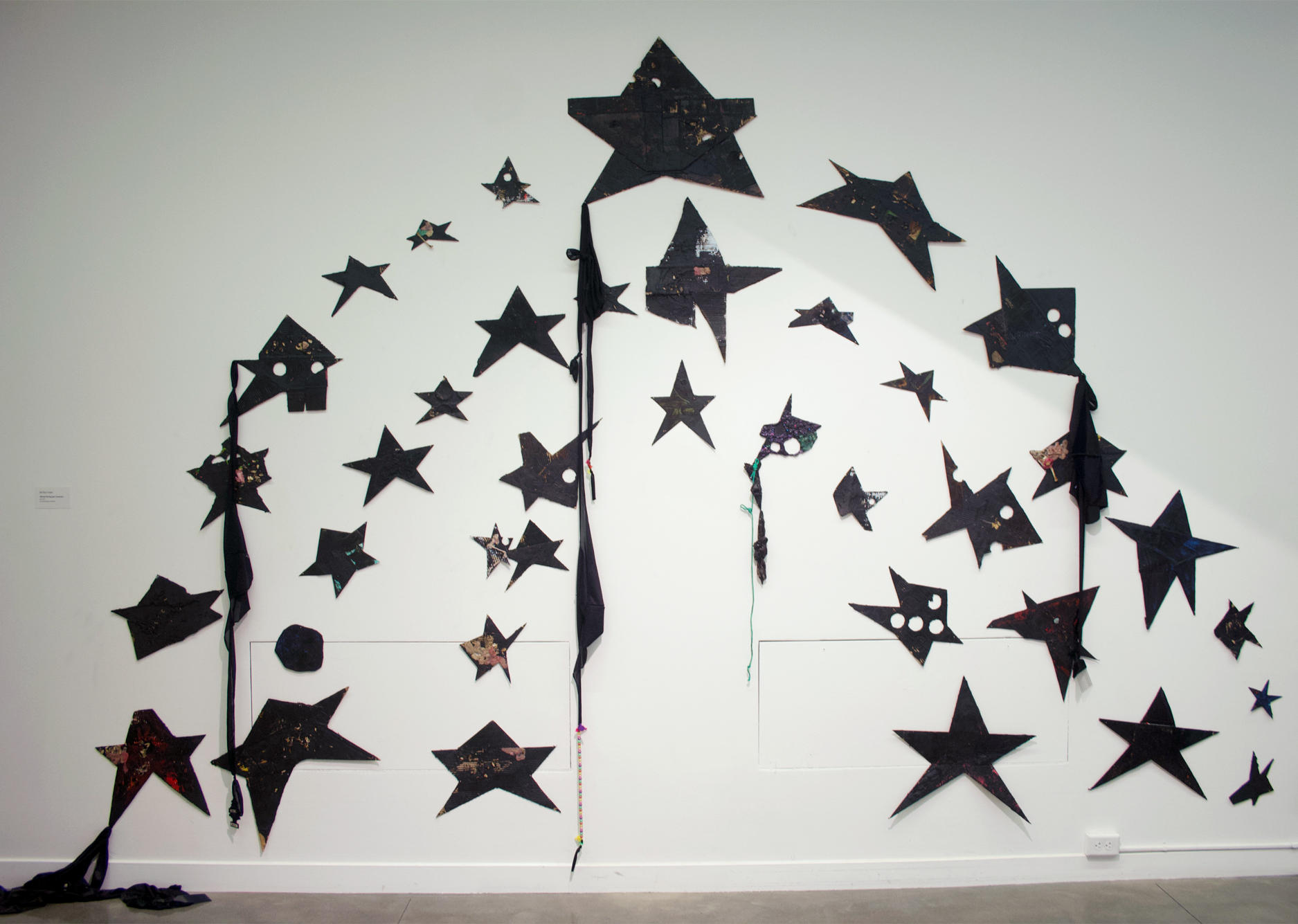 Margins ( i nvr needed acceptance from all u outsiders)
 A comedian said, "American pie isn't made out of apples, it's made out of whatever you can get your fucking hands on." With that, my work seeks to provide an honest representation of the infinite value of the everydayness and behavior of blackness ranging from trauma to beauty. Various mediums explore culture, class, collective memory, identity, and erasure. While resisting institutional and systemic drawn boundaries between disciplines my practice actively seeks fluidity between media. The work often translates to (social) poetic-bricolage visualizations that combine gestures of assemblage, sculpture, installation, and painting.
I use more quotidian materials as interventions in my work versus more traditional materials and mediums. The things I recover and use are representations of human existence that I have an intuitive, personal connection and/or affinities to. Those charged objects, materials, and things are loaded with their own histories and convey a particular immediacy and agency that consistently informs my practice. Things such as tar, concrete, magazine/newspaper clippings, chewed gum, and other myriads of detritus find their way into my work forming my own abstract language. Form, feelings, scale, and time converse through care and unconventional processes.
The work focuses on reflecting on how I see life and my environment, which translates to a multimelaninated reality of my experience. I'm learning and pulling from history and retelling and making a new history from the present within the present. Like the wildstyle subway graffiti artists, I'm stating "I WAS HERE".
Image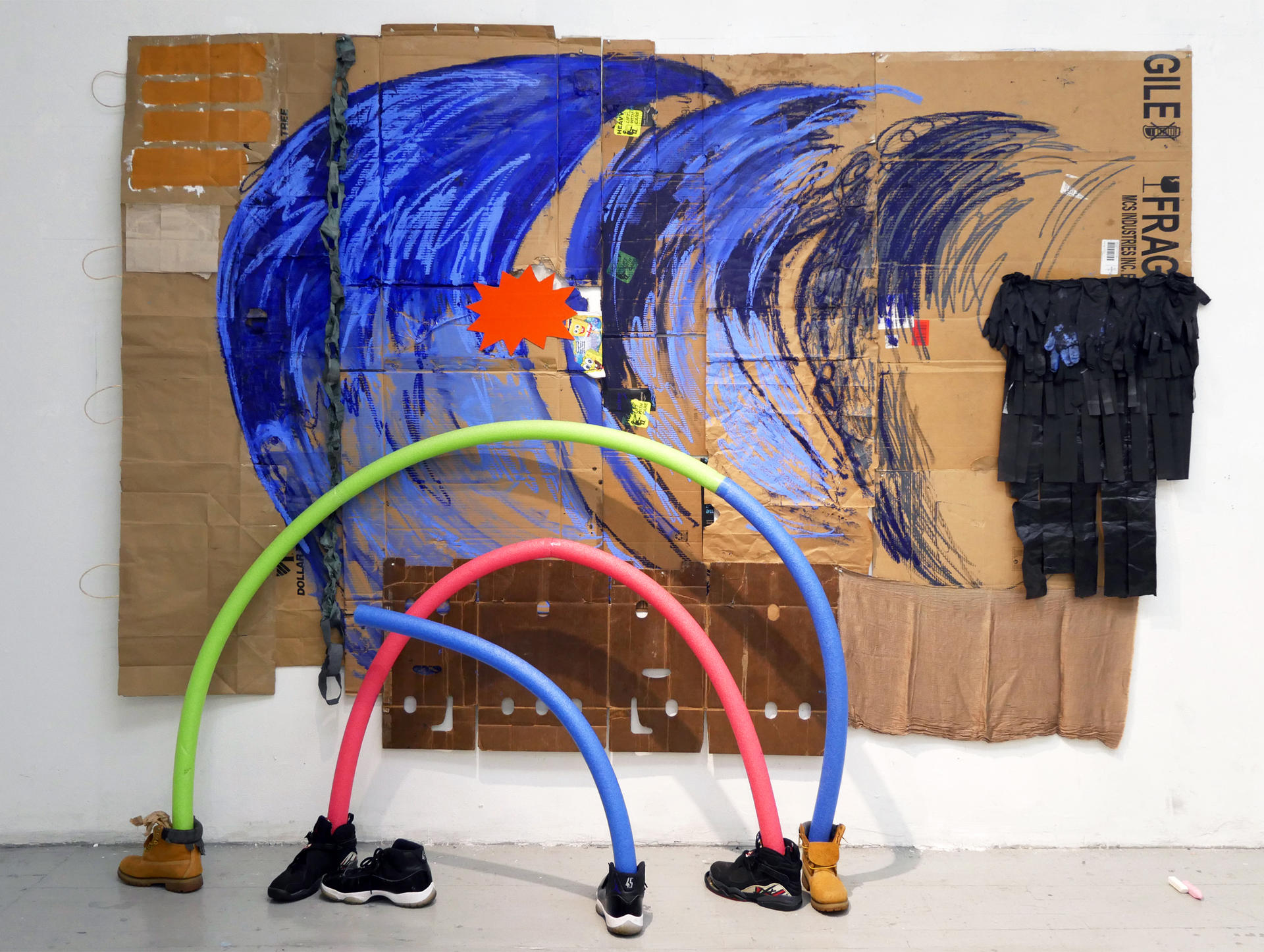 dont call it jazz, continuation of the coolest
Cardboard, paper bags, toilet paper, paper towel, nitrile gloves, fabric, pool noodles, jordan playoff 8's, jordan space jam 11's, timbaland's, oil paintstick
2022
Image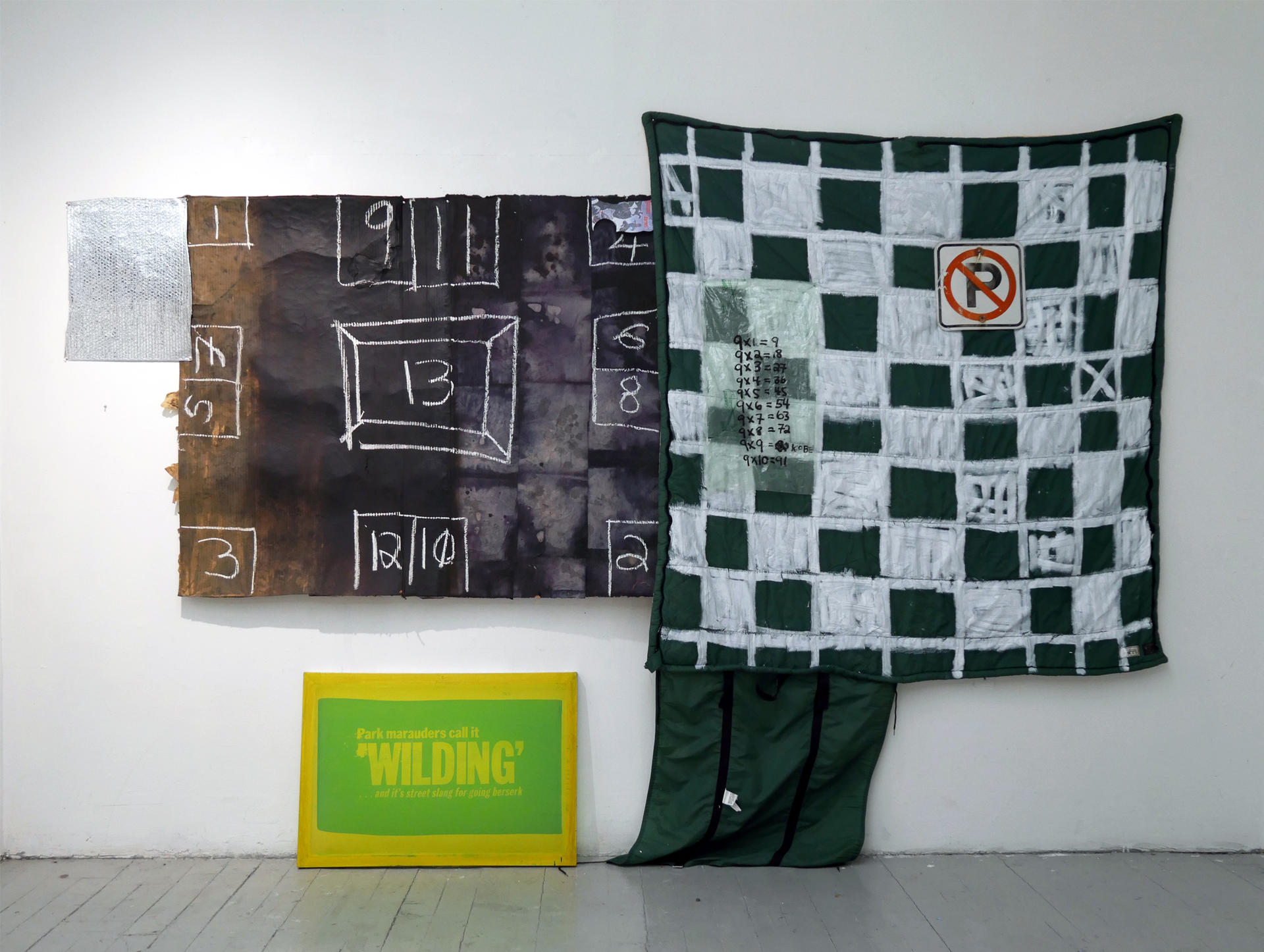 wylin cuz im young
Cardboard, dyed paper towels, LL bean sleeping bag, aluminum mesh screen, no parking sign, chalk, oil paintstick, plastic bag
2022
Image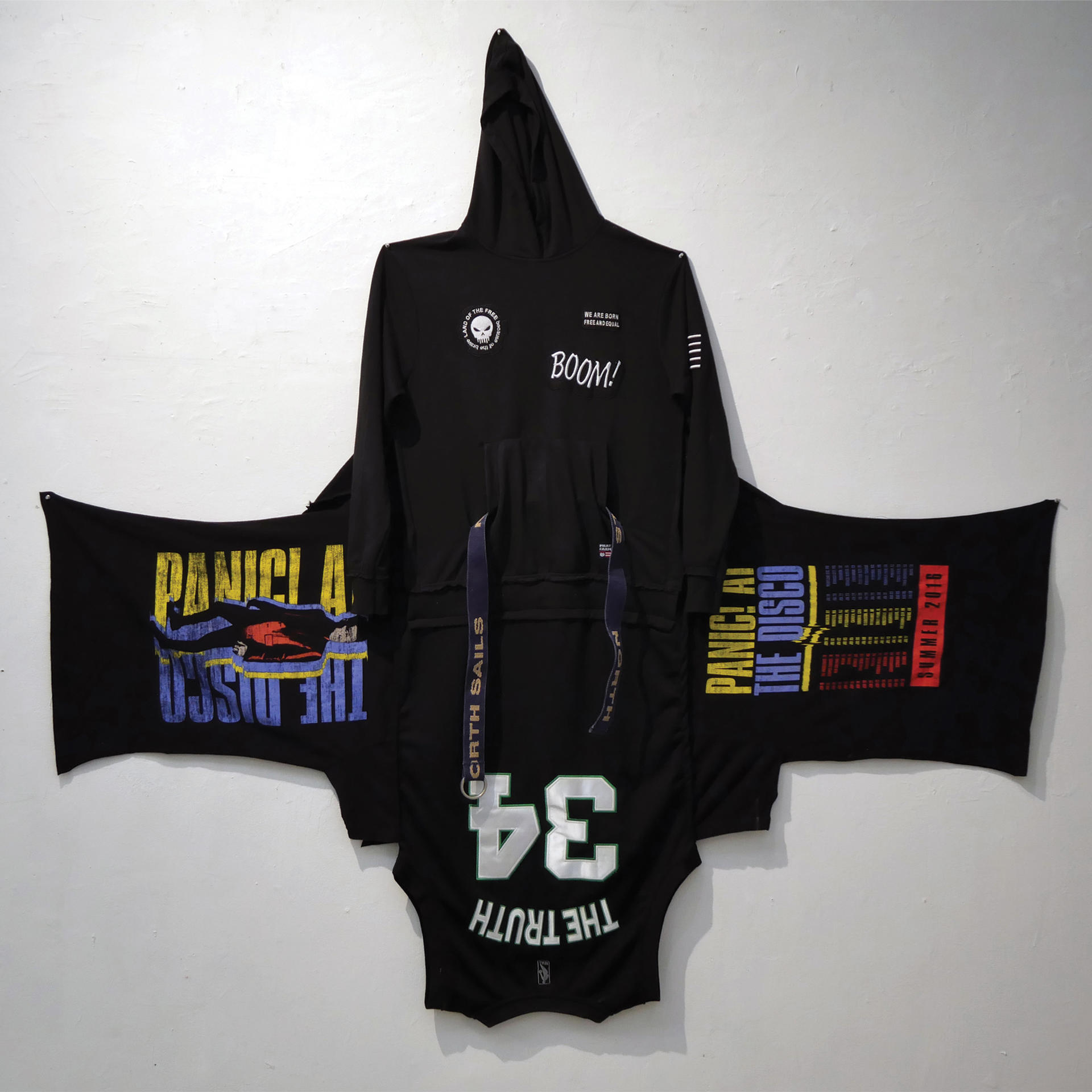 FDT 2016
Phat farm hoodie, NBA (Paul Pierce "The Truth") jersey, panic at the disco tour t-shirt, belt
2022
Image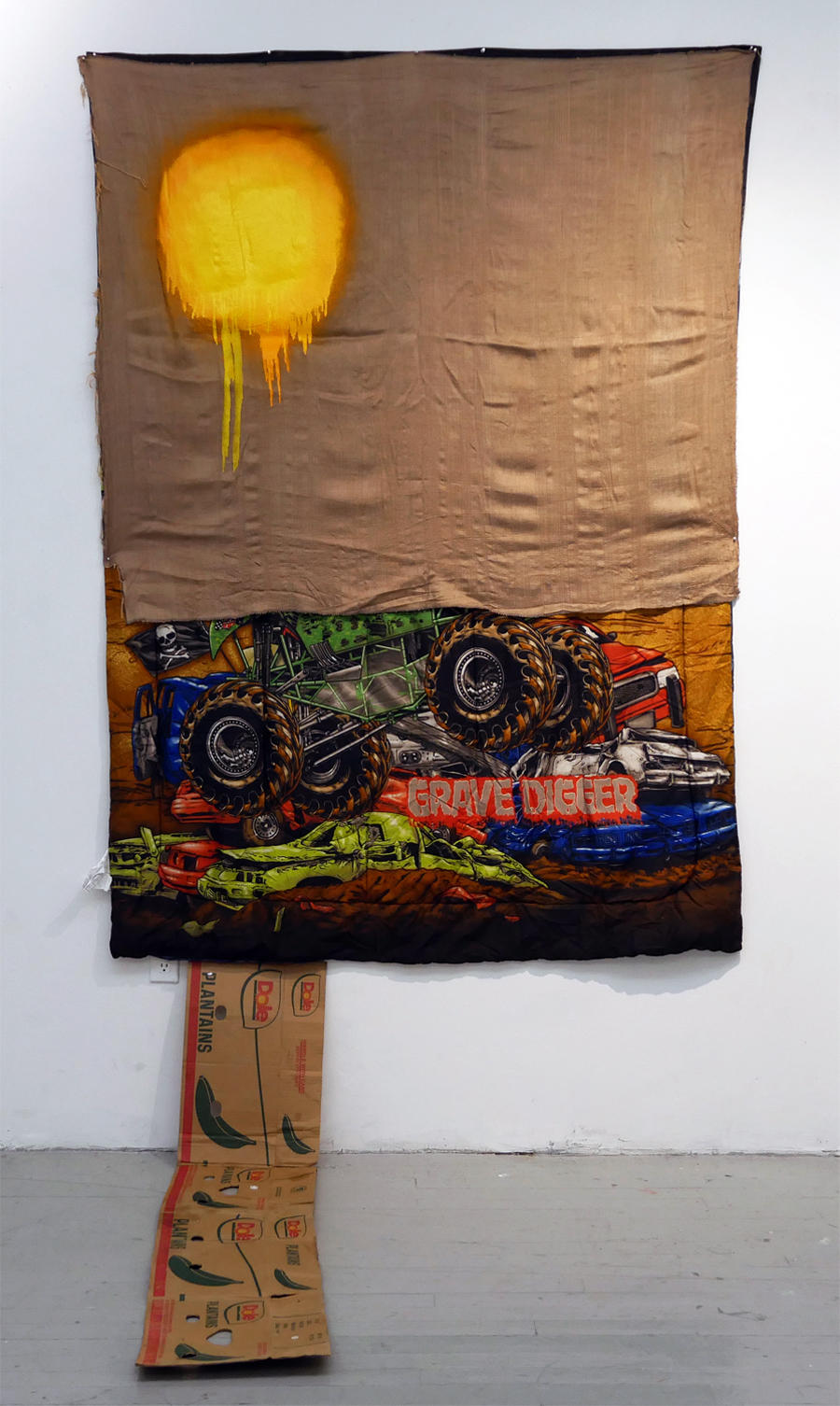 six feet from light
Full-size grave digger comforter, fabric, spray paint, plantains cardboard
2022
Image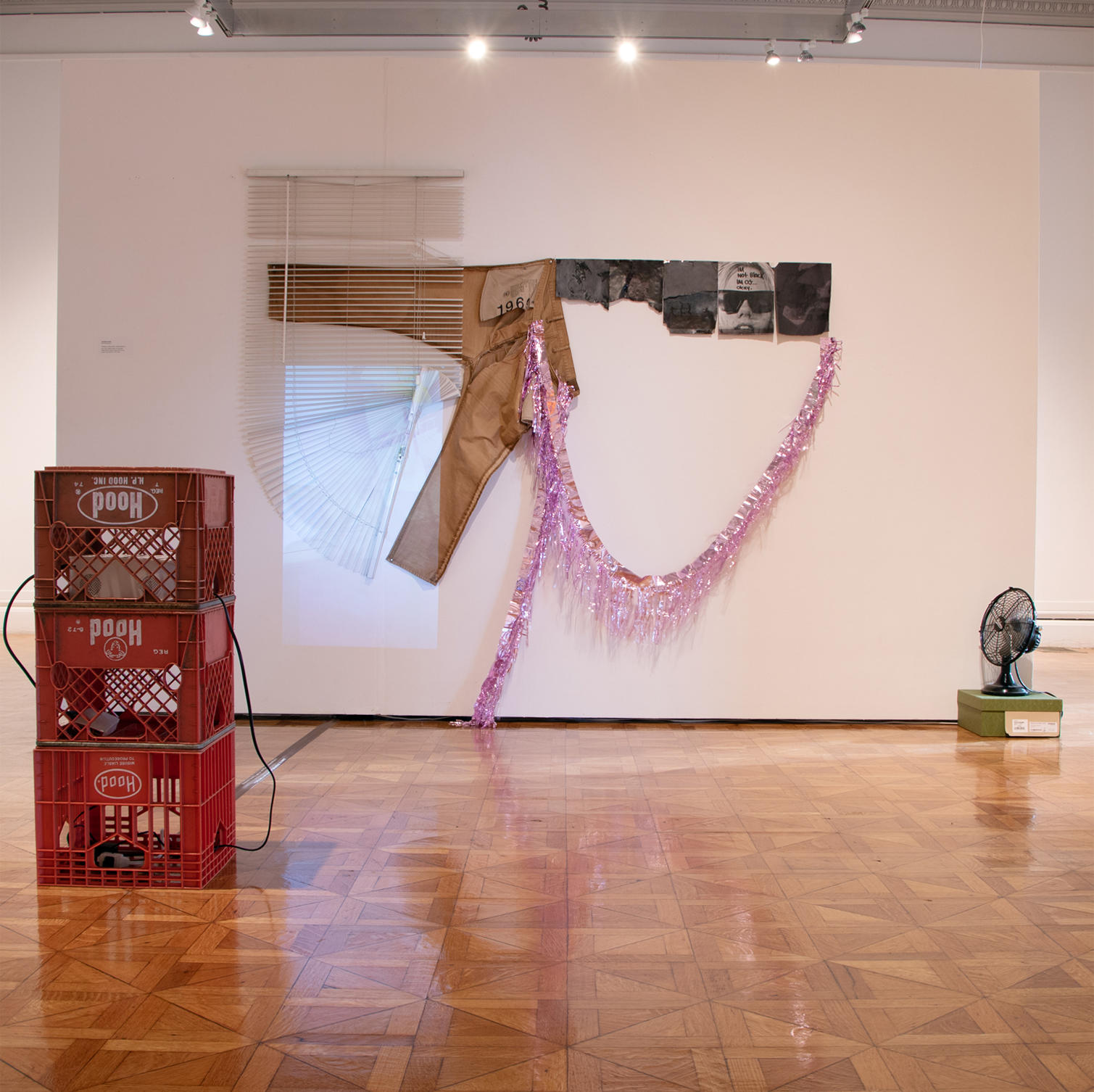 this isnt the end just a semi colon
Cardboard cutouts, tar, spray paint, sunflower seed shells, chewed gum, durags
2021-2022
Image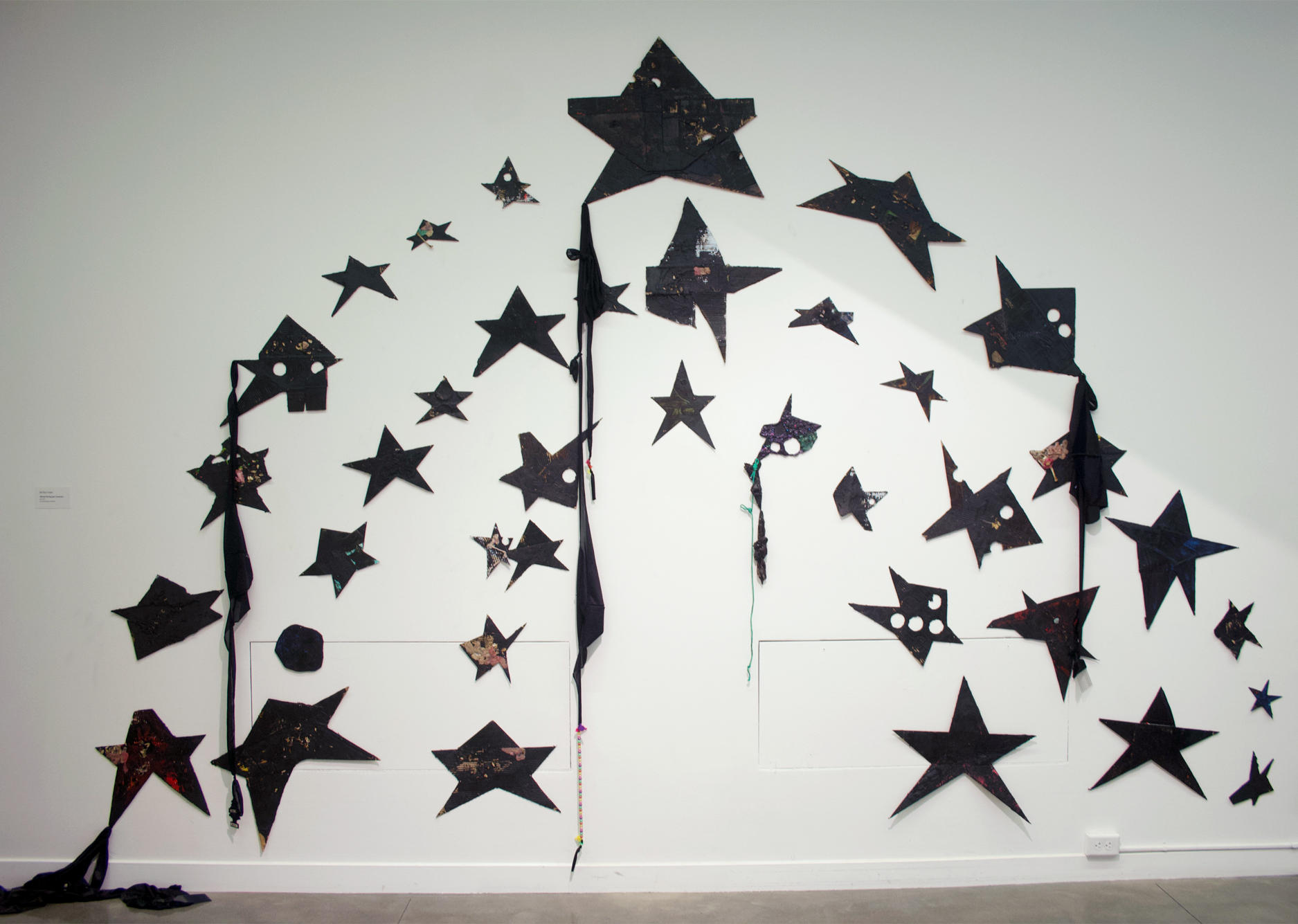 whitey on the moon; diamonds on my neck, diamonds on my grill
Blinds, gap khakis, party streamer, dyed magazine clippings, hood milk crates, gucci shoebox, vintage metal fan, one channel video
2022
Image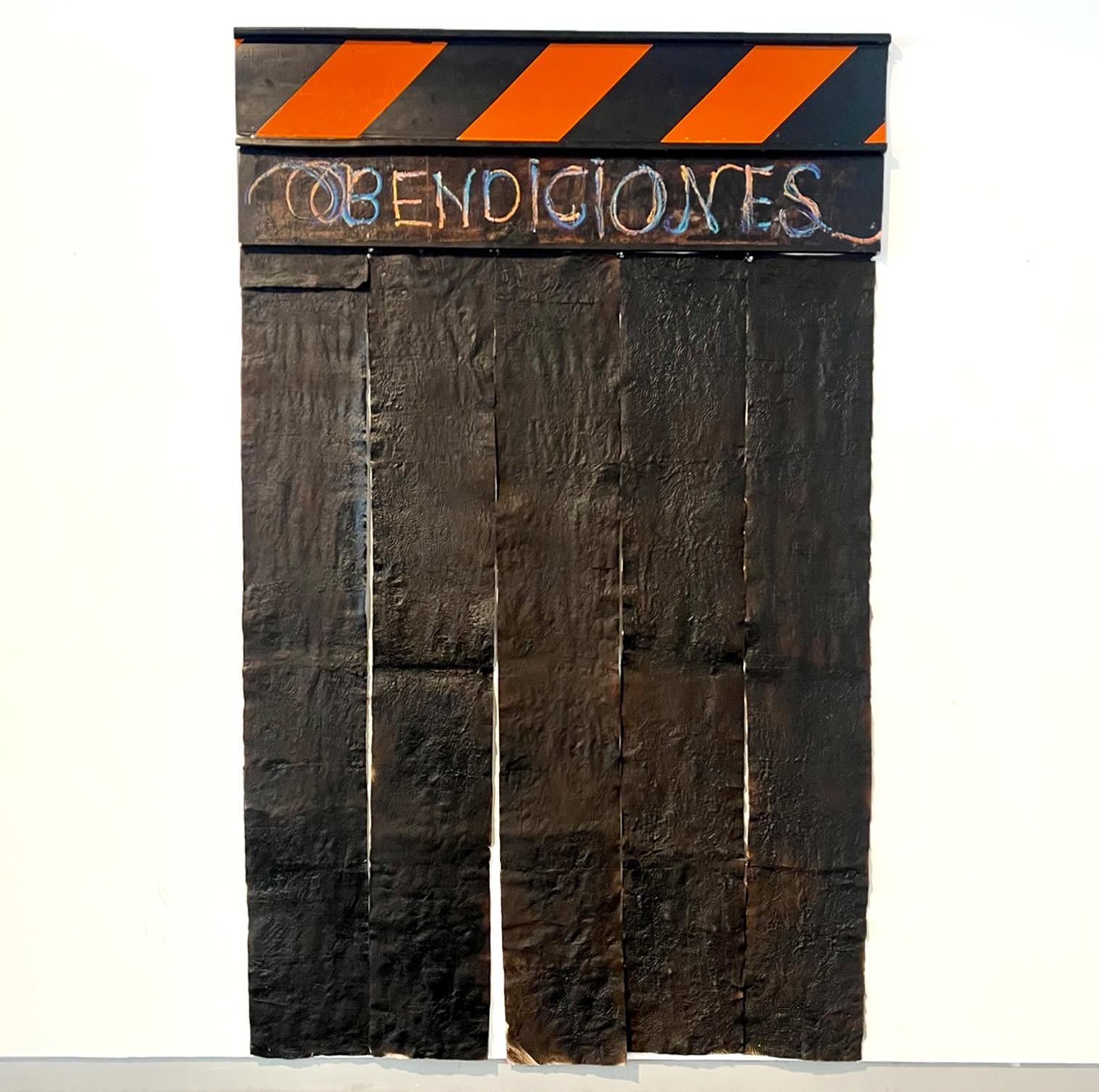 bendiciones
Barricade plank, wood plank, paper towel, tar black spray paint, paintstick
2023
Image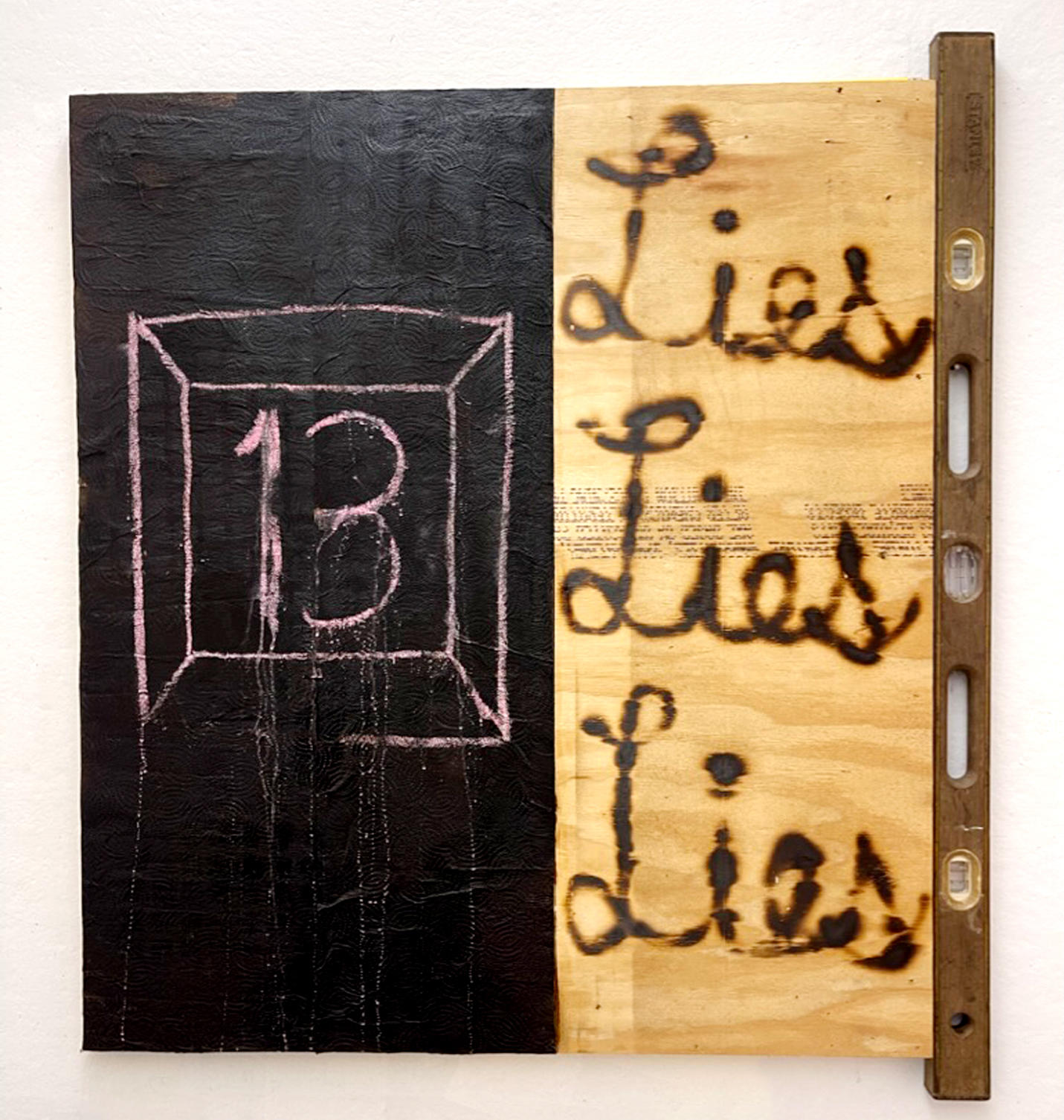 lies lies lies
wood crate panel, paper towels, tar black spray paint, vintage Stanely level, chalk
2023
Image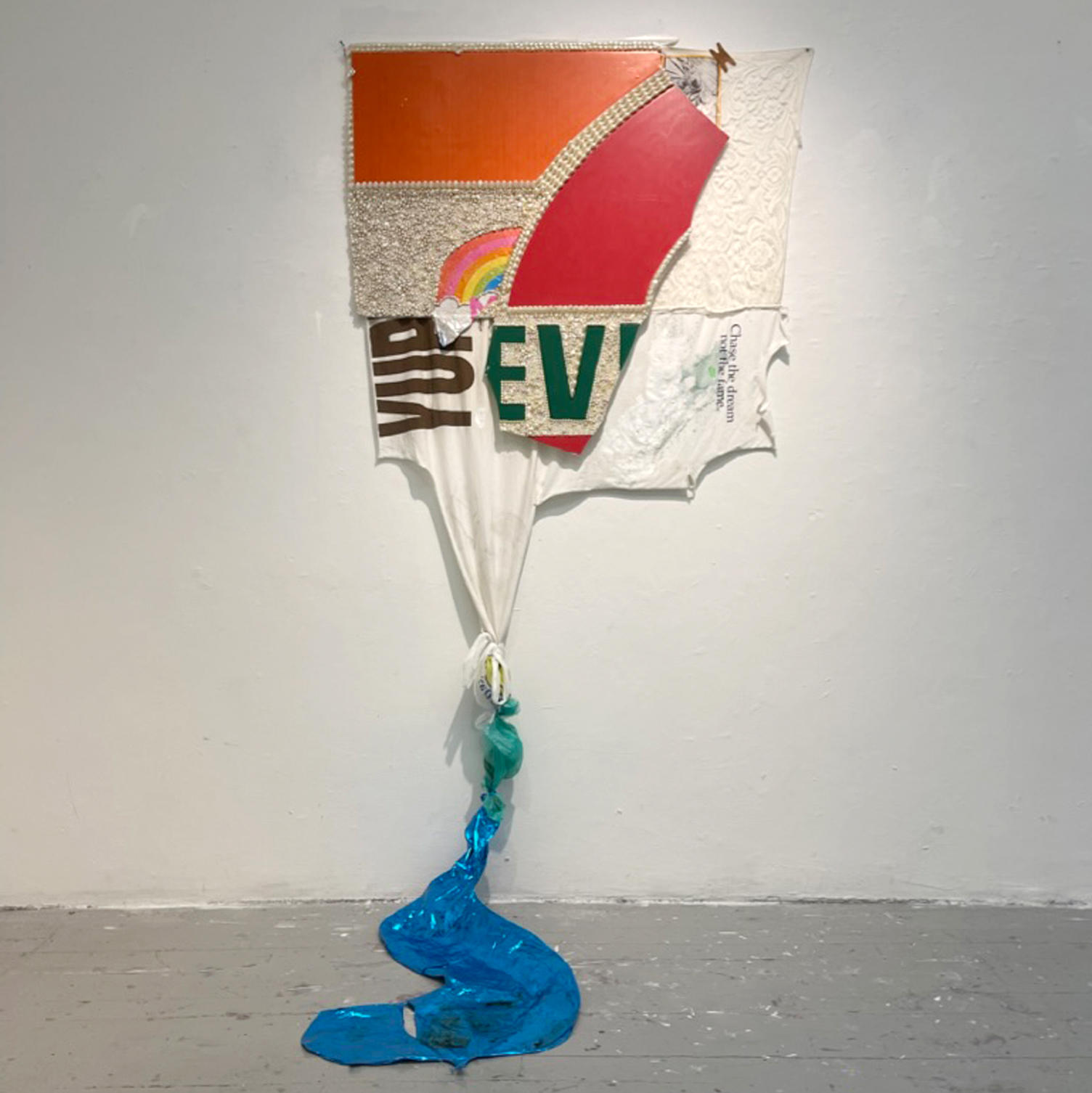 elevate (life wont get you high like this)
Broken 7-eleven sign, faul assorted pearls, lace fabric, travis scott "franchise" promo t-shirt, nike t-shirt, dye, deflated balloons, plastic bags, oil paintstick, band-aid, comic book strip, dried coffee
2023
Image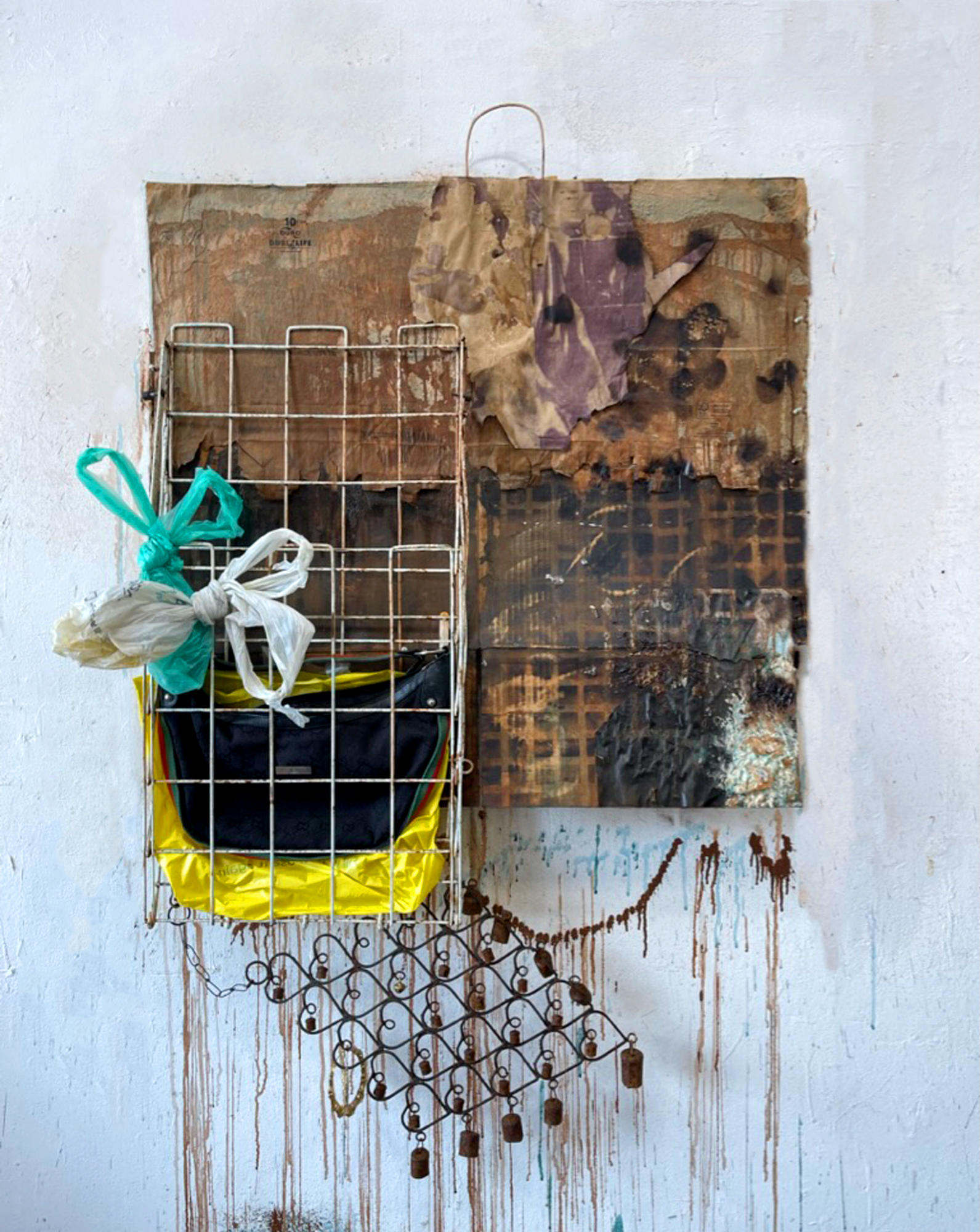 seconds till free as the spirits of those who left us, be
Cardboard, dyed paper towels and bags, sugar hardenings, shopping cart basket, fake gucci bag, reusable shopping bag, plastic bags, foam, tar black spray paint, iron wind chime
2023