Image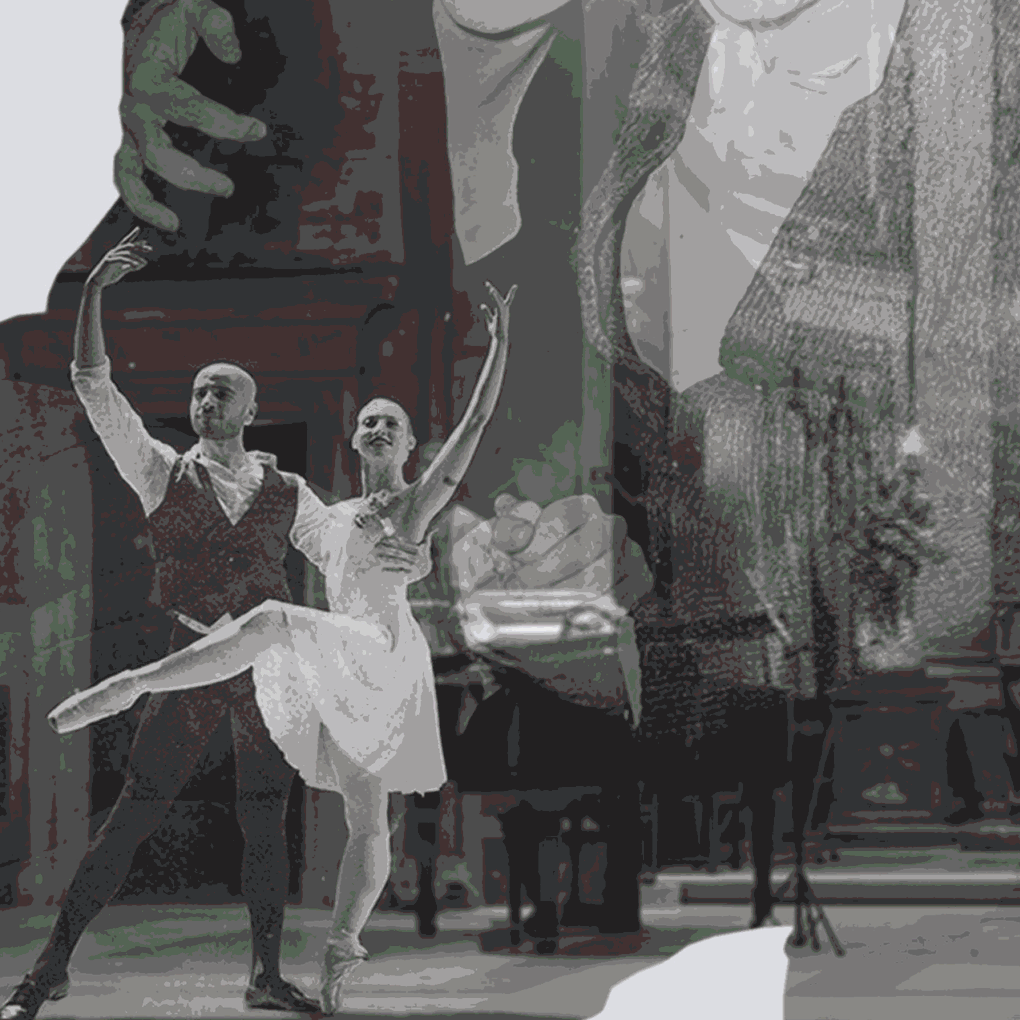 Image

Urban Palimpsest 
Re-placing memory in war torn city Dresden
Urban landscapes can be envisaged as a palimpsest of historical layers, some of which have disappeared while others remain active in constituting contemporary identities.
Yet memory is tricky and one's memory can be false, distorted or erased consciously or unconsciously from brain. Like history, some memories can be lost, while others others might be retained and continue to influence the present.
This thesis explores memory as active construction.  Construction and reconstruction are ongoing and as layered and nuanced as the history itself.  Moreover, memory is both personal and collective.  It is shared, appropriated, and reassigned depending on whose personal filter is determining value or elimination.  The thesis uses the idea of palimpsest, a term suggesting the wearing away of a surface to expose previous realities and presences in a collage of focus, diffusion, collision and superimposition.  By engaging the new media Augmented Reality (AR), the shield of the present and the individual can be dropped long enough to allow history and memory to accumulate, interact and shared beyond, the single viewer and moment of physical encounter.                      
 
Image
Timeline of Dresden
Juxtaposed Memory
 
Image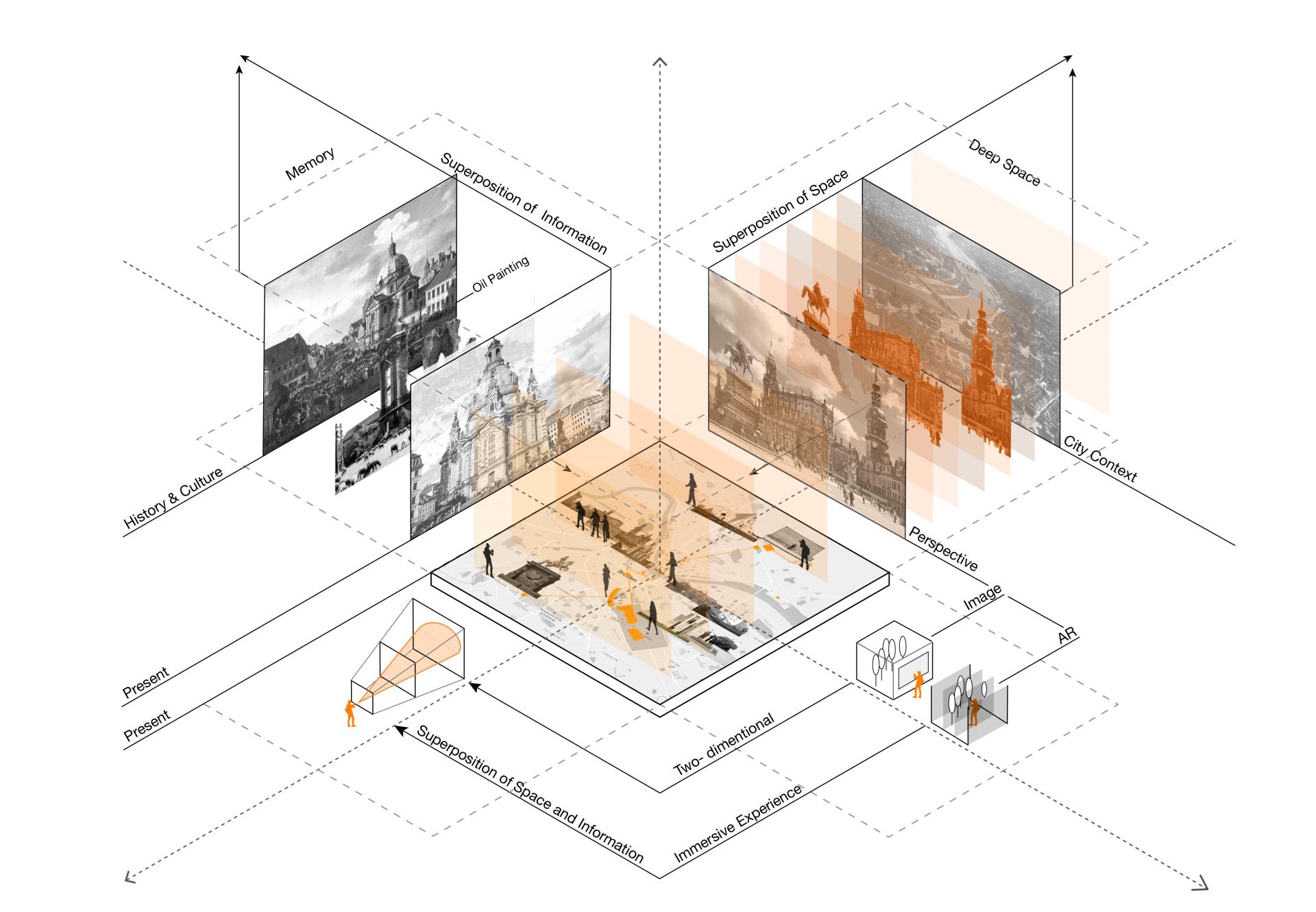 Urban Palimpsest: The Superposition of Place and Memory
Urban Palimpsest as a metaphor is that by engaging Augmented reality,the limitation of time could be broken. The application of AR brings the story and memory from the past and overlays to the present.  it is a superposition of place and memory.
 
Image

Collective Memory-Memory Board
Memory is an inherently fragmented, collected and individual character, While Collective memory refers to the shared pool of memories, knowledge and information of a social group that is significantly associated with the group's identity. 
 
Image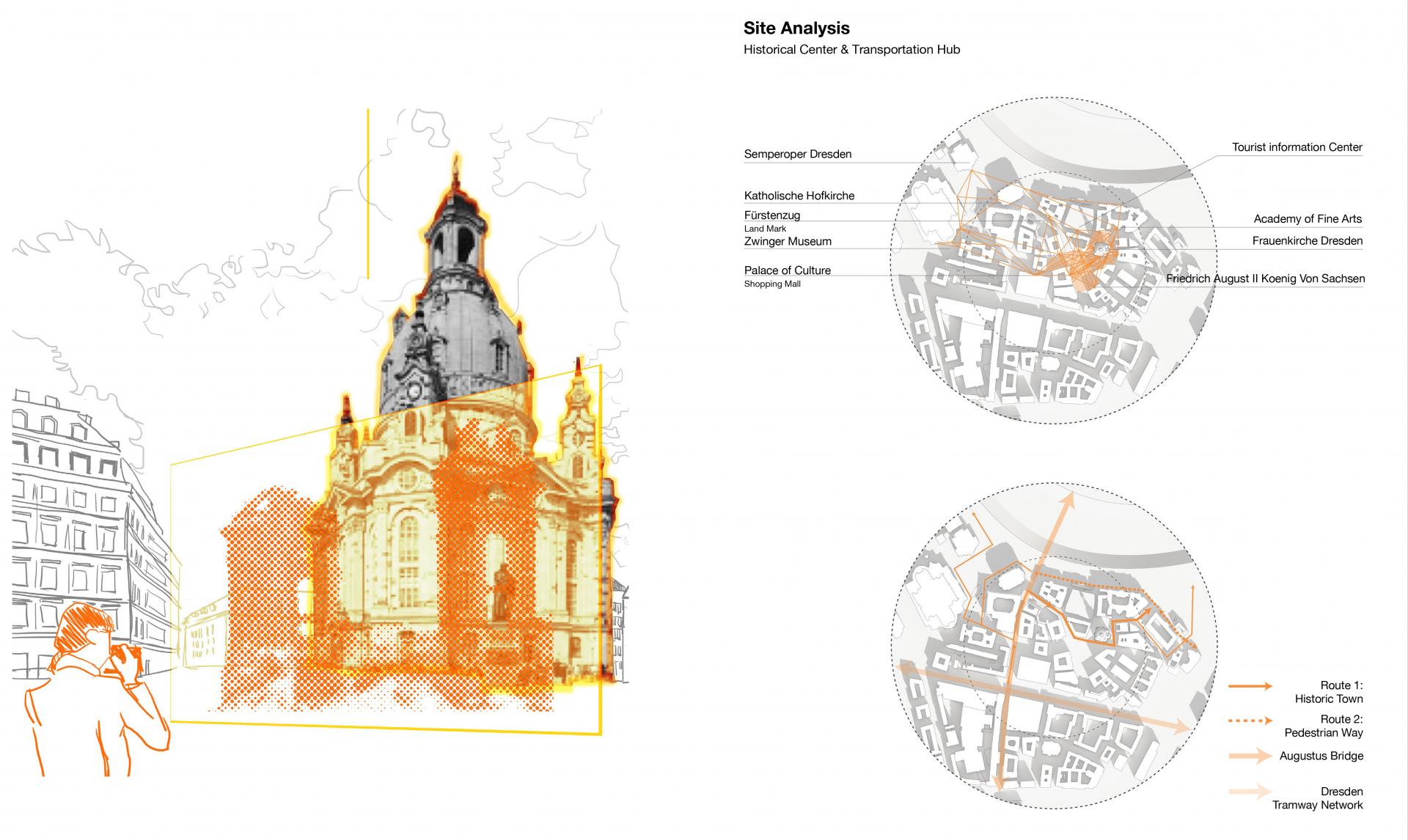 Site Analysis
Historical Center & Transportation Hub
 
Proposal-AR Navigation Itinerary
The history of old town Dresden can be traced back to the 12th century. Despite the historical centre being devastated in the Second World War, the Altstadt (Old Town) has kept or regained its attractive buildings.  I propose a navigation experience through the old town that links the individual memory. By the way of walking through each place, each story being tied up. 
 
Image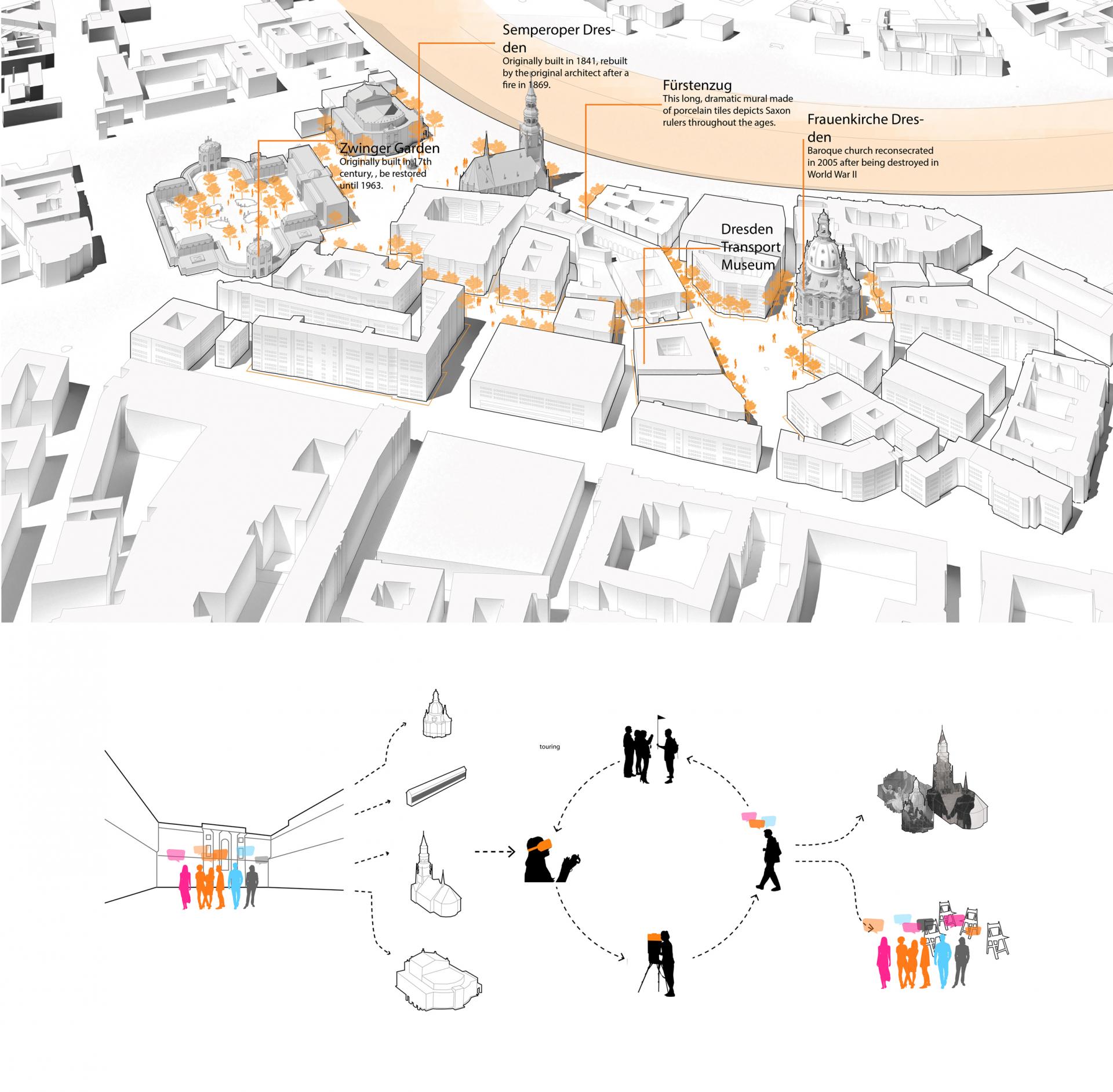 Image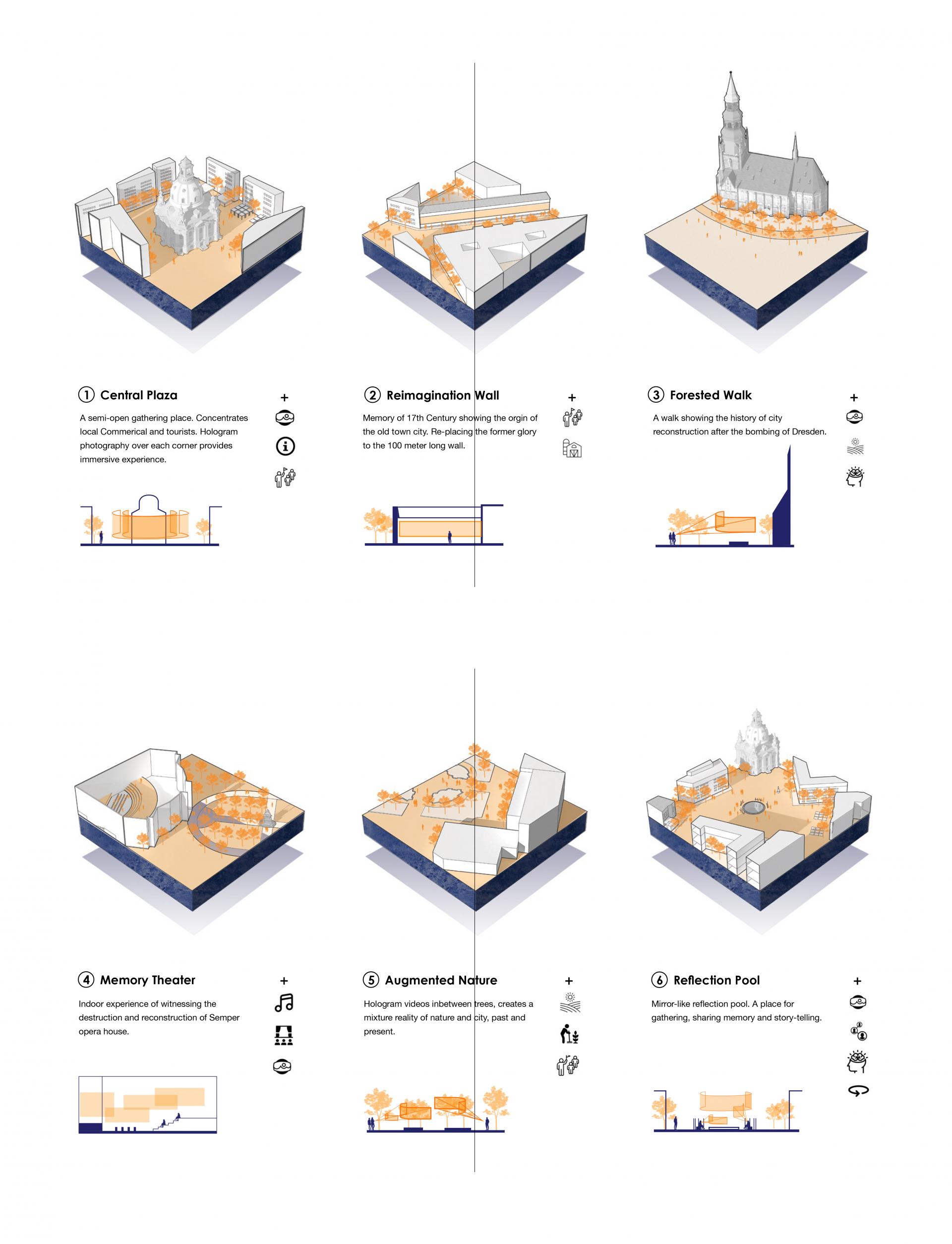 Spatial Strategy
AR Application to Spaces
Xinyi (Serena) Sun is a landscape designer currently graduated from RISD. Xinyi's passion for investigating new design methodologies has influenced her experimental yet practical mindset. Evident in her use of new materials, techniques like AR/VR, and concepts is an interdisciplinary perspective that is collaborative and responsive. With a large interest in urban landscape , Xinyi deeply understands how thought-provoking design adds value to the urban realm.