Image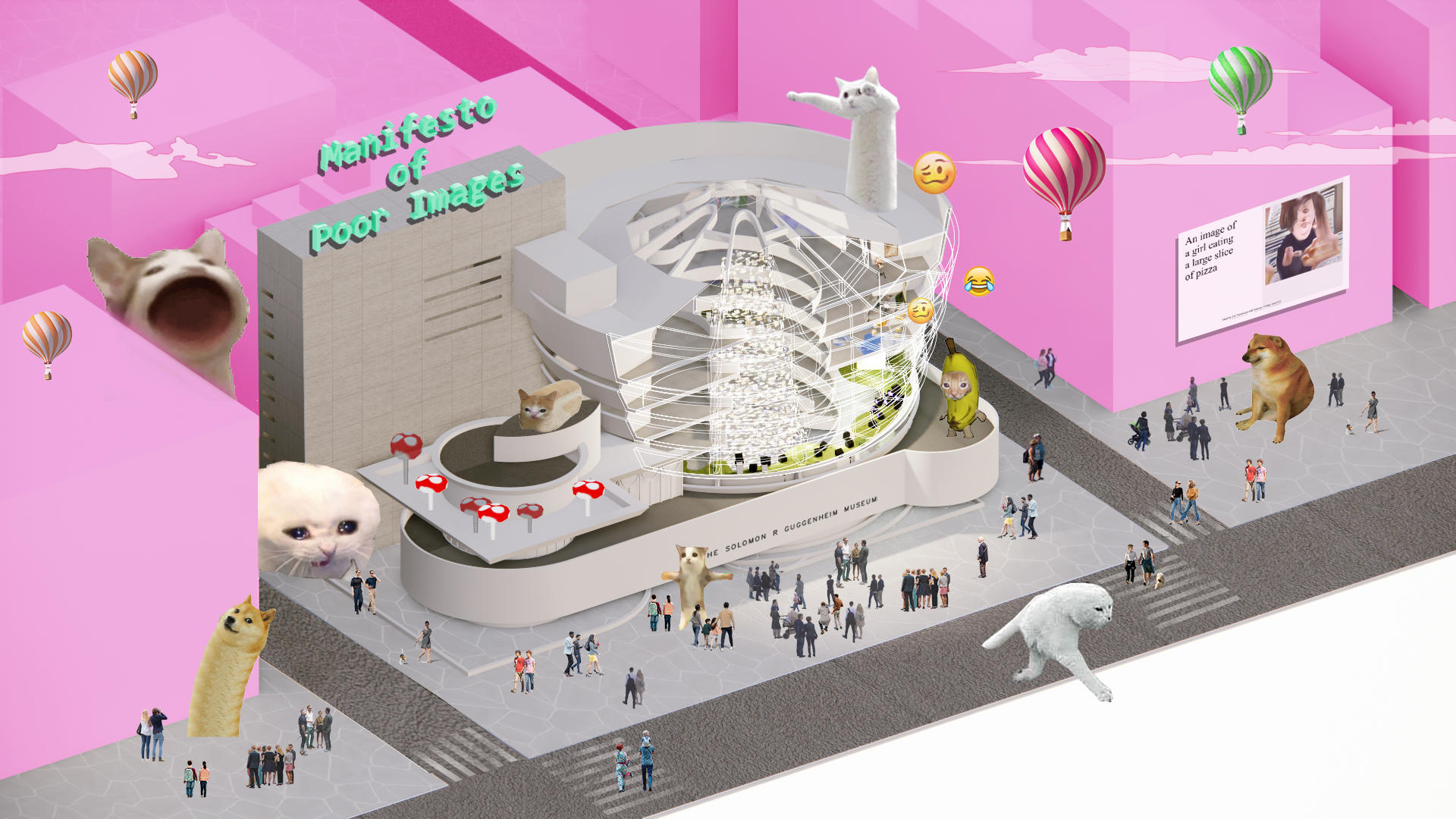 This thesis explores the role and value of low-resolution digital images, known as "poor images," in a high-resolution digital culture. It examines their technical characteristics, viewer's experience, creative process, and artistic content. Poor images challenge the obsession with higher resolution, offering an ambiguous visual experience influenced by audiovisual technologies. They invite appropriation, allowing users to become editors, critics, translators, and co-authors. They reveal the relationship between people and digitalization, exposing unexpected outcomes of the digital system. Poor images have also been used by artists since the 80s, shaping narratives and addressing social concerns. Drawing on the characteristics of poor images, This thesis proposes an exhibition of poor images at the Guggenheim Museum, aiming to re-contextualize the space and highlight their value
Image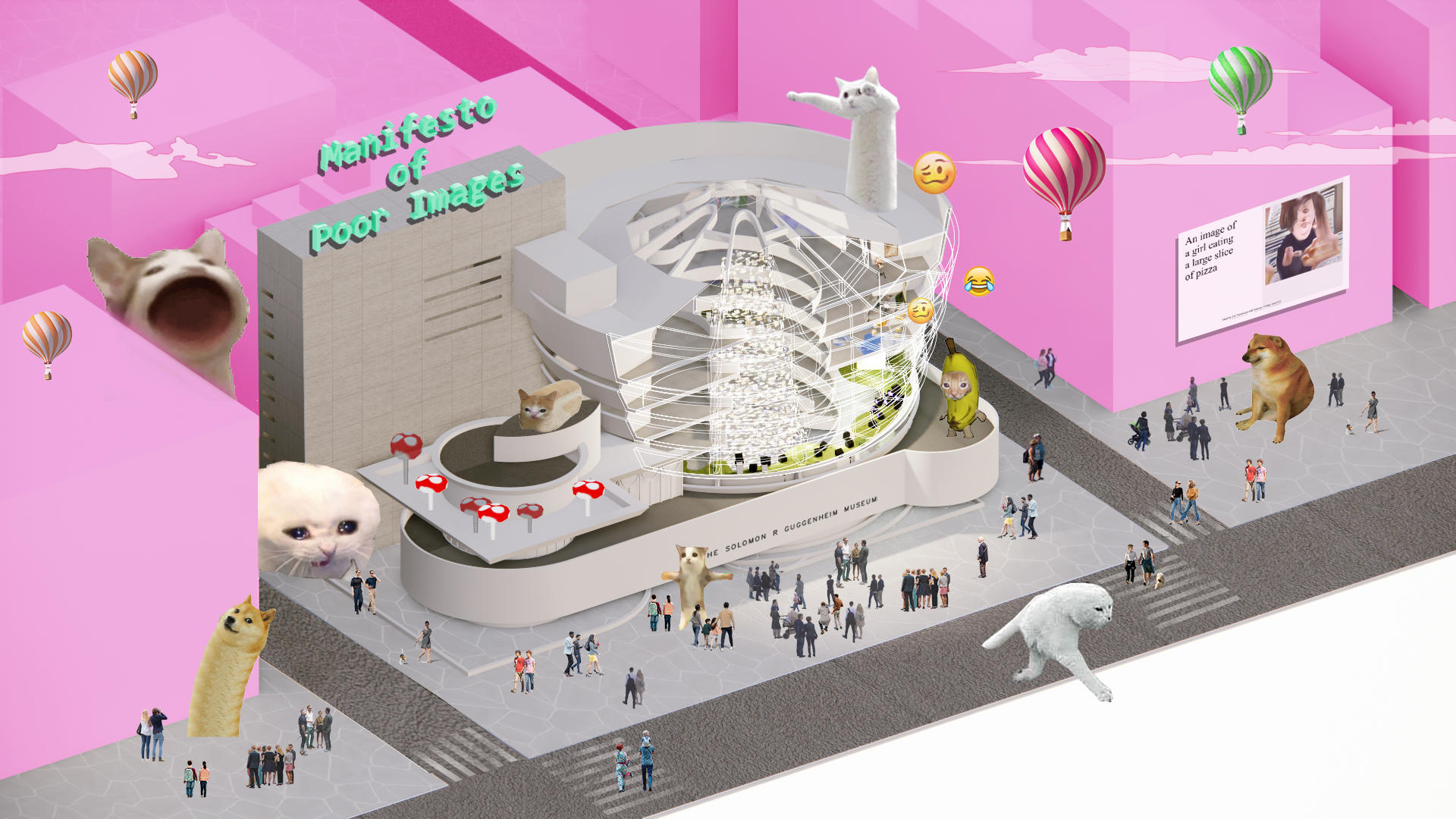 Occupying Guggenheim 
2023
From Doggo to Happy Happy Happy Cat, memes have become an important way to express ourselves and an inseparable part of our daily lives. Even if you are not a big fan of memes, you're likely exposed to various forms of meme culture, such as tiktok short videos, GIFs, stickers, or emojis. These images share the same value of allowing people to engage and appropriate them, making them incredibly popular in our age. 
Starting with memes, this project delves into different forms of poor images, ranging from those found on the internet to artists' interpretations. Poor images have the power to provide us with a comprehensive understanding of visual creations and the impact of digitalization, leading us to revisit all images, whether rich or poor.
Image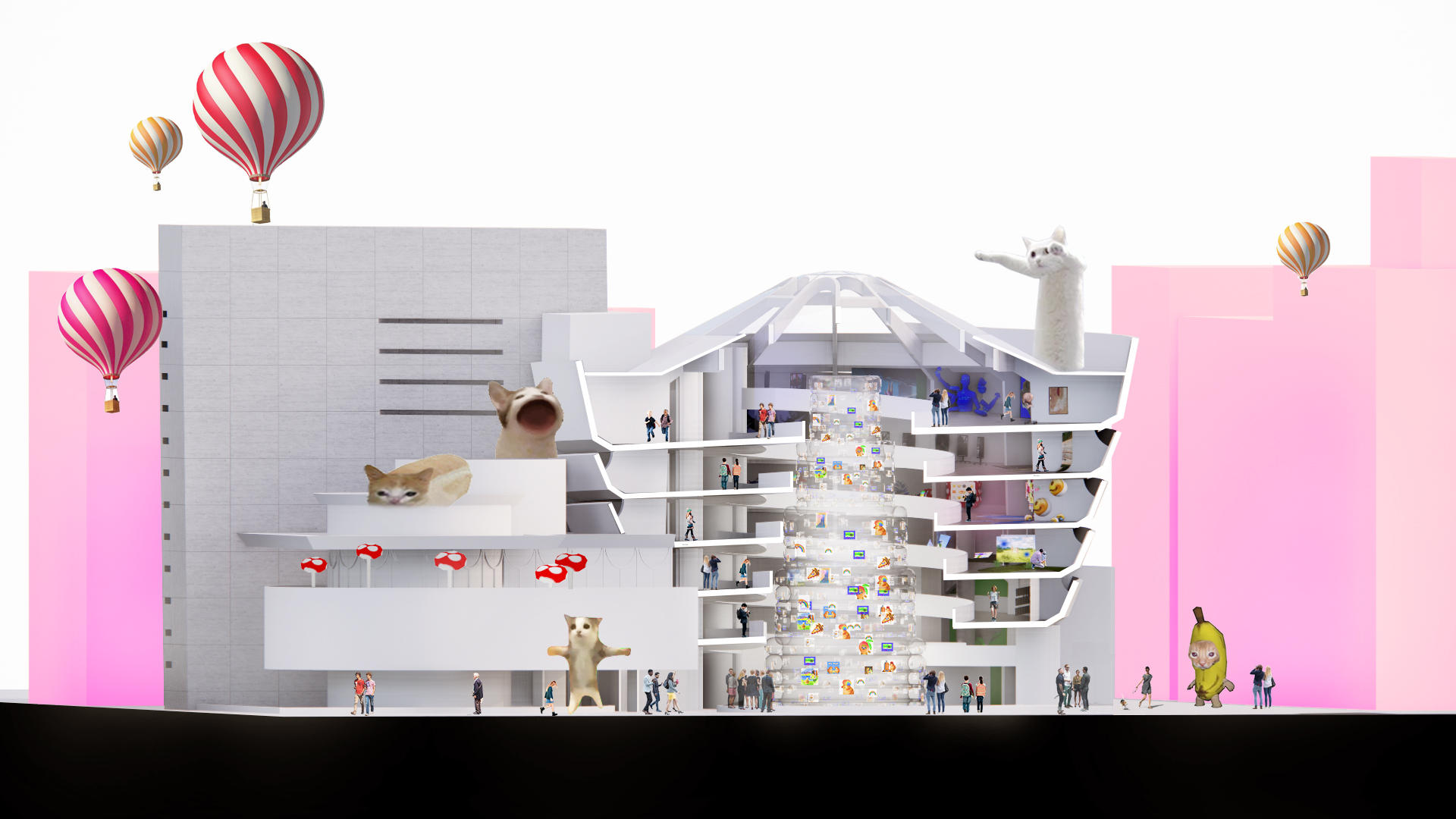 Let's start the tour
2023
The Guggenheim Museum not only stands as an esteemed art gallery but also serves as a vibrant space for social and cultural exploration. Its architectural design is an iconic symbol of its commitment to innovation. In this project, the exhibition boldly challenges the existing notions of space, aiming to re-contextualize and highlight the value of poor images. 
This exhibition uses the collection of poor images as a springboard to explore the diverse and complex landscape of the post-digital era. By creating a dynamic and interactive experience, it aims to encourage visitors to engage with contemporary visual culture in new and innovative ways. Through the exhibition, visitors will gain a deeper understanding of the role of images in shaping our perception of the world, and how this has evolved in the post-digital age.
Image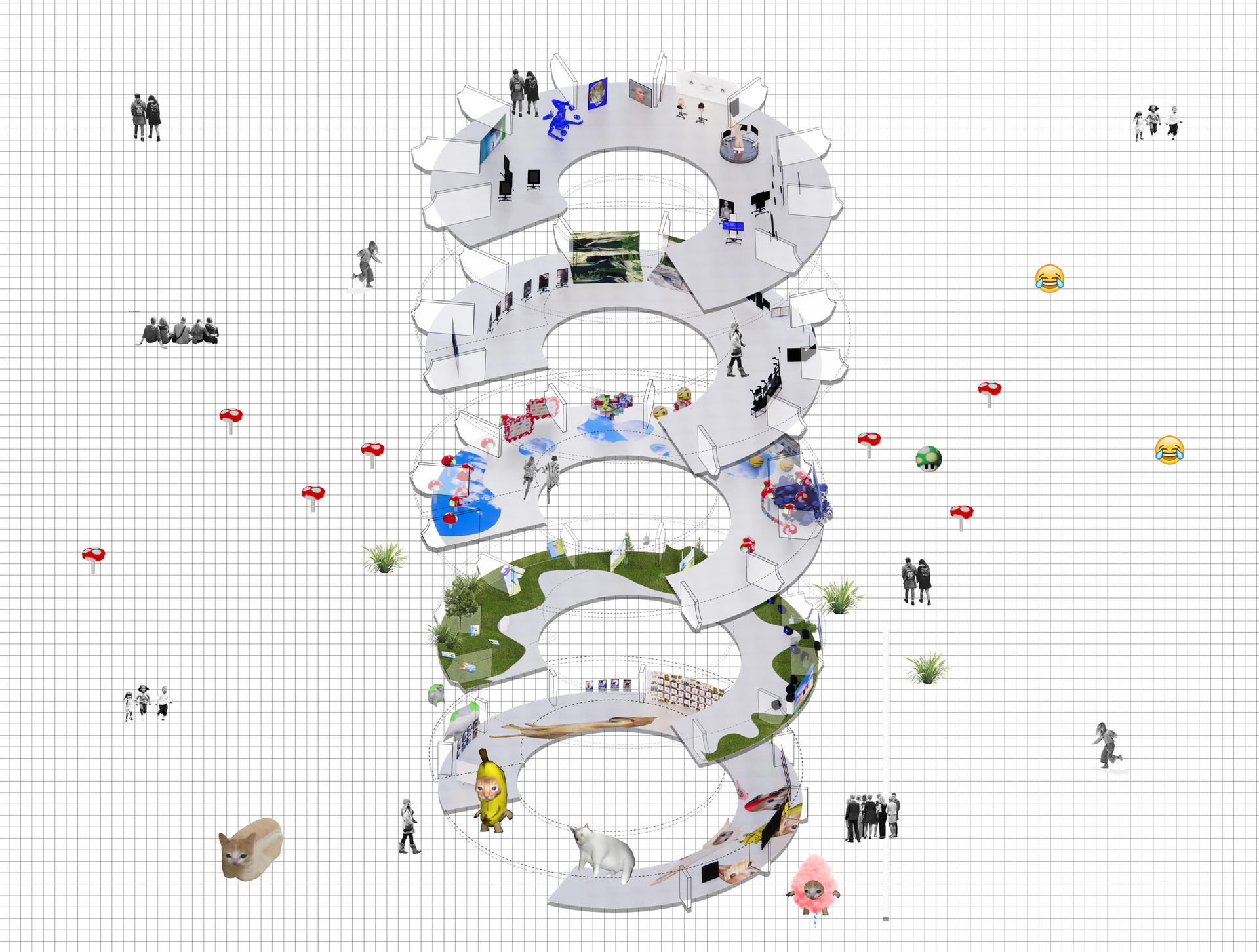 2023
Divided into five sections, this exhibition aims to explore the value of poor images from several perspectives based on their characteristics and content. It's also intended to create a hybrid and diverse experience using various media.
This exhibition undertakes a comprehensive exploration, delving into the value of poor images from multiple perspectives. Through a diverse collection, visitors navigate sections that highlight the unconventional aesthetics, complex essence, and unexpected narratives within these images. The exhibition strives to create an immersive and hybrid experience, incorporating various media forms to engage visitors on multiple sensory levels. By fostering dialogue and inviting participation, it celebrates the cultural and social relevance of poor images, encouraging visitors to appreciate their transformative potential.
Image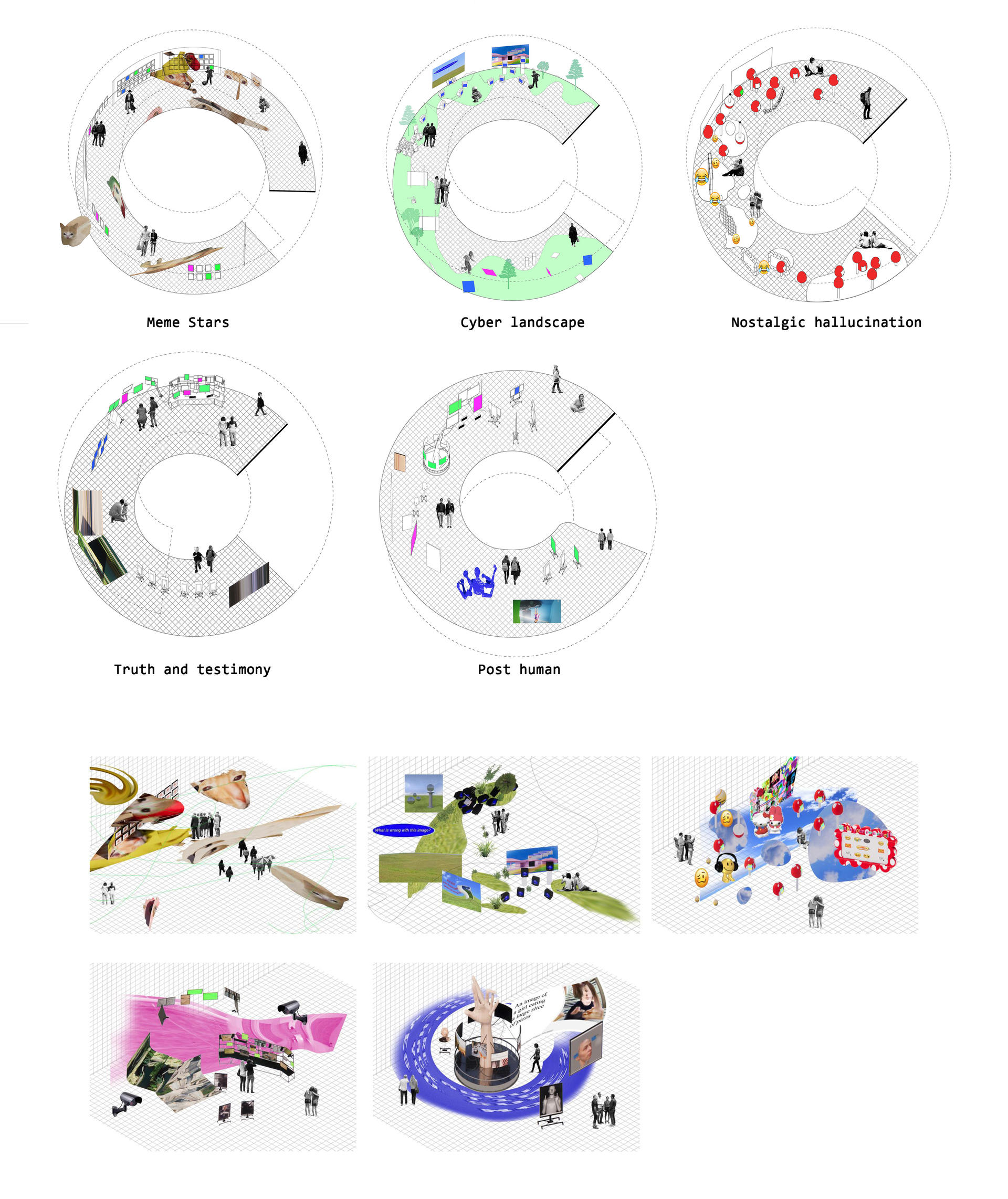 Being poor, being fun
Year
The first section, "Meme Stars," showcases the most popular and trendy memes circulating on social media, ranging from the happy cat, doggo, to the deep-fried memes. Section 2, "Cyber Landscape," presents dream-core images and liminal space images that transform the familiar into the unfamiliar. Section 3, "Nostalgic Hallucination," exhibits various genres of images, including glitch art, GIF art, and Y2K art. Its aim is to create a hallucinatory world, inviting people to engage with fantasies, joy, and nostalgia. Section 4, "Truth and Testimony," delves into the role that poor images play in revealing truth, falsehoods, violence, and the concerns of surveillance. In the final section, "Post Human," visitors are invited to explore the intersection of the human body and digital technology. The selection of images includes AI drawing errors, 3D mapping and modeling, computer games, and digital avatars.
Image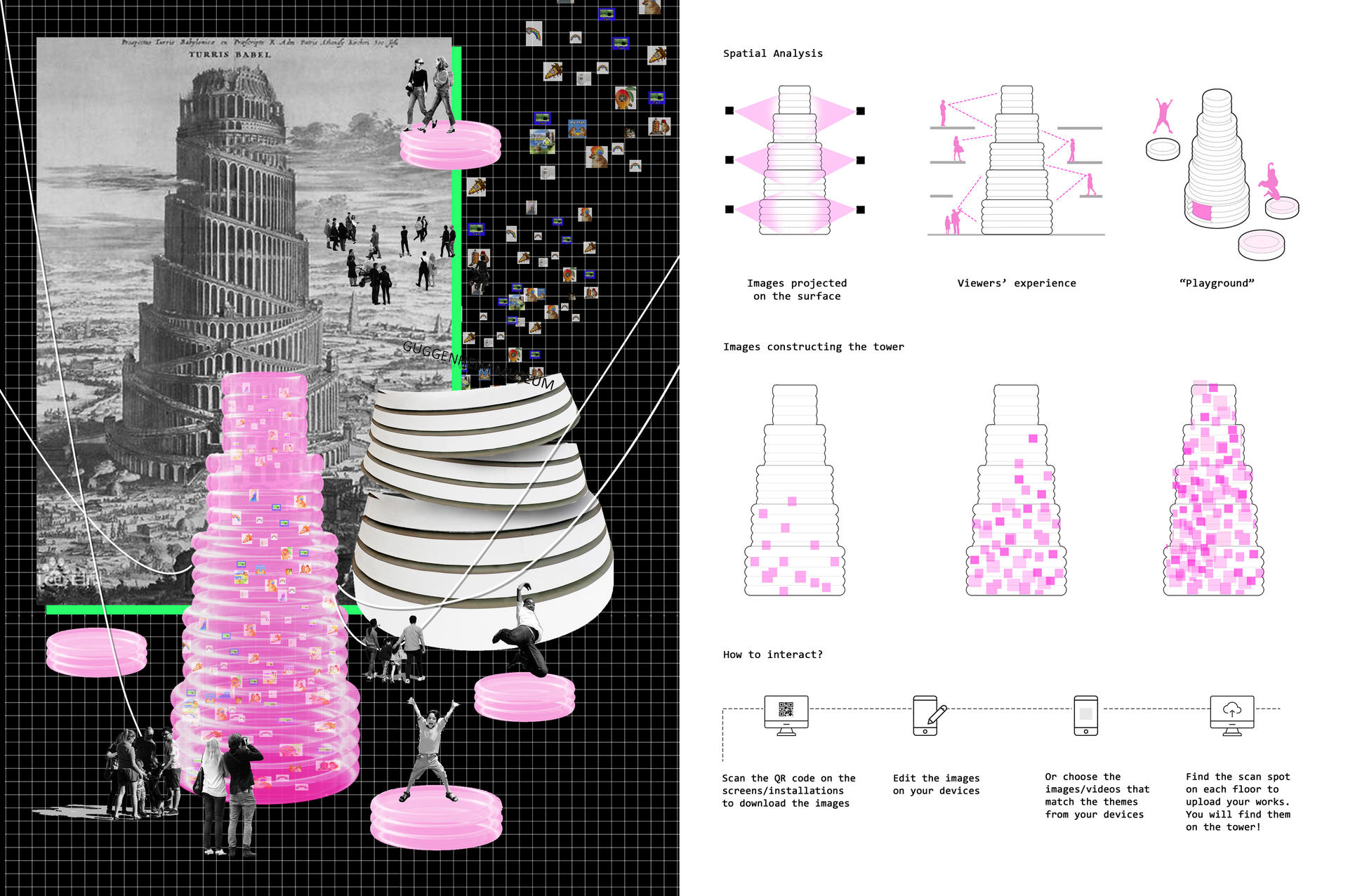 Come, let us build a tower
2023
"Come, let us build ourselves a city and a tower with its top in the heavens, and let us make a name for ourselves; otherwise we shall be scattered abroad upon the face of the whole earth." (Genesis 11:4-8)
The tower at the center refers to the tower of babel. If we take the tower of babel as a metaphor for our common language that helps us work together, then poor images are maybe a strange postmodern reflection of this concept. They are used and interacted by millions of people, and are breaking down the barrier of language. The tower also resembles the shape of Guggenheim, but with inflated surface, transparency, and temporality. It reflects the nature of poor images: cheap, fun, dynamic, and transient.   
Image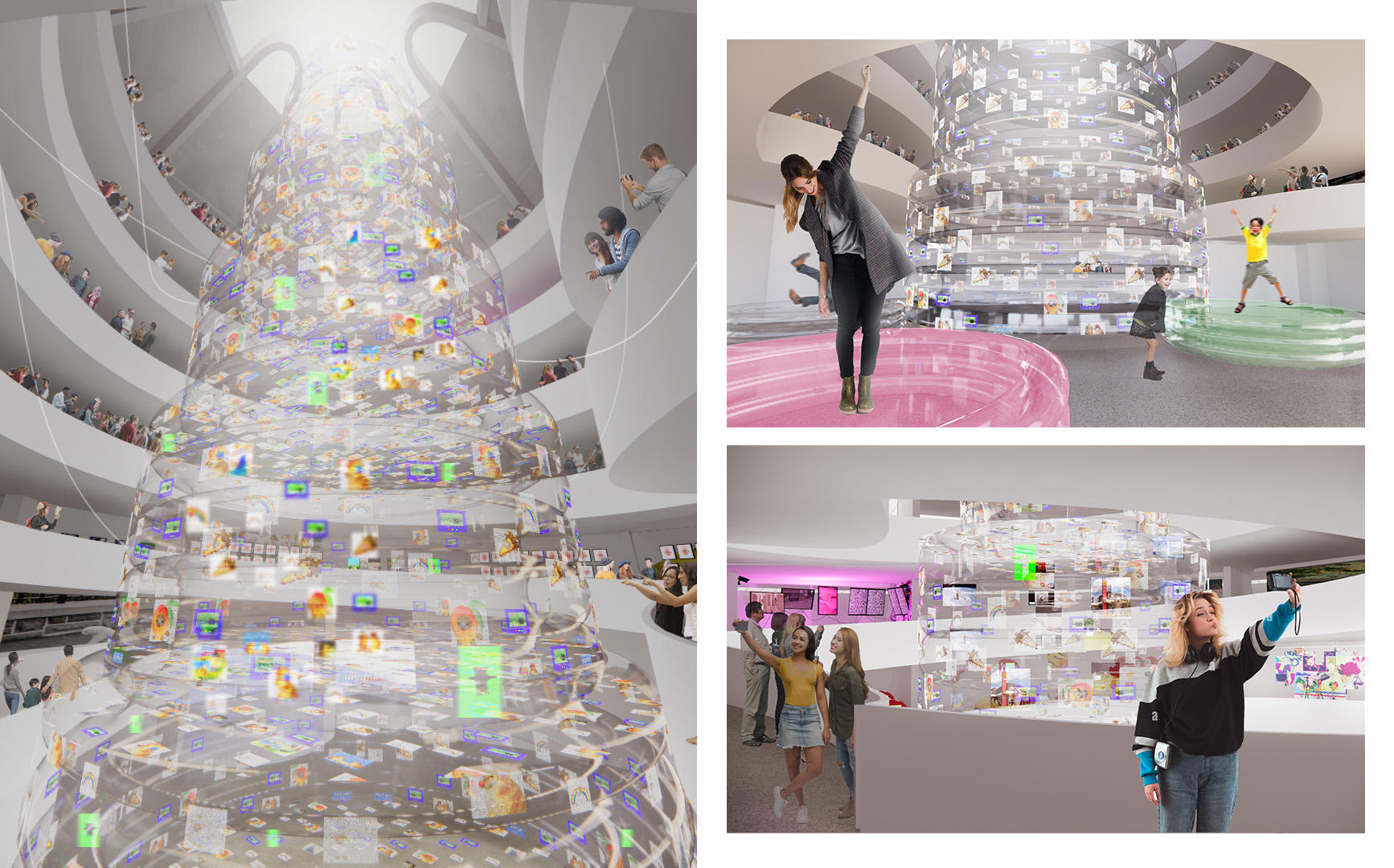 The tower of images
2023
Visitors have the access to upload their own images on the tower. They can either download the images from the exhibition's library and re-edit them, or add new images for each section. The bottom of the tower is extended as a playground, inviting people's physical engagement.
Image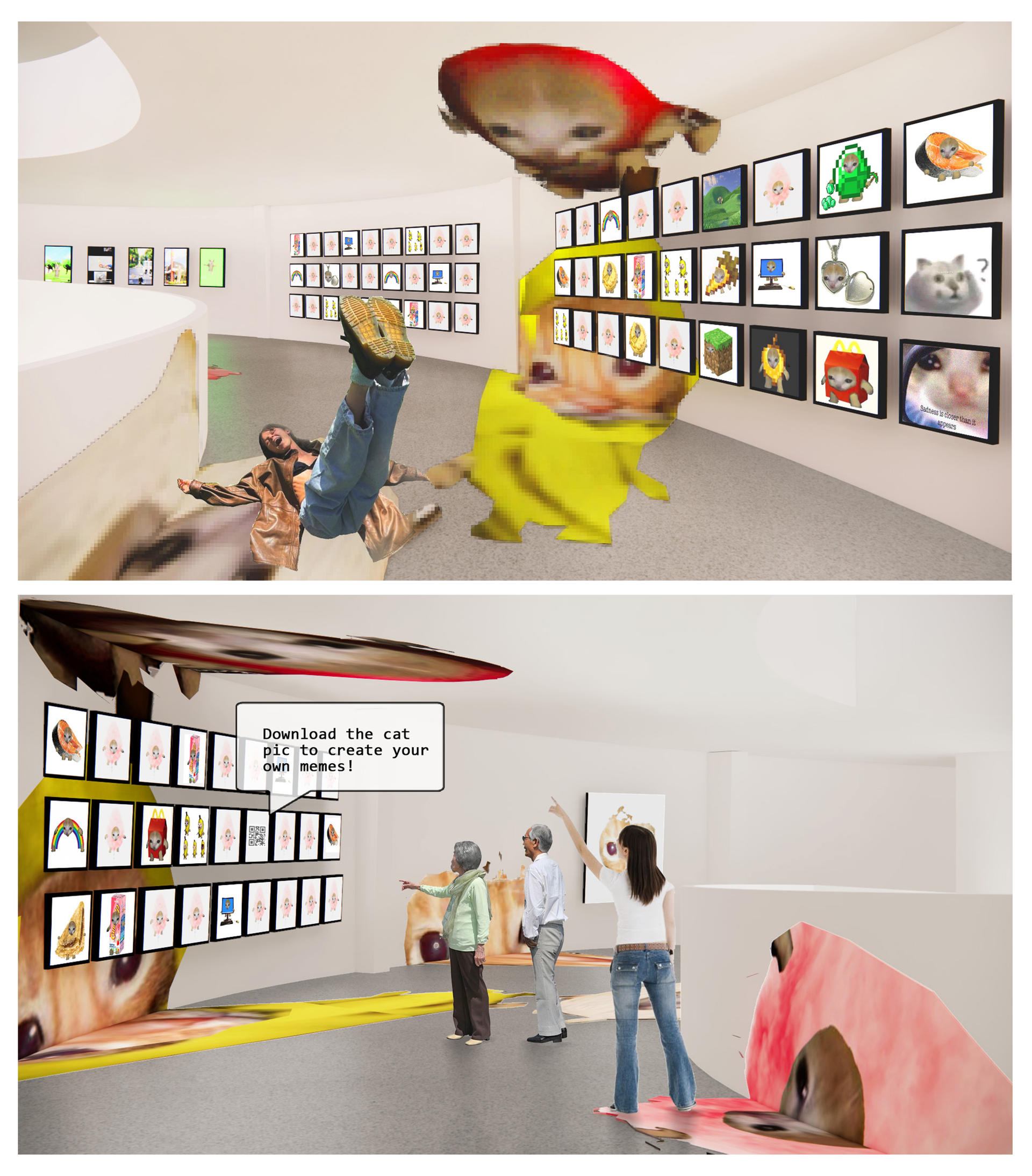 Meme stars
2023
With the technique of Anamorphism, the first section creates a joyful tour and highlights the humor in memes. It also invites people to participate in the process of re-creation, underscoring poor images' power of reproducibility and editability.
Image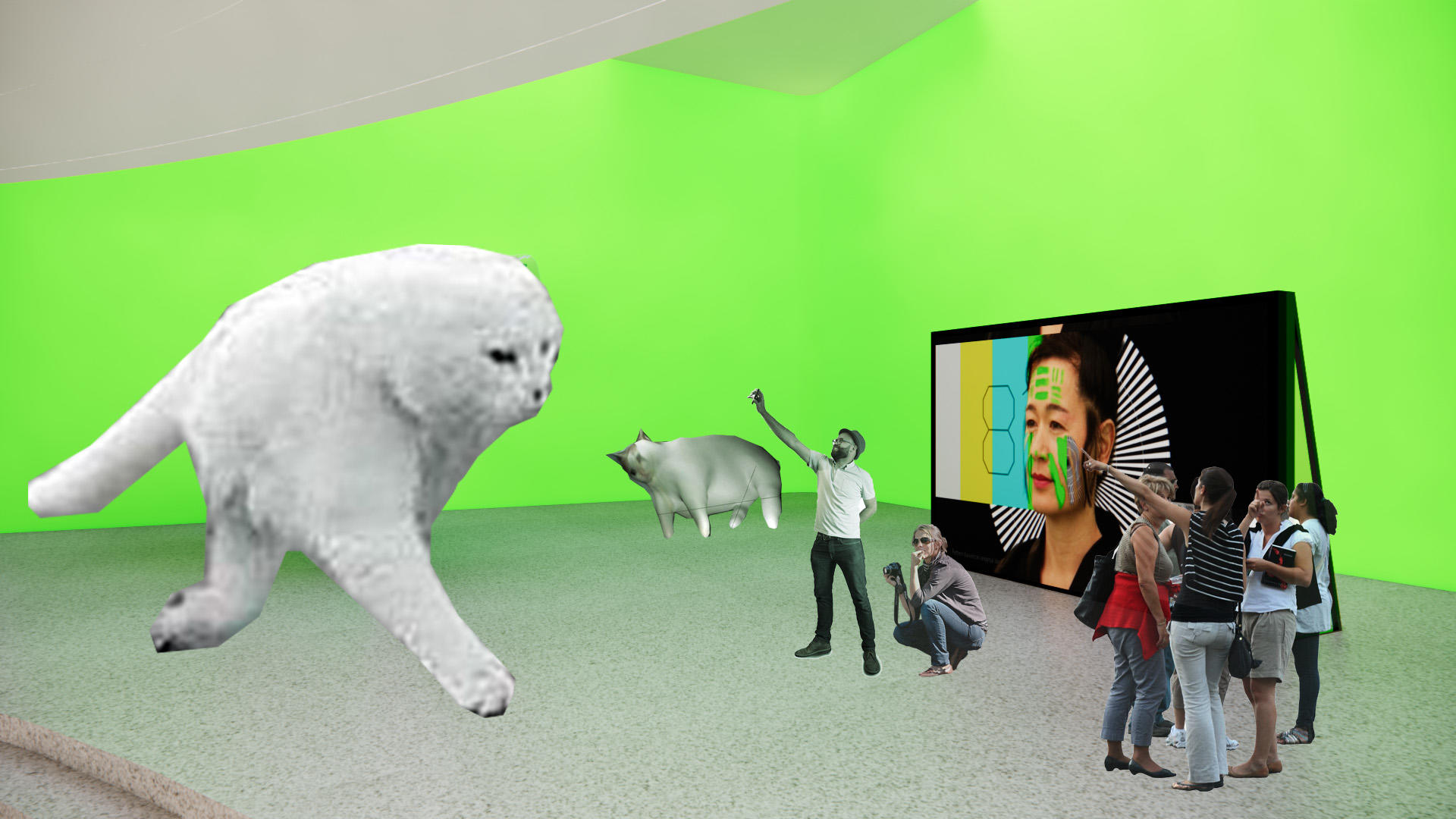 Iconic memes' show
2023
The iconic memes' sculptures will be exhibited in the high gallery, along with Hito Steyerl's famous video work: "How Not to be Seen: A Fucking Didactic Educational."
Image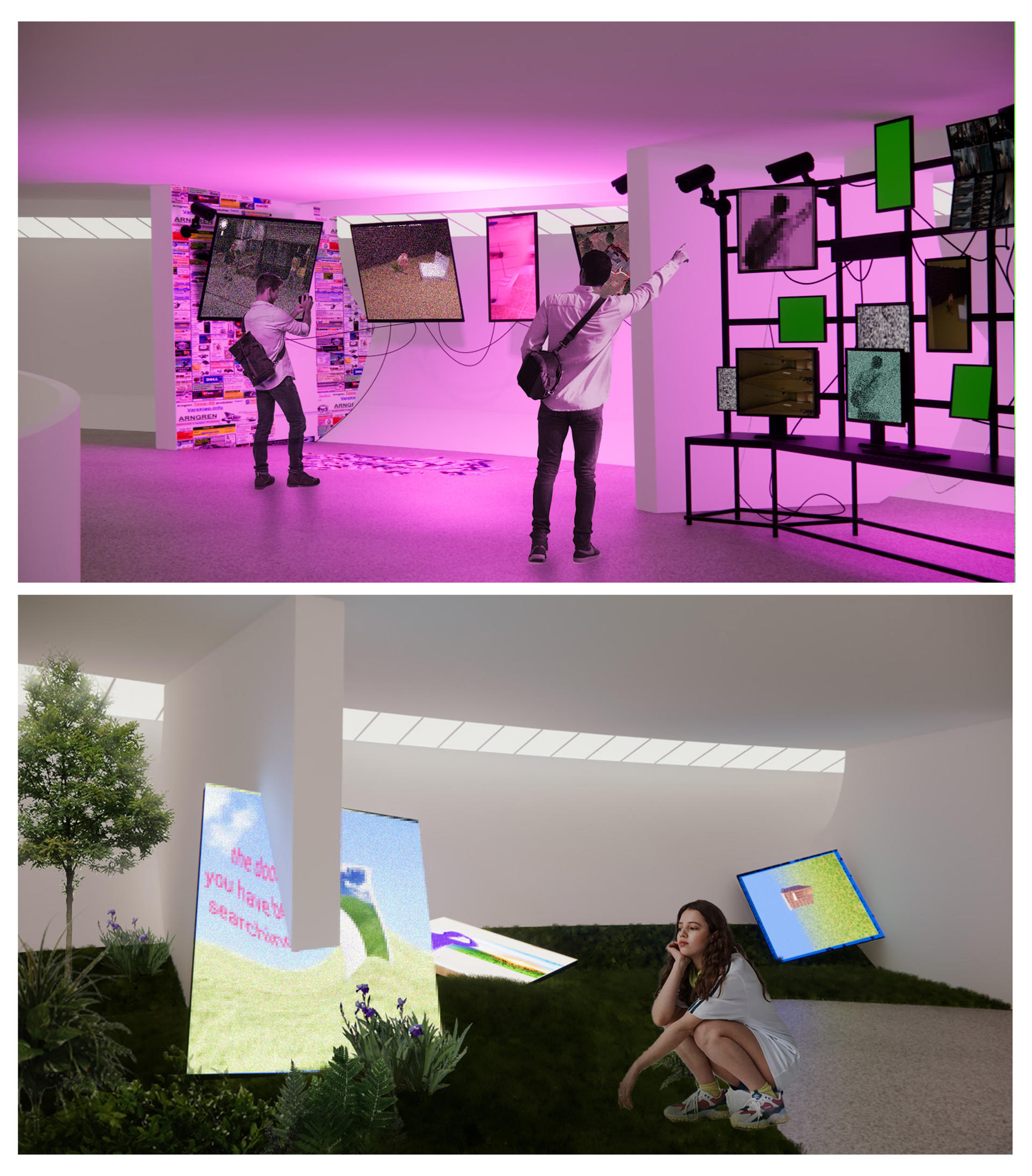 Cyber Landscape & Truth and testimony
2023
Poor images, while playful, also expose the dark side of daily life and the internet. They can spread conspiracy, depict death, and pose threats, revealing their profound and unsettling nature.
Image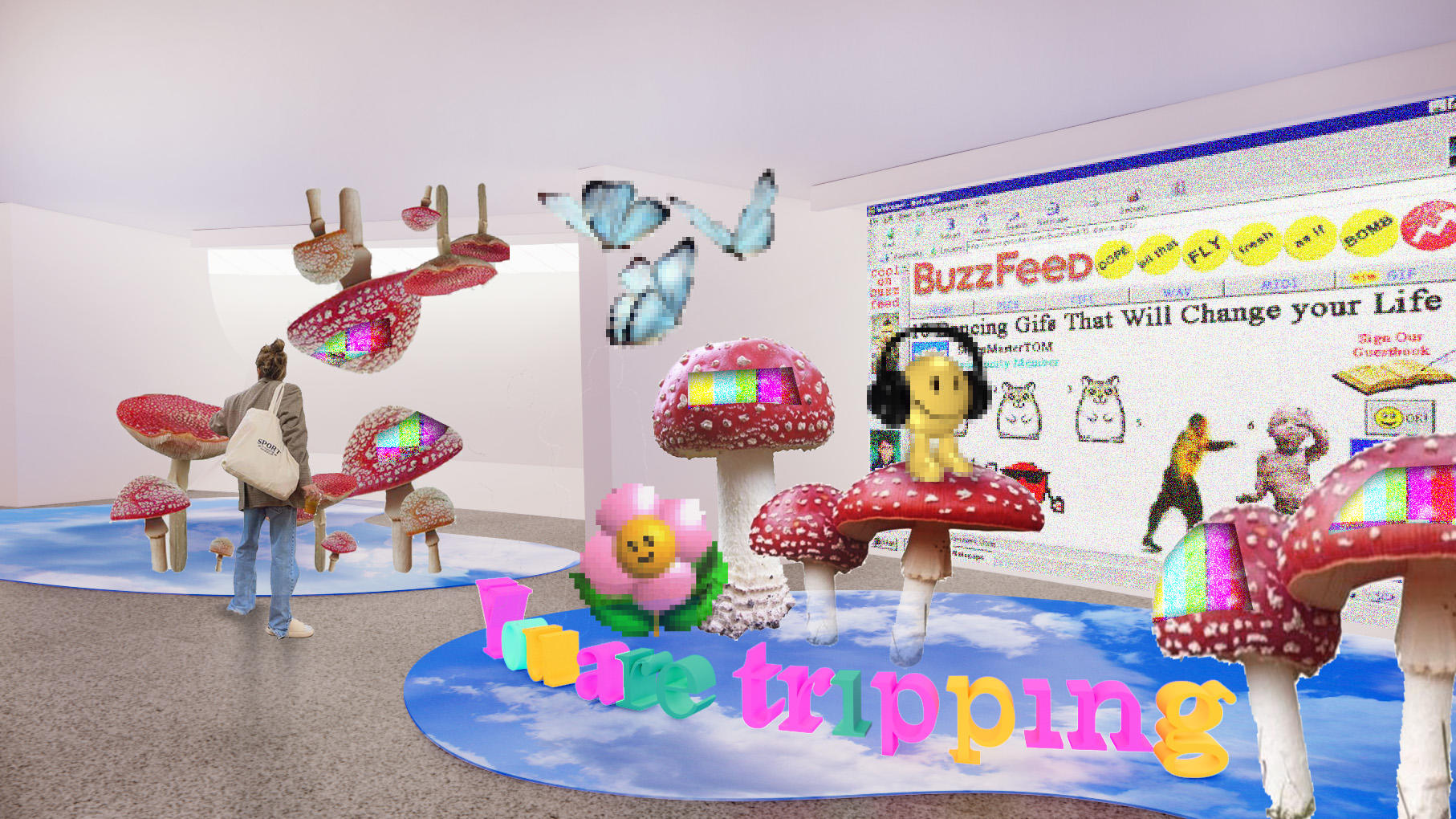 Nostalgic hallucination
2023
Poor images, with their raw and unrefined aesthetics, not only encapsulate nostalgia but also evoke a sense of longing for a bygone era, transporting us to a time when imperfections and simplicity reigned, igniting a deep emotional connection and a yearning for the past.