Image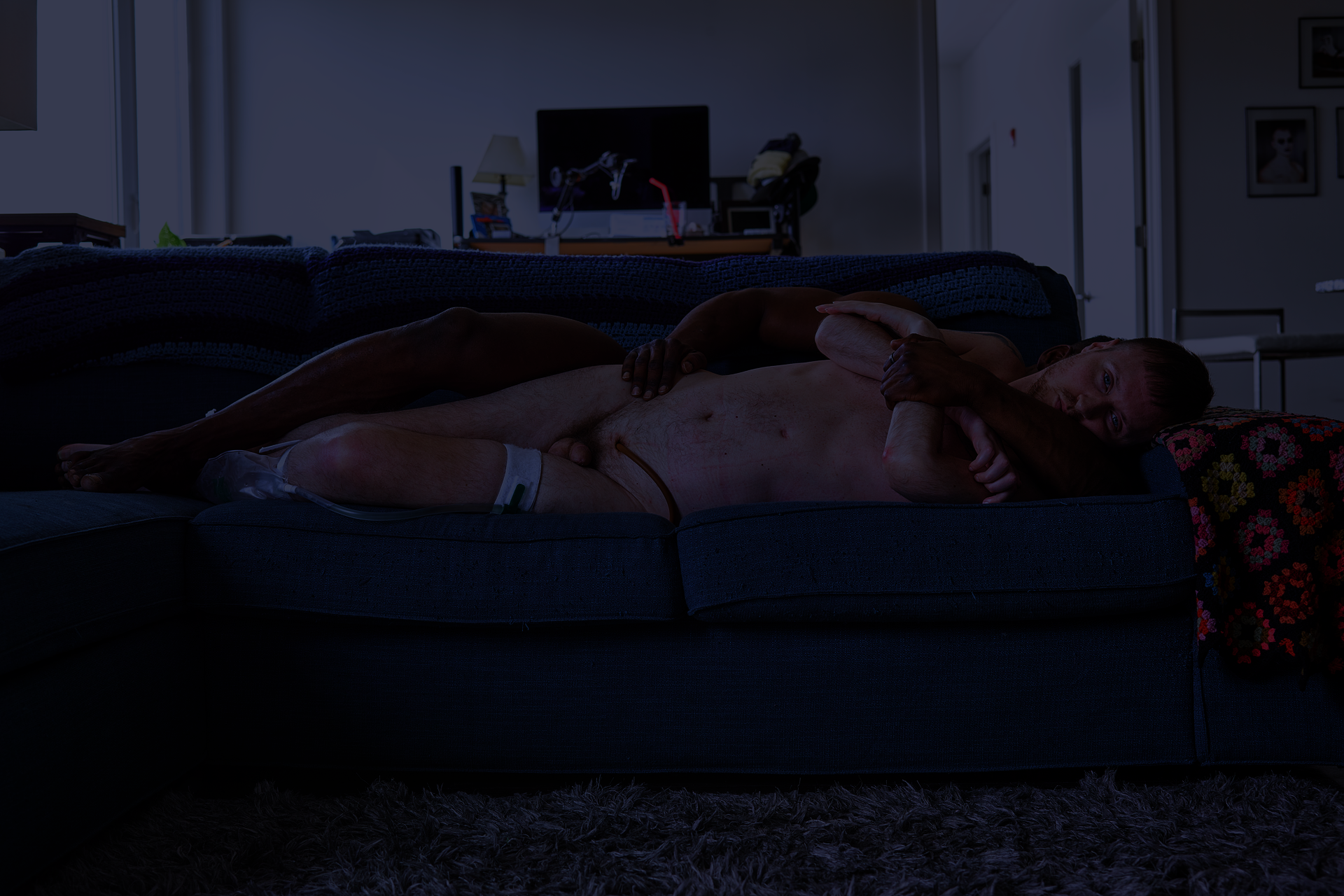 DOUBLE TAKE
Robert McRuer / Jaklin Romine
Cuddle on Couch
Robert Andy Coombs
American, b. 1987
Cuddle on Couch,
from the series CripFag, 2019
Inkjet print on metallic paper
Sheet: 101.6 x 152.4 cm. (40 x 60 in.)
Mary B. Jackson Fund 2021.62
© Robert Andy Coombs
Image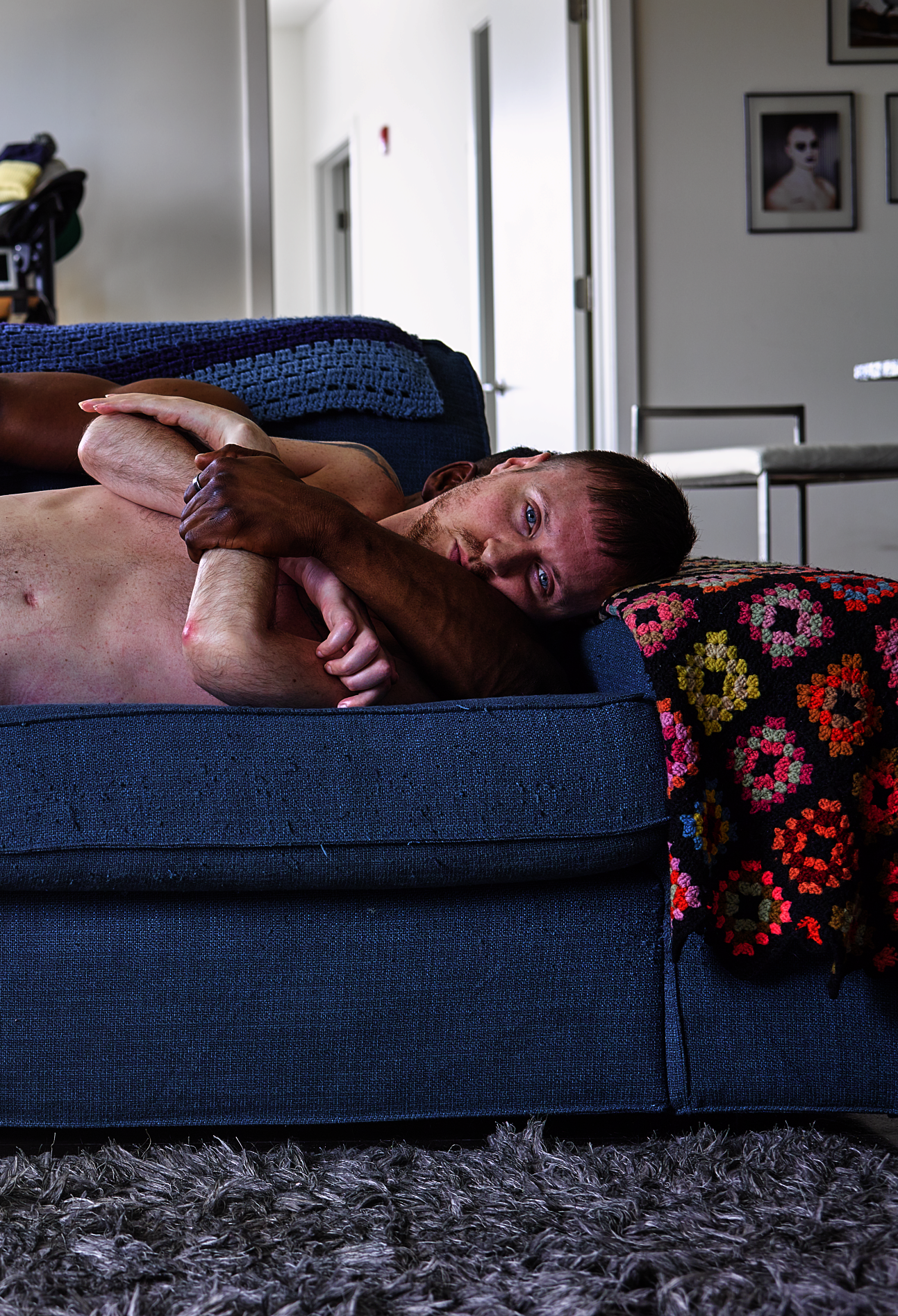 Robert McRuer
—
Robert Andy Coombs's photograph Cuddle on Couch, representing an embrace between a Black man named Dani and a white man (the artist), functions as a tender pause in Coombs's series CripFag: The Sexual Adventures of a Gay Quadriplegic Photographer. The accouterments of disability are quotidian elements of the moment captured in the domestic space of the living room, and simultaneously part of the beauty and erotics of the shot. Articles in view—the wheelchair, a straw for drinking, assistive equipment for photography—are formally backgrounded and available for incorporation into future shots. (The wheelchair in particular is included in the sex play in other photos in the series.) The urinary tube in Coombs's belly and other protective devices on his legs are on full display but can be read as part of the sensual eroticism of the picture.

I am not the first to note how Coombs's photos conjure up the work of the late Robert Mapplethorpe, including an appreciation of the beauty of Black male bodies, a play with the edginess of S/M, and even a focus on disabled bodies. (Mapplethorpe's famous self-portrait with a skull cane was a representation of living with HIV/AIDS.) Yet Coombs for me goes beyond Mapplethorpe, not least in the flamboyant queer/disability excess of self-identifying as CripFag. Caress, moreover, might have described some Mapplethorpe photos representing touch between Black and white men, but Cuddle on Couch is a uniquely Coombsian verb phrase. And as it is a photo in a series, even a quiet moment that is an important component of the more overtly sexual action represented elsewhere, other verbs arguably vibrate beneath the surface of Cuddle: suck, fuck, lick, embrace, kneel, to name just a few actions represented in CripFag.

Mapplethorpe was sometimes criticized for showing only parts of Black male bodies, and Coombs's Cuddle on Couch could be read similarly, although the series as a whole shows all participants as active subjects exploring erotic pleasure together. Dani is not reduced to his visible body parts here, and cuddling (burying one's face in a lover's backside) is surely one of the most humanizing actions we engage in. Coombs himself looks directly at the camera, perhaps in a postcoital calmness, but definitely in a way that suggests "this is who I am." Of course the title and subtitle of CripFag: The Sexual Adventures of a Gay Quadriplegic Photographer announce such queer/crip pride as well.
Image

Image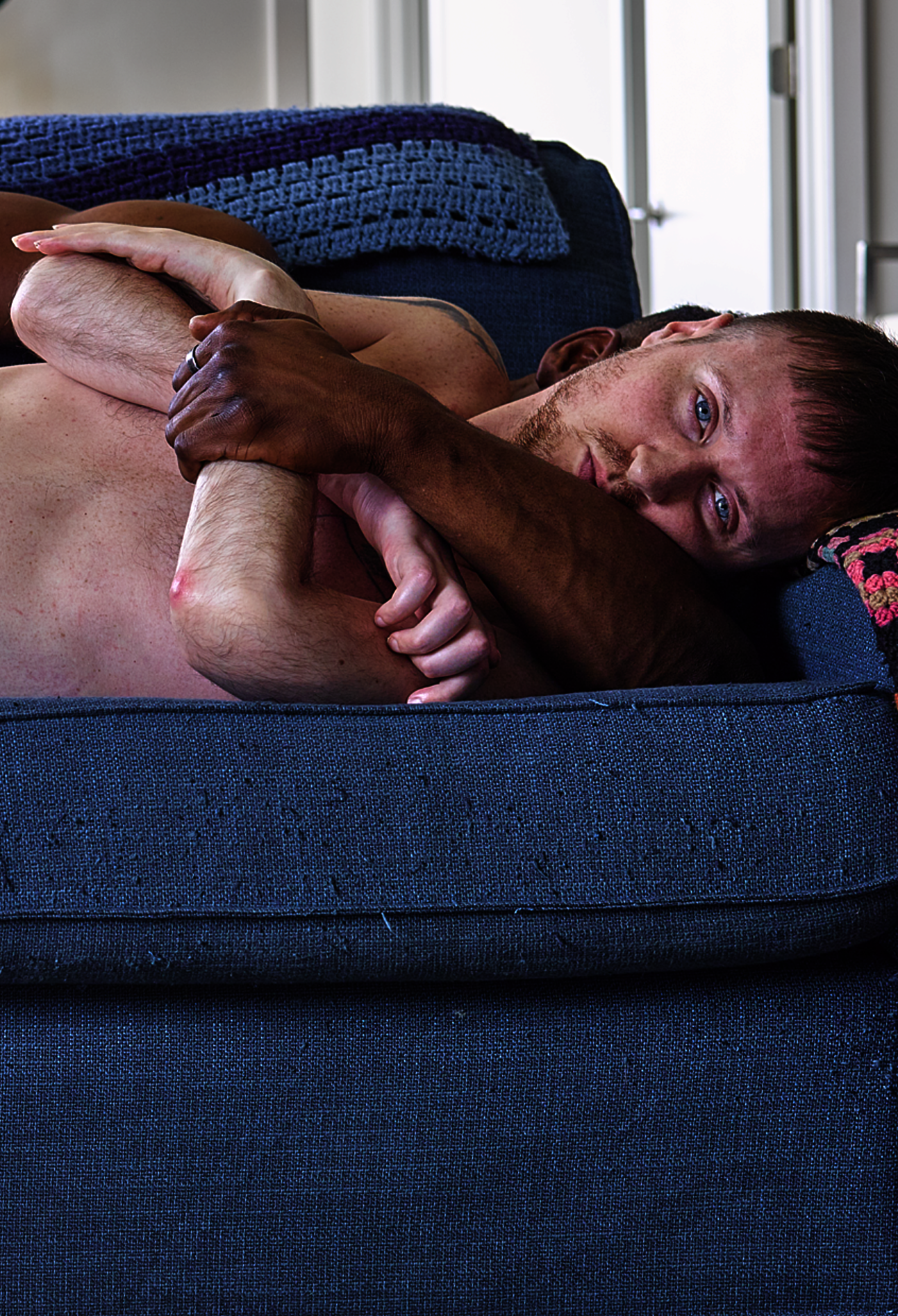 Jaklin Romine
—
From start to finish, from top to bottom. Bobby Robert, you stare at me, you stare at us, you confront everyone's reality. I see you sitting there, in all your power, in the trees. Naked as the day you came out of your mother's vagina, but those veins, the skin tone, flesh tone. Your skin tone. Your flesh tone. You can see the green in your wheels, in the grass, in nature. You look proud and fearless, even though you're naked, and you can see the catheter coming out of your belly button, coming out of your abdomen. Your dick, exposed, semi-hard, and your Hoyer lift sling, trying to be tucked away but still exposed. The blue, the green, your blue and your green that carries you, calls you, that carries you. That lifts you. That lays you down.

That scorpion stare. Your tattoos, lying over your body, scarring over your body. Exposed in your body, sharing your body, forcing us to see you for who you see yourself
          as flash and nature
                    flesh and nature
                    your flesh, in nature, you disabled queer,
                              body exposed, levitated over,
                                        seduced, dominated.

Everyone seeing you for your sexual power, for your disabled queer sexual desires queer power and identity broadcasting I am here we are here I am here I am queer I am sexy I am hot I am fire feel my fire experience my fire don't you feel the flames don't touch too hot too hot for you look at me looking at you don't you want it.

You want it, I want it. You can't stop looking. You can't stop clicking. I see you looking at me, looking at them, wanting me.

Ride me. Ride me. Hold me. See me. See my wheelchair. See me owning my disabled body. See me owning my power chair, my power chair ride me in my power chair daddy a ride to me in my power chair daddy mount me on my power chair mount me in my wheelchair take me in my wheelchair.

Hold me, see me. Let me make you see my body for what it is, while another body is holding me. Couch rug blanket wheelchair out of sight body fully exposed body how my body body caress by body body whole body body sucks your tension sexual tension sexual desire sexual power.

I see you. Save me. I will not look away. I want to make you see me. (You will see me.) I will make you see me.
Hold me, see me. See me, hold me. Hold my disabled sexual body. My body needs to be seen. My body is here, on display, for you to understand that you don't understand. You have always been wrong. The disabled body is free and sexy, is desired.
Image

Shareable Link
Copy this page's URL to your clipboard.