Image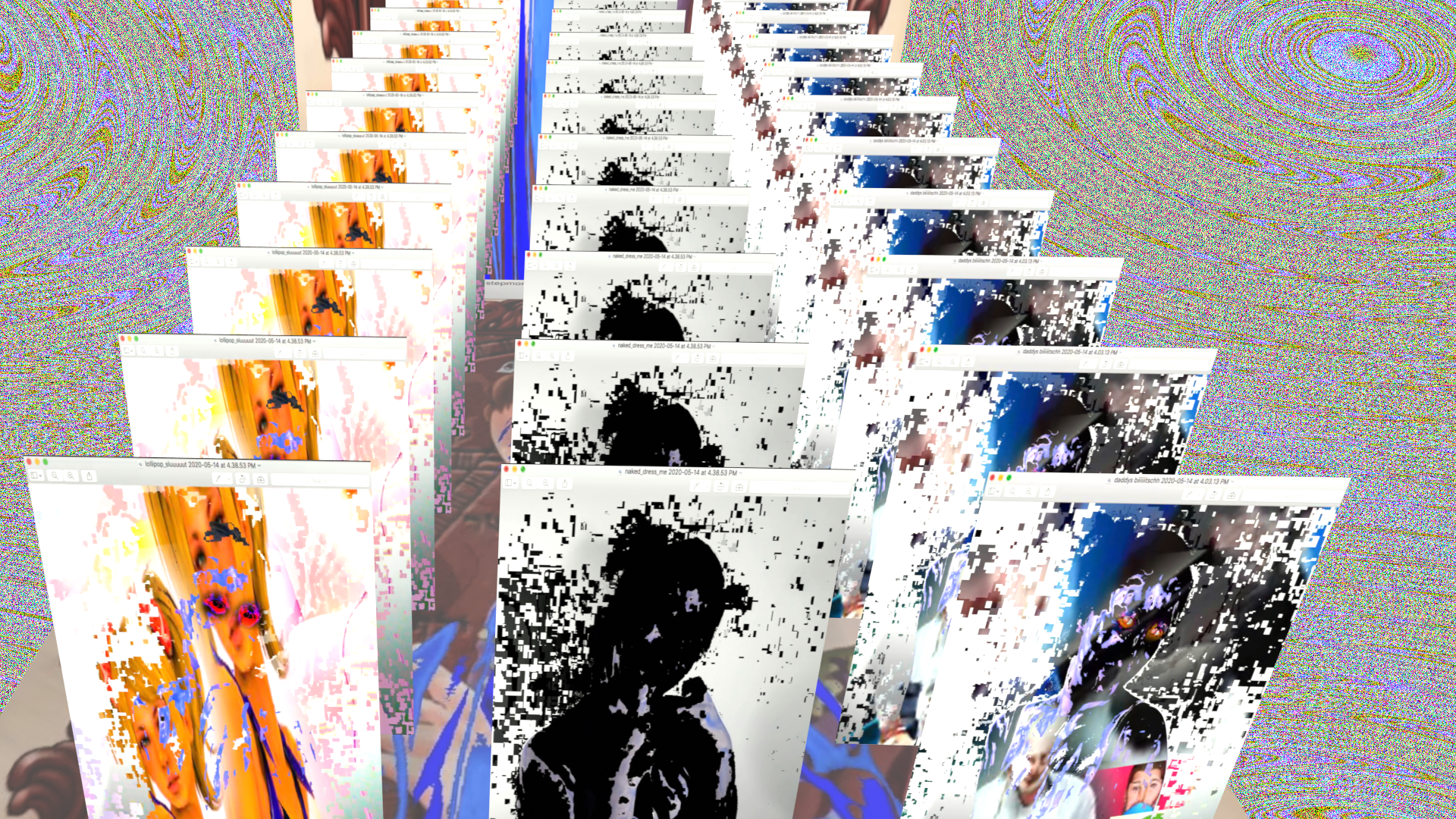 MiMi with the GAN boys
Image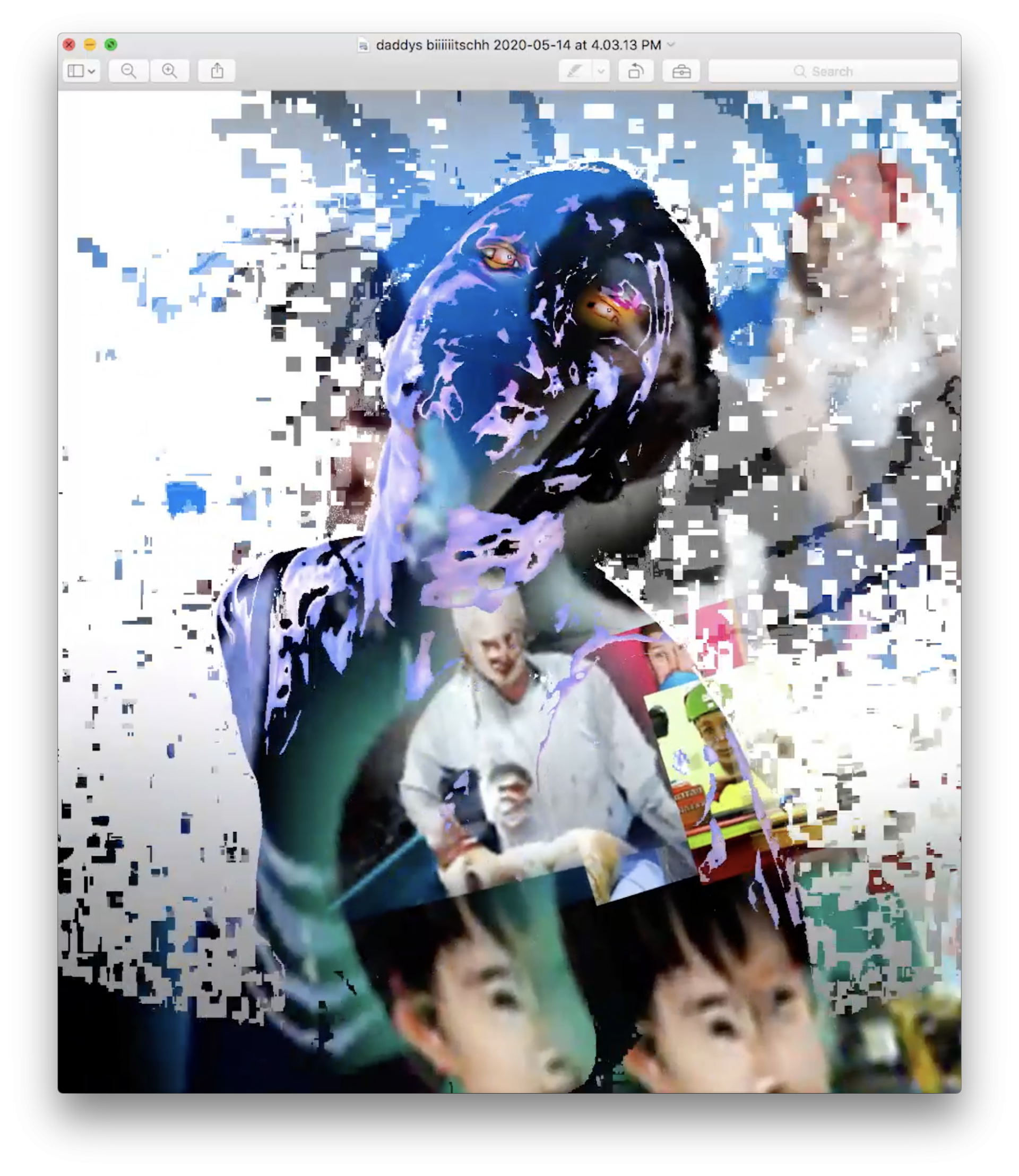 Final Thesis Installation Test: Documentation Video (at home)
v
v
Thesis Installation
Video file
Thesis Installation Test 2020
Joon june yoon
Web-trauma and
Haunting Images
There is an exhaustive amount of misogynist perspective that feeds the production of the flattened, objectified images of women, from video games to androcentric pornography, which finds its apex in the dark abyss of online culture. The objectification enabled by the system and functionality of online/digital culture seems immortal, constantly creating undead ghosts of sexualized, commodified images of women. The flattening of images of women - fetishizing, sexualizing, taking their human-ness away - that has been present in real life throughout the history of visual culture is accelerating with the system of digital circulation online. Once uploaded, an image is embedded online, copied and pasted, saved and re-uploaded, cloned and meme-ed in a seemingly infinite cycle. The image loses its context and time. Flattened images on flat screens of computers and phones. (Coincidence?) These images are immortal, hauntings online bulletin boards, group chat rooms, and offline secret folders of anonymous voyeurs. These sad undead images are deprived of good rest in peace, destined to be an indefinite index of their hosts.
The pervasive sexual objectification online and the over-simplification and negative categorization of femme identity has been constantly imposed on women as real human beings. One's story is crushed and flattened into trite female images, deprived of personality and narrative. This objectification accelerates with the spur of male-centric porn websites, anonymous online communities, and ero-games mainly produced by Japanese game companies featuring infantilized female characters, which employ and amplify the punitive and relegating perspectives of misogynist culture.
Still shot from Make Your Own Dream Girl, single channel video. 2018
Image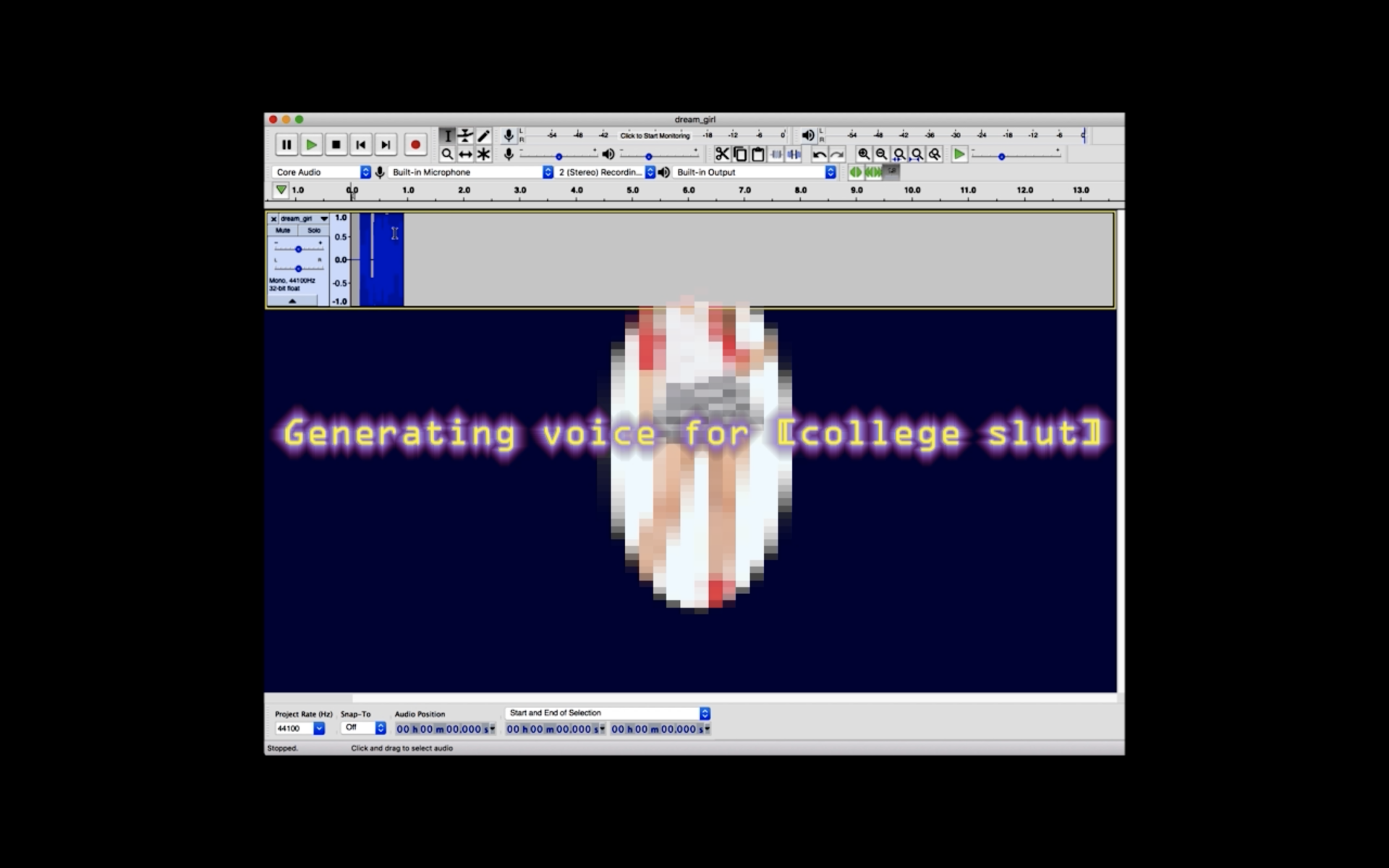 Capturing the performance as a 3D object
Image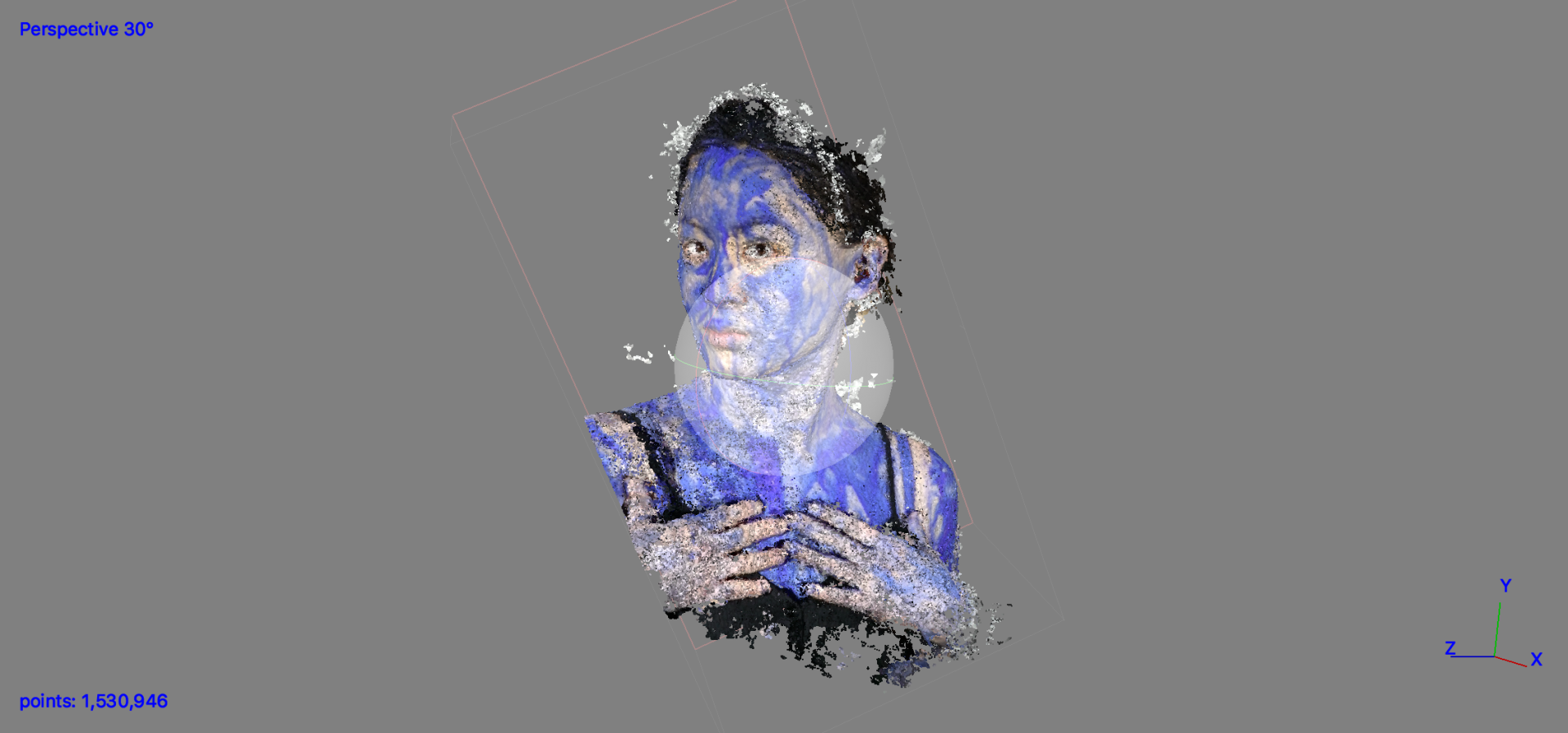 This web-trauma, a trauma as a child of biased perception and technology, has been circulating through commodification and rapid distribution of images. I examine this ecology: how web-trauma is born, processed, consumed as tragedy, and feeds back to the newborn traumas. This cycle forms within online image distribution system, but also across reality and virtual, as the commodified image fuses with the human ontology.
Image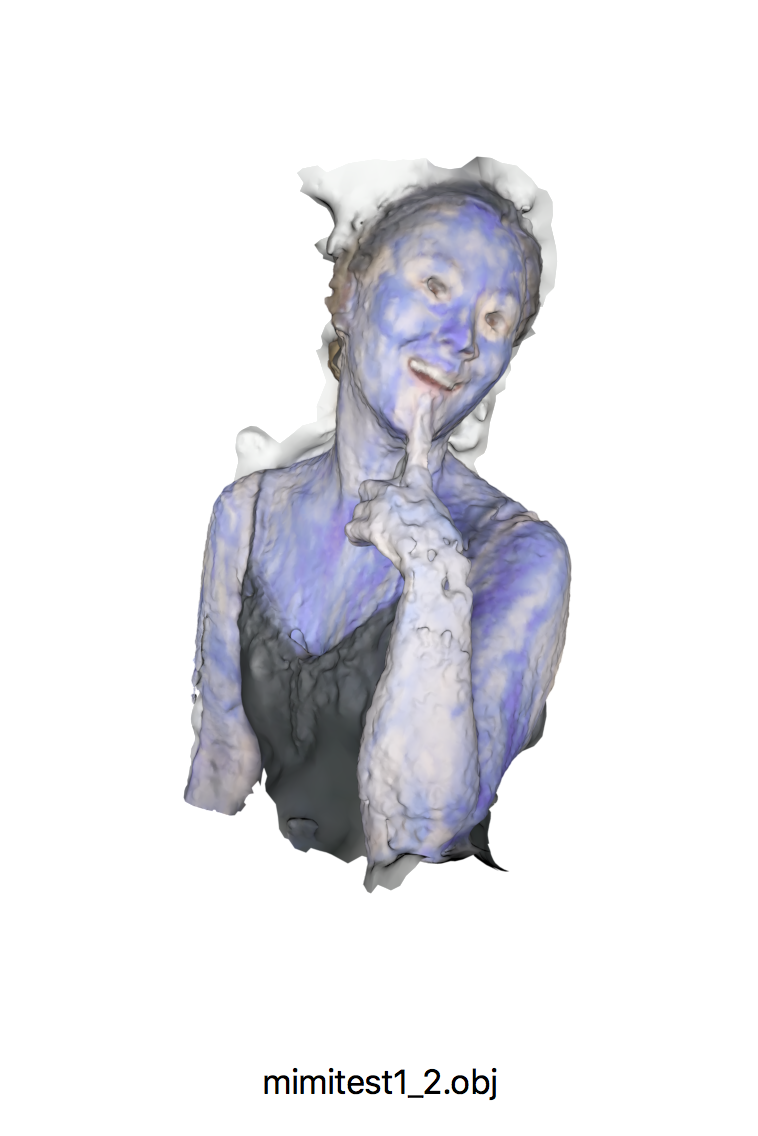 The horrifying reality of various forms of online culture such as video games, male-centric online communities and porn websites pushes me to address it in my work. The goal of my research is to understand the ecology of web-trauma and late-capitalistic values embedded in online culture, in order to find a strategic, sustainable, yet humorous way to deal with the cruelty of online culture enabled by emerging technologies.
Crowdsourced Dream Girls from Amazon Mechanical Turks Users (2018)
Image
I've been examining the possibility of transcending the flattened identities by suggesting a form of survival within this online regime by experimenting with the way of viewing. Through experimenting with material, installation, and operation of a space as a screen, I aim to create an immersive space with the haunting imageries of biases lurking around every corner of web culture, and eventually, generate conversations about absurdity and latent violence of contemporary culture.
For my thesis project Web-trauma and Haunting Images, I'm particularly interested in projection images and operation of the light. Projection technology not only makes it possible for us to deliver a vivid image, but also an image crisp enough to generate an immersive environment with seemingly indestructible yet ephemeral images. This lack of physicality could signify the infinite circulation of image, and the invisibility of amplified biases online. 
Installation Test in December 2019
Image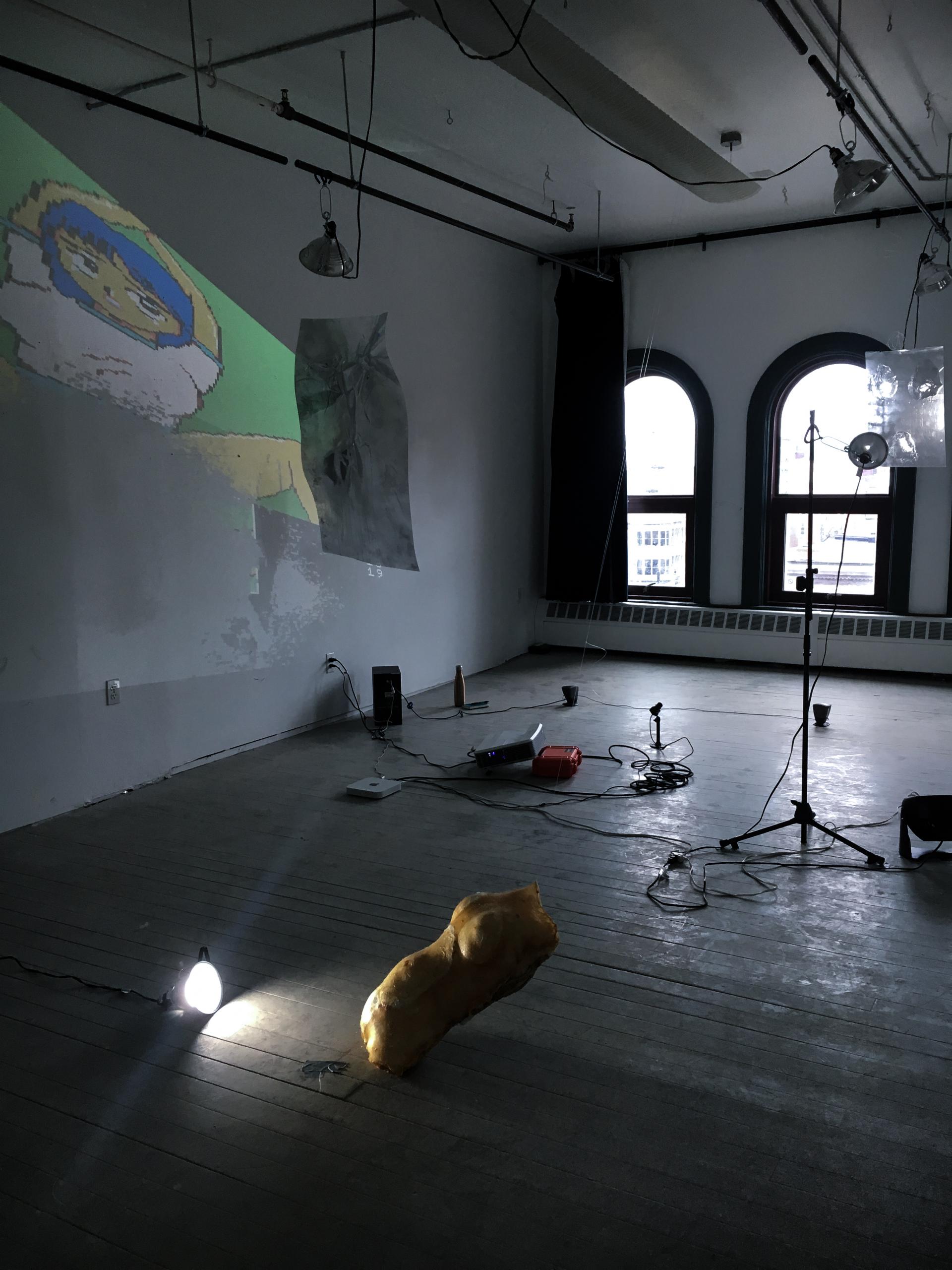 Installation Test in March 2020
Image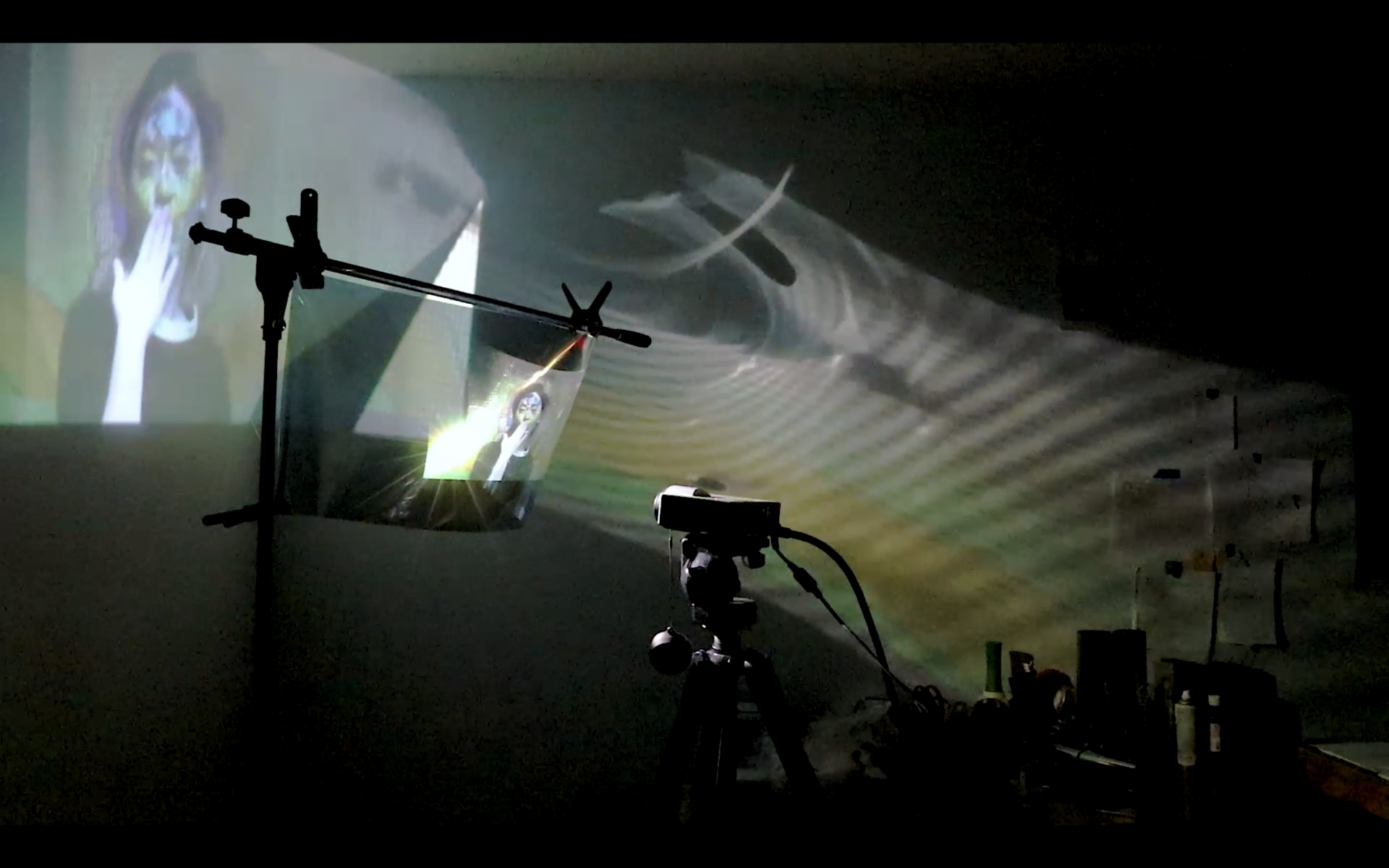 Installation Test in May 2020
Image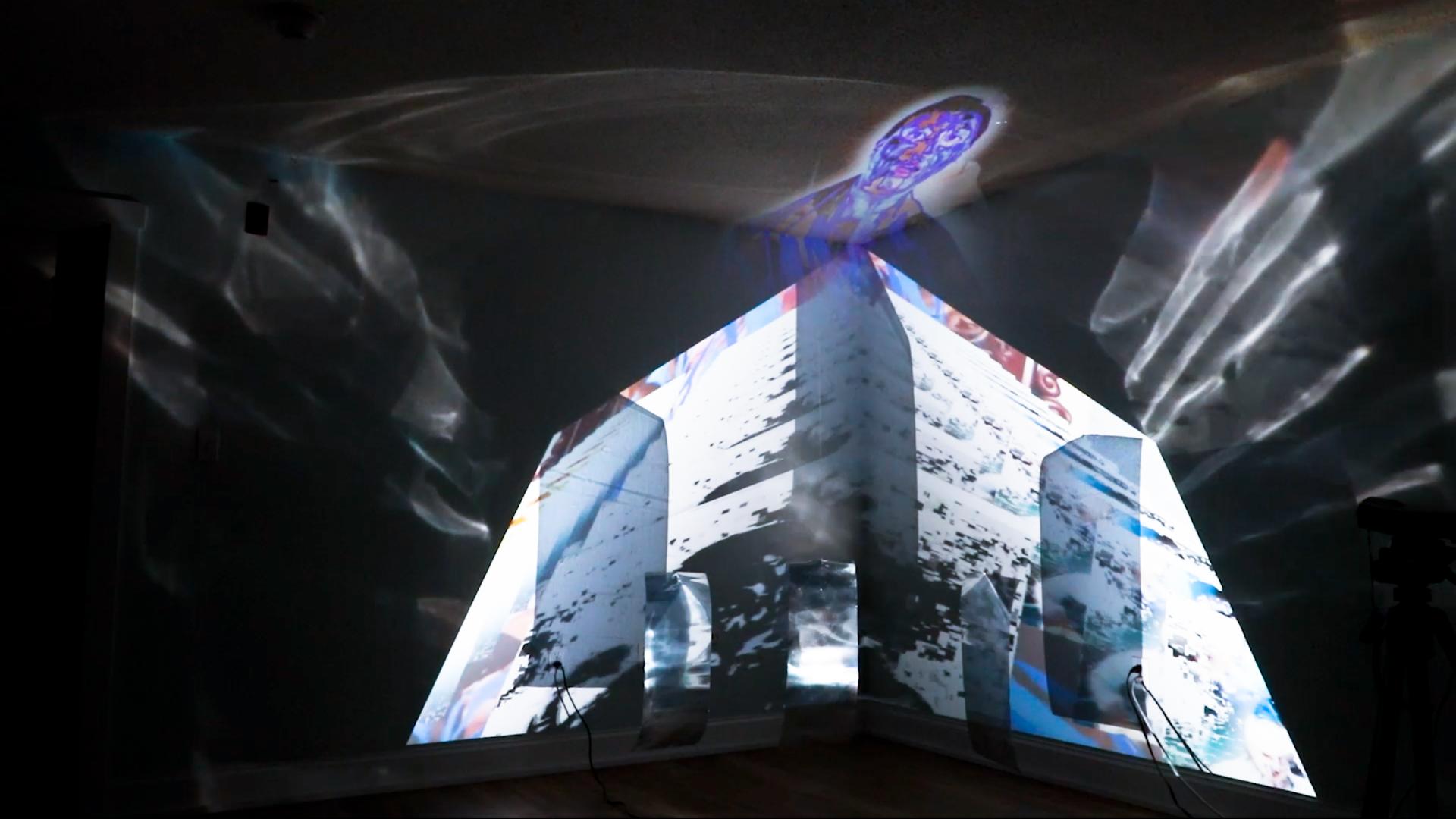 MiMi Named, Saved, Copied and Pasted
Image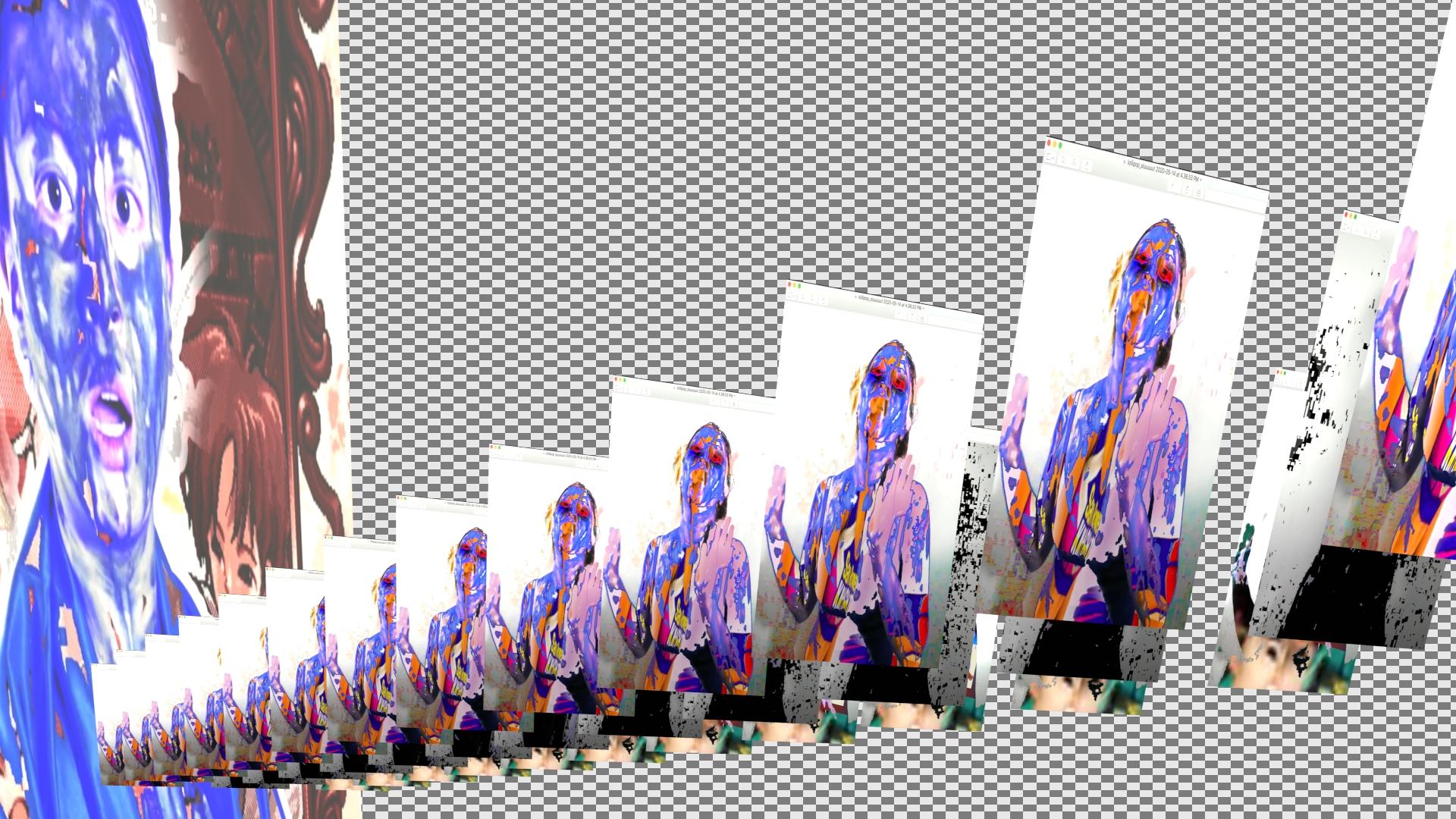 Uncanny imageries and hysterical laughter is the primary toolkit for my artistic practices that can guide viewers towards inquiries on what they perceive eerie or funny. Most of the time, intertwined with each other, these two elements of my works challenge viewers to be fascinated or disrupted by my uncanny looking and/or hysterically laughing personae. I aim to draw questions on what humanity is to confront in digital ephemera, through exploring the ridiculousness and hypocrisy found in the web. 
Image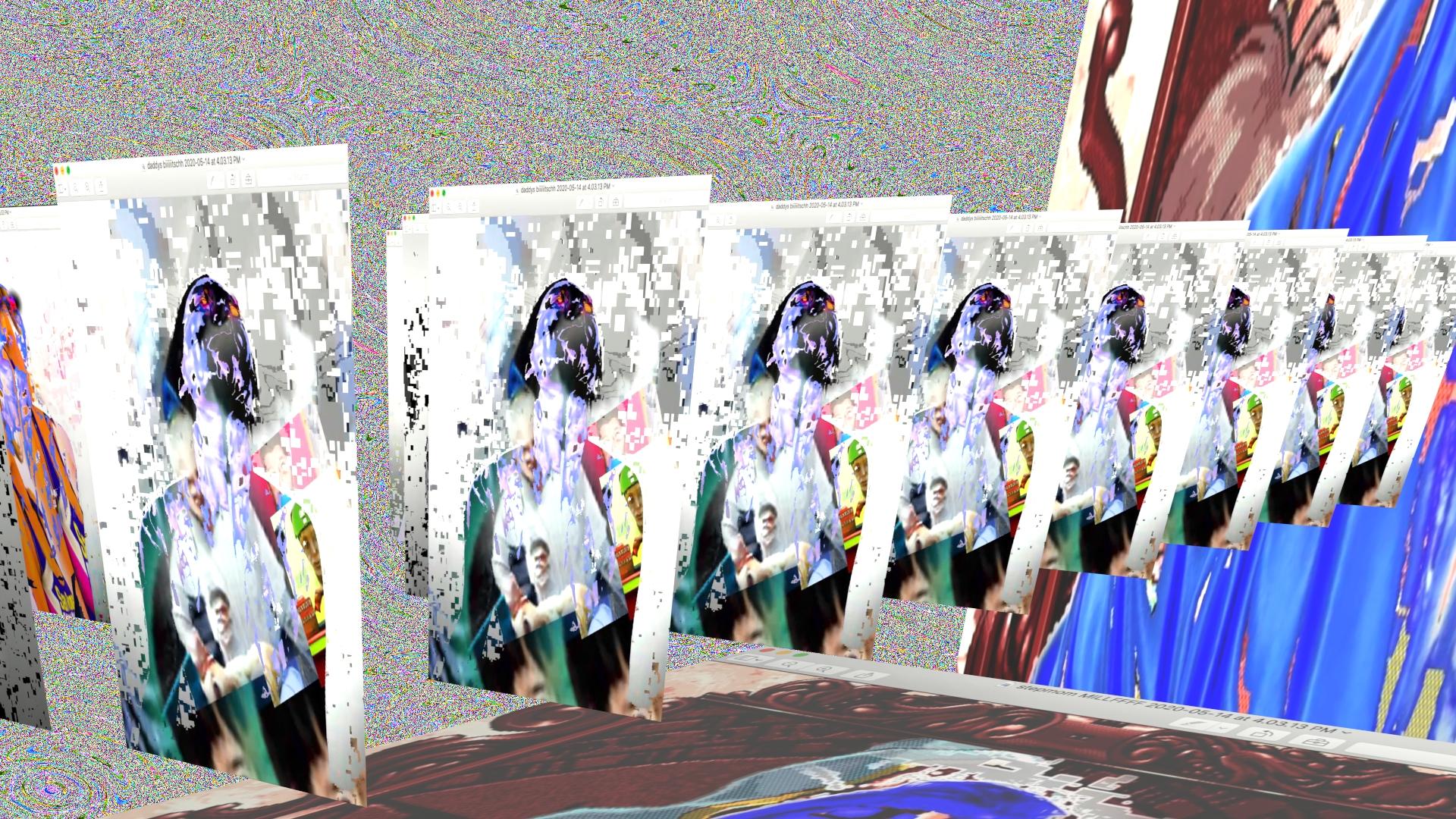 "...She's an absolute outcome of online sexual objectification. She's a Manic Pixie Dream Girl for all of male online users. She's shy but she's bold; she's cute as our little sister but she's sexy as our babe in our secret folder on the desktop. (…) she's ready to sacrifice herself to our well-being. She's a fantasy. She's our dream girl..."
Web Trauma and Haunting Images (2020)
Princess Maker 3: Fairy Tales Come True by Gainax production
Image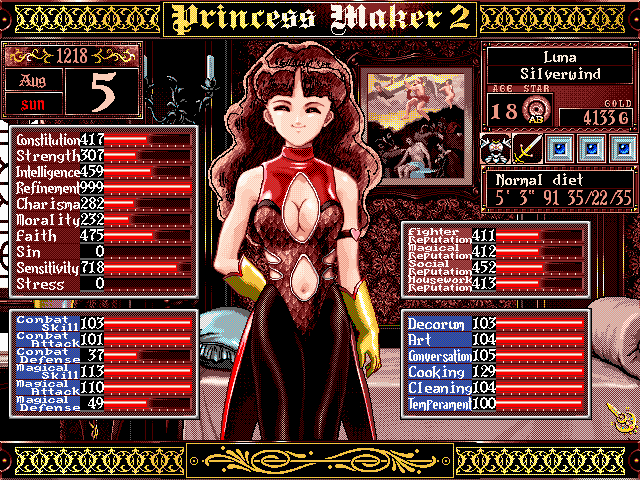 With my personae and uncanny imageries infused with dark humor, I have been exploring the notion of the screen as a portal. Through the camera view, I transform every surface and object in a space into screens for an alternative visual experience. A successfully controlled chaotic imagery projected within a space generates an overwhelming atmosphere. The goal of my thesis is to construct an immersive space, with the object-screens and the light-screens I have been developing as the portals for the invisible – veiled – imageries of objectification and dehumanization around us. I'm building a haunted house, or a set for a horror show, filled with bountiful images of infantilized, objectified, commodified women online, which not only agitate our sensory response, but generate a conversation about the haunting ghosts of misogyny that we easily dismiss.
MiMi with the GAN Boys
Video file
MiMi with Julliet Starling and Widowmaker
Video file
I'm making warning signs – targeted not towards certain gender/social groups but towards all of us, amplifying a fearful voice: "Steer right ahead in order to steer clear." They are warning signs for us who shut down the sense of criticality and inquiry under the pressure of social normality. They are warning signs for us to acknowledge the horrendous reality of dehumanization lurking every corner of the online culture. The gender norms and old customs crush individuals, and this brutality is amplified and vivified within the web environment.
Image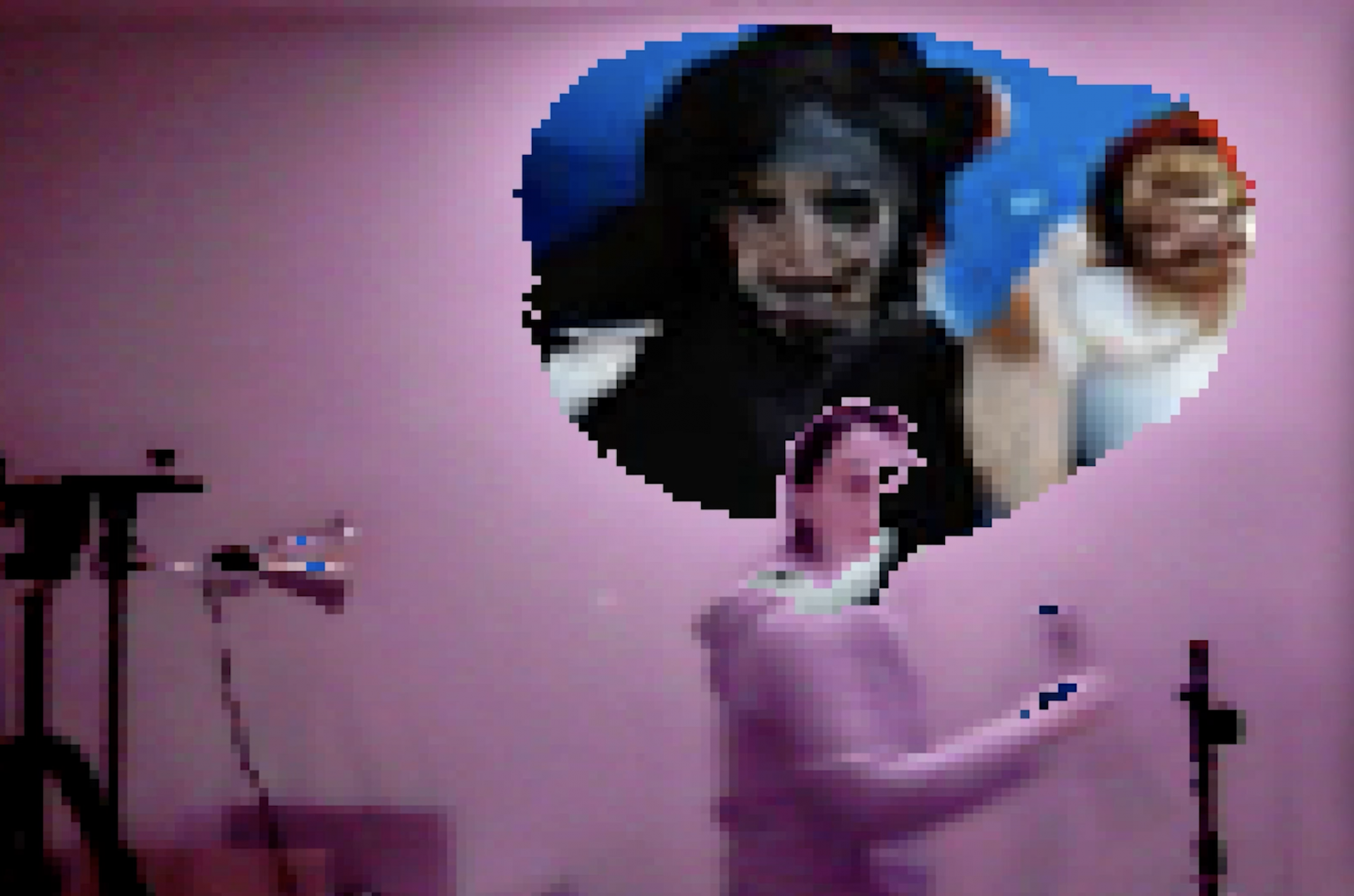 Image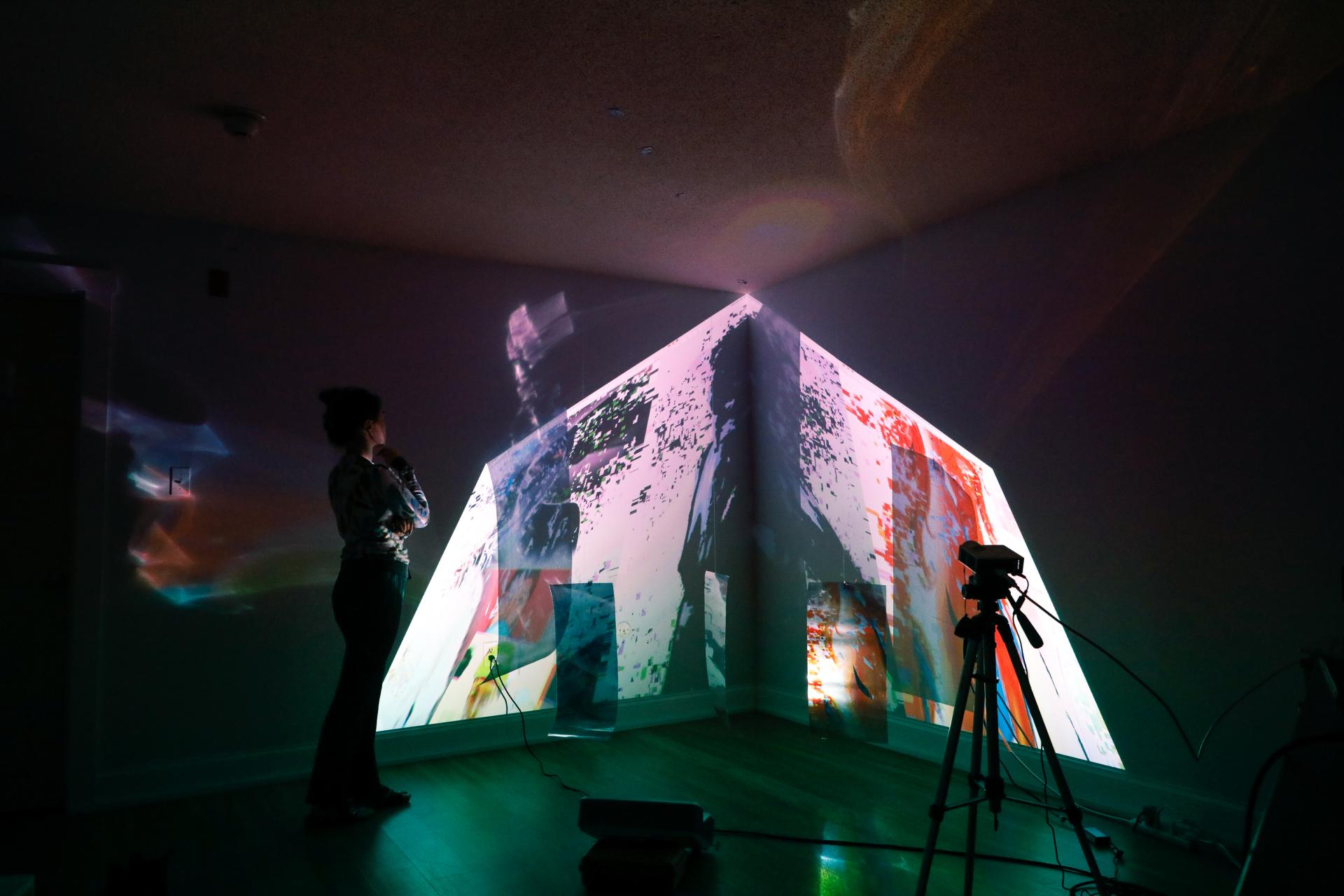 Let us not look away from ugly reality – this is a staredown with both the monsters around us and the monsters in our own perception. A deadly custom is disassembled only when it is challenged right in its belly. My art, as a collection of warning signs, still aims to keep a humorous voice, as I believe in revealing the absurd boundaries of social norms. This life-long fight against horrifying customs must be still bearable for me as a maker, and hopefully for audiences too.
Holy MiMi
Image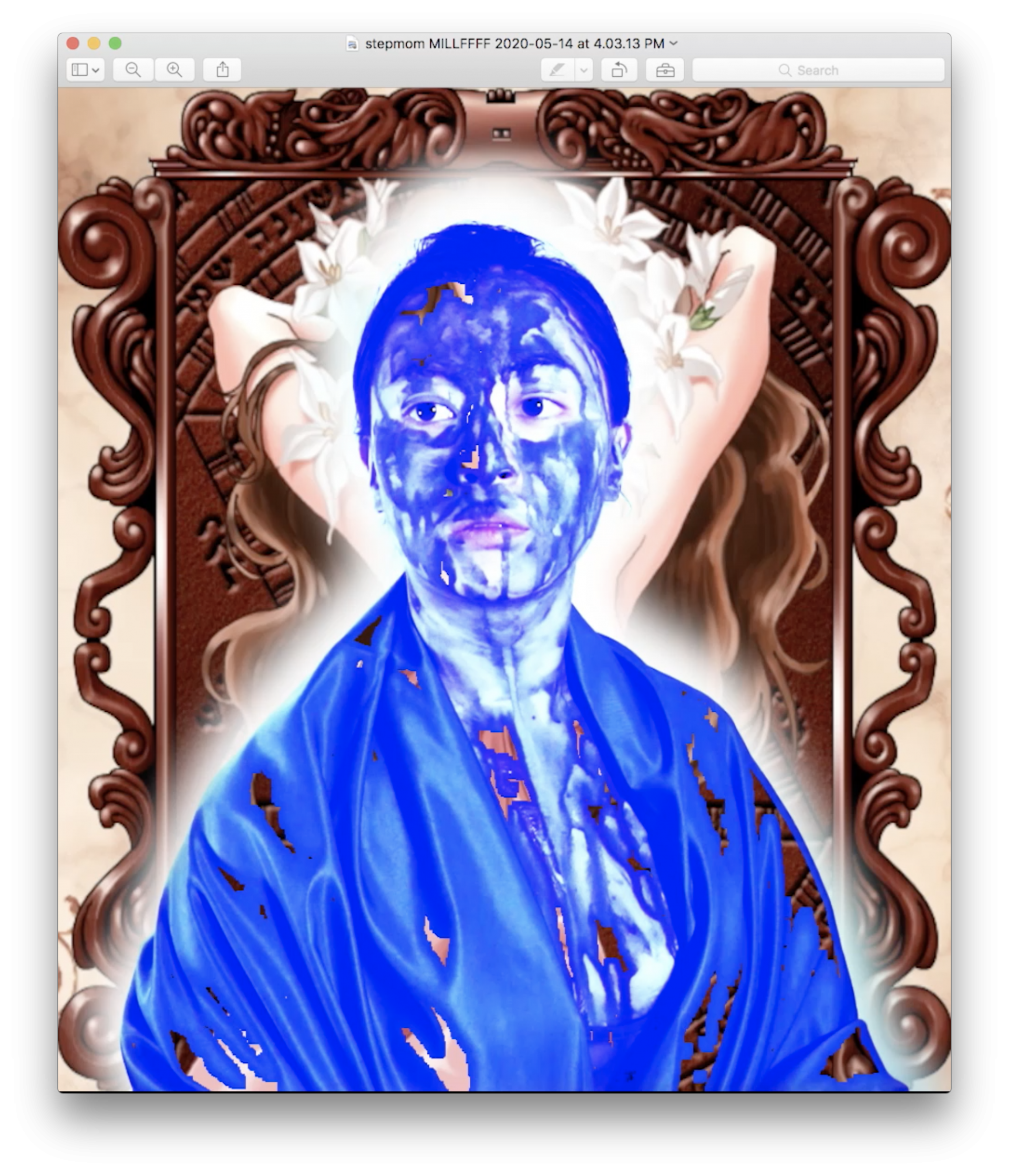 Image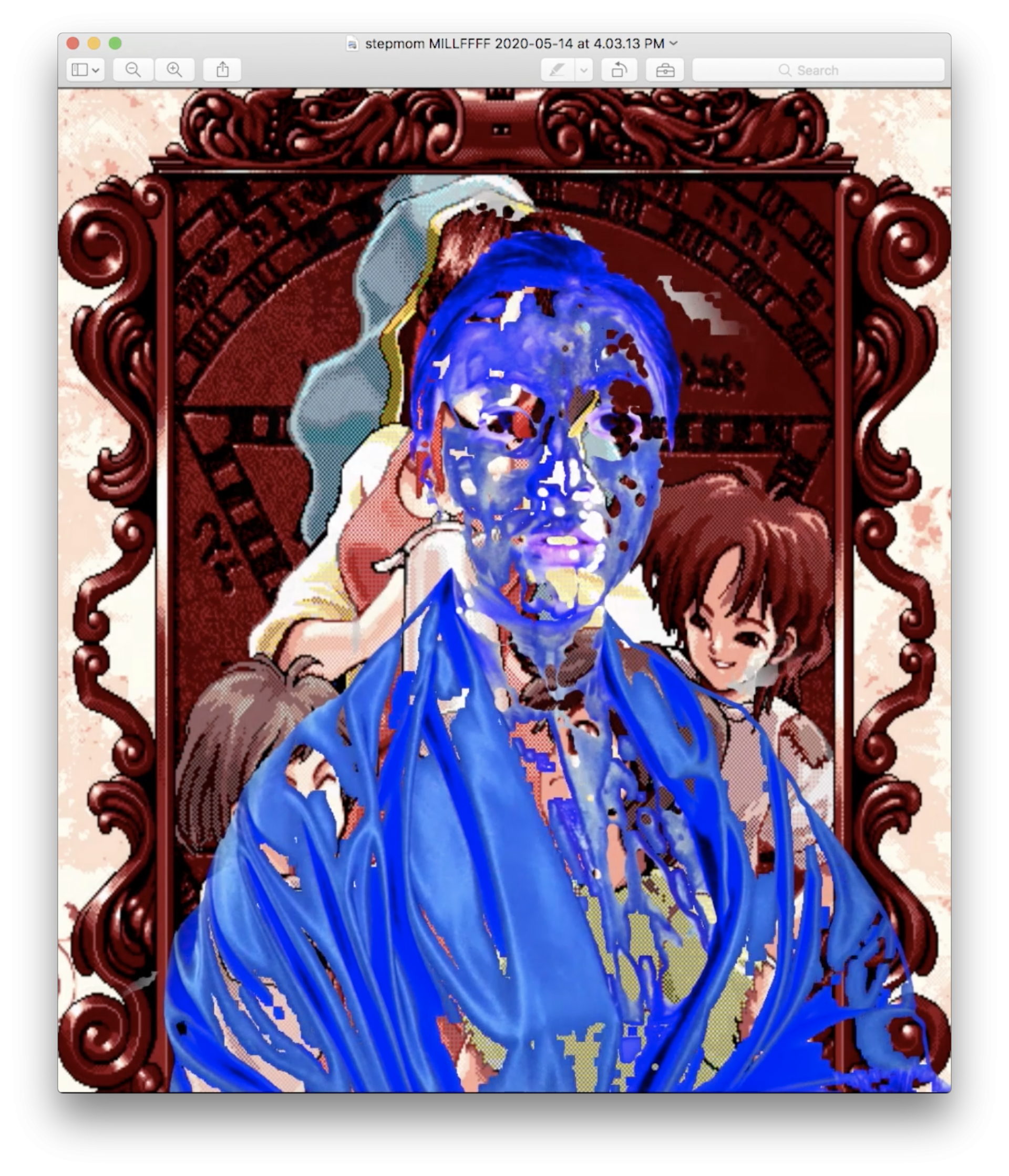 Image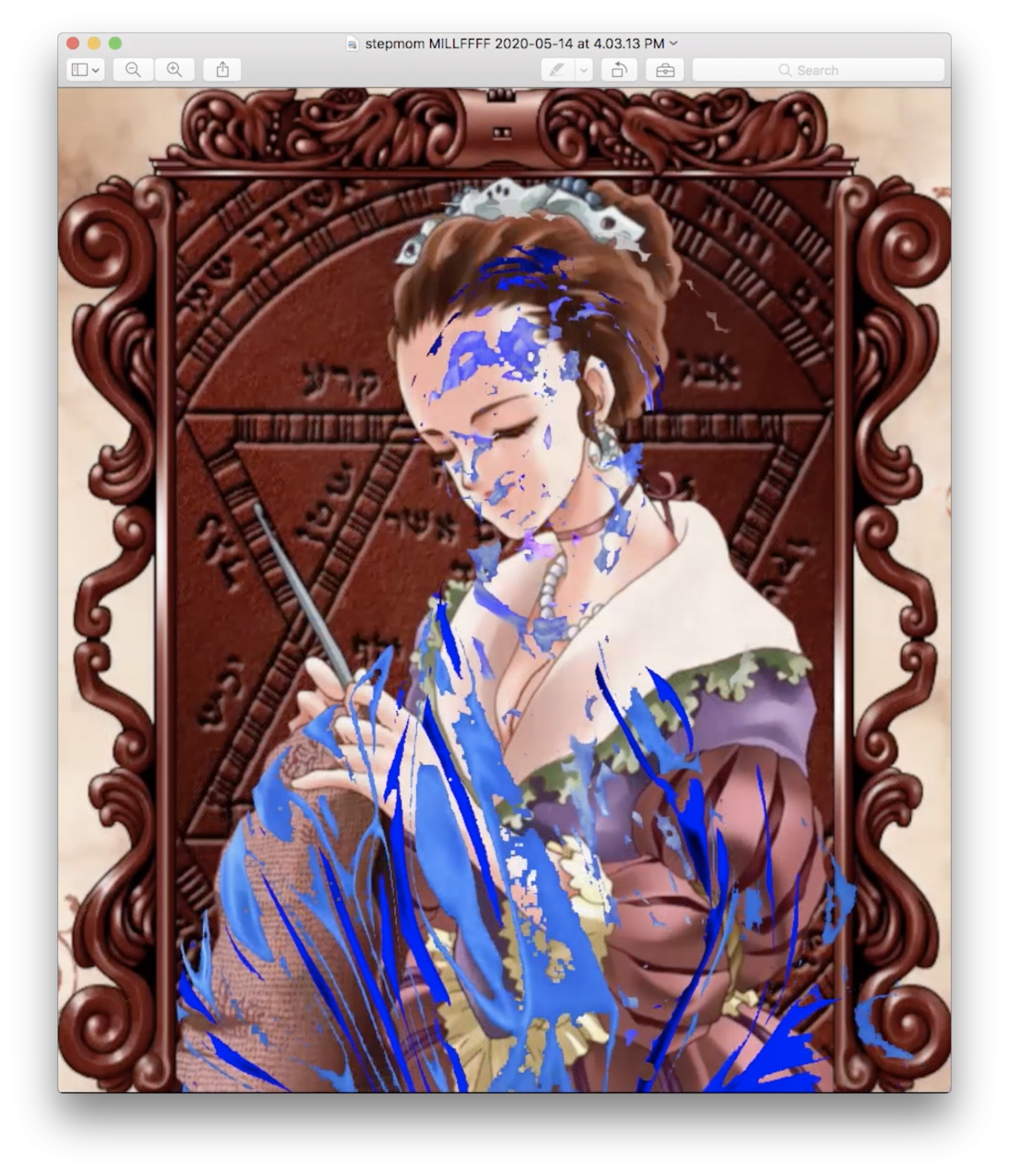 Image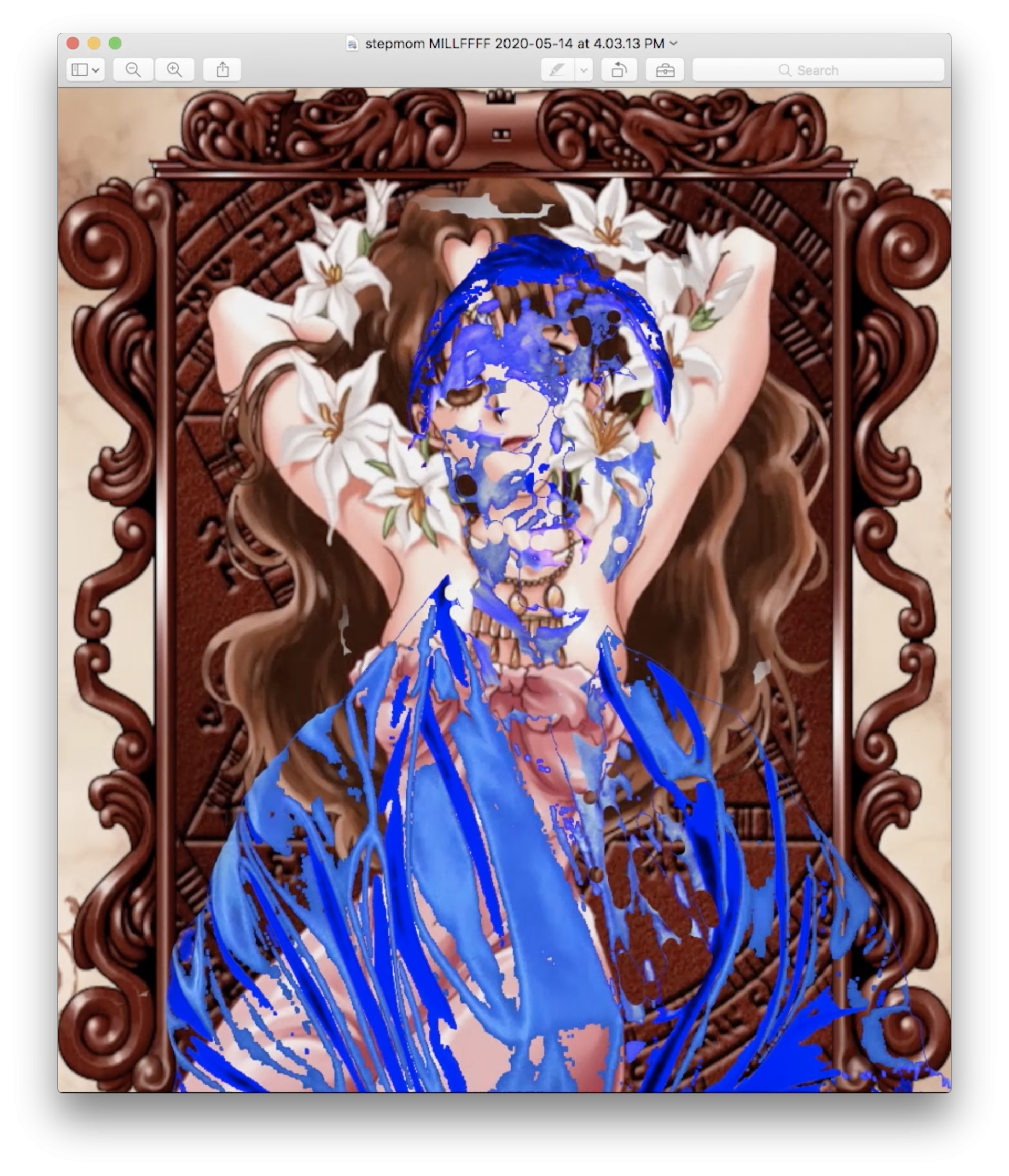 As part of the video performance series, MiMi became holy mother figure. To convey the narrative of generalization and categorization of female identity, MiMi sings the verses of Sade's Pearls while degrading into three images from a game called Princess Maker, a simulation game where the father (player) has to raise an abandoned girl (protagonist) until she reaches the age of 19. 
The background images are three endings I picked from the main categories of many endings of the female character: a mother/caregiver, a wife, and a mistress.(very little options of professional occupations) The main character is going to end up in one of those ending 'careers' depending on its ending stats. Each is titled 'Nursemaid', 'Millionaire's Wife', and 'Royal Concubine'. 
Image