Image

When I sat under the tree the day I watched for the kingfisher, the pond was like a bridge, linking me to the bird.
Through the air, through the water, a blue flash broke into my vision.
I press the shutter, freeze this moment, and take this eternal memory into a piece of jewelry.
 
Image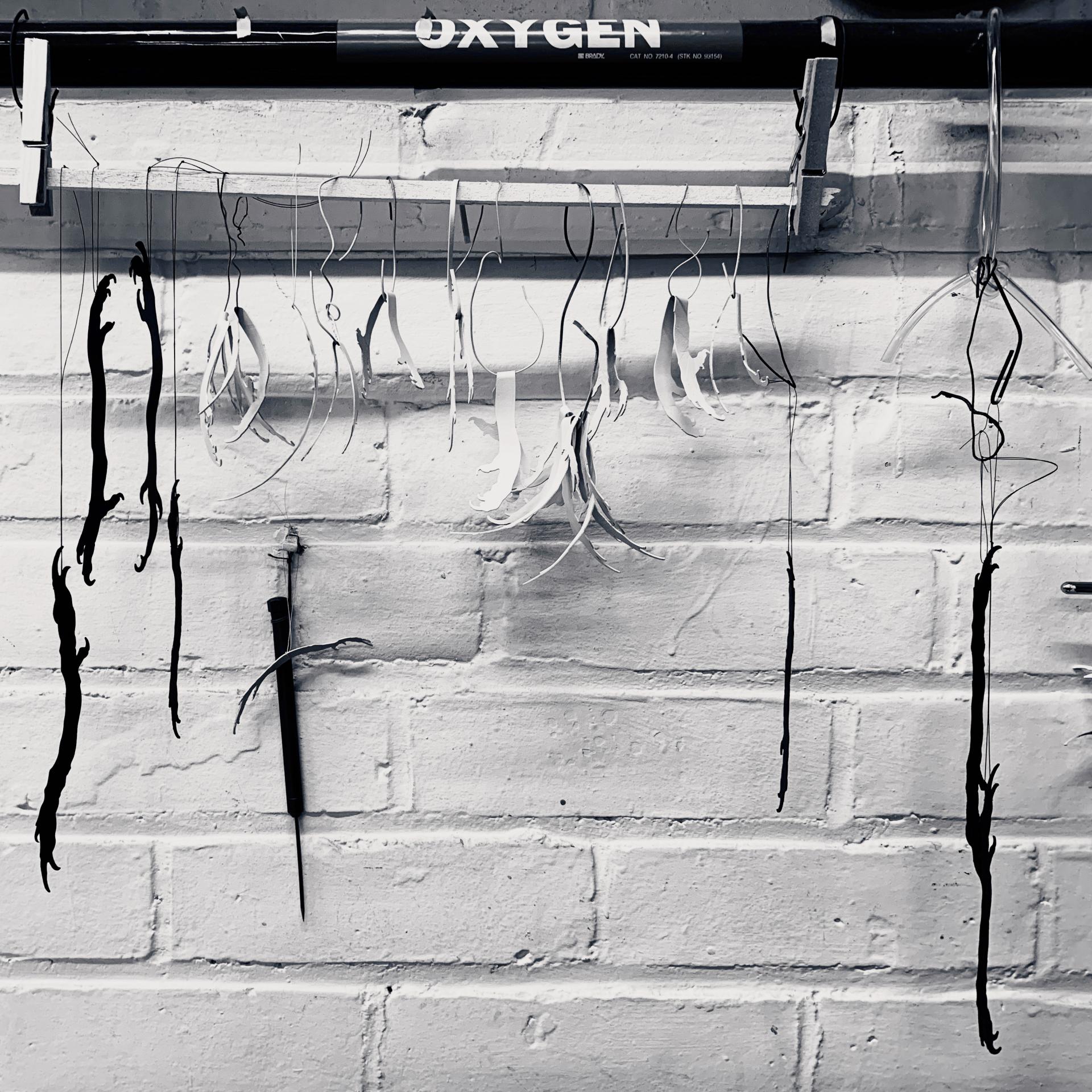 Jewelry has a long history of functioning as wearable objects with memories. A small piece of jewelry on our body can become the bridge between one person and another.
    My work is a memorial for the avifauna. It serves as a place that allows me to find the balance between myself and nature. The ritualized actions from the making process help me mourn for the loss of the kingfishers, who are hunted for the bright blue feathers used in traditional jewelry. Sometimes, people put a photograph in their jewelry to keep the memory of the one they love. I use photographs from one day's experience of bird watching in my thesis work. Fragments of the photos become a glimpse of the kingfisher, record its life, its existence, and become jewelry that links me together with the bird.
Image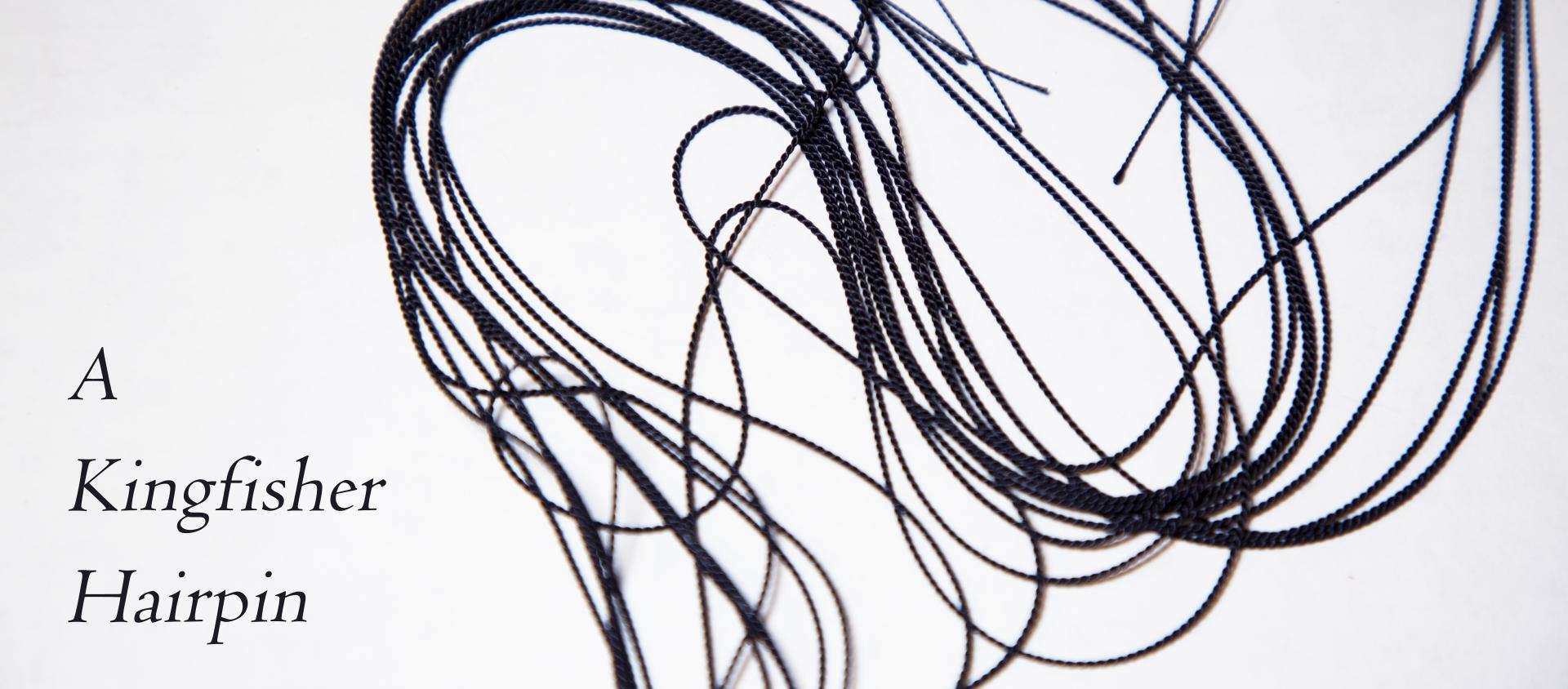 A Kingfisher Hairpin
    2020  
    In this group of pieces, I want to provide the wearer more direct experience with the subject by wearing this jewelry. Their structure is transformed from a hairpin. When a hairpin is worn on the head, the hair and hairpin are physically holding each other.
    Instead of using the hair to wrap the pin, I relocate it on the neck——one of the most important places for the human body, then use this piece to wrap on the neck. Also, the pin no longer goes through the hair, but goes through the bundle of "bird body". By the action of wearing these pieces, we experience the violence by our hands, and finally hold the small bodies in our hands.
Image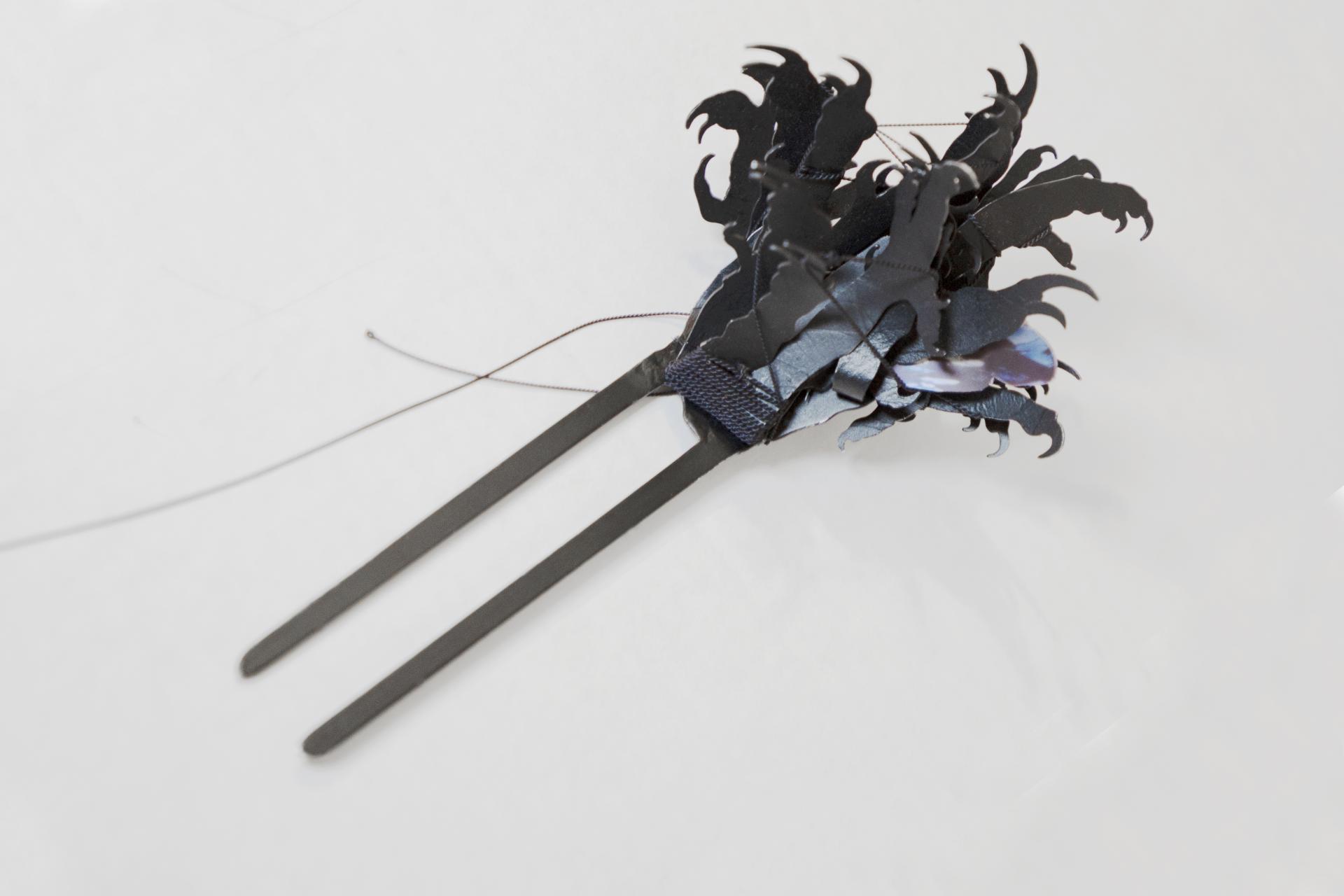 Image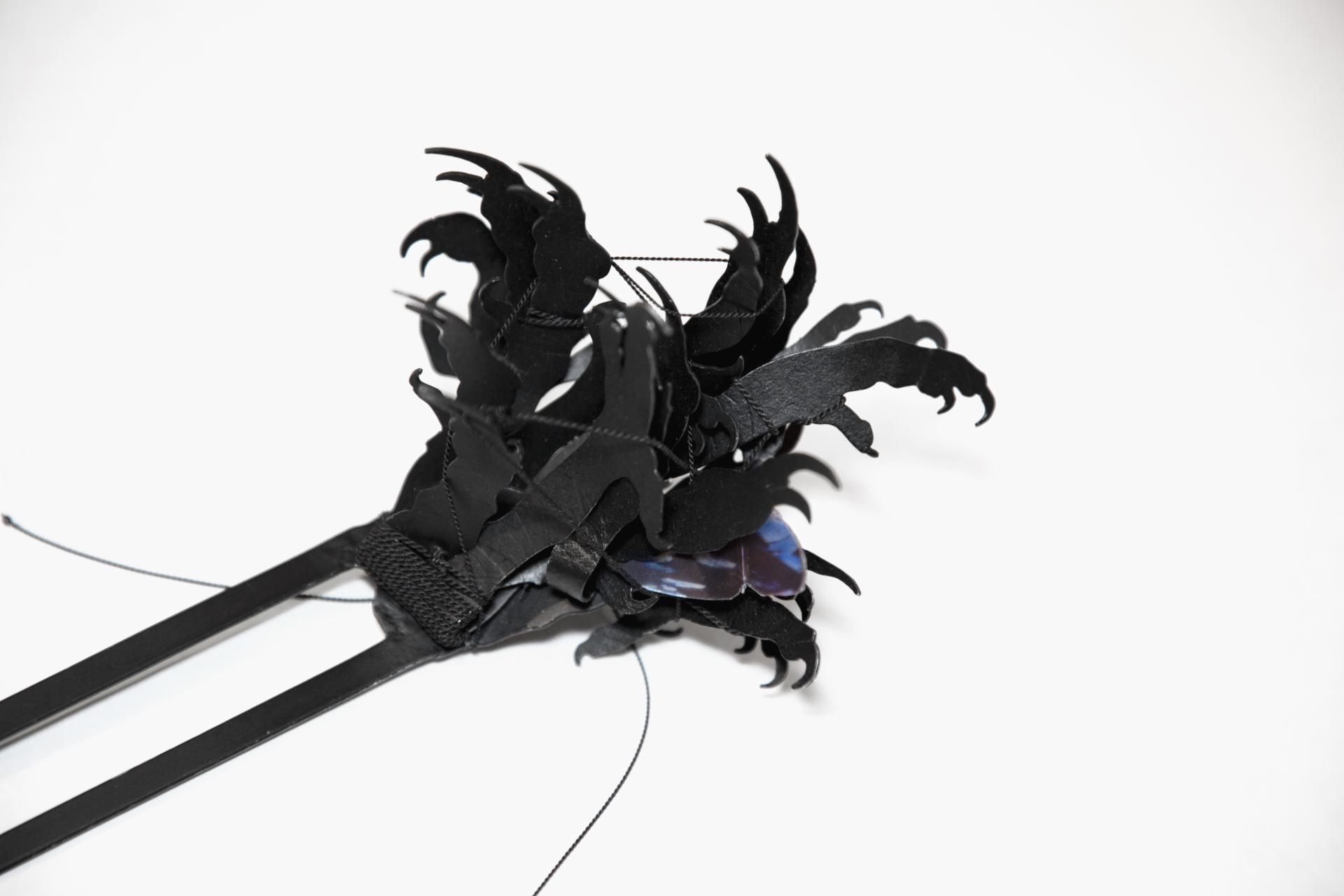 Image
    Tying becomes the primary method to make my jewelry, which I use soft cords to connect small pieces together. In Tian Tsui's making process, those fragments of feathers are attached on the base carefully, little by little. I feel this action attracts me to think more about the emotion of working with animal parts, creation, and killing. Therefore, I decided to add this soft moment into my working process after those violent actions, like cutting and bending.
    I create my kingfisher's body fragments and carefully tie them together. I put the sadness of loss and mourning into this long term, and repeated process. The corpse fragments set in the bundle, I make them become wreaths and bouquets.
Image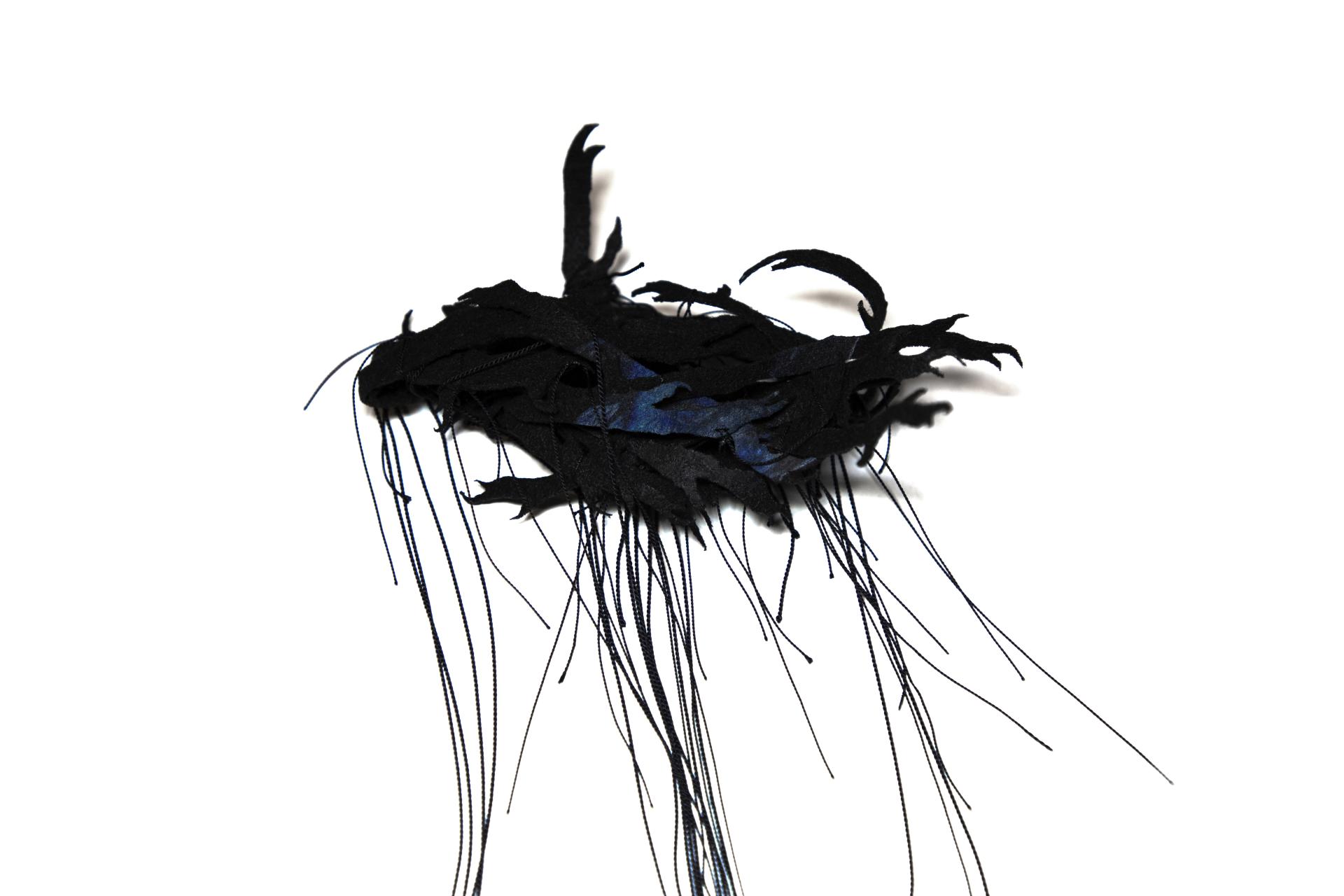 Image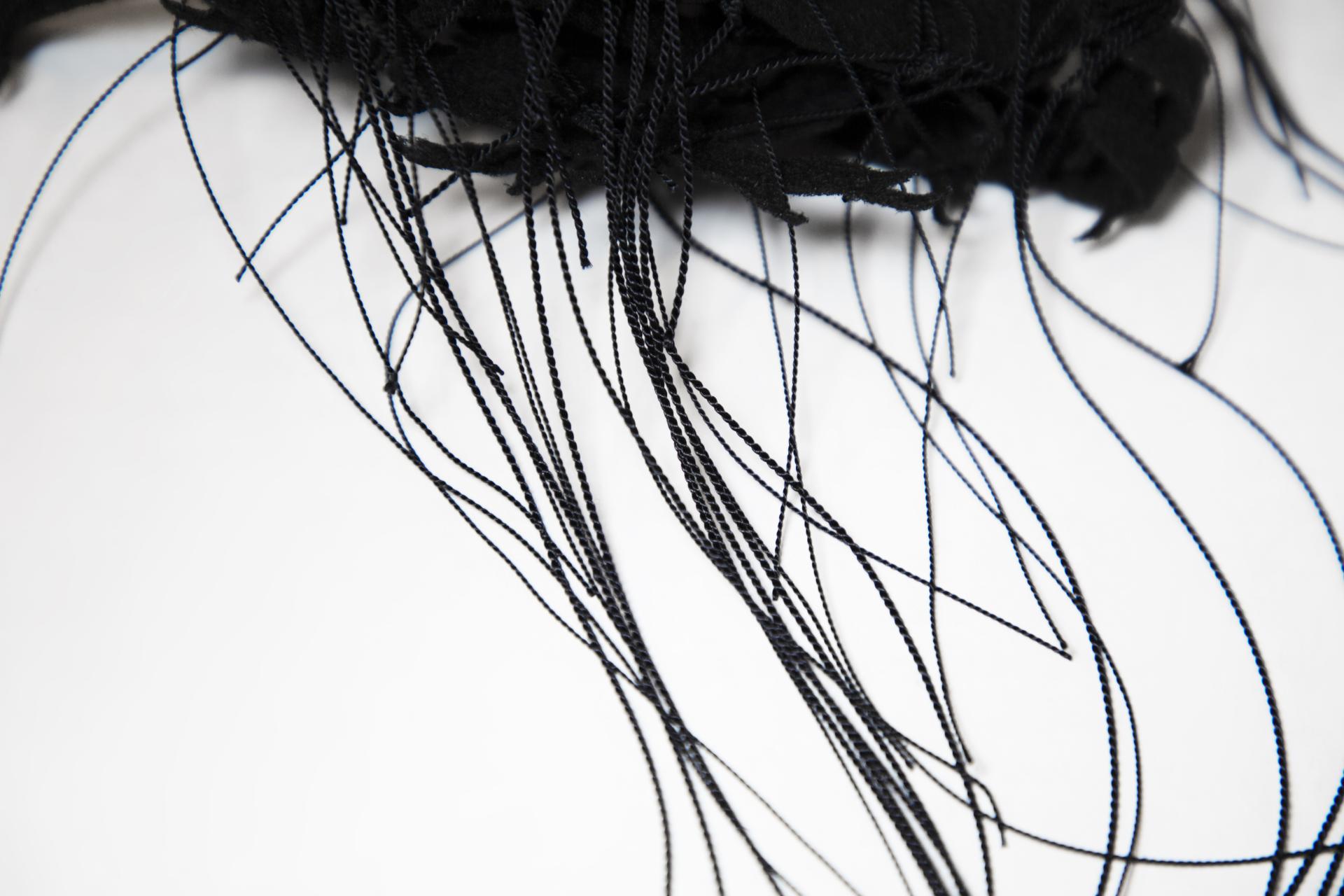 Image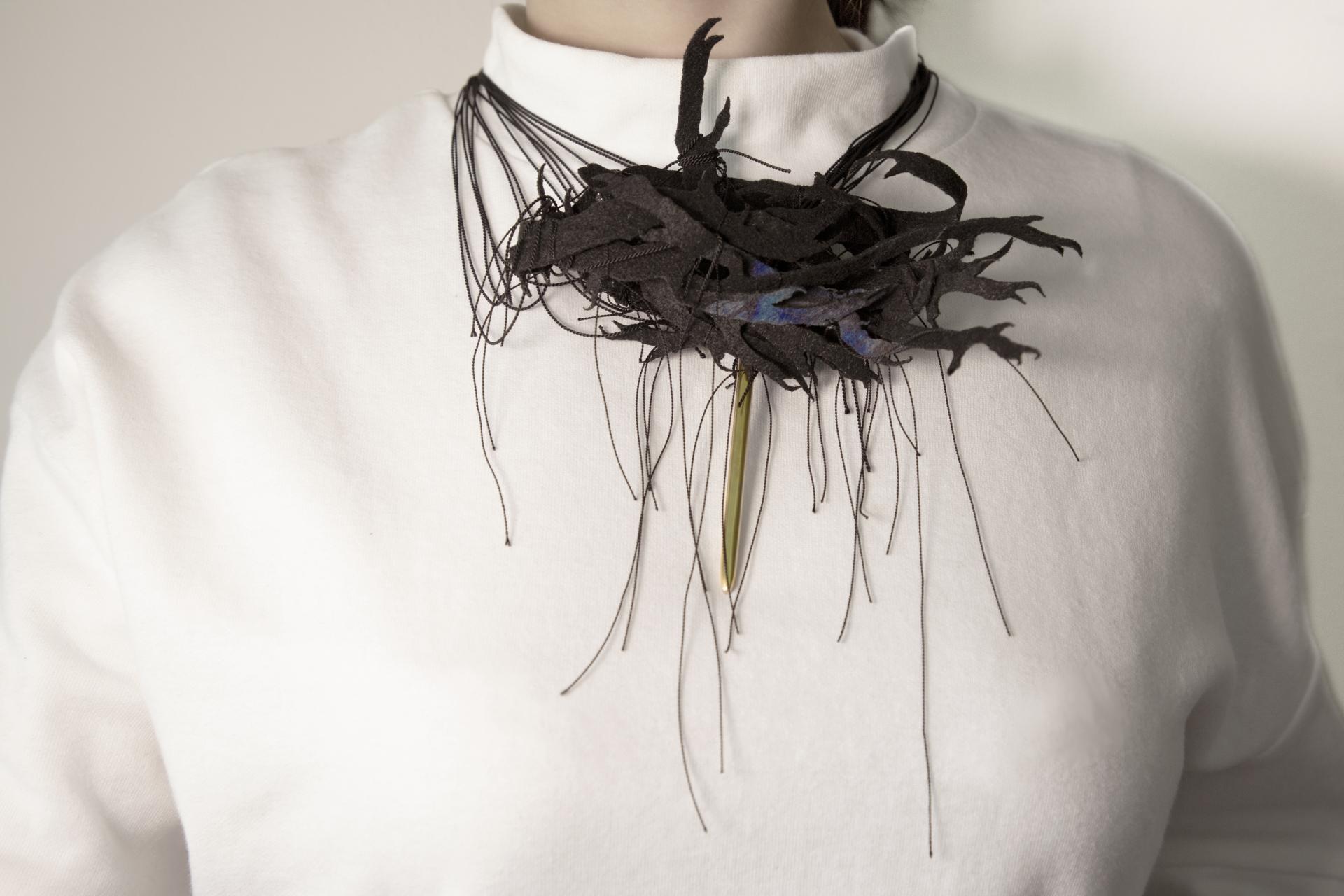 Image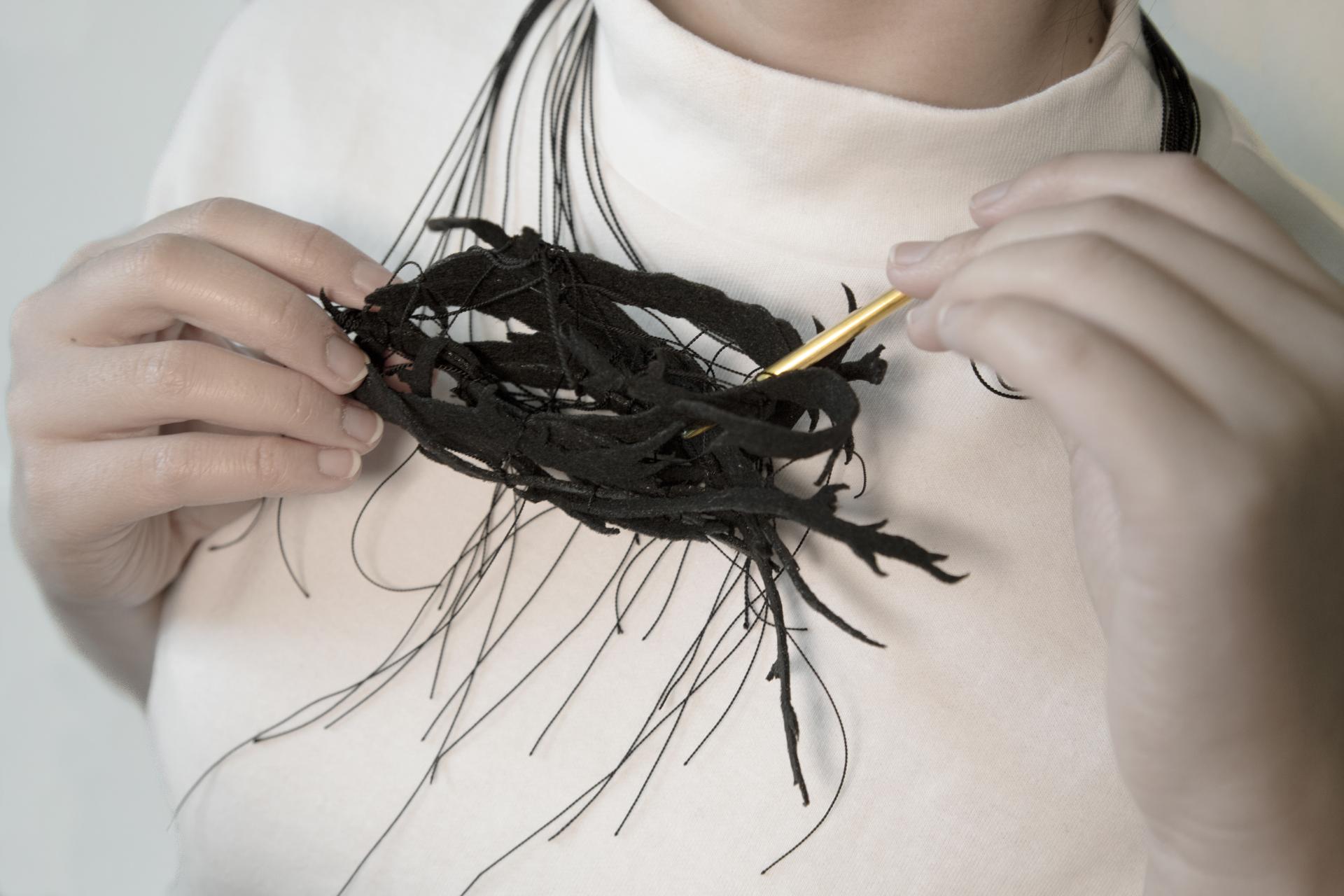 Image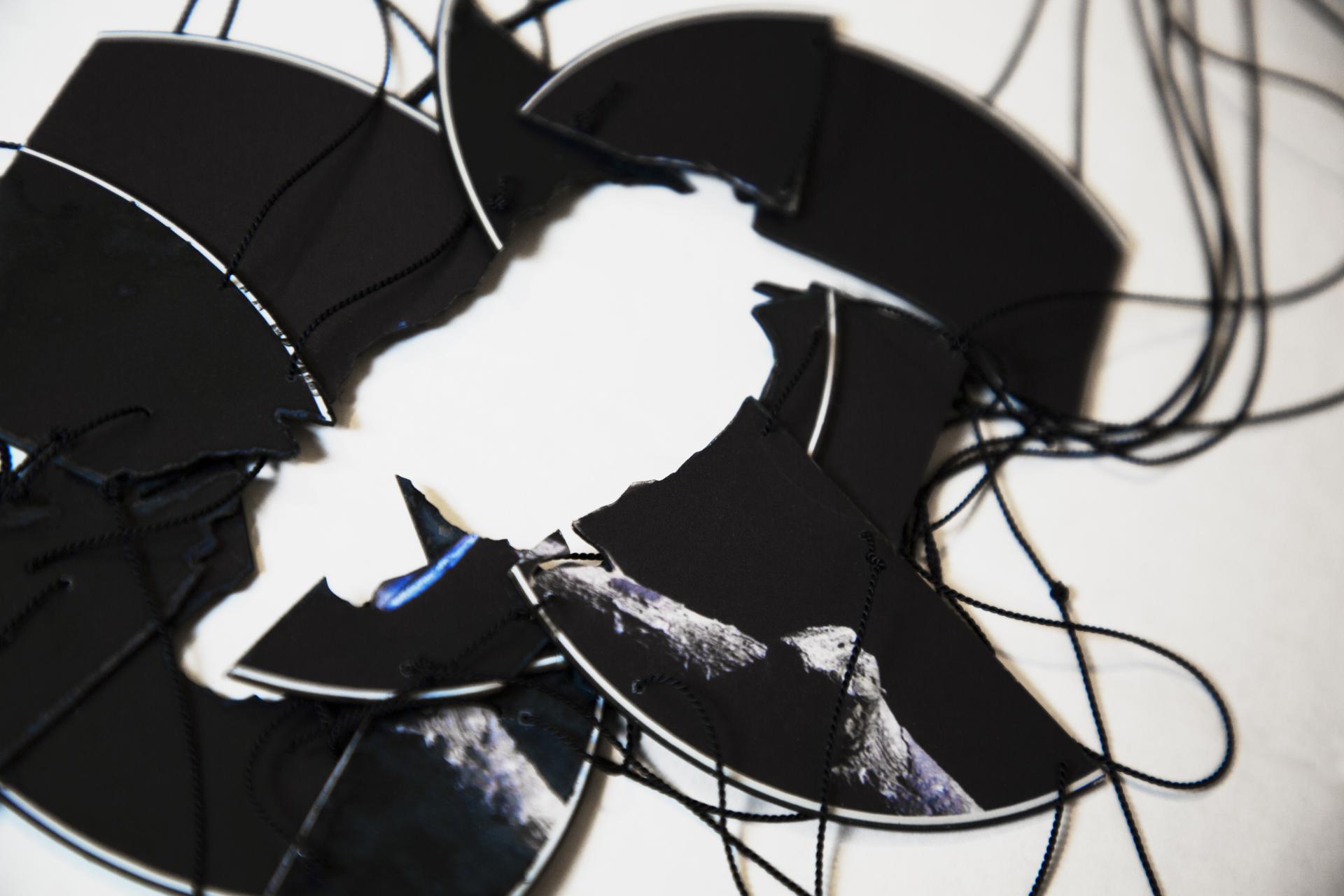 Image
    My work originates from some images. After I came to a new place, I started to feel the slight sentiments that I had not realized before. During my work process, I traced back to the same day, the same bird, the same group of images again and again. I feel like emotionally I become closer and closer to that common kingfisher, while some memories gradually become blurred. Even when some of my works do not use it obviously, all my works from this series took something from that day's photographs.
    I am making a link—a link about sensory experience between that creature and me, and here the lines become more and more, longer and longer. With this connection, what I am making is not only my wishes to another species, but also a souvenir for an old friend that I know. 
Image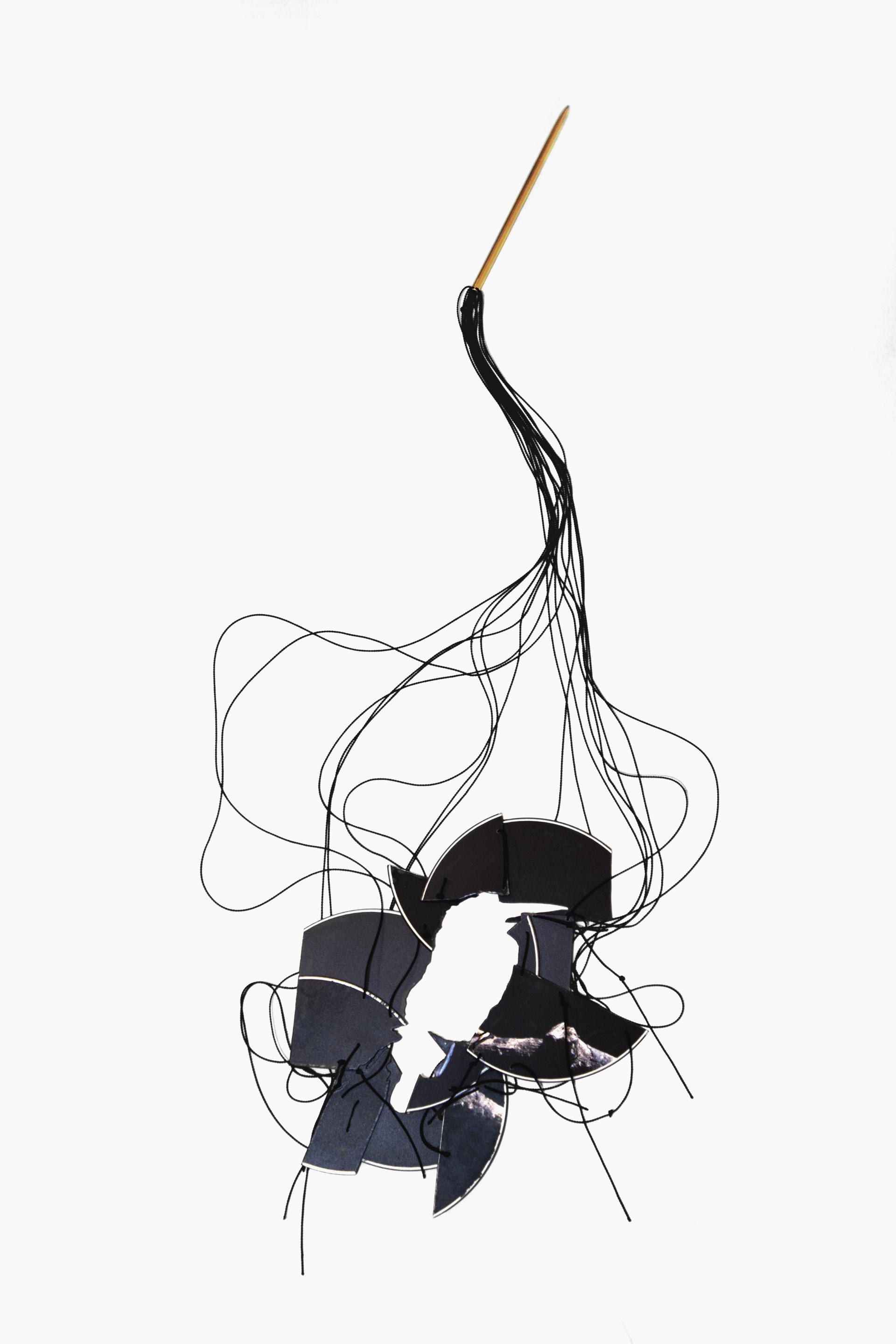 Image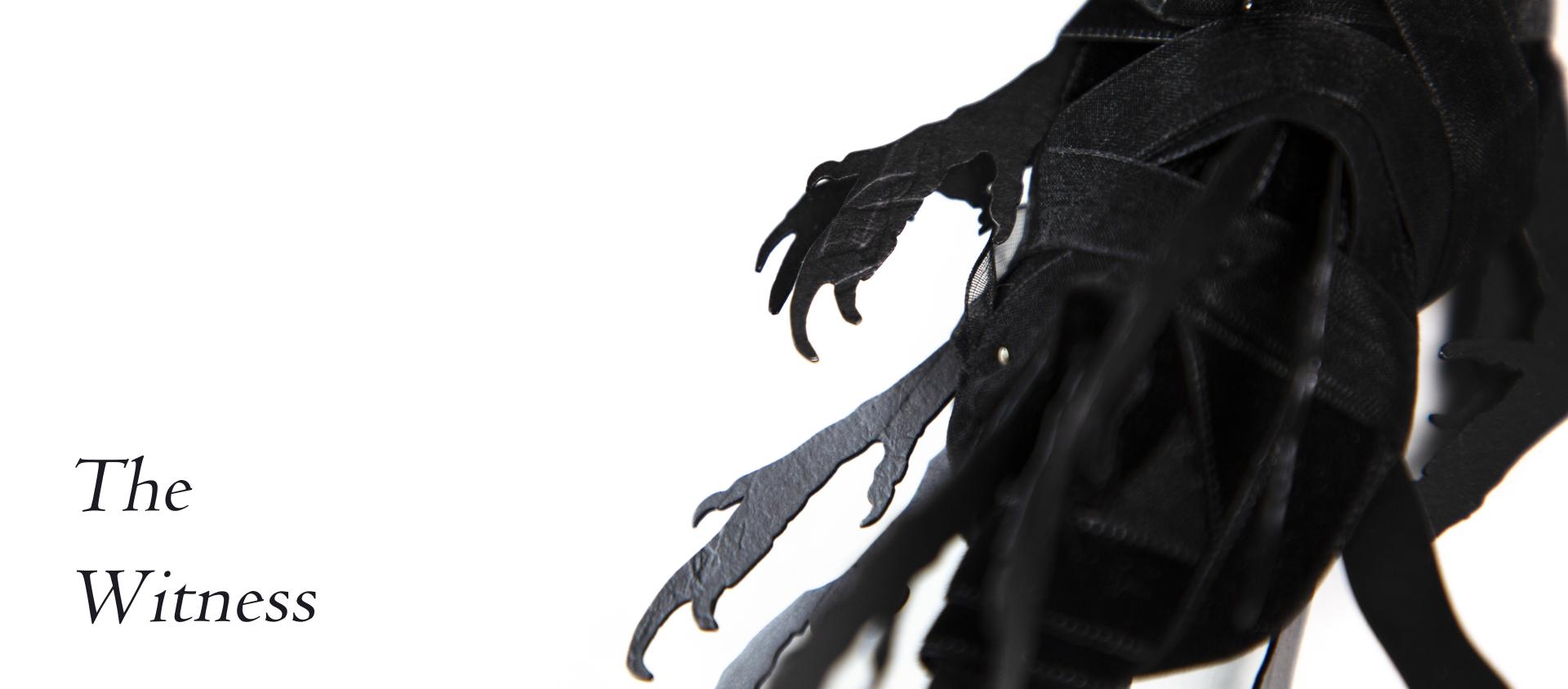 Image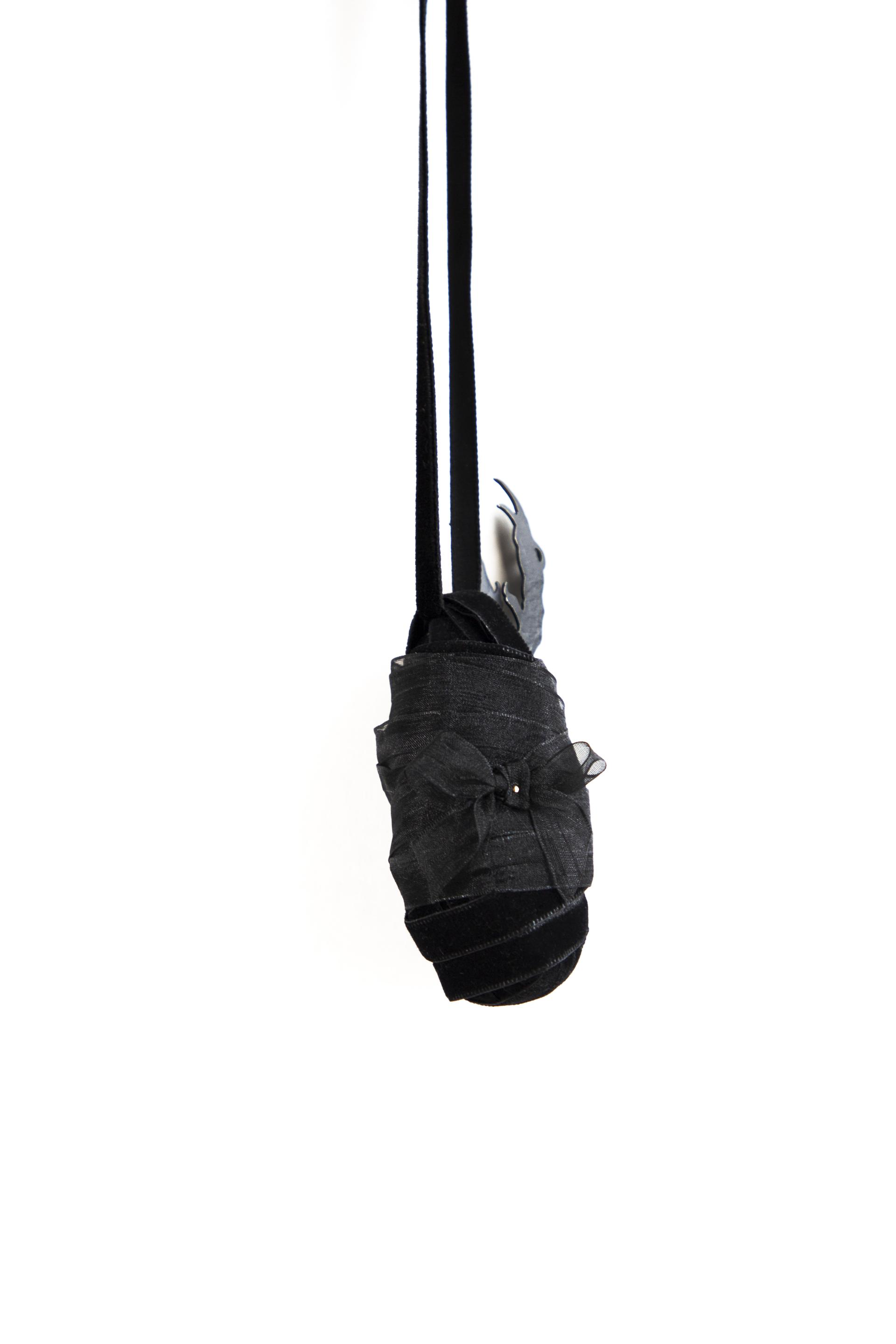 The Witness
    2019
     It is our nature to seek something precious and beautiful, but when there are lives lost, should we show our respect for them? Humans take beautiful parts of birds, and the remaining parts will be considered to have no value. In my opinion, all lives should be respected, there is no part of the whole that is not valuable. So, in my second series, I chose to use birds' feet as my reference material. 
Image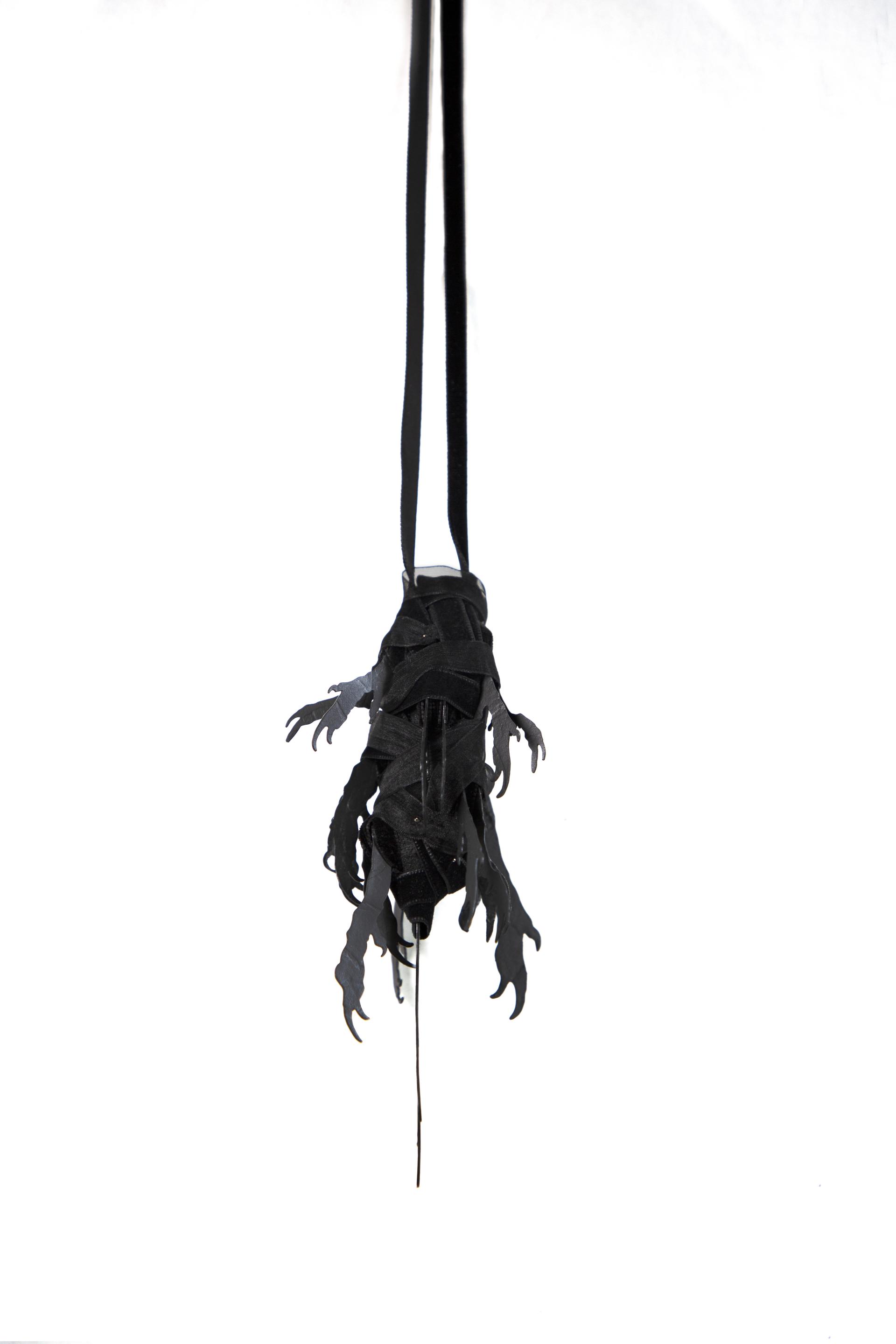 Image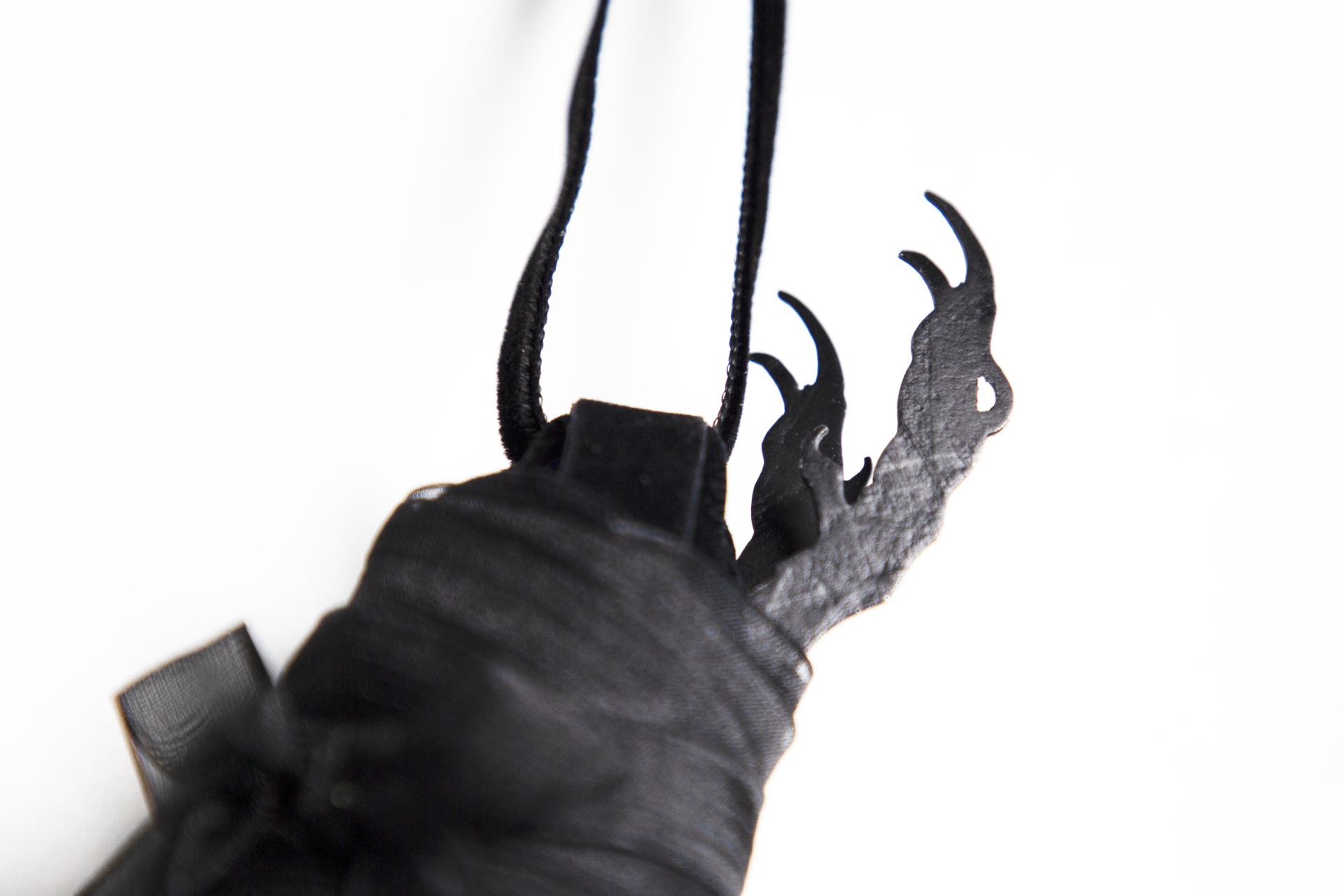 Image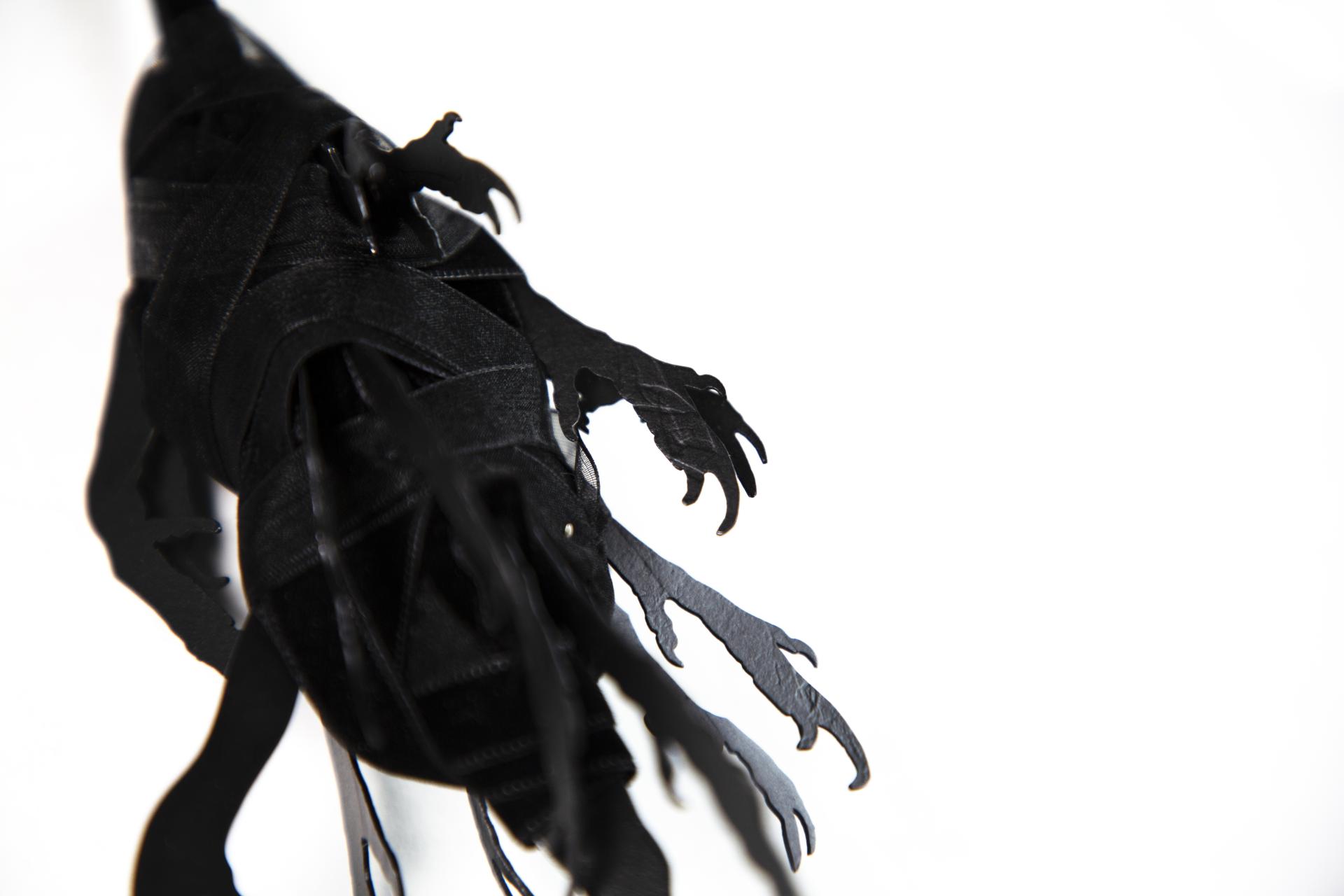 Image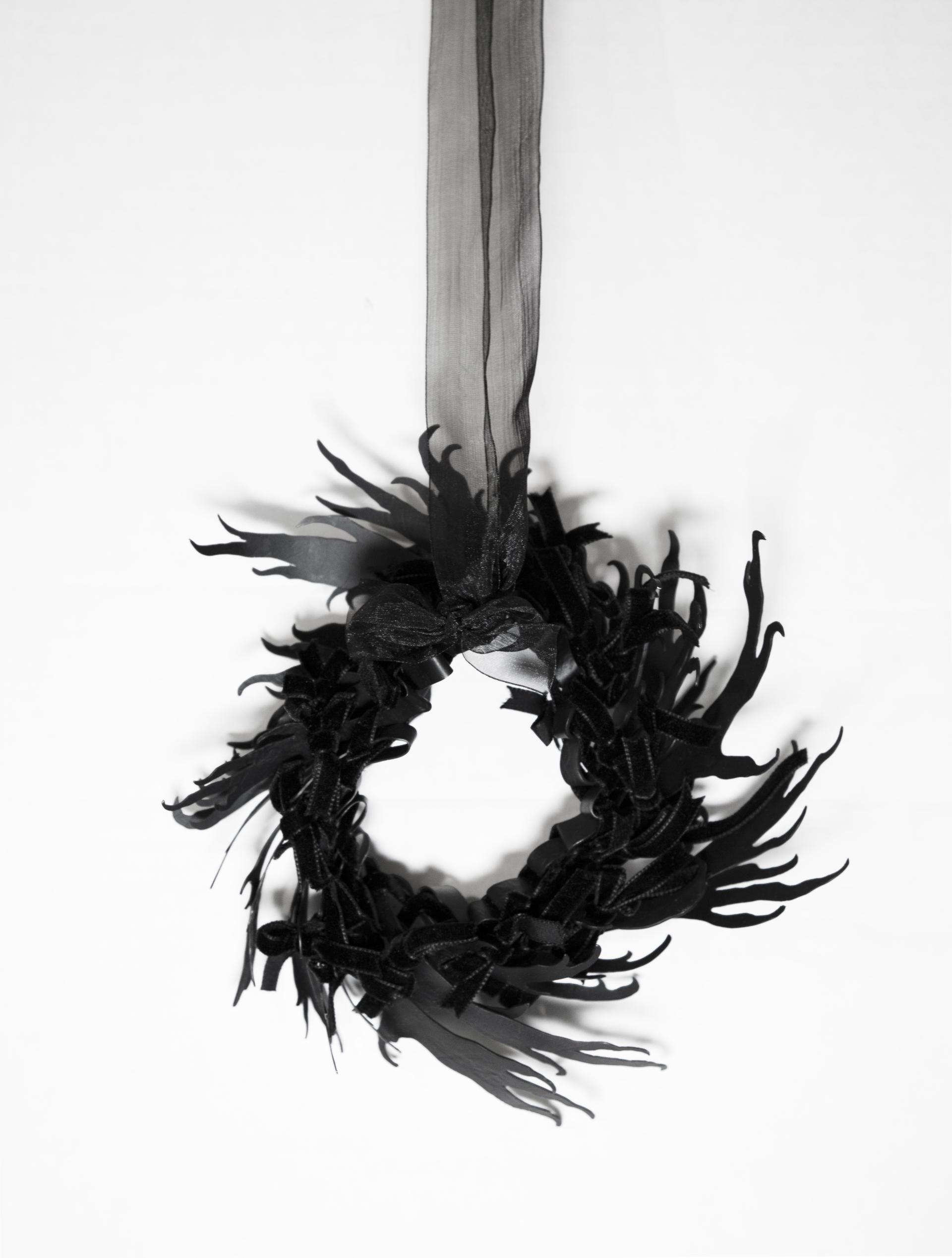 Image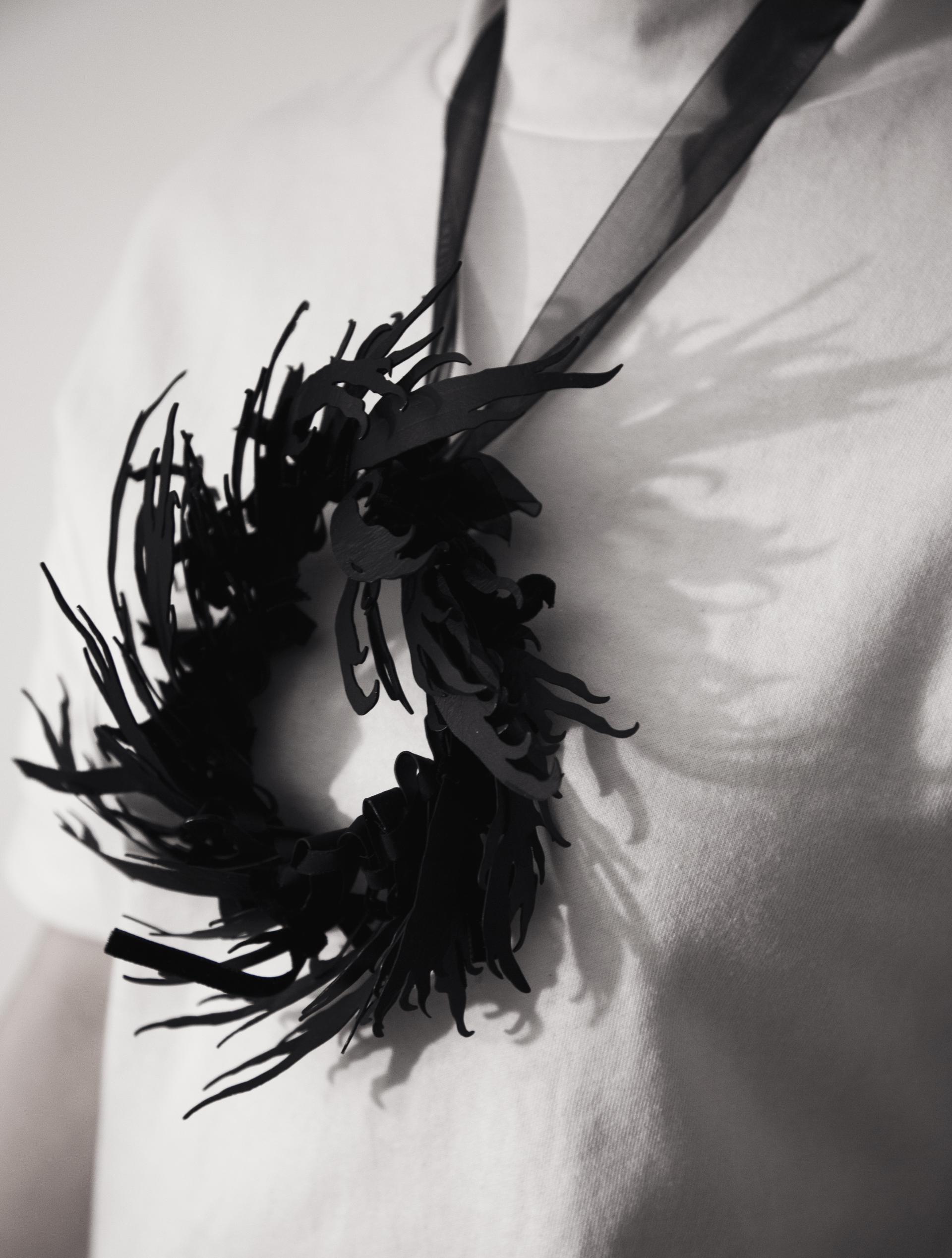 Image
Image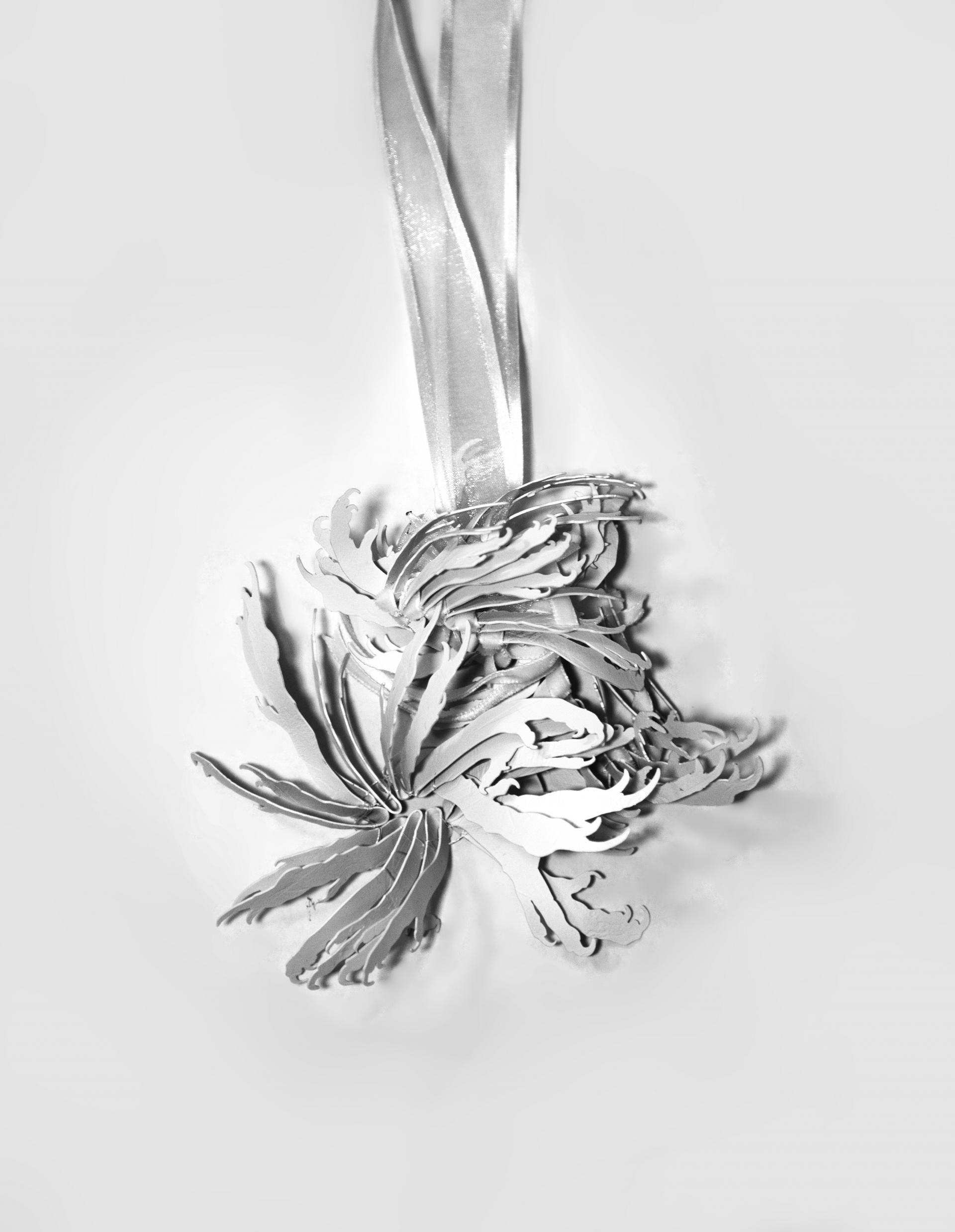 Image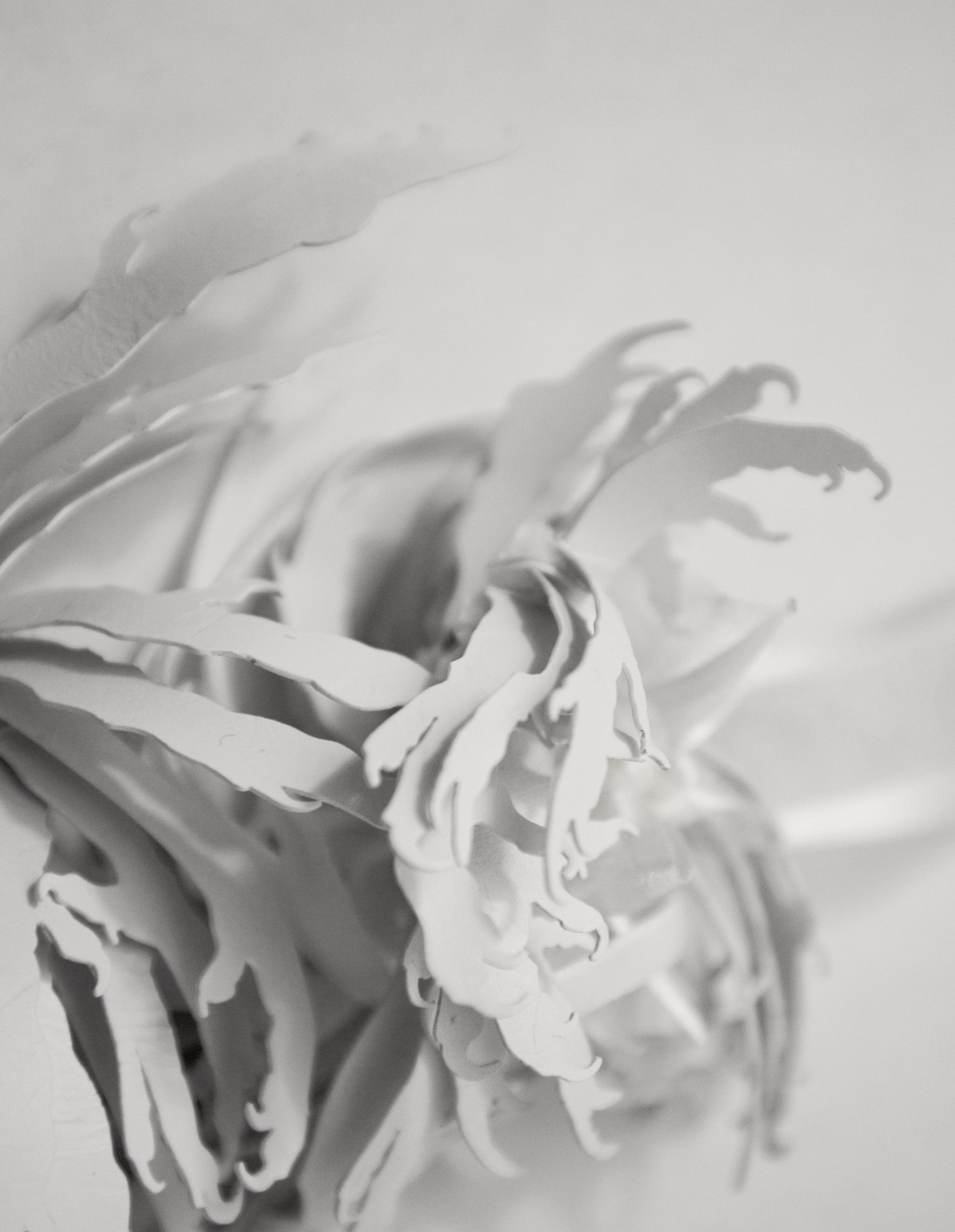 Image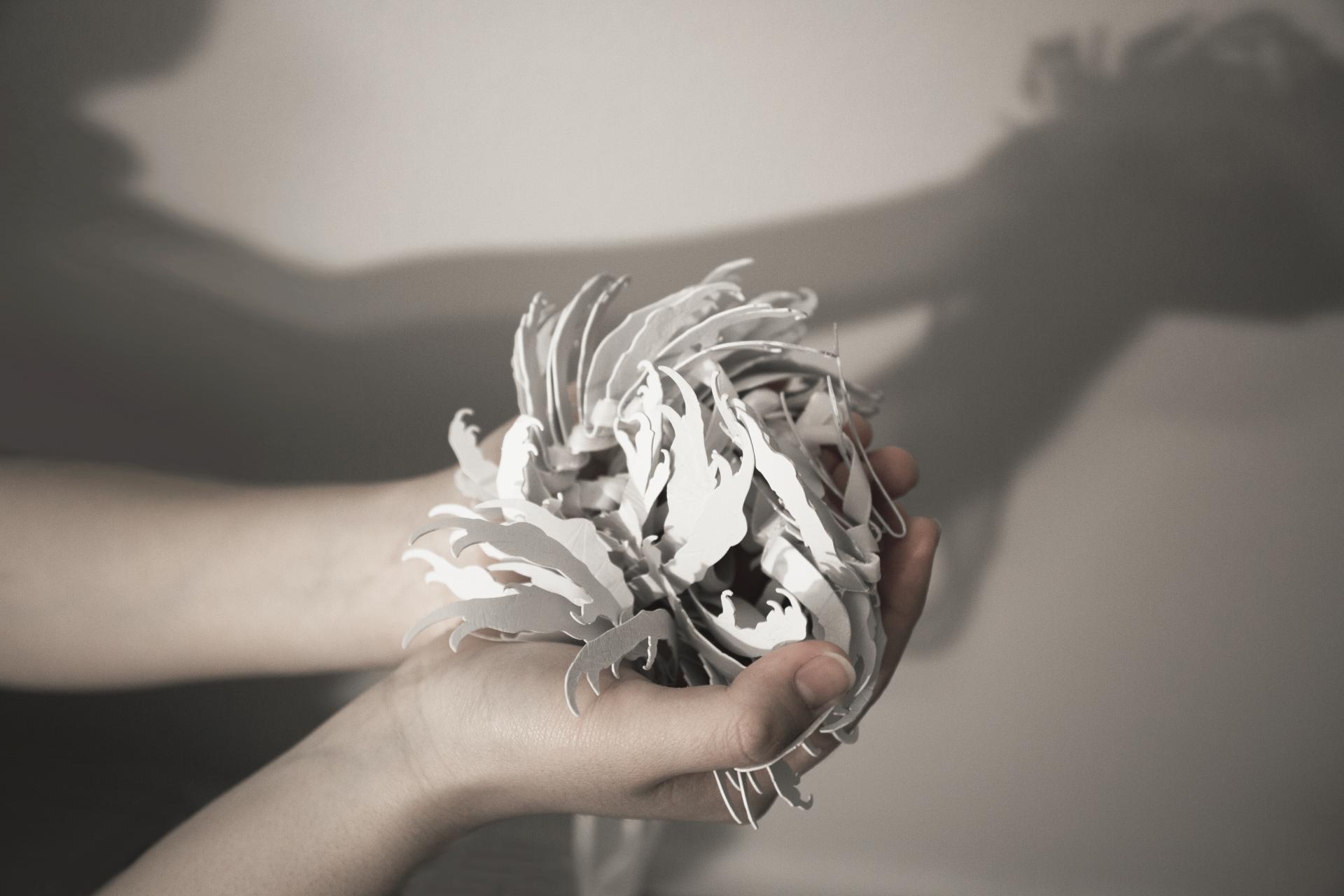 Image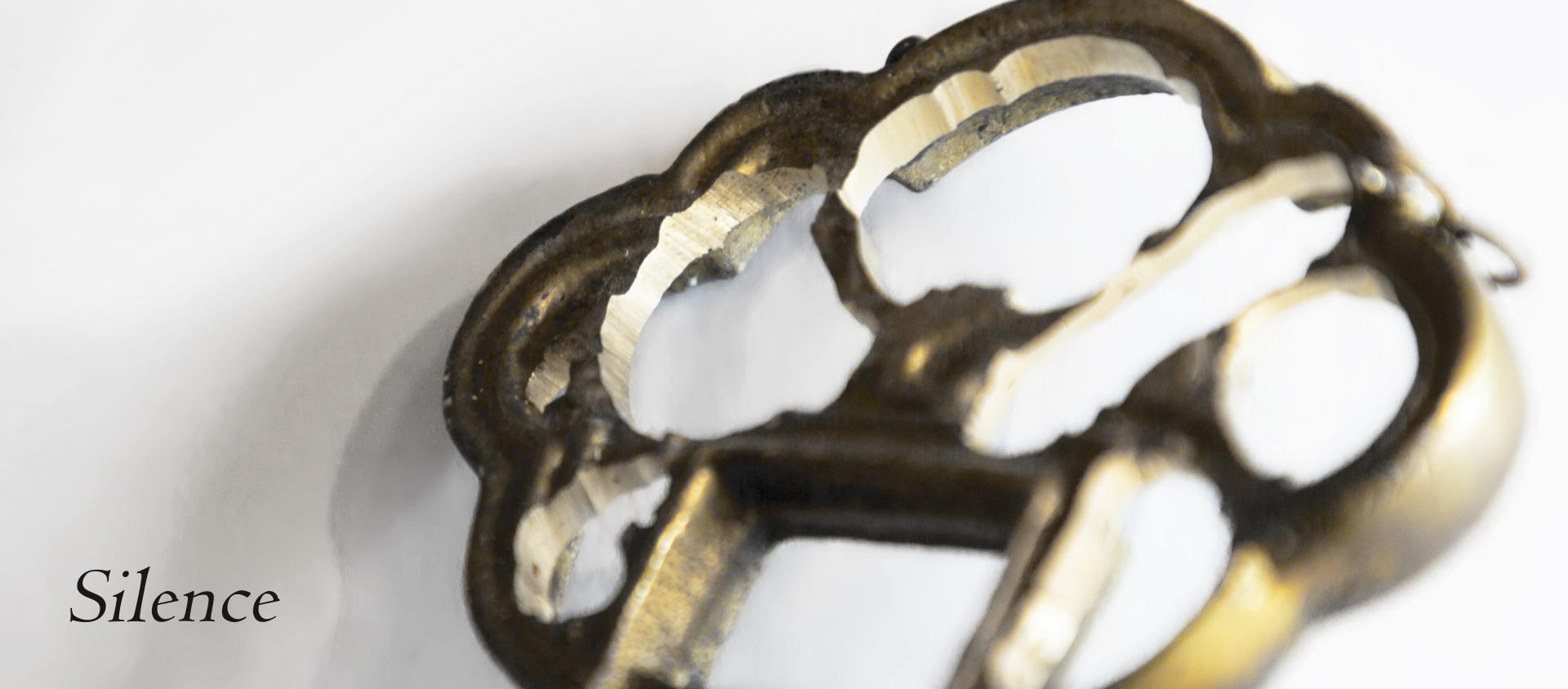 Silence
    2019
    I cut different photos into pieces and reconstructed them by connecting one body part on another one; then, I made a "new bird" out of the photos——from the same one kingfisher. The whole-fragment-whole transformation process indicates the harm to the birds even if their feather parts create beautiful images. I draw attention to this harm through fragmented photographs. 
Image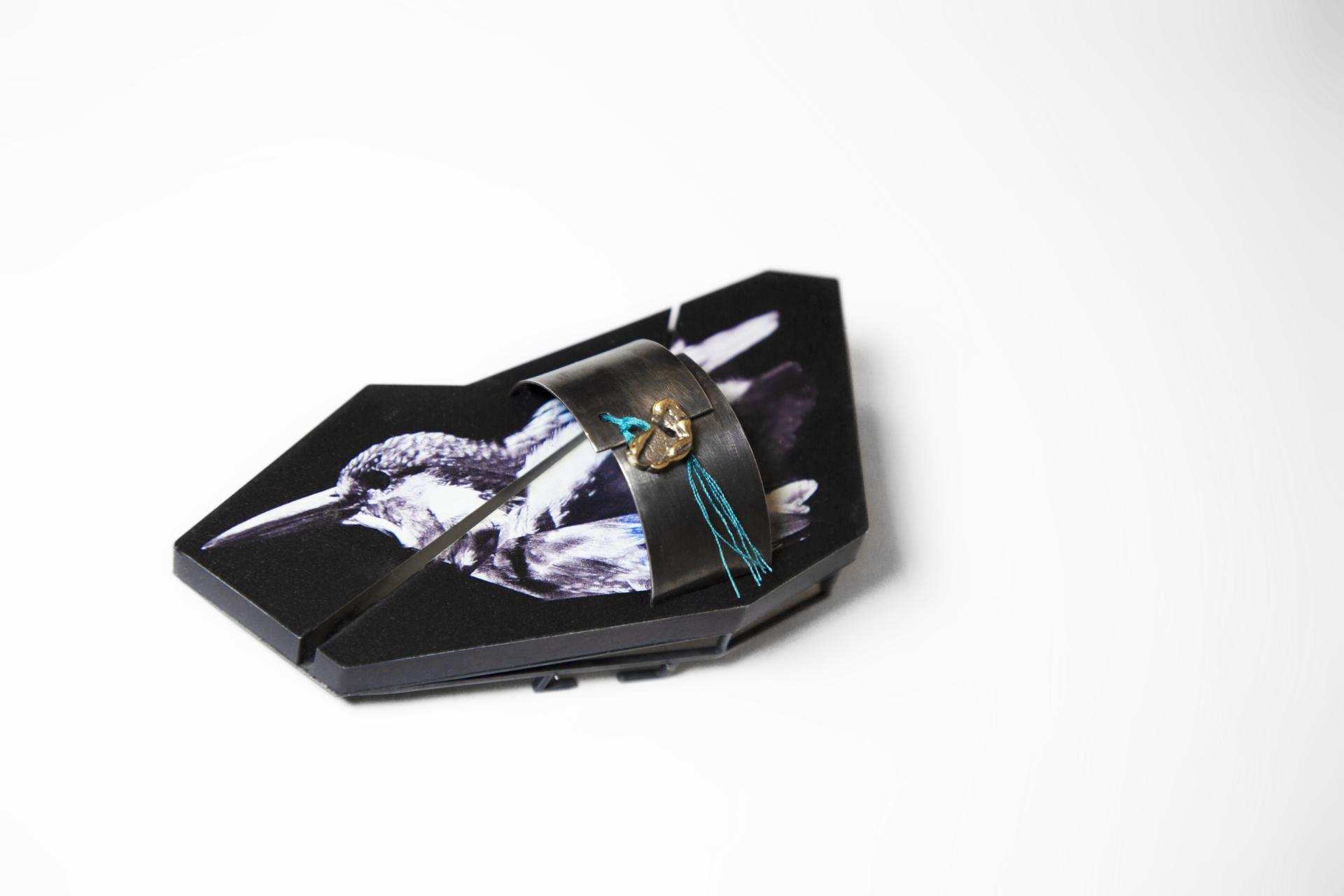 Image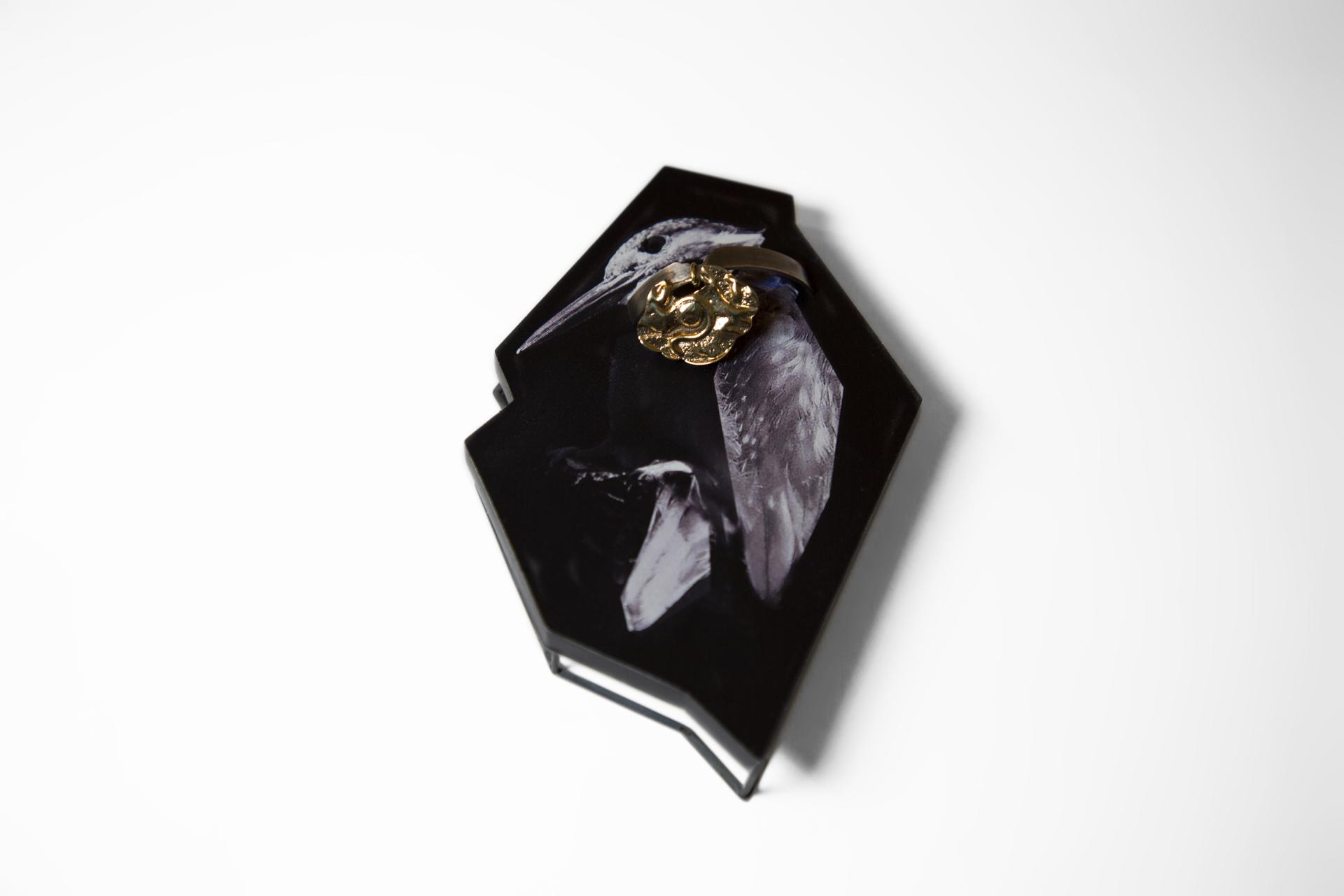 The longevity lock is a form of traditional jewelry in China. Young children usually receive a longevity lock from the elders, and will wear it until they become adults. The shape of longevity locks come from traditional Chinese locks, but with more auspicious patterns and words on it, the meaning of locking the happiness and good fortune with this child.
    I found an old Brass Chinese longevity lock online by accident, this lock comes from the 1930s, it is a half brass longevity lock, with flowers and a bird carved image on the surface. I cut out six small lock-shape pieces from it——this lock is originally for human size, and made them become the right size for my fake bird. In this way, I want to show the possibility of using the positive power from our traditional culture, and protect the kingfishers.
 
Image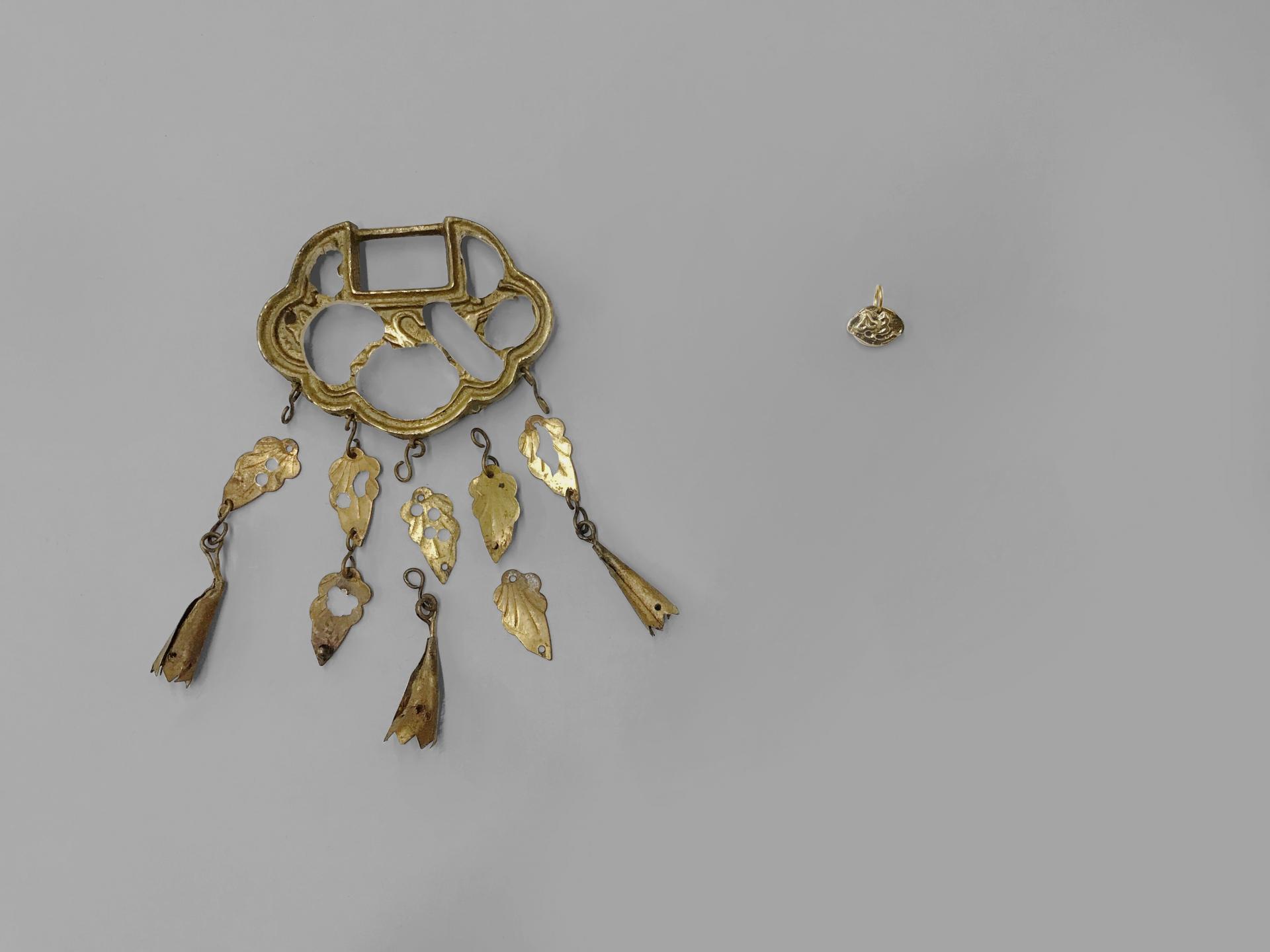 Image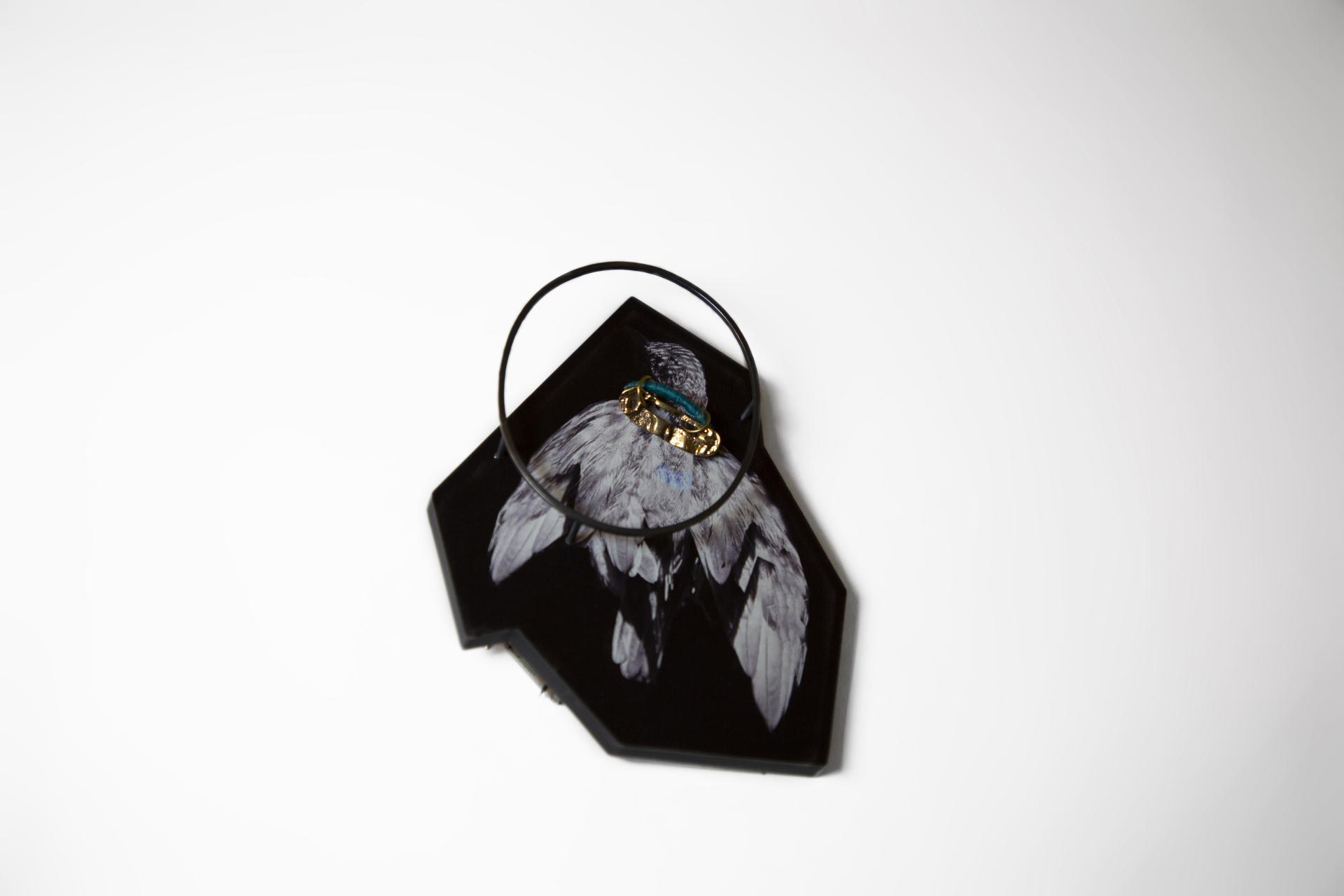 Image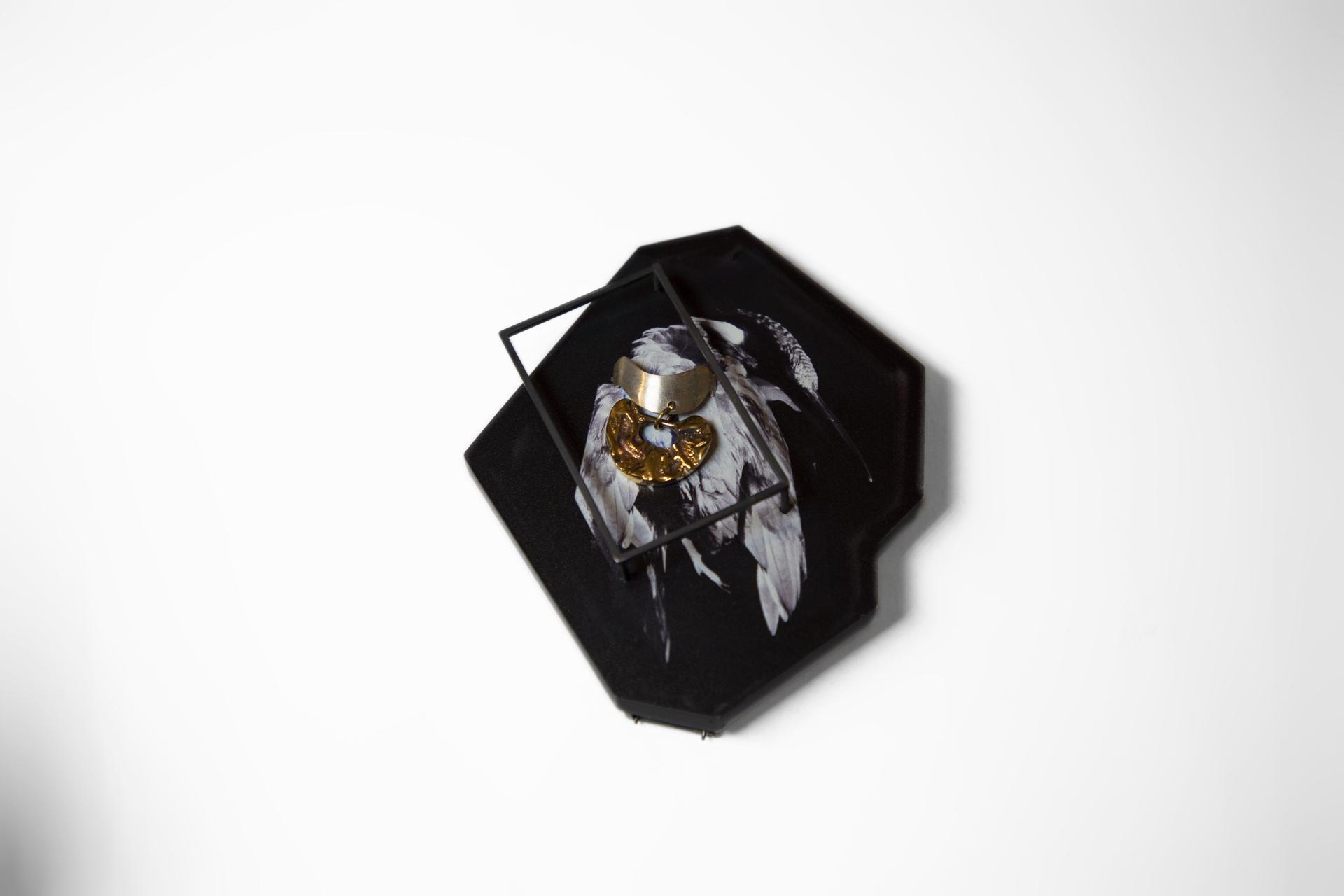 This work is for the kingfisher, but also for all creatures on the Earth.
Today, when traditional beauty conflicts with life and love,
how should we rethink something we have been doing for centuries?
My goal is to show my audience the realities of wildlife's endangerment that we may not have noticed before
and awaken tenderness toward other species by sharing my experience with the bird.