Image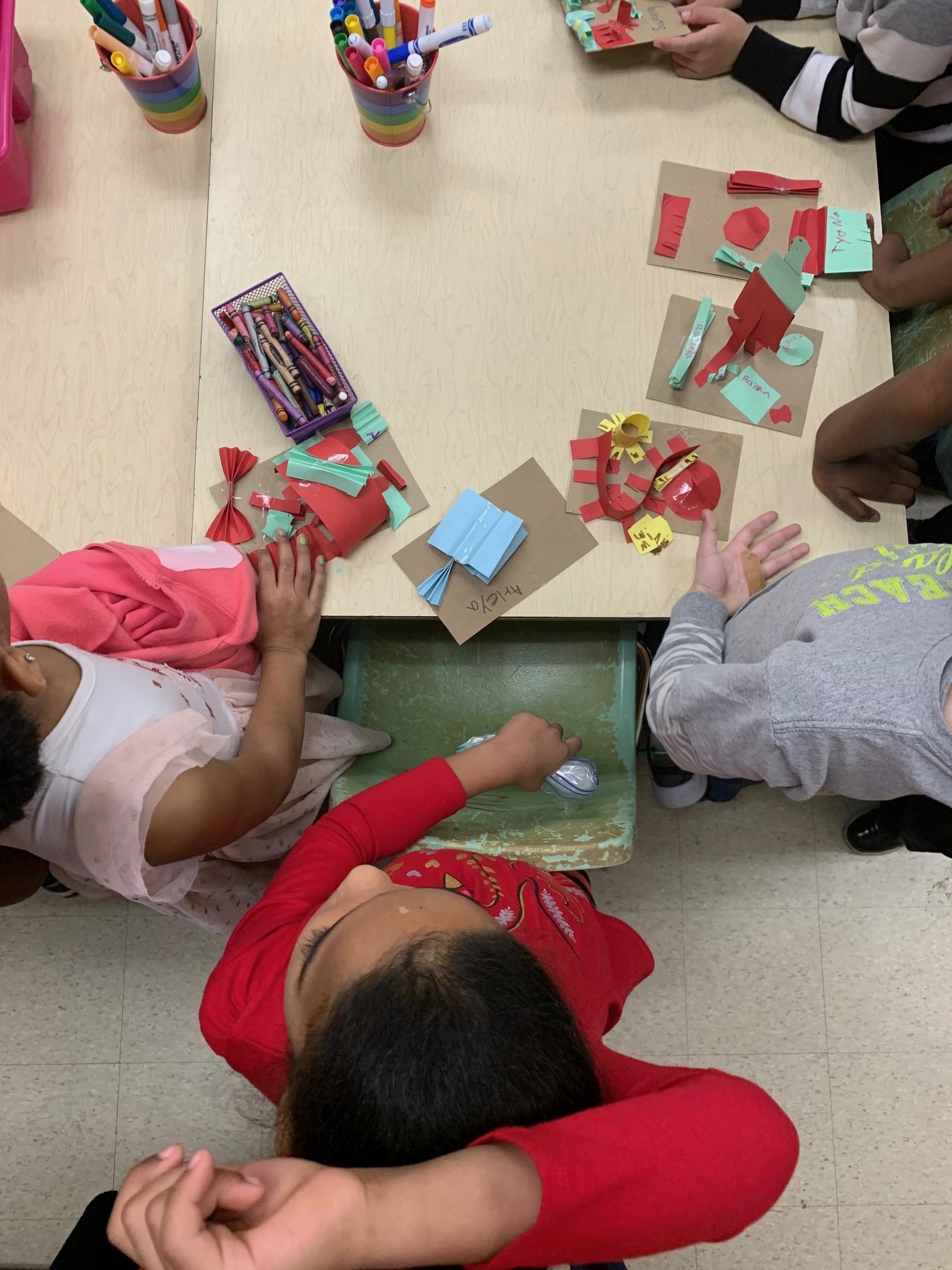 Francesca Rosati
Visual Learning:
The Enhancement of Comprehension

 
Art Education – Visual Learning as I prefer to call it, is the method I use whenever learning new ideas and concepts. I believe that the Arts have an extremely important relationship with fundamental learning, and that every child deserves the right to an equal Arts Education.
Exposure to Art is important to a young person's education for countless reasons. Most importantly it allows young people to express themselves which gives them the opportunity to process who they are. Art allows students to carefully observe and analyze the world around them which lets them develop their own perspective. During the creative process, young artists are able to see their mistakes as opportunities for transformation. When the arts are integrated with any school subject - like math, science, and history- it opens up a whole new realm of critical thinking, building conceptual and interpretational thinking, observation, reasoning, and problem-solving.
As a dedicated learner, growing up with the challenges that come with dyslexia, I discovered two invaluable tools: visual expression and comprehension techniques. Not only did these techniques allow me to successfully navigate the world of reading and writing but it welcomed me to the Visual Arts. I speak from experience when I say that the Arts has a unique ability to harness these tools, and I'm eager to bring these more robustly into my classroom; especially to those students of diverse learning abilities.
In my teaching (curriculum design and pedagogy), I embrace many of the same practices that I do as an artist: curiosity, discovery, dedication, skill development, and constant learning. I aim to help my students understand that art provides us with opportunities to search for clarity and meaning in the world. Art offers students a chance to develop their own creative potential and discover new ideas.
Image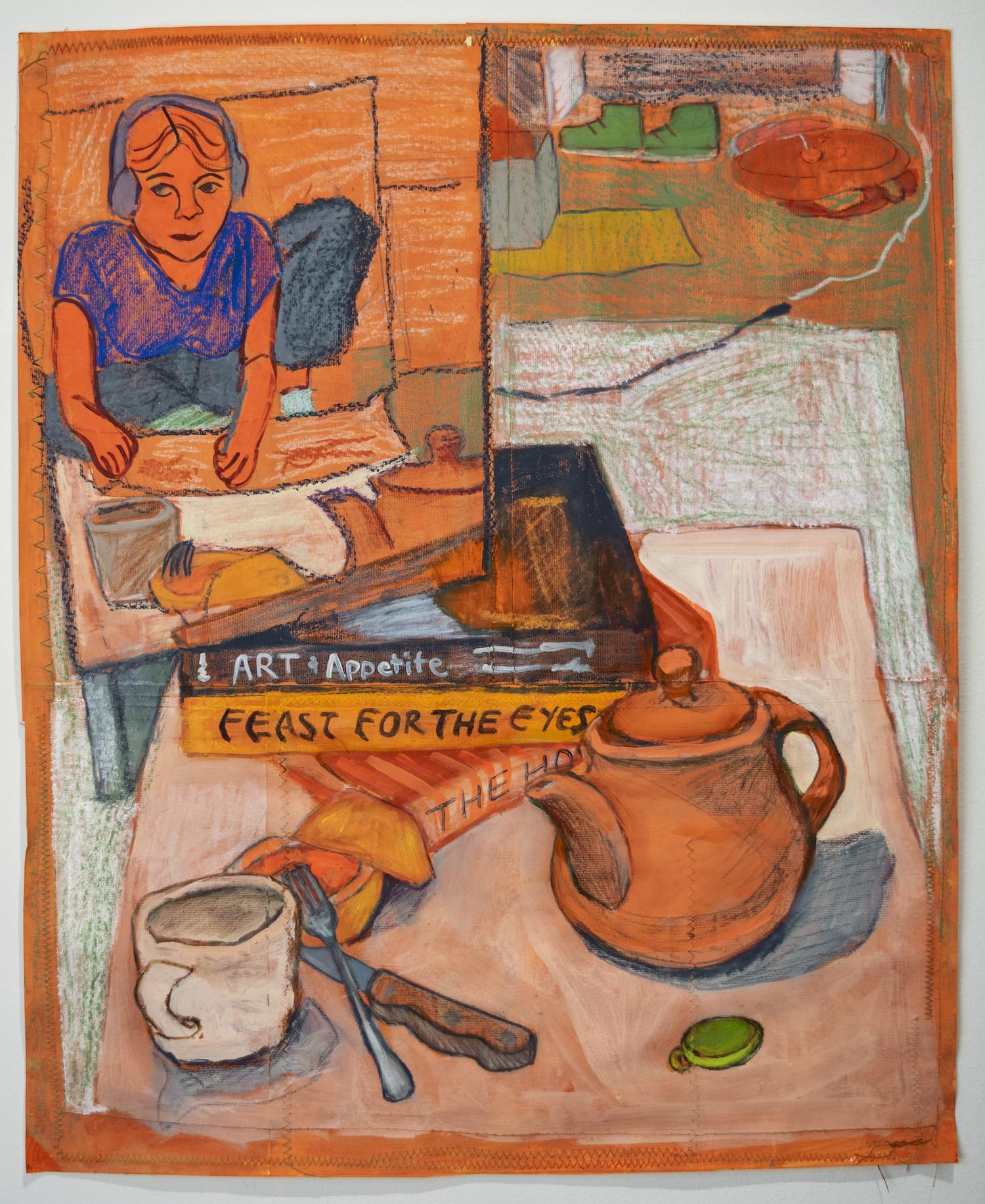 For as long as I've been a painter, much of my work has been about retelling my family's history, the influence of my maternal grandmother, and household chores historically understood as "women's work." In reimagining a family history that came before me, I discover where I came from and I elevate its significance. Most recently, I have made paintings of everyday objects and mementos, like postcards, old tin boxes, a locket, or a book. Working from found imagery, drawings, collages, photographs, and life observation, I incorporate my experiences and others, and make my paintings.
What fascinates me is focusing on the routine, memory, materials, objects, and foods that surround my everyday life. In painting these subjects not only do I get to be able to continue to appreciate them but I get to extend the power it channels. Like a poet is with words, an artist is with images - that is how I would describe my feeling towards my practice.
In recounting a memory or theme in a painting, sometimes I will draw its plans for the painting in my sketchbook. My priority is not about making rendered and proportional sketches, it is about making a sketch that is translated from memory. Going forward, I will continue to be inspired by my daily life and rituals I do in solitude. From cleaning my dishes to folding my laundry to taking my vitamins to grading a student's artwork—there are endless possibilities to making this work. It is a portrait of who I am without artifice.
Image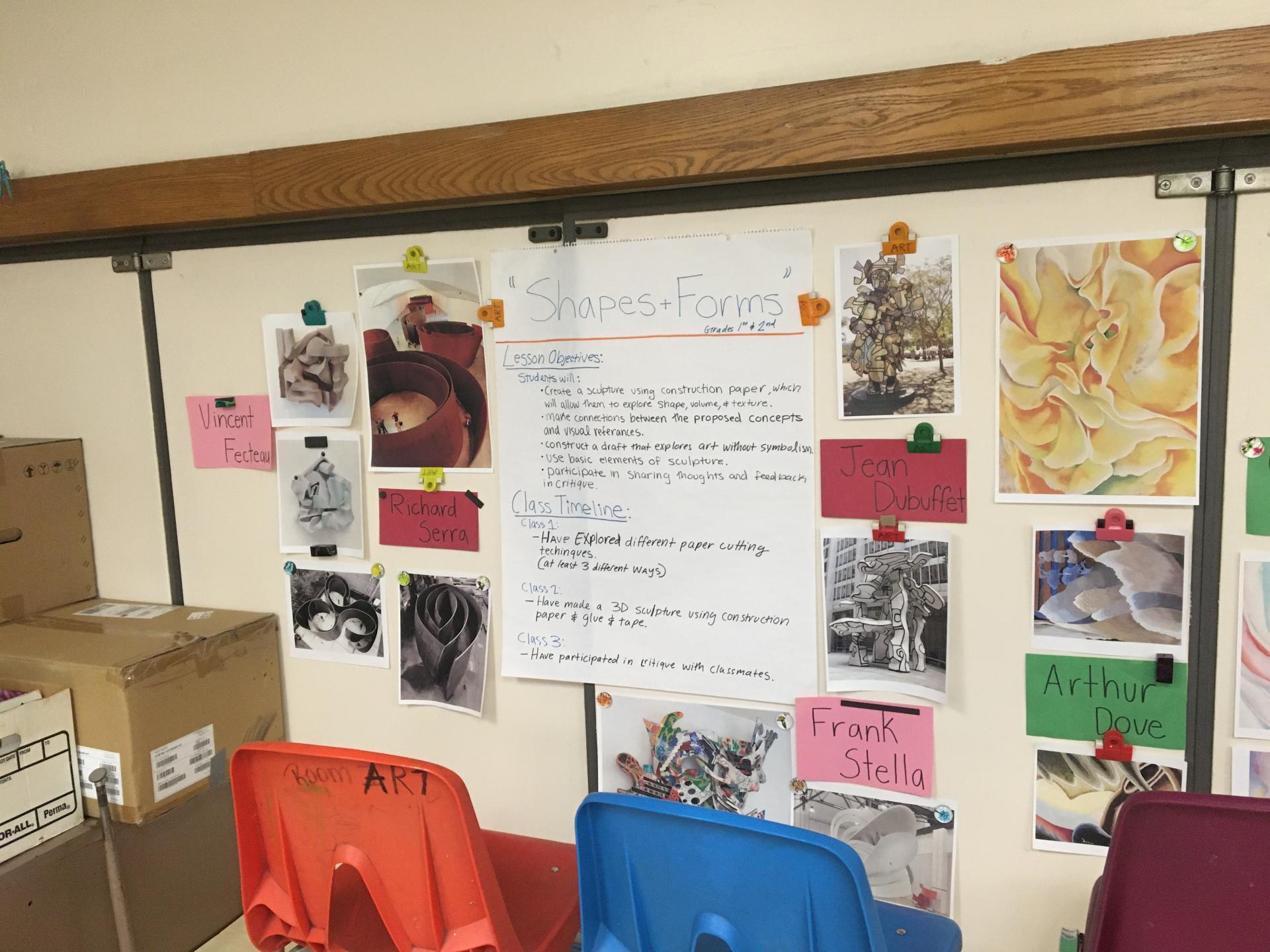 Image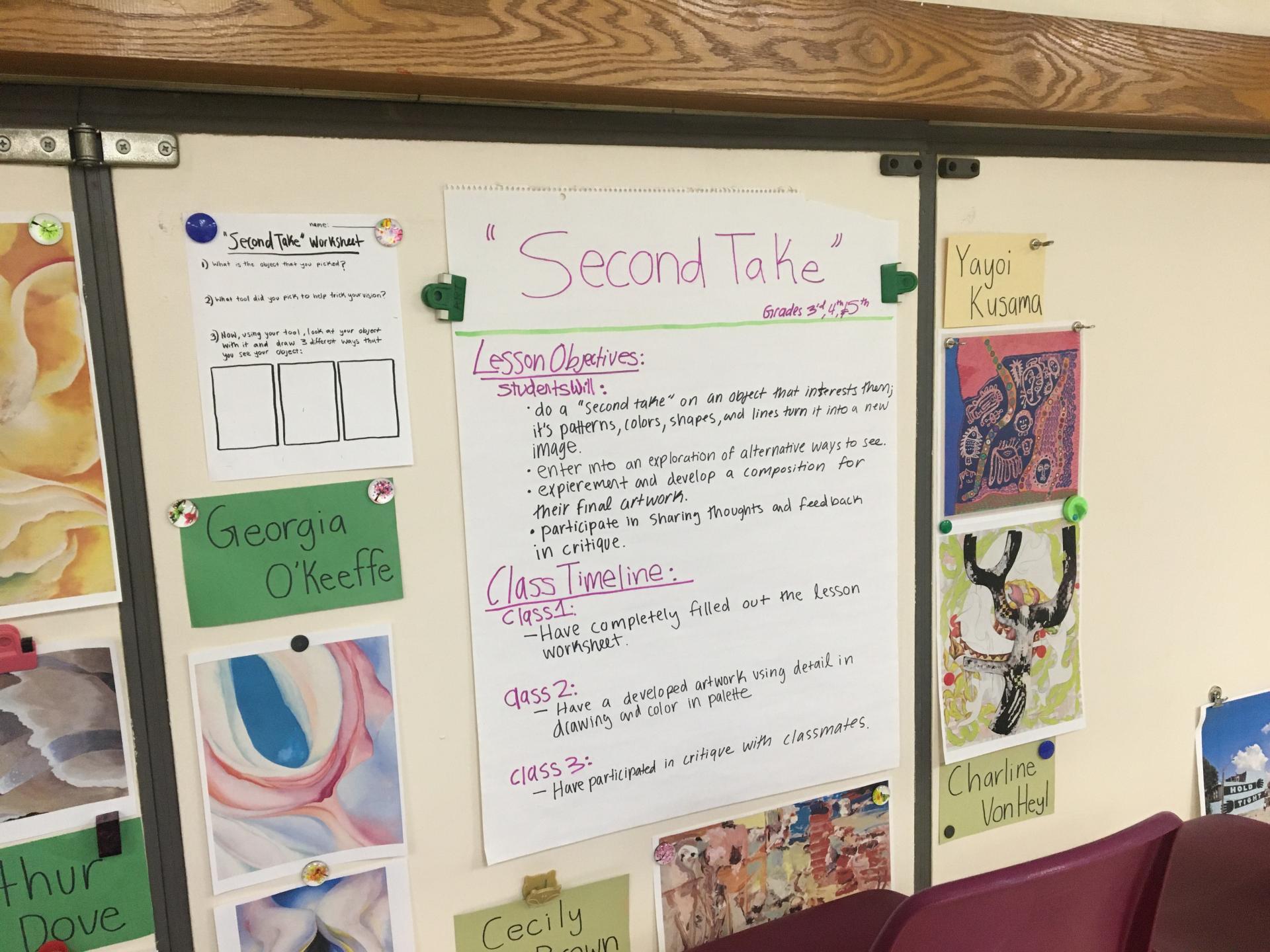 Image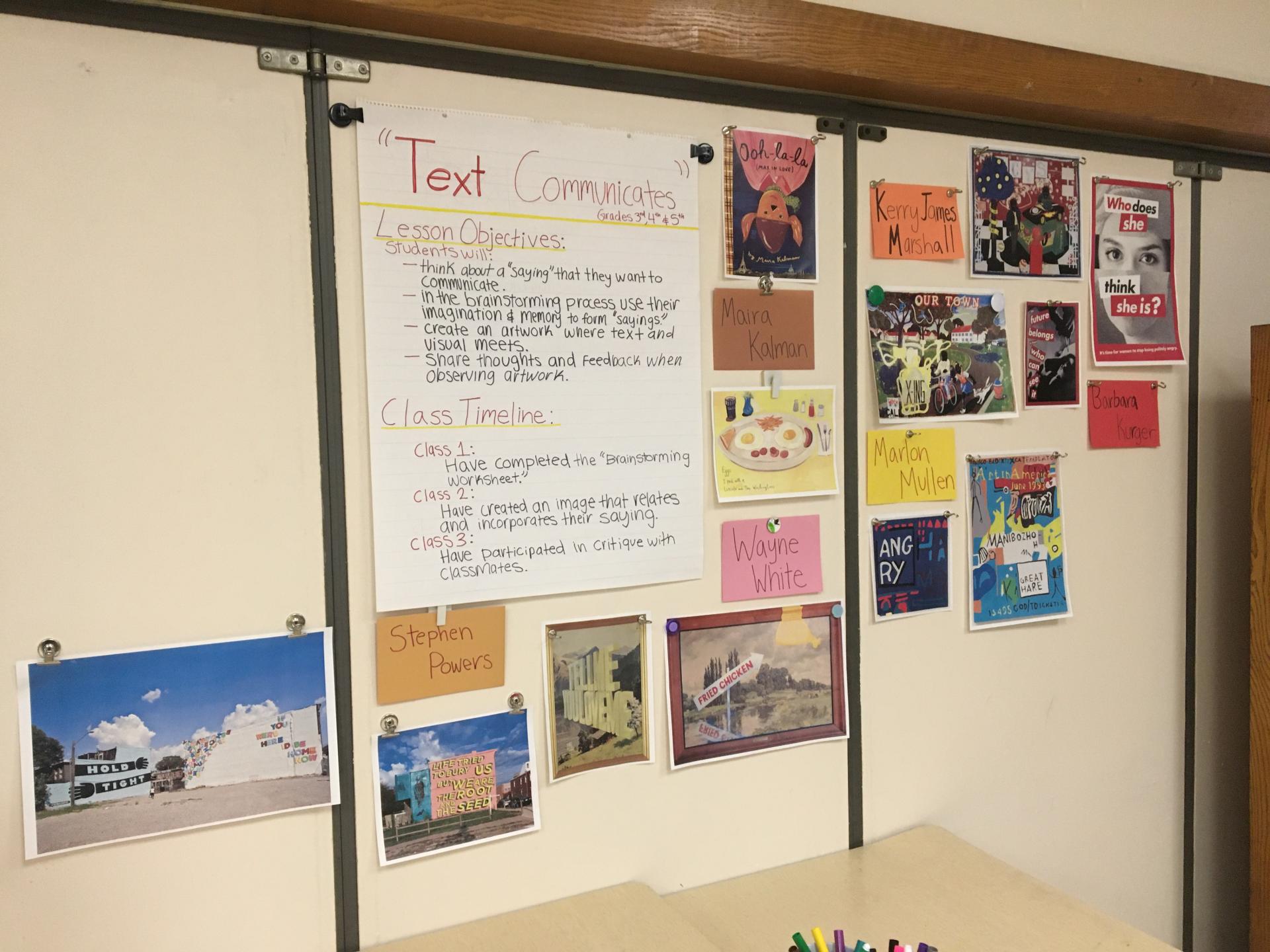 During my time Student Teaching this past Spring I was placed at two Providence Public Schools for a total of six weeks each. One was a elementary school and one was a high school. I composed and initiated a total of nine lessons during my 12 weeks of Student Teaching. I will exhibit one of those nine lessons here and describe its process.
For this lesson, I taught 3rd through 5th graders at Dr. Martin Luther King Jr. Elementary to create an artwork using oil pastels and colored pencils based off an object that they felt connected to. In depicting the object they were to use tools that tricked their vision, making the composition an alternative one. I titled this particular lesson "Second Take." The concept behind this lesson is that in doing a "second take" on a personal everyday object; its patterns, colors, shapes, and lines turn it into a new image. I presented several abstract and contemporary artists for the students to view as visual references. Those artists were Georgia O'Keeffe, Arthur Dove, Cecily Brown, and Charline Von Heyl.
As a result of instruction, students were able to meet all four of the National Core Art Standards, which are: creating, responding, connecting, and presenting. First, students were able to make connections between the proposed concepts and the visual references. Second, students were able to enter into a exploration of viewing an object in an alternative way. Third, students were able to experiment and develop a solid composition for their final artwork. Lastly, students were able to comment with their thoughts and feedback to their fellow classmates during critique. 
Hypothetically this lesson was supposed to take a total of three classes, preferably each one hour long. Class 1 started off with observing at least one of the four reference artist's work. After, I presented the students with a demonstration of picking out an object, picking a vision trick tool, and filling out the worksheet. With the help of this worksheet, they drew three alternative ways to depict their object in pencil. Class 2 began with a demonstration of making a final artwork. Using colored pencil and oil pastel, I showed them how to color in and blend. A student was only able to move to this step once they had completed their worksheet. By Class 3, everyone was done or almost done with their artwork. If there are still more than several students who need to complete their work, I gave them 15 minutes in the beginning of the class to work. Once everyone had completed their final artwork, this was when we did the final critique. Students will be prompted by my questions which allow them to share their artwork and comment on their peers' artwork.
Image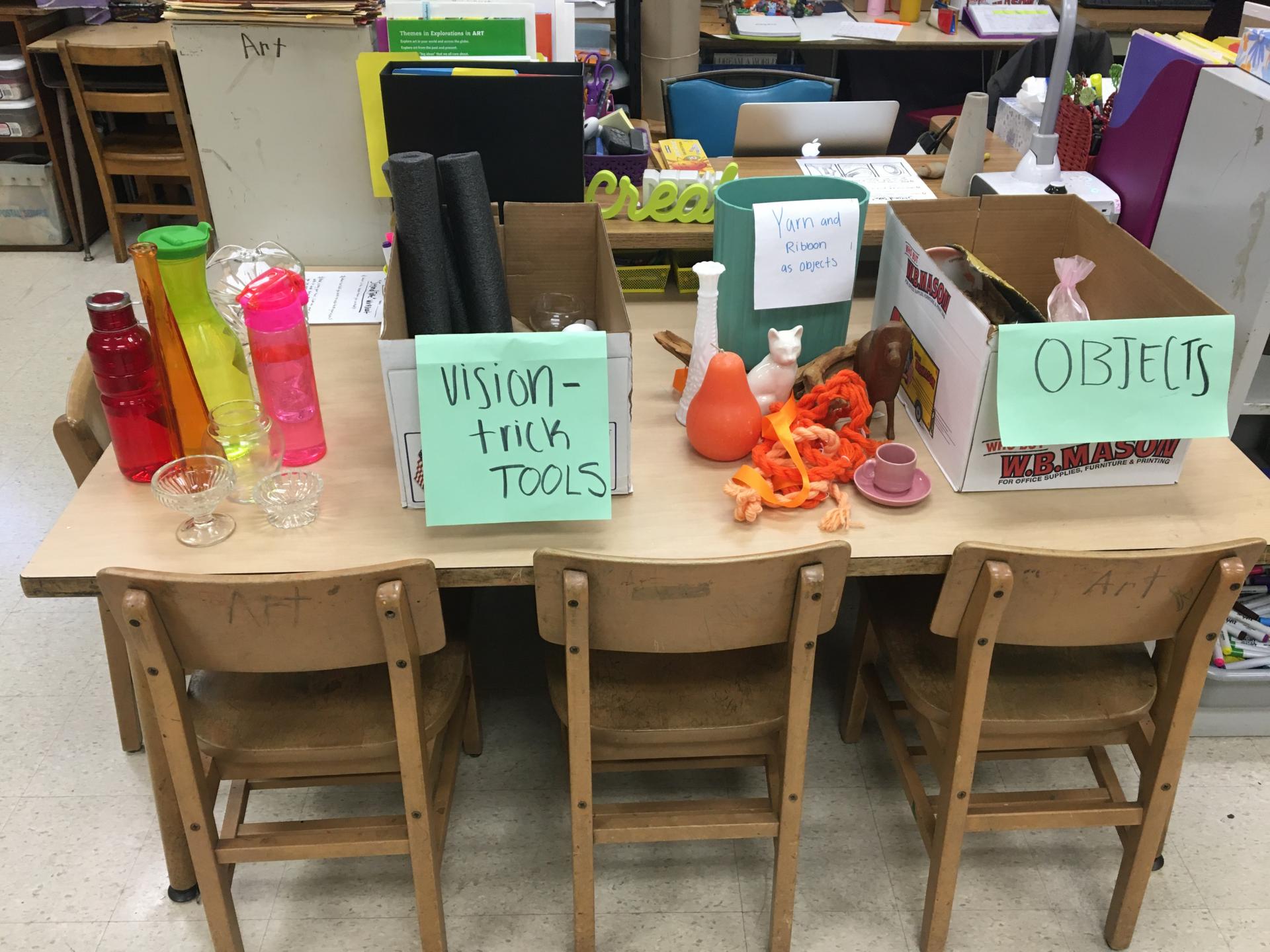 Image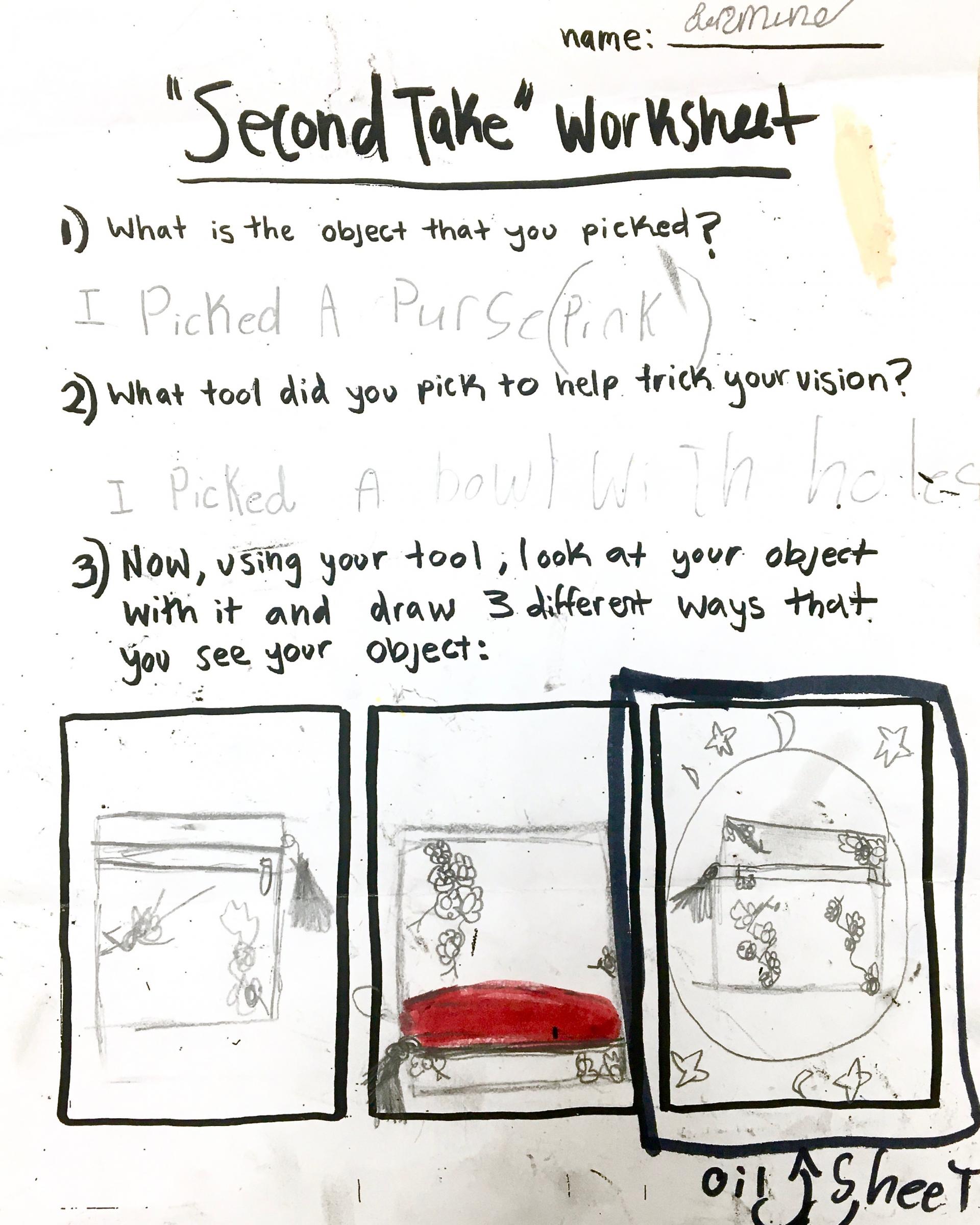 Image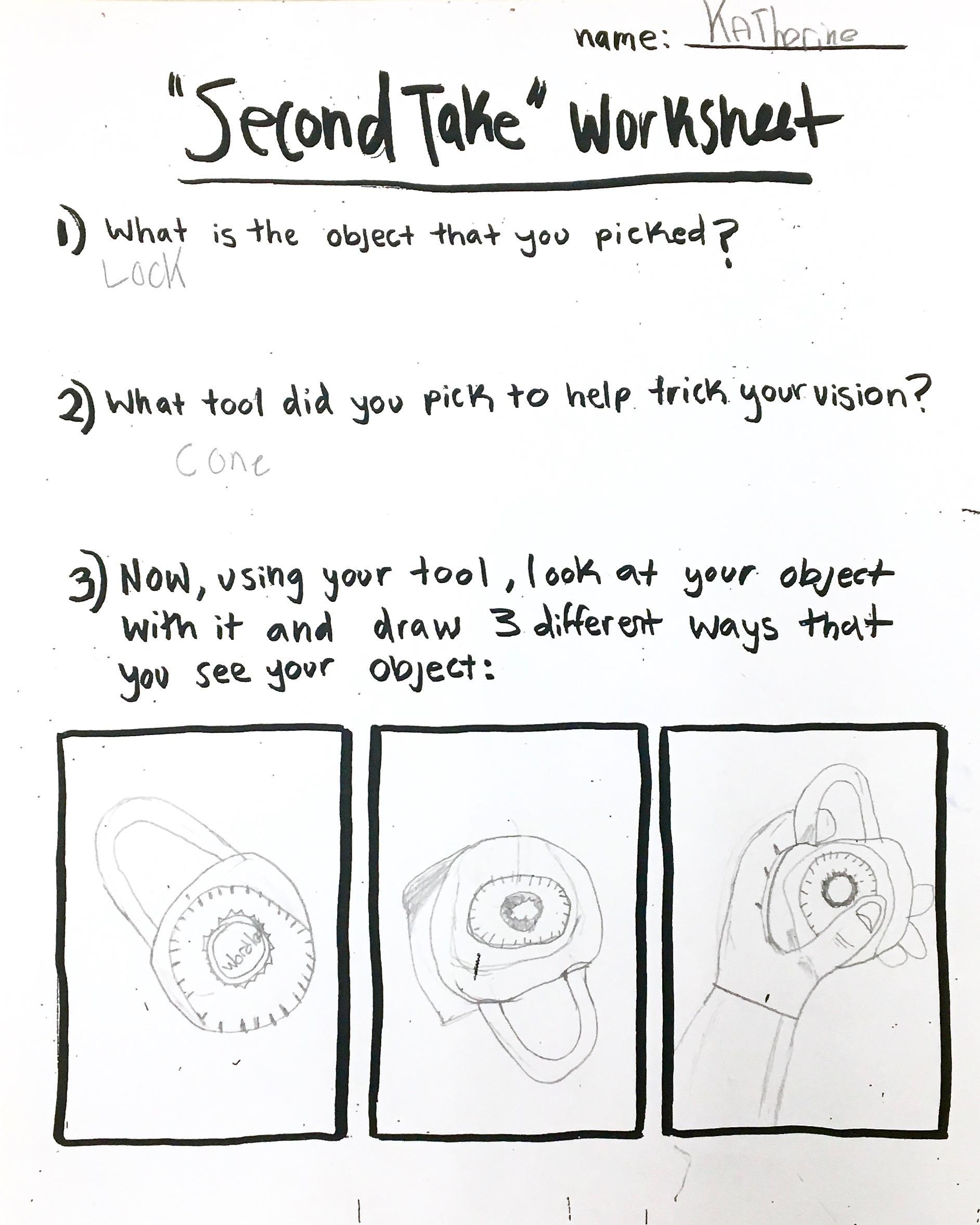 Image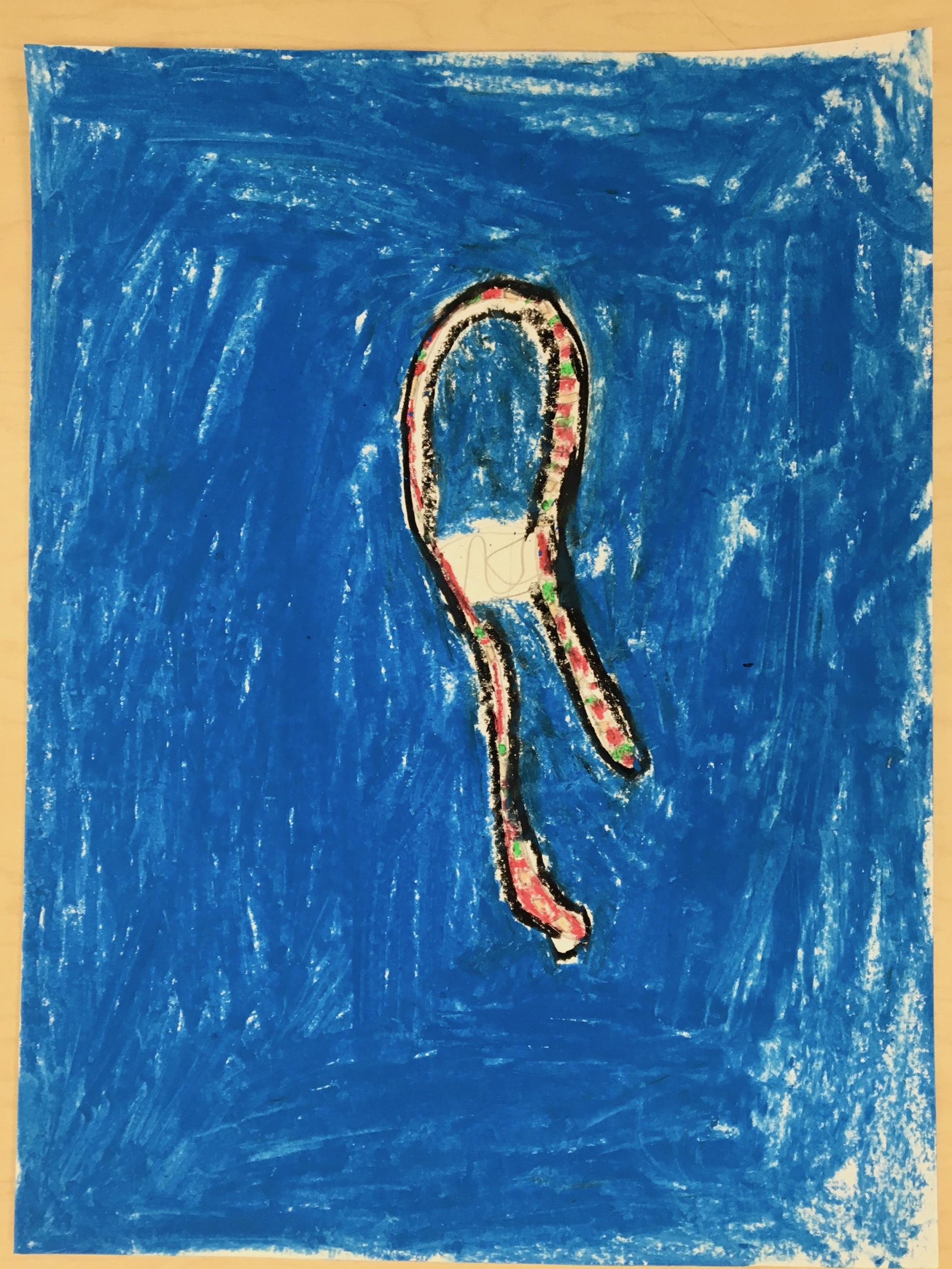 Image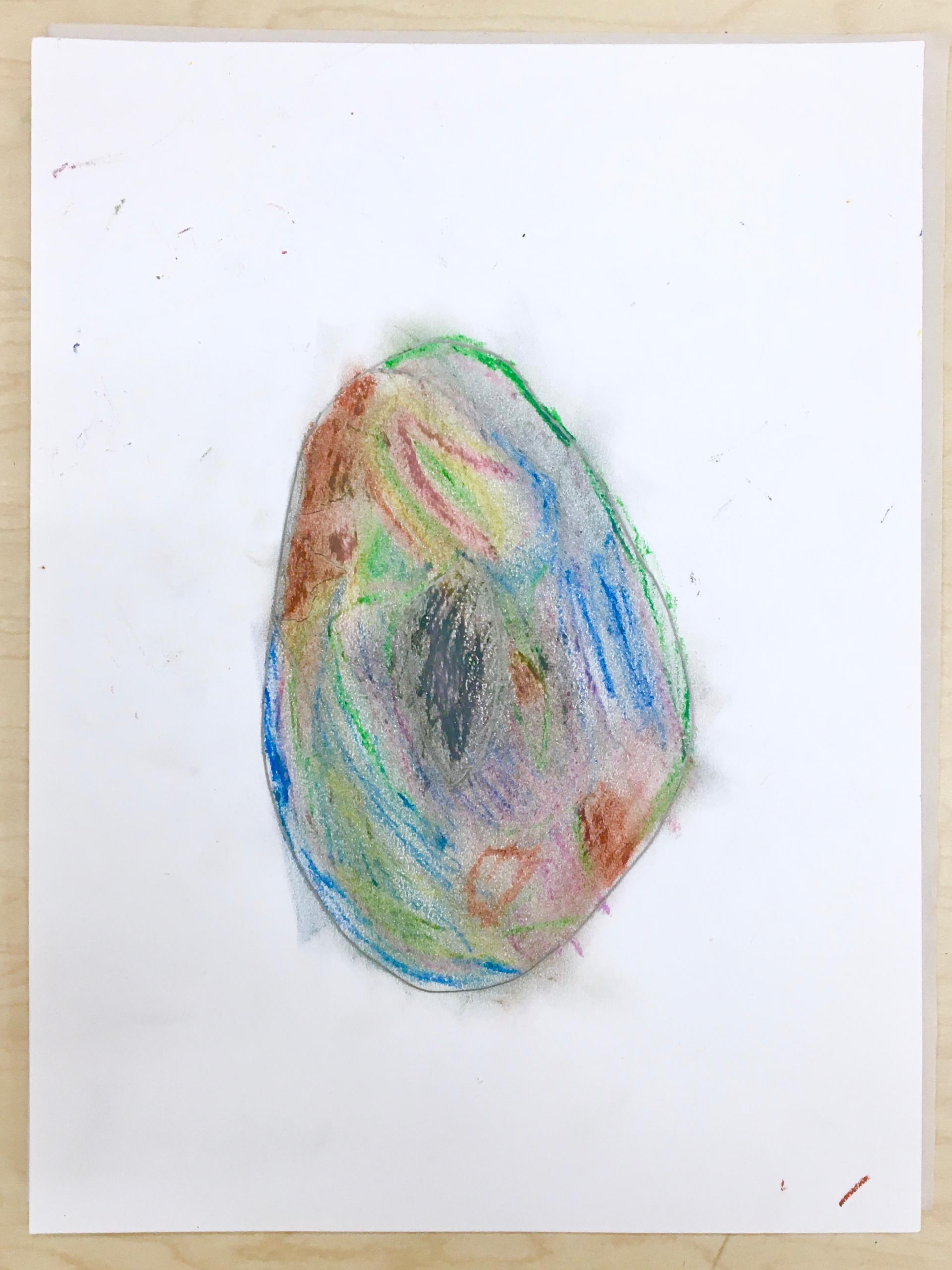 Image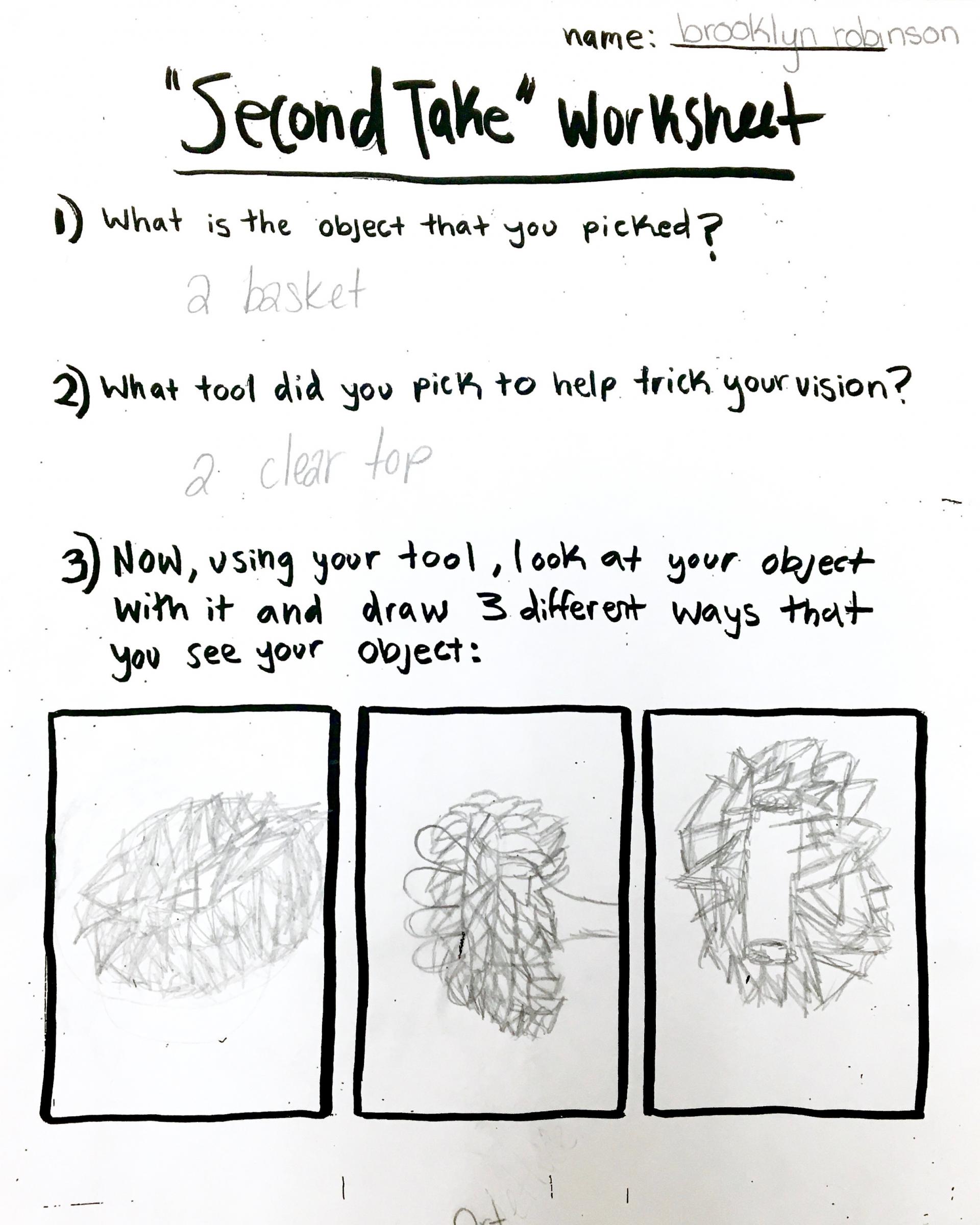 Image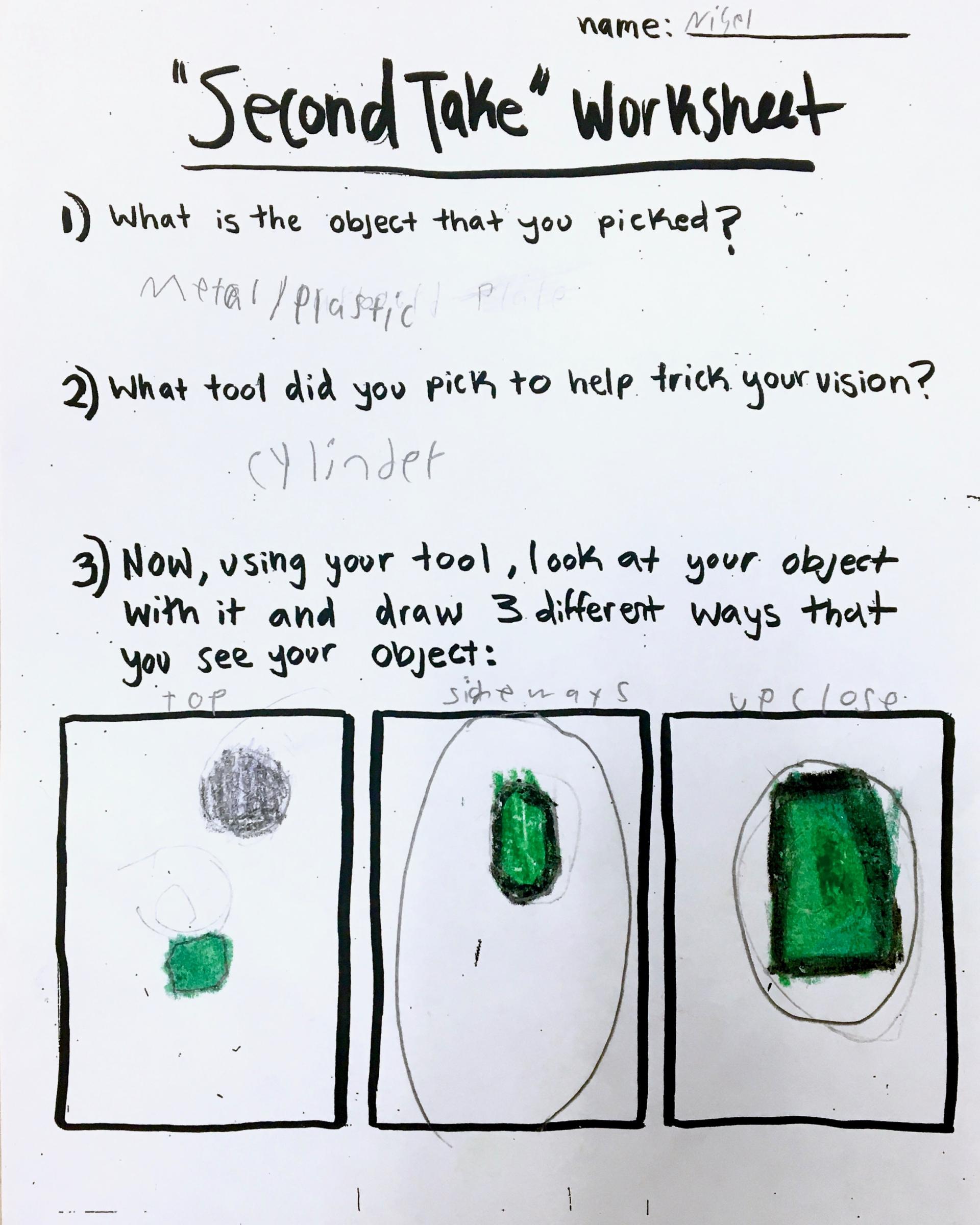 Image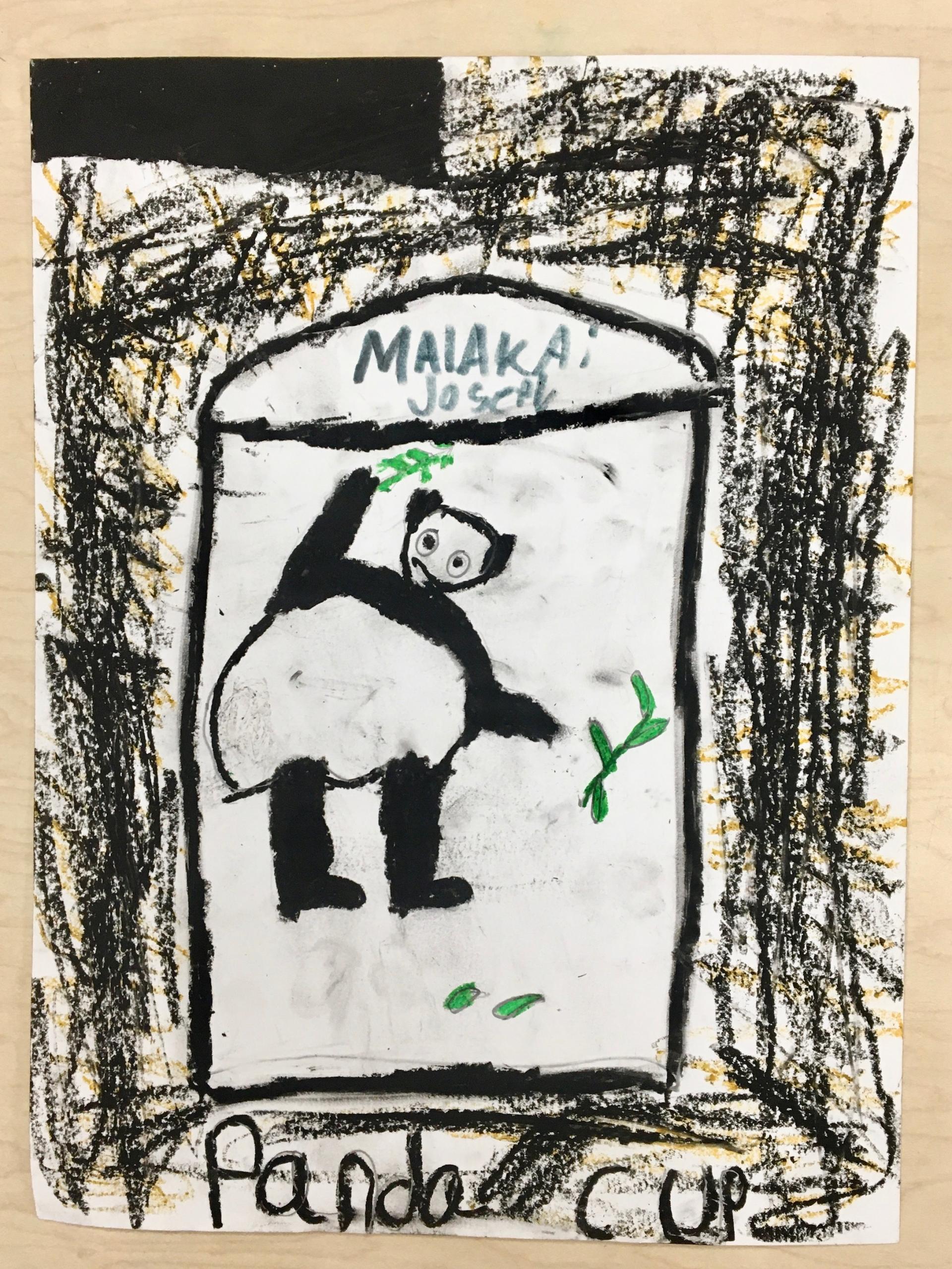 Image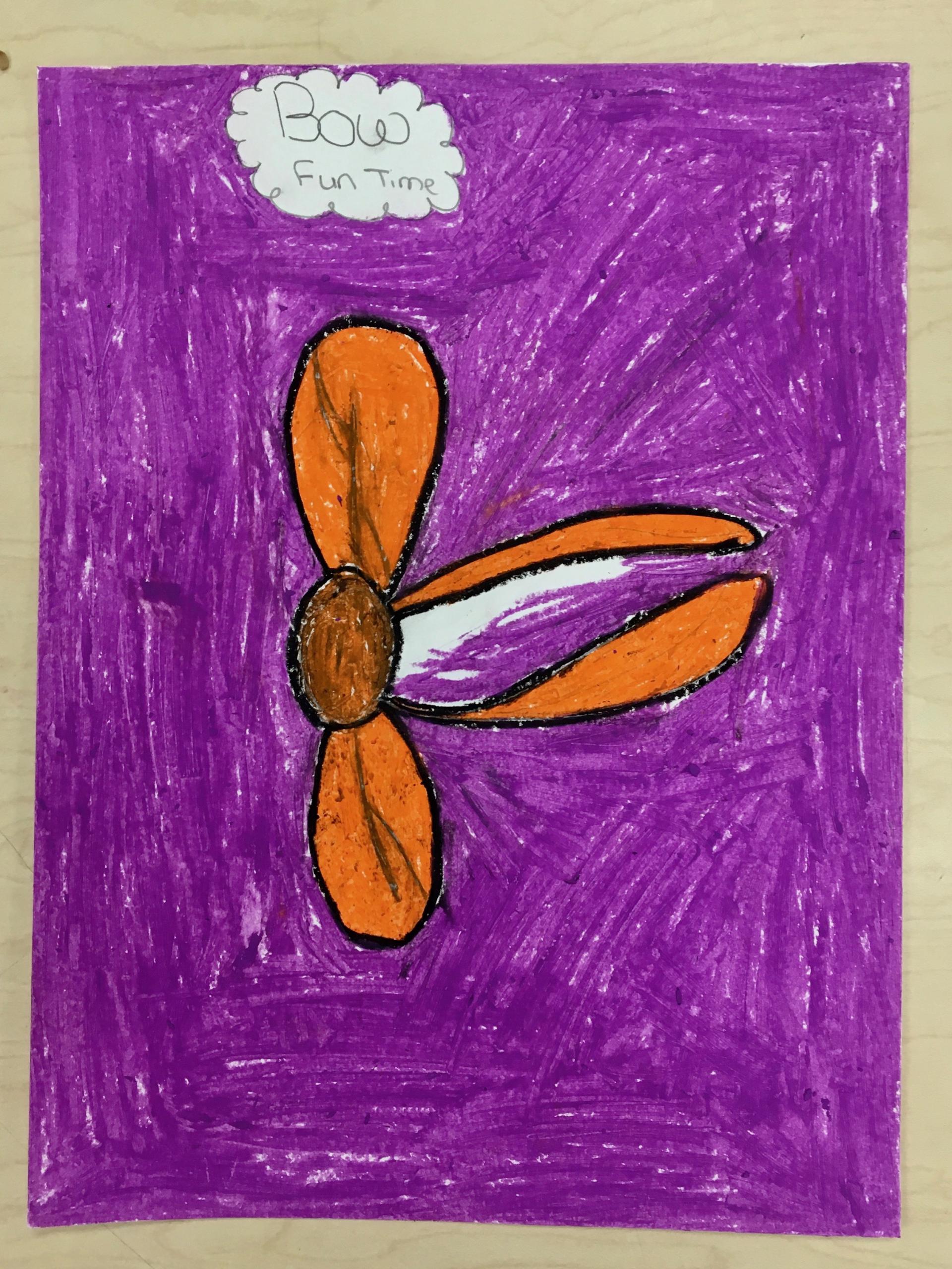 Image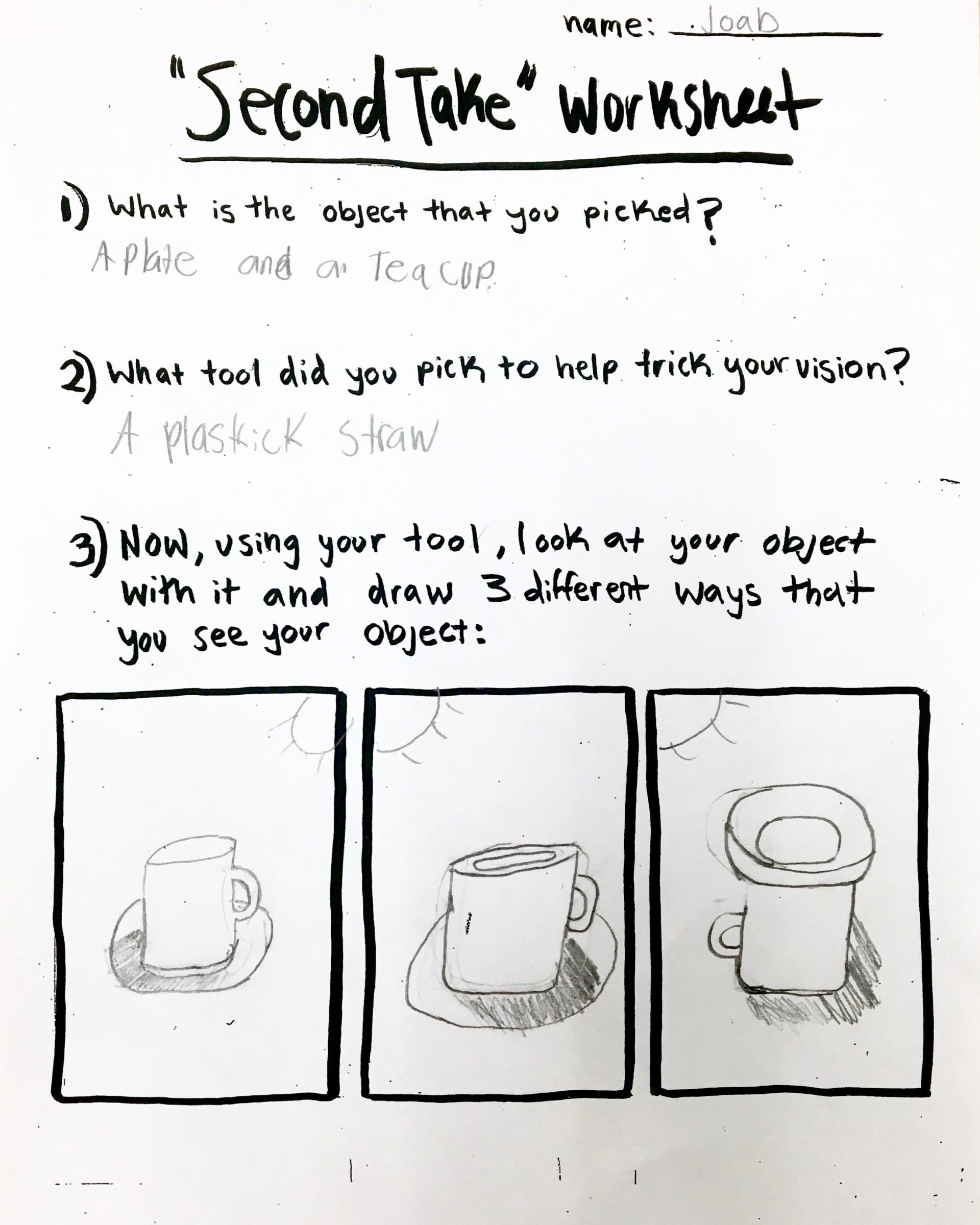 Image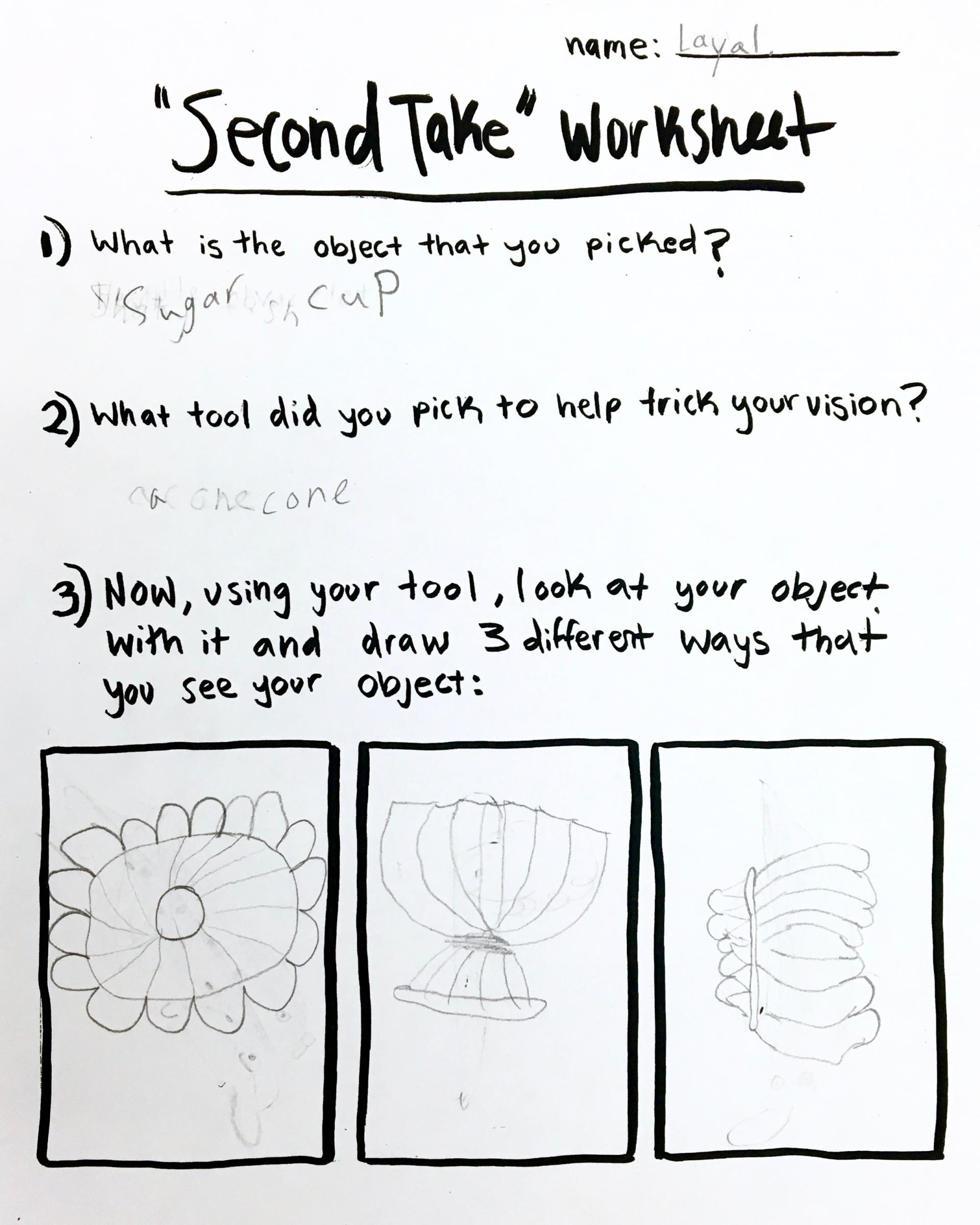 Image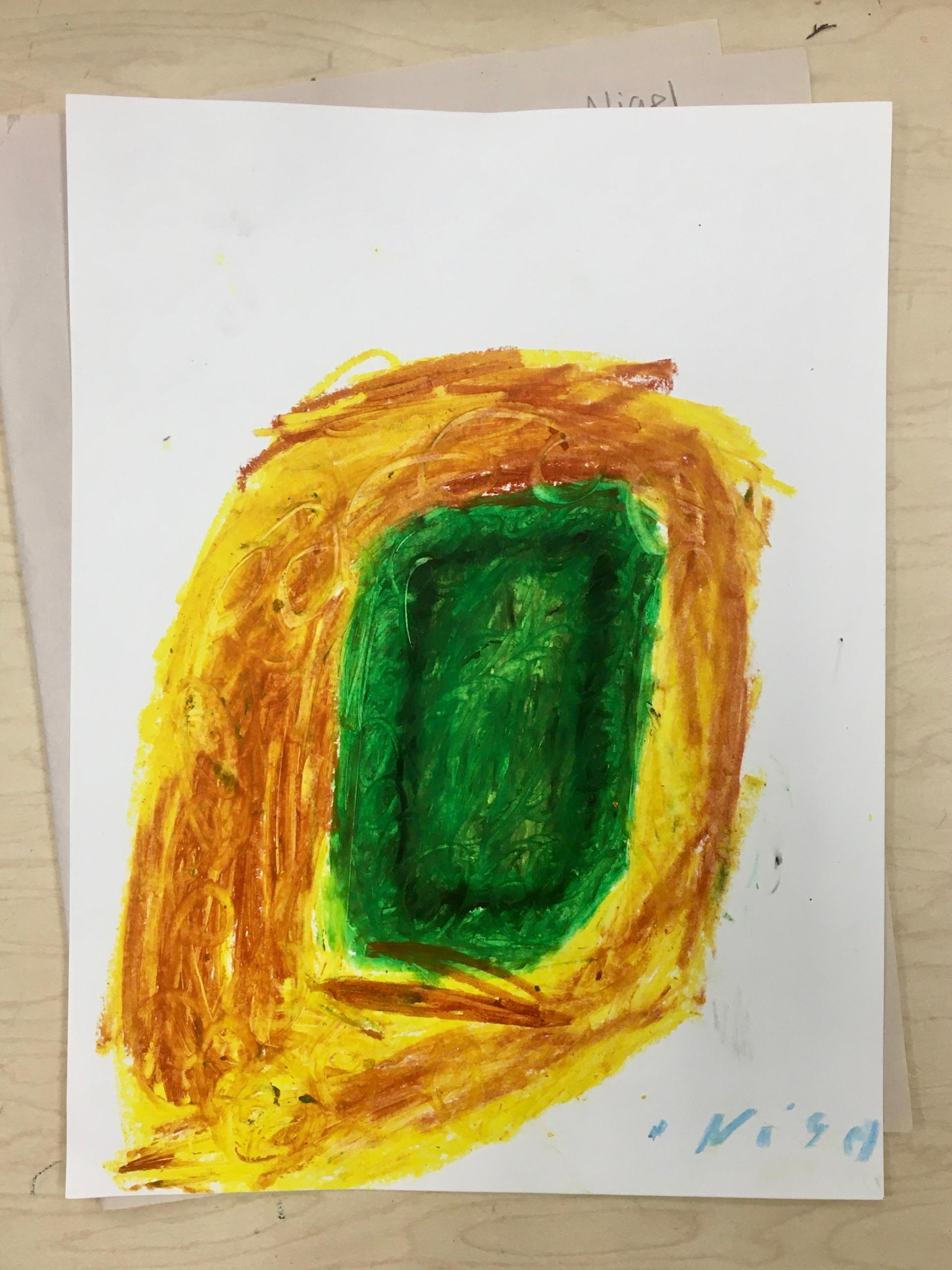 Image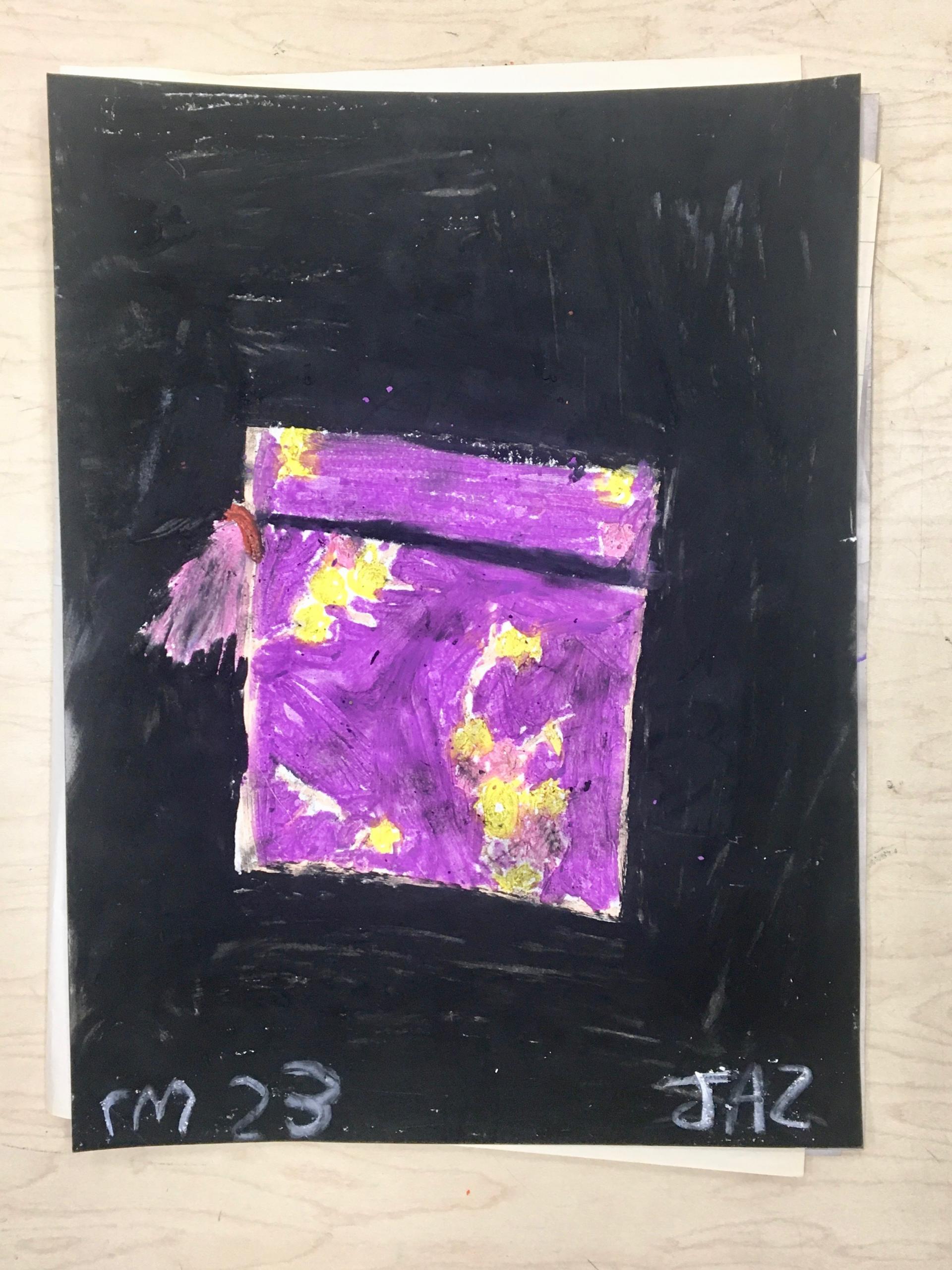 evaluations of student work 
Image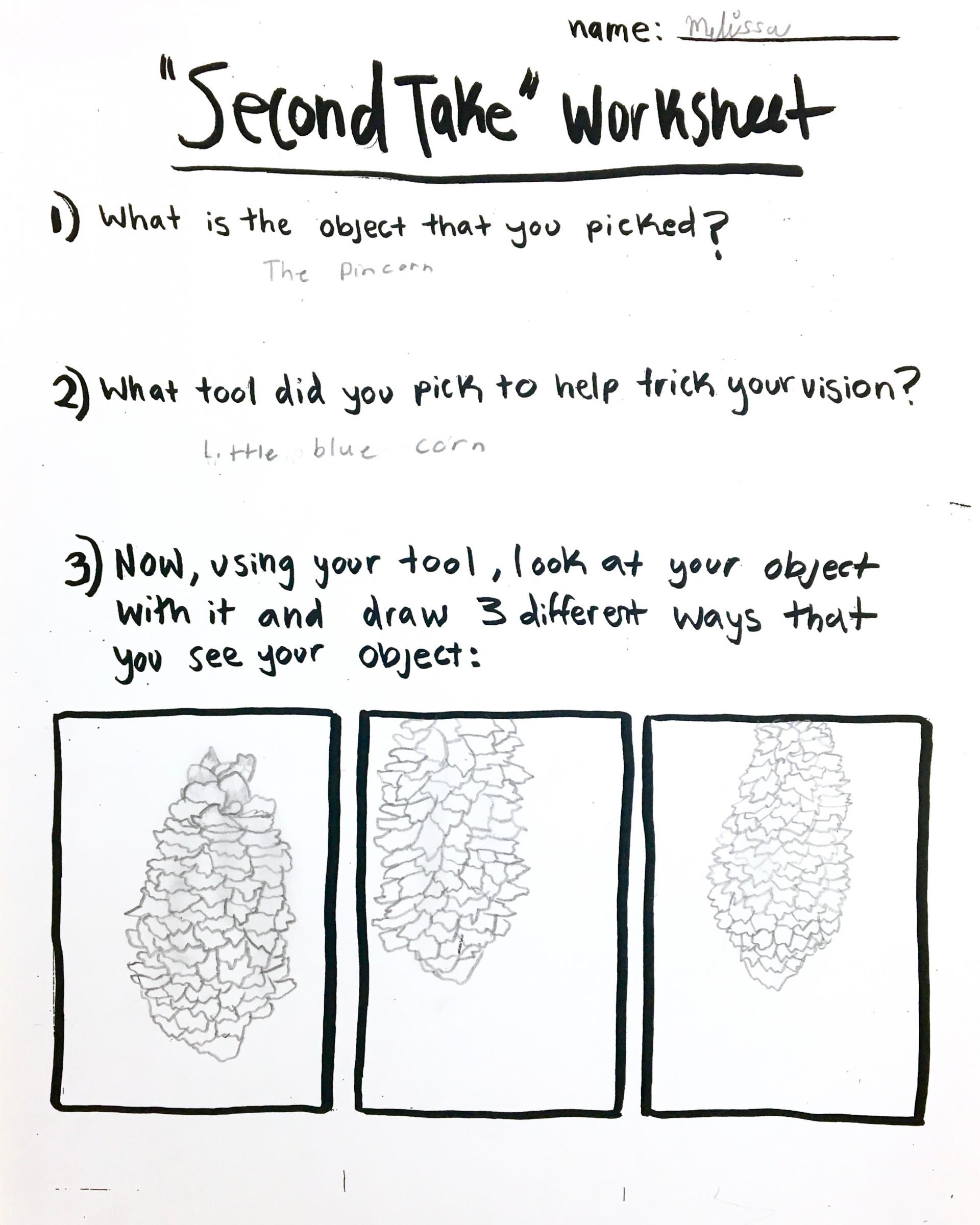 This worksheet demonstrates "exceeding" to me because she not only completed all the requirements but she worked especially hard on the drawings of the pinecone. These drawings are unique because they have their own delicate mark-making quality.
This worksheet "meets" my requirements. He has seemed to have answered all the questions and made the three different drawings of the ball. This work is not exceeding because the alternative perspectives could have been pushed more - in capturing a closer perceptive of the ball or adding shadow.
Image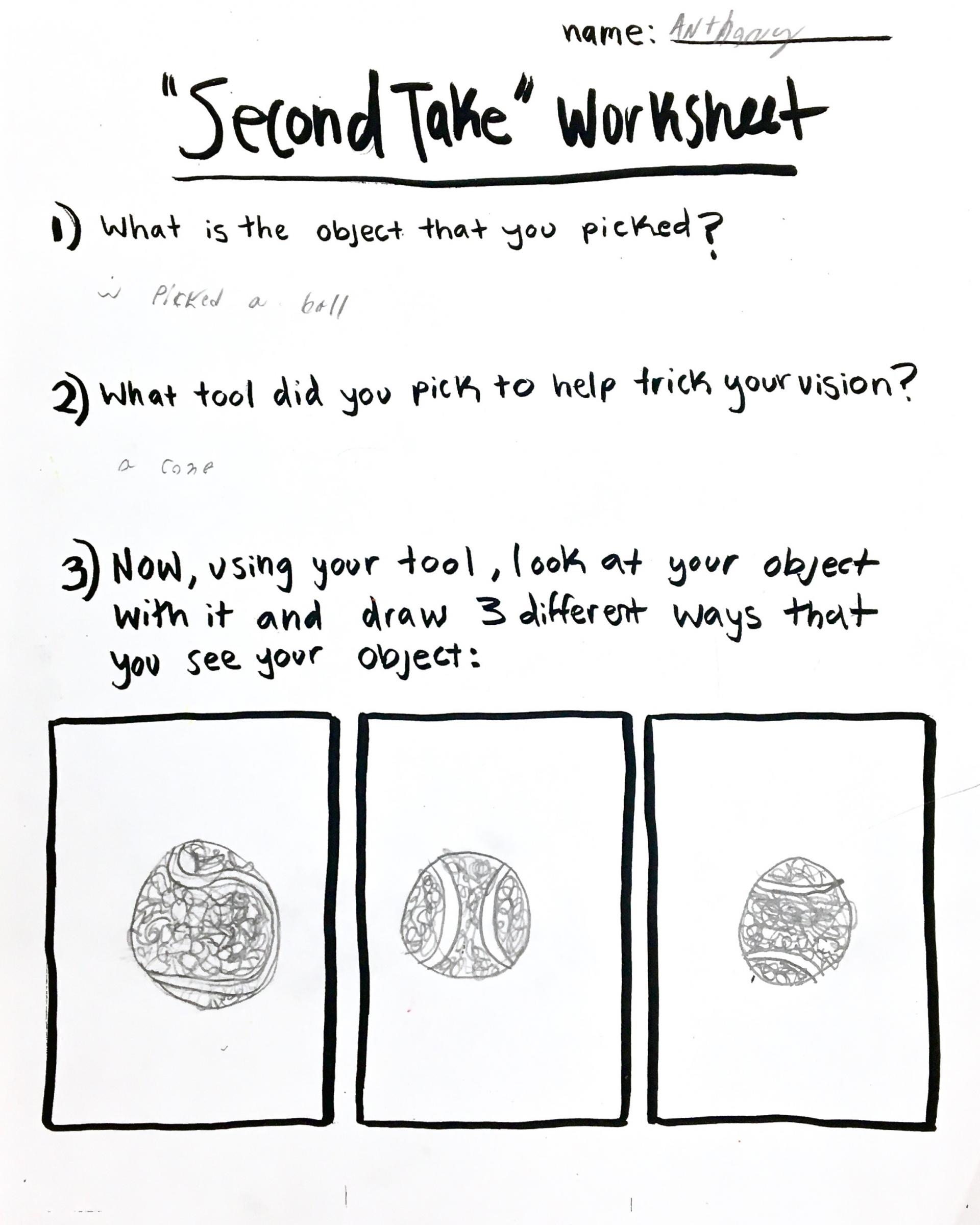 Image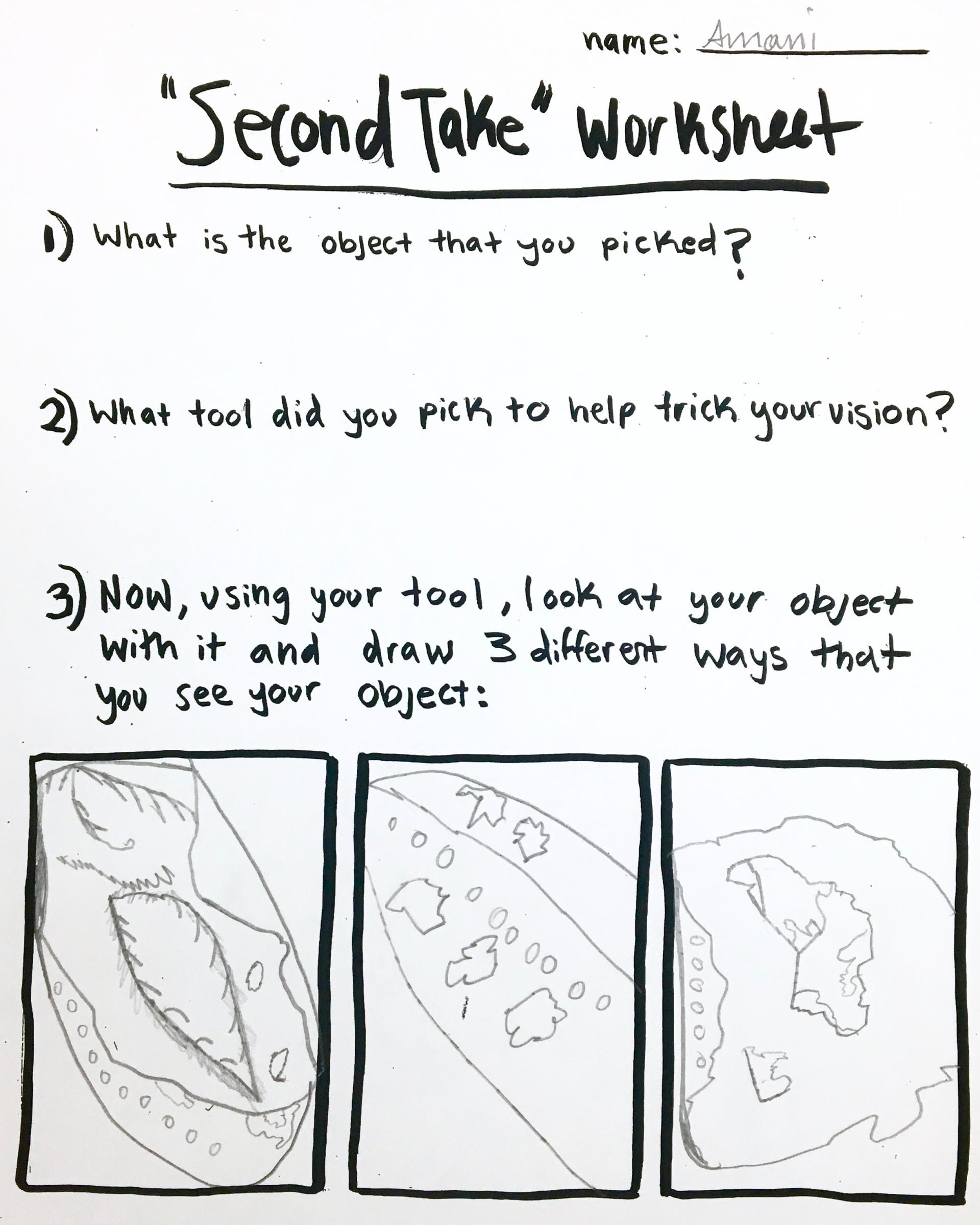 There is an additional term because of the varied results I saw in the work. This one "developing" because this student made exceptional drawings but answered none of the questions. I saw this with many students, where they made the drawings but didn't answer the questions. Perhaps this student and the others like him needed modifications to their assignment.
I graded this work as "emerging" because I know this student has potential to make excellent work. Both my clinical educator and I agreed this work deserved a "1" because we know she is capable. She spent way too long on the first drawing and still felt she wasn't finished with it. This student sets high expectations of herself which stops her from getting her work done.
Image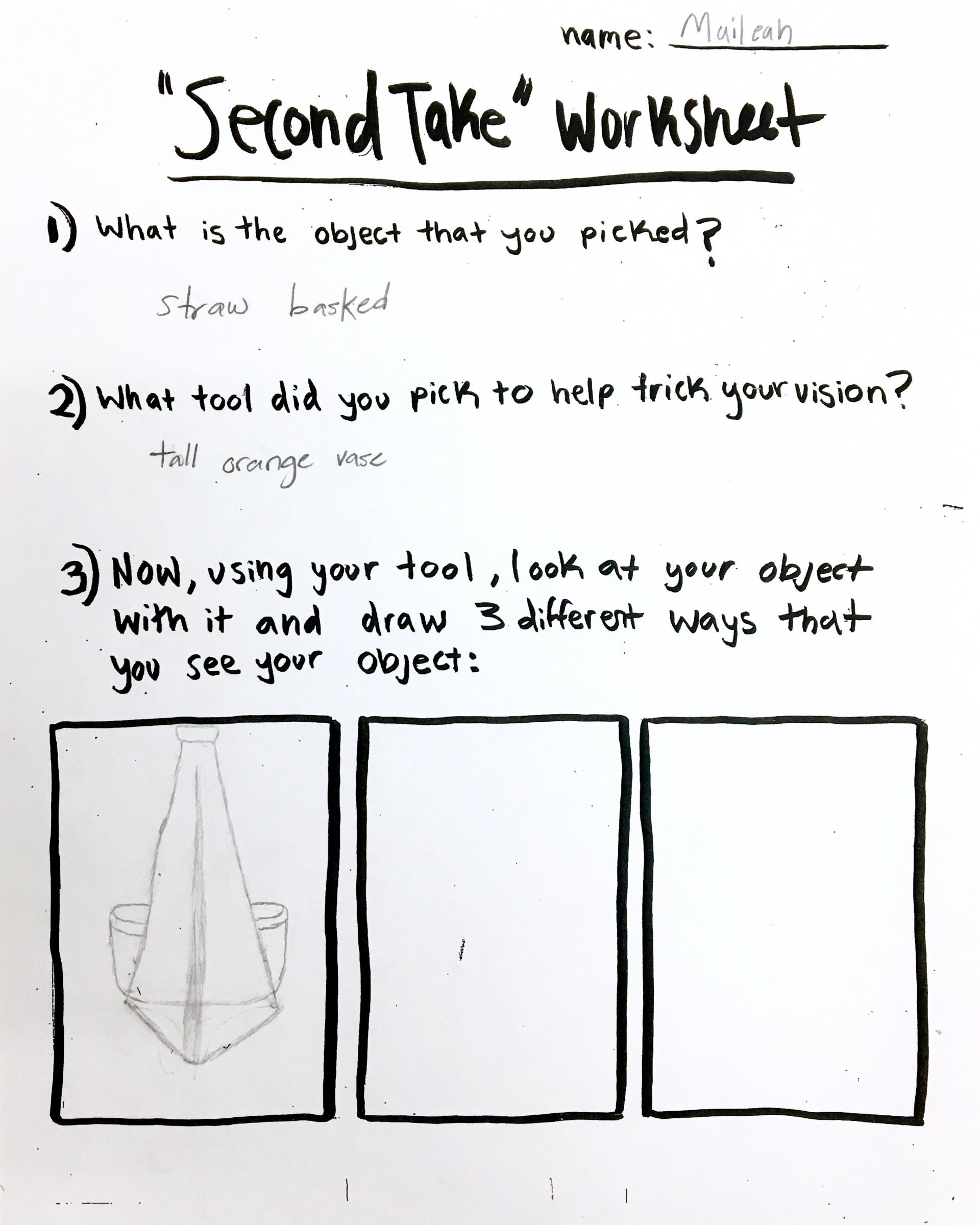 Image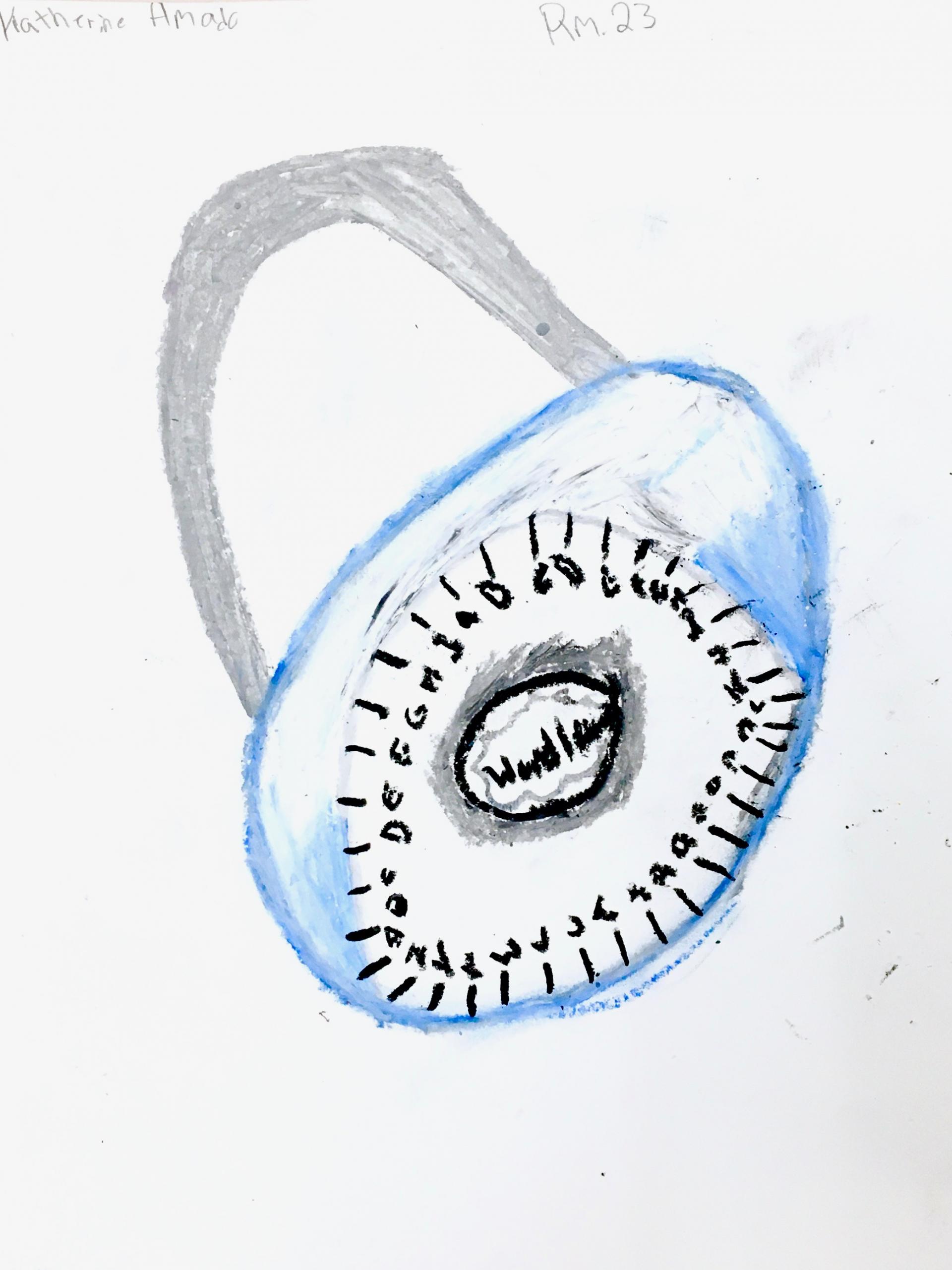 This work is "exceeding" my project requirements. Upon seeing this work for the first time I was so impressed by the image. The way the student has decided to take the entire page and capture the most interesting elements of the object is very excited to me. All of letters from the combination have been included, even if it meant that the lock's shape would no longer be a circle. The student only includes the information that they believe is worth describing. This student is also using the oil pastel blending techniques that I demonstrated.
I would define this work as "developing." Knowing this student, this work is exceptional because he often struggled in paying attention during class. I remember that for this drawing he was observing the inside of a tube from a paper towel roll that had blue painters tape attached to the end of it. I think this work is abstract painting in its own right. I hope he continues to make work like this because this work could be the start of something new.
Image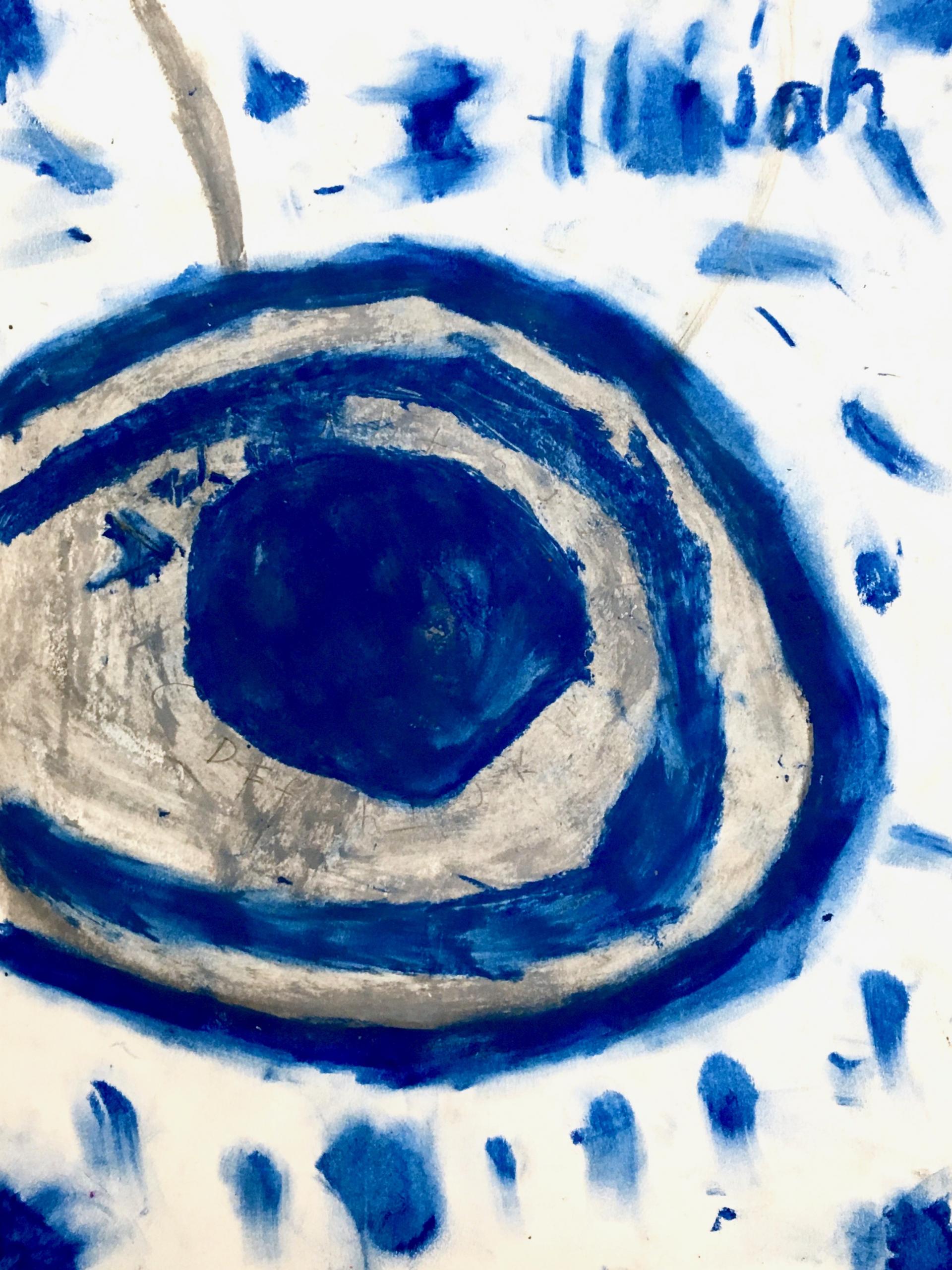 Image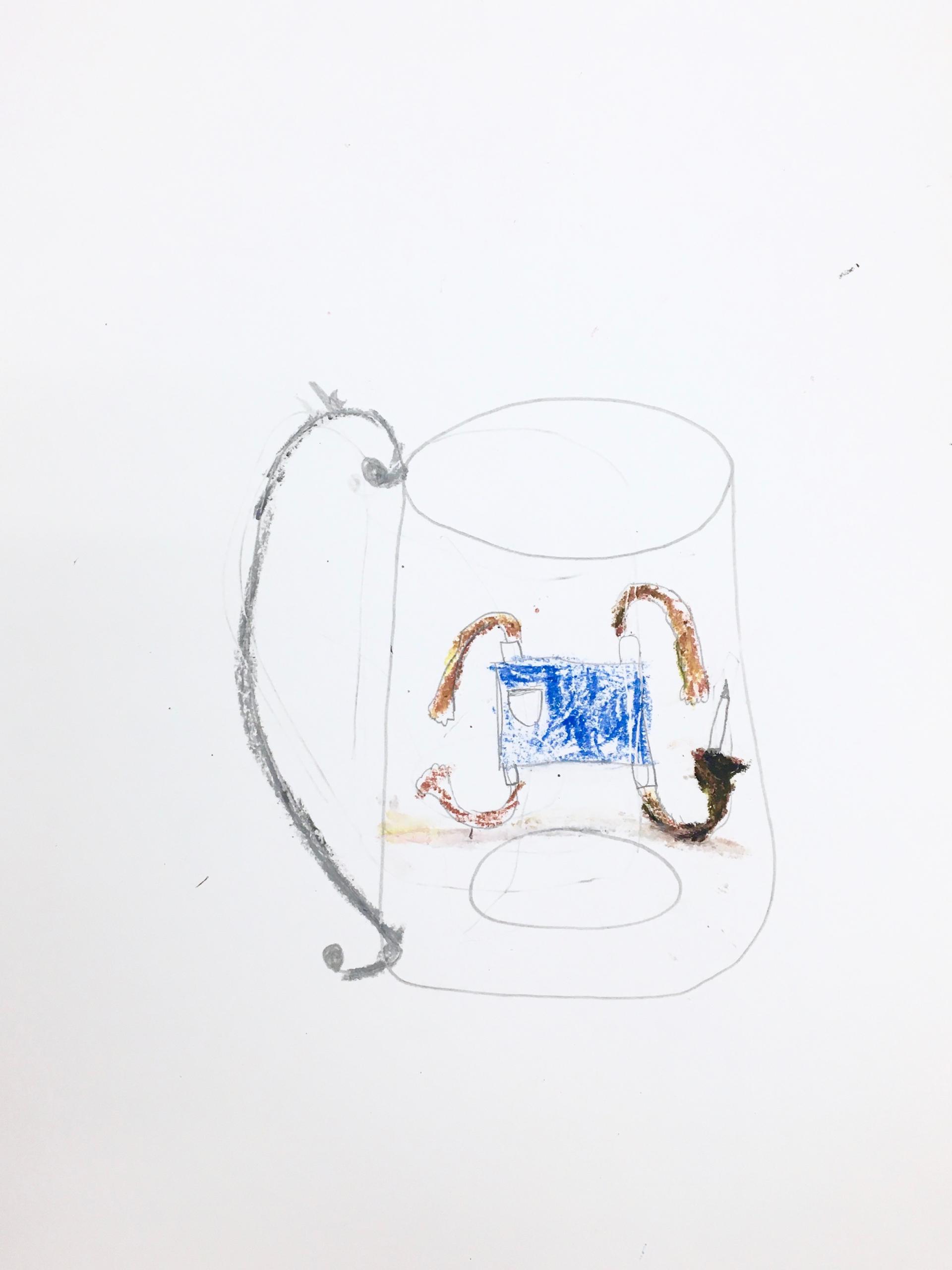 This is artwork is characterized as "meets" because the student did not complete this artwork, but was very much on the right track. Notice how this is a silver cup that is capturing a reflection. The reflection is of the student's blue shirt and arms in mid-drawing. The cup seems to have a split mirror effect, making his reflection look like a crab-like-creature. I know this student was nervous about how to capture his object, but I believe he did an excellent job trying to capture his reflection in this silver cup.
I would characterize this image as "emerging." I believe this student was trying to draw a little basket. I think the composition and mark-making style is the most successful parts. I would have liked if the student had used more of page, perhaps by making the basket take up the entire page. I also would have liked if student focused on drawing the weave of the basket.
Image