Nameera Najib
Expedition Superman
Animated Section
Image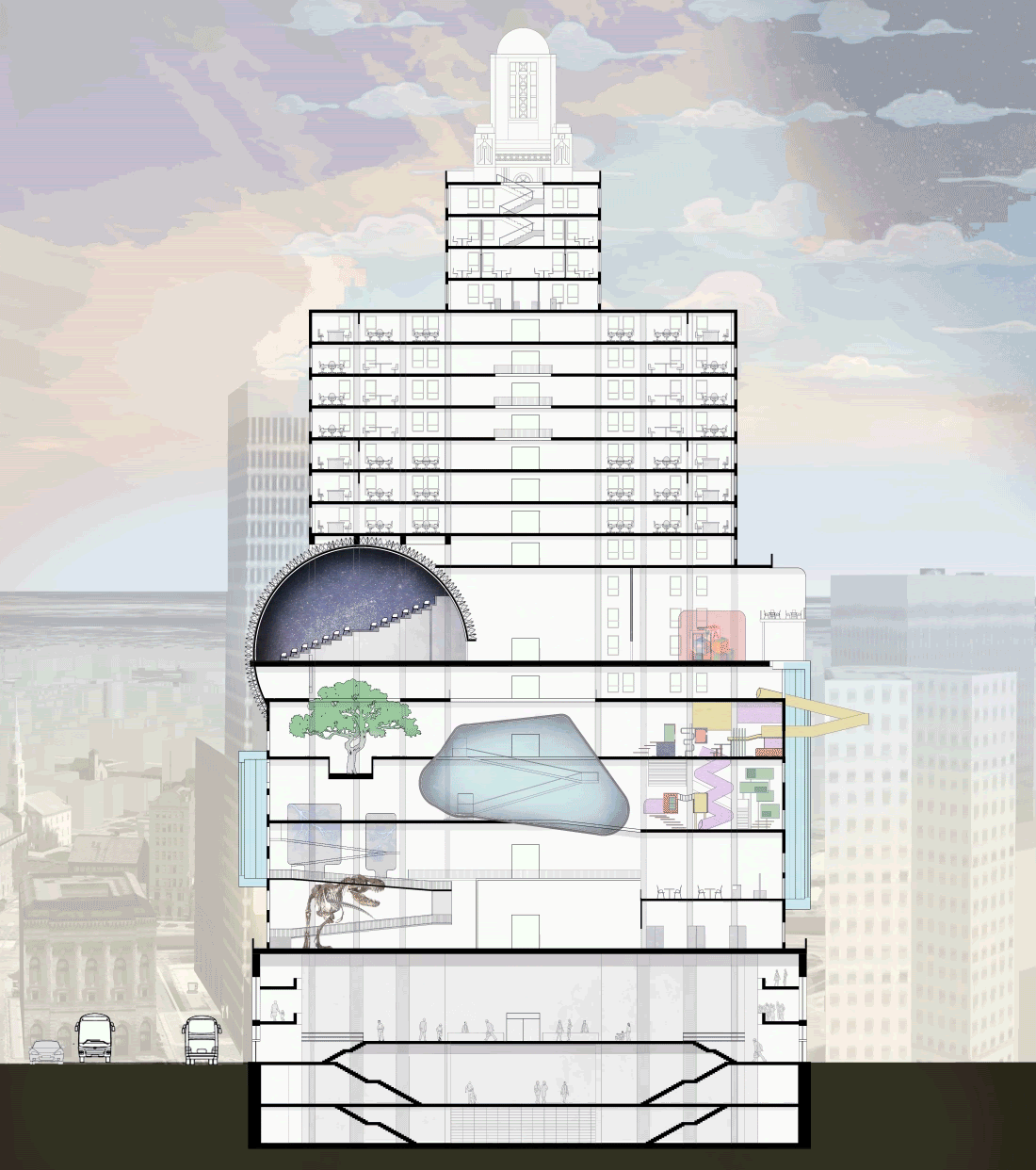 During my research I started looking at Superman's placement in the heart of Providence and its history, surrounded by the activity of the Kennedy Plaza and Burnside park with its skating rink, now a silent observer of the citizens of Providence and its youth. My first part of the proposal is a combination of public and private functions from a welcome area for the visitors of RI, a main a place to showcase its rich history and a viewing deck & restaurants on its top floors taking advantage of its verticality and high retail value.
Secondly, during my research, I saw the lack of indoor children's activities that were available in Rhode Island and the high demand for them. Thus, the main function is a hypothetical partnership with providence toy marker Hasbro. The upper floors would house an extension of Hasbro's creative offices with secondary circulation connected to a 6 story Exploratorium and science center.
[Looking at the sectional graphic on the left] As one enters into the main lobby of the Exploratorium on the First Floor and heads towards the natural history displays, a fluid circulatory ramp takes you around the displays bringing you up to the electric and math exhibits. Now looking at the rendering on the top left.  we can see multiple circulation opportunities for children and parents giving the kids a chance to explore on their own. Throughout the Exploratorium and mainly when at the adventure play area children have opportunities to learn and experience places independently [As shown in the plan on bottom-right image]. As Albert Einstein aptly stated, "Play is the highest form of research" Thus, these two programs unite in a single moment within a toy display, linking industry and the future of the city's youth.
Lastly, I would like to bring your focus on to the planetarium [As shown in the bottom image] and the structural exploration I did with paper models. The sphere of the planetarium protrudes from the art deco structure as a lightweight steel structure to exist children of the adventure that awaits them within the superman building.
Electric and Math Exhibit
Image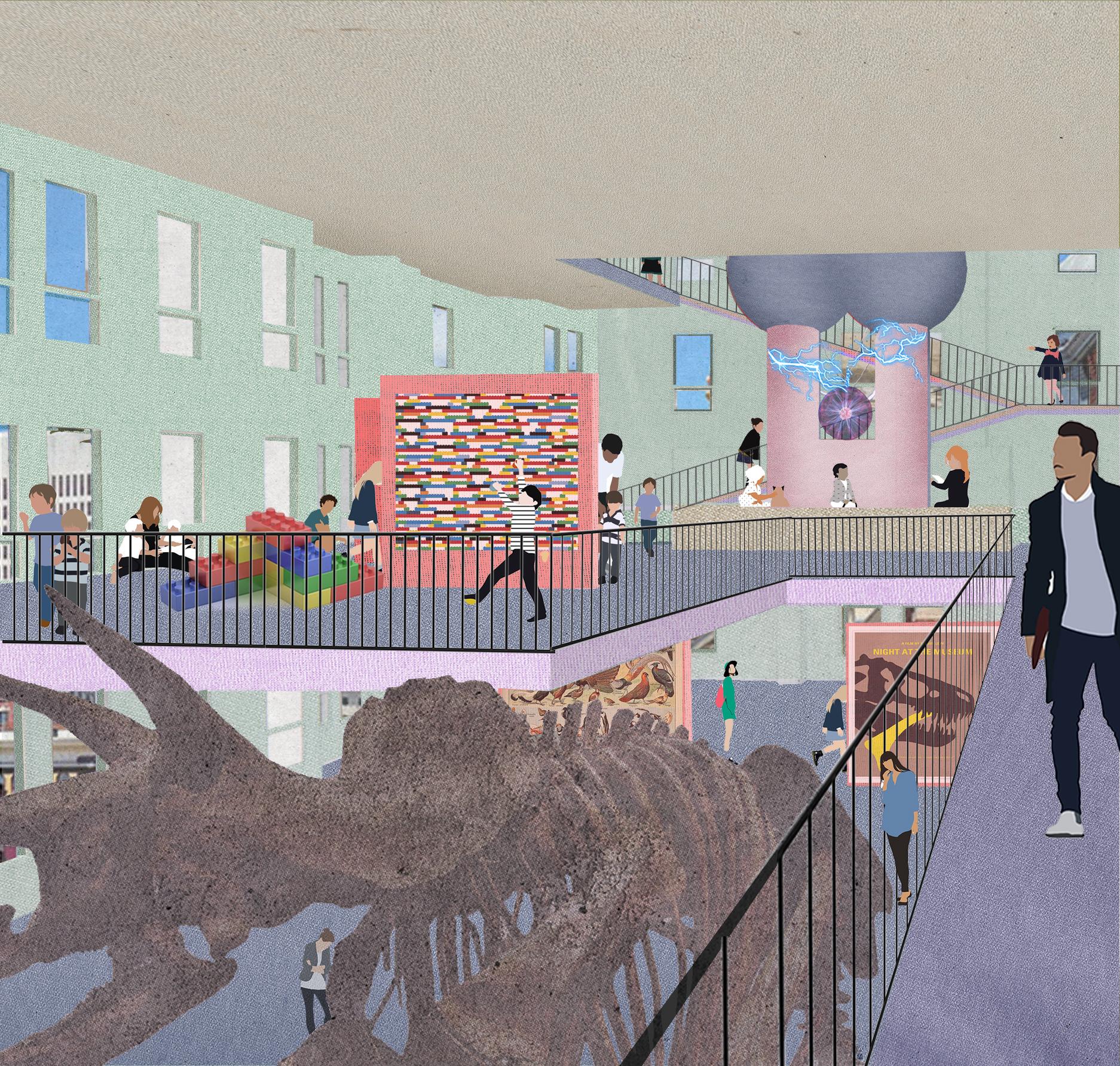 Floor Plan | Water Science and Adventure Area
Image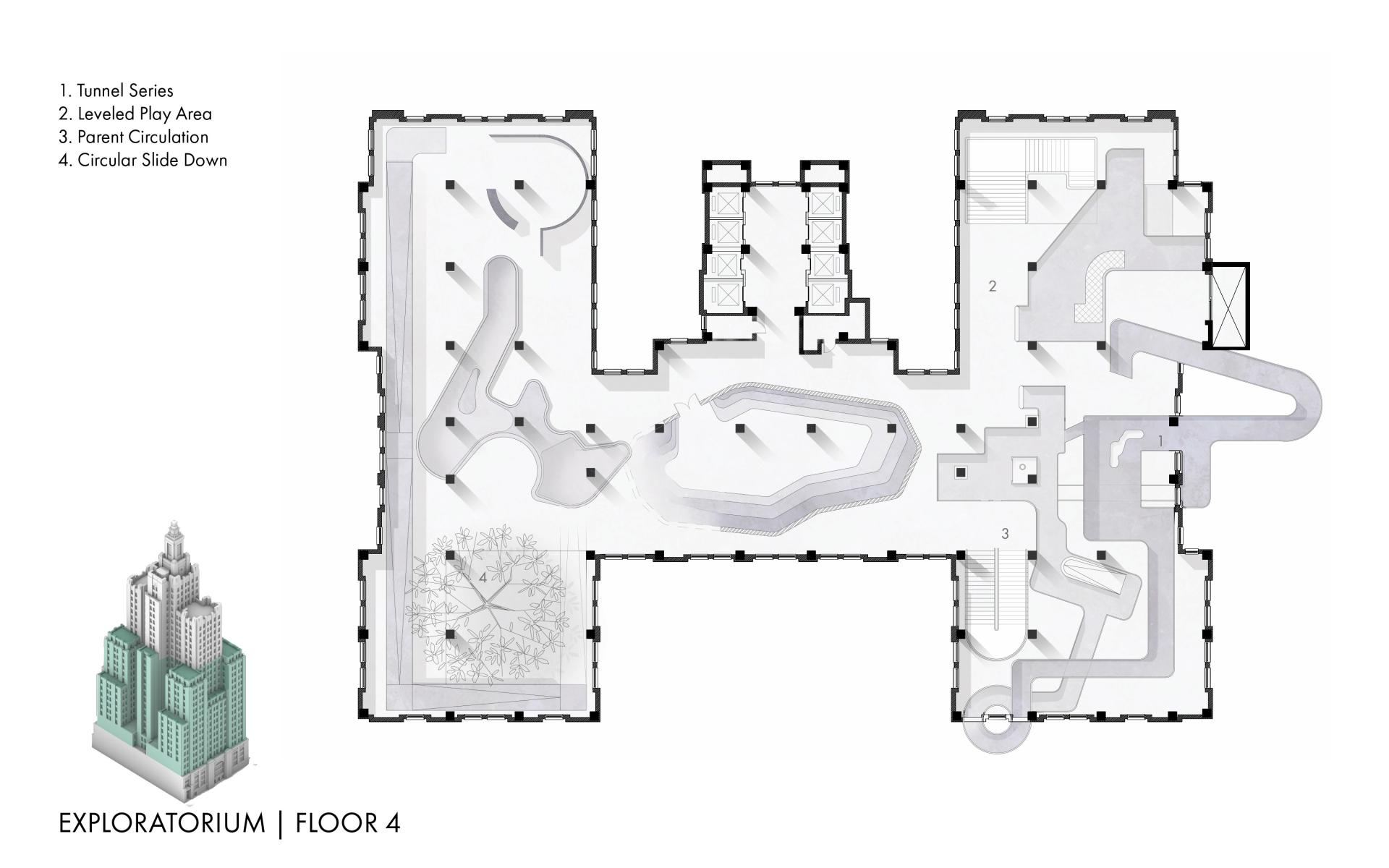 Planetarium Structure Study
Image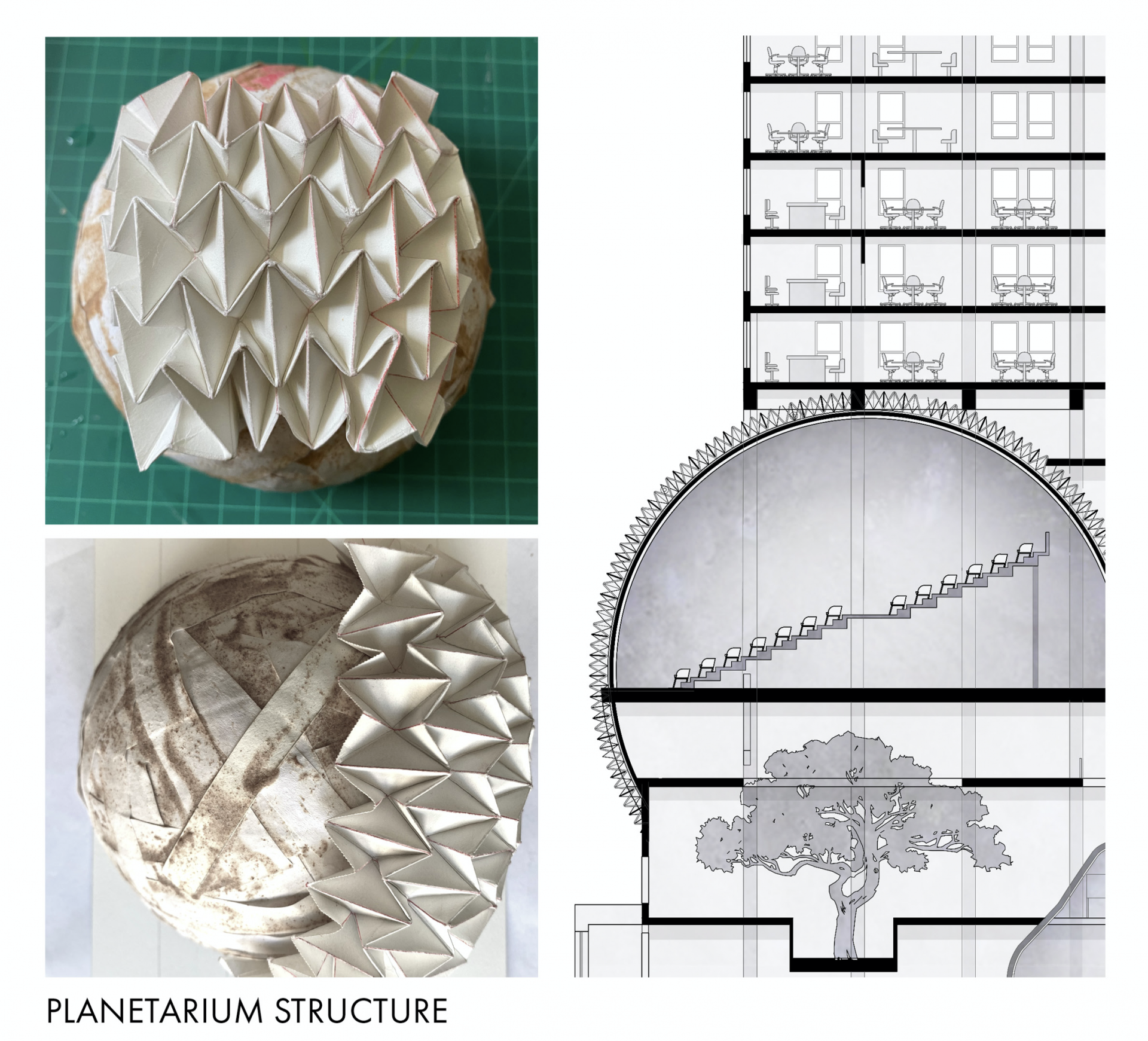 Render Adventure Play Area
Image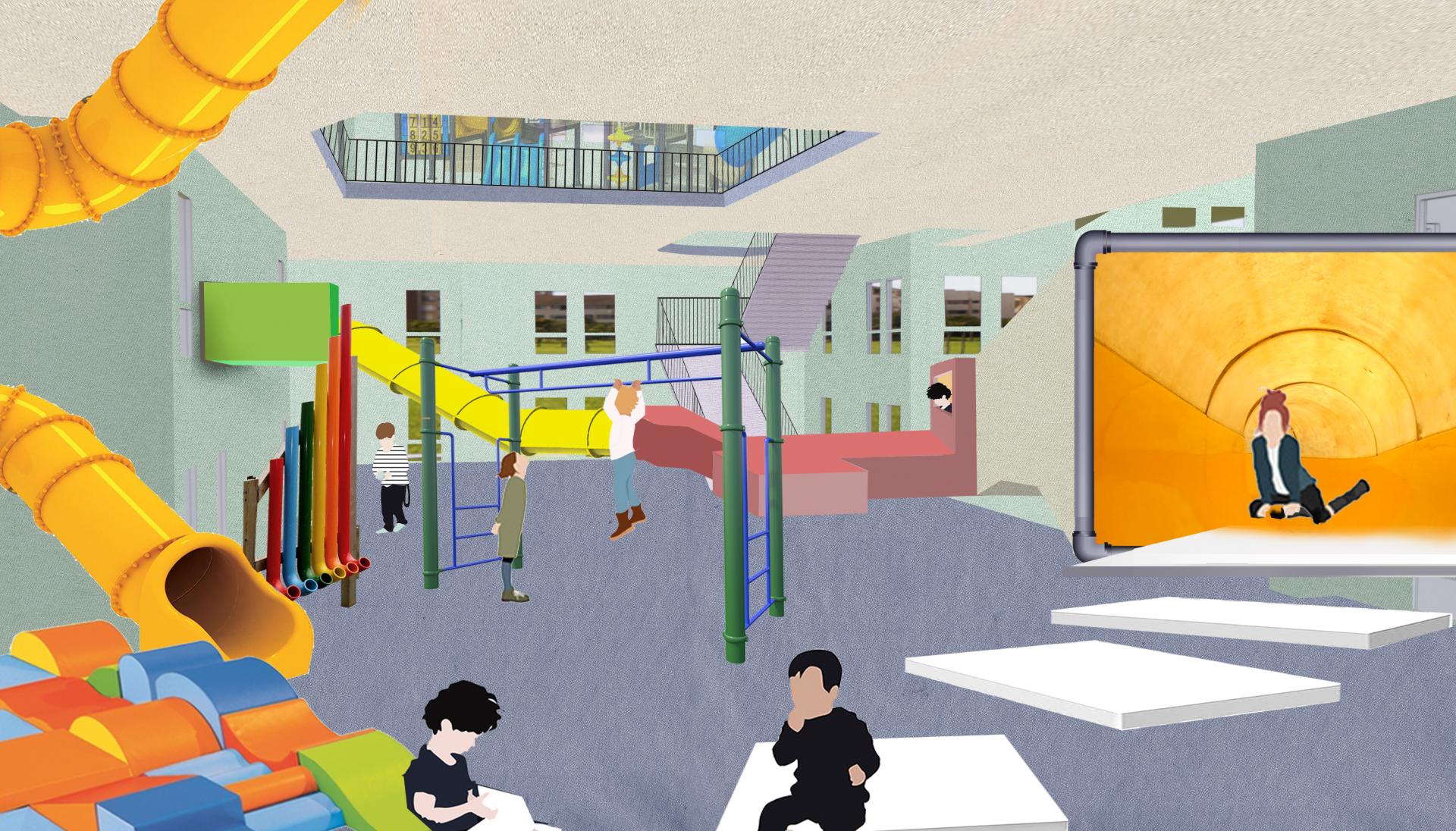 Water Science Area
Image