Image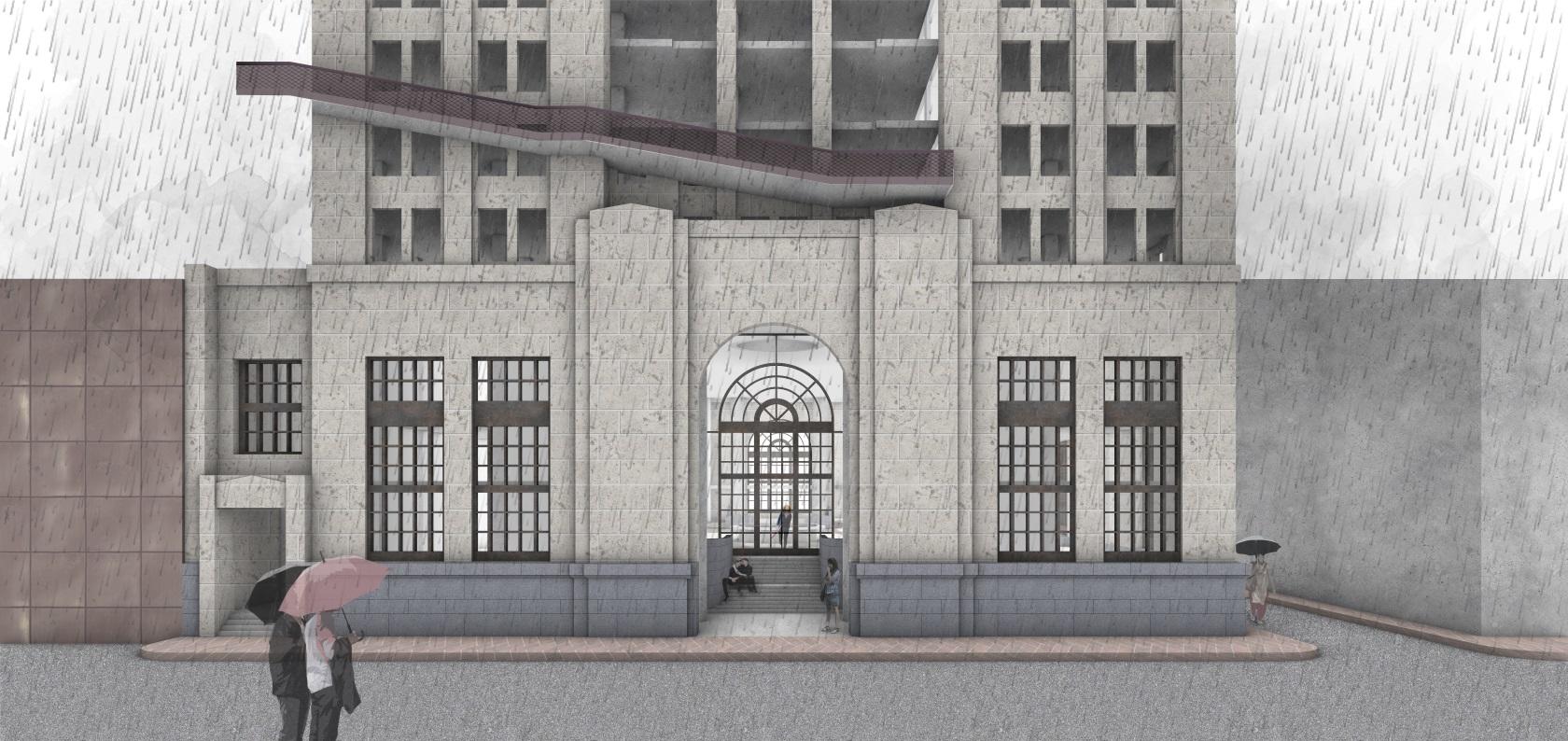 YIREN MAO
Super Normal - Leading the post pandemic living
Image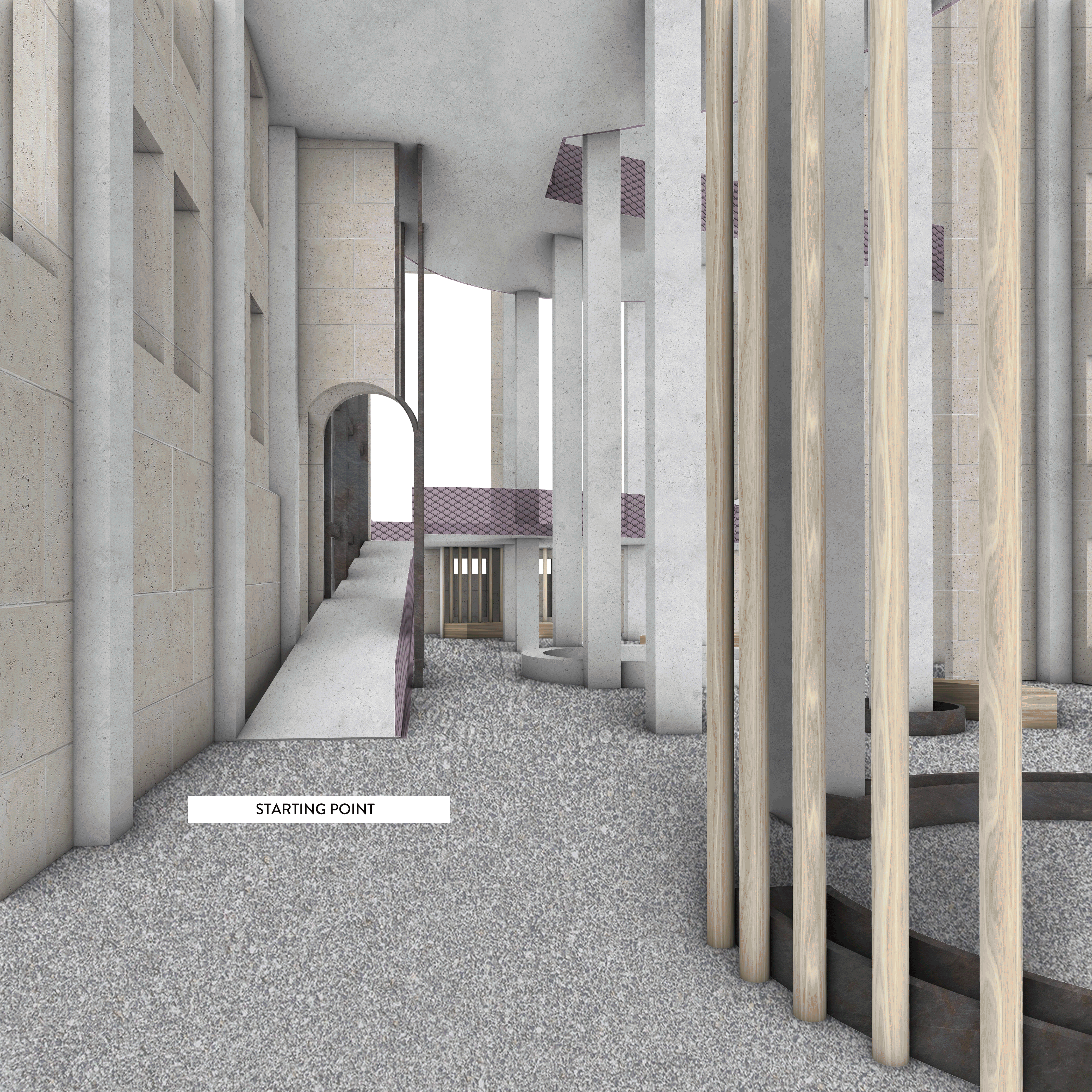 "Super Normal" celebrates city living in the post-pandemic city.
The historic building is divided into three towers that house various living spaces, offices and communal gathering places -from library and bar to mini-grocer and pet store- catering to a young workforce. 'Neighborhoods' are created every four floors through interconnected stairs in a vertical social distancing within this urban community.  A built-in outdoor dog park allows for the companionship of animal friends in this new normal of living. 
TARGET USER GROUP
The scheme specifically looks into the young adults user group which is heavily affected by the situation now. 
Before the pandemic, they are just about to start their independent living, searching for affordable housing. They are hoping to start their own business, they need cheap office and local connection. After the pandemic, they are almost at lost, don't know what's next step. 
'Super Normal' provides mainly housing and office complex with designed characteristics trying to make sure they can go on living like what they planned before.
Image

PROGRAM AND ZONING
The intervention begins with the two cuts to accommodate office and housing in each tower. Then it's been divided horizontally according to degree of publicity. Façade of middle tier is opened up to make a tenant exclusive outdoor space where you don't need to worry about running into random strangers. Blocks are tied up with linear space, which refers to, a letter 8 shaped ramp, connecting bridges and balconies. 
Detailed zoning: On the basement it would be a capsule hotel and use the existing banking vault as a dive bar, which can be transformed into emergency housing when in need of a time like now. The lobby, local food market, also offers grocery and food delivery service. Up in the pet park, there is a jogging and dog walking trial, a beauty salon for both pet and its owner and a self-service convenient store. Offices features post pandemic specific functions like a zoom room with steady network, an audio room for recording and etc. All of these are topped with a meditating zone for people to slow down and focus on inner health.
Image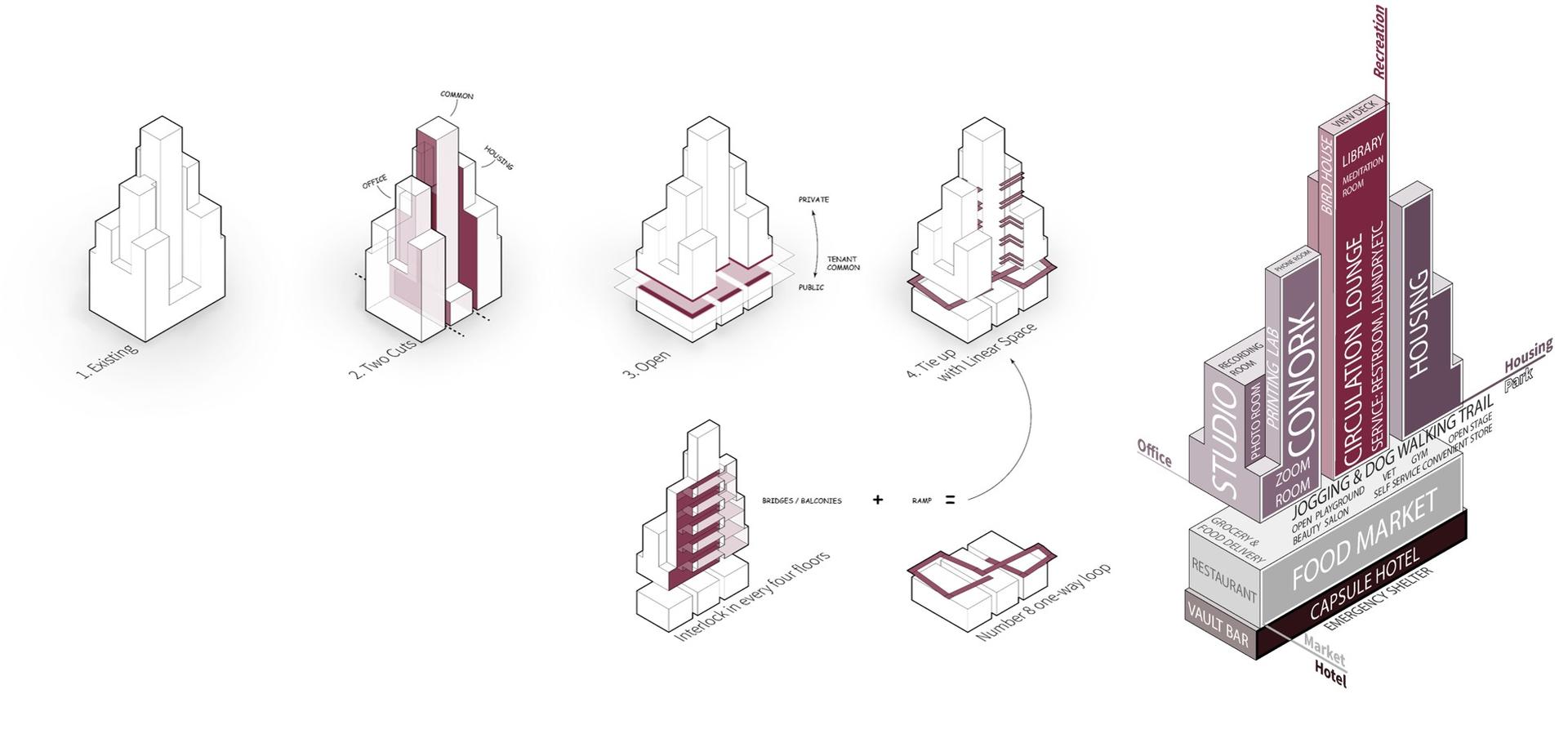 SECTION with space feature highlighted.
Image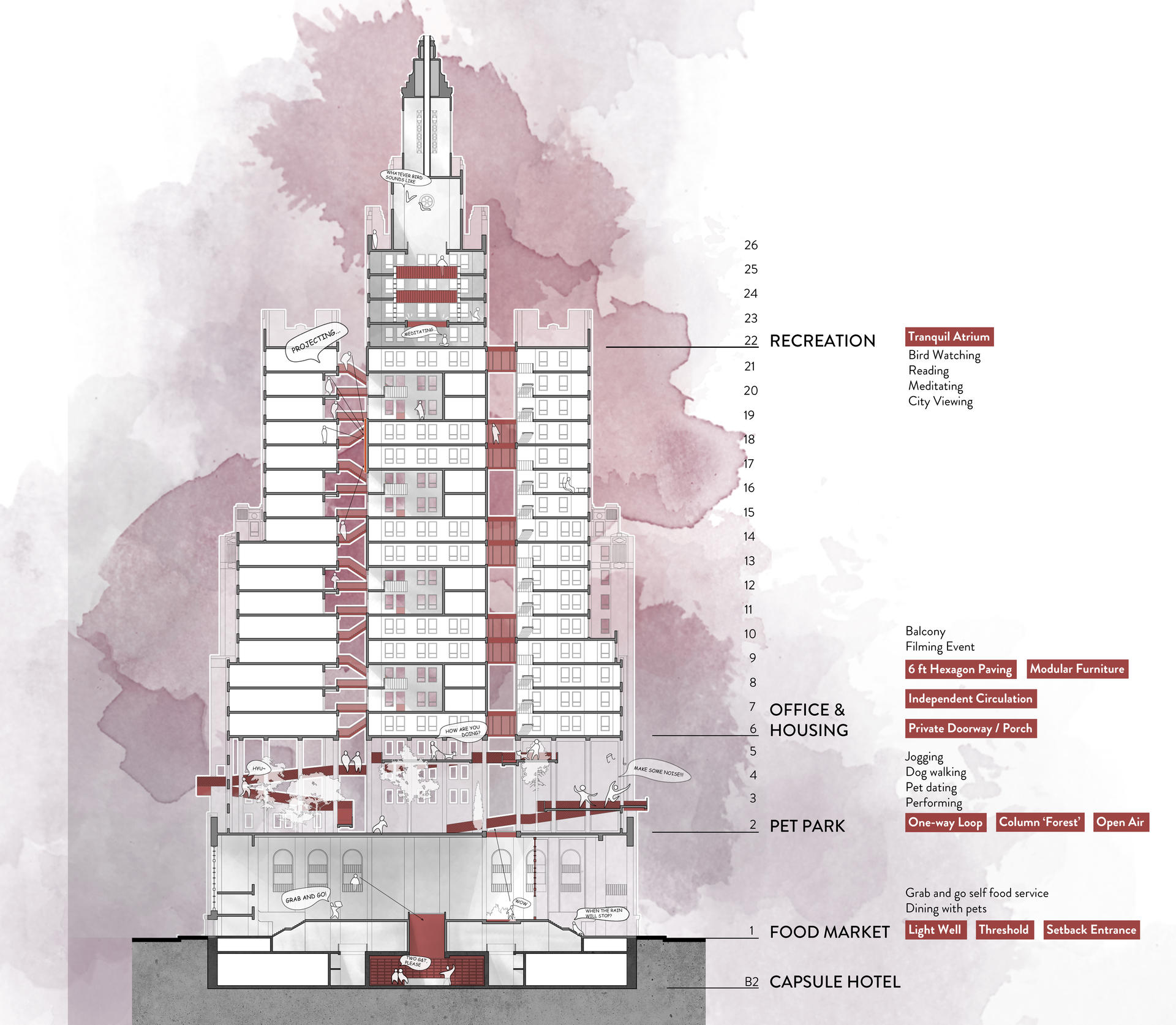 Image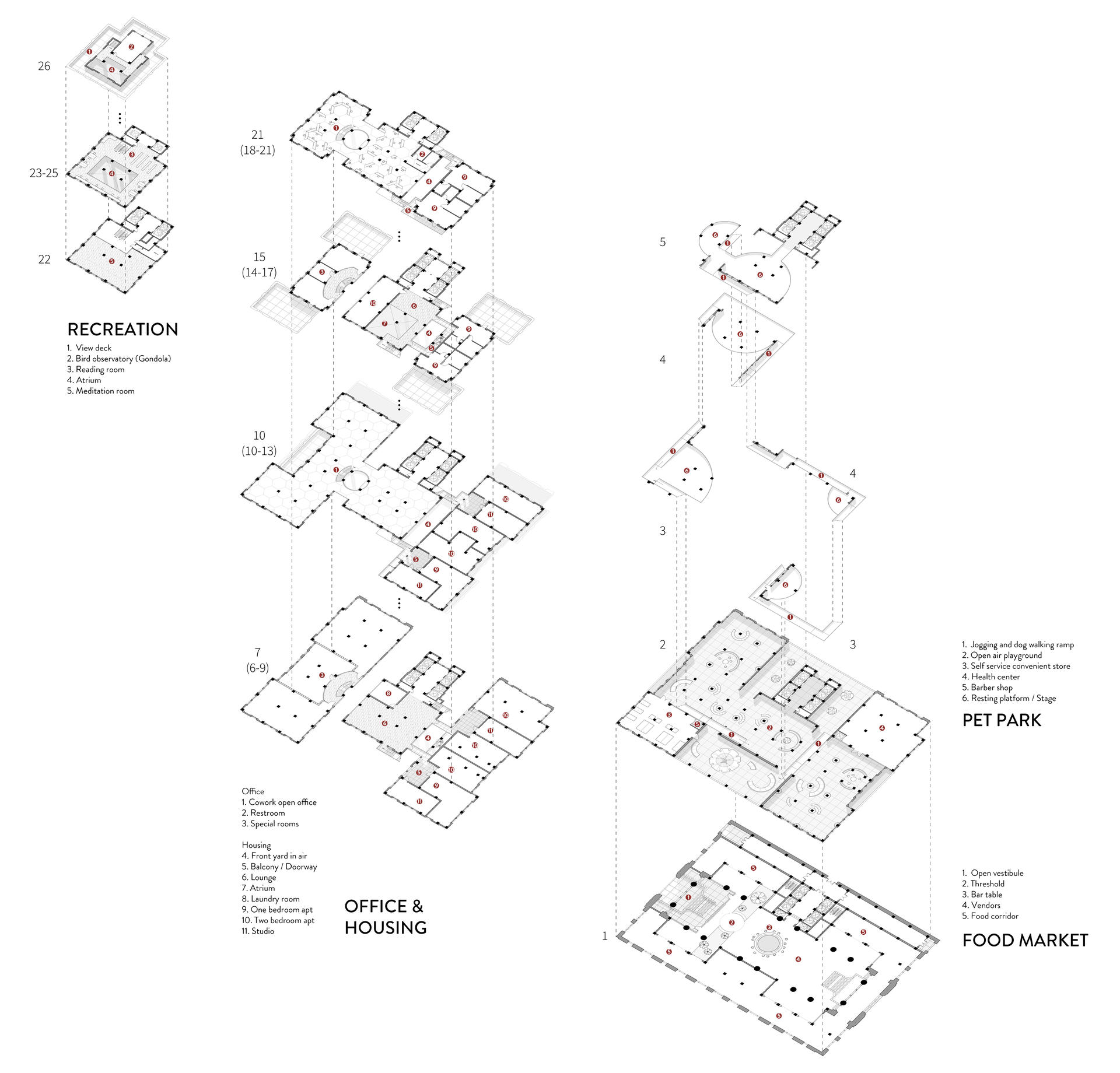 Image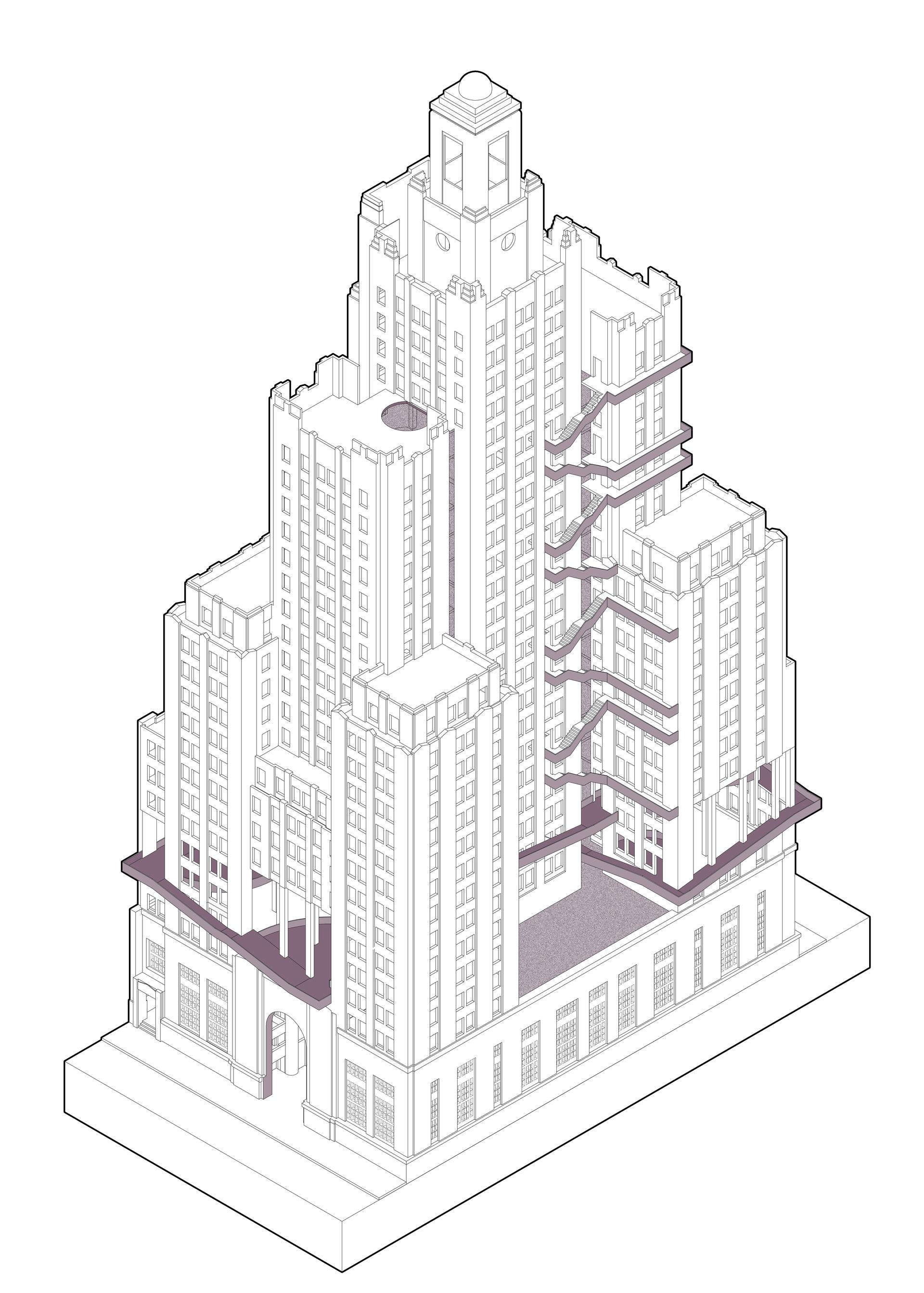 A gathering spot, the open-air pet park is the highlight of all public space, featuring a one-way, six feet wide, dog walking ramp with resting platforms here and there. All the floor plates and part of the façade are taken out in the this four-story high park to make it tall and open and create a scene of this column forest.
Among all these interventions, I think the most important gesture I take is to divide the building into units with manageable-sized residents. Horizontally, neighborhoods are created every four floors with interconnected circulation, a shared courtyard in the air, private outdoor spaces to step out of your room during quarantine. Vertically, work and home are separated by two cuts, which also allow distant interaction of neighbors to happen, natural light and fresh air to flow through, greenery to grow as the building ages.
Image